Secretary Resume Example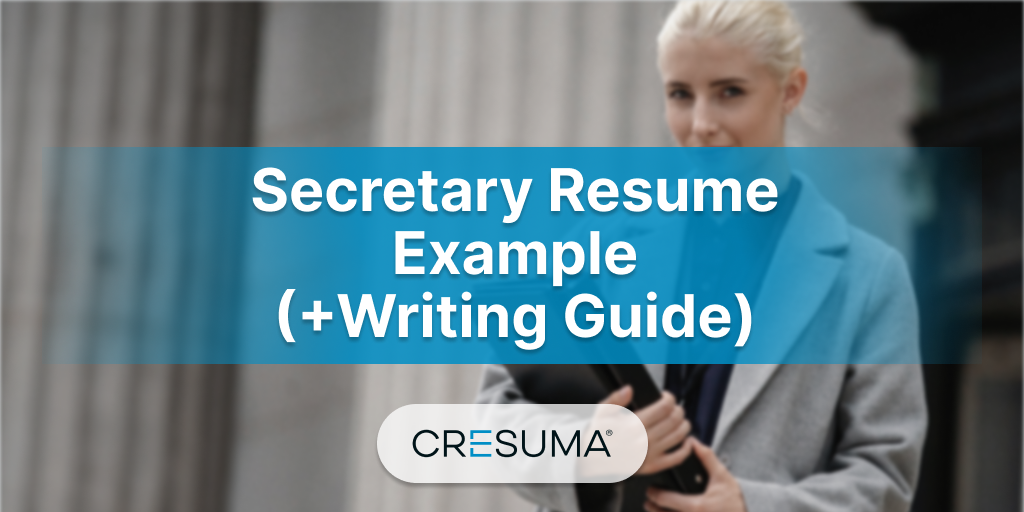 Complete Resume Guide for a Secretary
Ask from a Professional Secretary(Best Tips and Secrets)
Modern Recruitment Process of a Secretary
Secretary Resume Example (Text Version)
No hidden costs. Download your ATS-Friendly resume in PDF for absolutely FREE after creating!
Secretary Resume
No need to start from the beginning. Edit this resume sample with your information and keywords from the job posting.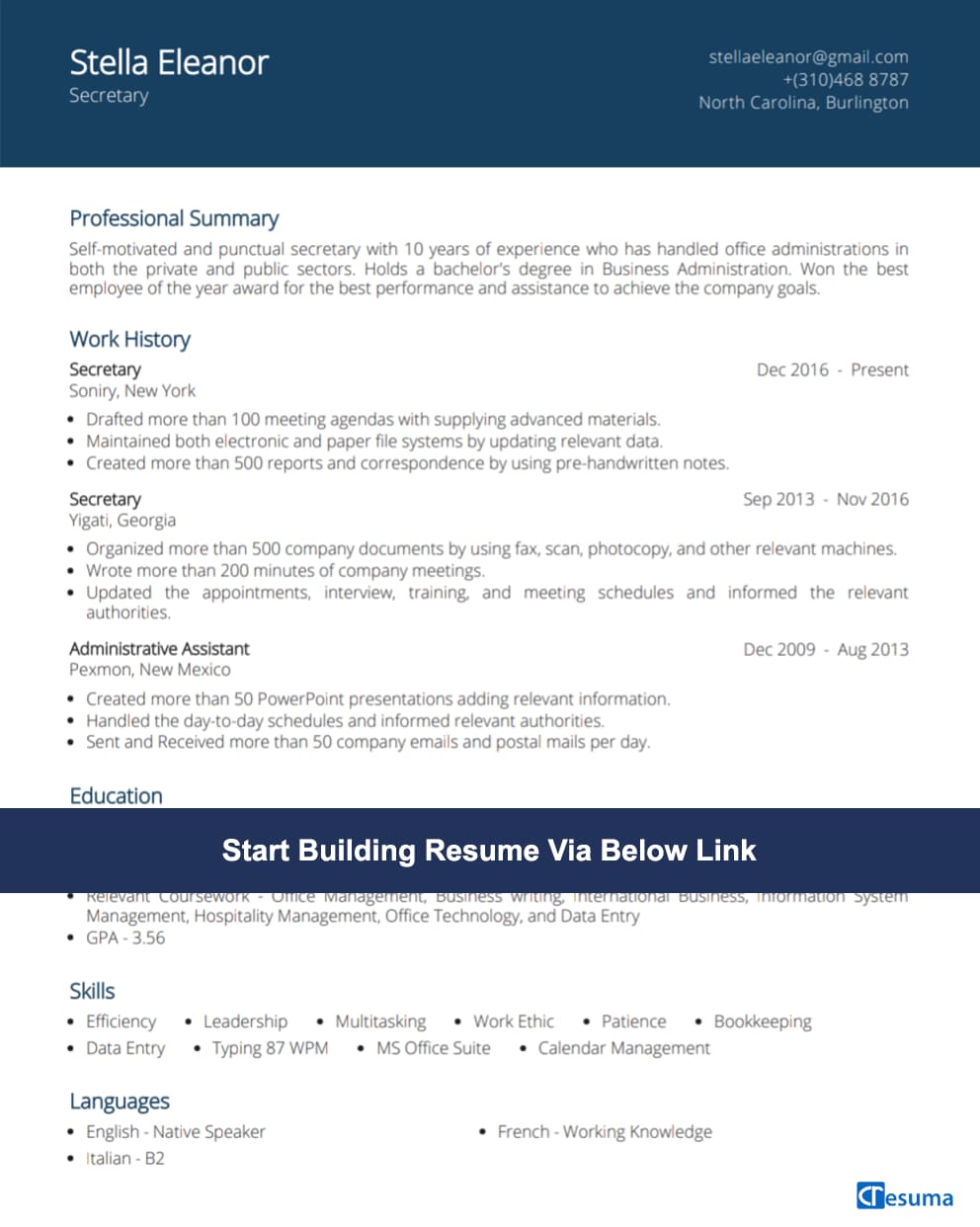 Complete Resume Guide for a Secretary
What is the most suitable Template for an Executive Secretary?
There are many administrative secretary resume templates. But that will be the best if it has the following features.

You can check the ATS friendliness of your resume template. If the text can select and links can click, it is ATS friendly. Also, check the template has used simple graphics.

Attempt to select Calibri or Georgia font style for your resume.

Do not select luminous or shiny colors for your resume. The cool and calm colors will enhance readability.

Does your template provide enough space? One-page is the perfect resume length for you. So, choose a template with enough capacity.

Do you want to add a photo to your resume? But think twice! If the career notice requests a photo, add a professional-looking photo. Otherwise, select a resume template without a photo

.

What is the perfect file format to save your document? PDF format is the most user-friendly file format. Also, it is a universal file format

.

Are you searching for the quickest way to create your resume?

Then you can use our free resume builder to create your resume in just a few minutes

.
How to create the Resume Header for a Secretary?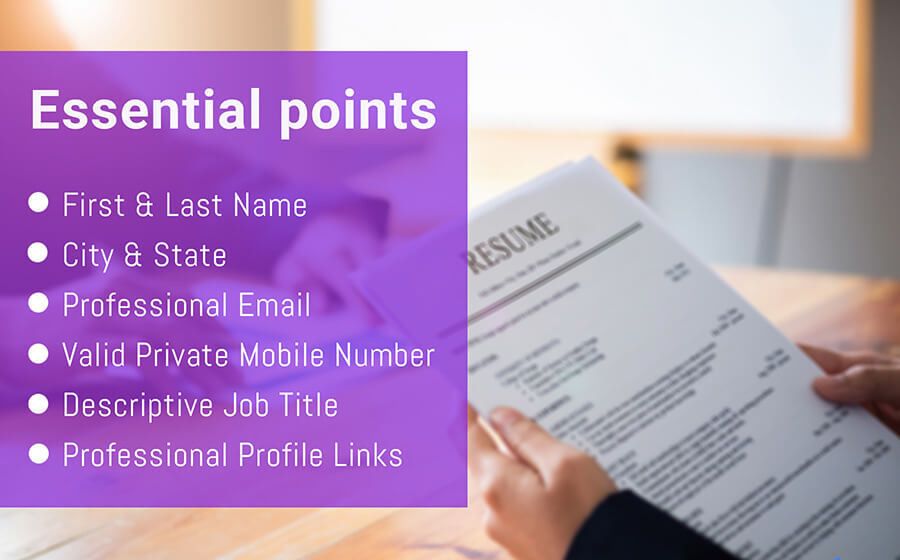 A resume header contains the personal contact details of the secretary. They are name, job title, location, contact number, and email address.
The social media URLs are options to mention in the resume.
Check whether you have mentioned precise information.
Did you mention your full name? Oh! Change it soon.  Put your first and last name only.
What is your job title? Choose the job title mentioned in the career advert. Put it as your career title. For example, Secretary (Category 6 / I-Receptionist / Office Automation), Main Office Secretary, Assistant School Secretary (Athletic Office).
Did you mention the full address? But why? Erase it! Just reveal your city and state.
Do you have many mobile numbers? But share only one contact number which is very personal to you.
Does your email address contain fancy words? Oh! Do not state it in your resume. Create a professional email address.
How to use Social Media in the Resume of a Secretary?
If you want to add social media URLs to your secretary resume sample, there must be a purpose.
Check! Can you enhance the worth of the resume from your social media accounts?
LinkedIn or Twitter account that proves your executive career history.
Facebook or Instagram accounts which contain well-dressed or professional-looking photos.
If you have such personal profiles, provide the links in the resume header.
Should a Secretary write a Resume Summary?
Why not? Do you know the purpose of a resume summary? Recruiters can understand how far you are suitable for the position from the summary statement. So it is a must for a secretary.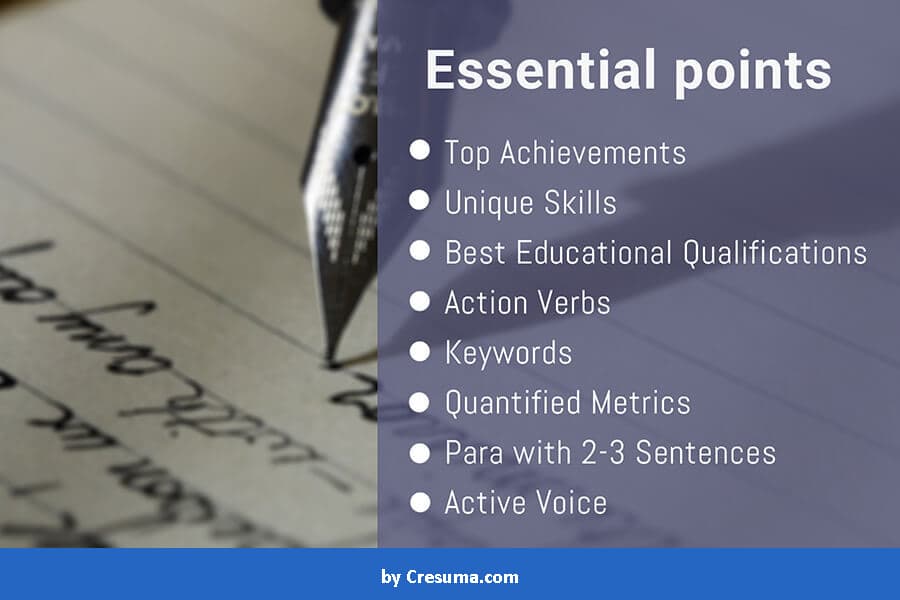 Compress your top achievements and unique values into a brief paragraph. They are skills, experience, education, and other secretary qualifications.
Usually, the resume summary writes in the active voice. The relevant and formal action verbs will enhance the value of your goals as a secretary.
If you add the keywords and quantified metrics such as years and percentages in your resume, that will stand out further.
Example from an Expert
Summary
An efficient and approachable secretary who can manage the office administration by using the relevant software packages and proven secretarial skills that were gained from the 10 years of experience. Holds a bachelor's degree in business administration. Awarded as the expert employee of the company in 2016.
What to include in a great work experience section of a secretary?
A good work experience section contains the position title, employment duration, workplace name, and location. The major fact is arranging at least 3 – 4 bullet points of your career achievements.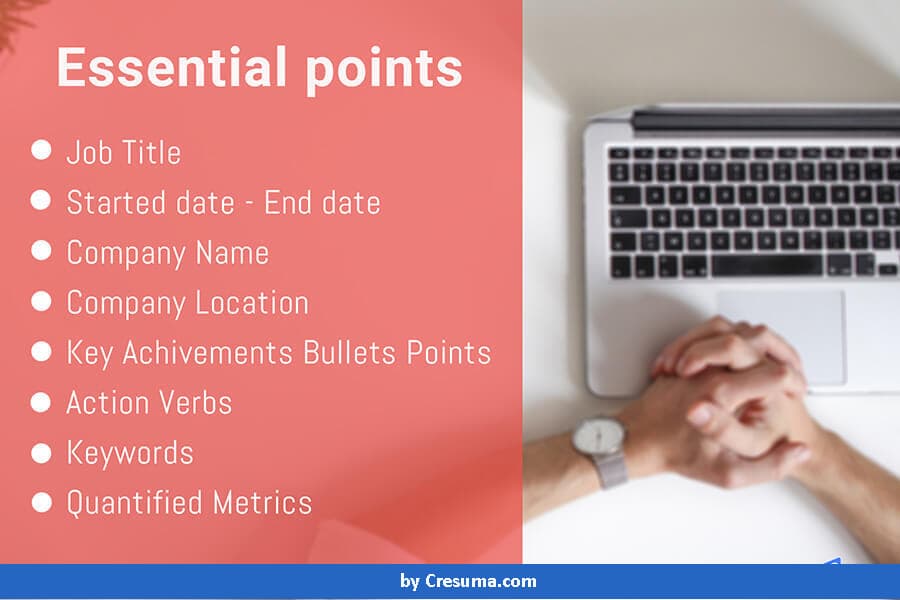 Do not list down the key duties of a secretary as bullet points. That will lead to rejecting your resume without a second thought.
Try to showcase your unique value to the recruiters. So mention only relevant and recent employment history.
Further, find out the powerful action verbs and keywords from the job advert. Use those words in your achievements in a meaningful way.
Work Experience
Secretary – 2017/Jan to Present
Feisty, New York
Handled more than 50 company meetings with creating the agenda, supplying advanced materials, and writing reports.
Maintained the documents by typing, faxing, archiving, photocopying, filing, and scanning.
Updated the enterprise schedule by informing the company authorities about the schedules on time.
How to build the top Career Achievements for a Secretary?
First, you must understand the requirements of your career notice. Also, you have to tailor your resume according to these requirements.
You can search for the secretary job interview questions and answers. Then you will understand what the recruiters are looking for.
Here are some common features that the hiring managers love to see in your resume.
Great schedule planner
Explain the situations you have handled the different schedules. They may be appointments, travel itineraries, agendas, or schedules of meetings. Reveal how you overcome the problems you faced in scheduling.
Previous experience in preferred sectors
Have you ever been employed in different sectors? For example charities, law firms, hospitals, financial institutes, universities, local or national government. If yes, mention recent and relevant experiences in achievements.
Achievements embedded with unique skills
Connect some unique and essential skills with your accomplishments. They are ambitious, hard-working, positive, professional, stress tolerating, friendly, trustworthy, and efficient.
Expert in any type of secretarial position
The secretaries can be in different types as follows,
Personal Secretary
Government Departments Secretary
Secretary of Non-Profit Association
Secretary of a co-operative society
Secretary of a joint-stock company
Explain your experience in those different positions. That will be a great chance to be selected.
Does a secretary need an Educational section?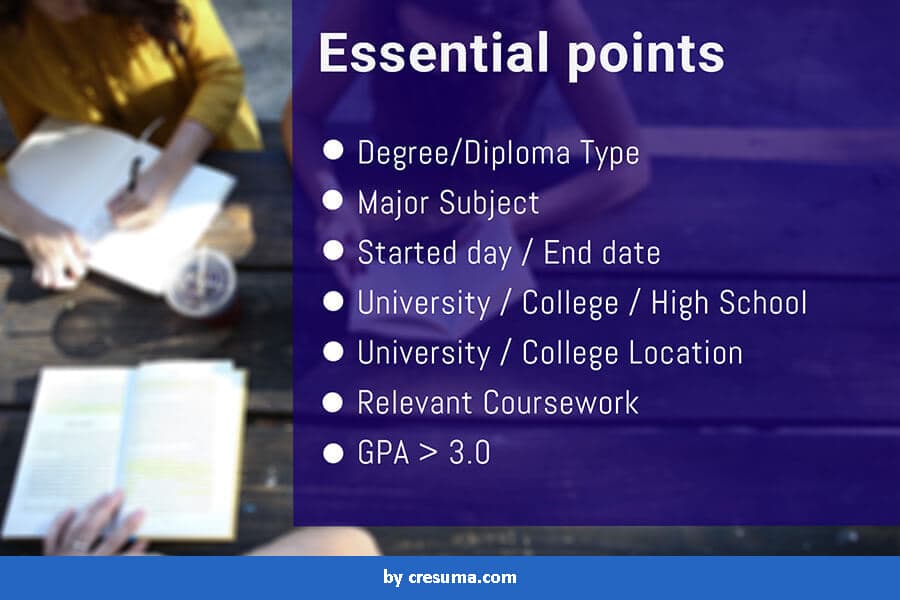 Yeah, sure! But the hiring companies do not require many academic qualifications. If you have a high school diploma or GED, you can be a secretary.
But taking any courses or training related to the administration and the secretarial tasks is essential.
So mention the course information under the education section. Do not forget to notice the relevant coursework or subjects of course or training.
Relevant Coursework and Subjects
Office Management
Business writing
Global Business
Information System Management
Hospitality Management
Office Technology
Data Entry Techniques and Software
Accounting and Bookkeeping
Administrative Services
Business Support
Materials Management
Typing
Business Mails
Principles of Business Financing
Introduction to Marketing
Report Writing
Introduction to Accounting
Fundamentals of Business
Government or Public Administration
Law and enterprise Policies.
Secretarial Studies.
Business with Different Languages
Example from an Expert
Education
Bachelor's Degree in Business Administration – 2016/Jan to 2018/Dec
Stanford University, Stanford
Relevant Coursework:- Business writing, Hospitality Management, Information System Management, International Business, Office Technology, and Data Entry
GPA:- 3.45
How many Soft Skills can include in the Secretary Resume?
You need to include at least 8-10 skills. The secretary skills list should contain both hard and soft skills
You can highlight your skills in the accomplishments of resume summary, career experience, and other sections.
Communicational skills:- The applicant must be fluent in written and oral communication. Because she is the connector between the enterprise and the client. Also typing skill with a good typing speed is required.
Time management:- The applicant has to maintain a set of different duties. For example, handle the customers, schedules, documents, phone calls, and mails. So the applicant should be punctual.
Organizational skills:- The secretary must be organized well, to maintain the mails, reports, and other essential documents.

Teamwork:- The secretary should employ as an individual and a team member based on the situation. When she monitors the junior staff's work, she has to engage with other staff members.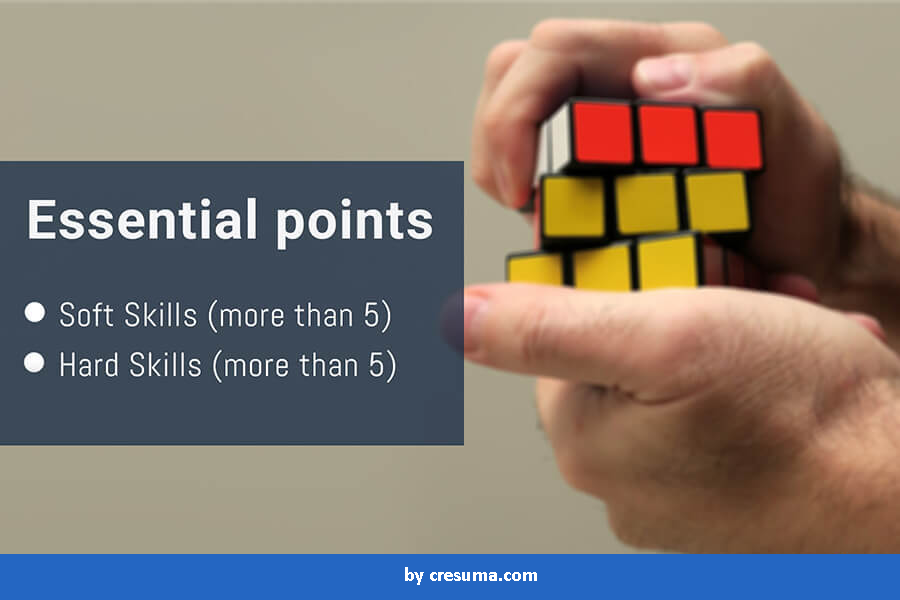 What are the Hard skills for a Secretary Resume?
There are some technical skills related to office administration. A secretary is the handler of the agency. So, do not forget to mention the following skills in your resume.
The required hard skills can be different based on the career post.
Administrative Support
Secretarial Skills
Customer Service
Typing speed (WPM)
Bookkeeping Skills
Data Entry
Travel Arrangements
Customer Billing
Office Management
Writing Legal Documents
Booking System Managements
Calendar Management
Accounting
Relevant software
MS Office Suite
FileMaker Pro
SAP Workplace
Anaqua
How to create a Resume for a Fresher Secretary?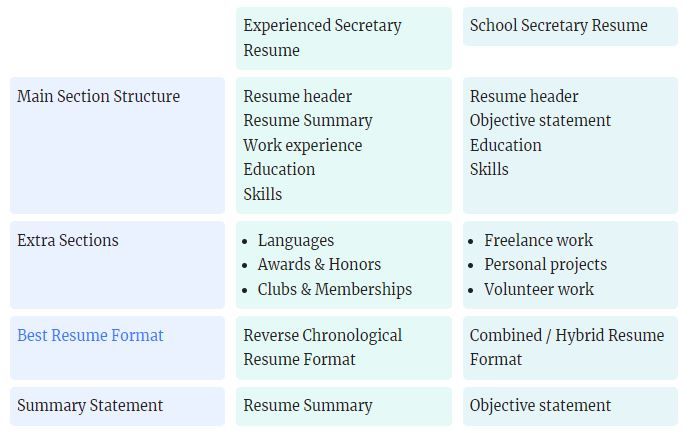 Who can write a Resume objective?
Entry-level, fresher, student, school, or college secretary resume is eligible for an objective statement. Especially it can include in the resume for secretary with no experience.
The unique skills, freelance or volunteer experience, and educational background can include an administrative secretary resume objective.
Further, highlight your unique talents such as money handling, pleasant look, and well-dressing.
Are you a Certified Secretary?
The majority of hiring personnel are required specific qualifications from applicants. One of them is the Office of Personnel Management (OPM) Qualification Standards.
That education is essential for the general schedule positions, clerical, and administrative support positions.
Do you have a certification to prove it? Then, mention at least the certification name, certified organization, and certified year under the 'Certifications & Licenses' area.
Ask from a Professional Secretary (Best Tips and Secrets)
Quiz #01:- What is the importance of Self-research for a Secretary?
The companies and departments hire secretaries to handle their front office and administrative matters.
The requirements for the job position is different based on the workplace. So, you have to understand the workplace well before creating your resume for secretary.
The job post is the main source to understand the position. The official profiles of the enterprise, such as Twitter and LinkedIn are also helpful to find some facts.
You can get more details from the current employees and customers, if possible.
Quiz #02:- Why Keywords are important for a Secretary Resume?
The secretary job resume is always linked with the job advert. So you must tailor your resume by using the given keywords.
Keywords may be objects, people, procedures, skills, qualifications, and talents related to a secretary. Use those words in your resume content meaningfully.
Refer to the below sample job post for better understanding.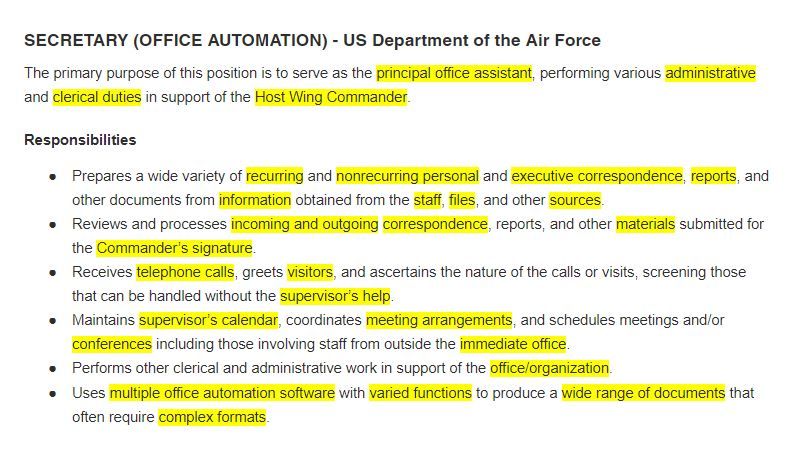 Quiz #03:- What action verbs can include in the Resume of a Secretary?
The professional advert contains the most suitable action verbs. o, you can read it thoroughly and select the verbs that represent the duties of a secretary.
When you create your key achievements, put a powerful action verb at the beginning.
The following job description of the executive secretary helps you to choose relevant action verbs.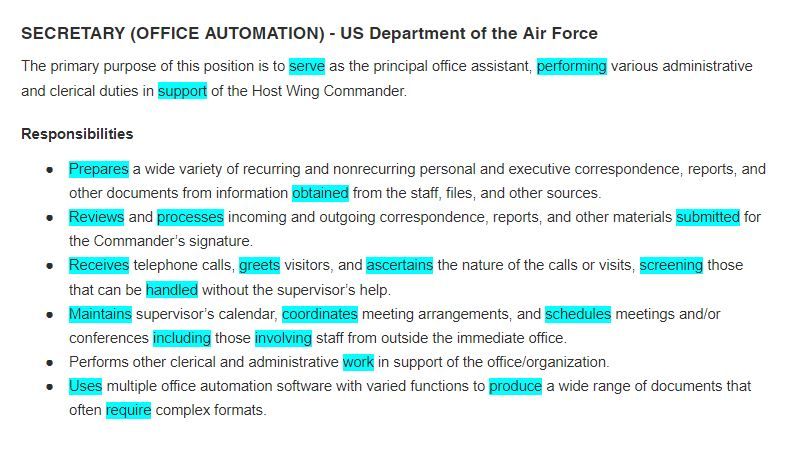 List of common Action Verbs
Assisted
Accounted
Answered
Alerted
Booked
Coordinated
Created
Directed
Determined
Drafted
Edited
Emailed
Entered
Greeted
Handled
Helped
Informed
Kept
Managed
Maintained
Quiz #04:- What should a Secretary Cover Letter contain?
The applicant can communicate friendly with the recruiters through a cover letter. So admire the sustainability and goodwill of your target company.
Tell them that you have researched about them. That will be a pleasure for them. Also, cite some positive comments of current employees and customers.
The hiring personnel will love to know why did you apply for the vacancy. So, provide a positive reason in your cover letter.
Do not forget to highlight your unique values through your perfect cover letter.
Modern Recruitment Process of a Secretary
How to recruit a Secretary for a company?
The modern companies post the vacancy on their official site or other job posting site. Thousands of applicants who are eligible for the secretary post send their resumes. Email is the most famous way to send resumes now.
The hiring managers use the Applicant Tracking System (ATS) to filter the received resumes. The ATS selects the top resumes with the highest qualifications.
Then the recruiters scan the top resume and select the best applications for the interview. The hiring board chooses the most suitable secretary in the interview.
So, you must customize your resume based on the ATS and recruiters.
Average Salary of a Secretary
A secretary can earn $29,525 per year. But that is an average salary. That may be different based on the enterprise and the years of experience.
However, do not mention your salary expectation in your secretary's resume. If they request to mention it, include a fair salary amount.
Secretary Resume Sample (Text Version)
Stella Eleanor
Secretary
+(310)468 8787
stellaeleanor@gmail.com
North Carolina, Burlington
Summary
Self-motivated and punctual secretary with 10 years of experience who has handled office administrations in both the private and public sectors. Holds a bachelor's degree in Business Administration. Won the best employee of the year award for the best performance and assistance to achieve the company goals.
Work Experience
Secretary
Soniry, New York – 2017/Jan to Present
Drafted more than 100 meeting agendas with supplying advanced materials.
Maintained both electronic and paper file systems by updating relevant data.
Created more than 500 reports and correspondence by using pre-handwrittennotes.
Secretary
Yigati, Georgia – 2013/Oct to 2016/Dec
Organized more than 500 company documents by using fax, scan, photocopy, and other relevant machines.
Wrote more than 200 minutes of company meetings.
Updated the appointments, interview, training, and meeting schedules and informed the relevant authorities.
Administrative Assistant
Pexmon, New Mexico – 2010/Jan to 2013/Sep
Created more than 50 PowerPoint presentations adding relevant information.
Handled the day-to-day schedules and informed relevant authorities.
Sent and Received more than 50 company emails and postal mails per day
Education
Bachelor's Degree in Business Administration – 2007/Jan to 2009/Dec
The University of Texas at Dallas, Richardson
Relevant Coursework – Office Management, Business writing, International Business, Information System Management, Hospitality Management, Office Technology, and Data Entry
GPA – 3.56
Skills
Efficiency
Leadership
Multitasking
Work Ethic
Patience
Bookkeeping
Data Entry
Typing 87 WPM
MS Office Suite
Calendar Management
Languages
English – Native Speaker
French – Working Knowledge
Italian – B2
Want to build a perfect resume by yourself? Click on the below button.
Want to get a perfect Secretary cover letter created by an expert?
People who read this also read: