How Long Should a Resume Be?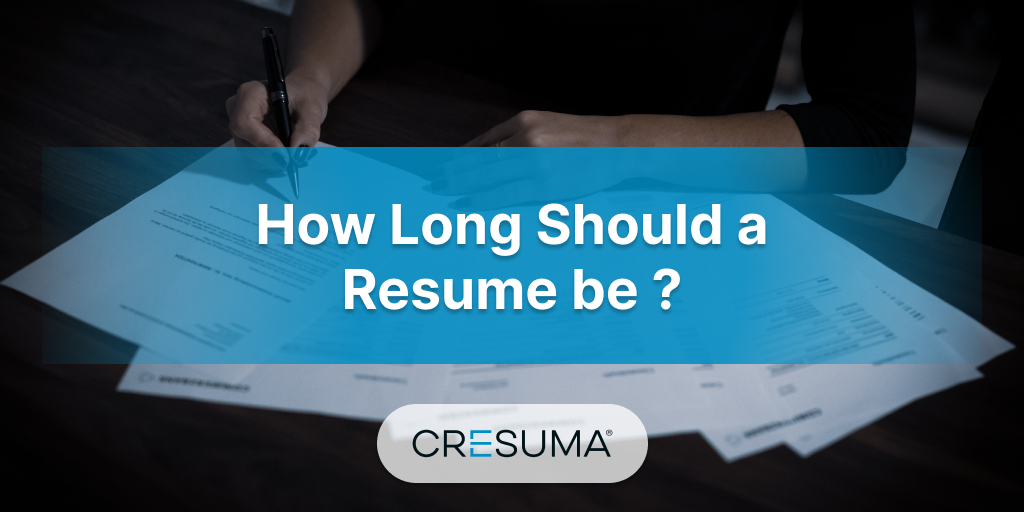 As the resume is a professional document, there are specific rules and regulations that we have to obey when we write a resume. Limiting the length of the resume as much as possible is also such a best practice. There is not an exact length for a resume. That depends on the experience level of the applicant. However, a successful applicant neither creates too much short or long resume.  Because short resumes show that you have no or less experience and lengthy resumes seem like you are stuffing details to your document. Now you may wonder how to select the best resume length. So continue reading this blog to know about the myth of resume length.
Length Types of Resumes
A resume can be from one page to three pages and should never exceed the limit. You should select the length of your resume based on your years of experience and professional background. Here is a complete explanation on when to use and how to use those resumes of different lengths.
One Page Resumes
Using a one-paged resume provides a pleasant appearance, and it feels easy to read, scan, and find out the information quickly. Therefore, there is a myth that a one-page is the perfect length for a resume. But there is no rule that you should limit your resume into one page. Also, here are some circumstances that a one-page resume is more suitable for.
When new graduates or current students create a resume.
The professional's resume with less than 10 years of experience.
The resume of the applicants who have shifted into a totally different career.
If the applicant has held two or more different positions under the same employer.
The applicants can limit their resume into one page by managing the white space of the resume accurately.
Two Pages Resume
The professionals that have more experiences related to the target field and a huge amount of career accomplishments, need an extra space to arrange their information in a resume.
However, the experience should be related to the target field. Because the recruiters take just six seconds to scan a resume. If they feel the career achievements are not relevant to the position within that tiny time period, the hiring managers would be dissatisfied with your resume and will tend to reject your resume.
Let's see when to use a two-page resume.
If the applicant has more than 10+ years of relevant experience.
When the applicant has worked in many companies and gained more valuable experience.
The applicants who apply for management or leadership roles.
However, if you select the two-page resume, it is better to add the same resume header as the first page or even provide your contact information on your second page. Because if the two pages have been separated and the first page has been dismissed, the recruiters will find it hard to contact you.
Three (or More) Pages Resume
The applicants who are working in academic fields need more and more space to list their publications, researchers, and projects. The multiple pages resume can be accepted for certain industries and professions. But first of all the applicant should consider whether he focuses on the quality or quantity of the resume before going to a multiple pages resume.
Here are the situations that a multiple pages resume can be acceptable:
The applicants who have a wide list of publications, licenses, courses, speaking engagements, or patents.
When the applicant applies for a federal job that requires more information.
If the applicant is a top-level executive with a long track record of leadership achievements.
The applicants with a huge list of case studies, project highlights, or lists of technical skills related to the technical or project management field.
Applicant type vs Resume length
There are many types of applicants in different job industries. Some of them are current students and seeking a job. Others have completed their higher education or graduation and are looking for a suitable job. Another set of applicants are applying for jobs with certain or many career experiences. This section will explain how to select your resume length according to your experience level in the job industry.
College Students' Resume Length
A single page resume is the best resume length for a student who wants to do a job with his studies. Because he can add the major sections as well as the relevant extra sections in a one-page resume by managing the space. The hybrid resume format can be used as the best solution for managing the extra space.
Though you are applying for a part-time or full-time job, try to limit your resume into one page as you are a student. However, do not forget to include relevant and essential information in your resume.
Graduates' Resume Length
Usually, job seekers try to complete their degrees or diplomas and find suitable jobs for their qualifications. As an entry-level job seeker, the graduates may have no experience to mention. As a result, they tend to use a one-page resume. However, It is a good practice to limit your resume into a single page. However, you should enter each information in a way that enhances your value.
Professionals' Resume Length
Professionals can use anything from one, two, three, or more pages resume based on their experience level. Furthermore, if the applicant has 1-10 years of experience he can manage his information within a one-page resume. On the other hand, if the applicant's experience is more than 10, the two-page resume is ideal for him. Usually, the three or more pages resume is used by the applicants who have more than 10 years of experience with so many relevant details in extra sections such as, memberships, certificates, etc.
But these are not resume rules. Though you are a student or graduate, if you have a lot of relevant details that enhance your value, you can go through a two or more pages resume. In contrast, though you have more than 10+ years of experience and relevant details, you can limit your resume into one-page by adding the most relevant and recent information. Therefore, deciding the length of the resume is depending on you.
Best Practices to Follow in 2023 for a Better Resume Length
There are some facts that help to enhance the appearance of your resume. Refer to this section and check whether you have followed these resume length tips when you create your resume.
Tip #01 – Do not use overly lengthy content.
You can keep a two or more pages resume that does not contain filler words or buzzwords, irrelevant information, and experience, or unnecessary descriptions. Because the multi-page resumes with the most relevant information are not boring to read for the recruiters .
Tip #02 – Use clear fonts
Though there are so many clear fonts in the digital documentation you can not use all of them for resume writing. There are some legible and clear resume fonts that assist to read the document clearly and fast. Some of them are Open Sans, Calibri, and Georgia.
On the other hand, 10 – 12 font sizes are most suitable for a resume while 14-16 font sizes can be used as header text and the subtitles. If you use smaller font sizes than those recommendations, the recruiters feel it is difficult to read your content. In contrast, If you use bigger sizes for your resume it seems you have no enough information to present. Really if you have such a problem, use different formats to manage your space.
Tip #03 – Set the best page setups (margin, spacing)
The best margins for the top, bottom, left, and right sides are 0.5 to 1.0 points.  However, there is a myth that the round decimals such as 0.5, 0.75, or 1 inch are the most appropriate margins instead of using different decimals. On the other hand, the best line spacing for a resume is 1.0 – 1.15. The main purpose of margins and line spacings are to make sure your content is not packed too closely.
The resume that has less content can use a 1-inch margin and 1.15 line spacing while the resumes with more content have to decrease both line spacing and margins for a better appearance.
Tip #04 – Insert concise bullet points
When you list down your career achievements under the work experience section, it is better to list between 3-5 bullet points. This will help you to manage the space of your resume.
Though you use less number of bullet points if you include very lengthy contents for them, the effort of maintaining space is useless. Therefore, the best length for a bullet point is two lines. You can use relevant and formal action verbs as well as quantified metrics to build-up impressive and targeted achievements.
Tip #05 – Use different word styles
Though you prefer to highlight your text by making them bold or italic, it consumes more space than normal text. Therefore you should consider whether that text should be bold, italic or not, before using such text styles in your resume.
Tip #06 – List only 10-15 years of work experience
Though you are an applicant with more than 15 years of experience, you do not need to add that all career history in your resume. You can filter the top, most relevant, and most recent work experience and enter them on your resume. Because the recruiters never tend to seek each and every detail of your employment history. They are fond of knowing the professionally attractive information about yourself. Therefore, do not make them bored by adding unnecessary work experience.
Tip #07 – Do not add a photograph
Some countries allow the applicants to add a photograph on your resume while other countries prohibit adding a photograph. There is an ongoing argument that the personnel barriers and discrimination will affect the recruitment process if the applicants send their resume with a photograph.
However, we recommend you to add a photograph on your resume only if the job advertisement requires it. You can save more space and add more professionally valuable information on your resume if you remove the photograph.
Resume Length vs CV Length
Unlike the resume, the minimum length of the curriculum vitae is two or three pages. The reason is the cv contains more information than a resume. Also, the information on teaching, awards, presentations, experience, research, publications, and even affiliations can include in a CV. Usually, CVs are widely used in the academic and science fields. Therefore, you need to have a clear understanding of whether your field requires a CV except submitting a lengthy resume.
People who read this also read:
---
Want to build your own resume?