Photos on Resume: Should I include a Photo to Resume?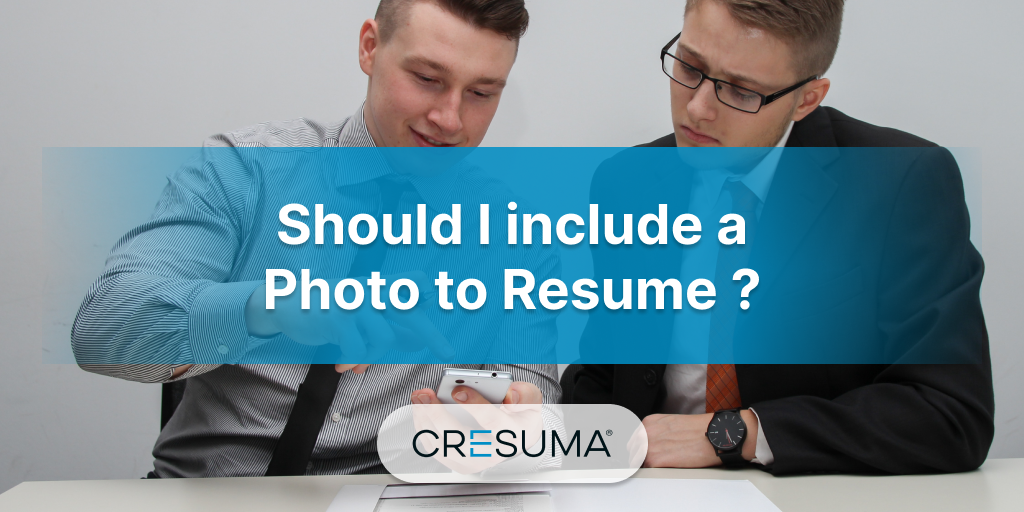 Do the recruiters really care about their employees' appearance? Not actually but it matters the subject knowledge, skills, and experience of a candidate and, most importantly, the attitudes. Therefore you should include the above described in your resume to make your job application stand out from the crowd. And why do we need to add a photo to resumes? Is this an utter must? Let's take a look at it.
There are many reasons that adding a picture to your resume might harm your chances of getting hired. Hence, the best practice in resume writing is to avoid using an image or photograph on the resume header. However, if you do need to add, follow this guide to learn how to treat pictures on resumes.
Is it a must to Insert a Picture on Resume?
There is an ongoing debate whether to submit a resume with a photo or not. We, as career experts, strongly recommend not to use photos on resumes unless the job description asks.
Why? There are few reasons for that.
#01 – Photos on resume could be a discrimination factor
HR experts recommended a list of what should not include in a resume that could be discriminated against you. The list starts with the "Photograph". That's because most of the recruiters will tend to bias their decision of recruiting. By looking at a picture of the applicant, a typical recruiter can determine the particular candidate's gender, race, age and many more features. So it can be unfair either for you or for someone else. That's not actually a fault of the recruiters. But they might unintentionally discriminate as they are also humans.
#02 – Because Images are not ATS-friendly
Many large companies across the globe receive support from Applicant Tracking Systems to streamline their hiring process. ATS bots can only read the text and not the graphics. If your resume contains any images or graphics that might confuse the ATS bot. So it may be subject to the failure of your resume from the ATS scan.
#03 – Your country may not accept photos on resume
There are several countries in the world which do not accept photos on resumes. The reason for that is they have rules and regulation regarding anti-discrimination employment. These countries even do not stare at your resume for a single second if it contains a picture. So it is worth knowing whether your country does accept photos on resumes or not, before submitting your job application. This way you can avoid the risk of your resume rejection.
These countries do not accept photos on resume:
Australia
Canada
India
Ireland
Sweden
The Netherlands
United Kingdom
United States
These countries generally accept photos on resume:
Austria
Belgium
China
France
Germany
Japan
Portugal
Spain
Scandinavian Countries
Africa
Asia
Middle East
#04 – It's actually an unnecessary content
As you understand in the above, a photo is an unnecessary thing to be on your resume. You can use that valuable space to mention either your abilities, awards or any other useful piece of information that is much more effective than including your picture.
Smart alternative for you
Do you know that there is a smart way of adding a photo to a resume? Yes, there is. If you really need recruiters to see your face, then you can do it way smarter than including a photo on your resume. If you maintain a LinkedIn profile, you can simply add a professional snap of yourself there. After that you can add the LinkedIn URL on your resume header. It's simple as that, yet professional. Our resume templates provide you the space to add a LinkedIn URL to your resume. Try our resume builder for free.
When to use photos on resumes?
If you apply for a position in the entertainment business, a headshot could be needed. Because recruiters will be focusing on your appearance when they are hiring actresses, role models, singers etc. You can include a picture on your resume in those situations. But still, you can add a photo if and only if they are mentioned to do so in the job posting since the best practice in the USA is not to include a picture on a resume.
However, sometimes recruiters or job ads invite you to submit a recent photograph of yourself in the resume. In this case, it's all right to submit your resume with your photo on it.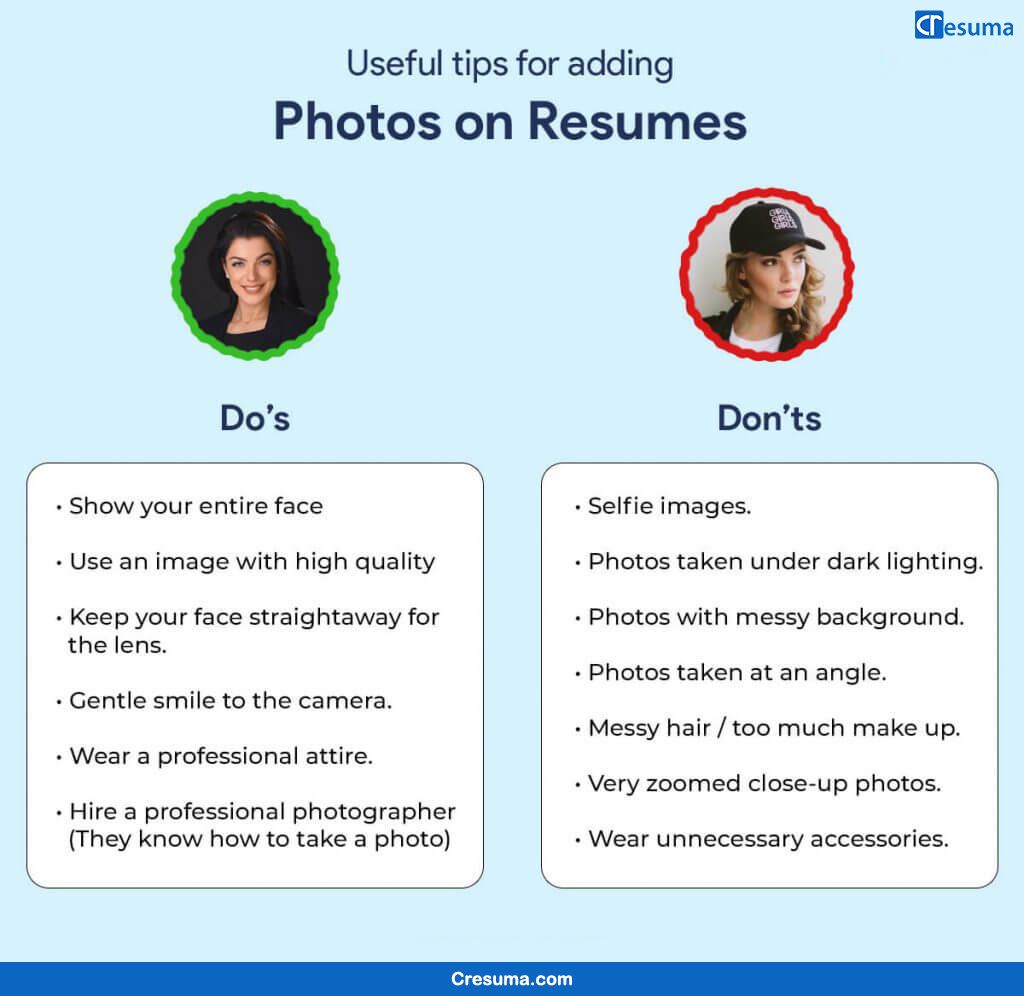 Seven Tips for a Professional Resume Photograph
If you are looking to add a photo to your resume, you can get better results by following the tips below.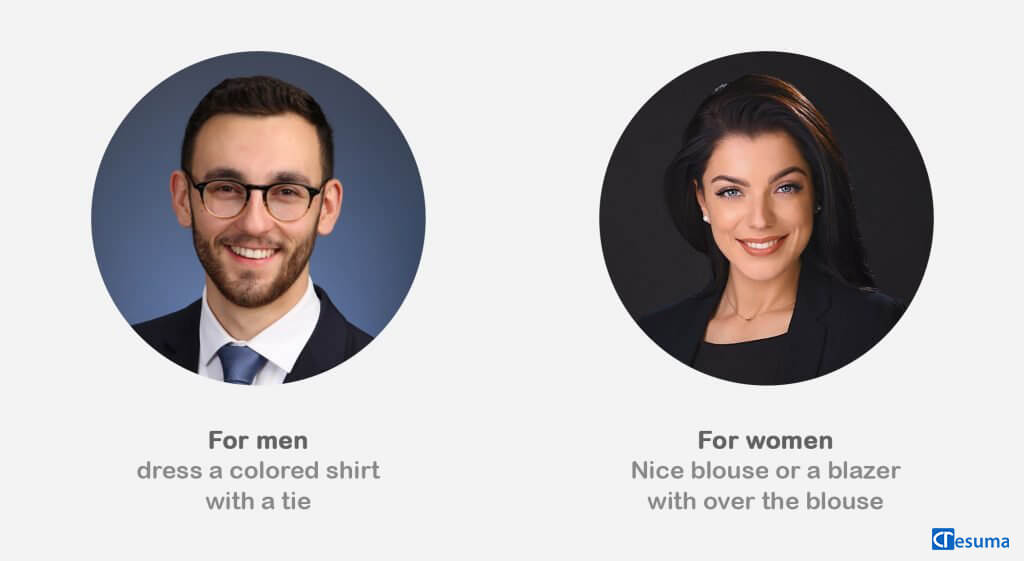 01. Focus on your Attire
Since you are going to take a resume photo which will be used for a job application, you need to keep your professionalism. So you need to dress professionally. A clean and plain dress or top with minimal jewelry is recommended by professionals, for resume pictures.
02. Show your head & shoulder only
Full-body images are not preferred on resumes since this is your profile photo. And it will waste your valuable resume space too. So frame from the waist up, to snap a better resume picture.
03. Say Cheese!
The recruiters don't want to see your photo full of laughter. A pleasant and natural smile really can bring you a long way. Never make your photo look grumpy and scary. That could make a bad impression in recruiters' minds about yourself.
04. Keep the eye contact with the lens
Be sure to make eye contact with the camera lens. So that the particular photo will convey your confidence to the recruiter. It also demonstrates you are a focused person. If the photo has no eye contact, that's not a professional image any more. And it also could be very distracting for the recruiter.
05. Be careful of your background
You need to take your photo with a neutral or solid color background. If your background is very bright in color you must wear a neutral color wear and vice versa.
06. Don't wear hats and sunglasses
Sunglasses and hats will partially hide your appearance. Therefore avoid taking photographs outside and choose an indoor place to take your photograph. So that no direct sunlight comes on your face which means you don't need to wear sunglasses or hats.
07. Use the Primary Camera on Mobile
The image quality of a resume picture is very important if you are going to add a resume photo. Your photo should not be blurred and in high resolution. If you do not get the assistance from a professional photographer or DSLR camera, you can still get a photo with your mobile. But never use your mobile's front camera because it will spoil the quality of your image.
Examples for Good and Bad Resume Photos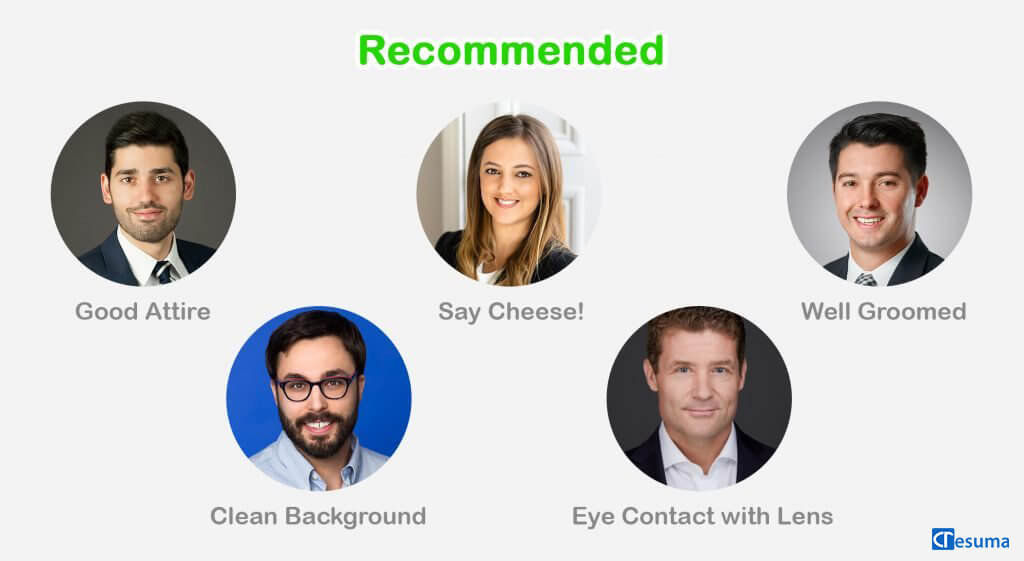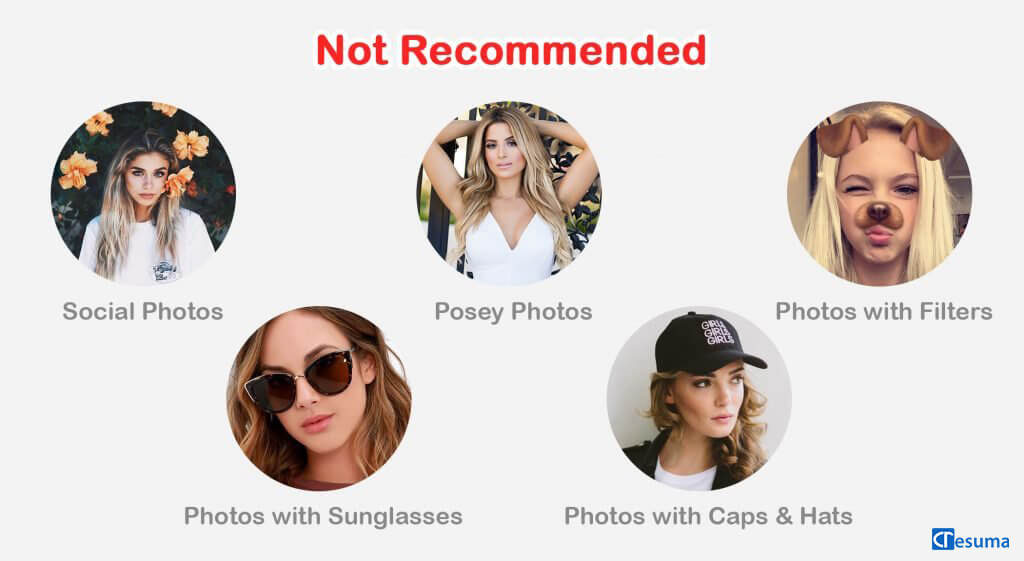 Key Takeaway
At last, it is your choice to include a photo in the resume or not. But you need to consider a few things before, if you include a photo. Make sure your country accepts photos on Resumes. And be sure that the picture fits your desired position. And the most important thing is that the picture has to be professional.
Want to build a resume with a photo of you? try our Free Resume Builder