How to write your resume for the first job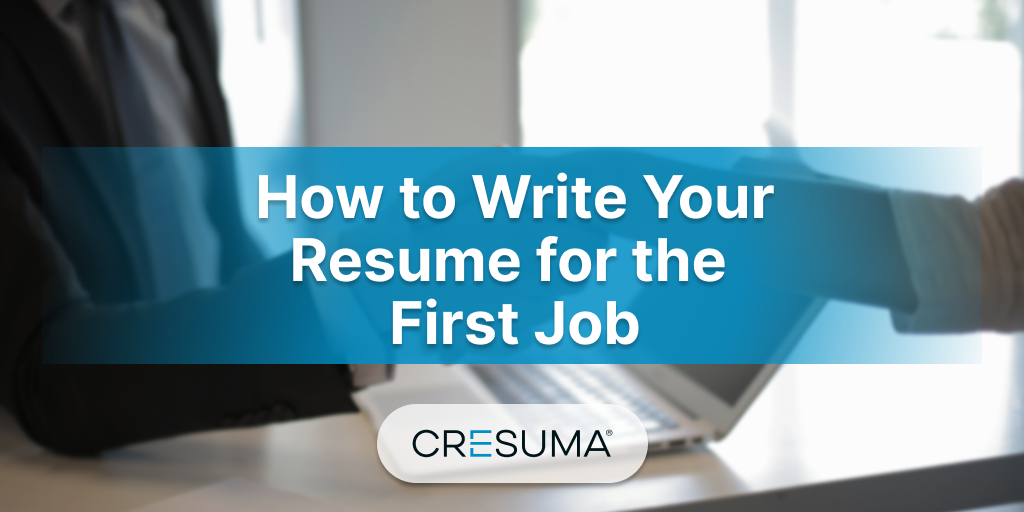 If you are writing a resume for the first job, this will no doubt be a daunting task for you. However, since everything has a first turn, writing a resume for the first job is something that everyone looking for a job has to face.
Whether you are a high school graduate, a college student, a university graduate or a first time job applicant, this task will be a challenge for you if you don't know how to write a resume properly. But if you read this entire article, you will feel that writing a resume for the first time is not that difficult.
You can be new to your career. But since you are new, no employer will put you on a priority list to give you a job. Getting a good job is very competitive in today's job industry. Therefore, even if you are a newbie, it is very important that you enter the job competition armed with a professional resume.
But here you may have a problem with how to make a resume with no experience. Don't worry. In this article we will explain to you how to make your resume stand out even if you have no work experience.
What to include in your first resume with no experience?
If you are writing a resume for the first time, there are many sections to include in it. Most people do not care much about these, so if you pay attention to these sections, obviously you will get a job opportunity or an interview opportunity. Below are some of the sections you can add to your resume. We will talk about these later one by one.
Contact information
Objective statement
Education
Skills
Work experience
Certifications
Memberships
Languages
Hobbies and interests
Contact information
This is usually called the resume header and we use this section to showcase our contact details to the employer, including our name and the job title.
When inserting your name, include only the first name and last name. You may have a problem in writing the job title because you don't have previous experience. However you can use the following as your job title.
Recent College Graduate
IT Graduate with MBA
High School Student
Entry Level Marketing Associate
Marketing Intern
If not, you can simply enter the title of the job you are applying for here. You can find it easily in the job advertisement.
In addition, enter your contact details such as a telephone number, a professional email address, your location, and LinkedIn URL (if any) into the resume header. This could be helpful to make your resume header stand out from the other first time job applicants.
Objective statement (not a resume summary)
When you write a starter resume, a summary – usually written by an experienced person will not be suitable for you. But instead you can write a career objective.
But there are a few things you should mention in this section. Accordingly, through the resume objective, you need to answer the questions of who you are, why you need this job, and what you can do for the organization.
Below are a few tips to make your resume objective stronger:
Start with a strong character trait such as: passionate, motivated etc.
Mention your key academic achievements and the GPA (if it is above 3.0)
Don't forget to mention some of your key strengths
Mention what you can do for the company with your existing skills
Tell about your professional certifications and licenses
By incorporating these facts you can eventually get a good resume objective. Below is a superb example for an entry-level resume objective.
Career Objective
Motivated student with a bachelor of marketing from the New York University (3.90 GPA). Eager to join Browntech Marketing as a Junior Marketing Consultant to help establish long lasting client relationships and to promote products and services to the relevant clients. Expert skills in public speaking, digital advertising, customer management, and copywriting. HubSpot Content Marketing Certified.
Education
If you are a person with no experience, one of your most powerful job winning factors is your educational qualifications. Your educational qualifications can add a significant value to your starter resume.
In the absence of work experience, it's not sufficient to include only the institute and the studied duration when writing your educational qualifications. In addition, you can include the following in the education section to make it more unique.
Expected graduation date (if you're still an undergraduate)
List your majors
Include Summa cum laude / GPA (only if it is above 3.0)
Emphasize related coursework
Dean's list
Mention academic achievements
Extracurricular activities
See the below example to get inspired on how to write a correct resume education section when you are writing a resume for the first time.
Resume education section with no work experience
Bachelor of science in Marketing
New York University (2018 Jan – 2023 Mar)
GPA: 3.85 | Dean's List for 4 semesters
Relevant coursework: Consumer behavior, customer insights, social media strategy, brand strategy and planning, digital marketing, global marketing management
Extracurricular activities:
Member of the University Badminton team (2018 – 2020)
Violinist at the University Orchestra
Skills
Even if you have little (or no) work experience, recruiters value you as a potential candidate to offer the job, if you're a skilled applicant. Therefore the resume skills section is one of the most important components in your resume with no work experience.
To get a superb skills section it is very important that you mix soft skills and job related hard skills together and incorporate them into your resume. Especially if you are an entry level job applicant, you can increase your job winning probability by incorporating transferable skills.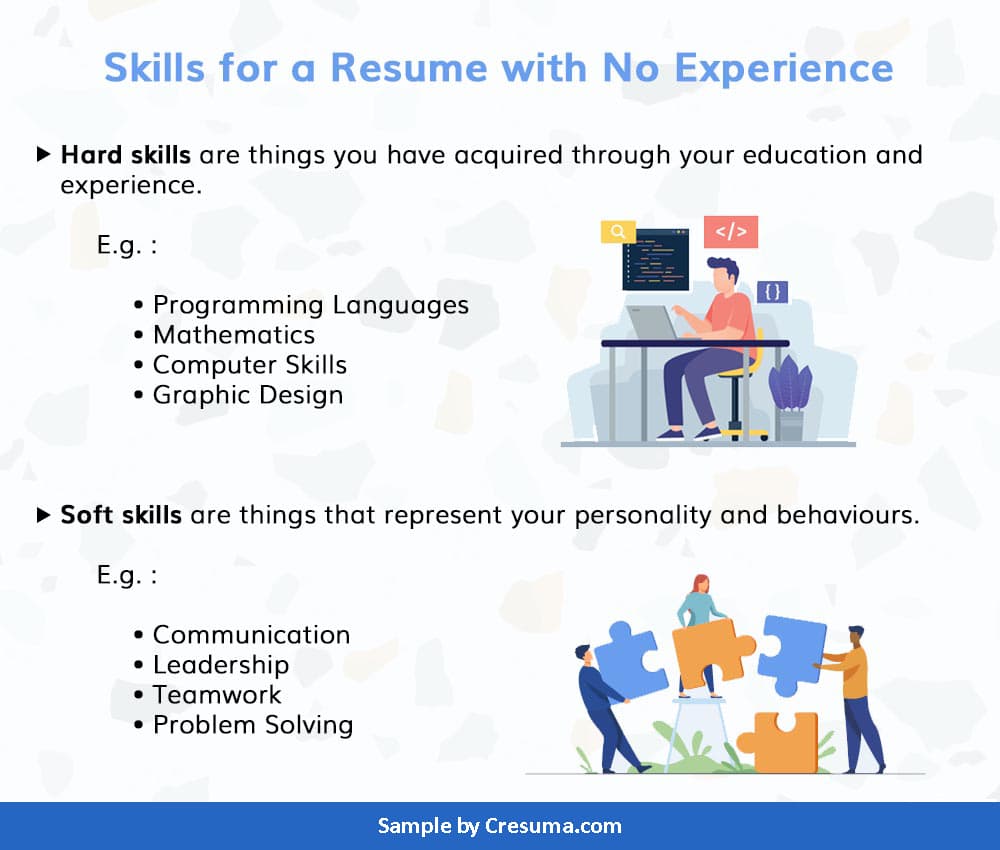 Example soft skills for a resume with no experience
Analytical skills
Creativity skills
Collaboration skills
Communication skills
Fast learning ability
Interpersonal skills
Leadership skills
Management skills
Marketing skills
Motivation
Organizational skills
Presentation skills
Proactive
Rapport building
Teamwork
Work experience
Is it a problem to list work experience because you have no experience in a prior job? You may have a variety of relevant experiences, even if you are not aware of it.
Have you done an internship at any company? Or have you volunteered for any project? Or have you served as a freelancer to a variety of customers? If YES, you definitely have the experience to include in your resume.
Any experience of a recent college graduate or entry-level candidate will undoubtedly be a powerful weapon. So you can get the recruiter's attention into your resume by incorporating a little experience or achievement into your resume.
Employers love to see your volunteer work experiences and freelancing experience on a resume. In bullet points you can describe what you have accomplished as a volunteer or a freelancer.
Some may not have a job but have received training on certain jobs. So if you can mention this in your resume it will definitely be a special advantage for you as a newbie to the job market.
Certifications and licenses
By now you are aware of the basic information that should be included in your resume with no work experience. But since you are applying for your first job, you have to stand out from the rest of the applicants with your resume to ensure you get the job. To do so, the Certification and Licenses section is one of the best optional sections you can add to your resume.
Many jobs even require a variety of certifications to qualify for the job. Certifications and licenses have that much value in the job industry.
If the company you are going to apply for the job is prioritizing certified candidates or if they require certification from the applicants, be sure to include a dedicated section to include your certificates.
The following is a good example for a resume certification section.

Professional Memberships
Including professional memberships and affiliations on your resume is a great way to let your employers know that you want to be up to date in your job industry. This will definitely make them feel positive about you. So if you have represented various clubs, associations, organizations related to your job field you are willing to apply, feel free to mention information about them here.
Language Competencies
If you have a fluency in multiple foreign languages, make sure to include them in your resume. Even if you don't know, this is a very impressive skill that most recruiters and employers value. If you have different language skills, you have a probability of getting hired even if you have no work experience.
See the below sample resume language competency section:
Language Skills
English – Native or bilingual proficiency
French – Professional working proficiency
German – Elementary proficiency
Hobbies and interests
One of the things that employers check to determine if you fit into the organization's culture is to know what your hobbies and interests are. So, if you have hobbies that you think will be appreciated by the company, be sure to mention them in a separate section.
Tips to make your resume with no experience
01. Format your resume for good readability
Before sending your resume to a recruiter, you need to make sure it is properly formatted. Then you can increase the readability of your resume. It will be important for you to follow the tips below when formatting your resume.
Pick a good resume format: Employers always appreciate the reverse-chronological and combination resume format, but the Functional resume format will be a better option for you because you have a limited amount of work experience. It will highlight your skills and achievements rather than your work experience.
Use section headings to make your resume easier to navigate.
Always use a professional resume font. Better to use a font size between 10-12 points for the resume content and 16 points for the section headings.
Keep the resume margin between 0.75 to 1 inch all around the resume.
Save the document in a good resume file format. For example, save resume in PDF file format.
02. Tailor your resume for each job
Note that there is no one-size-fits-all approach in resume writing. If you have an idea to apply for several jobs from a single resume, your dream job will just become a dream for you.
Therefore, if you are applying for different jobs, it is worth tailoring your resume separately for each job. That way you can easily beat even the applicant tracking system and get into the shortlist.
A great way to tailor your document is to create it with a specific job in mind. You can also go through the job advert and find if there are any keywords and job related nouns. If found any you could add them throughout your resume to make your document more relevant to the job.
03. Use resume action verbs
In cases where you don't have much experience to share in the resume, especially when writing your first resume in your career, you can get the best results out of it by using resume action verbs appropriately in the right places.
Action verbs can be used to sharpen and highlight your skills. You can use these verbs in the resume summary as well as in the achievement bullet points in the work experience section to evoke your dynamism and action. This will eventually motivate the recruiter to call you for an interview.
Here are some resume action verbs you can be used in your resume:
Achieved
Created
Generated
Identified
Implemented
Improved
Increased
Initiated
Introduced
Launched
Lead
Managed
Monitored
Organized
Overhauled
Resolved
Streamlined
04. Quantify accomplishments
A great way to make your resume jump to the top of the pile is to list quantifiable achievements. If you can quantify your accomplishments with facts and figures rather than just listing your achievements as bullet points, your resume will stand out more from the crowd. Numbers will definitely make your resume stand out.
05. Keep it to one page
Depending on your situation, since this is your first resume, and you have a little or no experience, a one-page resume is the optimum resume length for you. Yes, one page is more than enough to make a compelling resume to win the job for you.
Avoid using filler words to take your resume to a second page with the intention of strengthening your profile. It doesn't make any good impact for you.
If you can present your career story concisely and in an organized manner through your resume, that's what recruiters expect from you. They don't care about the number of pages or the word count on your resume.
06. Be honest, always!
Never lie on your resume. This is one of the most important things to keep in mind when writing a resume for the first time.
Many candidates try to strengthen their resume by inserting false information into the resumes thinking that they will drop out of the job competition because they have no experience when writing a resume for the first time. Or sometimes they even include certifications that they actually don't have with the intention of proving that they are qualified.
Even if you get an interview opportunity by giving false information like this, it only takes a very short time for a skilled recruiter to discover that you have given false information during the interview. Then the recruiters will decide to drop you out from the job competition because there is a problem with your loyalty even if you are really fit for the job.
07. Proofread your resume many times
This might be your first time writing a resume. So when you write your first ever resume, you could make mistakes. When you submit your resume with errors, the recruiters will get a negative impression about you. That means you may even risk losing your job opportunity.
So to avoid this risk, it is important to proofread your resume at least a few times before submitting it. Then you can detect and correct grammar mistakes, spelling mistakes or typo errors in your resume if there are any and finally you can submit an error-free resume.
Better yet, you can give your resume to a friend or family member for further proofreading.
08. Write an impressive cover letter
Writing a cover letter gives you the opportunity to communicate with a recruiter you could not say in a typical resume. You may think that employers don't take the time to read cover letters. But the truth is, recruiters who are tired of reading thousands of resumes tend to read cover letters. It has even been scientifically proven.
So for these reasons you may feel how worthwhile it is to attach a cover letter to your resume. Therefore, feel free to send a cover letter with your resume at all other times unless the job advertisement strongly says don't send a cover letter.
Want to get a perfect cover letter written?
Related:
Enjoyed Reading?
Help Cresuma cover the server and other costes to continue this 100% Free Service. Show your support below.