Career Change Cover Letter Example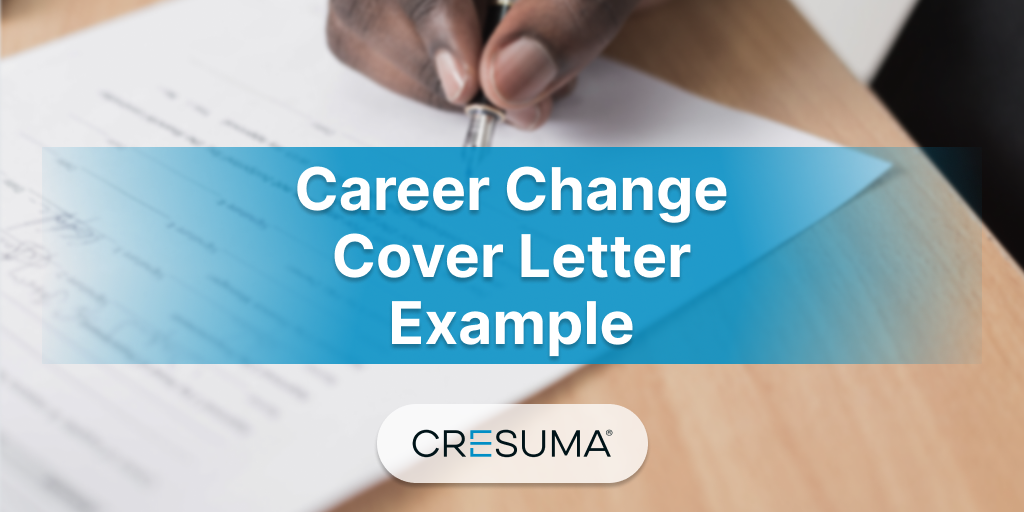 It's much harder to find a good job in this competitive work environment than you think. But a career change makes getting the perfect job even more difficult. Anyway, do you know that a good career change cover letter can bring you luck?
So, what does a career change cover letter mean?
Just assume you need to move your job to an entirely different field, and you don't have any kind of knowledge in that area. How can you draw the attention of a recruiter with an unrelated experience? That's why these kinds of cover letters are very important. You may request a job opportunity from employers through a cover letter by describing your transferable skills and a sales pitch.
Career Change Sample Cover Letter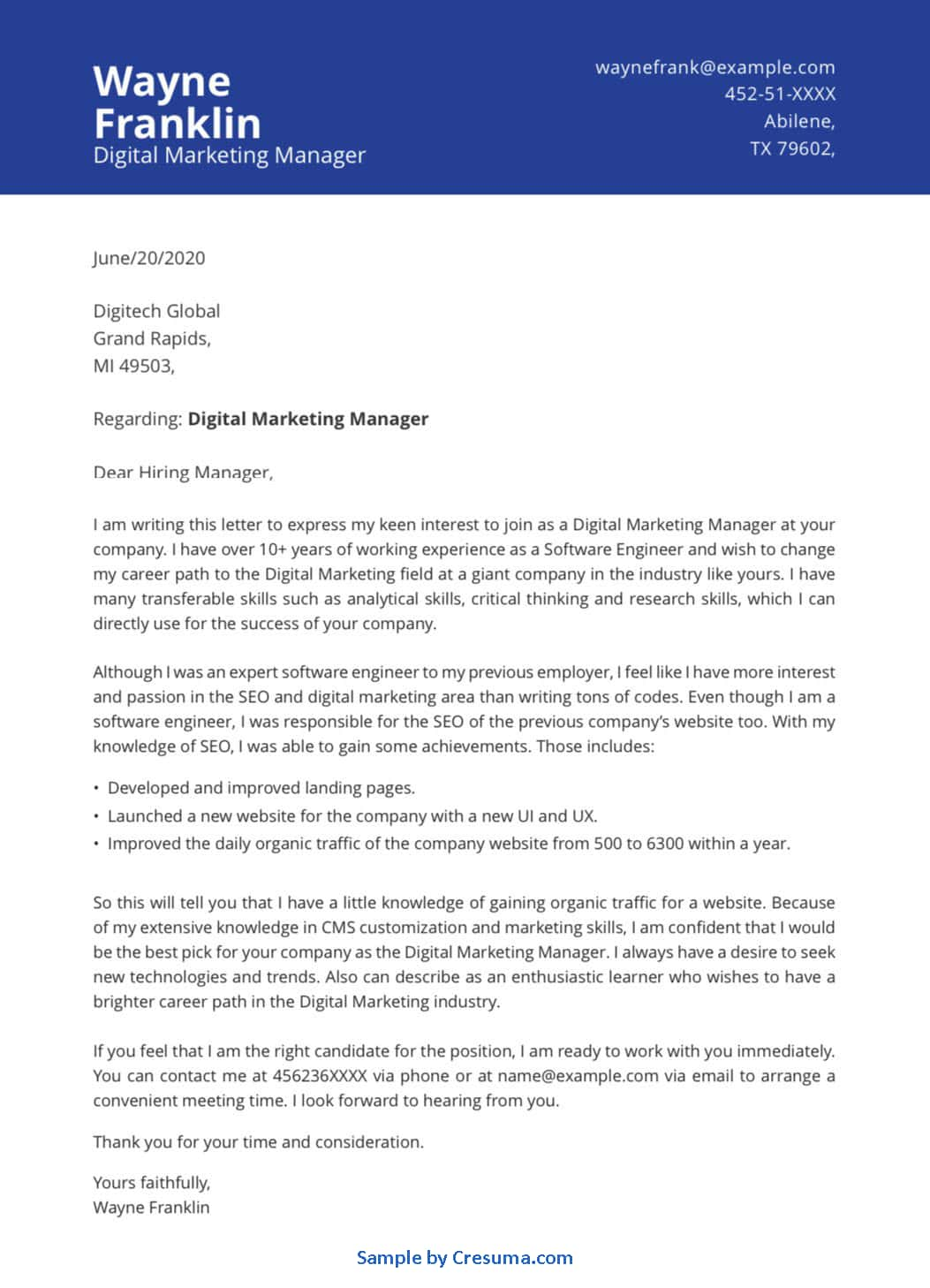 Sample Career Change Cover Letter (Text Format)
Wayne Franklin,
Abilene,
TX 79602.
452-51-XXXX
waynefrank@example.com

Steven Foltz,
Hiring Manager,
Digitech Global,
Grand Rapids,
MI 49503

Dear Hiring Manager,
I am writing this letter to express my keen interest to join as a Digital Marketing Manager at your company. For the last 10 years I have a solid work experience as a Software Engineer and wish to change my career path to the Digital Marketing field at a giant company in the industry like yours. I have many transferable skills such as analytical skills, critical thinking and research skills, which I can directly use for the success of your company.
Although I was an expert software engineer to my previous employer, I feel like I have more interest and passion in the SEO and digital marketing area than writing tons of codes. Even though I am a software engineer, I was responsible for the SEO of the previous company's website too. With my knowledge of SEO, I was able to gain some achievements. Those includes: consideration.
Developed and improved landing pages.
Launched a new website for the company with a new UI and UX.
Improved the daily organic traffic of the company website from 500 to 6300 within a year.
So this will tell you that I have a little knowledge of gaining organic traffic for a website. Because of my extensive knowledge in CMS customization and marketing skills, I am confident that I would be the best pick for your company as the Digital Marketing Manager. I always have a desire to seek new technologies and trends. Also can describe as an enthusiastic learner who wishes to have a brighter career path in the Digital Marketing industry.
If you feel that I am the right candidate for the position, I am ready to work with you immediately. You can contact me at 456236XXXX via phone or at name@example.com via email to arrange a convenient meeting time. I look forward to hearing from you.
Thank you for your time and consideration.
Yours faithfully,
Wayne Franklin.
Get Custom Career Change Cover Letter
In most cover letter builders, this comes at a huge price. But with us, this comes only at $4.99. If you want to have one, you may however continue with Paypal / Credit card for our specialist Premium Cover Letter Builders to work on customized Career change Cover Letter exclusively for you.
Steps for a Great Career Change Cover Letter
Consider answering the following questions while writing a cover letter for the career transition. This will generate a perfect cover letter to change your career.
01 – Why do you think of a career change?
Always let the recruiter know why you've transformed your career. If this is a reasonable and impressive reason, they will continue to read your cover letter. Never explain a negative reason, such as losing a job because of poor attitudes and losing a job because of some illnesses etc., in your cover letter. That will be a reason to throw your application out of the stack without hesitation.
02 – How do you feel about this job/field?
Explain why you're in love with the new job or field than your previous one. It is important to express your passion and enthusiasm for joining your new career field. Recruiters love to hire passionate people to their companies as they think they will work more efficiently than ordinary candidates.
03 – Why did you choose us?
You need to do company research before applying for a job. You can either visit their website, LinkedIn profiles and the social media profiles of employees of the company. So you can get a brief understanding of the culture of the company and the working environment. Then you can tell the cover letter reader you like company culture, and that's why you worked with them.
04 – What are the current skills you have?
As this is a new job field, you may not be available with the relevant skills. But you could have transferable skills or universal skills that could be worth having with you. These skills can make you successful in any field of work or industry. For example:
Adaptability
Analytical Skills
Creativity Skills
Critical Thinking
Communication Skills
Leadership Skills
Teamwork Skills
Tips for a Great Career Change Cover Letter
Tip #01 – Research the New Company and the Position
When you write your career change cover letter, it is important to show your thorough knowledge of the particular company through your document. This might make the recruiter feel that you are a passionate and enthusiastic person to work with them. So they will pay special attention to you.
Tip #02 – Tell Some of Your Accomplishments in Previous Positions
Recruiters only consider the candidates' achievements and accomplishments. They don't care where you work before or what you did before. So you have to insert your key achievements in your cover letter with strong action verbs. and quantified results. Then the recruiters will feel that you are an excellent investment for them, and this will multiply your job-winning chances by several times too.
Tip #03 – Match your Educational Qualifications for the New Job
Though you change your careers, recruiters will pay much attention to a candidate with the relevant educational background.  So you have to list your most relevant education qualifications, educational achievements, awards, and certifications as much as you can. In this way, you can let the recruiter know that you are a well qualified and a strong candidate for the particular job opening.
Ok. Now you know everything about Career Change Cover Letters. Congratulations!
Need to read other cover letter examples too? Head over to Cover Letter Examples 2023
Still worried about writing one and looking for a custom cover letter? Don't worry. Get unique one crafted specially for you from Cresuma experts
Enjoyed Reading?
Help Cresuma cover the server and other costes to continue this 100% Free Service. Show your support below.