How to write an Impressive Cover Letter 2023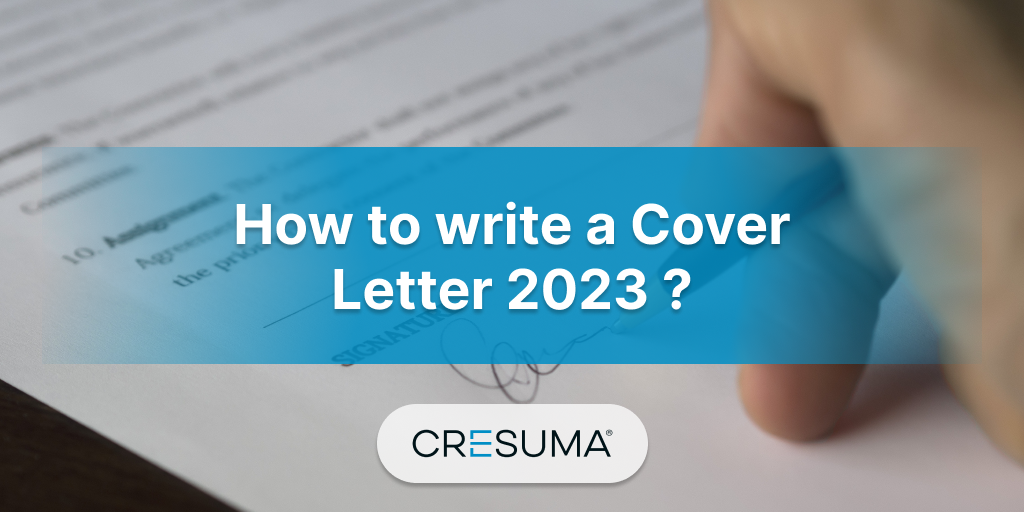 Did you realize that there is an impressive cover letter behind every successful resume?
It isn't just a statement. That's the reality behind any successful job candidate, too. When you're searching for the right job-fast, a good cover letter is almost as crucial as a great resume. A cover letter is an essential career resource that you need to use in your job quest. It's a perfect opportunity to market yourself to a recruiter or HR in a smart manner. A successful cover letter can inspire the recruiter to want to see you. In this post, we'll teach you how to compose a successful cover letter in 2023. First of all, it is better to get an understanding of what a cover letter is.
What is a Cover Letter?
A cover letter is a one-page document that is attached to a resume or a CV. The primary aim of the cover letter is to present yourself to the recruiter and explain what you have to give. That may involve an explanation regarding yourself, how you might support the specific organization, why you are willing to enter the company, etc.
If you need to prepare a cover letter for a specific job, it needs to be tailored with the keywords the same as a resume. The reason for this is, a cover letter should demonstrate the strengths that the recruiter would want to see with you. So you need to pick keywords from the job advertisement and put them on your cover letter. It ensures that you can not use the same cover letter for a different job application.
Want to Get a Custom Cover Letter?
Customized Cover Letter
You will have a cover letter uniquely written by one of our cover letter experts. This will increase the chance of your resume being picked by recruiters in 80%
Importance of sending a Cover Letter with your Resume
If you are sending a resume via email, don't forget to send it with a cover letter. No matter if you are a friend of the employer or you spoke to the employer via phone or in person, a cover letter is an essential career tool to send with your job application or resume. There are several reasons for that.
Your employer can be very busy. It is, therefore, necessary to send a cover letter with your resume as a reminder of why your resume is arriving in the mail.
Cover letters are personalized to every person according to the job they are applying for. The resume is tailored for a specific job. But it does not tell why you are ideal for the job. If you have any work gaps, the resume doesn't mention them. A resume can not show your knowledge about the company. But a cover letter will.
So it is very clear that a cover letter is a prime tool that you can get the impression of the recruiter towards your strengths, qualifications, and interests in a different way.
Best Cover Letter Structure in 2023
There is no exact format for the cover letter 2023. Yet you've got to arrange it properly in a manner that will quickly grab the reader's eye. Below is a tutorial about how to do that and what to include in the cover letter.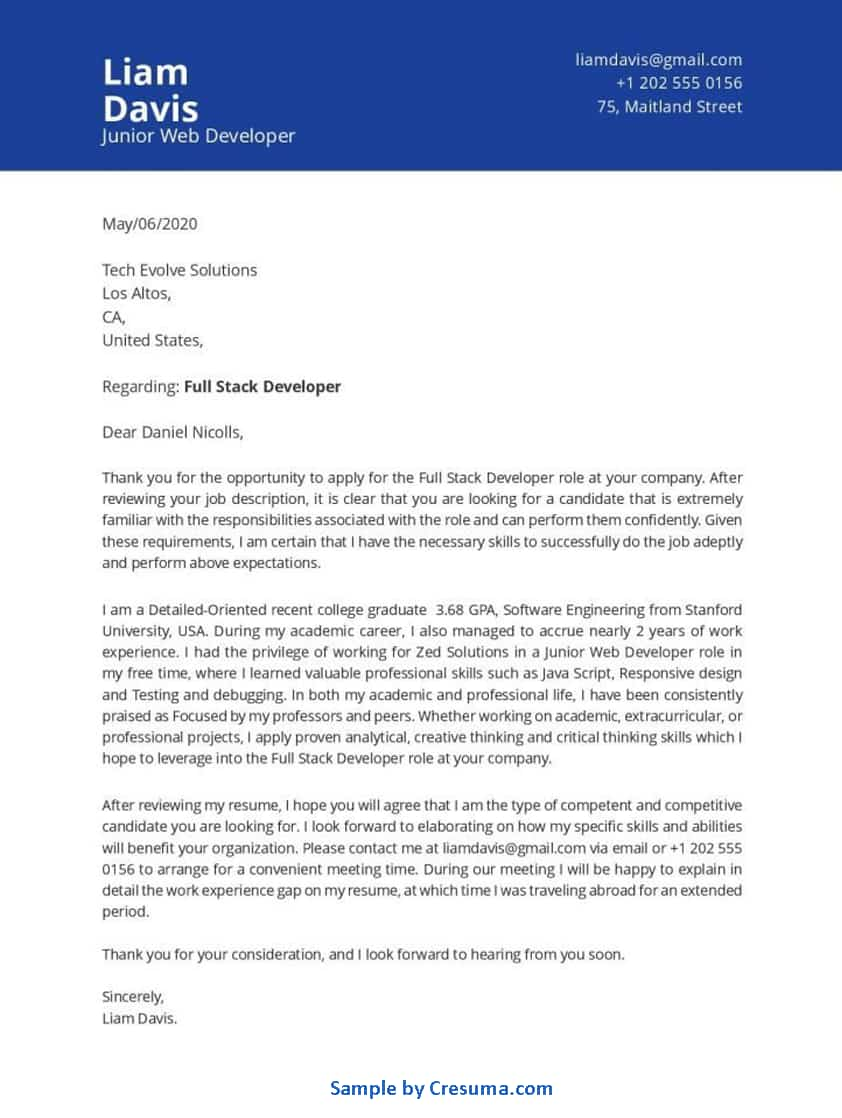 Want to see and download more Cover Letter Examples for 2023?
Cover letters vary from job title to title and industry to industry. Therefore, it is important to get to know about various types of cover letters. If you want to such cover letter examples by job titles or cover letter types and download the editable versions of them, you may headover to Cover Letter Examples 2023
Anyway, now let's move to cover letter structure again. we  will start from the very beginning, cover letter header.
Cover Letter Header
As this section appears at the top of your cover letter, you need to make it amazing. This area displays your contact information the same as in your resume header, You need to put your first name and last name which is the biggest text in the document. Then you can include your current position or the desired position. After you need to provide contact information such as email address, phone number, home address, etc.
Make sure you have a professional email address. If you don't create a professional email address right now with a good email service provider such as google, yahoo, etc. It is better to make your email address by using your first name and last name. And remember not to include your work phone number and work email address. Use your very own phone number and email address instead.
Examples for professional email address:
neilandrew@gmail.com
jsparrow95@yahoo.com
johnksmith@architect.com
Adding some links to your professional accounts such as LinkedIn is a great way to stand out your cover letter by thousands of others. And make sure to personalize the default LinkedIn URL if you are going to link it to the cover letter. You can add a more stunning look for your cover letter header by adding icons in front of contact information. Here is an example of a great cover letter header.

The Date
After your cover letter header, you can include the date you are sending the cover letter. However, adding a date on the cover letter is optional.
There are different ways that we can insert a date in the cover letter. The most popular approach to do so is to use the month, then the date, and finally the year. (e.g. August 14, 2023). Additionally, you could also put the date in numbers like 14/08/2021. This is the traditional date format in British Language. Yet in American English, you need to adjust the date and month as of 08/14/2021.
Recipient Details
That is where you place the recipient's contact information. If you know the exact individual who will read your cover letter, you can address the cover letter directly to that particular person. Addressing the correct person will show the absolute ultimate knowledge on how to write a formal business letter.
Example:
Hiring Manager,
Zed Design Solutions. inc,
2445, Green Valley Drive,
Los Angeles, CA, 90017.
Subject Line
The subject line explains what your cover letter exactly is about. It's like the same as the subject line of an email compose box. When writing this subject line, you can be creative but keep it short and relevant. If you use the subject line wisely, you do not need to spend any more time and space in the letter to explain what it is all about.
But sometimes the recruiter will ask you to include the job reference number in your subject line, or sometimes the job advertisement location with the job title. So read the job description carefully before you write the subject line of your cover letter. If you don't have specific instructions just put your job title.
Example subject lines:
Regarding [POSITION]
RE: [REFERENCE NUMBER]
RE: [JOB TITLE] – Available To Start Immediately.
Greeting
This is the way you salute to the recipient. This also called as the salutation of the cover letter. Try to find the recipient's exact name and directly greet the person by their first and last name. If you can not find the exact name of the person, you can simply find it from the job ad, or else you can call the specific company to ask to whom you should address the cover letter. In situations in which you can not find the name, you can address the letter to the "Recruiting Manager" or "HR Department".
Examples:
Dear Mr.John Doe,
Dear Jane Smith,
To whom it may concern,
Dear Hiring Manager,
The Opener
This is most likely the first paragraph or first few lines in your resume. You want to describe here about which position you are applying for and why you are a good fit for the job. Here you can show your accomplishments or achievements to impress the reader. Further, don't spend your valuable time and precious space in your cover letter by explaining where you get to know about this job. You can use the subject line for that purpose like, "RE: Job advertisement in Daily News Paper (24/08/2021)".
Examples for the opening line:
I strongly believe that I am a good fit for your company and would love the opportunity to become a professional developer in your company.
Thank you for the opportunity to apply for the Full Stack Developer role at your company.
My professional background has equipped me with skills exactly just what you need.
By reviewing your job description, it is clear that you are looking for a candidate that is extremely familiar with the responsibilities associated with the role.
The Cover Letter Body
This may include your second paragraph and the third paragraph of your cover letter. The body of your cover letter is the main content of the document. In this part, you can describe your past relevant experience concisely. At the same time, it is better to mention some of the relevant skills which helped you in your previous employment.
Remember that your cover letter should be short. Do not make it longer than one page. If you can make some link between what you have to offer and what the company needs from you, that is the top secret of a good cover letter. The cover letter body is an ideal place to show your personality to the recruiter.
Here is a great example of a cover letter body:
I have 5+ years of experience as a digital marketer. In my last position as an SEO Specialist at Zed Solutions, I was responsible for the company website traffic. One highlight from my last job was increased web traffic from 100,000 to 2M per month which resulted in a huge increment of Alexa Rank. There in my previous job I had the opportunity to develop my SEO, SEM, Social Media Marketing and Affiliate Marketing skills.
Work Gaps
This is an optional part of your cover letter. But if your resume shows a gap in your work experience that will badly affect your career. Therefore it is better to eloquently explain them away in your cover letter. So that you do not need to worry about your work gaps anymore.
Most of the candidates may have work gaps in their career due to various reasons. Here are the possible reasons for having a gap in their career. By describing the below reasons briefly in your cover letter will make it easier for the recruiter to understand your work gaps.
Taking care of children.
Trying to start your own business or startup.
Taking time off to travel or education.
Pursuing any type of professional training.
Personal or family health issues.
Call to Action
Here show your enthusiasm to join the company and inform the hiring manager that you would love to get an invite for an interview. Give them your contact details such as phone number and email address that can contact you directly. Finally, thank the hiring manager to spend their valuable time to read your cover letter.
Example:
It would be a privilege to discuss the position in detail with you. I am happy to meet and discuss with you whenever it's most convenient for you. I will follow-up with you next week. In the meantime, you can contact me using the email liamdavis@gmail.com or +1 750 254 147. Thank you for spending your most valuable time on reading this and I am looking forward to getting positive feedback from you.
The Closing Line
This where you close your cover letter. Here you can put a formal closing phrase and then your signature or name. Do not try to be too informal with your closing as this not your friend, but your potential employer. This section can be very short as 1 word or 1 sentence. Take a look at these examples:
With Regards,
[Your Name]

Best Regards,
[Your Name]

Thank you for your careful consideration,
[Your Name]

Yours Sincerely,
[Your Name]
How to Format Your Cover Letter?
A cover letter should always look professional, clean and it should be well-matched with your resume. Because that's not just a piece of paper and it is going to attach with your job application. So here are some guidelines for you to make your cover letter well-formatted.
Best Fonts for an Impressive Cover Letter
There are plenty of professional resume fonts and cover letter fonts are available. When choosing a font to use in your cover letter, the key point to remember is legibility. As a result, Arial, Calibri, Verdana, Cambria, Times New Roman, Roboto, etc can be identified as crystal clear fonts that are ideal for cover letters. But you should not mix different types of fonts in the same document. Limit your document only for one font type.
If you are using any fancy fonts like Brush Script and Segoe Print, avoid using those fonts in your cover letter. It spoils the professionalism of this document. You can see our article on resume fonts which suit best for cover letters.
Always keep your font size between 10-12 points to look it more professional. But you may use a slightly larger font in your name and contact information. Anyhow, remember to use the same font type and font size in your cover letter which you have used to make your resume.
Length of the Cover Letter
A cover letter should always be short and simple. And also it must be informative and fun-to-read.
It is better to have a word count between 200-400 in your cover letter (300 words recommended). Also do not exceed one page of text because hiring managers or recruiters do not have enough time to read essay type cover letters due to their busyness.
This may be a little trickier to write a cover letter within this amount of words. But you can get help from Cresuma experts by making a request to write a cover letter and in the present that is the easiest and smartest way to creating a good cover letter.
Proofread will keep away Crucial Errors
Don't even think to make a single mistake on your cover letter. Because it may be a reason for disqualifying you at the resume scan.
Spelling mistakes and grammatical mistakes may happen as we all are humans.
But if you give it to someone qualified or one of your best friends to proofread your document that could minimize the errors in your cover letter if there are any.
Cover Letter Examples by Sections
Use the below example cover letter phrases when you are making your cover letter for any job. These phrases are reviewed and approved by expert career coaches and will be helpful for you to build a winning cover letter in 2023.
Cover Letter Opener Examples
My background and experience are just what you need. Please allow me to show you what I could bring to Cresuma.
I firmly believe that I'm a good match for your business and would love to be a respected part of your team.
I am sure that I am the employee you are searching for, as I have all the skills listed in your job description.
The highlights of my years of professional experience are seen in my attached CV.
My professional experience has provided me with solid practical skills combined with a strong [industry] understanding.
My respect for your company and my enthusiasm for this field make me happy to join your company.
Your requirements and my existing skills fit perfectly. And here's how:
Of the many who will respond to your job posting, I'm sure few will be as eligible as I am. I am sure you would agree if you take a moment to study my qualifications.
My extensive skills make me a good fit for this job. Here are some of the highlights of my skills:
I am responding to your ad because I feel I can bring a valuable combination of enthusiasm and ability to Cresuma.
I genuinely believe this is the job I was supposed to do. For my talents, experience, and desires it is the perfect match.
You may not have the time or resources to waste up in this tough economy. Hiring me will give you a quick return on your investment.
If you want an immediate return on the investment you are making, I'm the guy for you. This is why:
Cover Letter Body Examples
I was responsible for [enter job duties] as an SEO Specialist for [company]. My main task was to [enter the main work focus area].
My [degree] in [major] along with [number] years of [enter industry type] work experience prepared me to be a good SEO Specialist. I'd love to tell you all about my experience once you have checked my qualifications.
During my [number] years of experience, I've learned the skills needed to be effective in that role. I am familiar with [employment duty or industry] and qualified in [equipment or software]. I [enter work-related accomplishment] in my last role as an SEO Specialist for [previous company].
One often asked question by most of the applicants is, are cover letters essential to the job hunt. The answer is yes; they are. Cover letters are very important to attach and submit with your resume unless the job advertisement strictly tells you not to do so. Sometimes the cover letter may not be read by the recruiter. However, if they do, it would be good for you to include an excellent cover letter. Nevertheless, to get the best job-quickly, the cover letter is not enough, you need to have a perfect resume too.
People who read this also read:
Best Cover Letter Tips to Reserve your Job in 2023
Enjoyed Reading?
Help Cresuma cover the server and other costes to continue this 100% Free Service. Show your support below.