Email Cover Letter Example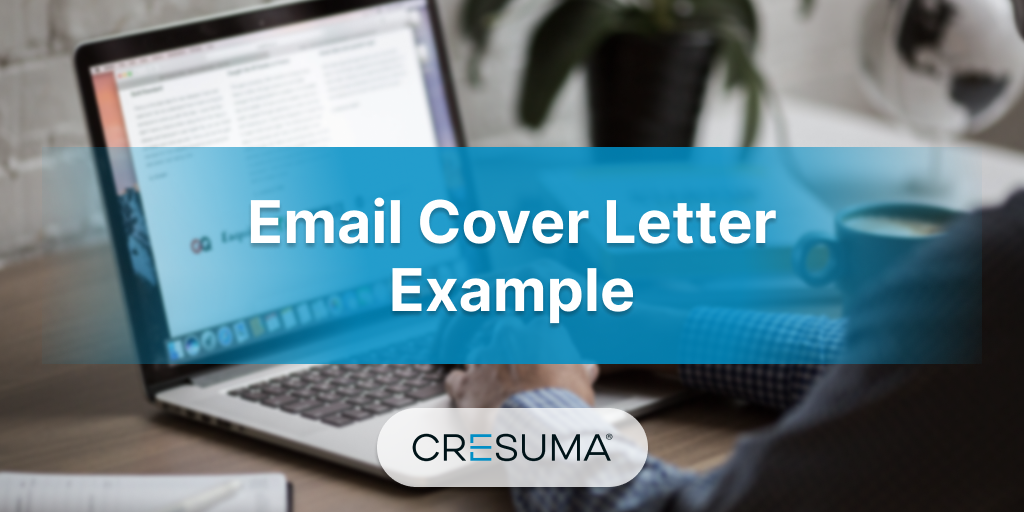 It is important to look at the job advertisement before sending an email cover letter. Here you can find the company's instructions on how to submit the cover letter. Some companies allow attachments of cover letters with an email, and others want us to add the letter to the email body. If you need to submit a cover letter as an attachment, you can see our cover letter writing guide.. Here in this article, you can see an inspiring cover letter template and a tutorial on how to compose.
Email Cover Letter Sample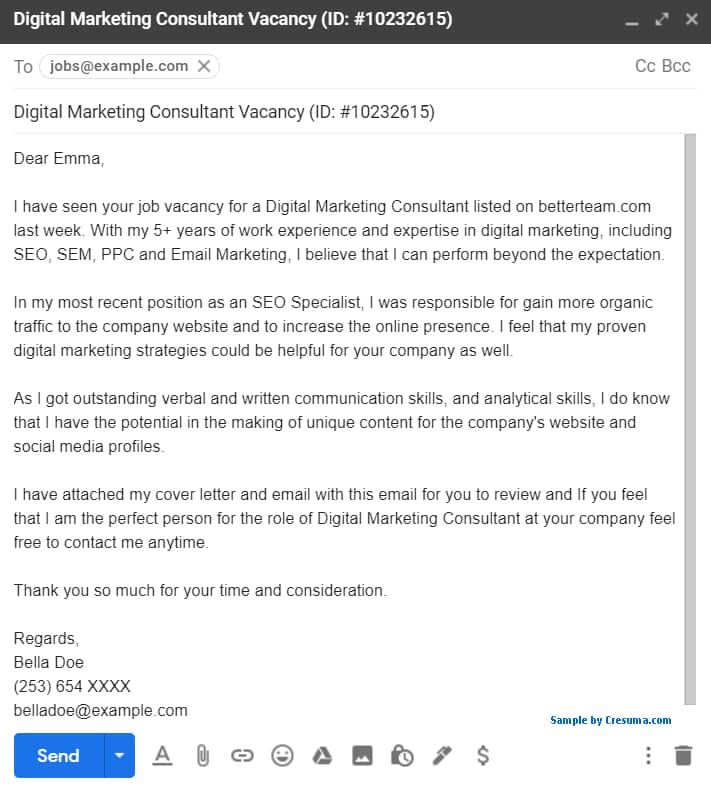 Email Cover Letter (Text Version)
Subject: Digital Marketing Consultant Vacancy (ID: #10232615)
Dear Emma,
I have seen your job vacancy for a Digital Marketing Consultant listed on betterteam.com last week. With my 5+ years of work experience and expertise in digital marketing, including SEO, SEM, PPC and Email Marketing, I believe that I can perform beyond the expectation.
In my most recent position as an SEO Specialist, I was responsible for gain more organic traffic to the company website and to increase the online presence. I feel that my proven digital marketing strategies could be helpful for your company as well.
As I got outstanding verbal and written communication skills, and analytical skills, I do know that I have the potential in the making of unique content for the company's website and social media profiles.
I have attached my cover letter and email with this email for you to review and If you feel that I am the perfect person for the role of Digital Marketing Consultant at your company feel free to contact me anytime.
Thank you so much for your time and consideration.
Regards,
Bella Doe
(253) 654 XXXX
belladoe@example.com

What is an Email Cover Letter?
There are some rumors about what an email cover letter is? There are various viewpoints on this subject. Yet we've been studying and seeking the correct meaning for this. It is an introduction document that you may give to the recruiter in your email body along with the career materials such as resume and cover letter.
This is written to provide the recruiter with details about you, such as how you found the job, why you are interested in a role, what your abilities and credentials are, what kind of experience you have, how you can be reached, etc.
The benefit of writing an email cover letter is that some recruiters will not waste time looking at the cover letter attachments. In this case, the recruiter will be happy with the email cover letter. We, therefore, need to write it in the correct format and without any mistakes. Here's the email cover letter format and tips for writing them.
Email Covering Letter Format
A proper email cover letter will consist of a solid subject line, a greeting to a particular person, a decent introductory paragraph, a few sentences outlining your expertise, knowledge and credentials, a straightforward call to action and a formal sign-off.
Let's look at how each of them is written correctly.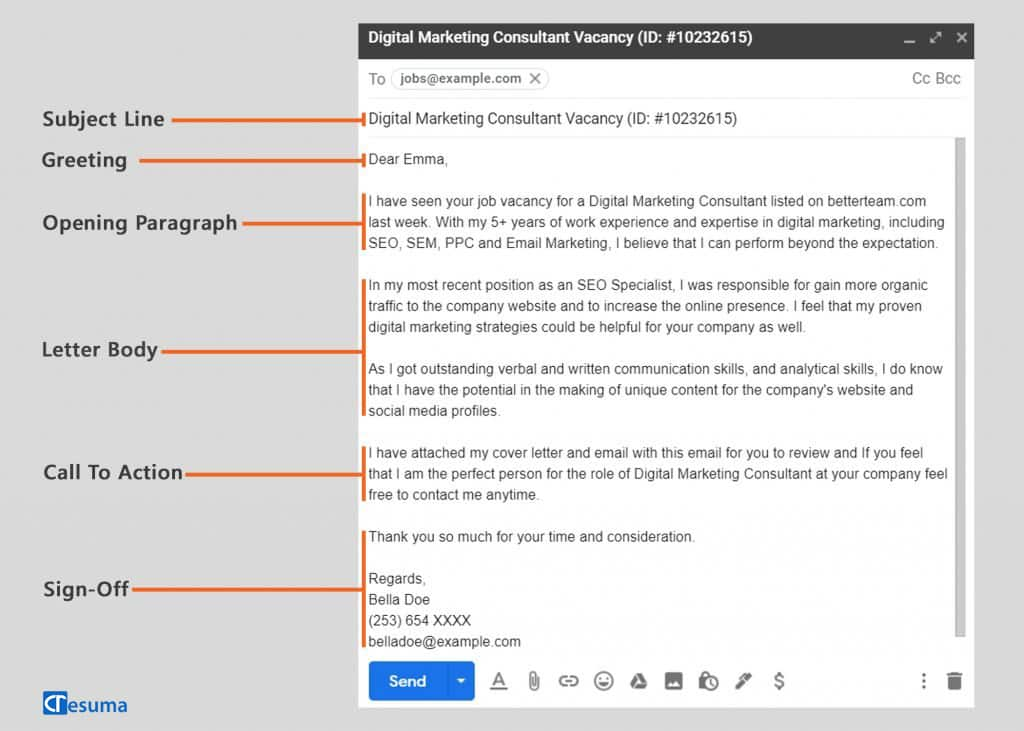 Subject Line – The subject of the email should be very clear and tailored to the job description. Job advertisements sometimes mention the subject to be included for different applications. You can put this in the subject line of the email compose box. Here are some great examples for the subject lines to email cover letters.
Applying for Marketing Executive at Sinbiyon
John Doe, MBA – Applying for HR Manager (Job #234765)
Junior Software Engineer with 5 years experience in IT industry
Greeting – The greeting must be addressed directly to the company's contact with the exact person's name. You can search the company or contact them to find out to whom you should address the cover letter. It will bring a more professional feel to your email cover letter.
Opening Paragraph – Not as a general cover letter, you should mention where you heard about the vacancy. And describe why you're interested in the role with a few sentences.
Letter Body –
This is where you need to show your skills and qualifications and prove that you are the perfect matched choice for the position by listing any of your past accomplishments in the bulleted points. With some powerful action verbs. Here what you need to keep in mind is to avoid resume buzzwords.
Call to action – At the end of your cover letter, you can ask the hiring manager to contact you or arrange a meeting to discuss the position further. And with a few words, you could again focus on what you have to offer.
Sign-Off – End your email with a formal sign off like "Regards", "Sincerely", "Kind Regards", "Best Regards" etc., and finish it with your full name.
Things to know before sending an email a Cover Letter
Use a professional email address
Your email address matters when you are sending a cover letter via email. Therefore, try to be professional always. So as your email address. Make sure it is made up of your first name and last name or else a combination of your initials and last name. But never add a fancy or nickname to your email address. If you do not have a professional email address, you have to create it first through a valid email service provider.
Create an Email Signature
An email signature is a great way to attract a recruiter towards your email. Therefore don't forget to add an email signature to close your email. A good email signature should consist of your first and last name, email address and the phone number. Here's the way of how to create a Gmail signature.
Proofread and send a test email to yourself
Before sending your email cover letter it is worth checking and proofreading your cover letter whether it has spelling and grammar errors or not. Because a single mistake on your career materials can cause you to lose your job opportunity. Also, before sending your cover letter to the recruiter, send a test email to yourself and make sure the email is properly formatted, and ensure you have attached the required files.
However, if you'd like to have a look on the cover letter examples by job titles or by cover letter type, you may also read Cover Letter Examples for 2023.
Enjoyed Reading?
Help Cresuma cover the server and other costes to continue this 100% Free Service. Show your support below.