Best Cover Letter Tips to Reserve your Job in 2023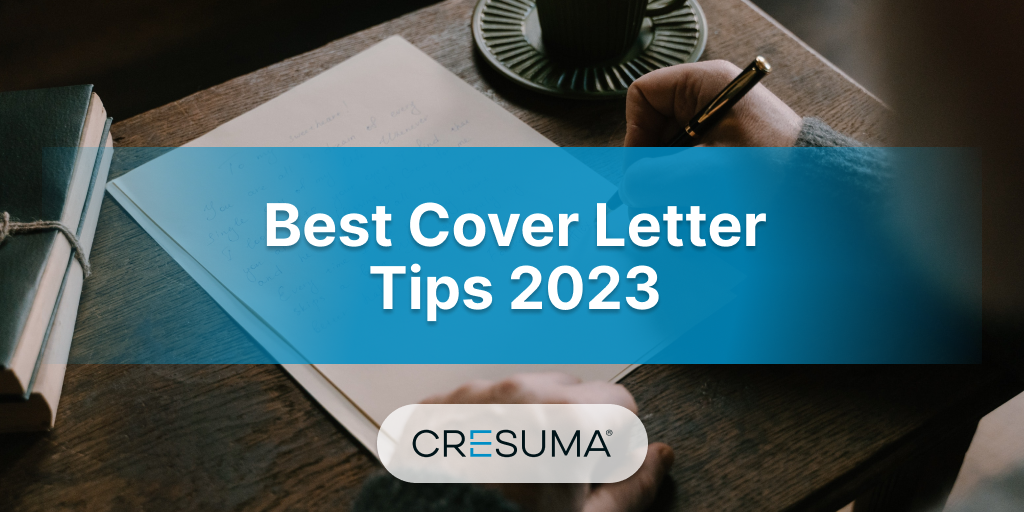 Is it worth including a cover letter for your job application? YES. Are the recruiters reading your cover letter? Once again, the answer is YES. It is therefore always a wise choice to send a cover letter along with your resume when applying for a job. You can gain a lot of attraction from the recruiters to yourself through this.
But you need to know how to write a perfect cover letter. Given these cover letter tips will be helpful for you to make your document noticeable. So why are you waiting? Find out a lot of fresh ways to improve your cover letter to the next level in 2023.
Want to get a Custom Cover Letter Written?
As you already know that this article provides a unique cover letter tips to reserve your job. However, you can create your own cover letter by for free with the editable cover letter samples given in our cover letter examples article. And if you require a professional to write your cover letter, you can request a custom cover letter in multiple formats just for $4.99
Please continue with Paypal / Credit card for our specialist Premium Cover Letter Builders to work on customized Career Change Cover Letter exclusively for you.
OK. Let's come to the cover letter tips again. below are the cover letter tips to start from.
Tips to start a cover letter
Clearly mention your contact information
Your cover letter header is the place where you need to place your contact information. You can create this section in the same way as your resume header. Your name, home address, email address, and phone number are enough to be in your cover letter header. But if you can set the URL of your professional profiles, such as LinkedIn, GitHub to your letter header, it will help to make your cover letter stand out from the others.
Make sure your greeting is for the correct person
Please do not hesitate to greet the person directly with their name. Once you address the letter directly to them with their name, they will feel that the specific cover letter is tailored to them. So they're going to be impressed to read your document further.
For example:
Dear John Doe,
Dear Mr. Smith,
Dear Ms. Jessica,
Dear Mrs. Jennor,
Dear Miss Diana,
How do you know the reader's exact name? Just research to find the name of the hiring manager. You can browse the company's website or the LinkedIn profiles of employees of the company. Then you'll be able to find out to whom the cover letter has to be addressed.
On some occasions, however, you may not be able to find the right person to address the cover letter. In such cases, the following salutations are okay to use as alternatives.
Dear Hiring Manager,
To whom it may concern
With an effective subject line note why you are writing
Every time you write a cover letter don't forget to add a subject line by stating why you are contacting the person. Since the subject line is your first impression you need to make it relevant and error-free. The subject line of a cover letter must be a professional one and it should be short and specific. Your subject line is a great place to catch the attention of the recruiter towards you. Here are some examples of some good subject lines:
Regarding Software Engineer Position at your company
Application for Marketing Manager
RE: [JOB TITLE] – Available To Start Immediately.
Tips to write your cover letter body
Show your enthusiasm to join with the company
We can not show our enthusiasm and the interest of joining the company to the recruiter via a resume. But cover letters do. Convey that you are excited to work with them and let them feel the same to have you in their company. Most employers do prefer to hire persons with a desire to work with the company.
Research the company
Researching the company before you submit the job application is a very important thing as it will help you to get thorough knowledge of the company. You can also read the job description carefully. Then you can get a clear idea about which kind of candidate they are looking for a particular position.
Browse the company's website or LinkedIn profiles of the employees. They are some great sources to get information about the company. And, why not? The job description too.
Show that you are the perfect fit
After the research of the company, you may have full knowledge of the company culture and the work environment. So now it's your turn to write the cover letter by convincing the reader that you are a cultural fit to work with the company's team and the management in the future. Don't forget to appreciate the company work environment with a few words.
Tailor the cover letter with keywords
You can't use the same cover letter for different jobs. For every job application you are applying, you need to customize your cover letter too. So you need to tailor your cover letter. In the job description, you can find tons of keywords and key phrases which you can directly copy-paste into your document.
Do not try to outsmart the recruiters. They have the experience of looking at hundreds of cover letters per day. So they can know whether a particular cover letter is a template or a customized cover letter.
Be yourself, don't be too formal
Don't hesitate to make your cover letter in a friendly and somewhat funny way. Because the cover letter is your space to show the real you to the recruiter. Through your cover letter, a recruiter will know which type of person you are. But always try to be polite.
Also don't ever lie about yourself in the cover letter. You may not talk about qualifications or skills which you don't have. If you do so, it will reveal someday, maybe even after you get selected for the job. Then it will be something to be ashamed of. Maybe you will be fired. Therefore don't put your career in that risk.
Highlight your key skills
The cover letter is a good stage to show your skills on resume and your potential. Who doesn't want to hire talented and skillful people into their organizations? Therefore when you are writing your cover letter body, don't forget to highlight some of your transferable skills and relevant technical skills. That will make your cover letter stand out.
Don't mention your whole work history
Always a cover letter should be attached with a perfect resume when it is submitted to a job opening. Therefore we don't need to repeat every information in a cover letter which is in your resume. For example, you may include your work experience up to 15 years in your resume. But in a cover letter, it is enough to describe your last position, briefly. A cover letter must be short and concise. Don't fill out the cover letter with unnecessary facts.
Make it a wow with your accomplishments and numbers
Recruiters love to see a candidate's accomplishments with quantified results. Use some bullet points in your cover letter to express your key achievements in your previous position and impress the reader with your quantifiable results.
You can make stand out accomplishments if you can use some action verbs in the bullet points. Get rid of using buzzwords in your cover letter and use power words instead.
Eloquently explain away your work gaps
You may have a career gap in your history which can be seen in your resume for various reasons such as, family or personal illness, accident, taking care of a child, traveling, or else it may be a lengthy job search. Whatever the reason is you may briefly describe them in your cover letter. Otherwise, if the recruiter sees a work gap in your resume that would be a big problem for him. So to be on the safe side it is better to explain them smartly in your cover letter.
Example:
During our meeting time, I will be happy to explain in detail the work gap on my resume, at which time I was travelling abroad for an extended period.
Do not apologize
Your career may avail with less experience or maybe too many work gaps. But strictly keep in mind that you should not apologize for them. If you do not have the required skill or qualification don't mention it. Instead, you can highlight your skills and qualifications which you already have and let the recruiter feel that you are the perfect fit.
Tips for ending your cover letter.
Include a strong call to action
In the final paragraph of your cover letter make a call to action. No matter your cover letter header has your contact information. Here also you can add your phone number and email address.
Tell the recruiter or the hiring manager that you are waiting for a response from him and let him know that you are very excited to talk with him furthermore about the position. Finally, give your thanks to the recruiter for reading your cover letter by sacrificing their valuable time.
Add a postscript
This is a great cover letter trick which candidates use rarely. Though it is written at the bottom of the cover letter, this may be the first thing that recruiters tend to look at in your cover letter. You can write an impressive statement about your career in this postscript part and further tell that you would like to explain them in more detail with a coffee. A postscript to a cover letter can be used as an attention grabber.
Example
P.S. My fluency in French could be a great assistance for your company when the new company branch opens in Nancy, France.
Cover Letter Formatting Tips
Use cover letter templates
Recruiters are busy people. So if your cover letter seems a bit hard to read they will refuse to read it. Therefore it is your responsibility to make the cover letter easy to read. Using a cover letter template is a great way to increase the readability of a cover letter. This will help you to format your document nicely too.
Remember to edit your cover letter template to fit your skills and qualifications and tailor it to the job you are applying for. If you use a template for your resume, then match the cover letter with the same template.
Keep your cover letter short and concise
Your cover letter should not exceed one page. The optimum word count for a cover letter is between 300-400. You have to tell a story about your career, but without inappropriate content. Don't waste your letter space or the hiring manager's valuable time by including unnecessary details and the duplicate content from the resume.
Fonts and spacing
Sometimes recruiters use an applicant tracking system to filter cover letters too. So it is very important to make ATS proof cover letters. Some fancy fonts like brush script, chalkboard are hard to read fonts, not only for robots, even for humans. So use easy to read fonts such as Verdana, Calibri, Arial, etc. in the making of your cover letter. Here is a list of best resume fonts recommended by recruiters.
Don't forget to proofread
If there is a single spelling or grammar mistake on your cover letter (or resume) that will be a huge dark spot for your career progression. So always be careful to submit your career tools without any errors. Give your cover letter for some of your friends to proofread. In the end, the ultimate goal of proofreading is to have an error-free cover letter.
Save in PDF format
PDF is a universal resume file format which can be opened by anyone and compatible with any OS. There is no need to have specific software or browser to open it. And also pdf is a secure file format because it reduces the risk of sending viruses with the file. That's why the recruiters also prefer you to send resumes in the PDF format.
But in some cases, recruiters ask to email your cover letter in the mail body with an attachment of your resume. In that scenario, you can send the cover letter in plain text format. Otherwise, send the document always in PDF format.
A cover letter should be impressive. If you need to make your letter an impressive one, try all the above expert cover letter tips in 2023. But just a cover letter is not enough to get a job. A perfect resume is a must in 2023 to find a great job. If you avail with both a perfect resume and a cover letter, then only your job hunting will be finished soon, as you will get your right job, fast.
People who read this also read: