How to Find a Perfect Job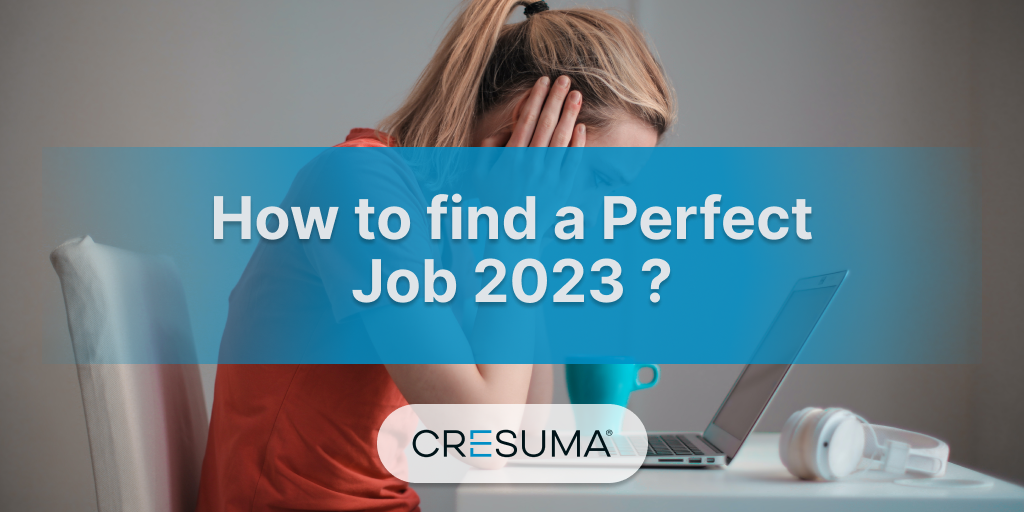 5+ Best Ways to Find a Perfect Job
Job Searching Websites
The job searching sites facilitate you to filter the best job vacancies. Here are the top job search sites that are available on the internet
Nowadays they have vastly modified and they can send you the emails of the recent job vacancies related to the jobs which you are searching for. Especially some sites like 'indeed' have divided their site according to the geographical area.
For example 'https://ca.indeed.com/' for Canada and 'https://au.indeed.com/'.for Australia. So if you are in touch with such a site you can be updated about the recent vacancies in your geographical location.
Also, there may be different sites that are famous in different countries such as Robert Half and CareerBuilderwhich are more popular in Canada. But Adzuna and CareerOne and are the top sites for job searching in Australia. So you need to find the best site for your job search.
Professional Networks
LinkedIn is the most famous and vastly spread professional network that helps you to update with the latest job trends. If you have a LinkedIn account you have a chance to search for job vacancies and apply for them. But before applying for a job you must update and make your LinkedIn account stand out. If you want perfect guidance about that. Read our complete article on 'How to Update a LinkedIn Account'
Other than that, the following networks can enhance your job searching professionally.
You can personally contact many hiring personnel through these networks. Also, these professional networks facilitate you to search the vacancies according to many filters. Also, it is a huge resource to find out different types of jobs such as work from home, part-time, full time, etc.
Official Websites of Companies
The company's official websites usually post their vacancies periodically. But you can be aware of them only if you continuously keep in touch with the site. If you are dreaming of a job at a specific company you need to track the official website of your dream company daily or at least weekly.
If you are interested in more than one employer or company, it is better to make a list of companies and check their websites usually. However, you must have fulfilled their requirements and be ready for the job with the essential skill set. Then you can apply for the vacancies at the same time they have published a post on their official websites.
Job Agencies
Job agencies can be staffing agencies, staffing companies, or headhunting companies. Usually, they assist job seekers to find a job that suits them. Also, you can find an entry-level, part-time, temporary, or permanent job from a job agency according to your desire.
You may know the companies pay the job agencies for finding a suitable employee for them. So the agencies interview the applicants and place them in suitable positions. Until the company selects the employee permanently, the job agency pays for the employee's service for the client company.
Job Fair
A career or job fair is an event that facilitates employers, employees, graduates, and job seekers to meet at the same location. However, if you participate in a job fair as a job seeker you can explore who will come before participating in the event. Then you can prepare well.
Especially dressing appropriately, creating an exclusive resume, and preparing questions to ask are main preparations. At the fair, you can offer your resume, ask for business cards, and meet as many recruiters as possible. Finally, you can get noticed by sending thank you notes for them. If you behave professionally and show your talent and skills at the job fair, it is not a big deal to find a perfect job for you from the career fair.
Personal Networks
It is a famous secret that some applicants tend to find new jobs from personal networks. That means some best jobs are never advertised, but the recruiters hire the applicants who are contacted by friends or former colleagues.
If you can build a professional network through friends and relatives, try to always behave professionally in front of them. Show your talent and skills as much as possible. Because if they feel you are a talented and skillful person, you will be fortunate to take an interview chance through those personal networks.
Job Search Tips
Tip #01:- Explore Yourself First
Before starting your job search you need to understand yourself first. That means you must collect your skills, qualifications, and interests before finding a job for you. Also, decide the locations where you can work, and the salary range you expect from a job. After gathering all this information you are ready to find a job for yourself. You have understood your interests and what you can do, so your job search will be more productive and effective.
Tip #02:- Try to Earn Extra Qualifications
During your job search, you may find some certifications or skills that the recruiters are preferred to see in your resume. So make an effort to collect those extra values to enter in your resume. Because they can carry your resume on top of other resumes
Tip #03:- Select the Perfect Job Search Resources
There are many ways to find you a job. We have described them in the prior section. You can refer to the content and select the best resources for you. But you do not need to restrict to one resource. Use any method which can apply to you.
Tip #04:- Search the Jobs in Smart Way
Do not just type the name of the job position and search for the vacancies. You can filter the results in a more smart way using locations you prefer to work, salaries you expect, skills and qualifications you have. Then you can collect the most suitable job vacancies for you.
Tip #05:- Using a Job Tracker
When you select, apply, and participate in interviews in multiple jobs, your job search becomes complex. You are unable to memorize all the information about the job search for sure. Therefore you can use a perfect job tracker that facilitates you to save the job vacancies for future needs, apply for the vacancies, create your resume, set up reminders, send the emails of recent and relevant job vacancies, etc. Especially the job tracker helps you to organize your job search well.
Tip #06:- Create Separate Job Applications
Usually, the job application contains the resume, cover letter, references, etc. But if you send the same application for each vacancy you will be rejected for sure. That means you must refer to the job post first and tailor your resume and cover letter according to the job description.
You may feel that is a hugely time-consuming task. But now creating a resume and a cover letter is just a simple task. Because you can use an online resume builder to create your resume and a cover letter example templates to create your cover letter.
Tip #07:- Update the Personal Profiles
If you link your personal profiles with your resume, you need to maintain them professionally. Especially remove or hide the alcohol promotional posts or any other post that harms your image. Other than that you can customize the URLs of your personal profiles professionally. But if you have already done that, do not change the URL.
However, you can apply a professional-looking photo as your profile photo. Also, add your skills and talents in your profile descriptions.
Tip #08:- Collect Relevant Recommendations
If you can get relevant recommendations from reputable people related to your industry, your resume will catch the attention of the recruiters more. So try to insert the references of professionals who recommend you in your resume. Do not forget to add at least the name, profession, and the number of the person.
Tip #09:- Prepare for the Interview
This is the last and best tip that you can find a job quickly. Though the resume of the applicant has passed both the ATS test and the six-second test, the majority of applicants are rejected by the interview. The reason is a lack of practice and less confidence. Therefore, you need to be prepared for an interview session as soon as you apply for the vacancies.
Mistakes of Job Search
Sending Resume with Mistakes and Fewer Qualifications
Sending the same resume for all vacancies is a big mistake that an applicant can do. Also, some applicants miss the proofreading part of the resume and cover letter. Not only that just applying for the vacancies that you are not qualified for is useless. You must try to collect the qualifications that are required to get your dream job. Therefore start your journey of collecting extra and essential qualifications during your job searching period.
Doing an Alone Job Search
Do not be isolated and do your job search. Asking from friends, relatives, or job specialists about the job searching. Be aware of how to do a job search well. Ask for the personal job search tips used by the above people.
Limited to One Job Position
The majority of applicants are just limited to the most famous job position in their field. But there may be a variant of this job position that required the same qualifications from the applicants. For example, an applicant who is qualified to be a fashion designer can apply for a Merchandiser, Product Developer, Sourcing Specialist, CAD Designer, and many more related job vacancies. Therefore do not limit to one position. Search and find out other most similar job positions in your industry.
Going After Only Big Companies
Some applicants only search for reputable companies with high salaries. If you have experience for 10+ years you are eligible to sit for such a position. Otherwise, you need to collect experience and other qualifications to catch a position in a big company with the best salary. So if you are a fresher, junior, or beginner in the industry do not forget to search and apply even for the small companies. Then you can collect more experiences and go for the best offer in the future.
Forgetting the Follow-up
If you have participated in an interview in a company, do not forget to send a thank-you note on the same day after participating in the interview. Some applicants forget that and send a note after a week or more. But the most effective and impressive thing is sending a thank you note as soon as possible. Also do not forget to make your note more attractive by mentioning your excitement to join the company. But never send the same note for all. You have to customize the thank you note based on the company.
People who read this also read: