How to put LinkedIn on your Resume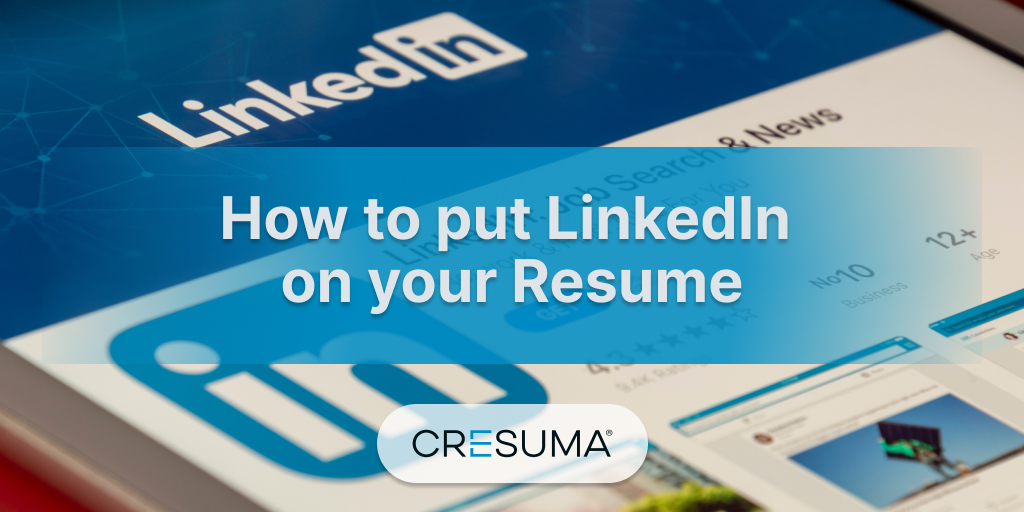 Do you think that adding your LinkedIn profile to your resume will give you more job opportunities? Yes, it can happen if you use your LinkedIn profile properly.
This may be a very small piece of content in your resume but could do a huge impact on your job search.
Not sure how to display this small piece of information correctly in your resume? If so, this article is for you. Continue reading.
Should I include a LinkedIn URL in my resume?
Yes, of course nowadays the LinkedIn Profile Link is one of the critical information that every employer checks in your resume.
Recent research has found that about 40% of employers are reluctant to invite job seekers for interviews when they have not included a LinkedIn profile in their resumes.
Not only this, if you add a LinkedIn URL to your resume, even the employers do not have to worry so much about finding more details of you. You can provide details about your career in detail to your prospective employer via your LinkedIn profile.
Employers can measure your value by looking at the endorsements and recommendations you have received and also the posts you share about your job-related things. It's not usually possible with a resume.
Keep in mind that adding a LinkedIn to your resume is always good for you except for certain reasons.
Where should I place LinkedIn on my resume?
If you have read our article about resume headers, you already know where to put the LinkedIn link.
So, yes, you need to enter your LinkedIn address in the resume header.
Add your LinkedIn profile along with your other major contact information. Remember to make your LinkedIn URL a hyperlink. So a recruiter can directly look at your profile with just a single click. Take a look at the examples below.
What is the correct way to add a LinkedIn URL for a resume?
The LinkedIn profile is a piece of key information that can be seen in your resume, but it is not going to be worthwhile if you do not know how to use it properly. Below we will look at how to properly maintain your LinkedIn account and the proper way of adding it to the resume.
You can insert the LinkedIn URL into your resume in a few easy steps.
First of all, update your LinkedIn profile
If you want to show your LinkedIn profile to employers and get more job opportunities through it, you must update it regularly.
Add skills that are relevant to your field of work and that you have. Then get as many endorsements for them as you can. This is one of the main aspects which employers measure your abilities.
Also, if you have peer employers where you have worked before, get good recommendations from them about yourself. Then your future employer will have a lot of confidence in you.
Don't forget to always share valuable posts related to your subject through your profile. You can also write articles on LinkedIn. By doing this, employers will understand that you are an updated person in your job field.
Customize your URL
You do not have to add the full link when adding the LinkedIn URL to your resume. Because doing so may cause a slight disturbance in your resume's legibility.
So you can simply remove the section "https://www." and add only the rest as your LinkedIn address.
Also, did you know that LinkedIn allows you to customize the URL of your profile as your will?
So you can organize the default link you received more memorably. Doing so will also increase the professionalism of your resume. For example:
Default LinkedIn URL may appear as:
https://www.linkedin.com/in/john-doe-5a82b2150/
But you can customize the URL in a more organized way like:
https://www.linkedin.com/in/john-doe/
Here's how to personalize the URL for your LinkedIn profile in just three simple steps.
First, log in to your LinkedIn account.
Click on the Me icon in the top bar.
Next, click View profile on the menu.
Click on Edit Public Profile and URL in the top right corner.
Click the pencil icon.
Then personalize and save the LinkedIn icon as you wish.
Use a professional photograph
We always recommend that you do not include a photo of yourself in your resume. Because it can expose you to various forms of discrimination.
But as an alternative, you can add a good professional looking photograph of yourself to your LinkedIn profile.
If a recruiter comes to your profile through the link you provided on your resume, the first thing they see is your photograph. So if it is professional and highlights your personality, then such a photo is perfect as your LinkedIn photo.
Write an impressive LinkedIn headline
You already know how important the title of a resume is. So is the headline on your LinkedIn profile.
Anyone who sees your headline should be able to clearly understand who you are and what you are doing.
Once, the LinkedIn Help Center said like this.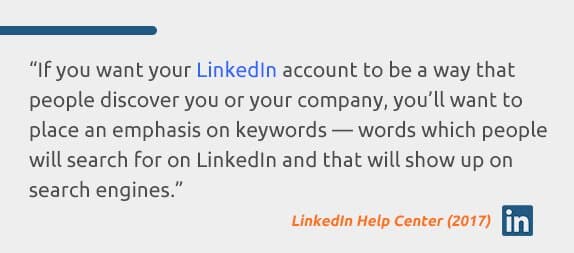 LinkedIn creates a default headline based on your current job title and the company. But you could improve it more as you can extend it up to 120 characters.
This is what the default headline usually looks like:
Digital Marketing Manager at Cresuma
But what if you could expand it like this by using relevant keywords?
Digital Marketing Manager at Cresuma | SEO Specialist | Full Stack Developer | Google Analytics Certified, MOZ, Ahrefs
Impressive! Isn't it?
Write a rich summary for your LinkedIn profile
The summary in the LinkedIn profile is just like the summary on your resume. Here again, all you need to do is highlight yourself with your achievements and your strengths. But LinkedIn Summary can be used to present you in more detail than in a resume.
Describe yourself in first-person narration as much as possible. Also, use keywords that are relevant to your field. Then your profile could be visible in the searches of many recruiters.
Here are 14 tips to make your LinkedIn summary a great one.
Do I need to add the URL to the resume with the LinkedIn icon?
It depends. If you want, you can enter the URL with the LinkedIn icon. Or you can leave it alone.
What some people do is make a hyperlink to the icon directly without showing the URL as text. We do not recommend this to anyone. Because there are times when some employers will print and view your resume. Then how do they read a link embedded in an icon?
So it's important to have your LinkedIn URL in clear text.
Will recruiters search for a LinkedIn URL on my resume?
Adding a LinkedIn account to your resume is one of the best ways to get a recruiter's attention. They will most likely search your LinkedIn profile to find out more about you than the information on your resume.
Sometimes there are more things in your career than you can say for a page or two on a resume. So you can show them all in detail through your LinkedIn profile.
So the employer may want to look at your LinkedIn profile. In that case, you can insert the LinkedIn URL into the resume headers to reduce the time it takes for him to find out what your LinkedIn profile is.
When should I not add a LinkedIn URL to the resume?
There are certain cases that you should avoid adding your LinkedIn URL to your resume header. They are when,
Your profile is not up to date
Your LinkedIn URL is not customized
You have an unprofessional profile
You do not regularly post and share your job-related contents
Should I add my resume to LinkedIn?
Definitely. It may also be helpful to have your resume included in your LinkedIn profile. Nowadays recruiters are used to seeking the employees they need. So the easiest way for them to do that is LinkedIn.
Accordingly, if you have a properly maintained LinkedIn profile with your resume included, you can undoubtedly claim more job opportunities.
Sometimes a job post is not published but the employers who need you will come and find you. Or they use LinkedIn to advertise their jobs. Because this is a platform used by many professionals.
Once you have uploaded your resume to LinkedIn, you can now easily apply for those advertised jobs with its Easy Apply option.
Summary
If you are a traditional job seeker, you may create a resume for every job, print it out, and send it to the relevant companies regularly. But with the advancement of technology, many people have now joined with LinkedIn to build a large professional network.
You can let others know that you are open to new jobs through a professional online network like LinkedIn.
So why miss out on this great opportunity? Whenever possible you should have your own LinkedIn account optimized. Also, don't forget to include the URL of your LinkedIn profile in your resume.
Make sure your LinkedIn is not a repeat of your resume. A resume is a document that combines your experience and qualifications to show that you are suitable for a particular job. But a LinkedIn profile is your professional overview.
Good luck with your job search!
People who read this also read:
Top 7 Hacks to Tweak Your Resume Instantly
How to write a perfect resume?
Enjoyed Reading?
Help Cresuma cover the server and other costes to continue this 100% Free Service. Show your support below.