Top 7 Hacks to Tweak Your Resume Instantly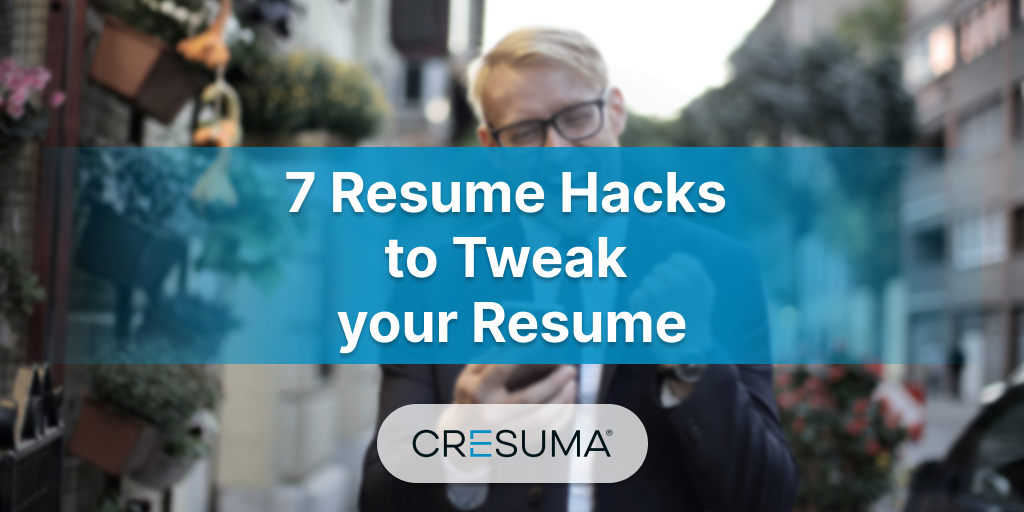 Should you tweak your resume for different positions you are applying for? Why not! Tailoring your resume for each job is always a wise decision because the same resume may not fit all the jobs.
If you don't get any interview opportunities for your current resume, the reason might be with your resume.
Did you know that:
More than 20% of resumes are rejected by online job sites because they are not well-tailored for the job.
About 75% of resumes are rejected due to the reason of not using keywords.
More than 90% of employers (including fortune companies) are armed with applicant tracking systems to eliminate weak resumes from the competition.
The solution for this is submitting an ATS-compliant resume. In order for your resume to pass the ATS scan, it should be readable by the ATS and it should align with the job description of the job you are applying for.
If you really need a job, applying for all jobs with a single resume won't work. Don't think that altering a resume to fit the job you are applying for is rocket science.
Here are a few hacks to personalize your resume in a really easy way, so it is well-tailored and matches the position you're trying to obtain.

1. Create a master resume
We can't create a master resume instantly. It does take a little bit of work. But once we create, it's a super fast and easy thing to create a tailored resume for your future jobs.
Your master resume is where you'll keep track of all the jobs you've ever held. It's a comprehensive record that lists all of your part-time, full-time jobs, freelancing experience, and volunteer positions, as well as your qualifications, education, skills, publications, accomplishments, training, and certifications earned over the course of your career.
This will be a very helpful document to use as a reference when you are tailoring a resume for different positions.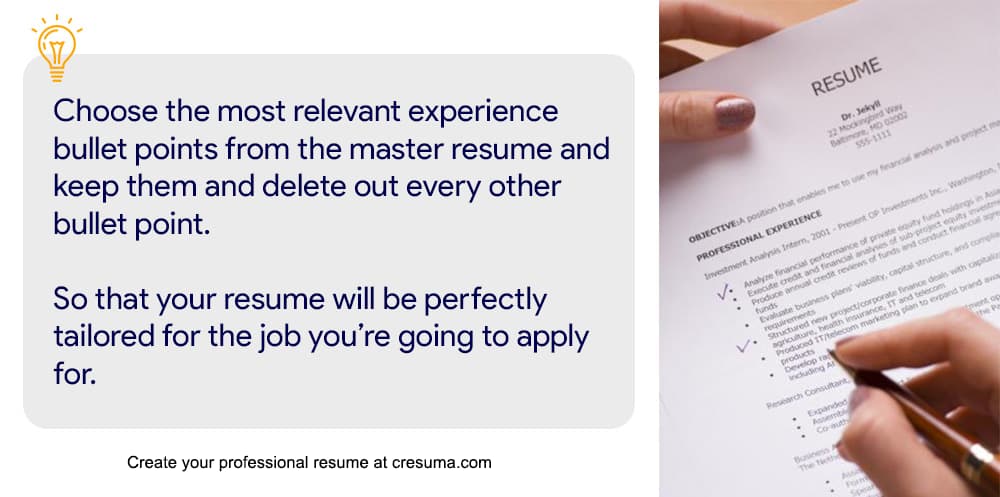 2. Tweak your resume job title
Choosing the right job title for your resume is key for you to land a job opportunity faster. Many people forget to mention their desired job title at the top of their resumes. This refers to the job title you include in your resume header, not the job titles you use when displaying your work experience.
The right job title will specify your experience level to the recruiters at once. It also can highlight your expertise for the specific job.
So make sure that you have added a relevant job title that maximizes the relevancy of your resume. Do not leave it out empty.
3. Swap objective statement with a summary
If you are still using an objective statement in your resume, be sure to use a summary statement instead. Because a resume objective will no longer be something that recruiters like to see on resumes. It can often be a boring statement for them to see.
It should include your strongest qualifications and career highlights. A resume summary is considered the best place in a resume to make some tweaks. So get the maximum use of it. Identify how you could be the perfect match for the position by describing your core values.
You can only write a resume objective if you are an entry-level job applicant or a recent college graduate. But even there, without describing what you want to get from the company, specify how you can help the company to grow with the skills you have. Whenever possible try to convince the recruiters that you're the right person that they are looking for.
4. Eliminate irrelevant work experience
Most recruiters expect a few years of relevant experience from the applicants.
If you are applying for a software engineering position, you need not mention your once upon a time experience working as a lifeguard. This can ruin the quality of your resume and reduces your job-winning chances.
Before adding experience to your resume ask yourself whether this could make you a more valuable employee to the company.
It's possible that removing your work experience will result in creating work gaps on your resume. You can cleverly hide those employment gaps by changing the employment date format. Remove the month and only include the year if you previously used the MM/YYYYY format. This is a terrific way to eloquently hide your work gaps so that they aren't observed by the recruiting manager.
Check whether you have listed the duties and responsibilities assigned to you by past institutions. If so, remove them and list only the career accomplishments you have achieved.
5. Consider revamp and reorder bullet points
The most important things should come up first. This way you can showcase yourself best to the recruiters.
Therefore, when listing the achievements, try to arrange the bullet points you list under each job title in order of priority. Then re-insert them into your resume. This motivates the hiring manager to read your complete resume without losing interest.
It's always good to start work accomplishment bullet points with strong resume action verbs. This will help you to diversify and strengthen your resume.
6. Match your skills to the job
Reading the job posting carefully can find a lot of required skills. Make sure that the set of skills you have included in your resume align perfectly with the job advert.
Mine the job posting for the soft skills, hard skills, and other transferable skills and use them in your resume effectively.
It is not a mandatory thing to include the skills found from the job posting in your resume skills section. You can present them creatively in your resume summary and work experience achievement bullet points too.
7. Save your resume properly
First, check if the job posting recommended a file format to send your resume. If so, you must save your resume exactly with that file type.
But if not, it's better to save your resume as a PDF. Doing so will not change the format of your resume once it is submitted. But if you save your resume as a Word document, there is a risk of changing its format.
Therefore, after saving the resume in PDF, open it again and check if the text in your resume can be highlighted or not. If you can do that, your resume can be read by ATS Bots as well.
Also, when you save the resume, do not forget to add your full name as the file name. These are great opportunities to showcase your professionalism to hiring managers, even if they are very small tricks.
Bonus tip: Tweak your online resume
If you have an online resume, ensure that they are always up to date. Some companies hiring employees even without a job advertisement. In such cases, recruiters use your online resume to measure your skills and qualifications.
Therefore it is imperative to update your online resume regularly even with a few minor changes.
So now you know how to tweak your resume instantly. With these small tweaks, you can have a big impact on your resume's effectiveness and also can get a lot of attention from hiring managers more than ever before. Not only that, but it will also greatly affect your resume to stand out from the crowd.
At the end of the day, keep in mind that small errors in your resume can kill your job-winning chances. Therefore, try the above little things on your resume and feel the difference.
Good luck with your job search!