How to Write a Successful Resume Summary (Examples Included)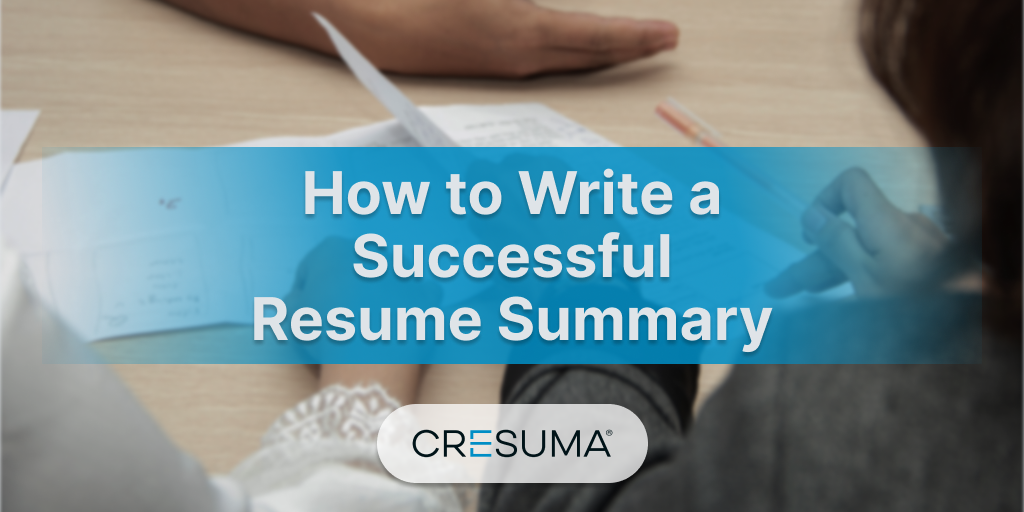 Usually, recruiters take less than six-seconds to inspect your resume and mainly focus on the resume header and resume summary within this tiny time frame. Therefore your resume should pass this six-second test to enter the further observational level of the recruiters. That means, if the recruiter observes at the first sight that your professional summary is unique and impressive, you will pass the six-second test and the recruiter will go through your resume further.
Career summary, profile, achievement statement, professional summary, a summary of experience, a summary of qualification, qualifications summary, and competencies are synonyms of resume summary.
The applicants who have years of experience should add the resume summary section on their resumes by highlighting their top recent experiences or achievements. But the applicant who has less experience can use an objective statement instead of resume summary.
Here are the tips and instructions to make your resume summary stand out among the other resumes.
What should I include on my resume summary?
As mentioned in the above, a good summary is very important for a successful resume. Therefore it is very much worthy to learn the correct way of writing a resume summary with more action verbs to make your resume shine.
You should include only the major points such as your experience, top achievements, key competencies in brief and this could help to impress the reader to take more time to read your resume. And that is the ultimate goal of writing a professional summary.
A resume summary consists of three main parts as given below.
Title
Paragraph of information
Competencies
Summary Title (Resume Headline)
Including a title is something that most of the candidates are not doing. So if you can do it, that would be great. This is a very important factor to get past from the 6-second scan.
A resume headline should always describe your professional self within a short sentence or a phrase and that will help to grab the attention of the recruiter. Though it is short, a resume headline is very powerful.
This must be placed soon after your name and contact information. Find keywords and key phrases from the job posting and include them on here. This will help you to get past the Applicant Tracking System (ATS) too. Using more resume tips can unlock the potential of your resume.

Resume Title examples:
Sales manager with experience in the pharmaceutical industry.
Software engineer with 10+ years of experience.
Full-Stack developer with leadership experience.
Experienced Oracle Certified Professional Java Programmer.
Registered Nurse with 5+ years of supervising experience.
Resume Summary Body
Think of the main attributes and most important accomplishments and achievements. Then note down all of them in your resume summary body that are specific to you and the things that would be relevant to your specific job.
You don't have to display your whole work history in the summary section. Display only the most recent and relevant work experience. Write down the most important skills which can apply to a specific job. You can use the job description to get the keywords and key phrases to use in the overview of your resume.
Then, tell the hiring manager about your impressive achievements in previous positions. Use quantified metrics such as numbers, percentages, amount, years in every time as possible. Not only that but also you can use some resume action verbs such as improved, developed, utilized, trained etc. to make your resume summary stand out from the crowd.
See the below example.

"Improved organic search rankings in google from the fifth page to the first page for 20+ highly competitive keywords for a branding agency and increased their organic traffic by 40%"
.
Do not exceed more than three sentences as it would lengthen the resume and since this is the summary, you have to keep this portion very brief. The rest of the Resume will serve as your summary evidence.
Competencies
Always try to review the job posting and search for the keywords and key phrases that explain your expertise. Pick them into your resume core competencies section together with a vertical line surrounded by two spaces.
A well-written core-competency section should give the idea to the recruiter that this is the exact person they are looking for. So it might include your soft skills and other competencies too. This section is not necessary. But it is good if you could include it.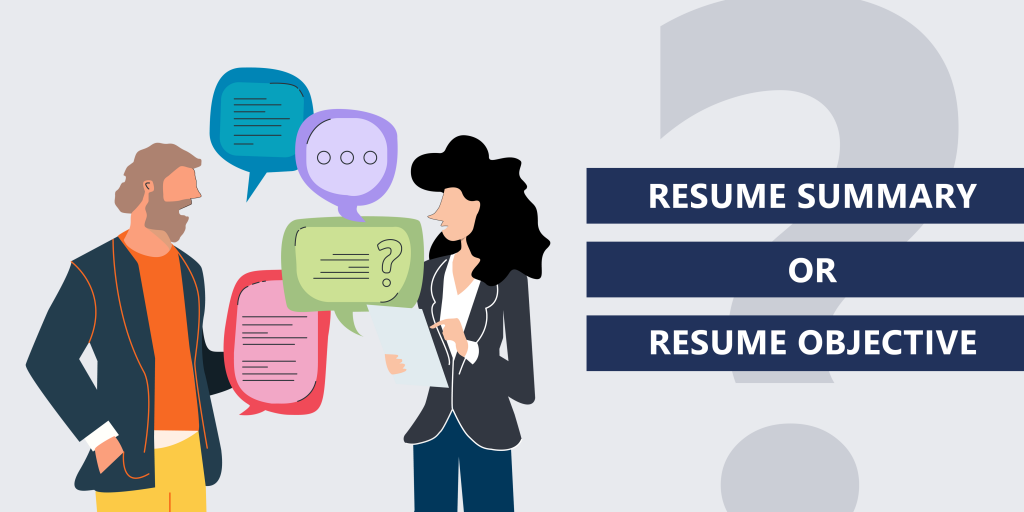 Resume Summary Vs. Objective Statement
The objective statement represents an introductory statement of candidate, himself that provides the objectives of the candidate and future goals while the resume summary highlights a candidate's specific set of skills and the way he used them to win certain achievements. But the objective statement can be used as the substitute for the resume summary. Therefore never use both sections in your resume.
Furthermore, the objective statement is suitable for a beginner or an inexperienced person who sends the resume for a trainee or an intern position. On the other hand, the applicants who have experience to some extent have to use the resume summary section in their resumes to highlight their top achievements or recent experience.

"To obtain a Search Engine Executive position in the Digital Marketing industry"
It is important to note that usually passive voice is used to write the objective statement while active voice and many action words are used to write the resume summary. But the objective statement is outdated nowadays. Because no one can show their value to the recruiters via a resume objective statement. Therefore the way of writing an objective statement also has changed as the candidate has broader targets in their career. For example:
"Search Engine Optimization Specialist with over 10+ years of experience looking to transfer my skills into SEO Consulting".
If you want to fertilize your resume by using a perfect resume summary you should well arrange your most relevant experience and achievements by using action verbs and quantified metrics such as percentages, years, or amounts and explain what are the skills that helped you to achieve those goals. Therefore the recruiter will understand your working range and tend to read your resume further.
Take a look at this example:

"Results-driven SEO and Digital Marketing Specialist with 5+ years of experience. Improved organic search engine rankings from 10th page to 1st page for 20+ highly competitive keywords for a career development website and increased their web traffic by 50% within 6 months"
.
Resume Summary Examples By Job Profession
Example for Medical Consultant

Experienced Consultant with a demonstrated history of working in the hospital and health care industry. Skilled in Diabetes, Clinical Research, Medical Education, Pediatrics, and Medicine. Strong healthcare services professional with a Bachelor of Medicine, Bachelor of Surgery (MBBS) focused on Endocrinology and Diabetes.
.
Example for Teacher

10+ years of experience in teaching mathematics for different grades and improved their mathematical skills by 50% as well as received almost 100% satisfaction from the parents and students. Skilled in teaching methods, communication, teamwork and presentation
.
Example for Accountant

Results-oriented accountant over 10+ years experience with excellent research and financial analysis abilities. prepared monthly financial statements for a company with an annual turnover of $35 million. excellent knowledge of generally accepted accounting principles (GAAP)
.
Example for Call Centre Agent

Confident and Energetic call centre agent with 5+ years of experience assisting customers in solving their network issues. Keen to support ABC solutions in becoming a market leader through proven customer support skills. Awarded Best Call Center Agent three times. Helped over 95% of customers to solve their queries within the first 3 minutes
.
Example for Software Engineer

Energetic software engineer with 5+ years of experience participating in the product development lifecycle of successfully launched applications. Eager to join ABC Solutions to help develop robust code for high-volume businesses. In previous roles, reduced warranty costs by 30% and downtime by 20% in ABC Solutions; identified and resolved a process bottleneck that reduced coding efficiency by up to 30%. A friendly team player and a deep analytical thinker outside the box
.
Example for SEO Specialist

Hubspot and Adwords certified SEO Specialist with 5+ years of experience specialized in SEO, Adwords, Admob and email marketing. Successfully grew organic traffic by 130% in just 6 months through link building for my most recent personal client. Experienced in leading teams of junior SEO executives to meet and exceed digital marketing goals
.
Your resume summary will be the first thing that a recruiter sees. So make sure to make it impressive. The next article is about the work experience section on a resume is also important as a resume summary. Visit the above link and see how to make your resume stand out with an amazing work experience section.
Enjoyed Reading?
Help Cresuma cover the server and other costes to continue this 100% Free Service. Show your support below.