Resume Header in 2023: Complete Guide with Examples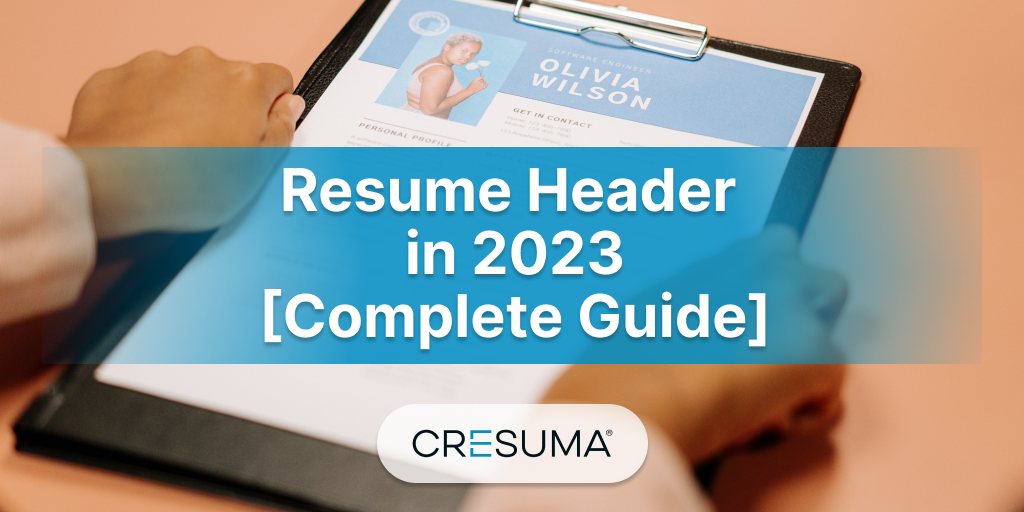 Finding a perfect job will change your entire life and also your resume plays a major role in getting you there. The Resume header makes the first impression in the recruiter's mind about you. Therefore Resume header should be very professional and should follow a recommended standard. Here we are ready to solve the following major problems that may come to your mind when you are making a perfect resume header.
Resume Header Definition
Importance of the resume header
The easiest way of creating your resume headline
What to include on the resume header?
Resume header Tips
Avoid this information on your resume headline
Best resume header ideas
Match your resume headline with the cover letter header
Let's create the resume header in Word
Resume header checklist
Resume Header Definition
Resume header is a very important section, usually, it is the top section of your resume which acts as a business card. Because it contains your name, job title, contact details, and other social media links.
Importance of the resume header
Writing your resume header is a crucial task than you think. So making a resume by following the standards of the resume, you will get lucky enough to land your dream job – fast. The purpose of a standard resume header is to highlight your resume among other resumes. If the resume header looks perfect, the recruiters feel to continue the reading of your resume. Therefore, you have to make your resume header perfect. But you do not need to worry about it. Get help from our 'Resume Builder' and make a perfect resume header that wins the recruiter's consideration at first sight.
The easiest way of creating a resume headline
There are different ways of creating a resume header such as by using a,
Resume builder (The easiest way)
Word document
Graphic design software etc.
Using a resume builder
Though there are so many ways to create your resume, using a resume builder is the easiest, quickest, more Applicant Tracking System (ATS) friendly and a recommended way that helps you to create not only a resume header but also your whole resume professionally according to the standards and the requirements of your job position. So we recommend you to create your resume using an online resume builder.
Using a Word document
Though this is a very famous and ATS-friendly way of creating resume headers and all sections of resumes, now it is out of trend and it is a very time-consuming way. Therefore, we never recommend this way as a simple way of creating a resume header.
Using a Graphic Design Software
Some applicants tend to create their resume headers and other sections of the resume using Graphic Design Software such as Photoshop, CorelDRAW, Illustrator, etc. But using such software may add more graphics to your resume and ruin the Applicant Tracking System (ATS) friendliness of your whole resume. Not only that, this kind of software always requires paid licenses and you have to have good knowledge of using that software. Therefore Experts always advise NOT to create your resume header or any other section using such software and try to use a more ATS-friendly way.
What to include on resume headers?
You may know that the job market has huge traffic and competition between job seekers. If the recruiter seems at first sight that your resume header does not follow the standard format or it has included unnecessary information, they will reject your resume without any hesitation. So follow these tips to make your resume stand out with the most necessary information.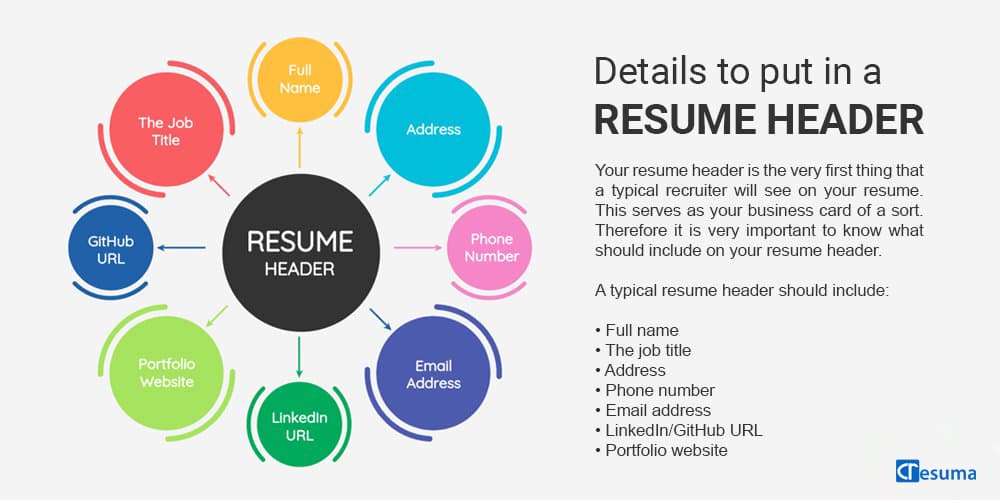 The major and essential parts that should include on your resume header are,
Full Name
Job (professional) title
Location / Address
Phone number
Email Address
The optional information you may add on your resume header,
LinkedIn URL
Twitter URL
Personal Website URL
Facebook URL
Resume Header Tips
Full Name
The largest text on your resume should be your full name. Use a bold font or a larger font size to make it the most visible text on the resume. You should never use a nickname or a fancy name in it. It is preferable to use a formal name, such as your first and last names, as the title.
Job (professional) title
Mention your job title below your full name in a smaller font than your full name. Job title means your current job position or your desired job position. Using a professional job title is a must, and never use a fancy job title. If you have any specific certifications that are related to the job field, mention them also here.
Location
You do not need to mention your full address. Just mention the city and the state to inform your location to the recruiters. Because the recruiters want to know whether you are close to the workplace or not.
Phone number
Include an active or frequently used phone number but never use an official or a work telephone number. It is important to mention your country code if you apply for a foreign job vacancy. Use a polite and professional voicemail message.
Email Address
In the resume header, it is important to provide a professional email address that is very personal to you. Professional email addresses usually include a first and last name or a name and a unique number, but never include the current job email address. Remember to double-check that your email address is clickable. And also make sure that you are submitting your job application via that email.
LinkedIn URL (optional)
If you mention your LinkedIn profile consider whether it is professionally maintained. Do not forget to maintain similar names in your resume and LinkedIn profile. Make sure your LinkedIn profile URL is clickable.
Twitter (optional)
Make sure you have maintained your twitter account professionally. At the same time check out whether both resume name and Twitter account names are the same. Never forget to examine whether your Twitter account link is clickable.
Portfolio Website (optional)
Add any of your portfolio websites if and only if they contain any documents to prove your skills or any project files. Not only that make sure your portfolio Website links are clickable.
Facebook (optional)
Before including your Facebook profile in the resume header, make sure it's professional and that you haven't posted any posts that might harm your professional life. It's important to compare and see if your Facebook name and your resume name are identical. Make sure that the URL to your Facebook profile is clickable.
Many applicants follow many formats to create their resume headers. Here is the standard and formal resume header template.

Avoid this information on your resume headline
Some applicants include unnecessary information in their resume header. That may have a bad impact on your professional life. Here is some information that you tend to include in your resume heading but experts have informed you to avoid them from your resume headline.
Photograph
Adding a photo on your resume depends on the country that you apply for the job. Because some countries allow their applicants to add photographs on the resume while other countries prohibit the photograph on the resume. Therefore you have to find out which category your target country represents and according to the result decide whether you display a photograph on your resume or not. For instance, countries such as China, France, Japan, and Africa accept the photograph on a resume while other countries such as Canada, Australia, India, United States, and Sweden do not recommend adding the photos on resume.
The word 'Resume'
Never write the resume header title as 'resume'. Because any reader who reads your resume knows that it is a resume. Therefore you have to avoid that bad practice when you create a resume.
Beliefs or Creed details
Adding any information that represents your belief or the creed such as religion, race, nation, caste or political wing in your resume will negatively impact on your image. Though some applicants tend to add them in their resume headers, experts always recommend to avoid adding them in your resume. Because the personal opinion of the recruiter may impact your career badly.
Personal details
It is important to note that never misunderstand the resume as a bio-data. Because some applicants add their date of birth, civil status, the number of children, parents' names, or physical characteristics like height, weight, gender in their resume header based on the lack of awareness. Generally, this information is considered as unnecessary information in a resume. Unless the job position requires you to mention them in your resume, never put these kinds of information in your resume.
Salary expectation
If you add your salary expectation in the resume even if the job advertisement has not been asked you to do so, the recruiters will imagine you as a person who gives priority to money rather than the job responsibility. Therefore, that will badly impact your image and they will never think to hire you. So, check the job advertisement twice before mentioning the salary expectation in your resume.
Best resume header ideas
There are major three different layouts that can be used to design your resume header. You can choose any of them as you wish.
Horizontal Resume header
This is the most used and standard resume heading type. A horizontal header always adds a professional look to your resume. This kind of header is suitable for any level of formality. Usually, experts recommend this type of resume header to use when you craft a resume. A horizontal resume can be two types based on the placement of social media links.
Vertical Resume header
This layout arranges the header in vertical order and provides a creative and modern look into your resume. But this layout consumes more space on the resume. But if you are an applicant that has less information to mention this type is much suitable for you when creating your resume.
Two-page resume header (2 page resume)
Before answering this question we would like to tell you that try to limit your resume for a single page unless you are at least a mid-level professional. I agree that if you are an experienced professional with over 10+ years of experience, you might have more things to describe. Then definitely you will go to the 2nd page of your resume. In that case, do we need to add resume headers on both pages?
You don't need an official header on the second page. You do however need your name and phone number on the second page.
If the recruiter or the hiring manager is reading your second page and if they suddenly need to contact you they will look at the top of your resume. So that it is better to mention your name and the contact number at the top of the second page.
Match your resume headline with the cover letter header
Though the cover letter and the resume are different documents, they are submitted together for a single job application. Because of that, we should match both the resume header and cover letter header. That will create a good image on the recruiters' minds about the candidate.
But if the job advertisement strictly advises not to send a cover letter then you do not need to send a cover letter.
However, if you send a cover letter, check whether both headers of the cover letter and resume are the same. Because then the recruiters will think a particular candidate is a well-organized person.
Still not sure how to make a cover letter header? See our complete guide of cover letter writing.
Let's create a resume header in Word (simple steps)
Using Word to create the resume heading is a very famous and Application Tracking System (ATS) friendly method. It is special to note that there are some default resume headers in MS Word. But we do not recommend those resume headline templates, because they contain a lot of graphics. Therefore follow these steps to design your own resume header in Word with simple steps within just 5 minutes.
01 – Create a 2×3 table.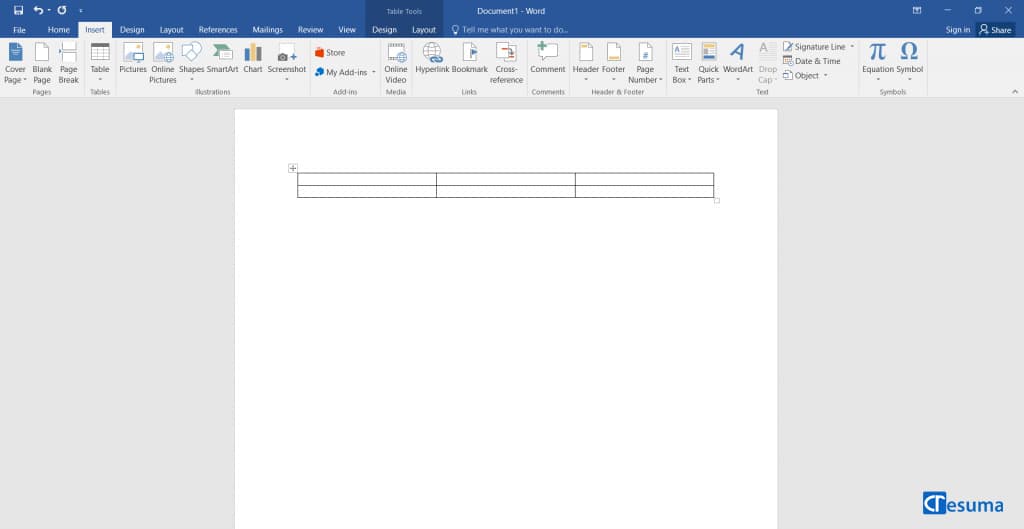 02 – Select the first row and Right Click. Then select "Merge Cells".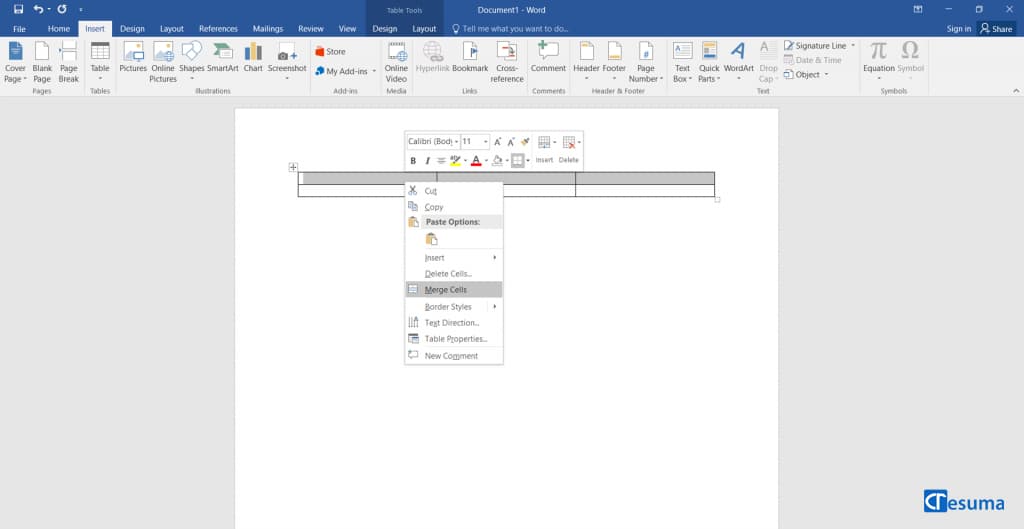 03 – Write your name and the job title in the first row. Insert your contact number, email address and LinkedIn URL in the second row.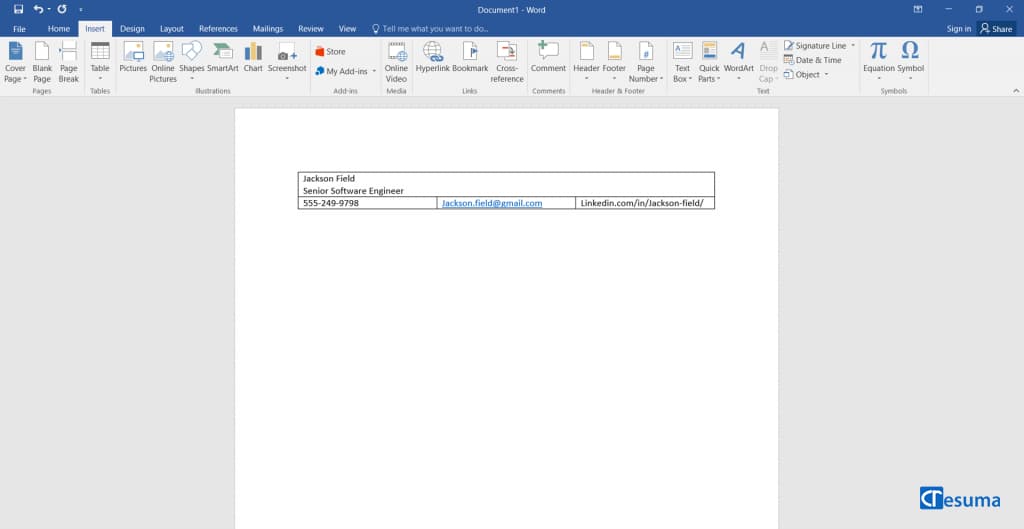 04 – Select all cells and align all to "Center".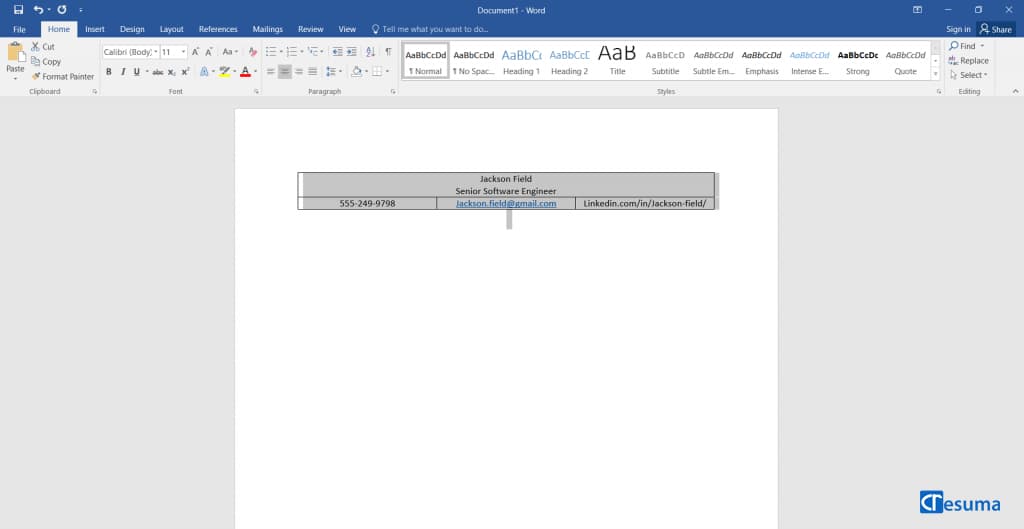 05 – Select all the cells and click on the "Borders" and then "No Border".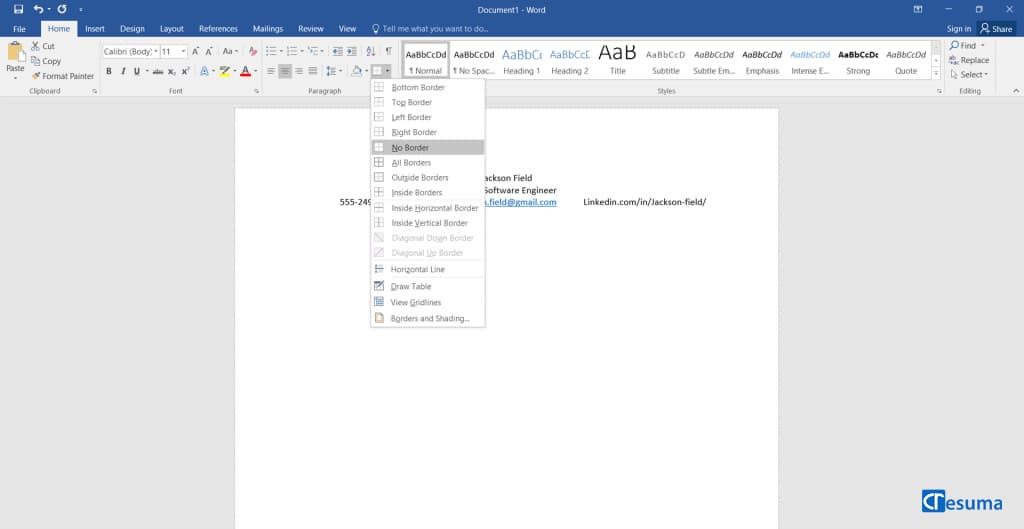 06 – Select the upper row and click on the "Borders" and then "Bottom Border".
07 – Finally you can make some changes to increase the visibility of resume header details. You can increase the font size and bold the name. If you need you can change the text into a good resume font.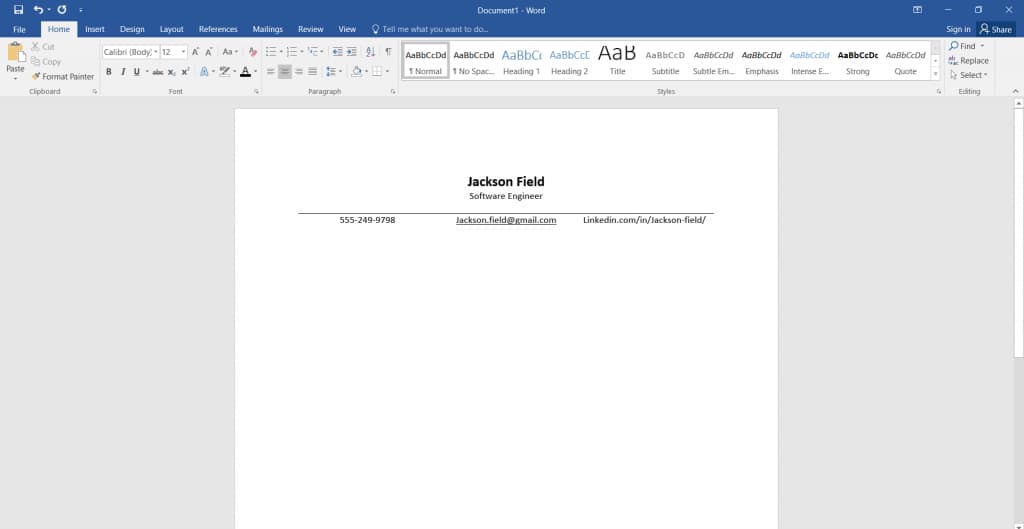 That's how you create a simple resume heading section in Word.
Resume header Checklist
Some applicants are in a hurry to send their resumes. But never send the resume without proofreading. Because if your resume contains mistakes, it symbolizes that you are a careless applicant. Therefore follow these steps to proofread your resume header.
Check the spelling mistakes of the resume.
Make sure the social links, phone number, and email address are clickable.
Use the recommended fonts types and sizes (For instance Calibri, Open Sans, Helvetica, etc. )
The header Should be the most visible part of the resume.
Make sure the resume heading format matches the job you are applying for.
Do not use so many graphics in your resume. But it is okay to add icons to the contact details such as phone number, LinkedIn URL, email address, etc.
Check whether all necessary information is included such as Full name, Job title, Location, Phone number, Email address.
Do not forget to mention the specific certificates and achievements in job title.
Now you are an expert in making a resume header. So what's next? It is better to learn other resume sections as well. Check out these guides for more information.
Want to build a resume of your own?
People who read this also read: How to write a perfect resume