Janitor Resume Example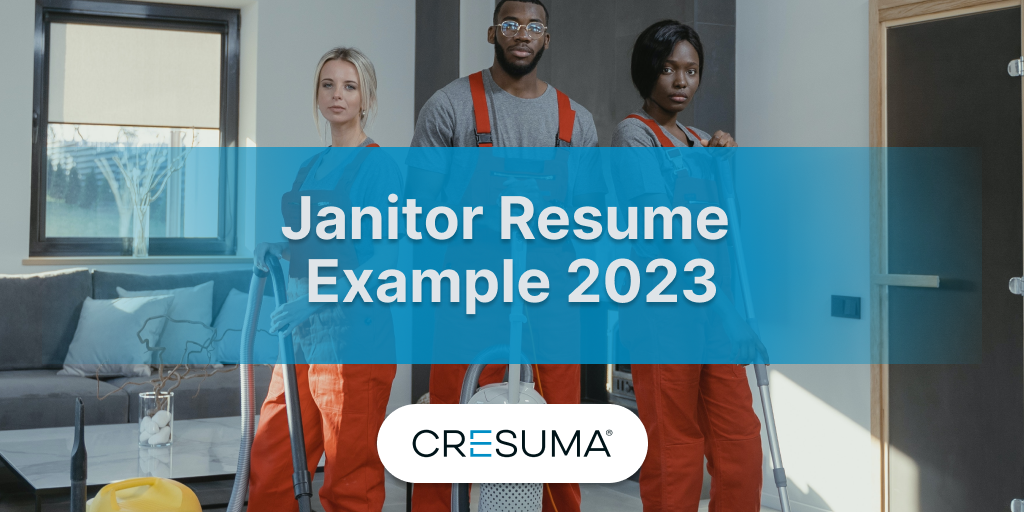 Complete Resume Guide for a Janitor
Best Tips and Secrets from a Professional Janitor
Janitorial Service Companies vs Modern Recruitment Process
Janitor Resume Example (Text Version)
Janitor Resume
No need to start from the beginning. Edit this resume sample with your information and keywords from the job posting.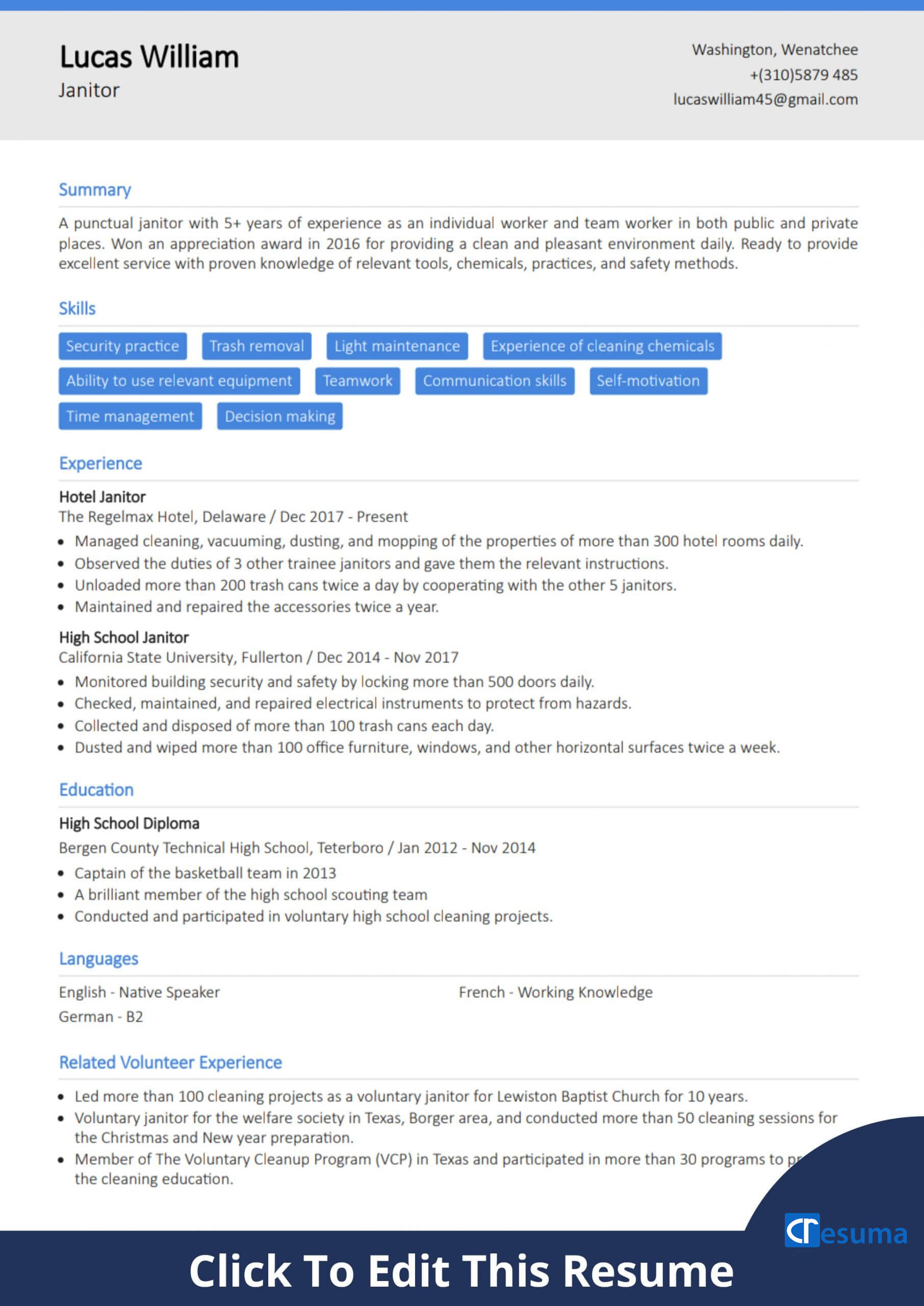 Click to build this resume from the scratch
Complete Resume Guide for a Janitor
How to select a template for a Janitor Resume?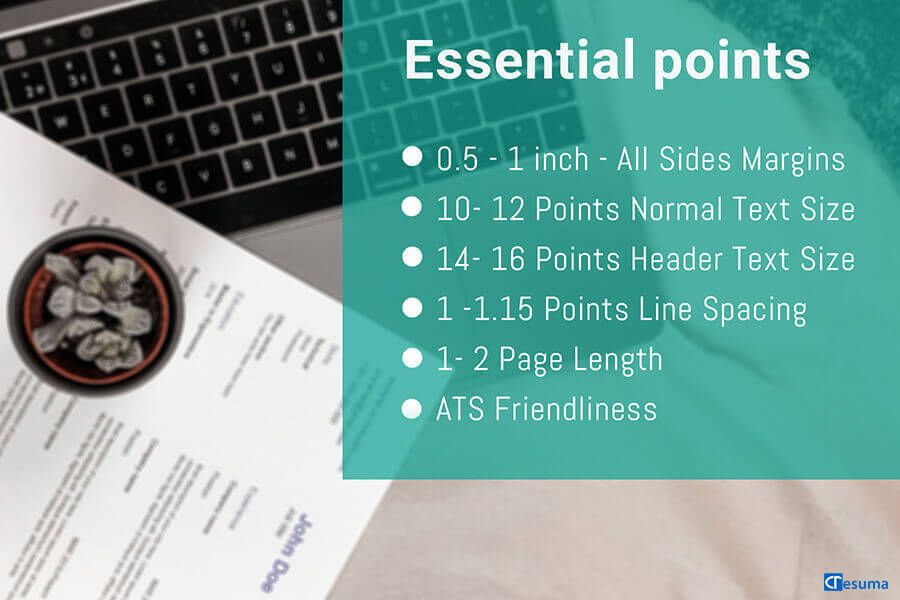 With the competition of the job market, nowadays hundreds of applicants apply even for a janitor job vacancy. Hence to get your job opportunity as soon, you have to be highlighted among the crowd. That means even the resume template of your job application must be unique and attractive. Also make sure to use resume key words to unlock your potential and maximize your chances of landing your dream job.
Nowadays the majority of cleaning staff resumes are taken from the Online Free Resume Builders.Because they are quicker and ensure the standard, quality, and ATS friendliness of the resume. So, you also have the freedom to select a template based on your willingness. But before that, let's see what you have to consider when you select a template.
Photo-free layout vs photo included layout
The selection of the layout will depend on you. We can not recommend what is the best layout for your job application. But we suggest you to select a photo-free resume template. Because you can focus on your talent, experience, knowledge, and competencies in janitorial assistance more than highlighting your appearance. Especially promoting your appearance may affect positively as well as negatively sometimes.
Consider the colors that you choose
As the resume is a professional document try to protect the standard of your resume even from the colors. Especially we suggest not to use glossy or gleaming colors in your job application. for the reason that they will disturb the readability of the recruiter.
Check whether the template provides enough space
As recruiters just spend only 6-7 seconds to scan a job application, they tend to reject lengthy resumes. But if you can provide enough professionally valuable content throughout the job application they will keep reading though it is a lengthy one. Usually, we recommend a two-pages resume for experienced janitors for 5+ years. Otherwise, it is better to compress all your information into a one-page resume. For that reason, you have to check whether your template provides enough space to arrange not only the main parts but also the extra segments in a clear manner.
What can you include on a Janitor resume header?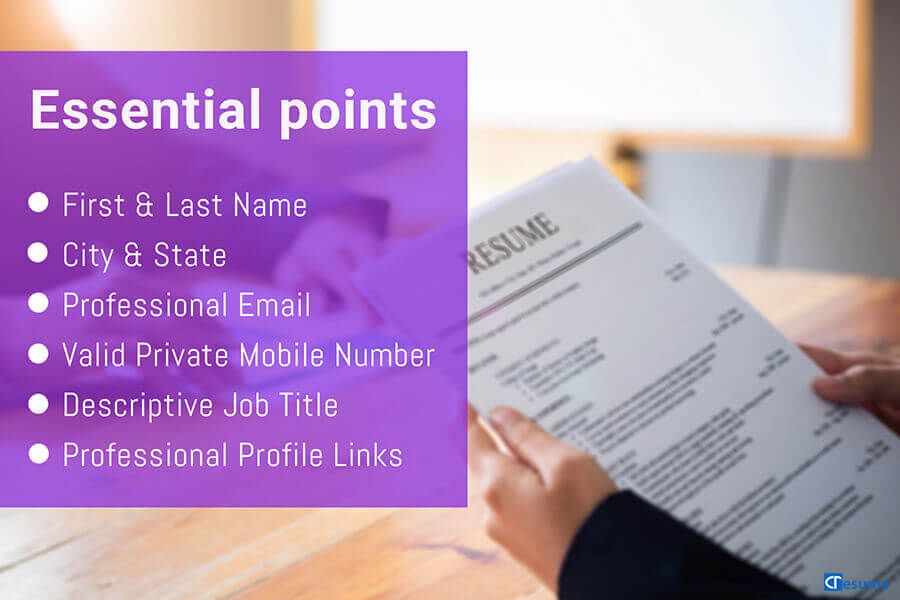 The above illustration also represents that the resume header contains your contact information. In brief, your name, job title, location, contact number, the email address must include in your resume header. and URLs of your professional social media can be shared if they are available.
So, consider the following tips when you indicate your contact information.
Mention only the first and last name as your name.
The same job title stated in the job advert. (maybe Custodian, Janitor, Sanitation Janitor, Cleaner)
Do not enter a list of contact numbers. One personal and available contact number is enough.
Add a professional email that does not contain junk or fancy words.
Why does a janitor want to share his personal profiles in the resume header? No! He does not need to add social media URLs in his job application as a must. But he can add. That means if you can prove your knowledge, procedures, educational background, or experience linked to the janitorial procedure, from social media, It is better to include them.
For example, a LinkedIn profile literally showcases the career background of the users. YouTube provides you to conduct a channel based on hygienic methods, safety tips, or homemade chemicals, etc. On the other hand, if you usually post the events that you participated in the hygienic facilitative organizations in your Facebook account that will be a great chance to show your engagements with the industry.

How to write an impressive Janitor resume summary?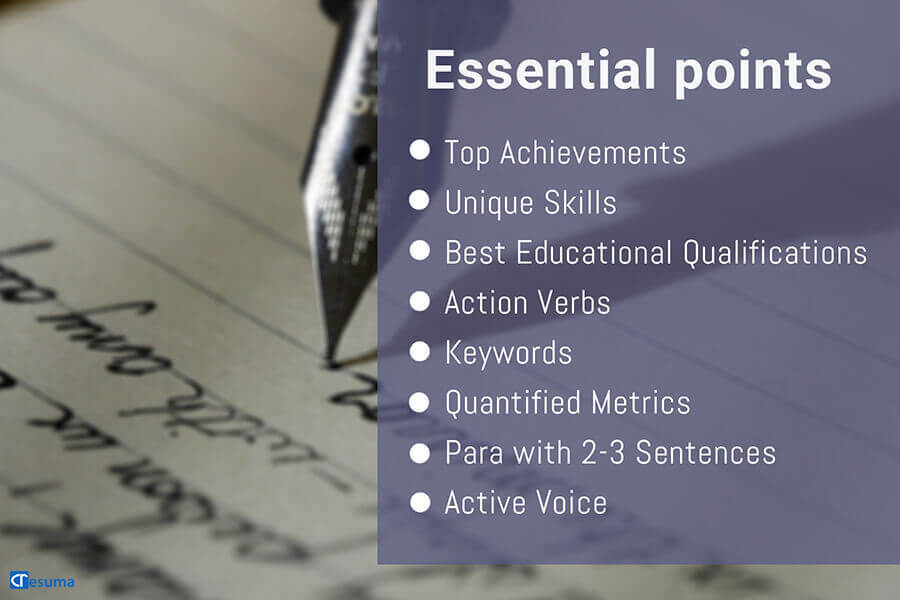 The main thing is drawing the attention of the recruiters. But every summary statement can not impress the recruiters. Hence you have to briefly prove that you are the most suitable employee of their enterprise. Add more ATS friendly key words from the job description to get more attention of recruiters.
You may have no idea about impressing the recruiters. You have to compress the professionally valuable facts in the resume summary such as the top achievements of your career history, unique skills, best educational qualifications, or other industry-specific talents.
How to enhance the quality of the resume summary content? Collect the given keywords as well as the relevant verbs in your job advertisement and use them to build your summary meaningfully. Further, quantify your results as possible.
Example from an Expert

Summary
Energetic and passionate janitor with more than 10 years of experience. Ensured to provide a clean and fresh environment by sweeping, mopping, and dusting the properties with proven knowledge about the equipment, chemicals, and Practices. Awarded as the best employee of the year in 2018 for the fast and best service.
See the complete resume summary guide
What to include in a janitor's career experience?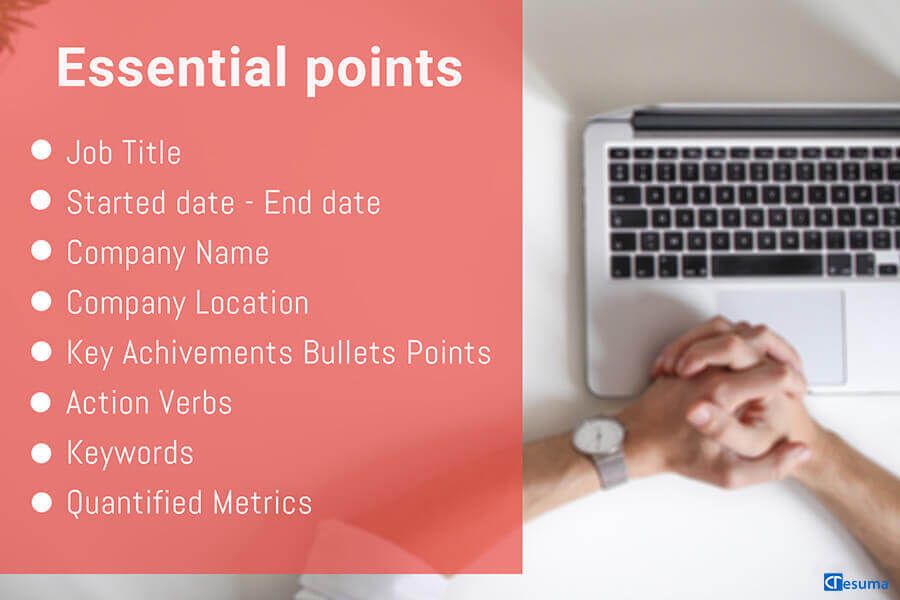 The recruiters build up the real reflection of you based on the details of your career experience. That means the majority of your attitudes, talent, capabilities, and achievements can include in the work experience section of your resume

.

Moreover, the recruiters can understand which kind of employee you are based on the type of your prior premises, the locations of your workplaces, the previous job titles, employment duration, and the vast impact are the career achievements that you include under 3-6 bullet points.

If you want to make your career achievements have a positive impact on your future career try to prepend relevant keywords, numbers, years, percentages,  amounts, and formal verbs purposefully.
How to build up the achievements for a janitor?
We recommend not to include the duties and responsibilities of a janitor directly in your resume achievements. But you can build up your achievements based on the accomplishments you gained by performing the duties and responsibilities of a cleaner.
For example, You have to state the tasks, duties, and responsibilities as your achievements as follows.
How well did you provide the janitorial assistance?
What kind of speed do you have in the cleaning procedure?
Can you manage the machines and chemicals well while cleansing?
What are the results and feedback you got after ensuring the sanitation?.
Here are a few important points to build your achievements as a professional in environmental health.
Reveal that you know the basic rules and regulations as a janitor
Environmental health is not just sweeping or mopping the floor. There are several general rules and regulations that the cleaners want to follow while cleaning the surrounding. You can explain your obedience and protection of rules as a professional janitor and what was the feedback you got as a result, in your resume. That will be a great achievement that showcases you are extra professional and you know the work ethics well.
Here are the basic rules and regulations for sanitation.
All solid must be removed
No harm to the surface
Restore the surface
Efficient in sanitizing
Simplest method fast
Janitorial activity from high to low
Walk backward from the wet surface
Suction mopping over sweeping
Sweeping before dusting
Dusting before suction cleaning
Keep the low noise level
Remove stain as soon as possible
Safety precaution
Start from the farthest end
Try to highlight your passion for environmental health
Expressing that sanitizing is your passion not only your duty will draw the recruiters' attention to your resume. There are four main expectations for janitorial facilities.
Aesthetic appeal – Making a visually attractive environment
Hygiene – Cleanliness destroys the bacteria
Maintenance – Providing long functional life for furniture, objects, and surfaces
Safety – Cleanliness reduce health hazards, fire hazards, and slipping hazards
We all want cleanliness physically and environmentally because of the above reasons. Accordingly, you can use these facts to explain your feelings on sanitization, not as a duty but as an amenity. Then the resume proves that you are a unique personality with critical thinking.
Let them know you are a responsible cleaner
You can put forward that though you are a speed cleaner, usually, you reduce your speed when you employ a premise full of furniture, objects, or occupants recently been in the room. Then the recruiters will understand that you are a responsible employee. At the same time, you can prove your skills in your resume as only saying that you are a responsible janitor is not enough.
Prove the speed of your task
Usually, the recruiters are fond of knowing the speed of your duty. The speed may depend on the type of your hygienic operation,  the size of the room, furniture, or object availability, and the number of occupants in the space. But you can give an average speed. Then the recruiter will really impress on you.
For example, You can explain that you usually clean an office from top to bottom in a methodical manner. Based on that an average-sized room of 20 ft*10 ft would take 15 minutes.
Show your talent to labor with low supervision
You can explain a situation of your career life that you have done your disinfection procedure without any supervision and appreciated by the managers or other authorities of the premises briefly. When the hiring managers understand that you can labor under less supervision they will feel you are unique. However, ensure that you have inserted 100% reliable information into your resume.
Provide real situation of different Hygiene standards you used as a janitor
If you can confidently talk about your duties from your resume that will be a great chance to showcase your unique personality. At the same time indicating the standards of the cleaning will reveal your scope in the field. Here are those standards.
Physically clean – Sweeping, mopping
Chemically clean – Applying chemicals
Bacteriological clean – Devastate bacteria
Entomological clean –  Destroy a harmful insect-free environment
Cosmological clean – Provide an organic or inorganic matters-free area.
Terminally clean – Sanitizing well ( for hospitals, ICU, operational wards)
You can emphasize those standards while talking about different premises that you have employed on such as hospitals, schools, hotels, etc.
Mention you are comfortable even in the Manual Tasks
A few companies may still use manual methods to clean. Thus you have to emphasize you are an expert in manual cleaning. Here we have provided plenty of manual methods and the tools related to a janitor.
Method
Equipment
Method
Equipment
Sweeping
broom
Dust Mopping
Dust Mop
Dusting
Cloths, dusting brush
Damp Mopping
Damp Mop
Damp Dusting
Damp Cloths
Manual Polishing
Brazo, Silvo
Dust Mopping
Dust Mop
Manual Scrubbing
Scrubbing Brush
Wet Mopping
Wet Mop
Spot Cleaning
Sandpaper
Showcase you are an updated cleaner / janitor
The majority of companies have usually used different types of machines to ensure a hygienic premise. Hence they are fond of looking at resumes with manual abilities. So, the knowledge of using the janitorial machines correctly will give you alternative marks. As a result, do not forget to let them know the machines that you have used in prior jobs.
Method
Method
Machine
Machine
Carpet Shampooing
Carpet Shampooing machine
Suction cleansing
Wet / dry vacuum cleaner
Burnishing
Burnishing machine
Laundering
Washing machine
Spray Buffing
Buffing machine
Dry cleansing
Dry cleaning machine
Polishing
Polishing machine
Scrubbing
Scrubbing machine
Share the different frequencies that you cleaned based on the purpose
Ensuring the sanitation can be done monthly, twice a month, annually, or daily. At the same time, the frequency depends on the task. If you present the following frequencies in your resume achievements the recruiter can understand your maturity with the janitorial operation.
Frequency
Task
Daily
Rooms, bathrooms, office environment
Weekly
High surfaces, Metal surfaces
Periodically ( monthly, annually)
Floor polish, carpet shampooing
Remind of a situation that you help the company personally
This achievement may not be common for each applicant. for the reason that it depends on the situations that you have faced during employment. Janitorial companies usually deal with water, liquid agents, detergent, washing soda, or polishes agents. If you have ever helped the enterprise by introducing the low rate suppliers that you know personally that will be another achievement that shows your quick assistance and response.
Example from an Expert

Work Experience
Janitor – 2016/Feb to 2019/Dec
The cleanNet USA, Colorado
Cleaned, mopped, vacuumed 200+ hotel rooms daily.
Removed more than 100 trash bins twice a day.
Maintained all lights of 300+ hotel rooms twice a year
How to arrange the educational qualifications of a janitor?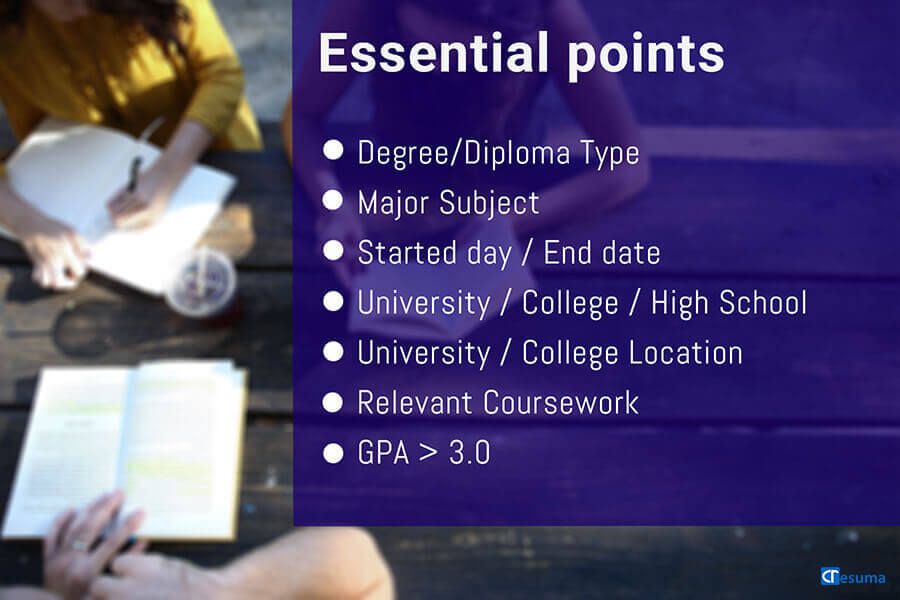 Usually, the janitorial facilitative companies required at least a high school diploma/GED from the applicants. But if you have added educational qualifications connected to the sanitation field, put forward them under the resume education section
The importance of stating the completed year, name, and location of the organization that you educated never underestimate since they prove your education.
Other than that, you can declare any sports events, side projects, or group projects that you have participated in during college as proof of your skills. Then you can earn supplementary marks from your resume.
Example from an Expert

Education
High school diploma – 2013/Feb to 2015/Dec
Cajon High School, San Bernardino
Conducted all members of the basketball team as the captain.
Participated in all voluntary cleaning sessions of the school.
Repaired a building of the school with 10 peers as a group project.
What are the most essential soft skills for a janitor?
Time management:- The cleaner has to finish his duty to bring a perfect look, well sanitized, and cleaned environment. But he has to take less time to finish the task since he usually covers 10+ rooms per day. Thus the cleaner ought to manage the time.
Organizational skills:- The candidates have to handle various types of chemicals, tools, equipment, and machines always. As a result, being organized will help you to be meticulous in action, reduce chemical waste, and enhance the speed and productivity of your hygienic operation.
Teamwork:- Sanitation action is not an individual task each time. Because a team of janitors have to finish the same task in many circumstances. Accordingly being an active member of a team is a must for a janitor. If you can display enough sports that you have played in your college that will be a great opportunity to prove you are a team worker.
Multi-tasking skills:- Sometimes the janitor has to handle two or more tasks at the same time such as dusting and sweeping, scrubbing and mopping, etc. Therefore you can speak briefly about your multitasking skills in your resume.
Decision-making skills:- The janitor would be a quick decision-maker who can choose the greatest way to clean the spots, the most suitable chemicals to apply, the most appropriate tool or equipment for the task, and the best method to clean the variety of surfaces. As a result, try to highlight you can make the best decisions as a janitor in your resume.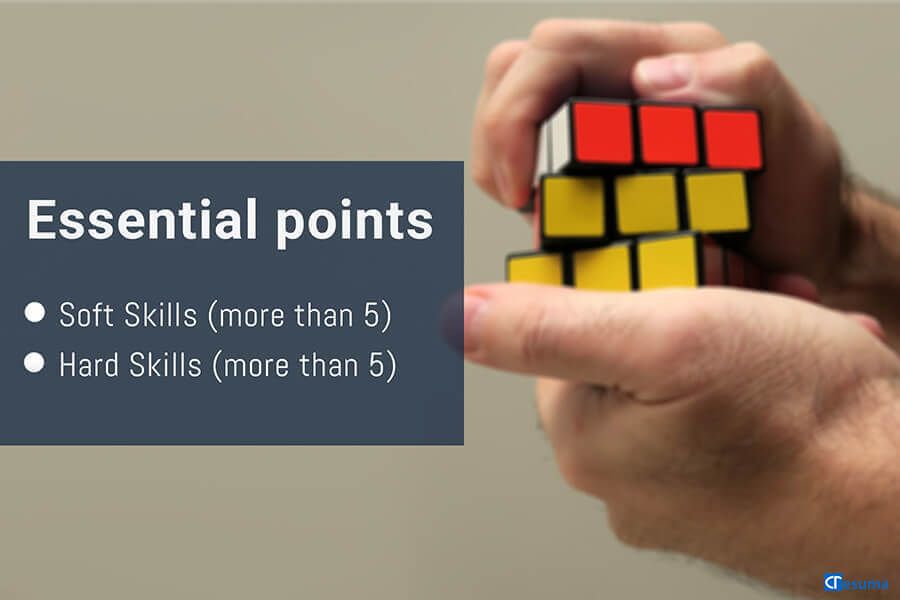 Is there any hard skill specific to the janitor?
Yes! Not much but there are plenty of hard/technical skills that are associated with a janitor. It is better to prepend at least 8-10 skills including both soft and hard skills in your resume
Here are the hard skills connected to a janitor.
Awareness of deep cleaning
Knowledge of dusting methods
Light maintenance
Trash removal
Disinfection techniques
Experience in sanitizing chemicals
Ability to use janitorial equipment
Security practice
What is the difference between fresher and experienced janitor resume samples?
Experienced Janitor
Entry-Level Janitor
Main Structure
Resume header
Resume Summary
Career experience
Education
Skills
Resume header
Objective statement
Education
Skills
Extra Points
Awards & Honors
Clubs & Memberships
Freelance work
Volunteer work
Best Resume Format
Reverse Chronological
Resume Format
Combined / Hybrid Resume Format
Summary Statement
Resume Summary
Objective statement
How to write a janitor resume objective with no experience?
As the experienced janitors insert a resume summary in their resumes, you can enter an objective statement instead of the summary statement, if you are an entry-level cleaner.
Literally, the statement ought to have an objective. That means explaining how you can help to achieve the company goals by using your unique skills, knowledge, talent, competencies, and education is the main purpose of a freshers resume.
The official goals may be to increase the daily customers, increase customer satisfaction, supply productive janitorial services, and rescue the wastage of chemicals. Nevertheless, you should give a believable plan to succeed them with your assistance.
Have you ever certified as an expert Janitor?
If you have owned any certification that is relevant to the janitorial field, place them under the 'Certifications & licenses' sector. Even so, when you share your certification details, you can follow the below format to provide a complete overview of your certification.
Certification name – Certified year
Certified Organization Name, Location
Certification URL (optional)
Here are a few certifications parallel to any type of janitor such as janitors, custodians, or maintenance engineers.
Leather Cleaning Technician (LCT)
Resilient Flooring Maintenance Technician (RFMT)
Rug Cleaning Technician (RCT)
Upholstery and Fabric Cleaning Technician (UFT)
Wood Flooring Maintenance Technician (WFMT)
Color Repair Technician (CRT)
Commercial Carpet Maintenance Technician (CCMT)
Stone, Masonry and Ceramic Tile Cleaning Technician (SMT)
Carpet Cleaning Technician (CCT)
Carpet Repair and Reinstallation Technician (RRT)
Floor Care (Hard Surfaces) Technician (FCT)
House Cleaning Technician (HCT)
Are you a member of the environmental health association?
If yes, You can earn added marks than other applicants who compete for the same janitor vacancy. Since the associations reveal your growing network in the environmental health field and make valuable industry connections.
That club or association may be rural, urban, national, or international. But if it is relevant to the sanitizing field you can place them under the 'Clubs & Memberships' sector. Here are some examples of associations applicable to a janitor resume sample.
CRA: Cleaning and Restoration Association
ARCSI: The Association of Residential Cleaning Services
BOMA: Building Owners and Managers Association International
AACP: American Association of Cleaning Professionals
CONNEX: Retail and Multi-site Facilities Management
ACI: American Cleaning Institute
AHCA: American House Cleaners' Association
BSCAI: Building Service Contractors Association International
CIRI: Cleaning Industry Research Institute
Do not forget to reveal at least the association name, the year and month of membership, and your post (if you have any specific post) under the membership zone of your resume sample. Furthermore, you can share the website URL of the association (if available), the achievements correlated to the janitorial action that you got from the club.
Have you ever provided the janitorial facility as a freelance or volunteer janitor?
If yes, that provides another valuable space to reveal your career-specific achievements. Whether you have been paid or not for the task is not an issue. The volunteer experience may be specific to your home. Again it is not a problem. If you can highlight what you have achieved by doing the task, that is great.
As a result, if you are a self-employed janitor present them under the 'Freelance experience' area. Further, if you provide any janitorial amenities based only on your willingness place them under the 'Volunteer experience' area.
Best tips and secrets from a professional Janitor
TIP #01:- Receive the worth of the job advertisement
Some applicants refer to the job advertisement only for knowing the closing date of the vacancy. But the job advertisement is a great source to find out the most relevant words for your resume writing.
The job advertisement decides whether you have to write a resume for a school custodian, head custodian, custodial supervisor, hospital custodian, or a janitor. Further, you can make your resume as a perfect reply-resume for the job advertisement if you consider the following tips.
Finding the given keywords and key phrases
Keywords are the words that represent the skills, qualifications, objects, equipment, tools, machines, people, processes, methods, and other words specific to the cleaning duty. When you read the job advertisement you can find out many keywords and key phrases. If you already have a resume, checkout whether your key words bring positive impact to the resume.
Here we have emphasized the keywords of the following sample job advert.
Making a list of given action verbs
Resume action verbs are the verbs that express the duties and responsibilities of a janitor. Therefore it is better to use the same verbs that the job advert gives when you explain your achievements, rather than using the verbs that come to your mind.
Here we have highlighted some verbs you can add specifically in the janitor resume sample.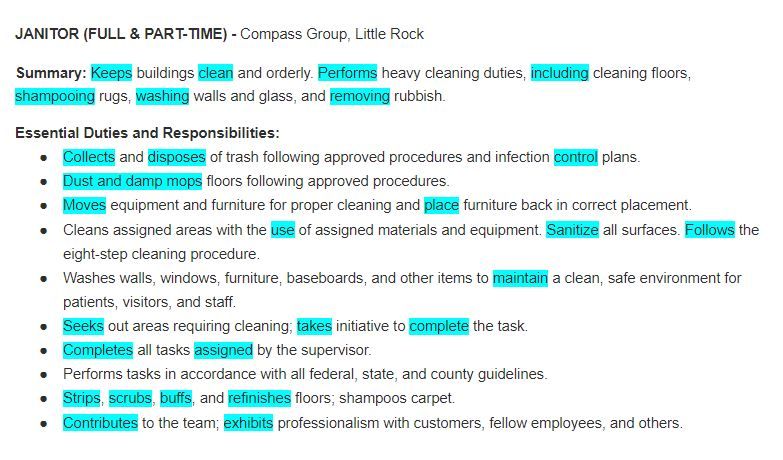 Why those industry-specific words?
They will really help you to pass the ATS test because Applicant Tracking System (ATS) filters the resumes based on those keywords. Thus add them meaningfully and purposefully to your resume. TIP #02:- Attaching a cover letter
The resume does not facilitate communicating with the recruiter in a friendly manner. It provides the space to only attach professionally valuable information.
But if you write a cover letter you can impress the recruiters in another way. In view of the fact that you can explain the features of the venture that motivate you to apply for the vacancy in the cover letter.
For example, you can convey that the company has been around for a long period of time, the people speak highly about the enterprise as employers and customers, the employees may be satisfied with venture standards as the majority of employees are long-term employees, etc.
TIP #03:- Save the resume in PDF format
It is important to note that saving your resume as a PDF, doc., Docx., or plain text format will protect the ATS friendliness of your job application in view of the fact that they are the best resume file formats. On the other hand, ATS can not read the text of image files. For that reason save your document in PDF format and do not forget to proofread your job application before saving it.
Janitorial Service Companies vs Modern Recruitment Process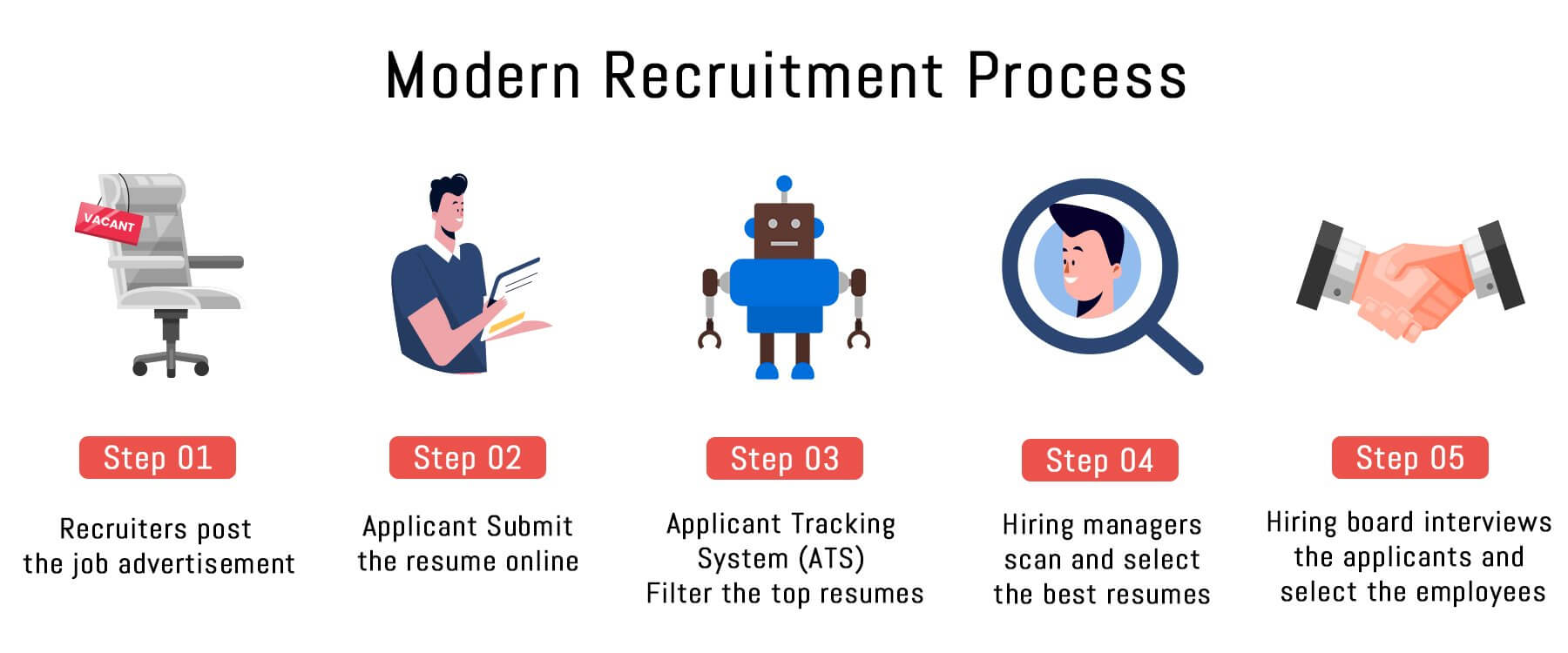 Overview of Modern Recruitment
Nowadays the majority of hygiene facilitative companies post their job vacancies online. Hundreds of applicants who compete to be an employee of that agency submit their job applications through an email.
The company stores hundreds of job applications that they have received in an Applicant Tracking System (ATS), and customize the system by giving the relevant qualifications and skills. The system checks the availability of skills and qualifications of the job applications and ranks them. At last, the top resumes which scored high marks are sent to the hiring managers.
Then the hiring managers scan and select a few best resumes from them. The owners of the best job applications have to face an interview. Finally, the hiring board who interviews the applicants select the most suitable applicant. Check more resume samples to get a better idea.
Salary of a janitor
Usually, a janitor is able to earn $24,038 per year. This is an average salary of a janitor and that will be slightly different based on the sanitizing service agency. Anyway, it is better not to mention your salary expectation in your resume. If they request to state your salary expectation, try to put a fair and relevant salary for a janitor.
Janitor Resume Sample (Text Version)
Lucas William
Janitor
+(310)5879 485
lucaswilliam45@gmail.com
Washington, Wenatchee
Summary
A punctual janitor with more than 5 years of experience as an individual worker and team worker in both public and private places. Won an appreciation award in 2016 for providing a clean and pleasant environment daily. Ready to provide excellent service with proven knowledge of relevant tools, chemicals, practices, and safety methods. A punctual janitor with more than 5 years of experience as an individual worker and team worker in both public and private places. Won an appreciation award in 2016 for providing a clean and pleasant environment daily. Ready to provide excellent service with proven knowledge of relevant tools, chemicals, practices, and safety methods.
Work Experience
Hotel Janitor
The Regelmax Hotel, Delaware – 2018/Jan to Present
Managed cleaning, vacuuming, dusting, and mopping of the properties of more than 300 hotel rooms daily.
Observed the duties of 3 other trainee janitors and gave them the relevant instructions.
Unloaded more than 200 trash cans twice a day by cooperating with the other 5 janitors.
Maintained and repaired the accessories twice a year.
Janitor
California State University, Fullerton – 2015/Jan to 2017/Dec
Monitored building security and safety by locking more than 500 doors daily.
Checked, maintained, and repaired electrical instruments to protect from hazards.
Collected and disposed of more than 100 trash cans each day.
Dusted and wiped more than 100 office furniture, windows, and other horizontal surfaces twice a week.
Related Volunteer experience
Led more than 100 cleaning projects as a voluntary janitor for Lewiston Baptist Church for 10 years.
Voluntary janitor for the welfare society in Texas, Borger area, and conducted more than 50 cleaning sessions for the Christmas and New year preparation.
Member of The Voluntary Cleanup Program (VCP) in Texas and participated in more than 30 programs to provide the cleaning education.
Education
High school diploma – 2012/feb to 2014/Dec
Bergen County Technical High School, Teterboro
Captain of the basketball team in 2013
A brilliant member of the high school scouting team
Conducted and participated in voluntary high school cleaning projects.
Skills
Security practice
Trash removal
Light maintenance
Experience of cleaning chemicals
Ability to use relevant equipment
Communication skills
Teamwork
Time management
Decision making
Self-motivation
Languages
English – Native Speaker
Spanish – Highly Proficient
French – Working Knowledge
Want to build your own janitor resume? start building now.
People who read this also read: