HR Executive Resume Example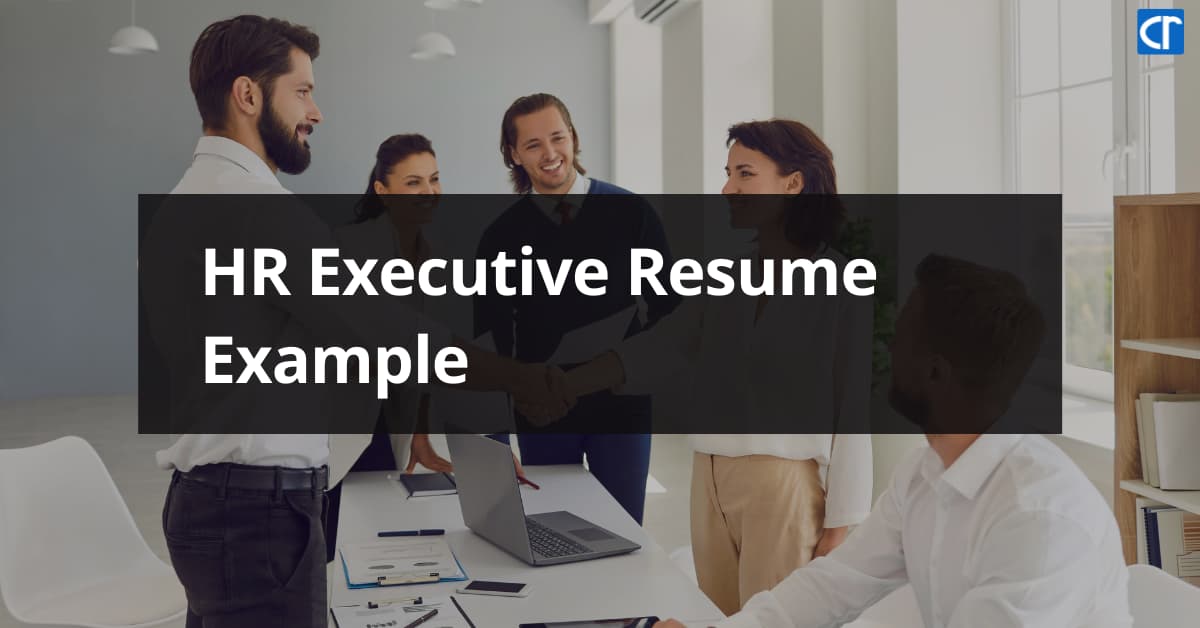 Complete Resume Guide for a Human Resource Executive
Ask from an Experienced HR Executive (Best Tips and Secrets)
HR Executive Resume Example (Text Version)
No hidden costs. Download your ATS-Friendly resume in PDF for absolutely FREE!
HR Executive Resume
No need to start from the beginning. Edit this resume sample with your information and keywords from the job posting.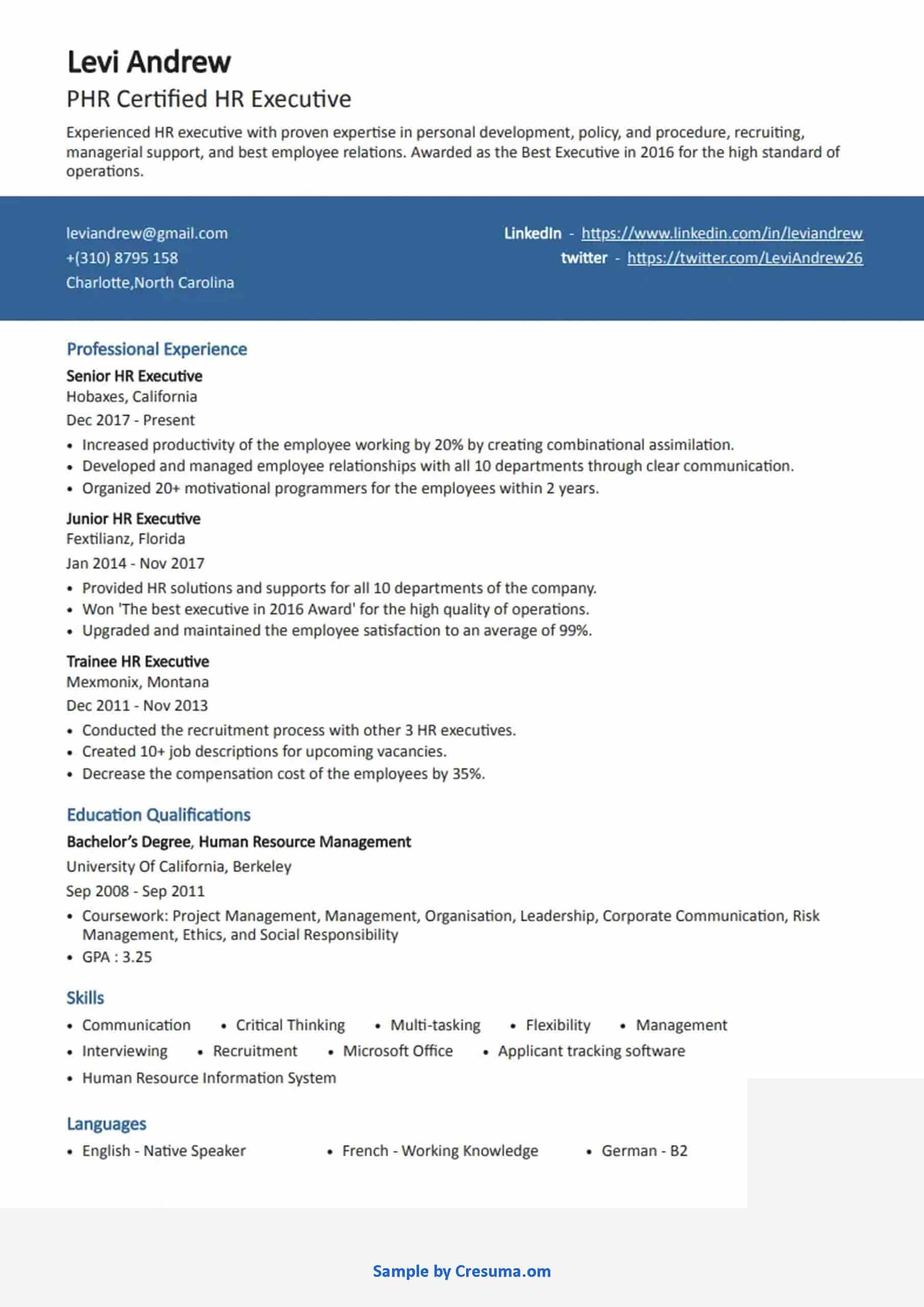 Complete Resume Guide for a Human Resource Executive
01
Can I Download a Resume Template for an HR Professional?
Sure! There are a lot of online resume builders now on the internet. You can select a perfect resume template as you wish. But Check whether the template contains the following features.

ATS friendliness:- It depends on whether your links can click and text can select. Do not select a template with heavy graphics. That disturbs the ATS friendliness of your resume. Also make sure to add ATS friendly key words to your resume.

Font:-

Choose a Clear font Style. Refer to our article on Best Font Types for Resume Writing for more details.

.

Space:-

The template must facilitate arranging your resume content into one-page. Because one-page is the perfect resume length for an applicant.

.

File format:-

The most ATS friendly file format for resume writing in PDF format. Any universal company has accepted that file format. Therefore send an hr executive resume pdf file to your recruiters.

.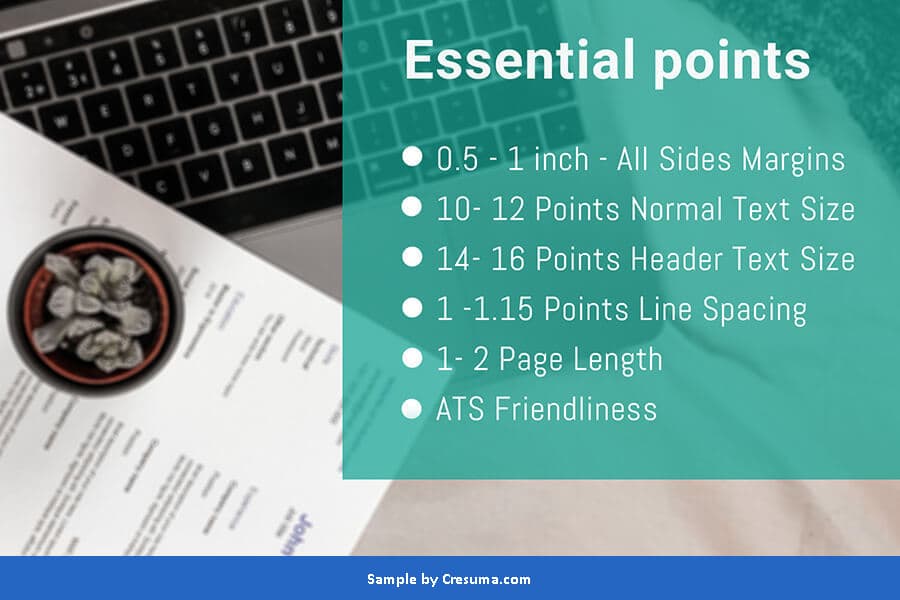 02
How Do I Pose to the Resume Photo as an HR Professional?
First, wear a professional-looking dress. Then drop a perfect smile as possible. That is an excellent pose for a resume photo. Also, try to represent your unique personality from the photo.

You can add a photo to your resume if your hiring personnel request a photo from you. Otherwise, we recommend not to select a resume with a photo. Then you can save space and add more career information.

.
03
How to Make Header Attractive in an HR Executive Resume?

As you are an applicant who has a basic knowledge of recruitment you may know the resume header looks like a business card of an applicant. Because almost all contact details of the applicant are contained in the resume header.
But you can not mention every detail that comes into your mind in your resume header. Here is a list of information that should and should not include in the resume header.
Should include
Name:- First and last name is enough. Do not mention the full name.
Job title:- Try to join a relevant certification that you have with your position of employment.
Contact number:- Should be a valid, available, private, mobile number.
Email address:- Should be a professional email address that does not contain fancy names. If you have no professional email address, make a new one.
Social media URLs:- Mention your available social media URLs, only if they are maintained professionally.
Should NOT include
Height or weight
Gender
Number of children
Beliefs and creeds
Salary expectation

04
What are the Personal Profiles Useful in an HR Executive Resume?
Are you an active person on social media? Do you post your professional and special occasions on social media? If yes, you can link your social media accounts to your resume.
Especially LinkedIn, Twitter, or any other professional account will help recruiters to understand where you have worked before?
Have you posted the photos of your special situations like leadership training you have participated in, conferences you have addressed, or internship programs you have monitored in your Facebook or Instagram profiles? So, do not forget to enter the profile link in your resume header.
05
What is an Executive Resume Summary for a Human Resource Professional?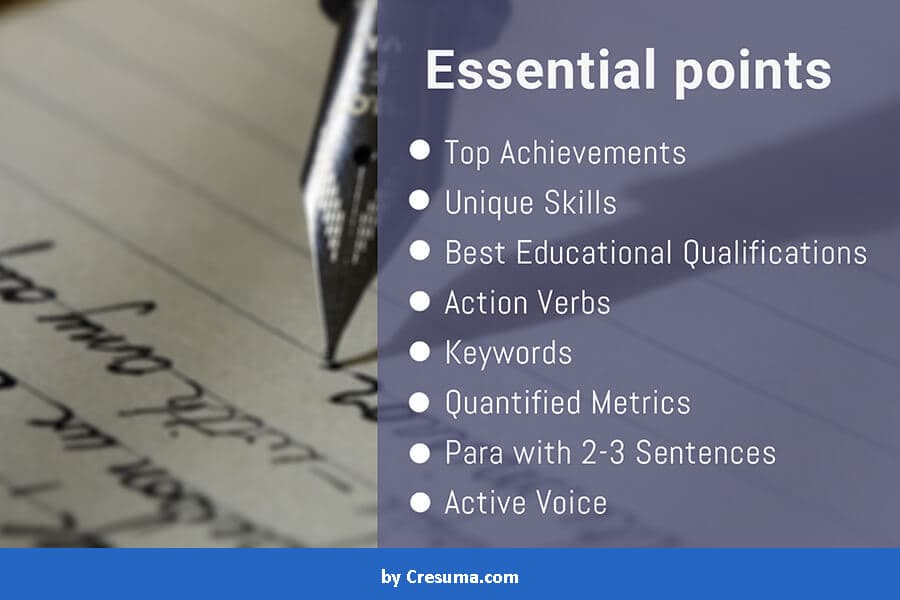 Usually, the recruiters' give more attention to the resume summary before going through your whole resume. Therefore, make an effort to include your one-in-a-million values in the resume summary.
An executive resume summary provides a brief description of the second to none accomplishments, skills, education, and certifications of the applicant.
The keywords, action verbs, and quantified metrics such as years and percentages will make your summary statement stand out further. Make sure to add key words from the job description to unlock your career success.
Example from an Expert
Summary
10+ years experienced HR executive with policy development and administration, employee relations, management, organization, training facilitation, and strategic HR planning skills. Won the Best Recruitment Strategy Award in 2018 for introducing a new strategy for the company. Conducted over 20 motivational workshops for the employees and stabilized the employee satisfaction average of 99%.
See the complete resume summary guide
06
How Much Work Experience to Include on HR Resume?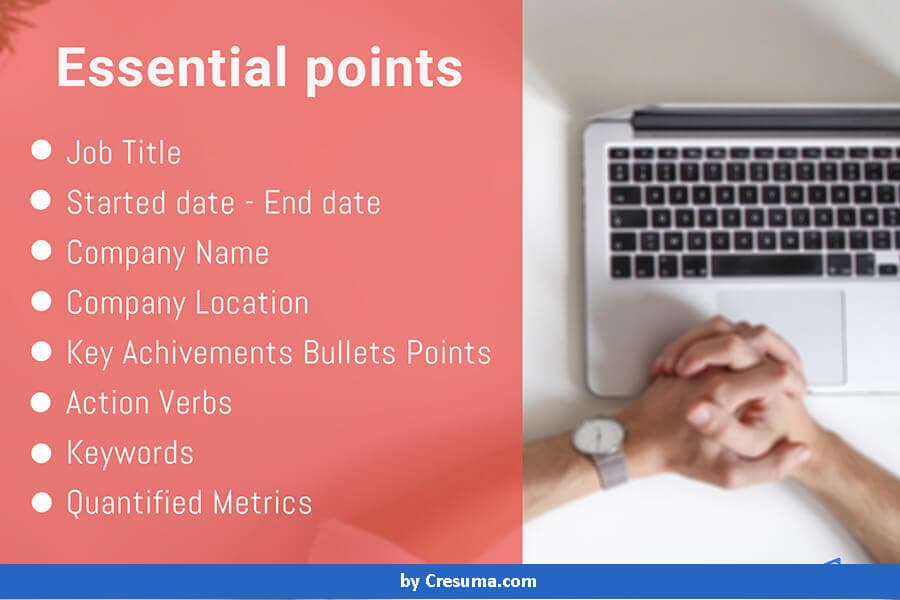 You may have a vast range of experiences throughout your career history. But the relevant career accomplishments in the recent 10 years are enough for the work experience section.
However, do not forget to share the employment duration, job title, company name, location, and 3-6 bullet points of your achievements under each position of employment.
The worth of your bullet points is increased by using action verbs, keywords, and numeric values as possible.
Example from an Expert
Experience
Junior HR Executive – 2016/Feb to present
Creduxa, California
Supervised and maintained a performance estimate system to increase employees' performances.
Awarded as the best HR executive in 2016 for the proven successful performances.
Increased employee satisfaction to an average of 99% by introducing a new roster schedule.
07
How to Describe the Career Achievements of an HR Executive?
The roles and responsibilities of HR executive are not eligible to list as bullet points. Because the recruiters already know the responsibilities and tasks of an HR executive position. They want to know what you have achieved from prior jobs.
Especially they love to know the most recent and relevant career achievements you have gained. So the following facts will help you to add value to your achievements.
Availability of C-level qualities
The majority of hiring companies are seeking HR personnel who have the C-level (Chief level) qualities. If you can reveal that you have those features in your career achievements, you can earn more marks from the hiring authorities.
The C-level qualities are leadership, change management, critical thinking, decision-making, and conflict management. Try to highlight the situation you have proven those qualities.
Passion for managing human
Monitoring and solving human issues may be a little bit difficult. But always try to reveal that you are a dreamer to be a perfect HR personnel. Also, explain some goals you have achieved according to your passion.
Resourceful HR executive
It is better to state how your knowledge helped you to overcome the problems as a perfect HR executive. The majority of recruiters love to see your knowledge of applicable training and development procedures to meet financial standards, leadership development principles and processes, quality standards and policies, instructional design change management concepts, and other regulatory requirements for the position.
Executive-level business acumen
The companies want HR executives with good business knowledge. Therefore provide some proven goals you have achieved in business acumen. Especially in industry practices, business operations, and emerging trends.
08
What are the Greatest Educational Qualifications for an HR Resume?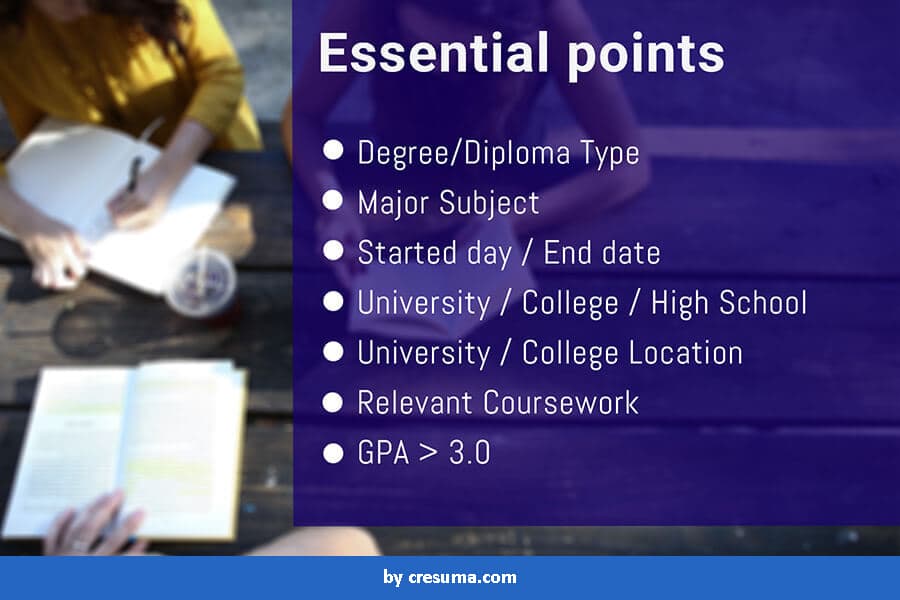 A degree is the minimum educational qualification required from an HR executive. Also, the Master's degree is a plus for the position.
A well organized educational section contains the degree program, University name, and graduation date. But if you are not already graduated do not mention the graduation year.
However, mentioning the relevant coursework under the degree program is a good practice. Share your GPA only if it is higher than 3.0.
Example from an Expert
Education
Bachelor's Degree in Human Resource Management – 2010/Oct – 2014/Oct
University of Pennsylvania, Philadelphia
Coursework: Leadership, Corporate Communication, Risk Management, Project Management, Management, Organization, Ethics, and Social Responsibility
GPA: 3.25
The following coursework may have been covered in your academic history. Share them under the education section if you have done any of the below.
Project Management
Management, Organization & Leadership
Public Administration
Supply Chain Management & Logistics
Business Intelligence & Analytics
Corporate Communication
Corporate Social Responsibility
Executive MBA
Innovation Management
Retail Management
Risk Management
Strategic Management
Ethics and Social Responsibility
09
Where to Put HR Executive Resume Soft Skills?
Communication skills:- HR executive is a kind of a leader. Therefore he is responsible to communicate the goals, problems, and other company information to the employees. So oral communication is a must for the applicant. On the other hand, they have to generate various types of letters and reports. Hence, written communication is very important.
Time management skills:- Conducting the recruitment process, monitoring employees, solving their issues, meeting senior HR personnel, and providing relevant documents on time are the main duties of an HR executive. So, the ability to manage time well is a must for the applicants.
Organizational skills:- A well-organized person can conduct his duties smoothly. So the applicant must be an organized person. Because he has to participate, organize, and hold different meetings. Also, he is responsible to provide, document, and maintain the information of company employees.
Teamwork skills:- The ability to work independently is vital to this position. But the applicant should be a cooperative one. Because the applicants must be able to have comfortable interaction with the key resources stakeholders and senior leaders. Also, the ability to build quick trust among the authorities and workers is preferred. Hence, the recruiters love to select a collaborative team player as their HR executive.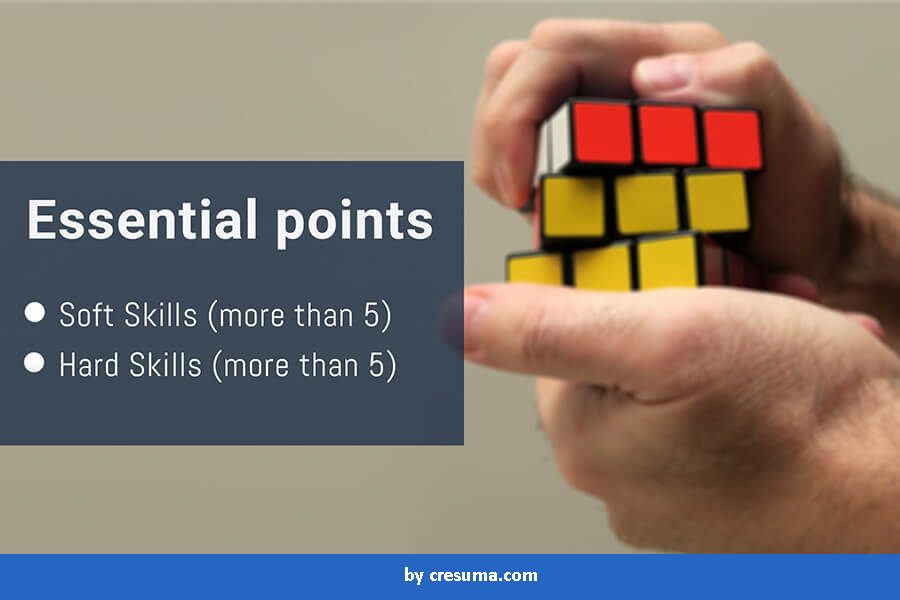 10
What are the Hard Skills Related to an HR Professional?
There are not many hard skills related to the HR executive role. Because it is a role that connects with other employees. But the following hard skills will be important to continue the daily duties of a human resources executive.
Microsoft Office
Applicant Tracking System (ATS)
Human Resource Information System (HRIS)
Talent Management Software
11 How Does an HR Executive Write a Resume with No Work Experience?
Experience HR Executive Resume
Entry Level HR Executive Resume
Main Structure
Resume header
Resume Summary
Career experience
Education
Skills
Resume header
Objective statement
Education
Skills
Extra Sections
Awards & Honors
Languages
Clubs & Memberships
Freelance work
Personal Projects
Volunteer work
Best Resume Format
Reverse Chronological
Resume Format
Combined / Hybrid Resume Format
Summary Statement
Resume Summary
Objective statement
12
What to Include in HR Resume Objective?
Your unique skills, best educational skills, and other professionally valuable information can compress into a resume objective.
The keywords, action verbs, and quantified metrics like years and percentages will enhance the worth of the resume objective.
The objective statement is eligible for a student, intern, entry-level, or fresher HR executive.
Usually, this job role is level promotion. Therefore the applicant may have experience in a lower level of HR executive. If you have such experience you can bring up some recent and relevant experience in your resume.
Example from an Expert
Objective
An excellent oral and written communicator who is a beginner in the HR executive field is ready to provide the service with the most beneficial skills such as multitasking, decision making, leadership, and wide knowledge gained by the bachelor's degree in HR management.
13
Are you a Certified HR Professional?
If yes, those certifications will add extra value to your professional image. Therefore, do not forget to add them to the 'Certifications & Licenses' section of your resume.
Remind to mention at least the name of the certification,  the issued organization, certified year, and month, when you mention the certifications. Other than that you can add the certificate number and certificate URL for online certificates.
Example from an Expert
Objective
Senior Professional in Human Resources (SPHR) Certificate (HRCI – 2018/Jan) URL – https://www.youracclaim.com/badges/f5fg4a1-e728-4a985 Certificate No – 257HYA-77DE45
Here are some certifications that are relevant to the human resource management field.
Associate Professional in Human Resources (aPHR) Certificate
Associate Professional in Human Resources – International (aPHRi) Certificate
Professional in Human Resources (PHR) Certificate
Senior Professional in Human Resources (SPHR) Certificate
Global Professional in Human Resources (GPHR) Certificate
Professional in Human Resources Certificate – California (PHR-CA)
Senior Professional in Human Resources Certificate – California (SPHR-CA)
14
Are You a Member of a Human Resources Related Club?
If yes, your recruiters will select you without thinking twice. Because the membership of related clubs will show your scope in HR management.
Do not forget to mention at least the association name and the membership year under the 'Clubs & Memberships' area. If you have a certain post in the club, mention that too.
Here are some famous clubs connected to the human resource management sector in the USA.
(AHRDA) American Human Resources Development Association
(APA) American Payroll Association
(ASHHRA) American Society for Healthcare Human Resources Administration
(ATD) Association for Talent Development
(ASA) American Staffing Association
(HRPA) HR Policy Association
(IFEBP) International Foundation of Employee Benefit Plans
(IPMA-HR) International Public Management Association for Human Resources
(LERA) Labor and Employment Relations Association
(SHRM) Society for Human Resource Management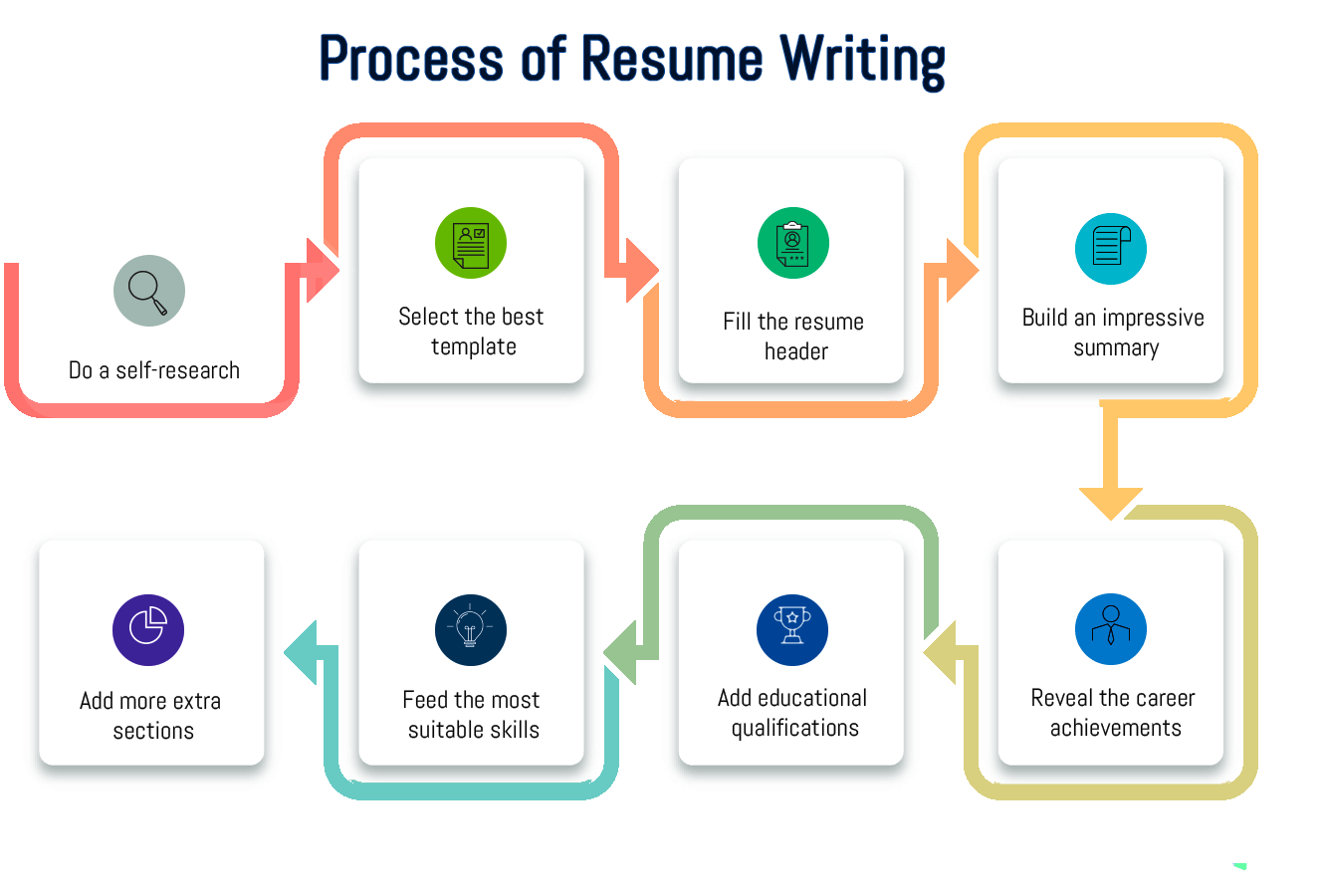 Ask from an Experienced HR Executive (Best Tips and Secrets)
Quiz #01:- Why a Self – Research for an HR Professional?
The human resource executive jobs are available in many sectors. Usually in private companies. But according to the workplace, the requirements for the employment position will be different. Therefore self-research is important to understand the job role and workplace.
The career advert is an excellent source to understand the role. But official profiles of the company such as LinkedIn, Twitter, or Facebook and current employees will provide information about the place you have to work.
After analyzing all the information and checking more resume samples you will understand what to include in your resume or not.
Quiz #02:- What are the Most Suitable Keywords for an HR Executive Resume?
Usually, the keywords represent your executive qualification and skills. Other than that, the people, objects, and processes are also defined as keywords.
Those words can be different from one career advert to another. Therefore you have to collect the most applicable keywords from your job post.
After you gather them, join the keywords to your resume content. Especially in the resume summary, and work experience section.
See the below sample career advert for further understanding.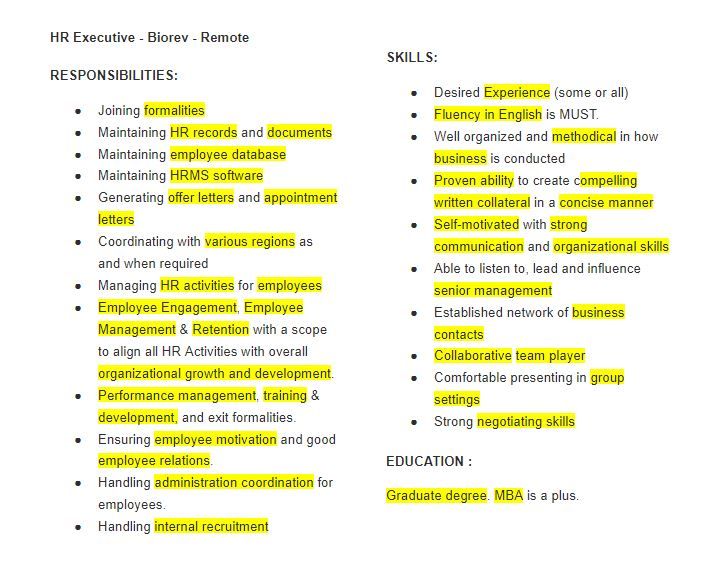 Quiz #03:- How to Select Powerful Action Verbs for HR Resume?
Using the professional action verbs will add more colors to your resume. But you have to select the most suitable and powerful action verbs for your HR resume.
That is not difficult. The job advertisement contains a lot of powerful action verbs according to your position. Highlight them first and check whether they re ATS friendly or not.
Then use them when you explain the bullet points of your achievements. Especially, start a bullet point with an action verb.
The following sample job advert will increase your understanding further.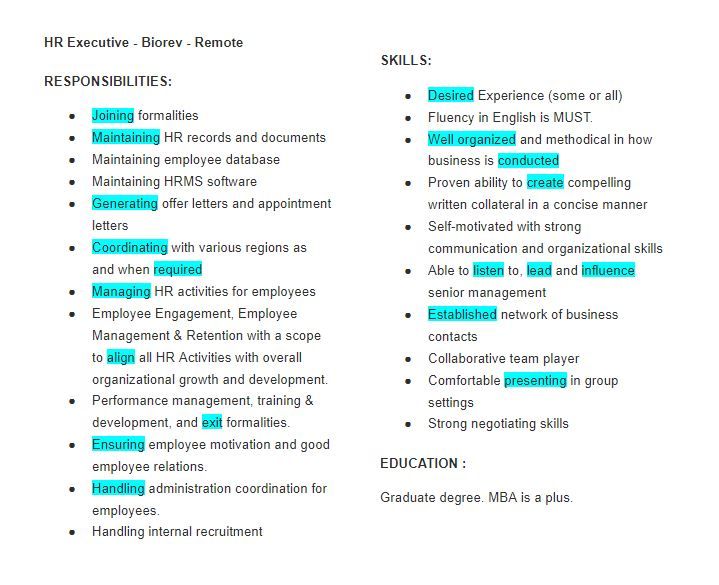 List of common Action Verbs
Attended
Assisted
Conducted
Coordinated
Designed
Documented
Facilitated
Handled
Hired
Interviewed
Managed
Maintained
Oversaw
Recruited
Served
Tracked
Trained
Utilized
Updated
Worked
Quiz #04:- How HR Cover Letter Should Look Like?
The cover letter may be the first opportunity to communicate with the recruiter before going to an interview. Other than that a cover letter provides a general background about the applicant.
Some companies request a cover letter, resume, transcripts, and writing sample with the applicant's application. Then you have to send a cover letter for sure.
Though the hiring company does not request a cover letter, write a perfect cover letter for an HR executive and send it with your resume.
Add the most suitable and professionally attractive information to the cover letter. Also, you can admire the company's goodwill and sustainability. Explain how much you pleasure to be an HR executive of that company.
Further, make an attempt to bring up the positive comments that you have collected from other employees. They will reveal that you have researched the company.
Quiz #05:- May I Include the HR Executive Salary in My Resume?
No! Do not mention your salary expectation in your resume. But only if the recruiters ask, you can share a fair amount for the HR position. Usually, the average salary of an HR executive is $215,328 per year. But it can be different according to the experience, certification you have got, and the location.
Quiz #06:- How Do the Recruiters Hire the HR Executives?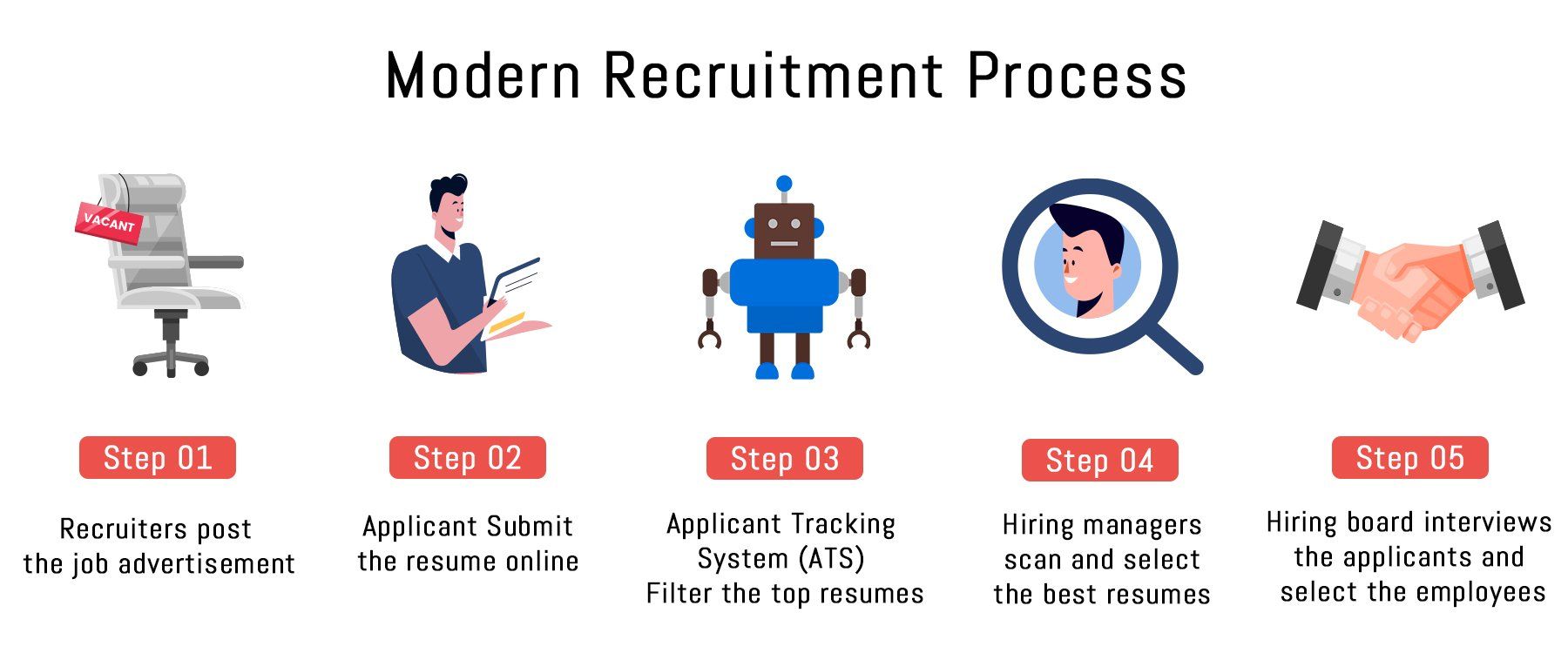 HR Executive Resume Sample (Text Version)
Levi Andrew
PHR Certified HR Executive
+(310) 8795 158
Charlotte, North Carolina
Summary
Experienced HR executive with proven expertise in personal development, policy, and procedure, recruiting, managerial support, and best employee relations. Awarded as the best executive in 2016 for the high standard of operations.
Work Experience
Senior HR Executive – 2018/Jan to Present
Hobaxes, California
Increased the productivity of the employee working by 20% by creating combinational assimilations.
Developed and managed employee relationships with all 10 departments through clear communication.
Organized 20+ motivational programmers for the employees within 2 years.
Junior HR Executive – 2014/Feb to 2017/Dec
Fextilianz, Florida
Provided HR solutions and supports for all 10 departments of the company.
Won 'The best executive in 2016 Award' for the high quality of operations.
Upgraded and maintained the employee satisfaction to an average of 99%
Trainee HR Executive – 2012/Jan to 2013/Dec
Mexmonix, Montana
Conducted the recruitment process with other 3 HR executives.
Created 10+ job descriptions for upcoming vacancies.
Decrease the compensation cost of the employees by 35%.
Education
Bachelor's Degree in Human Resource Management – 2008/Oct – 2011/Oct
University of California, Berkeley
Coursework: Project Management, Management, Organisation, Leadership, Corporate Communication, Risk Management, Ethics, and Social Responsibility
GPA: 3.25
Skills
Communication
Critical Thinking
Decision making
Employee relation
Flexibility
Honesty
Interviewing
Leadership
Multi-tasking
Management
Languages
English – Native Speaker
German – B2
French – Working Knowledge
Certifications
Professional in Human Resources (PHR) Certificate (HRCI – 2013/Feb)
URL – https://www.hrci.org/about-hrci/overview/about-hrci
Certificate No – 56DS-84UJ
More sample job descriptions for HR Executives
HR Executive Assistant
Participated in Human Performance Improvement (HPI) five-day course conducted by the Seattle Pacific University School of Business and Economics last month.
Proved the ability of oral and written communication.
Engaged in HR Leadership Call to Action VIRTUAL Conference and collected the best practical and personal skills for HR leadership before 5 months ago.
Proved the ability to work with Word, Excel, and PowerPoint.
Got the membership from the International Association of Administrative Professionals in 2015.
Participated in HR West 2020 and found out the latest information about the industry.
Selected to The Top 100 list of the corporate employees for the best assistance in human resource management.
Represented as a member of the team which was awarded as HR team of the year in 2018.
Handled and maintained proper records of the recruitments process such as job descriptions, hiring approval forms, etc.
Entered, stored, retrieved, and updated the human resource database daily.
Helped to manage the expense reports of more than 10 departments.
Engaged with more than 50 phone calls per day and greeted, directed, and assisted the clients or visitors.
Completed an HR management bachelor's degree five months ago.
Worked with two different human resource management software both online and offline.
Revealed the project management skills by completing two personal projects successfully.
Junior HR Executive
Registered as a member of the International Association for Human Resources Information Management (IHRIM) in 2019.
Handled the leave and attendance system of the company.
Created the meeting schedules and handled the appointment schedules by referring to the availability of meeting rooms, dates, and time.
Cooperated with the senior HR managers to conduct the recruitment process.
Communicated with clients through letters, fax, email, over the phone, and face-to-face conversations.
Received an appreciation award for engaging to achieve PCMM (People Capability Maturity Model) – Level 3 of the company within one year.
Received a bachelor's degree in human resource management from Stanford University in 2018.
Awarded as HR future leader of the year in 2019.
Ordered, purchased, and maintained the relevant office equipment from time to time.
Talented in using Microsoft Suite(Excel, Word, PowerPoint, Outlook)
Collected more innovative knowledge by participating HRPA Annual Conference and Trade Show in 2020.
Owned a proven track record of human resource management skills in the HR training period.
Communicated with clients using 5 different languages to ensure the correct requirements.
Generated the professional documents according to the requirements such as appointment letters, resignation letters.
Participated in more than 5 recruitment sessions and assisted to conduct the process based on company procedures and standards.
Senior HR Executive
Conducted more than 50 interview sessions by dealing with the recruitment agencies effectively.
Advised the managers to overcome 20+ employee relation issues.
Monitored more than 100 trainee employees during the probationary periods.
Upgraded the policies of the company two times and ensured the obedience of the employees to the law and rules of the company.
Coordinated and participated in 100+ staff meetings, client meetings, employee events, and conferences.
Provided approvals and supports the company requirements such as supply ordering, travel arrangements, meeting preparation, calendar activities, telephone coverage, and report preparation.
Performed the administrative requirements by connecting with more than 15 internal and external departments and 20+ clients.
Managed more than three projects at the same time by prioritizing the projects based on the deadlines.
Reviewed about 100  miscellaneous reports, presentations, documents.
Proved the organizational skills by organizing more than 20 company events.
Experienced in working from medium to large companies by considering the matrix structure.
Proved the ability to communicate in three different languages by effectively dealing with clients with various levels, languages, and backgrounds.
Introduced a new web-based software tool and increased administrative efficiency by 20%.
Generated more than 20 required documentation for the probation dates.
Calculated more than once the payments and entitlements such as redundancy and maternity pay before submitting the forms.
Congratulations. Now you know everything about HR executive resumes. If you want to build an HR executive resume of your own, click the below button

Want to see how to write an HR Executive cover letter example?

Head over to our article on Human Resources (HR) Executive cover letter example

.

or want to get a perfect cover letter written by an expert resume writer?

People who read this also read:
How to write a perfect resume