Human Resource (HR) Executive Cover Letter Example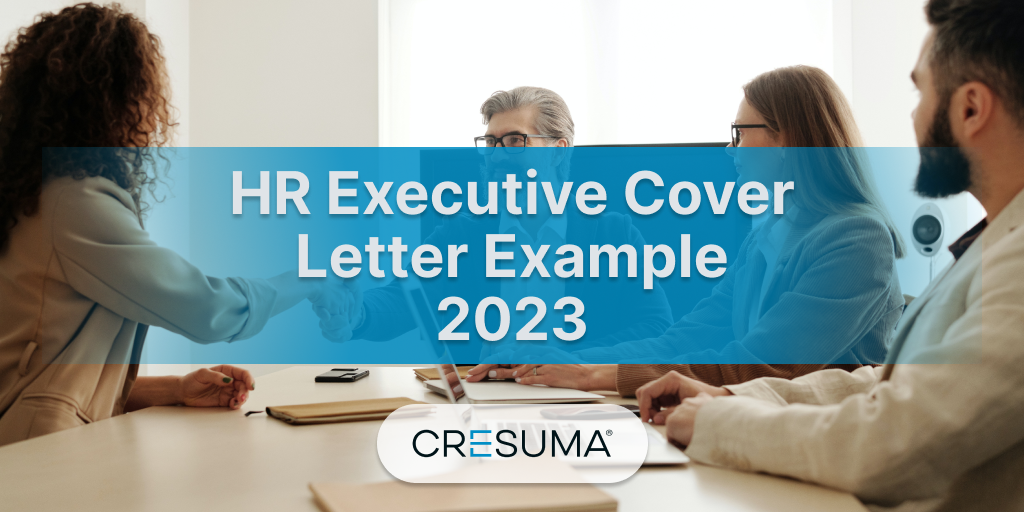 HR Executives' major role is to hire the best talents into their organization and satisfy the existing employees. They are mostly responsible for human resource functions in an organization. So, as you are going to apply for a very responsible job, you as an HR candidate should be brilliant personnel with a brilliant human resource executive cover letter to win the job.
Sample Human Resource (HR) Executive Cover Letter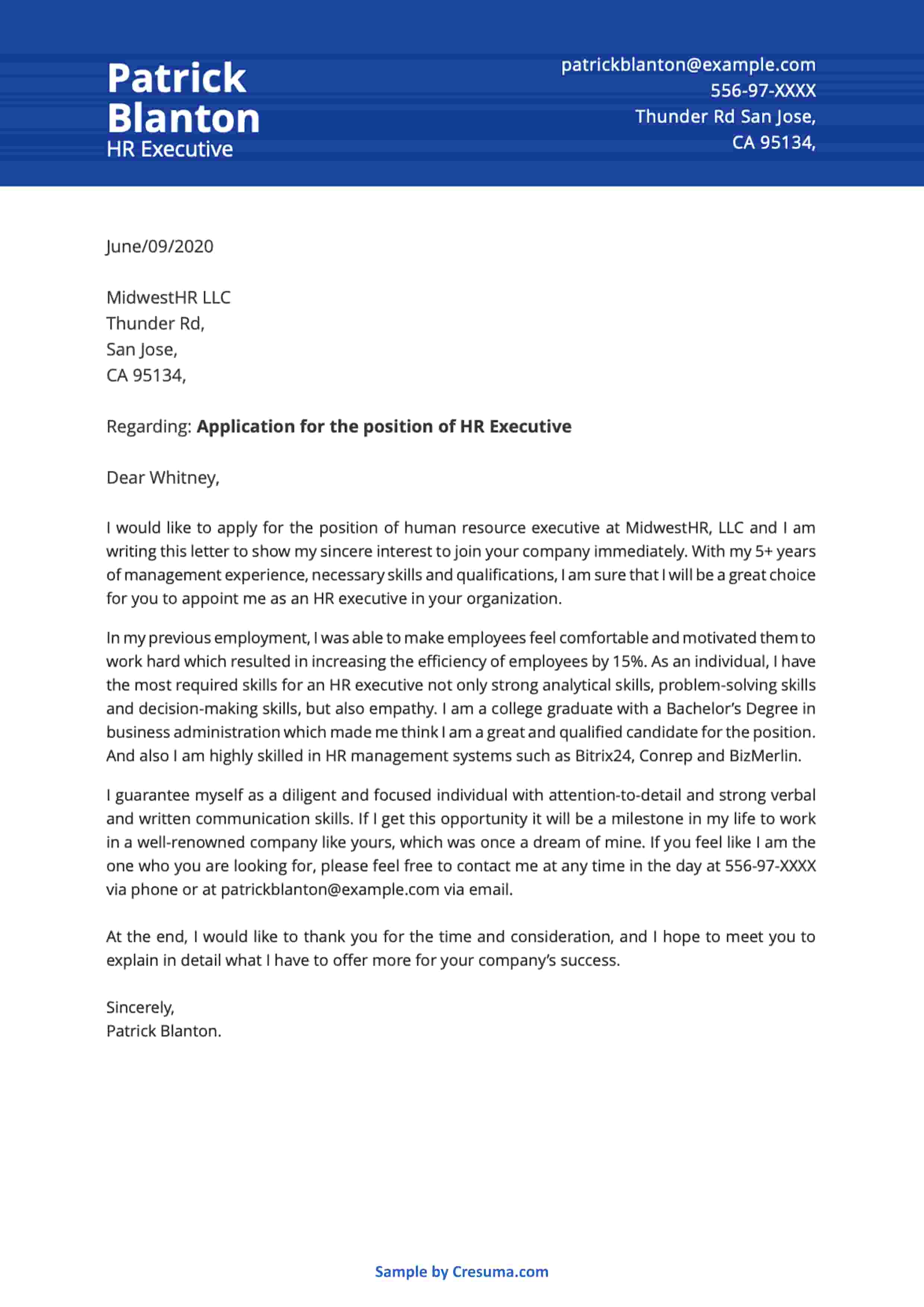 HR Executive Cover Letter Example (Text Version)
Patrick Blanton,
Thunder Rd, San Jose,
CA, 95134.
556-97-1234
patrickblanton@example.com

Whitney Markey,
Hiring Manager,
Midwest HR LLC,
Fresno,
CA, 76102.
RG: Application for the position of HR Executive
Dear Whitney,
I would like to apply for the position of human resource executive at Midwest HR, LLC and I am writing this letter to show my sincere interest to join your company immediately. With my 5+ years of management experience, necessary skills and qualifications, I am sure that I will be a great choice for you to appoint me as an HR executive in your organization.
In my previous employment, I was able to make employees feel comfortable and motivated them to work hard which resulted in increasing the efficiency of employees by 15%. As an individual, I have the most required skills for an HR executive not only strong analytical skills, problem-solving skills and decision-making skills, but also empathy. I am a college graduate with a Bachelor's Degree in business administration which made me think I am a great and qualified candidate for the position. And also I am highly skilled in ERP payroll software and HR management systems such as Bitrix24, Conrep and BizMerlin.
I guarantee myself as a diligent and focused individual with attention-to-detail and strong verbal and written communication skills. If I get this opportunity it will be a milestone in my life to work in a well-renowned company like yours, which was once a dream of mine. If you feel like I am the one who you are looking for, please feel free to contact me at any time in the day at 556-97-1234 via phone or at patrickblanton@example.com via email.
In the end, I would like to thank you for the time and consideration, and I hope to meet you to explain in detail what I have to offer more for your company's success.
Sincerely,
Patrick Blanton.
Get Custom HR Executive Cover Letter
As stated, this article provides a unique cover letter sample and tips to write a cover letter for the HR Executive field. However, you can also create your own cover letter by downloading cover letter samples here for free. And if you require a professional to write your cover letter, you can request a custom cover letter in multiple formats for $4.99
Please continue with Paypal / Credit card for our specialist Premium Cover Letter Builders to work on customized HR Executive Cover Letter exclusively for you.
Free Cover Letter
By choosing this, you will get a pack of free cover letter samples to download in different formats (eg.doc. pdf.txt) for FREE and create your own by editing.
Human Resource (HR) Executive Cover Letter Tips
You must have good knowledge of writing cover letters as you are going to apply for an HR position. And also, if you don't have an impressive cover letter specifically targeted to the HR Executive job, you will be in danger of losing your job opportunity. So it's always important to know great cover letter tips that can be helpful to make your job search a success. Here are the most important tips to make your HR cover letter stand out from the crowd.
Tip #01 – Address to the right person and the right company
Addressing the wrong person when writing a cover letter will be a serious issue. Therefore, you need to address the cover letter to the exact person who will read it.  You may find the name of that person by contacting the company, or by research.
Tip #02 – Start with an enthusiasm
Show your passion and excitement for being an HR executive in the company by showing your knowledge of that company and the work environment. Tell the recruiter by providing some proof that you have done the company research. By this way, you can let the recruiter feels that you are a passionate candidate.
Tip #03 – Prove yourself as a best HR Executive
It's great to tailor your cover letter specifically to the job advertisement. What you can do for this is personalize the cover letter with keywords and key phrases from the job description. Then also try to mention specific skills to your cover letter so you can use your expertise to impress the recruitment manager. Here's the list of skills most in demand for an HR executive role.
Accountability skills
Customer service skills
Excellent written and verbal communication
Interpersonal skills
Leadership skills
Organizational skills
Performance management
Presentation skills
Project management skills
Time management skills
Familiarity with Human Resources Information Systems (HRIS)
Tip #04 – Use Action Verbs in your Human Resource Executive Cover Letter
When you write your job description with the key accomplishments don't forget to start those with some powerful action verbs. And you must be wise enough to place the correct action verb in the right place. Further, you can make your cover letter stand out by quantifying your performances and results. This is one of the best ways to impress a typical recruiter. Here is the best set of action verbs which you can use in an HR executive cover letter.
Assisted
Conducted
Coordinated
Facilitated
Handled
Hired
Interviewed
Maintained
Managed
Oversaw
Recruited
Served
Tip #05 – Grab the recruiter's attention with a great postscript
Many of the candidates do not include a postscript in their cover letter, even though it is a brilliant hack. Postscript is a brief paragraph that you should write at the bottom of your cover letter. That may be something which increases your value or else something about you can give the employer in return for having you the job.
The aim of writing a postscript is to draw the recruiter's interest in us. As far as hiring professionals are interested in reading this, there is a higher possibility of getting a successful job sooner for applicants than for others who do not have a postscript in the cover letter.
Tip #06 – Choose a professional font
When you apply for a Human Resource Executive position, you can submit your cover letter while retaining your professionalism. So always create your cover letter with one of the suggested resume fonts like Calibri, Lato, Open Sans are some of the best fonts that can be used in your cover letter.
Though now you have a full understanding of how to write a perfect cover letter, it is equally important to know how to craft a perfect resume. for an HR executive position.
Download Free HR Executive Cover Letters
Find the available free templates and download Gdoc, Word (docx) or PDF files for free.
Template 1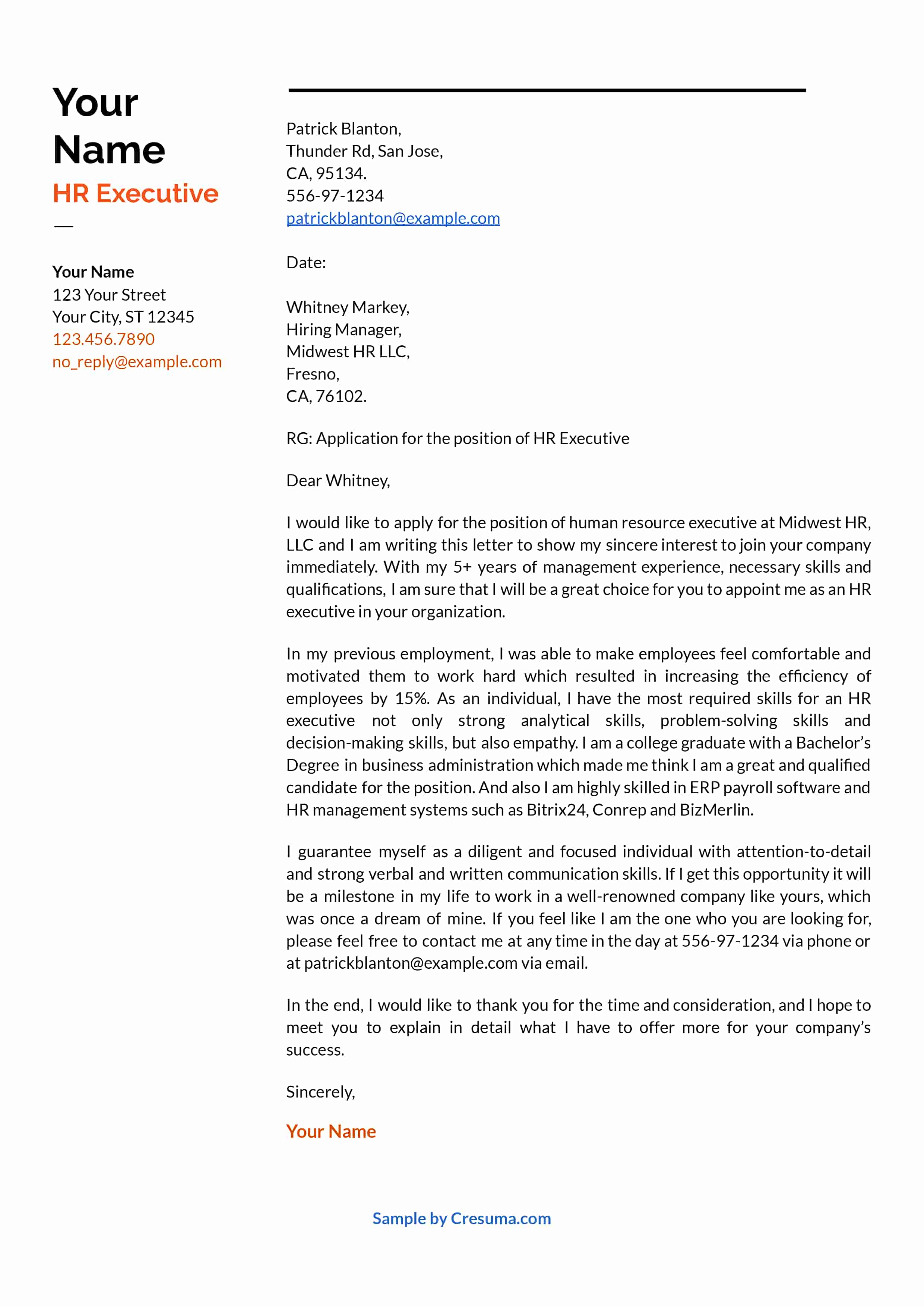 Template 2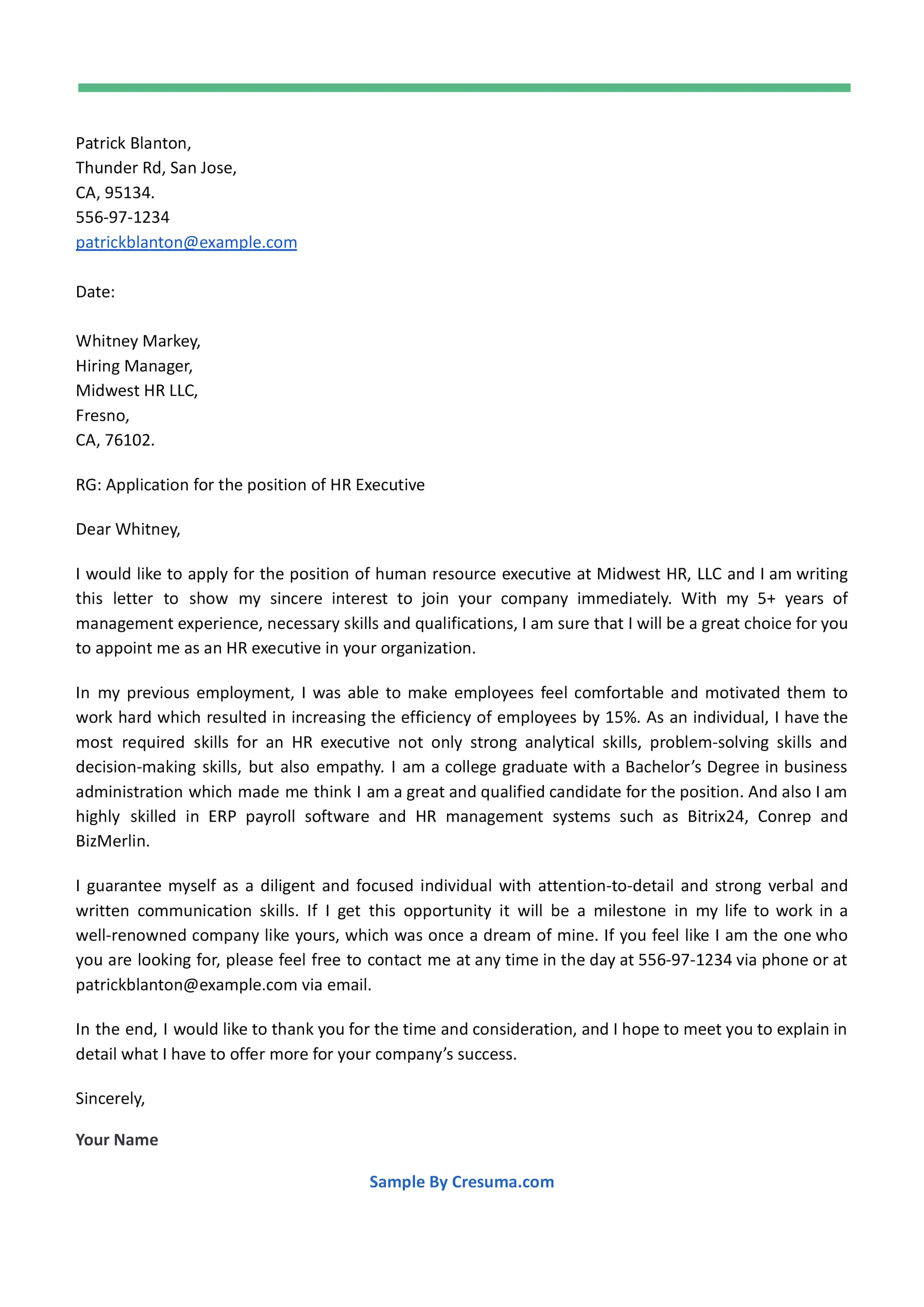 Template 3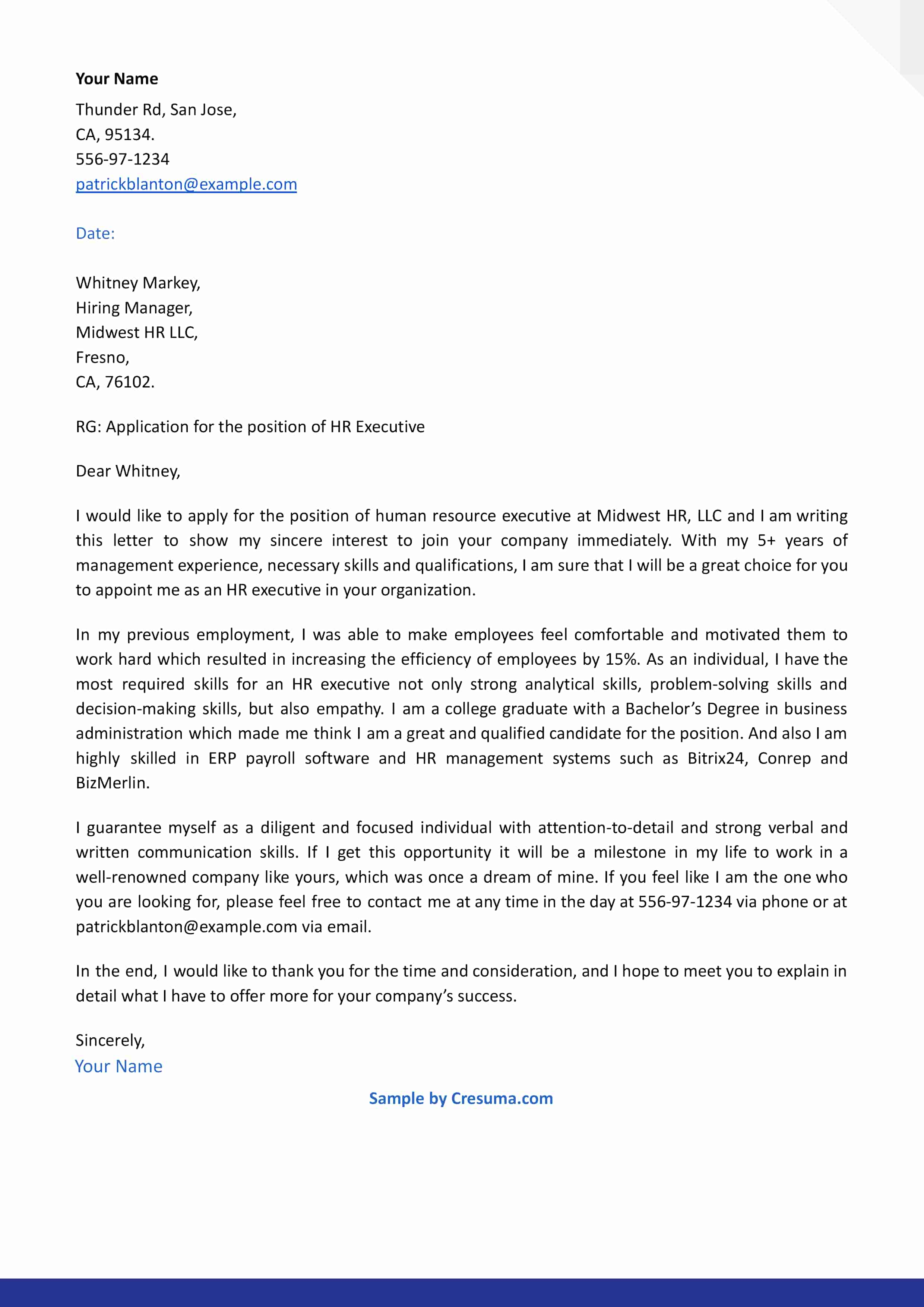 Template 4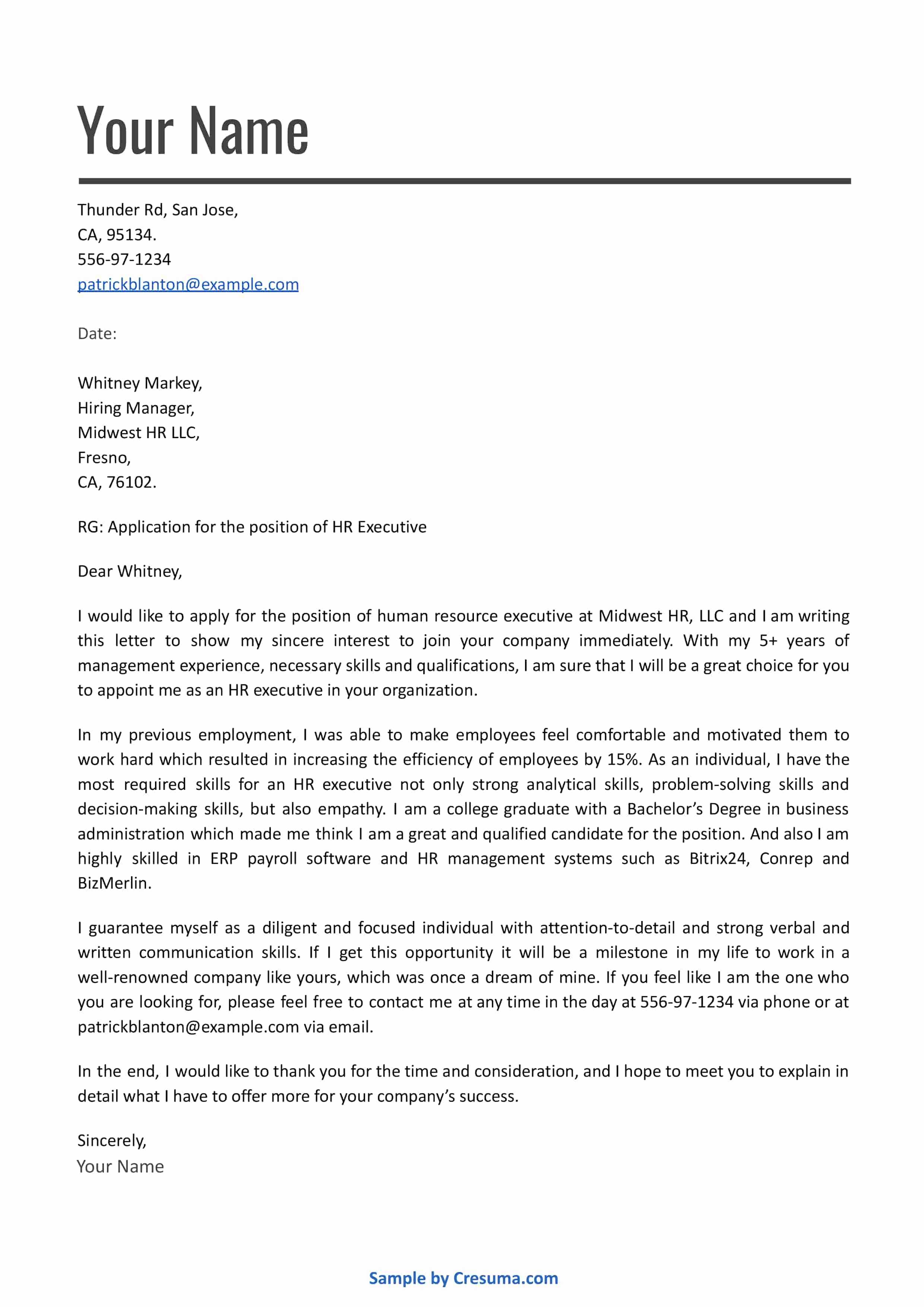 Template 5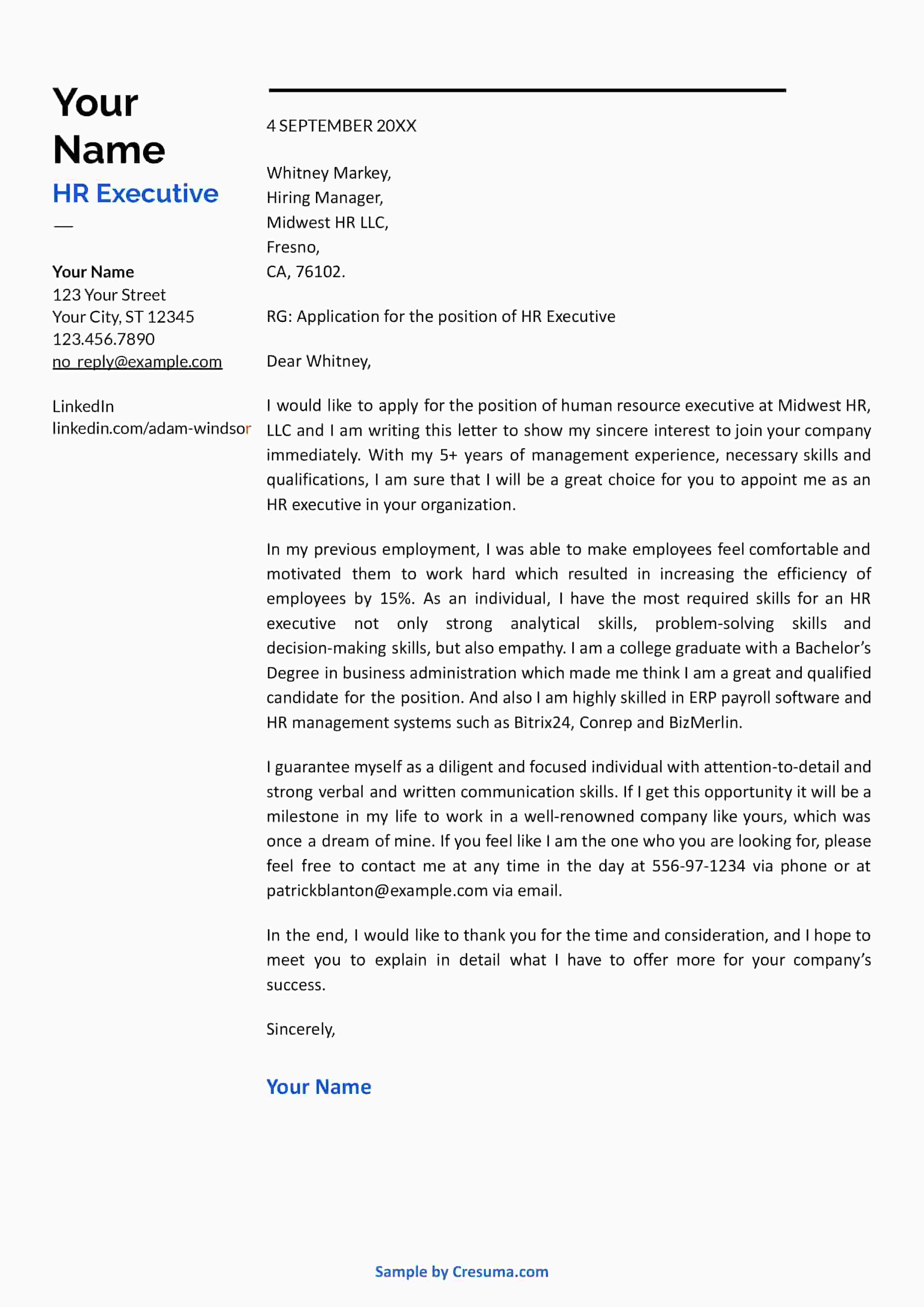 Now you know how to make a perfect cover letter for an HR Executive job. Now it's your turn to learn the expert cover letter tips. and shorten your job search cycle.
Looking for a custom cover letter? Get unique one crafted specially for you from Cresuma experts
People who read this article also read: Top 7 Hacks to Tweak your Resume Instantly
Want to see cover letter examples for other job positions and industries, head over to Cover Letter Samples 2023
Enjoyed Reading?
Help Cresuma cover the server and other costes to continue this 100% Free Service. Show your support below.