Content Writer Cover Letter Example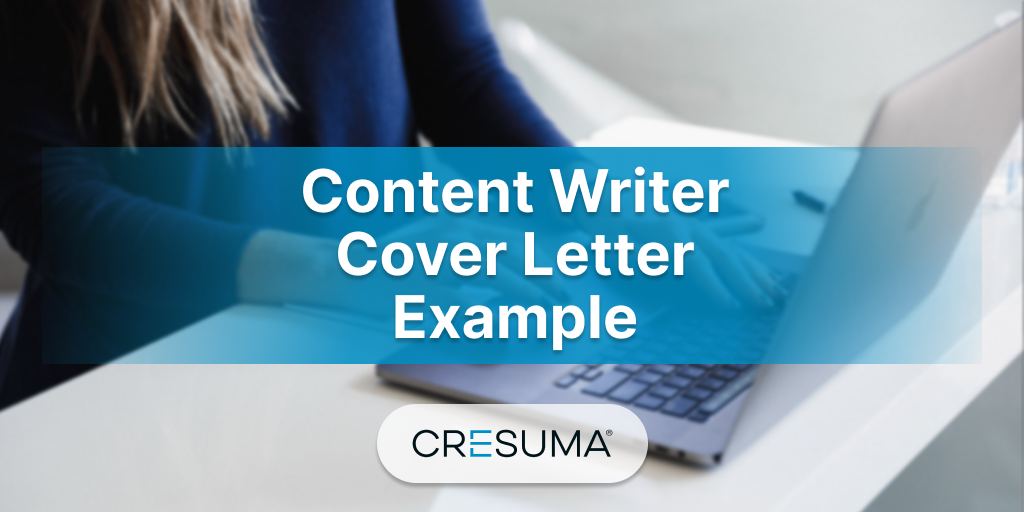 There is no debate that a cover letter conveys your writing skills to a recruiter. So if you are applying for a content writer position, your cover letter should showcase your writing skills at its best. You may be an expert in writing. However, it is worth knowing how to craft a cover letter properly.
Sample Content Writer Cover Letter
You don't require a special degree or training to step up the ladder to be a successful content developer. But this job is not an easy one, and there are some areas of expertise you definitely should know other than just being a talented writer.  Interested in deep research? Good at grammatical skills? Are you a wordsmith? Do you have marketing skills and SEO knowledge? If so, you're the one who recruiters are searching for the position of content writer. However, Recruiters favor candidates with an acceptable language credential.
Do you know it is a well-paying career to be a content writer? But not everybody is good at writing skills. Therefore, it is a bit difficult for hiring managers to select suitable writers for their openings.
Get Custom SAP Consultant Cover Letter
As stated, this article provides a unique cover letter sample and tips to write a cover letter for the Content Writer field. However, you can also create your own cover letter by downloading cover letter samples here for free. And if you require a professional to write your cover letter, you can request a custom cover letter in multiple formats for $4.99
Please continue with Paypal / Credit card for our specialist Cover Letter Builders to work on custom Content Writer Cover Letter exclusively for you.
Free Cover Letter
By choosing this, you will get a pack of free cover letter samples to download in different formats (eg.doc. pdf.txt) for FREE and create your own by editing.
If you need a strong cover letter, you need to focus on your outstanding writing skills, English and communication background, computing knowledge, etc. In either case, the best way to show your writing skills is to submit your sample writings to the Recruiter. Therefore, the recruiter can evaluate your writing skills as soon as he needed.
See the content writer cover letter template below and get inspired to write your own cover letter.
Content Writer Cover Letter Example (Text Version)
Sara Guevara,
Crystal Lake,
IL 60014.
331-78-1234
saraguevara@example.com

Kathleen Muller,
Hiring Manager,
Nashville,
AL 37238.

Regarding: Application for the position of Content Writer
Dear Ms. Kathleen,
In need of a pro content writer? I came across the newspaper advertisement indicating vacancy for a writer at your company and I am excited to tell you that I am ready to take the challenge. I have attached my resume and a few sample writings for you to review my writing skills. I have a Bachelor's Degree in English and a solid background in content writing as I have been a freelance writer for more than 5 years.
My greatest skills are communication skills and proofreading skills. So it will always be helpful to make an error free content. I never write without knowing the topic at hand. I always do research on the specific topic I get and try to find the target audience and I write accordingly. That is the key success factor of my tremendous content writing. You will be able to see them via the samples I provided to you here with.
Due to the knowledge of writing SEO friendly and user friendly original contents, I feel like I am the one who deserves this content writer position at Digi tech Solutions. In my leisure time I used to read books, newspaper articles and online blog posts which always assist me with improving my English knowledge and vocabulary. I invite you to have a look at my resume to get a thorough insight of me. I will be available for a convenient meeting at any time to discuss more about this opportunity and there I will tell you my strategies of finding keywords for my articles which will benefit for the company's SEO profile as well.
Thank you for your consideration.
Sincerely,
Sara Guevara.
Best Tips for a content writer cover letter
Include some key achievements
A cover letter is a great place to showcase your career story to the hiring manager. In the cover letter body, you need to emphasize that you are the perfect person for the job opening by showing your relevant skills and experiences. Making your cover letter stand out from others is not a tough task if you can include some of your key accomplishments followed by some strong action verbs . like created, wrote, authored, researched, etc.
Add an impressive postscript
Another way to make your cover letter unique from the pile is to add a nice postscript to your cover letter at the bottom. A handful of candidates use this trick in their cover letter. Thus they can get the attention of the recruiter faster than the candidates without having a postscript in cover letters.
Tailor the cover letter with keywords
You can increase the chances of getting your dream job by tailoring your cover letter accordingly to the job you are applying for. If you refer to the job description, you will extract too many keywords and key phrases relevant to the specific job role. Not only that but also the relevant skills and qualifications. By adding those keywords directly to your cover letter as much as you can definitely increase your job opportunities for sure.
FAQs:
How to start the cover letter?
Start with a formal greeting and make sure whether you address the cover letter to the exact person. If you can not find out the right name of the person, you can use a generic greeting like "dear sir/madam or dear hiring manager."
Then have a kick start to your resume by explaining where you came to know about the particular vacancy. This information is not important for candidates to mention in their cover letters. But this may be a common thing that a typical hiring manager wants to know.
What to highlight in your cover letter?
As this is a content writing and developing role, you need to highlight your writing and editorial skills. As you are developing the content for the online readers, you must have SEO knowledge to some extent. That will perform your content better in search engines like google, Bing, etc. So why not highlight SEO skills in your cover letter? This could be one of your job-winning factors.
Which action verbs can I use in my content writer cover letter?
Authored
Created
Edited
Identified
Learned
Oversaw
Provided
Researched
Tracked
Wrote
Which Words should avoid in my content writer cover letter?
Flat answer is buzzwords. Buzzwords simply kills your resume and reduce the chances of being picked by the hiring managers. But how to spot if your content writer cover letter is also having buzzwords that kill yours too? This is the easy way to do it. You can upload your cover letter or resume to the Cresuma Buzzword Checker and check how many buzzwords and action verbs you have on your resume and fix problems. So that you could expect more calls to come from the recruiters
What skills do you need to highlight?
Excellent writing skills
Research skills
Proofreading skills
Effective communication (Both verbal and written)
Search Engine Optimization (SEO) skills
Strong grammar and spelling ability
Creativity
Marketing skills
Time management and deadline orientation
Verbal skills
Adaptability
Organization Skills
Editing Skills
Computer proficiency
Ability to work on Content Management Systems
Ability to take constructive criticism and client feedback
Download Free Content Writer Cover Letters
Templates 1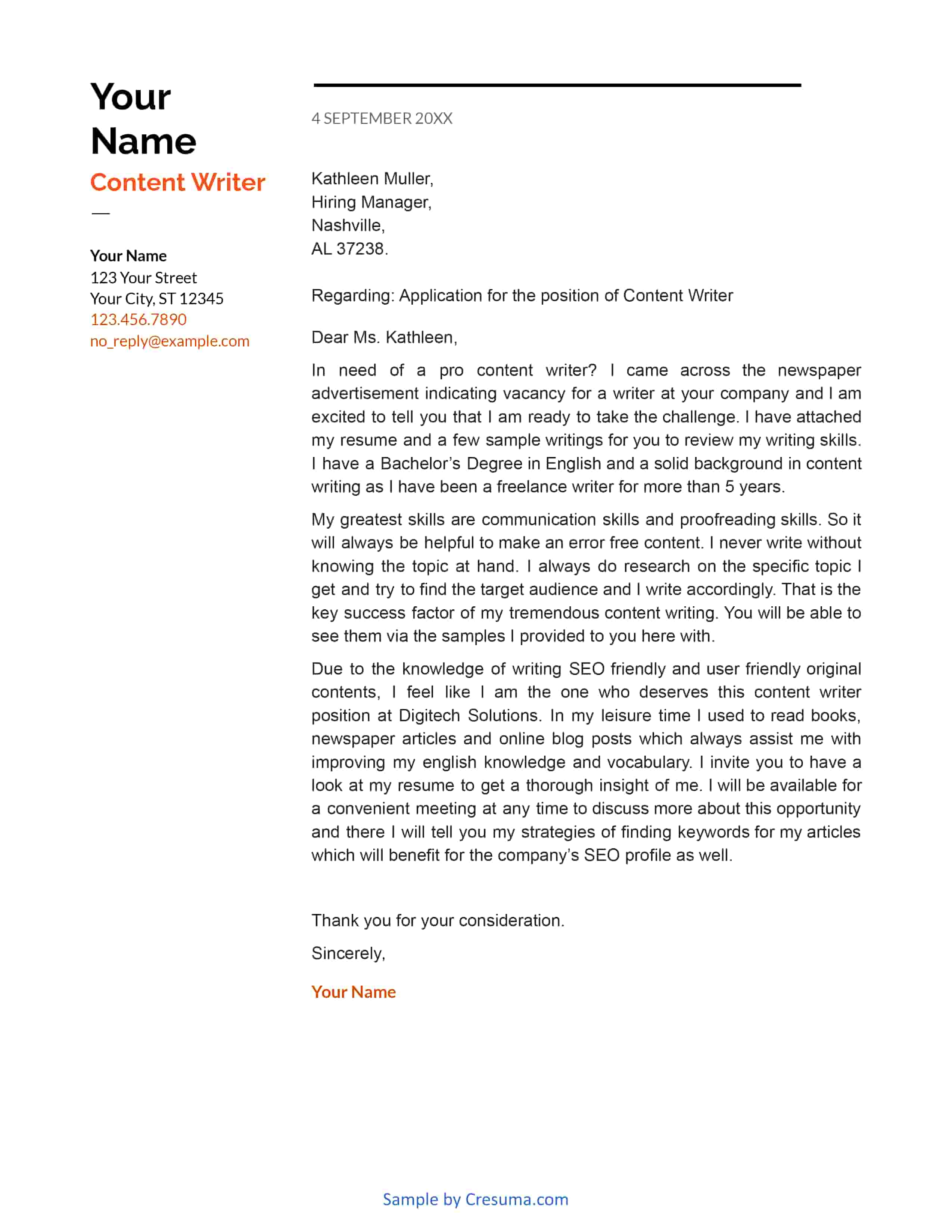 Template 2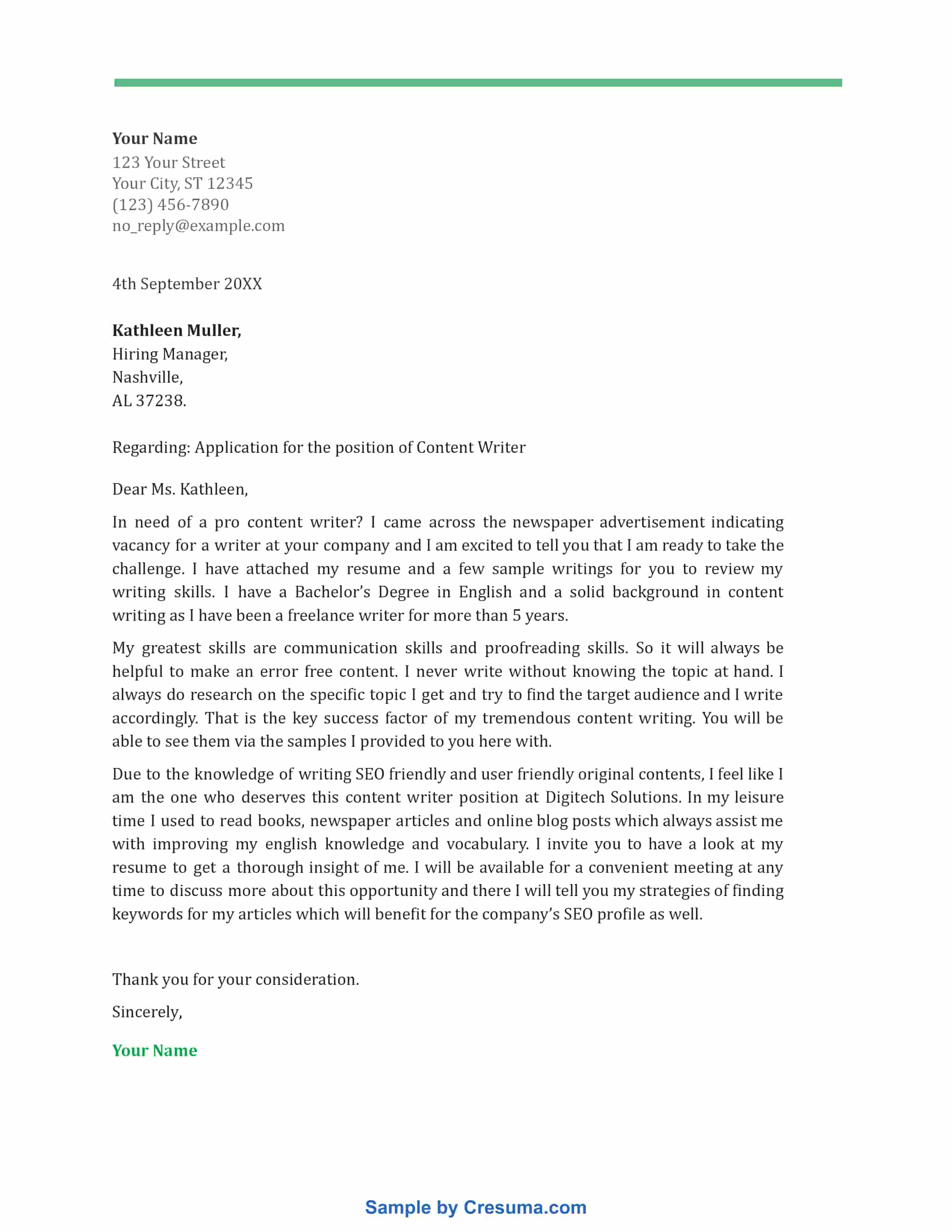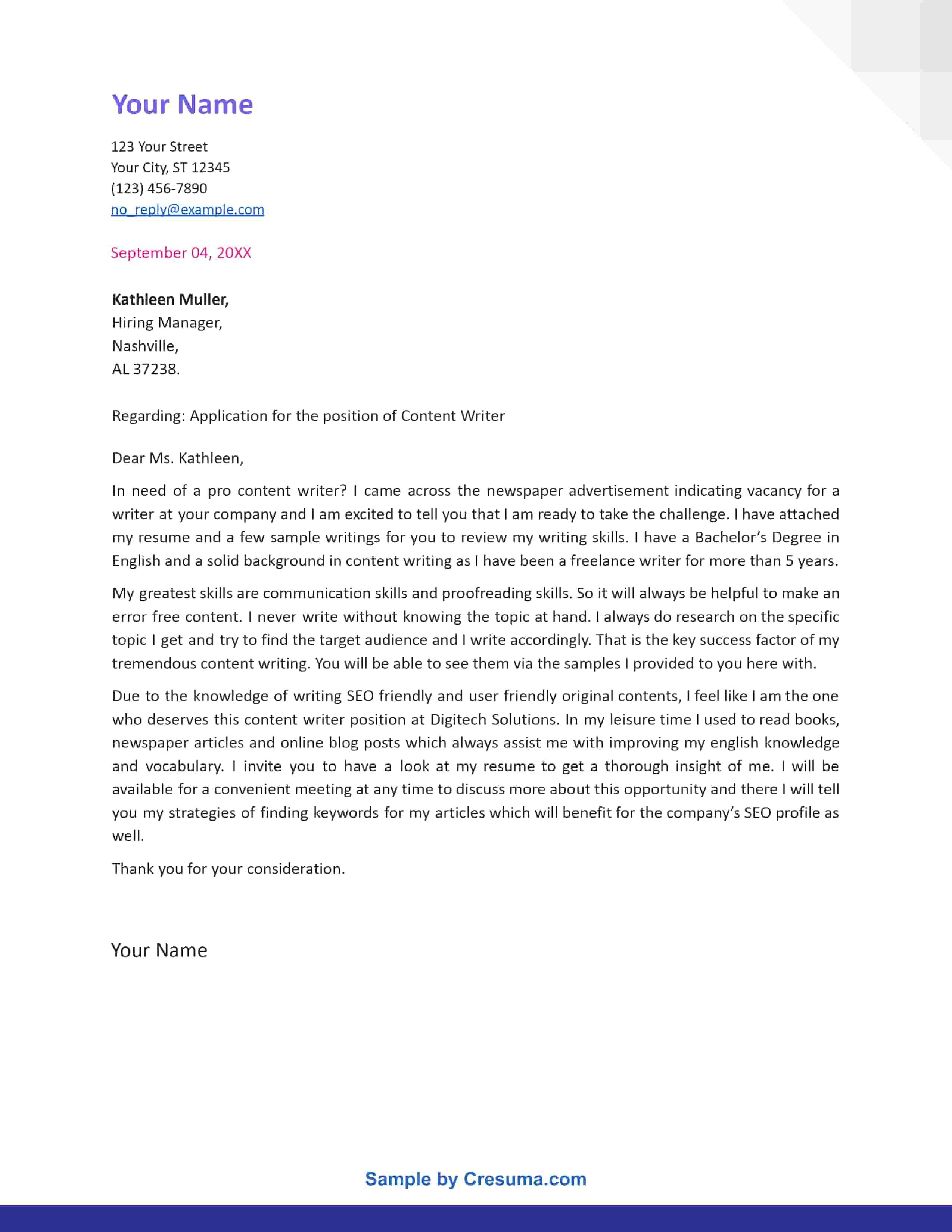 Template 4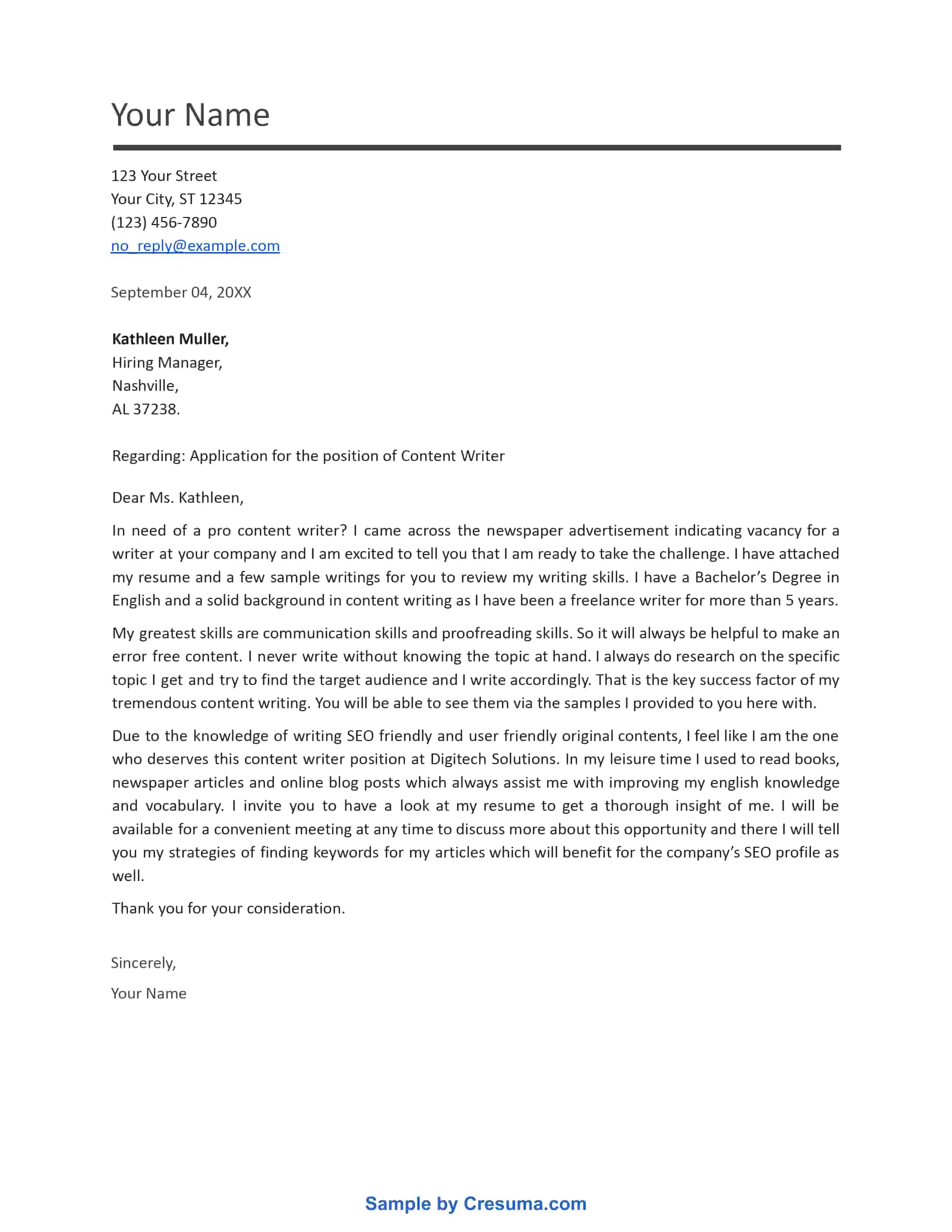 Template 5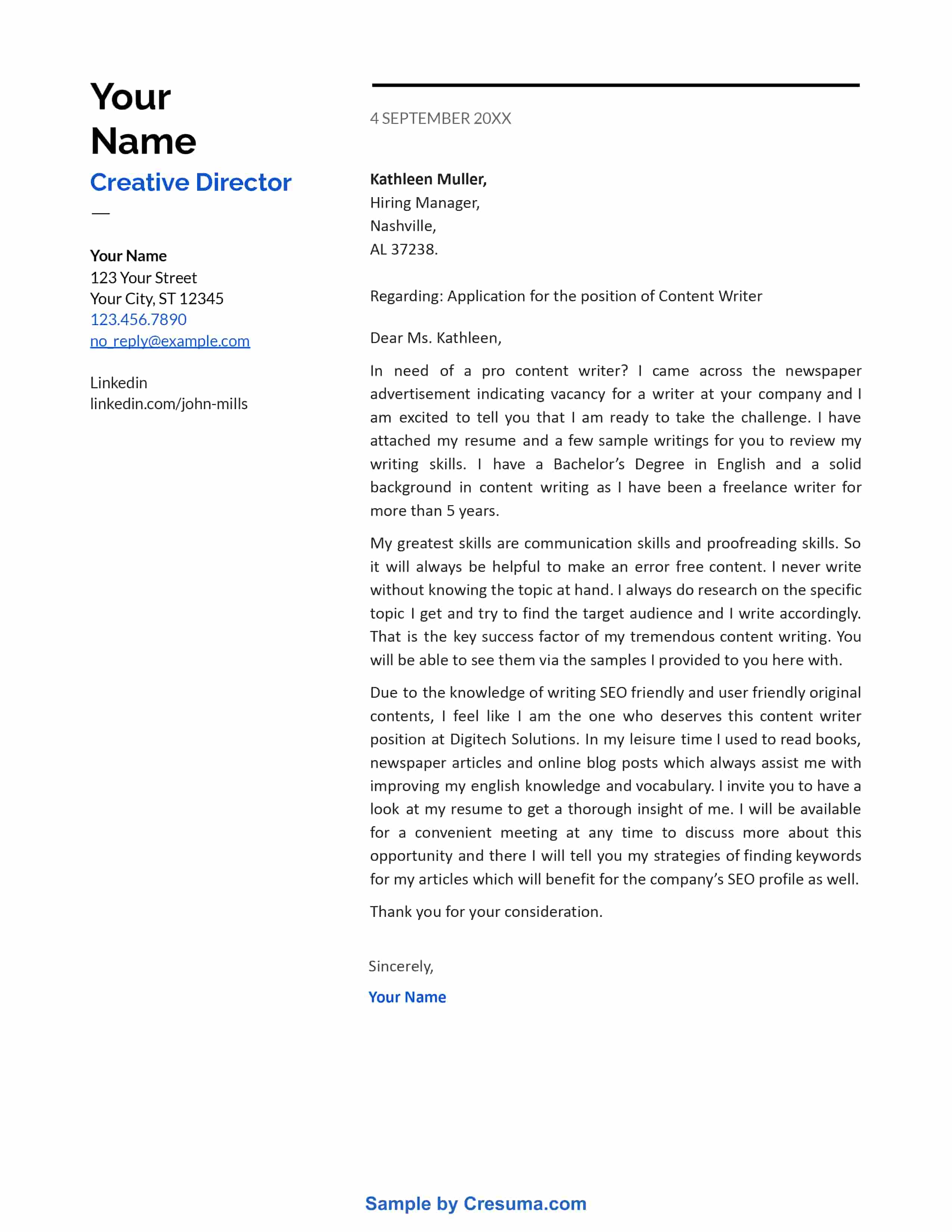 Looking for a custom cover letter? Get unique one crafted specially for you from Cresuma experts
Are you looking for a content writer resume sample?
One of our Cresuma in-house resume experts has written a great sample resume for a content writer job. You can get the inspiration to write your resume like a pro content writer. Show yourself as a passionate writer by creating your resume with a few resume writing tips and tricks
Want to see cover letter examples for other job positions and industries, quickly head over to Cover Letter Examples 2023
---
Our resume writers work hard to provide you the accurate and effective resume solutions for you. Care to appreciate their work?
Enjoyed Reading?
Help Cresuma cover the server and other costes to continue this 100% Free Service. Show your support below.