SAP Consultant Cover Letter Sample [Complete Guide]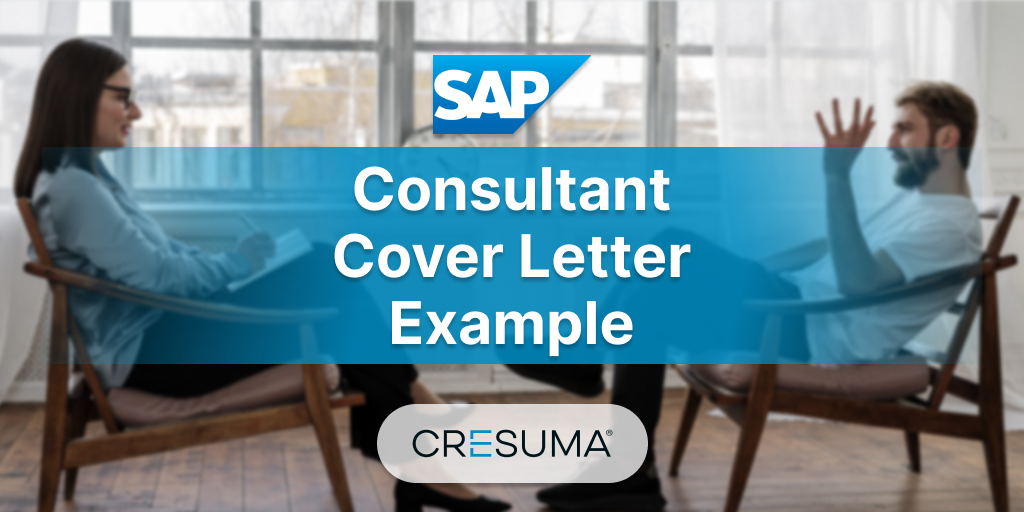 You may want to become either a Business/Sales Consultant, SAP Functional Consultant, Developer Consultant or SAP Basis Consultant. Whichever you need to become, it will be just a dream if you do not have a proper SAP Consultant cover letter with you. See the best cover letter sample for SAP consultant and get inspired.
Sample SAP Consultant Cover Letter
Have an idea about getting promoted for an SAP consultant position? Do you have enough experiences and qualifications? If so, learn how to write a proper cover letter for an SAP consultant position. Otherwise, without a good cover letter, you will never be able to land your dream job. SAP is the world's leading project management software specialized in Enterprise Resource Planning (ERP) solutions. SAP has implemented in more than 90% of the fortune 500 companies and many more companies across the globe. So you don't need to have any further explanation about how big this industry is. But the competition for this SAP consultant role is also very high.
Continuing reading on this article will help you to learn how to write a proper SAP consultant cover letter with experts' tips and tricks. Further, you will also learn how to format your cover letter, which skills you need to highlight, what are the best action verbs you could use in your cover letter etc. After reading this entire article you will be able to write your own perfect cover letter.
Get Custom SAP Consultant Cover Letter
As stated, this article provides a unique cover letter sample and tips to write a cover letter for the SAP Consultant field. However, you can also create your own cover letter by downloading cover letter samples here for free. And if you require a professional to write your cover letter, you can request a custom cover letter in multiple formats for $4.99
Please continue with Paypal / Credit card for our specialist Premium Cover Letter Builders to work on customized SAP Consultant Cover Letter exclusively for you.
Free Cover Letter
By choosing this, you will get a pack of free cover letter samples to download in different formats (eg.doc. pdf.txt) for FREE and create your own by editing.
SAP Consultant Cover Letter Example (Text Version)
Catherine Sensabaugh,
227 Arbor Court, Cheyenne,
WY 82001.
820-22-1234
catherinesansabaugh@example.us
John Dendy,
Hiring Manager,
Hayley Consulting,
Hickory Hills, IL, 60457.
Dear John,
I am writing this letter to show my keen interest and enthusiasm to join your company as a SAP consultant. With my extensive ERP skills, financial management knowledge and 10+ years of work experience in the ERP field, I am confident that I will be a perfect choice for your company's SAP consultant opening.
My SAP certification, bachelor's degree in Business Management and Master's in Information Systems will make me an even better candidate for this position. And also I am happy to inform you that I am highly skilled in written and verbal communication which is a must requirement for this kind of a position. I have been in this industry for the past five consecutive years and before that, I was a full-time financial analyst. This proves that I am more qualified over the others for this opening as per your job advertisement requirements.
Please, see my resume attached with this cover letter to see the insights of my profile. I would love the opportunity to arrange a convenient meeting to discuss more about what I have to offer for the success of your company. You can reach me out any time at my phone (55) 565 565 65 or at catherinesansabaugh@example.us via email.
Thank you for your valuable time and good luck with your hiring process.
Yours sincerely,
Catherine Sensabaugh.
Follow these steps to write a Perfect SAP Consultant Cover Letter
See the step-by-step guide on how to write a cover letter for an SAP (Systems, Applications and Products) Consultant with tips and examples. Get inspired and write your impressive cover letter for an SAP Consultant position.
Create a great cover letter header
The cover letter header is where you will include all your contact information, such as your name, job title, location, phone number, email address, LinkedIn URL, etc. You don't need to put your photograph in your cover letter header because it might be a reason for discrimination. However, you need to match your cover letter header with your resume header because all documents are submitted together with a single application.
Start the cover letter with a good first impression
If your ambition is to become an SAP consultant, let the recruiter know that your greatest desire is to become an SAP consultant in their company. Show the recruiter your enthusiasm to enter their organization. If you could impress the recruiting manager with one of your biggest accomplishments, that will be great.   Recruiters always love to see the performances of the candidates. They value it. See the example below.
Dear Chumley,
Since I started my career it was a dream for me to join Hayley Consulting as it is a leading ERP solutions provider in the industry throughout the decade. I heard about the SAP consultant opening at your company and my passion and the enthusiasm to join such a company has encouraged me to apply for this position. With my extensive knowledge of ERP software and 10+ years of work experience will make me a perfect candidate for this position.
Click on cover letter opening phrases to see more stunning cover letter opening phrase options and use them to make your SAP consultant cover letter opener a more impressive one.
What to include in the SAP Consultant cover letter body?
The cover letter body is the most appropriate place to showcase your relevant skills and knowledge as an SAP consultant and your experience in the ERP industry. You can add your greatest accomplishments by using the quantified metrics and action words as bulleted points. This can help the recruiter to know about your successes and as a result, he will be able to get an insight about you. But keep in mind that not to list the job responsibilities and the duties. They just want to know how you bring success to your previous workplace.
Another point to remember is relevancy. As per the career experts' opinion, a cover letter must not contain irrelevant content. Therefore you can get the optimum results by tailoring the cover letter by using the relevant key phrases from the job posting and job-specific keywords.
Good closer must include a call to action
At the final paragraph of your cover letter, you must eloquently explain away your work gaps, if you have any.  Otherwise, you can simply show your enthusiasm and interest again for the one last time and end your cover letter with a call to action. See the sample CTA below.
I am keen to meet you and talk about this opening further more with you. You can reach me at any time via phone at (77) 777 777 777 or via email at johndoe@example.com to arrange a convenient meeting time to discuss how I can help your company and the staff with my outstanding SAP skills.
Postscript: A great trick, but a few use
Adding a postscript at the bottom of the cover letter is a perfect way to grab the eye of a recruiter which can not be seen by every applicant. At the very beginning, a potential employer would search for the postscript on a cover letter. And if you write it impressively, you will be lucky enough to catch their attention right at the beginning. Then, the recruiter will continue to read your cover letter with a positive attitude on yourself like thinking, "this guy is great for the SAP consultant opening, and I should hire him".
Example
P.S. I would love to tell you in the meeting how I trained over 20+ junior business consultants to become experts in the ERP industry.
Most In-demand Requirements for a SAP Consultant
SAP Certification.
Bachelor's degree in IT, Business or a related field.
Outstanding knowledge in Enterprise Resource Planning.
Experience in ERP implementation.
Basic knowledge of databases (RDBMS, SQL etc).
Expertise in SAP software such as SAP B1, SAP HANA, SAP S/4HANA etc.
Proven track record in conceptualizing and implementing business solutions
Best Cover Letter Action Verbs for a SAP Consultant
Analyzed
Configured
Created
Customized
Dealt
Ensured
Facilitated
Figured
Handled
Implemented
Maintained
Managed
Mentored
Monitored
Prepared
Download Free SAP Consultant Cover Letters
Find the available free templates and download Gdoc, Word (docx) or PDF files for free.
Template 1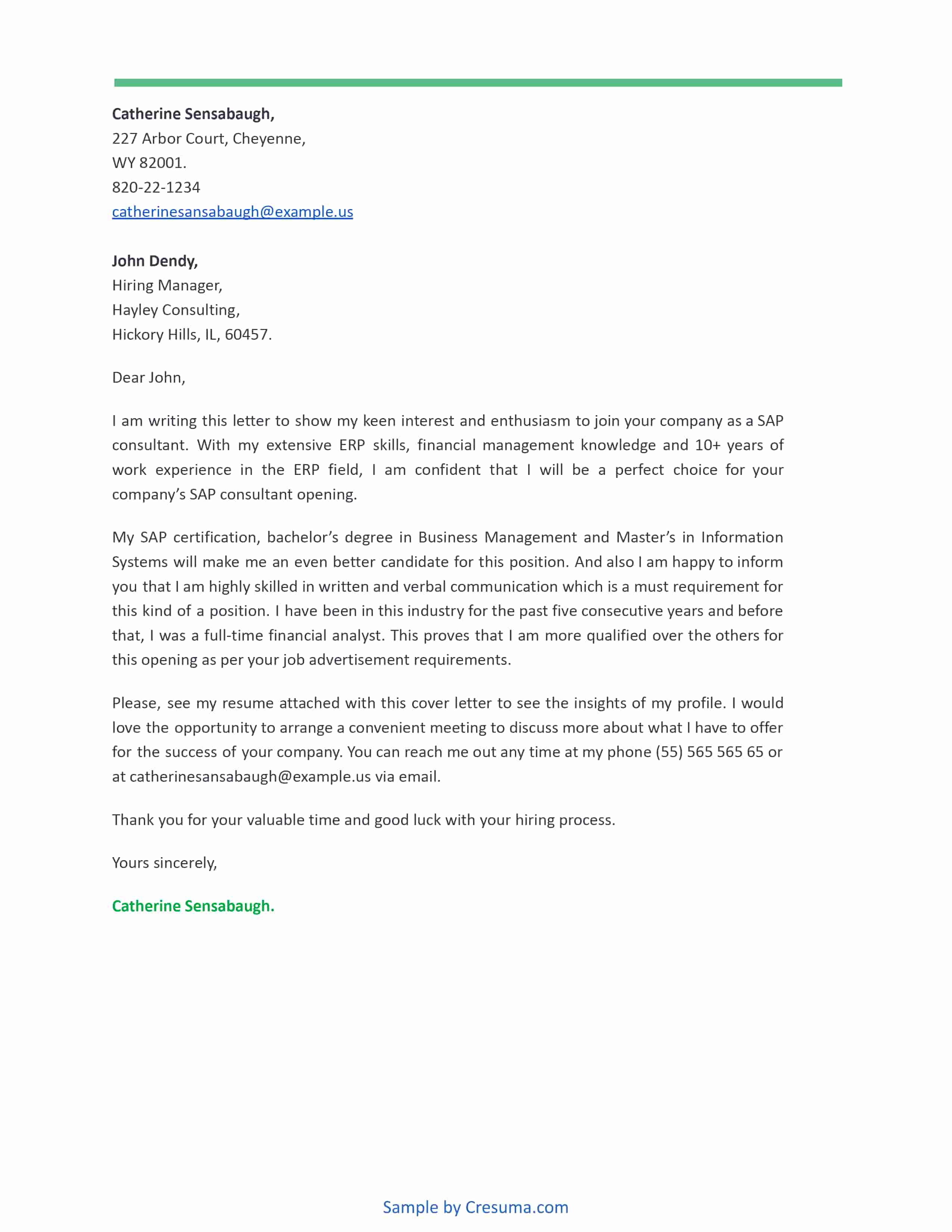 Template 2
Template 3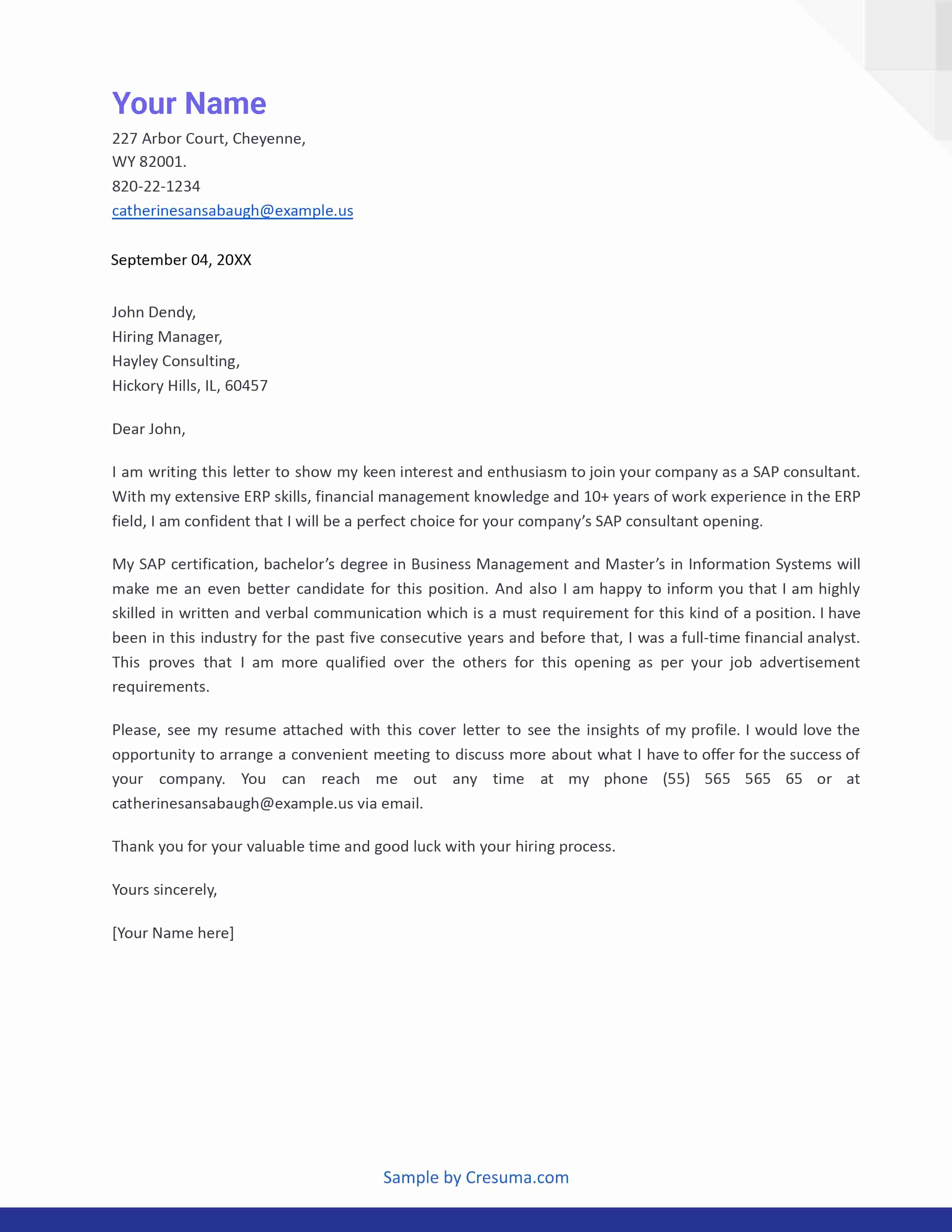 Template 4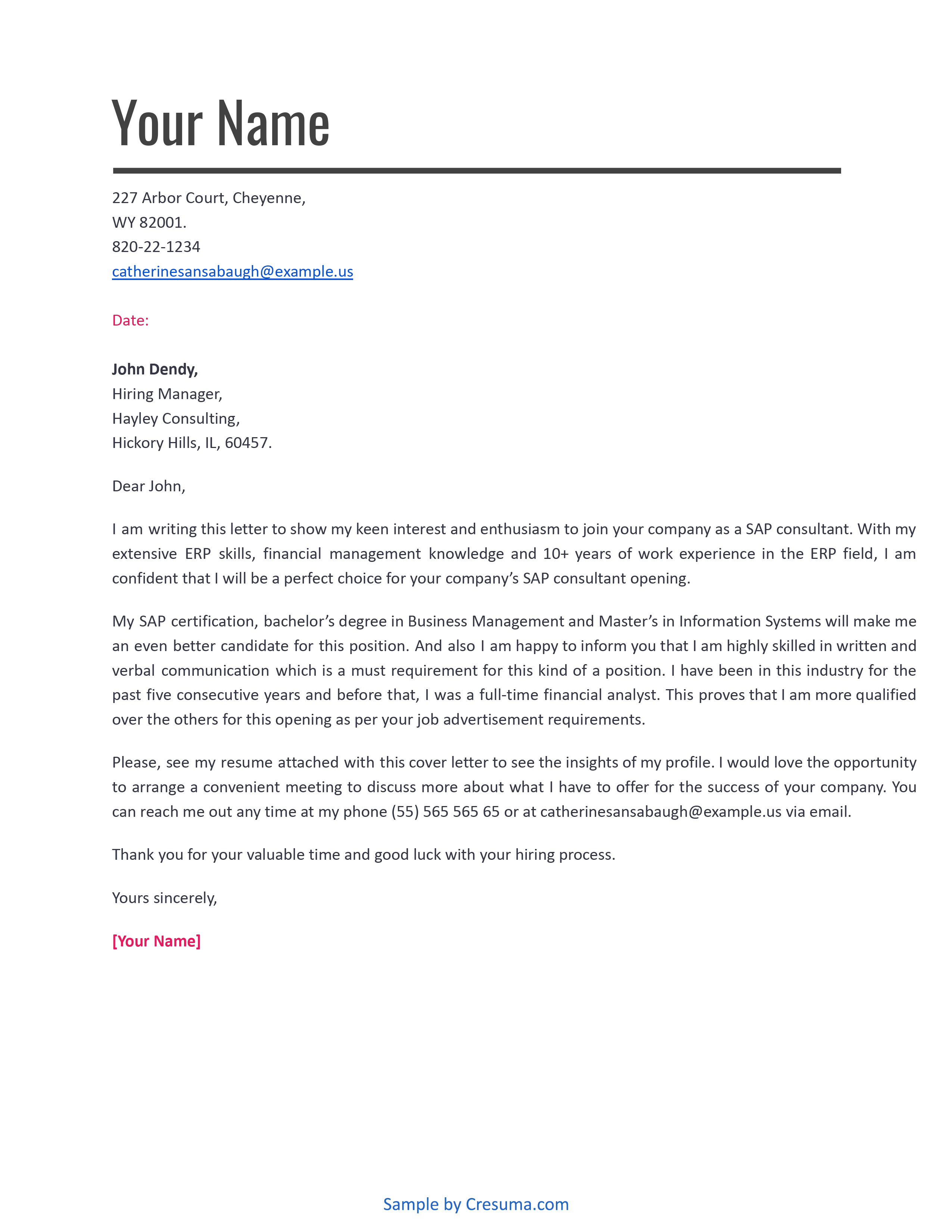 Template 5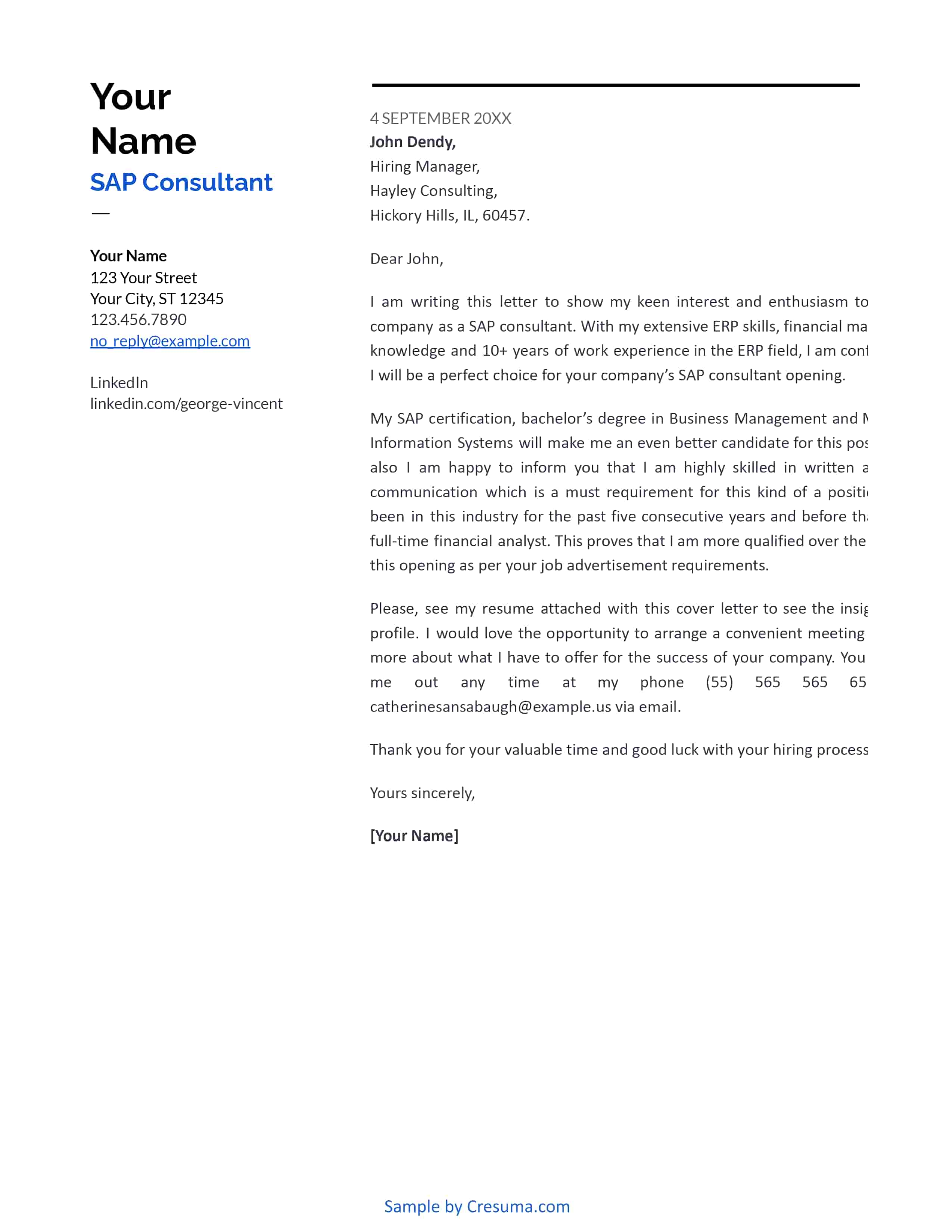 Now you know how to make a perfect cover letter for SAP Consultant. Now it's your turn to learn the expert cover letter tips. and shorten your job search cycle.
Looking for a custom cover letter? Get unique one crafted specially for you from Cresuma experts
Finally, what is a job application without a perfect SAP consultant resume? To land a perfect job quickly towards you, a perfect resume is one of the key factors of the job hunt. Therefore, see our SAP consultant sample resume. and example job descriptions to get inspired.
Congratulations. Now you know everything about SAP Consultant cover letters. Want to see more cover letters for other job positions and industries, quickly head over to Cover Letter Examples 2023
---
Our resume writers work hard to provide you the accurate and effective resume solutions for you. Care to appreciate their work?