Network Engineer Cover Letter Examples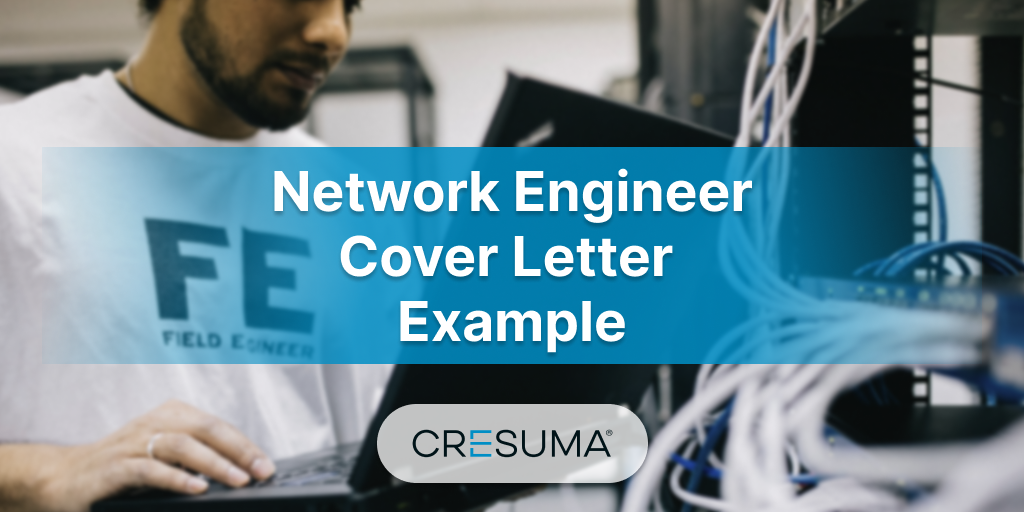 Need to become a network engineer? Why don't you make a great cover letter before applying for a the job with only an ordinary resume? Make your job application stand out from the others with a great network engineer cover letter. See the best tips to make your cover letter perfect.
Sample Network Engineer Cover Letter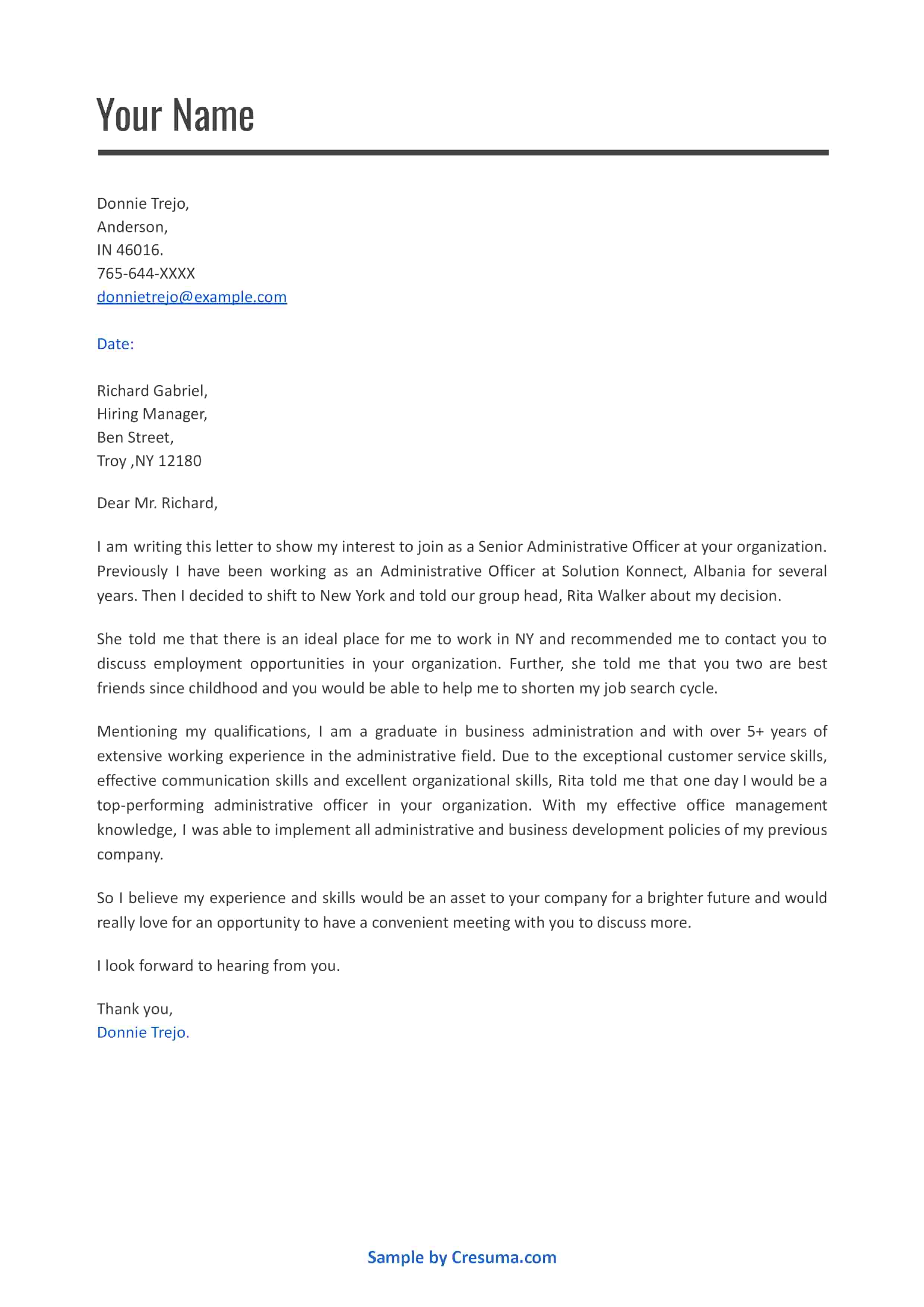 Get Custom Network Engineer Cover Letter
This article provides a unique cover letter sample and tips to write a cover letter for the Network Engineering field. Through this article, you will also be able to create your own cover letter by downloading cover letter samples for free. And, if you feel that you need professional assistance in this regard, you may request a custom cover letter in multiple formats just for $4.99
Please continue with Paypal / Credit card for our specialist Cover Letter Builders to work on custom Software Engineer Cover Letter exclusively for you.
Free Cover Letter
By choosing this, you will get a pack of free cover letter samples to download in different formats (eg.doc. pdf.txt) for FREE and create your own by editing.
Please note that this Customized cover letter process is a manual process and will take up to 24 hours
Network Engineer Cover Letter Example (Text Version)
Miranda Jansson,
Jerry Road, Malton
FL, 33830.
448-72-1234
mirandajansson@example.com

Chris Adams,
Hiring Manager,
Priwoo Labs,
University Drive,
Fort Worth, TX, 76102

RG: Application for the position of Network Engineer
Dear Chris,
As an experienced network analyst, I would like to apply for the role of Network Engineer at Priwoo Labs with interest. Having experience over 5+ years as a network administrator and network professional, I am confident that I meet all of your requirements as a candidate. Also, it is a pleasure to tell you that I am highly skilled in making local area networks (LANs), wide area networks (WANs), voice over internet protocol network (VoIP), intranets and extranets.
In my previous employment, I gained fabulous knowledge on telecommunication, network infrastructure, network hardware selection, installation and maintenance. On-the-job experience excels me at problem-solving skills, analytical skills, attention-to-detail and multitasking skills. Most of the time I spent a lot of work time on the maintenance of networks, installation and configuration of network devices, troubleshot to find the problems in the network, implemented new network integrations which resulted in increasing network efficiency and cut down on latency by 25% and for this accomplishment once I was awarded Employee of the Month.
I have been consistently appreciated by the chief technology officer (CTO) in my previous workplace as a network all-rounder which helped me to boost my passion and enthusiasm to reach higher positions in my network career. I believe my excellent knowledge in routing and switching, DNS, IoT and MPLS would be an amazing qualification to join with you as a Network Engineer. As a CCNA and CCNP certificates holder I know how to find the best solutions for your current network issues at the company.
I wish that I am the exact person you are looking for and would like to discuss this position with you in person. Contact me at the given contact details at any time to arrange a convenient meeting time. Thank you for your consideration.
Sincerely,
Miranda Jansson
P.S. I heard that some parts of your network malfunctions. Is it true? Let's discuss a redundancy strategy to overcome this situation at our meeting.
How to write a perfect cover letter for a Network Engineer?
Always you need to focus on the relevancy of your cover letter? For that, you can tailor your resume with the keywords from the job advertisement. After that, you will be able to get a customized resume specifically tailored for your targeted job. This will help you to land your dream job quickly to your steps. Keep this expert tip in mind and here are more steps you could follow to make your network engineer cover letter stand out from the crowd.
Step 1 – Create an eye-catching cover letter header
You are not going to apply for a standard spot. You are a future network engineer. Therefore express your confidence to the recruiting manager with your strongest qualification and key selling points. One of the best tricks that most applicants will not use is to list your most relevant certification after your full name in the cover letter header. Quite a few use this trick, but if somebody does that in their cover letter, those documents would be noticed by the recruiters for sure.
If the cover letter offers the recruiting manager a simple way to keep in touch with you, they will like it. And if you maintain professional media like LinkedIn or GitHub, don't forget to add the Link of them in your cover letter. In addition to these, you should add your desired position or current job description, location, phone number and email address to your cover letter heading.
Step 2 – Kick start with a good opener
In your cover letter, you must open the cover letter with a friendly yet polite greeting. Including a simple greeting with the client's actual name is easier than using a formal greeting such as "Dear Hiring Manager." You can find the name you need to address the cover letter by asking the company directly or researching the online profiles of the company.
Never leave the recruiter frustrated with a lazy cover letter. Always display your keen interest and excitement in entering the organization. In your cover letter, don't discuss what you are expecting from the organization, but what you can do for the company's growth with your current expertise and experience.
Grab the recruiter 's attention to the cover letter by including a sales pitch. Show employers how you would offer the company an advantage. Don't hesitate to clarify why you should be a perfect pick for their team as a network engineer.
Good Example
Dear Michael,
I saw the network engineer opening at Citrix recently posted on LinkedIn and I am writing this letter to show my keen interest and enthusiasm to join your company as a Network Engineer. As I am a CCNA and CCNP qualified network professional and with my 7 years of experience, I am confident that I would be an awesome candidate for the position. I understand that this position has a great responsibility for the company's internetwork and extra-network. With my proven success analytical skills, attention-to-detail and subject knowledge would be very helpful for the company and the staff to increase the efficiency and generate revenue growth.
Step 3 – Highlight your experience and skills in the cover letter body
What is a cover letter without highlighting your skills and experience? Remember that a cover letter body is an ideal place to mention your network engineering skills, your relevant experience and key achievements. You can list your key accomplishments in bulleted points. Include at least two to three action verbs with quantified results to impress the recruiters.
Step 4 – End your cover letter with good closing lines
You need to show your passion and enthusiasm to join the company as an employee, once more at the end of your cover letter. In your cover letter, it is better to describe that you would like to meet the recruiter soon to further discuss the job opportunity. Therefore, at the end of the cover letter, you need to provide your contact details too. Lastly, don't forget to thank the recruiter for sacrificing their precious time on reading your cover letter.
Example
I look forward to the opportunity to meet with you to learn more about your company. I can be a valuable asset to your company if given the opportunity. Feel free to contact me via phone at 448-72-1234 and via email mirandajansson@example.com. I have attached my resume for your attention and In the meantime, I look forward to hearing from you soon. Thank you for your valuable time and consideration.
Sincerely,
Miranda Jansson
Best Skills for a Network Engineer
Top Hard Skills (Technical) for a Network Engineer
Backup and disaster recovery
Configuring firewalls
Designing and implementing network solutions.
LAN and WAN hardware/software
Multi protocol Label Switching (MPLS)
Network monitoring and troubleshooting
Procuring network equipment
Reporting skills
Routing and switching
Routing protocols
Virtualization
Top Soft Skills for a Network Engineer
Analytical Skills
Communication skills
Documentation skills
Problem-solving skills
Time management skills
Top certifications to add on a cover letter of a Network Engineer candidate
AWS Certified Advanced Networking
Cisco Certified Inter-network Expert (CCIE)
Cisco Certified Network Professional (CCNP)
CompTIA Security+
Cisco Certified Network Associate (CCNA)
VMware Certified Professional – Network Virtualization
Make your Cover Letter Standout With These Action Verbs
Analyzed
Configured
Deployed
Developed
Documented
Evaluated
Identified
Installed
Maintained
Monitored
Reduced
Troubleshooted / troubleshot
Download Free Network Engineer Cover Letters
Find the available free templates and download Gdoc, Word (docx) or PDF files for free.
Template 1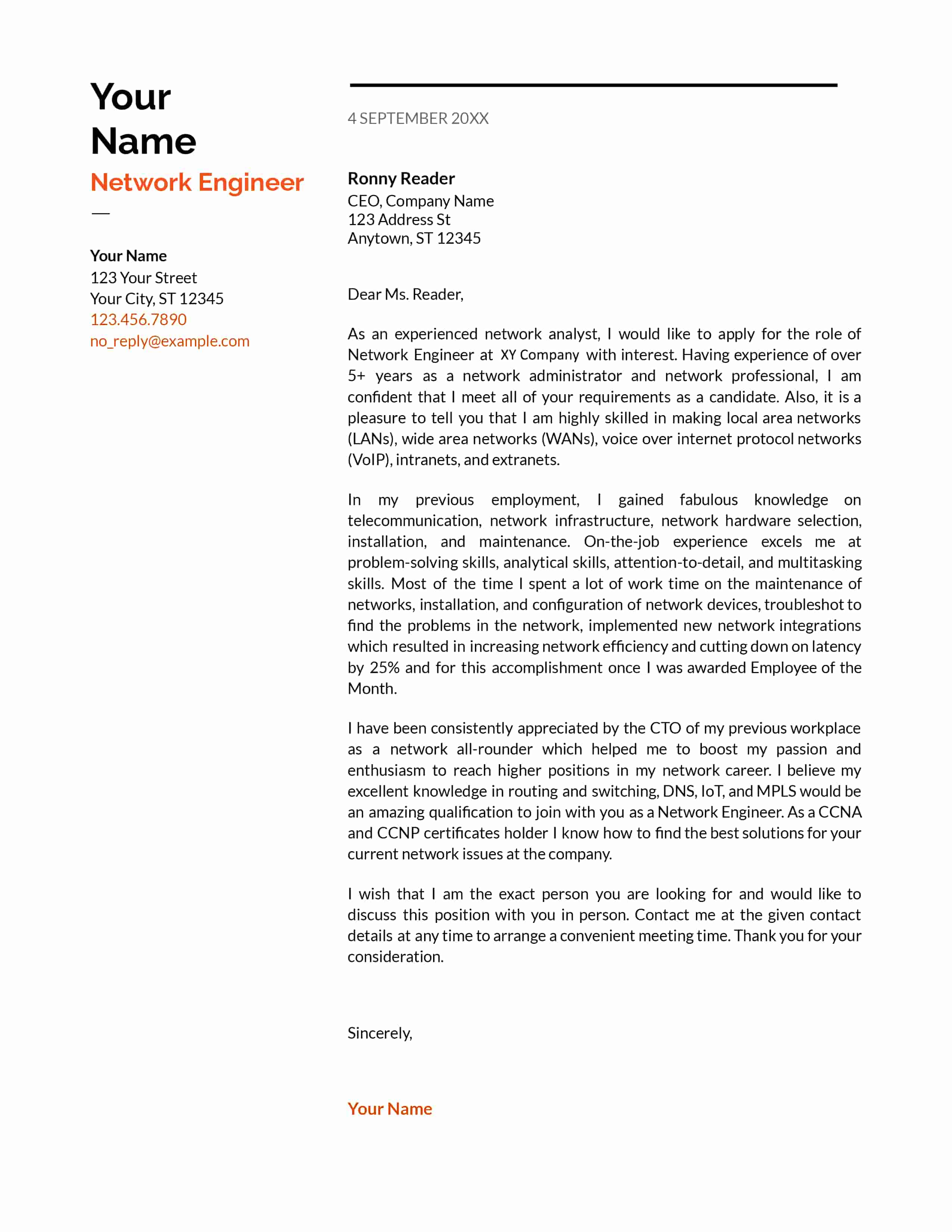 Template 2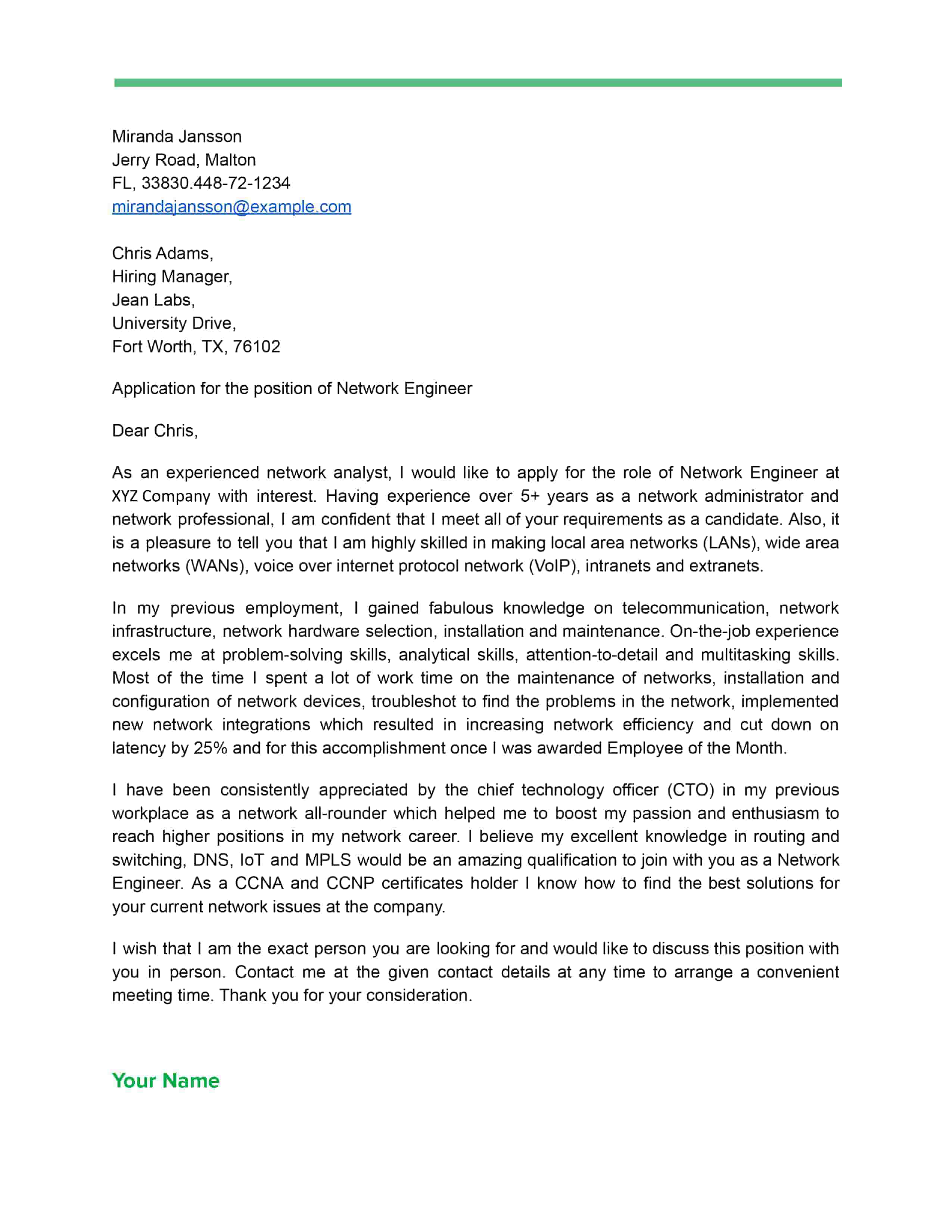 Template 3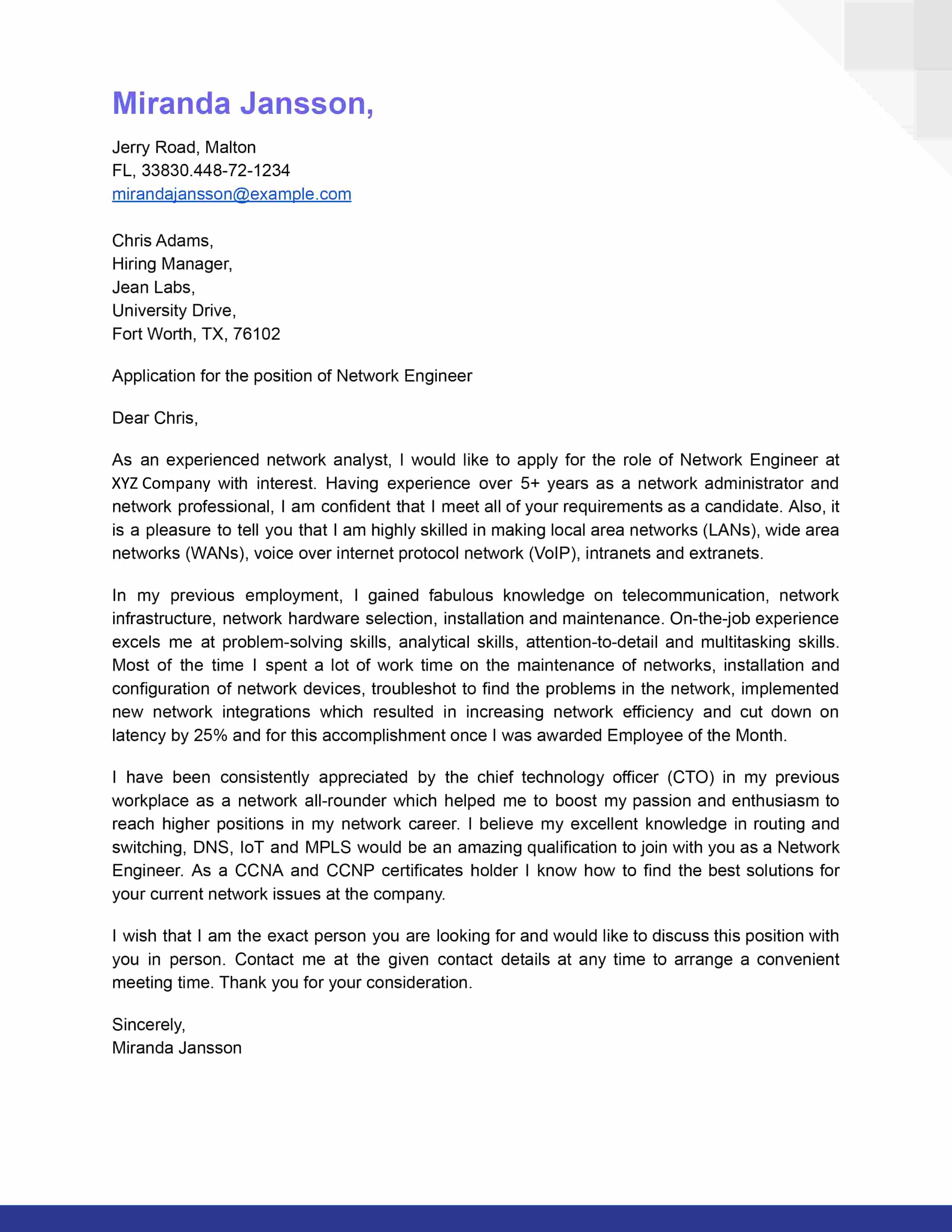 Template 4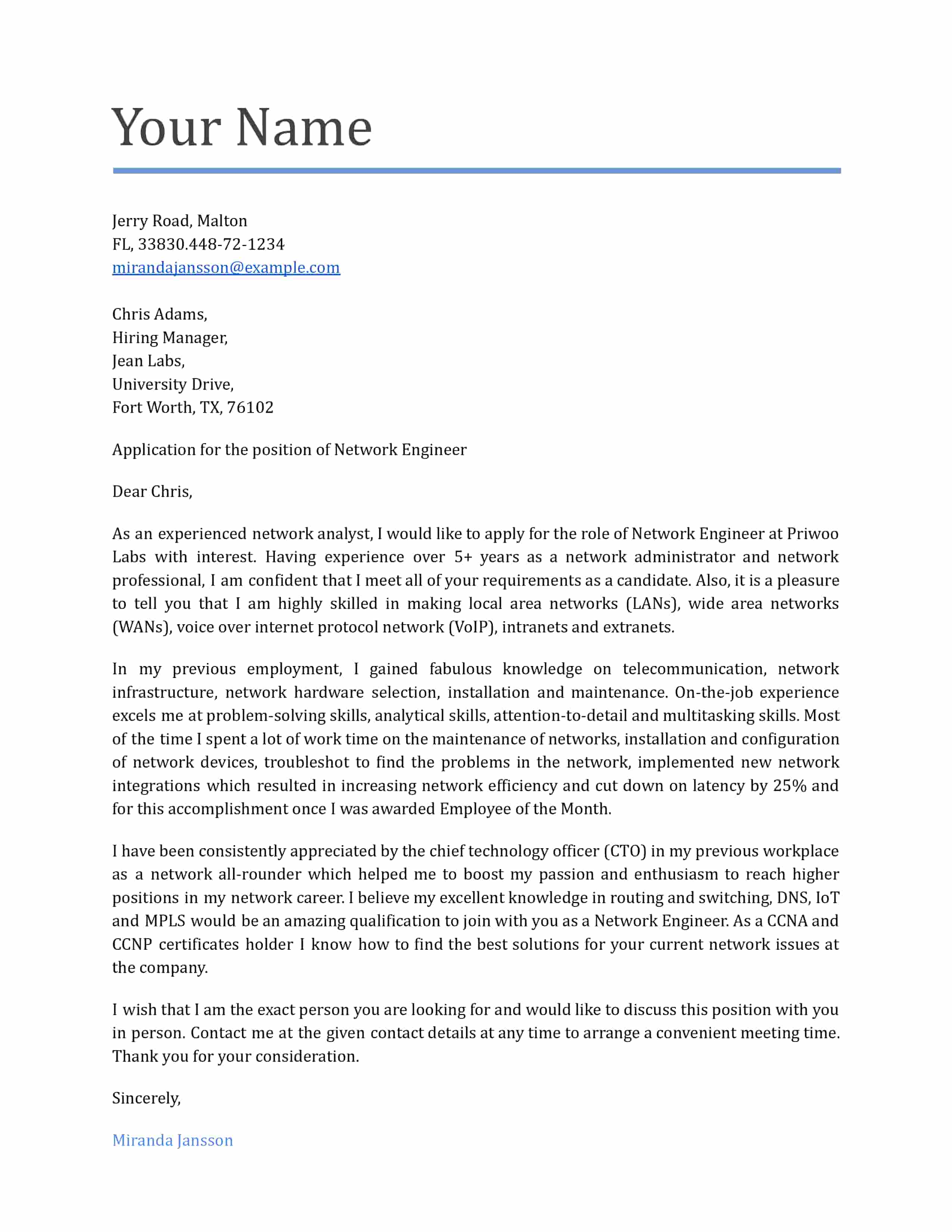 Template 5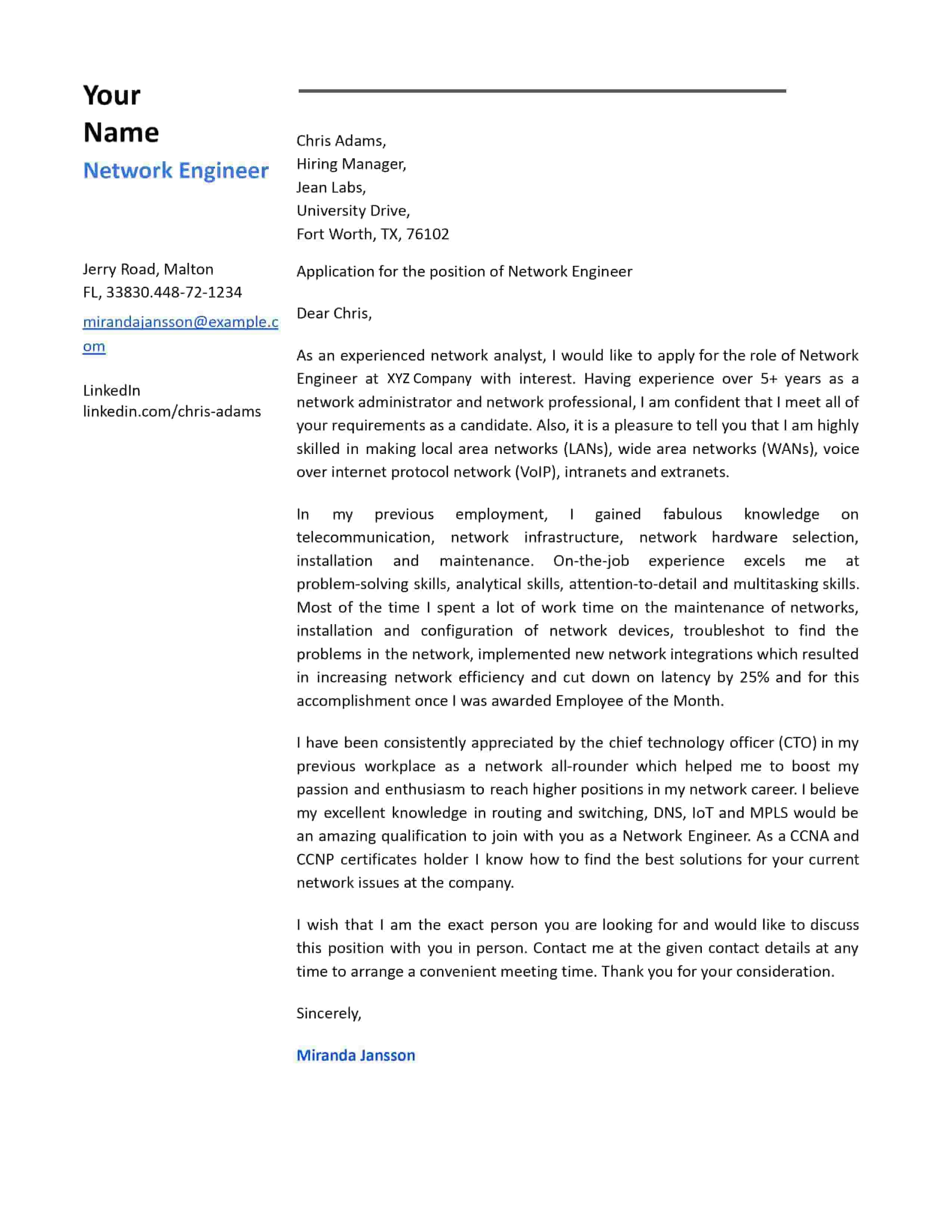 Looking for a custom cover letter? Get unique one crafted specially for you from Cresuma experts
Now you know how to make a perfect cover letter for a network engineer. And what's up, then? Do you know that your job-winning percentage will increase noticeably with an ATS friendly resume? Therefore, it is equally important to learn how to make your resume flawless.
OK. Now you know everything about Network Engineer cover letters. Congratulations. Want to see more cover letter examples for other job positions and industries, quickly headover to Cover Letter Examples 2023
Enjoyed Reading?
Help Cresuma cover the server and other costes to continue this 100% Free Service. Show your support below.