Short Cover Letter Examples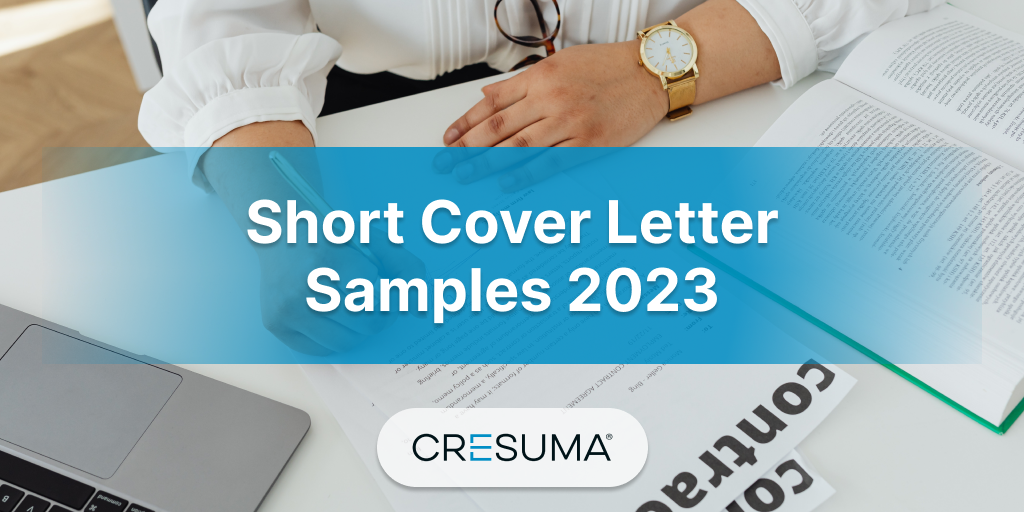 Will a cover letter with around 100 words get you the dream job? The short answer is, YES. No longer you need a lengthy cover letter to impress a recruiter. Try it with a Short cover letter instead. As you already know, a general cover letter will consist of around 300-400 words. Why are you wasting your valuable time to make your cover letter a novel, when still you can craft your cover letter short and sweet.
Do you know how to compress your career story within a small text? Get inspired and learn the correct way of writing a short cover letter with the provided cover letter template and the expert tips below.
Need to write a general cover letter? See the complete guide on writing a perfect cover letter.
Want to get this short cover letter written by an expert? Don't worry. You can now request a custom short cover letter just for $4.99
Please continue with Paypal / Credit card for our specialist Cover Letter Builders to work on custom Short Cover Letter exclusively for you.
Free Cover Letter
By choosing this, you will get a pack of free cover letter samples to download in different formats (eg.doc. pdf.txt) for FREE and create your own by editing.
Sample Short Cover Letter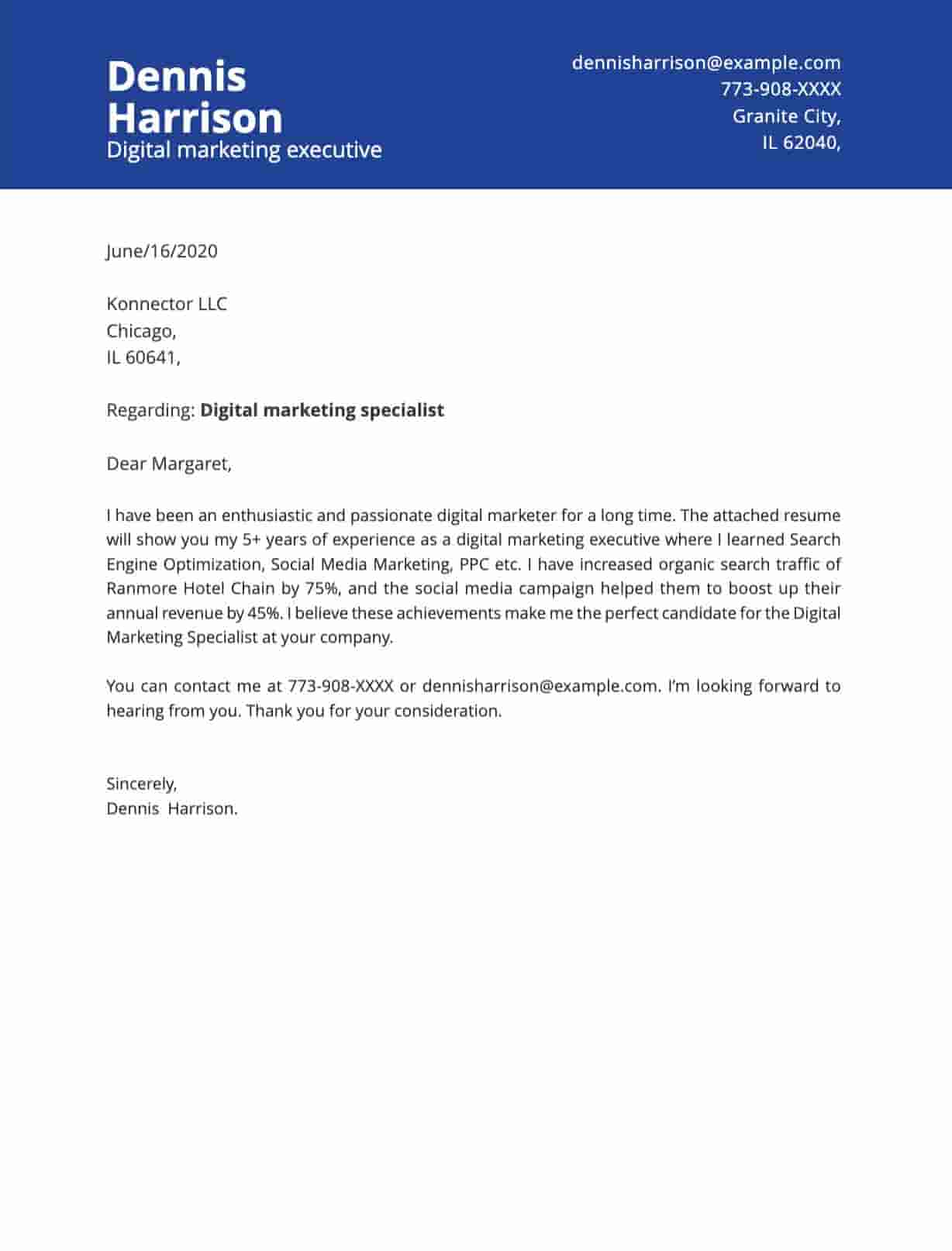 Download Free Short Cover Letter
Tips to write an Impressive Short Cover Letter
Writing a short cover letter is not a difficult task. The only secret is that you have to write it to the point concisely. By writing a short cover letter you can avoid the use of buzzwords in your cover letter and can decrease the meaningless lengthy sentences. So that the hiring manager will not lose his / her attention from your cover letter even for a single second. Therefore, it is worth knowing short cover letter tips. See the tips below and use them to create an impressive short cover letter.
Tip #01 – Avoid using buzzwords
Many candidates are used to include buzzwords on their cover letters which are not necessary. By adding buzzwords like "self-motivated", "results-oriented", "kick-starter" etc. means nothing to the recruiters. Buzzwords just lengthen your document. If you want to explore the list of common buzzwords used in different jobs and categories, read now; Resume Buzzwords and Clichés to avoid and include
Want to check if your cover letter has buzzwords and fix them?
Buzzwords simply kills your resume and reduce the chances of being picked by the hiring managers. But how to spot if your short cover letter is also having buzzwords that kills yours too? This is the easy way to do it. You can upload your cover letter or resume to the Cresuma Buzzword Checker and check how many buzzwords and action verbs you have on your resume and fix problems. So that you could expect more calls to come from the recruiters
Tip #02 – Mention only relevant skills and experience
Even though you have many years of experience and a set of skills you don't need to mention them all in your covering letter. You have to be wise to mention only the relevant skills and work experience when writing your cover letter. You can pick the required skills from the job posting and add them to your document. This will shorten your document to some extent for sure.
Tip #03 – Don't show your company knowledge in detail
In a general cover letter, it's cool to show your company's knowledge. For the recruiter, it would make sense that you have investigated the business before applying for the position. But here, it is better to avoid adding them since you are trying to shorten your cover letter.
Tip #04 – Use more short words instead of longer phrases
Why are you going to lengthen your cover letter when you can still shorten it by using snappy words? After you finish writing your cover letter, it's better to read it by yourself or someone else. And capture if there are longer phrases or not. If there are any, please feel free to replace them with short snappy words.
Below are some examples that will help you to get an idea of how to concise overly wordy phrases.
Avoid wordy phrases
In order to
For each and every
Given the fact that
A huge number of
Enclosed herewith
Exactly the same
Personally, I think/feel
With regard to
In order that
Alternative snappy words
To
For every
Because
Many
Enclosed
The same
I think/feel
Regarding/about
So
Sample Short Cover Letter #1 (Text Version)
Dennis Harrison,
Granite City,
IL, 62040.
773-908-1234
dennisharrison@example.com
Margaret Huddleston,
Konnector LLC,
Chicago,
IL, 60641.
Dear Margaret,
I have been an enthusiastic and passionate digital marketer for a long time. The attached resume will show you my 5+ years of experience as a digital marketing executive where I learned Search Engine Optimization, Social Media Marketing, PPC etc. I have increased organic search traffic of Ranmore Hotel Chain by 75%, and the social media campaign helped them to boost up their annual revenue by 45%. I believe these achievements make me the perfect candidate for the Digital Marketing Specialist at your company.
You can contact me at 773-908-1234 or dennisharrison@example.com. I'm looking forward to hearing from you. Thank you for your consideration.
Sincerely,
Dennis Harrison.
Verdict: Although this letter is very short, we can see how the applicant communicates to the point his experience, skills and accomplishments. So that for a potential hiring manager, it is an impressive document.
Short Cover Letter Template
Feel free to copy below text and paste into your job application. Then fill in the blanks and tailor the document with your own details and relevant information.
[your name]
[address]
[phone number]
[email address]
[hiring manager's name]
[company name]
[address]
Dear [name],
I saw the vacancy for a [position] at [company name] and would love to apply for the position with a keen interest. With my [#] years of experience as a [previous position], I am confident that I have enough experiences to perform beyond the expectation.
With my [skill] and [skill] I was able to achieve followings in my previous employment at [previous work place name].
[achievement #1]
[achievement #2]
[achievement #3]
If you feel I am the right candidate you are looking for, then feel free to contact me over the phone at [phone number] or via email at [email address]. Thank you for your valuable time and consideration.
Sincerely,
[your name]
Why Short Cover Letters are important?
What if you've been reading a single text for a long time? You 're going to get bored for sure in just a little time. The same is going to happen to hiring managers or recruiters when they look at lengthy cover letters like novels. Not only that, but they also don't have time to sacrifice to read these kinds of cover letters.
That's why you need to send a short cover letter along with your resume. Short cover letters will make the job of the recruiters easier for them to do. Remove irrelevant content as much as possible from your cover letter. Highlight your key selling points and your passion to join the company in a very short and sweet paragraph. Then you are on the way to land your dream job.
Think you're a hiring manager for a particular company and you're the person responsible for reviewing all the applicants' cover letters. And in a single day you'll have to read thousands of cover letters. Would you go all over the lengthy cover letters completely? No, isn't it? But what if we get a short but impressive cover letter? We'll love to see those kinds of cover letters in the big pile, and we'll probably pay more attention to them. And we are going to place them in the shortlisted list.
Do you know that scientists have proven, psychologically, that reading a short cover letter will keep recruiters more relaxed and quiet than reading long cover letters? So you can see how important these short cover letters are.
You may now have a full awareness of how to create a short cover letter. But depending on the job you are applying for, you may need different types of cover letters. See our cover letter examples. to learn more about how to create a specific cover letter for your targeted job.
---
Our resume writers work hard to provide you the accurate and effective resume solutions for you. Care to appreciate their work?
Enjoyed Reading?
Help Cresuma cover the server and other costes to continue this 100% Free Service. Show your support below.