Software Engineer Cover Letter Sample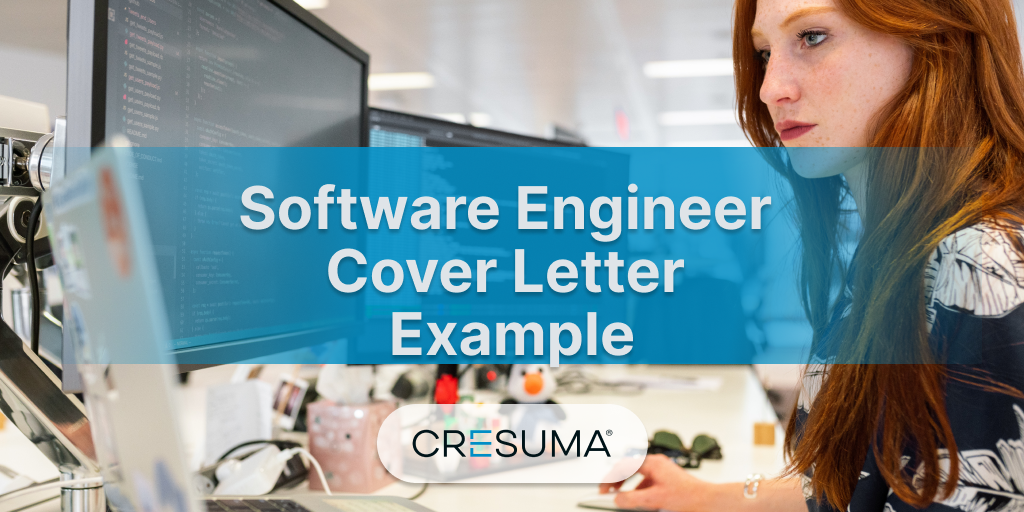 Do you know how to create an effective cover letter for a software engineer? A software engineer cover letters should be at least consists of three paragraphs including your past experience and relevant skills that make you qualified for the SE position.
Sample Software Engineer Cover Letter
The process of originating a Software engineer is a collection of sacrificing, hard-working as well as testing, analyzing, designing, and maintaining so many projects. After that, there is a huge competition in the job industry to become a professional Software Engineer. Therefore only a few applicants can achieve their dream job. So, you have to have a good knowledge of how to create a perfect cover letter. Otherwise, you will lose your dream job even though you are a well qualified and experienced software engineer. In addition to this obviously, you have to create a fatal cover letter that functions as an invitation to refer to your resume.
So, we are here to provide a complete guide about how to write a  perfect cover letter as a software engineer. If you are in a hurry to create your resume, use our cover letter builder and create it within just 5 minutes. On the other hand, you can copy the text version of our cover letter example and edit as necessary.
Apart from this, you have to fertilize your cover letter using the relevant keywords to your expertise area because there are so many specialized areas of a software engineer such as Full-stack, Web, SaaS, AWS, Database, etc.
Get Custom Software Engineer Cover Letter
This article provides a unique cover letter sample and tips to write a cover letter for the software engineering field. It is important to note that you can create your own cover letter by downloading cover letter samples for free. Also you can request a custom cover letter in multiple formats for $4.99
Please continue with Paypal / Credit card for our specialist Cover Letter Builders to work on custom Software Engineer Cover Letter exclusively for you.
Free Cover Letter
By choosing this, you will get a pack of free cover letter samples to download in different formats (eg.doc. pdf.txt) for FREE and create your own by editing.
Please note that this customized cover letter process is a manual process and will take up to 24 hours
Cover Letter Example for Software Engineer (Text Version)
If you apply for a software engineer position, you can simply copy the text below and replace your information with the existing details.
[Full Name]
[Address]
[City, State Zip Code]
[Phone Number]
[Email]

[Hiring Manager's Name]
[Company Name]
[Address]
[City, State Zip Code]

Dear Bianca Janette:
Thank you for the opportunity to apply for the Senior Software Engineer role at your company. Since with a Bachelor's degree in Information Technology, Master's degree in Computer Science, and 6+ years hands-on experience using latest technologies to develop software and web applications, I am certain that I have the necessary skills to successfully do the job adeptly and perform above expectations.
I am a confident and motivated team player who enjoys being challenged to perform tasks independently. Through my work experience and other professional activities, I have enhanced my analytical, critical thinking and multitasking skills. Throughout my extensive history, I have not only developed software programs and mobile applications, but also trained 30+ software engineering interns to reach permanent junior software engineer positions.
I am very pleased to tell you that your requirements closely match my background and my skills. There are a few I would like to highlight that would allow me to contribute to your bottom line. They are:
Thorough understanding of AngularJS and Node.js.
Experience using relevant tool suites.
Excellent coding skills.
Experience working with clients and business partners.
Extensive knowledge of agile methodologies.
Excellent team player with a high level of initiative.
Outstanding knowledge in web services.
Ability to multitask in a demanding environment.
Please review my attached resume for a more in-depth illustration of my work history and achievements. I look forward to working out how my specific skills and abilities will benefit your organization. Please contact me at any time via my cell phone xxx-xxx-xxxx or via email at name@example.com to arrange for a convenient meeting time.
Thank you for your time and consideration. I look forward to hearing from you soon about this opportunity.
Sincerely,
[Your Signature or typed name]
Perfect Cover Letter Format for Software Engineer
Hello Developers! Need to know the step-by-step process of writing a perfect software engineer cover letter? Here it is.
What to include in a Software Engineer Cover Letter?
A cover letter used to attach with your resume when you submit a job application for a particular opening. As you are going to apply for a Software Engineer position, you should fill up your cover letter with industry-specific details and relevant skills and qualifications. In this way, you will be able to make your resume stand out from the crowd. Accomplishments? Why not? Include them also if you have any achievements in the previous employment. These will help to impress the reader.
One thing you need to remember is that you should not describe your job role or duties. Because recruiters and the hiring managers are fully aware of the job responsibilities and duties of a typical software engineer. Instead of that, you can describe your key selling points. Explain and name the latest technologies you are most familiar with. As the job is tech-related, employers prefer tech-savvy candidates more for this role.
Cover letter header for a Software Engineer
You must provide all contact details of yourself in the cover letter header. To make your submission stand out, you will need to align your cover letter header with your resume header. A good cover letter header for a Software Engineering position includes your full name, work description, email address, telephone number, and location. By adding any of your technical profile URLs like LinkedIn and GitHub to the cover letter header, you would be able to make your cover letter an impressive one.
Software Engineer cover letter opener
You are going to apply for a professional job. So you must keep your professionalism at its best. Therefore don't use a common greeting like "to whom it may concern", instead you can write, "Dear Ms. Jane Austin" OR "Dear Jane Smith". This sounds friendly as well as professional.
Bad Example
To whom it may concern,
I am a full stack web developer who has 5+ years of experience in a reputed IT firm, interested in applying for the software engineering position at your company.
Good Example
Dear Mr. John Smith,
Are you looking for a high-performing software engineer with a proven ability to develop mobile applications? If so, why don't you have a look at my resume? I am pretty sure that with my experience and insights, I am the one who you are looking for.
See more sample cover letter opening phrases to make your software engineer cover letter stand out.
Software Engineer cover letter main body
Now you are fully aware of how to make an intro to your cover letter. Next, you have to make your cover letter body which is the most important part of your cover letter. This is where your sales pitch should go.
Remember that, even if you are using a cover letter template or sample, the cover letter body should be tailored according to the specific software engineering job advertisement which you are going to apply for.
You should convince the hiring manager that you are the perfect fit for the particular software engineer role by mentioning some of the industry-specific skills and the most relevant experience and accomplishments.
Example for a good cover letter body
Identifying innovative approaches and improved solutions to business challenges both motivate and drive me to this current level. I managed to accrue nearly 6 years of work experience as a lead developer. Formerly in my Software Engineer role, and this field, have stemmed from my essential Software Development, Web Services and Machine Learning talents. I have enhanced critical thinking, problem-solving and analytical abilities and cultivated a reputation as a major contributor through skills which I hope to leverage into the Senior Software Engineer role at your company.
Software Engineer cover letter closer
A perfect closer must include a call to action, sign off and an impressive postscript.
Bad Example
I would like to talk with you furthermore about this vacancy. Just give me a chance to prove that I am the guy you are looking for. Hope you will be back to me with a good response for this letter.
Ciao,
Jackson Freddie
Good Example
After reviewing my resume, I hope you will agree that I am the type of competent and competitive candidate you are looking for. I look forward to elaborating on how my specific skills and abilities will benefit your organization. Please contact me at [email address] via email or [phone number] to arrange for a convenient meeting time. Thank you for your consideration, and I look forward to hearing from you soon.
Sincerely,
Jackson Freddie
Below you can see some unique keywords you can use in your software engineer cover letter. Use below skills and action verbs to make your cover letter noticed.
Best Skills for a Software Engineer Cover Letter
Soft Skills
Communication skills
Attention to detail
Analytical skills
Critical Thinking
Multitasking
Teamwork
Technical Skills
Software Development
Programming Skills(Java, Node.js, Ruby, PHP, Python, C, C++, C#)
Object-Oriented Design
Testing and Debugging
Database Architecture
Web Services (AWS, Google)
SaaS
UI/UX
Web API
Project Management
Machine Learning
Data Structures
Best cover letter action verbs for Software Engineer
Developed
Organized
Prepared
Mentored
Trained
Delivered
Managed
Designed
Handled
Achieved
Analyzed
Assembled
Backed-up
Boosted
Built
Certified
Cleaned
Coded
Constructed
Decoded
Dispatched
Engineered
Evaluated
Extracted
Fine-Tuned
Formatted
Installed
Licensed
Loaded
Mined
Mapped
Merged
Networked
Optimized
Patched
Packaged
Programmed
Prototyped
Realigned
Rebooted
Refreshed
Remodeled
Road mapped
Scanned
Tested
Toggled
Updated
Upgraded
Validated
Verified
Download Free Software Engineer Cover Letters
Find the available free templates and download Gdoc, Word (docx) or PDF files for free.
Template 1
Template 2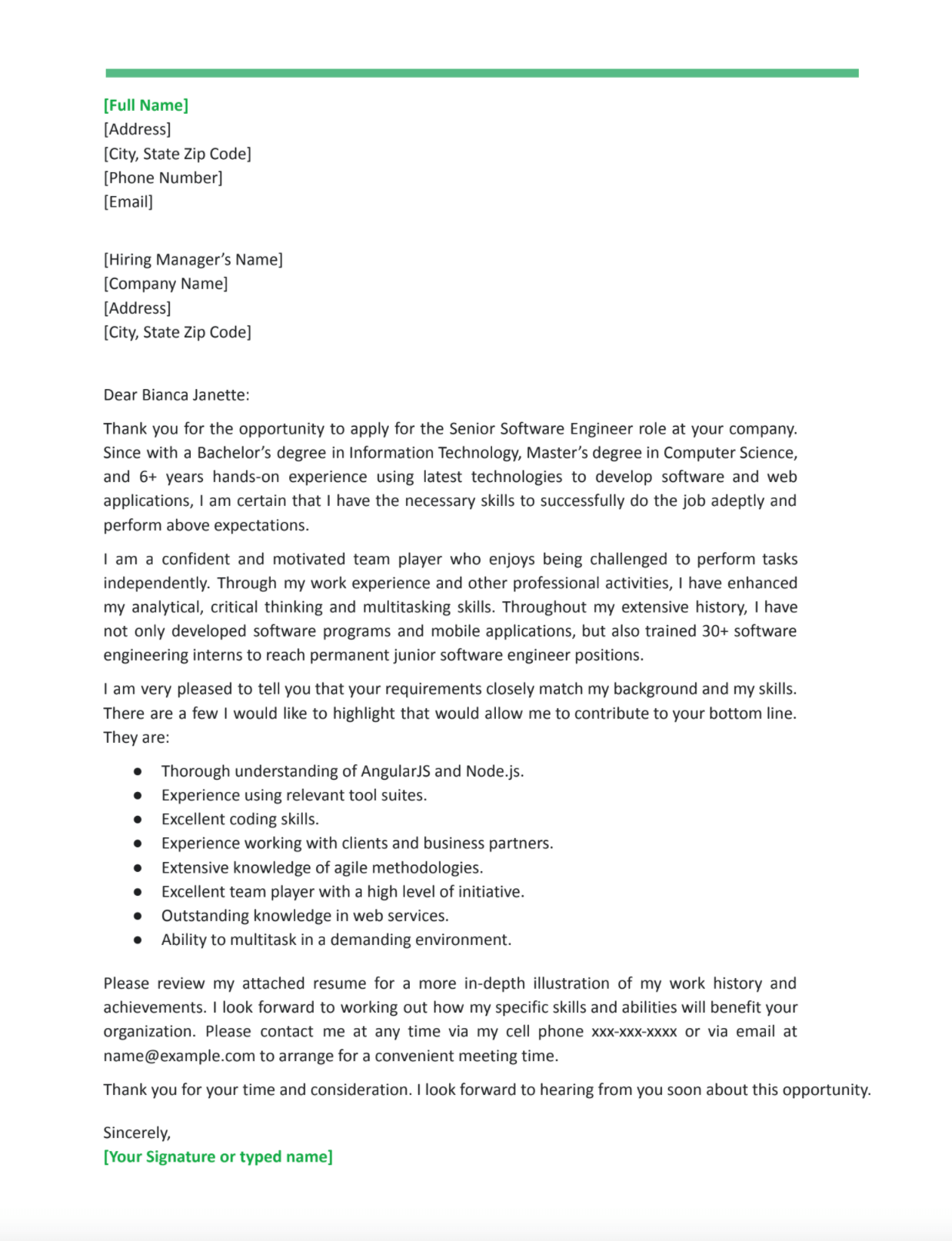 Template 3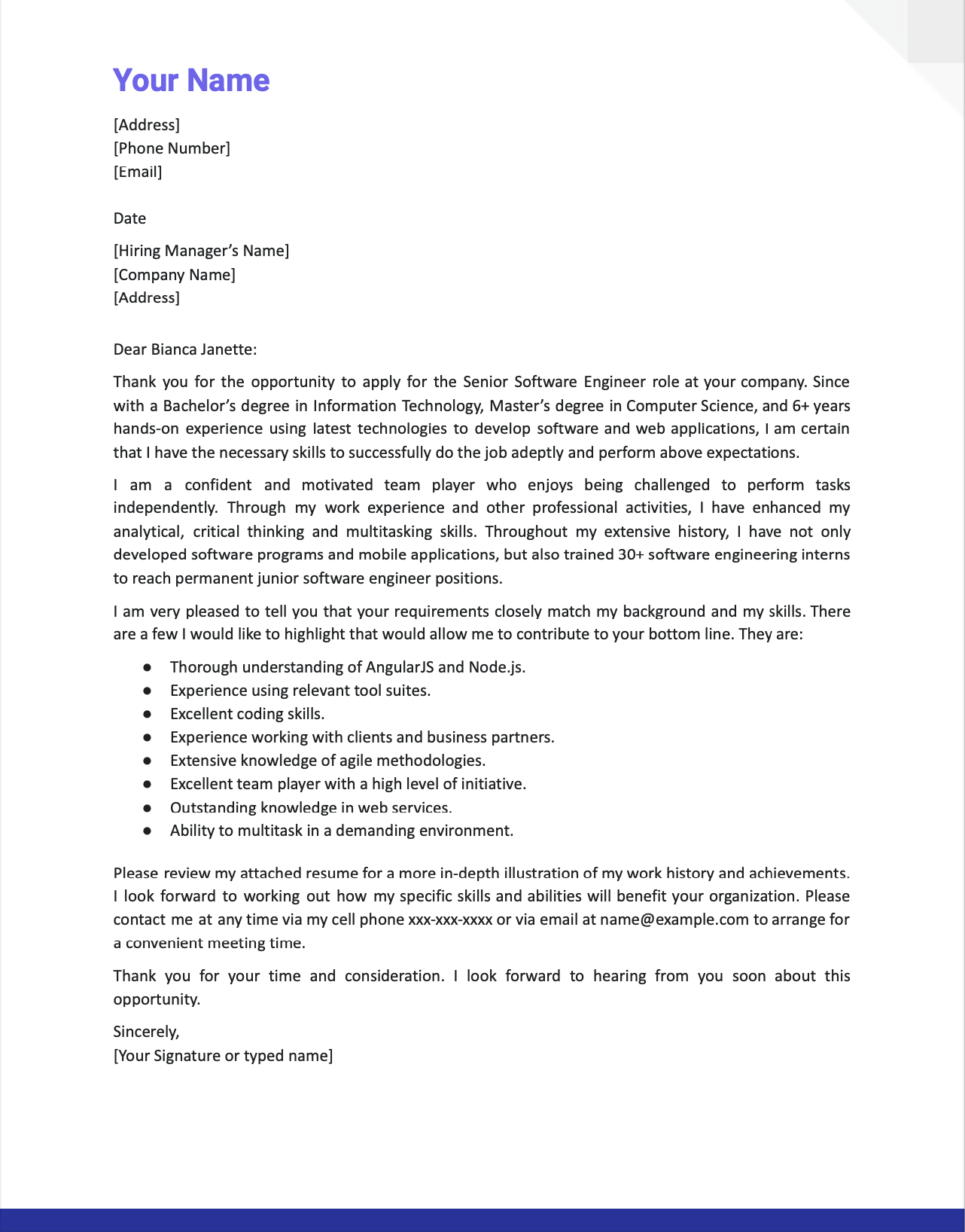 Template 4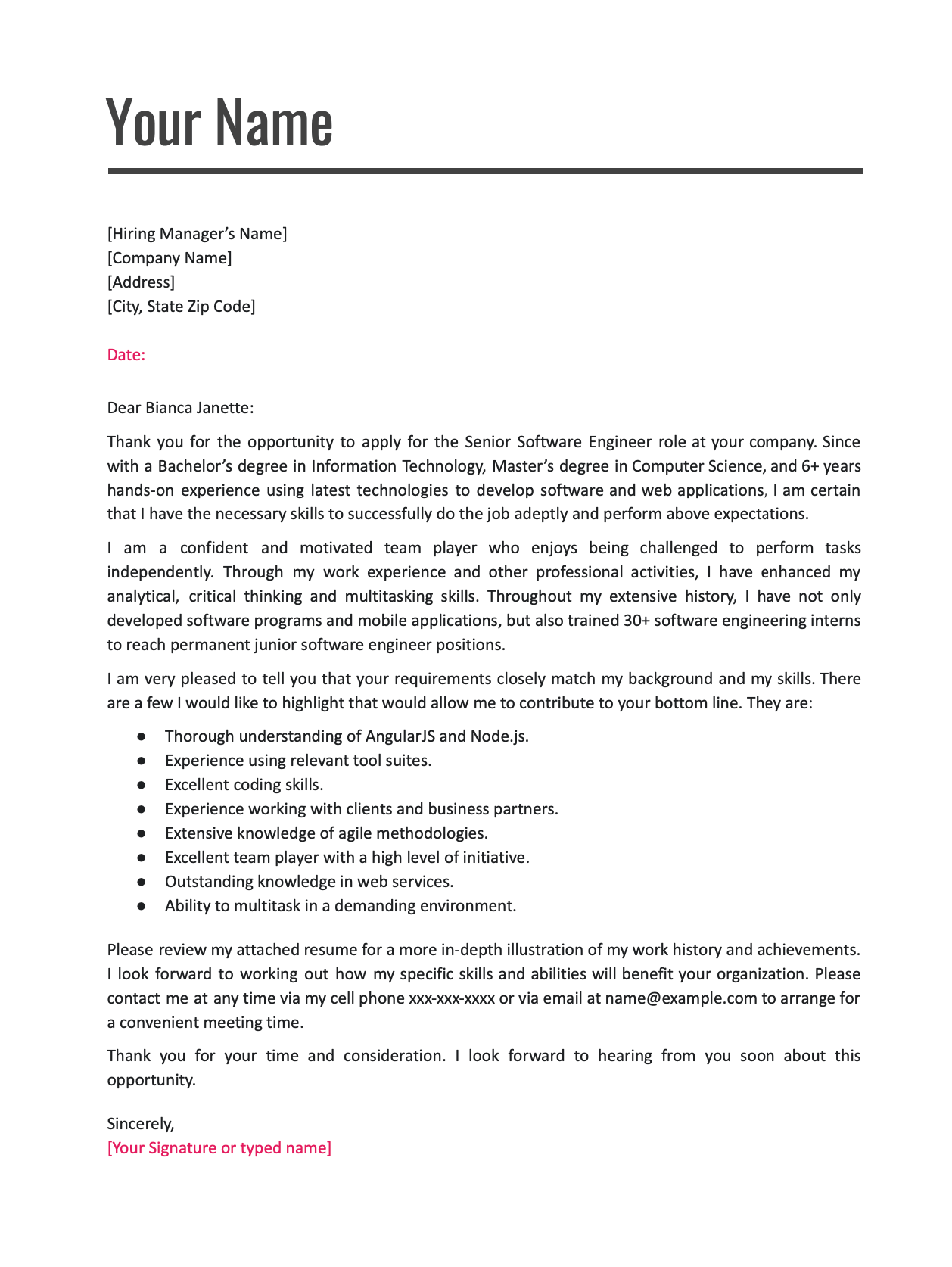 Template 5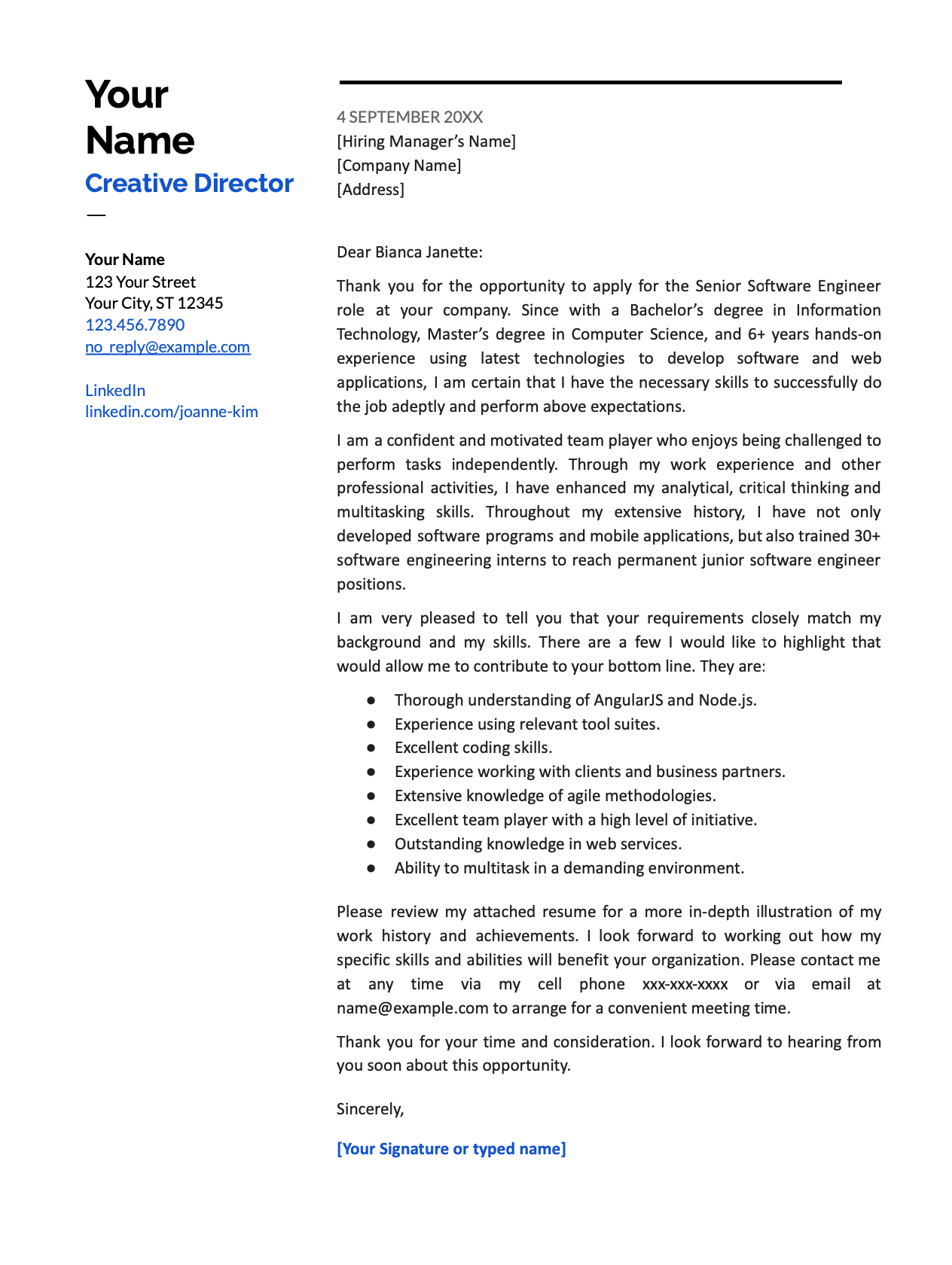 Looking for a custom cover letter? Get unique one crafted specially for you from Cresuma experts
Congratulations. Now you know everything about Software Engineer cover letters. Want to see more cover letters for other job positions and industries, quickly head over to Cover Letter Examples 2023
Enjoyed Reading?
Help Cresuma cover the server and other costes to continue this 100% Free Service. Show your support below.