SAP Consultant Resume Examples & Templates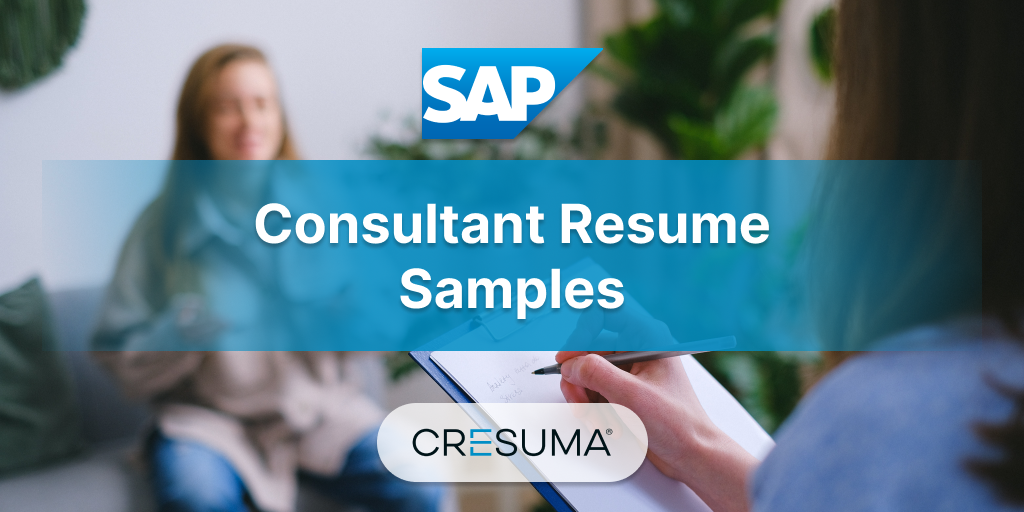 Writing a great SAP resume is a good foundation to build your SAP career. Get the inspiration from the sample resume and the example job descriptions to best showcase your value to the recruiters.
SAP Consultant Resume
No need to start from the beginning. Edit this resume sample with your information and keywords from the job posting.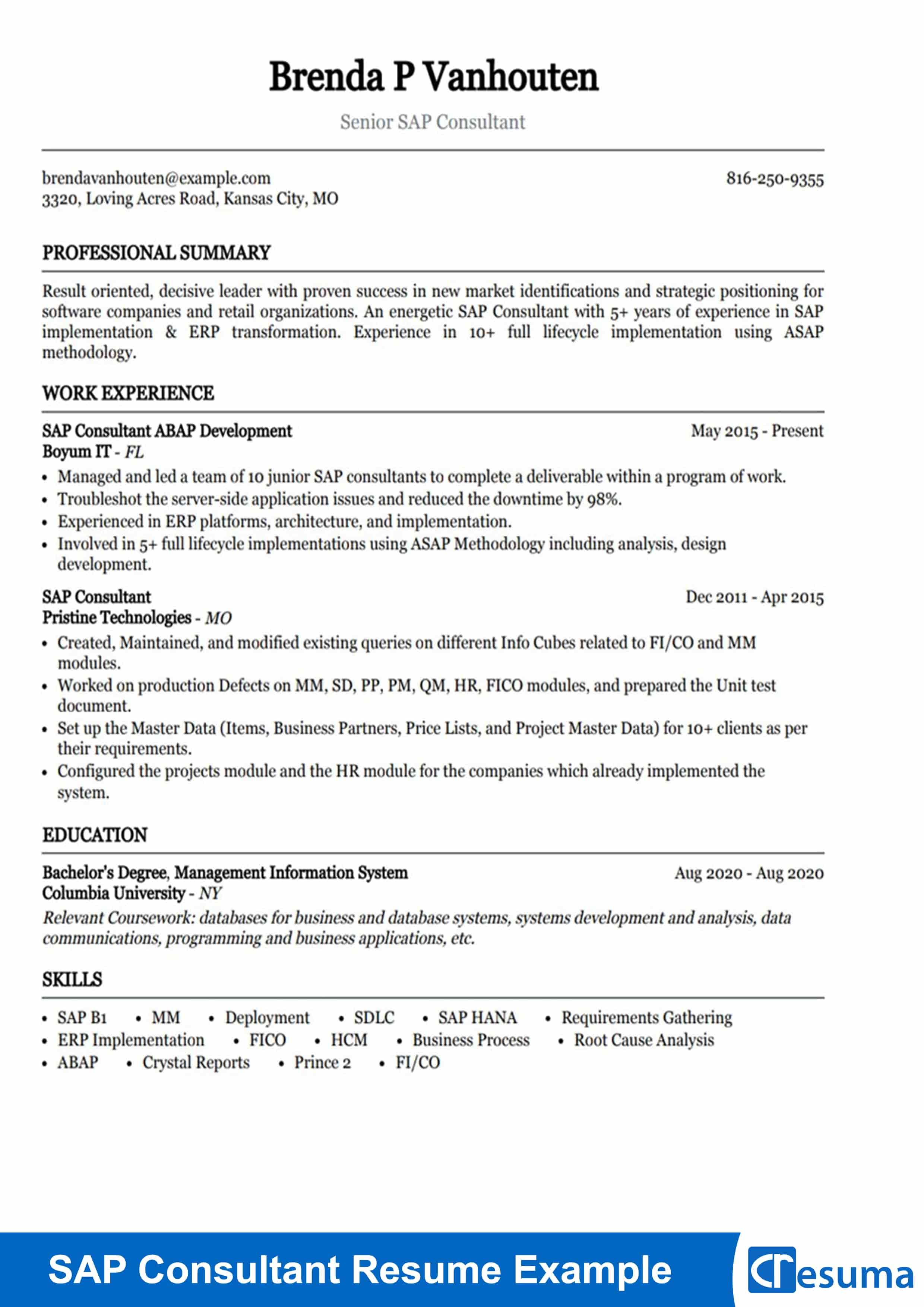 A typical hiring manager spends an average of 6 seconds to check your resume. As a result of this, if you have a very small typo or grammar mistake on your SAP consultant resume, that will be a factor to disqualify you from the competition. to beat the competition we need to add resume keywords related to your job position.
We at Priwoo have observed more than thousands of successful SAP Consultants' resumes to learn how to optimize your resume based on what to include and how to include each section of the resume.
How to write SAP Consultant Resume
As an SAP consultant, you are responsible for SAP implementation, rollout projects, SAP support & engagement in maintenance projects. Based on the user requirements analysis, you will prepare functional designs, perform relevant tests, system configurations, and deploy the business solution you have designed.
So the recruiters love to see these kinds of experiences in your resume too. Simply a resume with SAP knowledge. Because they prefer experienced candidates more than fresh candidates. And also they expect a specific set of skills on resumes in an SAP consultant resume.
However, recruiters are looking for some major sections in your resume. Those are:
Contact information section
Resume summary
Work experience
Education
Skills
Let's discuss how to write these resume sections properly to gain more interviews and job opportunities.
The below image describes the process of resume writing which you must follow when creating your SAP resume.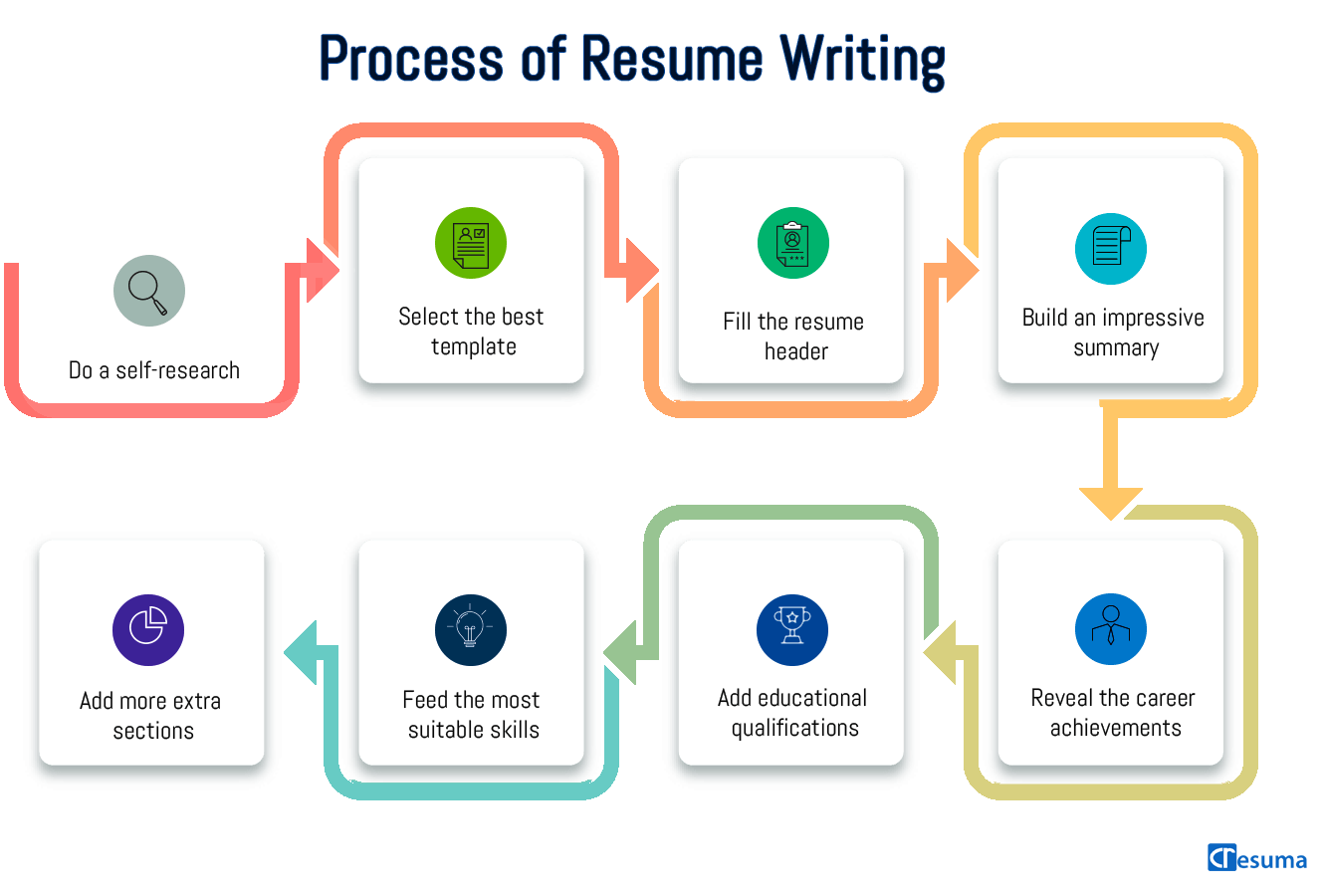 How to do a self-research on the SAP Consultant position?
You may wonder by thinking why you should do self-research. There is more here than you think. By doing research you will be able to adapt and tailor the resume you are writing with a better understanding of the prospective company and the position you are applying for.
Here are a few great sources for you to try when doing self-research.
Company website – The best way to find out the details of a company is to visit the relevant company's website. You can get an overview of the history, mission as well as culture of the organization through the "About Us / Who We Are" page.
Social Media – You can follow the relevant company employees through LinkedIn, Facebook, and Twitter accounts. Also, you can find out what the company is like by checking the reviews posted by the people on social media about the company.
If you found trends or issues of the company so that you can demonstrate in your resume that you have the skills to solve these problems.
How to select a matching template for an SAP Consultant?
This is a very crucial factor. The professional look of your resume is very important to win the first impression of your employer. So the resume template you use should have a high level of professionalism.
At the same time, the resume template you use should be ATS-friendly. Otherwise, it will not pass the Applicant Tracking System if the company uses an ATS to streamline their hiring process.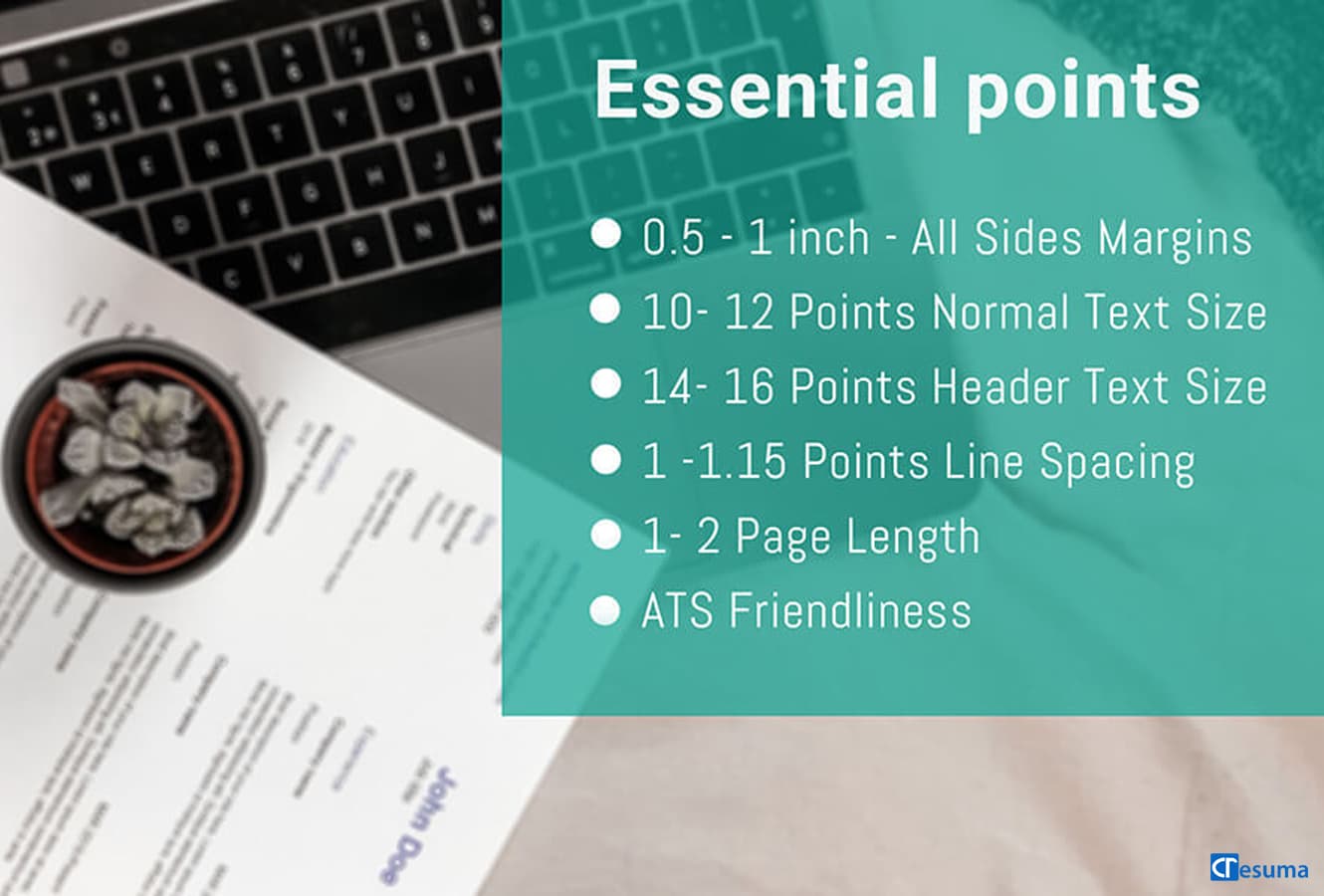 What to include in the Contact Information Section
The contact information section is usually called the resume header and that is the section where you are going to place all your contact details and other necessary information.
Therefore your name should appear in a larger text on the top of your resume. Under your name, it is very convenient to have your job title or the desired job position. It is very important to make key information in your SAP resume stand out. The job title is the thing that should stand out the most in your SAP resume.
The job title should be mentioned at the top of the resume very clearly and boldly.
For e.g: "SAP HANA Consultant"
Then it is convenient to understand to the recruiter what you specialized in SAP.
The location, phone number, and a professional email address are equally important to be on your resume contact information section. If the recruiter wants to contact you they will use these details to have direct contact with you.
What about adding a LinkedIn URL to your SAP Consultant resume? This is a great trick that most of the candidates are not used to doing. However, this could be a great advantage for you to add a professional profile of yourself in the resume header.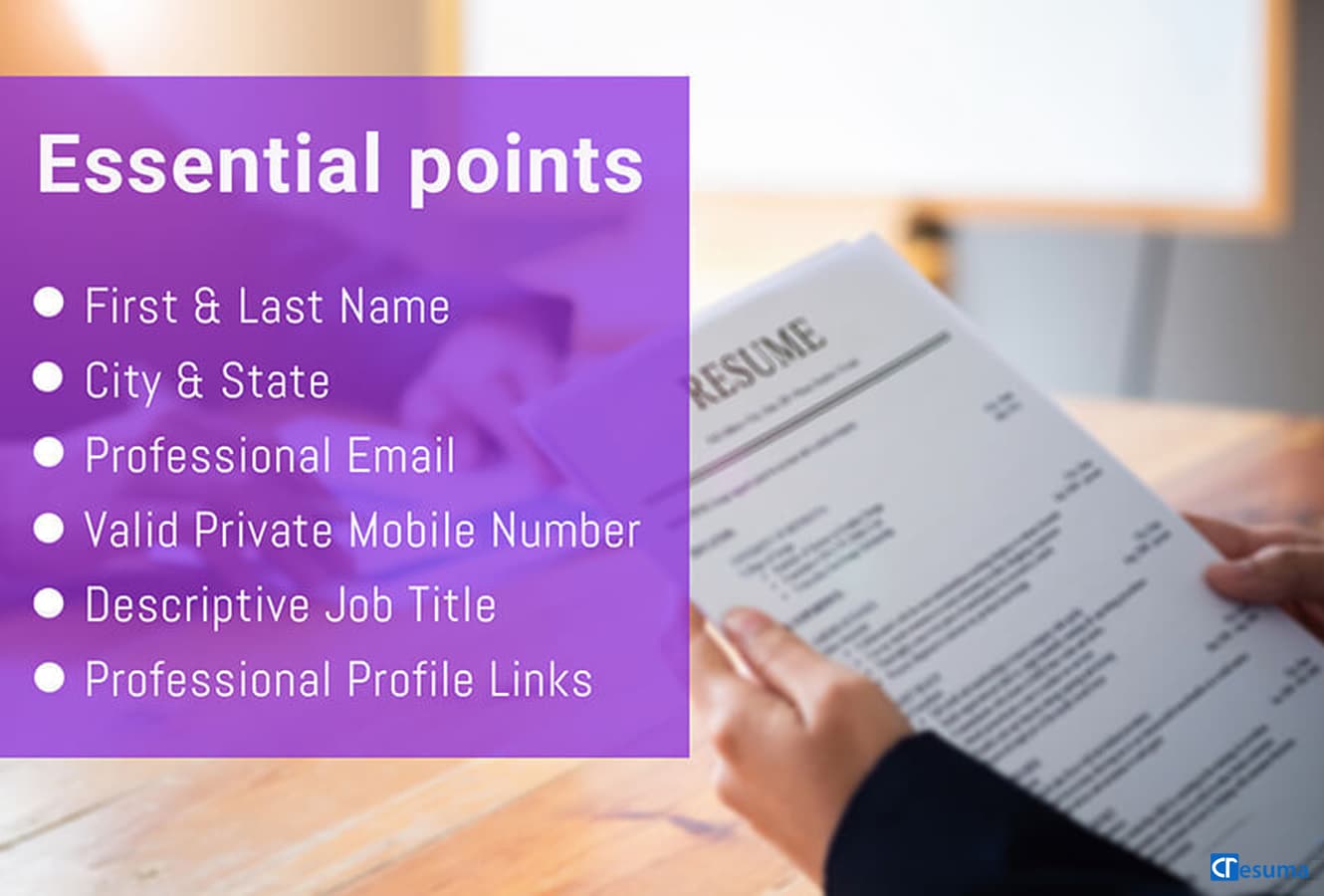 Write a compelling SAP Consultant profile summary
Most of the recruiters spend a few seconds to skim read all the resumes. But within that small time frame, they will pay more attention to your resume summary.
This is why it is said that the summary of a resume is like the heart of a human. If you think this is exactly your sales pitch and write to the point, it will not be so difficult to secure your job opportunity.
So how to write a resume summary that makes recruiters wonder?
You do not need to surprise the recruiters. It is important to describe your SAP skills, and how you can use your SAP experience for your future job. Show the achievements you have made in numerical values ​​and show that you are someone who can do something for the company's success.
Remember that employers understand yourself through your resume Summary and it will be the most important factor in making you a successful candidate.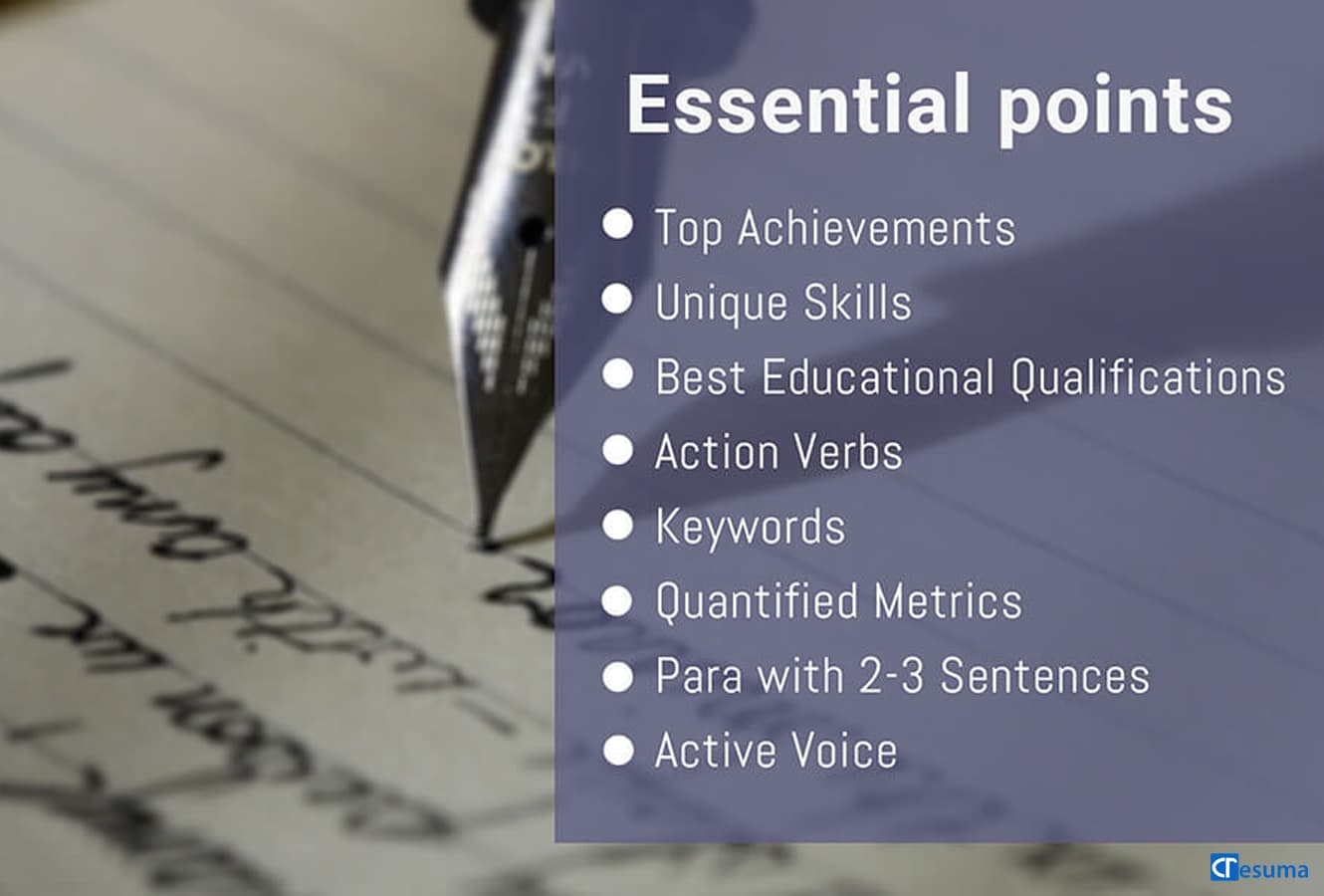 What kind of experience recruiters are looking for in your resume
As mentioned above, recruiters are willing to see more experience in a typical SAP consultant resume. So, having a minimum of 03 years of SAP functional experience is an added advantage for your job search. But keep in mind that you should not include more than 15 years of SAP experience in your resume. The longer your resume, the more attention the recruiter loses from your SAP resume.
When listing the work experience in your resume, it is very important to mention your experience in ERP implementation, SAP implementation (full life cycle implementation / end-to-end implementation), customization, and maintenance of any of the following modules and related sub-modules such as MM, SD, PP, PM, QM, HR, FI, and CO.
Also, try to showcase your advanced architectural knowledge of SAP via your job description bullet points. SAP recruiters always want to see this kind of information to be in your resume.
Most of the candidates used to list their job descriptions and the job responsibilities in the work experience section under each job title. But that is not the correct method. To get the optimum results you should list your key accomplishments with quantified results.
Whenever you list your SAP work experience you must list them chronologically. Every work experience should consist of employment dates, client name or company name, brief project description, key activities, and the result achieved.
Recruiters love to see your achievements. The best way to show your achievements to a recruiter before you get hired is your resume. So feel free to list your key achievements and do not forget to insert some powerful action verbs in front of each bullet point when describing your work experience.
See the below sample resume work experience of a SAP consultant.
Great Example

Work Experience
SAP Consultant ABAP DevelopmentBoyum IT, FL (Mar 2014 – Nov 2019)
Managed and led a team of 10 junior SAP consultants to complete a deliverable within a program of work.
Troubleshot the server-side application issues and reduced the downtime by 98%.
Experienced in ERP platforms, architecture, and implementation.
Involved in 5+ full lifecycle implementations using ASAP Methodology including analysis, design development.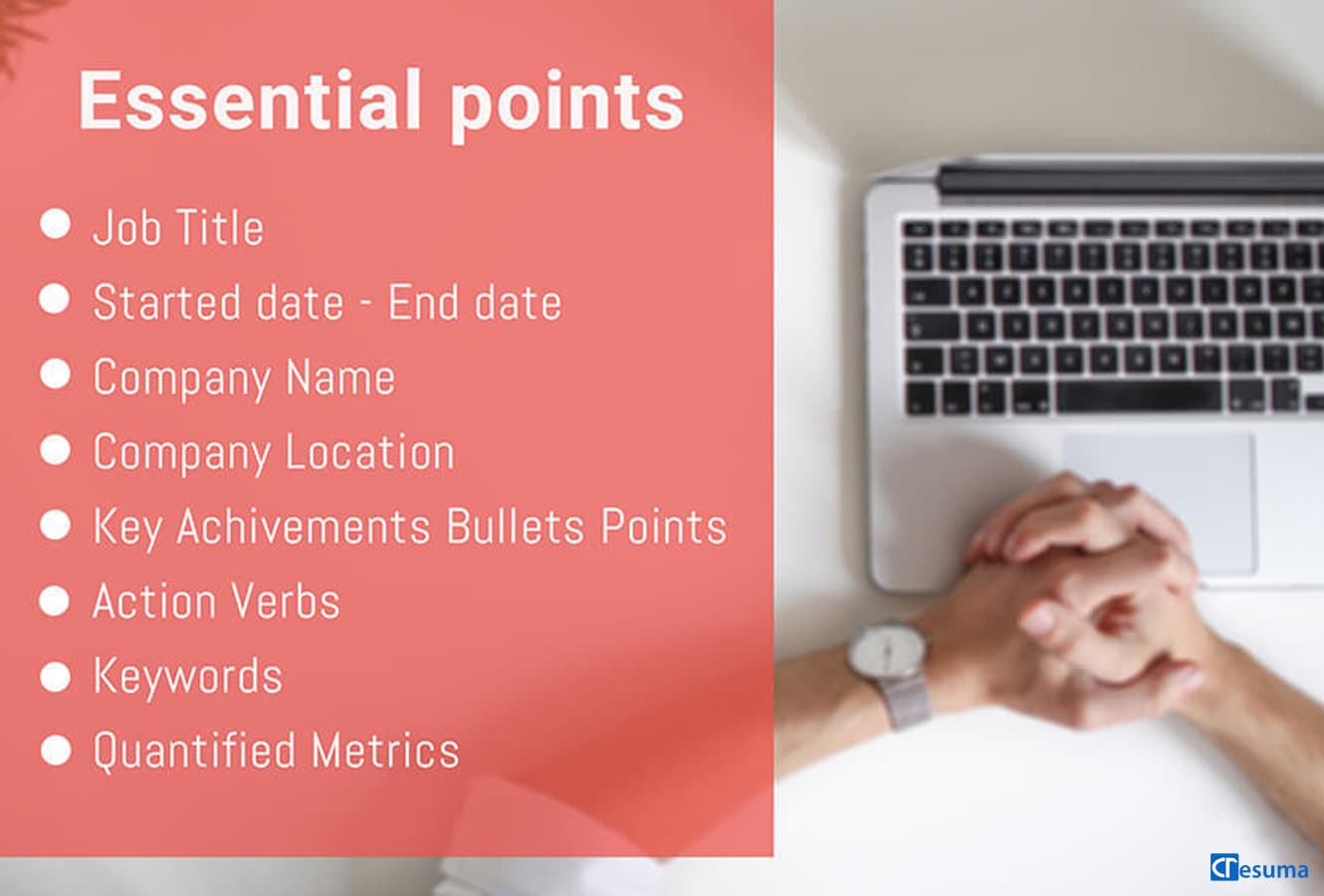 Educational Qualifications in SAP Consultant Resume
For an experienced SAP consultant, the education part is a very small thing. They can use this to mention their Relevant Educational Qualifications. But if they possess any SAP certificates they could be listed in the summary section or under a separate section instead of mentioning it here.
But if you are a junior consultant or intern looking for an opportunity in the SAP career path, you can use the resume education section very effectively and describe in detail the experience gained via your education.
To be successful in an SAP consultant position you need to have a strong knowledge of business processes. And you are required to have a bachelor's or master's degree in one of the following majors.
Business
Computer Science
Information Technology
Finance
Accounting
Management Information Systems
Management
Computer Engineering
Computer Applications
Marketing
Economics
Project Management
Supply Chain Management
Computer Information Systems
International Business
Graduates of Management Engineering, Industrial Engineering are also welcome to apply for SAP Consultant positions.
Mentioning these kinds of qualifications in your resume could easily impress the recruiters. Because many recruiters prefer well-educated candidates to fill their openings.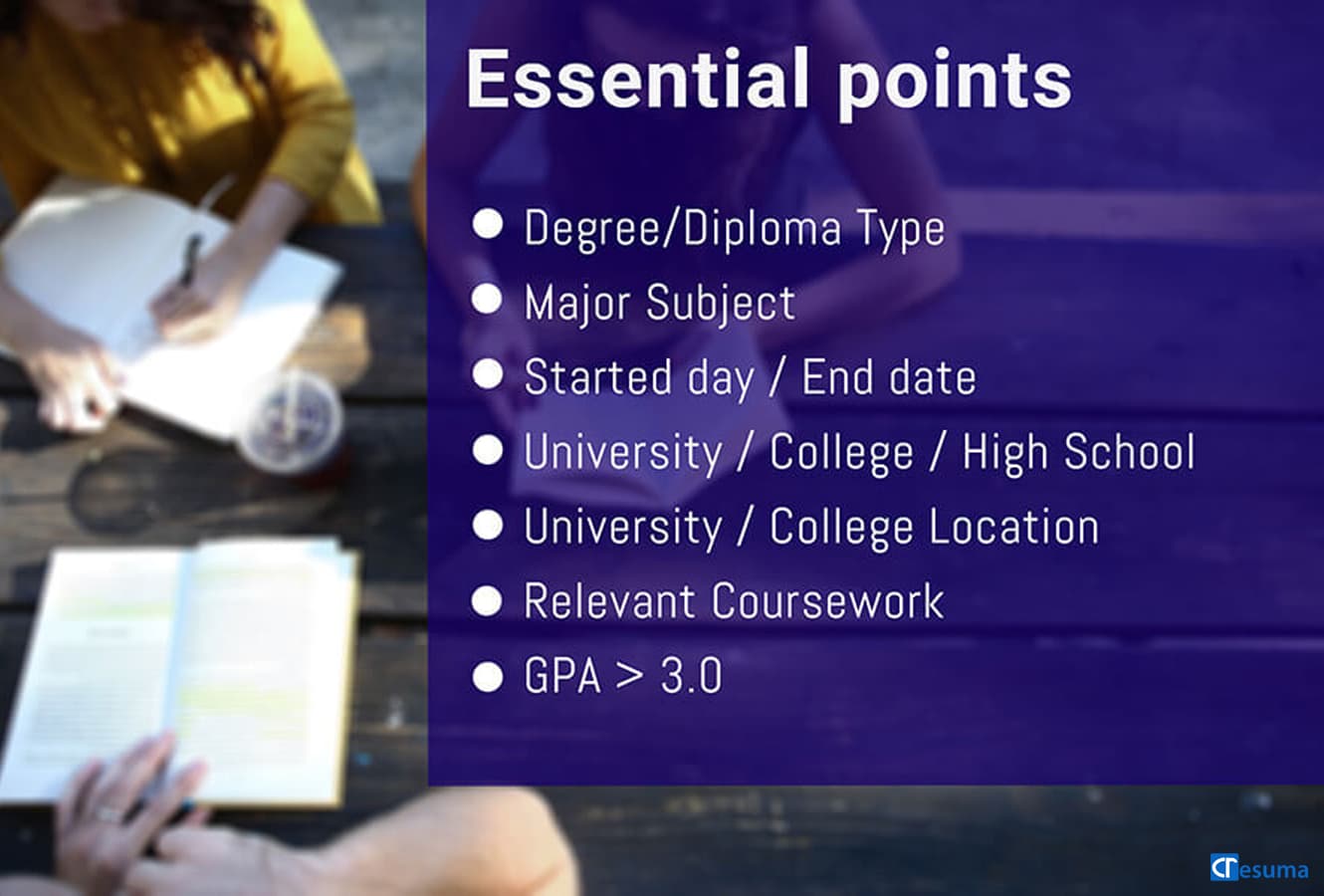 If you have many educational qualifications, mention only the relevant qualifications in your resume. And list your highest educational qualifications at the top and then the others in reverse chronological order. It is recommended to include your GPA if and only if it is above 3.0. Get the inspiration from the below sample education section of an SAP consultant resume.

Education
Bachelor's Degree in Information TechnologyFlorida International University, Miami, FL (Apr 2014 – May 2018)
Relevant Coursework: Database Management, Fundamentals of computer-based systems, Intermediate computer networks and Project Management in IT.GPA: 3.45
How to list SAP resume skills effectively
Skillful candidates always lead the job competition. The candidates with more relevant skills have more opportunities to land their dream job.
Therefore, if you manage to list all the relevant skills and knowledge of SAP modules and sub modules, you will be able to be first in the job hunt.
This is a great place to tailor your resume with those keywords found in the job description. Through that, you can have a well-written and tailored resume which is also ATS friendly.
Other than the skill requirements found in the job description, you can include the industry preferred skills in your resume too. It is very important to mention the knowledge and expertise on the latest SAP version SAP/4HANA, SAP NETWEAVER, etc. So that the recruiter feels that you have got the up-to-date relevant SAP knowledge.
Here are the most in-demand SAP skills in the resume of a SAP Consultant to make their resume stand out from the crowd.
SAP Skills
SAP B1 (SAP Business One)
SAP HANA
SAP BW (SAP Business Warehouse / SAP WM)
SAP FI-GL
SAP FI-AP
SAP FI-AR
SAP CO-PA
SAP CO-PC
SAP Solution Manager
LSWM
Fi/Co
IDoc
Prince 2
Agile
Crystal Reports
Other Technical Skills
Excel
Microsoft Office
MS Office
Word
Powerpoint
Oracle
SQL
Salesforce
ABAP Programming
Tableau
Outlook
Autocad
MS Project
Project Management Tools (Jira, Trello)
Sharepoint
Html
Best Soft skills for an SAP Consultant
Leadership skills
Problem-solving skills
Analytical skills
Teamwork
Marketing skills
Presentation skills
Negotiation skills
Project management skills
Organization skills
When listing the skills in your resume try to mention at least 10 or more skills. And make sure all those skills are relevant to the position you are applying for. Give priority to the required skill set mentioned in the job description.
Not only that but also if you could list some certifications related to SAP or ERP in your resume, those resumes will get more attention than those which don't have relevant certifications. If you have completed or currently follow any courses that will help you to enhance your relevant skills, mention them too in a separate section on your resume.
Avoid Buzzwords
This is one of the most important parts you need to keep in mind. No matter how perfect your writing is or how convincing the resume summary section has been put. If your SAP Consultant resume has buzzwords, there's a high tendency that your resume will get rejected by the hiring managers. Resume buzzwords are in its simplest form, are the words that have been overused. For example, if you have said that your are "leader", the hiring manager will see it just as another resume of a leader. He may not find anything special about it because, he/she has seen so many resumes using the same word. Therefore, it is advised to avoid buzzwords. because they simply kill your resume and reduces the chance of being getting selected for your SAP Consultant position.
How to check if your SAP Consultant Resume has buzzwords and fix them?
Checking if your resume has buzzwords is not easy most of the time. Because, buzzwords are sometimes tricky. They are difficult to be identified, specially when you hear about the resume buzzwords for the first time. Therefore, however, we have developed a way an easy way to do it. You can upload your cover letter or resume to the Cresuma Buzzword Checker and check how many buzzwords and action verbs you have on your resume and get aa full analysis report along with the pro tips to fix the problems. So that you could expect more calls to come from the recruiters
Best Action Verbs to make your SAP Consultant Resume Standout
If you use SAP industry-specific keywords in your resume, the recruiters will make it easy to find what they are looking for in candidates' profiles. And they would spend more time reading your skills and accomplishments.
You can use action verbs when writing the resume summary and when listing your accomplishments in the work experience section. Here are some great pieces of action verbs for you to use in your resume.
Managed
Troubleshooted / troubleshot
Involved
Implemented
Created
Analyzed
Configured
Customized
Dealt
Ensured
Facilitated
Figured
Maintained
Managed
Mentored
Monitored
Prepared
Frequently Asked Questions about SAP Consultant resumes
In which file format should I save my resume?
Your resume must save in PDF format. This is a universal file format that anyone can view the content from any device without harm to its original content.
What is the best font to use when making an SAP resume?
The SAP Consultant is a professional occupation. So that professionalism must have been conceived in his/her resume as well. Therefore, we recommend any font that maintains the professionalism to make your resume. For example, we can name best resume fonts like Calibri, Verdana, Helvetica, Didot, Times New Roman, etc.
Do I need to send a cover letter with my SAP Consultant resume?
Yes indeed. You have a better chance of winning your dream job in the ERP field if you have a great SAP consultant cover letter. Cover letterd are a great way to impress SAP recruiters.
Therefore don't forget to see our cover letter writing guide too. It will inspire you to have a great job-winning cover letter in 2023.
SAP Consultant Resume Sample (Text Version)
Brenda P Vanhouten
Senior SAP Consultant
816-250-9355
brendavanhouten@example.com
3320 Loving Acres Road Kansas City, MO
Summary
Result oriented, decisive leader with proven success in new market identifications and strategic positioning for software companies and retail organizations. An energetic SAP Consultant with 5+ years of experience in SAP implementation & ERP transformation. Experience in 10+ full lifecycle implementation using ASAP methodology.
Work Experience
SAP Consultant
Pristine Technologies, MO – Jan 2012 – May 2015
Created, Maintained, and modified existing queries on different Info Cubes related to FI/CO and MM modules.
Worked on production Defects on MM, SD, PP, PM, QM, HR, FICO modules, and prepared the Unit test document.
Set up the Master Data (Items, Business Partners, Price Lists, and Project Master Data) for 10+ clients as per their requirements.
Configured the projects module and the HR module for the companies which already implemented the system.
Education
Bachelor's Degree in Management Information Systems – (2013 – 2017)
Columbia University, NY
Relevant Coursework: databases for business and database systems, systems development and analysis, data communications, programming and business applications, etc.
Skills
SAP
SAP B1
MM
Deployment
SDLC
HANA
ABAP
Requirements Gathering
FICO
HCM
Consulting Experience
Business Process
Root Cause Analysis
ERP
Congratulations. Now you know how to build your SAP Consultant resume. Want to start building now? Click the below button
---
Our resume writers work hard to provide you the accurate and effective resume solutions for you. Care to appreciate their work?
Enjoyed Reading?
Help Cresuma cover the server and other costes to continue this 100% Free Service. Show your support below.