Mud Logger Cover Letter Examples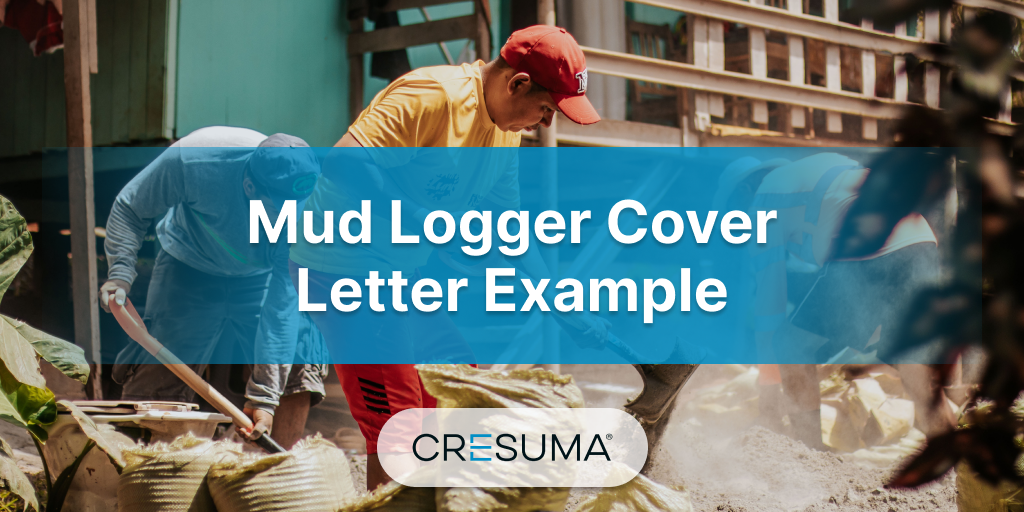 To be a successful mud logger you need to have a well written cover letter. Get the perfect mud logging cover letter ideas from these examples and improve the quality of your application. This article is especially for you, mud loggers.
Sample Mud Logger Cover Letter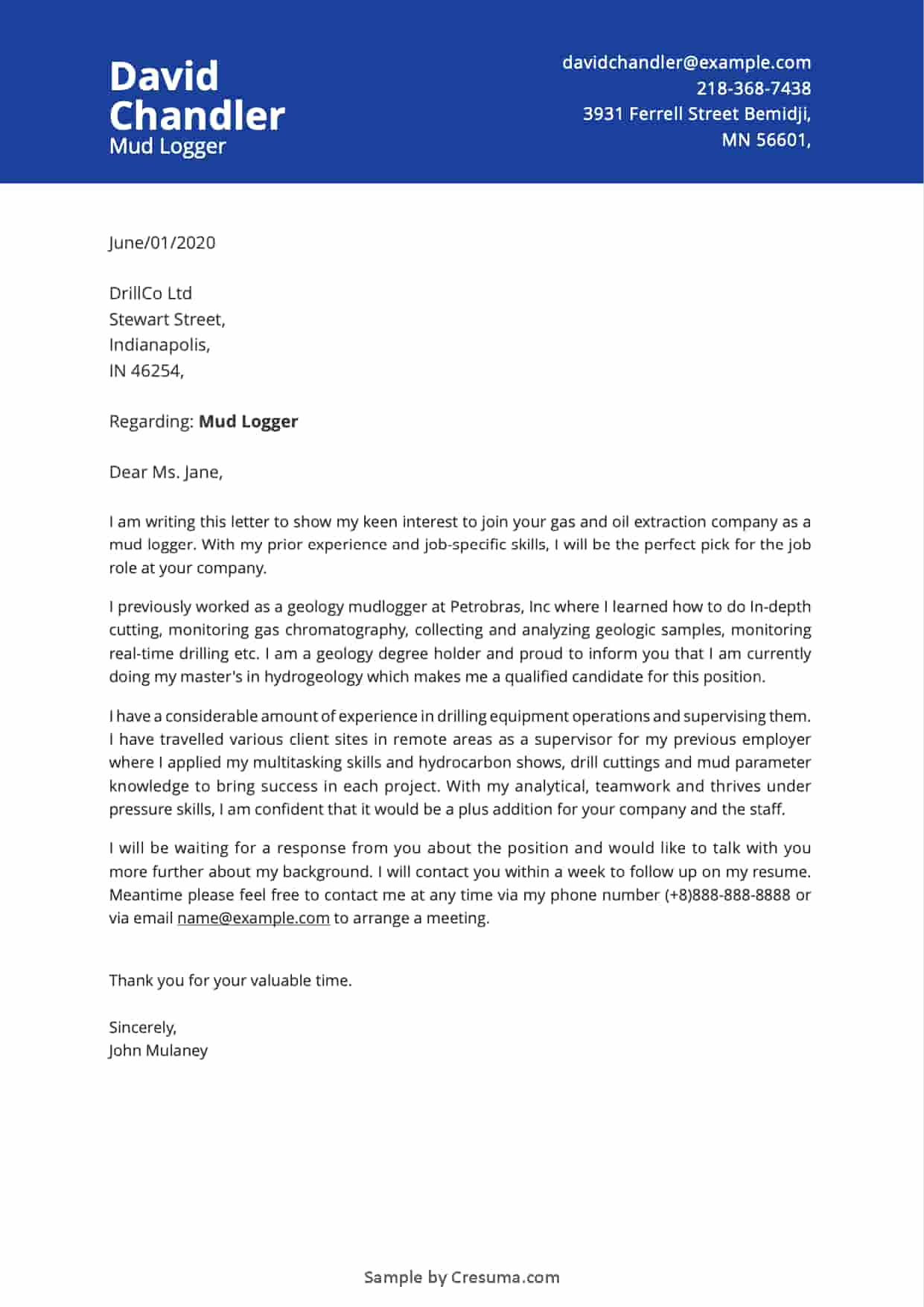 In today's world, being a mud logger is extremely hard. You have to have a degree in geology or science and more than 2+ years of related work experience to be a successful candidate for a mud logging job. You need not only theoretical skills, but also practical experience, because this is a very responsible job, and you need to be well-trained on the subject.
That's why the mud loggers are well paid and the companies prefer to hire more skilled staff. Your workplace is either a laboratory, a field, or an office. However, you have to be a strong supporter of your engineers and scientists, no matter where you work.
But there are very few individuals applying for these mud logging jobs. However, this is a highly qualified and data-intensive job, it is also an extremely challenging task to perform duties and it is also difficult to secure the position. But if you have a convincing mud logger cover letter, there would be a better chance of winning a job.
Mud Logger Cover Letter Example (Text Version)
David Chandler,
3931, Ferrell Street,
Bemidji, MN 56601.
218-368-7438
davidchandler@example.com
Hiring Manager,
DrillCo Ltd,
Stewart Street,
Indianapolis, IN 46254.
Dear Ms. Jane,
I am writing this letter to show my keen interest to join your gas and oil extraction company as mud logger. With my prior experience and job-specific skills, I will be the perfect pick for the job role at your company.
I previously worked as a geology mud logger at Petrobras, Inc where I learned how to do In-depth cutting, monitoring gas chromatography, collecting and analyzing geologic samples, monitoring real-time drilling etc. I am a geology degree holder and proud to inform you that I am currently doing my masters in hydrogeology which makes me a qualified candidate for this position.
I have a considerable amount of experience in drilling equipment operations and supervising them. I have travelled various client sites in remote areas as a supervisor for my previous employer where I applied my multitasking skills and hydrocarbon shows, drill cuttings and mud parameters knowledge to bring success in each project. With my analytical, teamwork and thrives under pressure skills I am confident that it would be a plus addition for your company and the staff.
I will be waiting for a response from you about the position and would like to talk with you more further about my background. I will contact you within a week to follow up on my resume. Meantime please feel free to contact me at any time via my phone number (+8)888-888-8888 or via email name@example.com to arrange a meeting.
Thank you for your valuable time.
Sincerely,
John Mulaney
Get Custom Mud Logger Cover Letter
As stated, this article provides a unique cover letter sample and tips to write a cover letter for the Mud Logger field. However, you can also create your own cover letter by downloading cover letter samples here for free. And if you require a professional to write your cover letter, you can request a custom cover letter in multiple formats for $4.99
Please continue with Paypal / Credit card for our specialist Premium Cover Letter Builders to work on customized Mud Logger Cover Letter exclusively for you.
Free Cover Letter
By choosing this, you will get a pack of free cover letter samples to download in different formats (eg.doc. pdf.txt) for FREE and create your own by editing.
How to write a Mud Logger Cover Letter
Make a good impression with a good cover letter header
A good cover letter header can be one of the winning factors for you. Always match the cover letter header with the resume header to increase the Recruiter's impression towards you. You have to place all your contact details in the cover letter header. When the recruiters need to contact you, he will use these details on your cover letter header.
That's why it is essential to place your personal phone number, home address, and private email address. You can provide links to your LinkedIn profile and all other related portfolio pages if there are any. So that hiring managers could get a clear idea of the background of the applicant.
Cover Letter Opening
Addressing the cover letter to the exact person is a very crucial task. But how do you find that to whom you should address the cover letter? That's why we need to research the company before getting started to write the cover letter. You can get this information by contacting the employer, or even you can browse the company website and social media profiles of the company employees. This will let the recruiter feel that you're passionate and enthusiastic to work in their company.
When writing the salutation, try to make it in a friendly way and do not make it more formal. If you can find the name of the hiring manager, you can use a simple salutation like "dear Elsa", or "dear Mr. Jackson Smith", etc. Or else you can even use "dear hiring manager", or "dear recruiter", if you are unsure about the name. But avoid using overly formal greetings like, "to whom it may concern", because that will spoil your resume quality to some extent.
The first paragraph of a cover letter is called an opener. An opener should express your sincere interest in joining with the company and should describe yourself as a passionate and enthusiastic person. You can have a kick start to your cover letter with an impressive cover letter opening. Here's a good example of a cover letter opening for a mud logger.
Dear Ms. Sylvia Browne,
It's a great pleasure to write to you with my keen interest to join your mudlogging company as a mud logger expert. With my bachelor's degree in Geology and the 5+ years of working as a wellsite geologist, I have the exact skills and technical knowledge you are looking for which makes me a perfect candidate for this position.
Cover Letter Body for Mud Logger
Cover letter body is the place to showcase the specific expertise, experience and accomplishments that can serve to improve the recruiter's impression. At the end of this section, you can find the most crucial soft skills and hard skills you should have to become a perfect mud logger applicant. Use them to explain your expertise in the field, in your cover letter body.
If you have any related professional or educational qualifications, don't hesitate to mention them also here. Employers do not select applicants for their positions without any applicable professional credentials. Employers typically favor applicants with geology or chemistry-related degrees.
Good Cover Letter Body Example
I am a focused graduate with attention to detail and I managed to accrue 2+ years of work experience in a well reputed mudlogging company provided me with the knowledge of data analyzing techniques and sharpened industry-specific software skills. I am very happy to tell you that I have the following skills which closely match with your required set of skills.
In-depth knowledge in cutting description.
Analyze and collect geologic samples.
Thorough understanding of Hydrocarbon Analysis.
Highly skilled in calibration and general laboratory equipment maintenance.
Reporting and recording.
I can assure you the efficiency, cost control and safety by providing a detailed record of the geology, oil and gas shows. My problem-solving skills, decision-making skills and analytical skills will make me a much helpful character for your staff as well as the company.
Ending your Mud logger cover letter with a proper closer
In the closing paragraph, you need to express your enthusiasm for joining the company, again in a few lines. Also, write a great call to action by providing your email address and phone number. Tell the recruiter you want to have a meeting with him. If you have any work gaps in your mud logger career, please do not hesitate to explain them eloquently.
Finally , thank the recruiter for spending their valuable time on reading your cover letter. After you could include a formal closing and your signature or your name. See the examples below.
Bad example of a mud logger cover letter
I would like to have a chat with you about this position. I know you will help me to get this job as you are one of my good friends. Remember the crazy things we did in college? Will talk about them also. I think you have my phone number saved in your mobile. Let me know if you have a convenient meeting time.
Your school mate,
Johnny the Nappy
Good example of a mud logger cover letter
It would be a privilege to discuss more on this role with you. Hope you are impressed with my skills and the experience. Also, I hope that I am the perfect candidate you are looking for. Please contact me at name@example.com via email and or at (+1) 123 456 7890 via phone to arrange a convenient meeting time. During our meeting, I would love to explain the work experience gap on my resume, at which time I was doing my master's degree in geology.
Thank you for consideration.
Sincerely,
John Swigert
Best Skills to Apply on a Mud Logger Cover Letter
Soft Skills
Analytical Skills – Analytical skills are a kind of skill that refers to the ability to collect and analyze data or information, solving the problems, and making good decisions. You have to examine and analyze geological data using different experimentation, techniques, and industry-specific software. Without a good ability to analyze, you won't succeed in the mud-logging field.

Communication Skills – Communication skills refer to the ability of understanding and producing a different kind of information while listening, speaking, observing through face-to-face interactions, phone conversations or digital communications.

Interpersonal Skills – Geological and petroleum technicians need to work well with other team members to achieve certain targets. Therefore, interpersonal skills are much more needed for a typical mud logger. Interpersonal skills are the habits or manners that are maintained by people when they interact and communicate with others. Furthermore, active listening, responsibility, teamwork, motivation, patience, and leadership are some examples of interpersonal skills.

Critical thinking Skills – Critical thinking refers to the ability to think intelligently, reasonably, or sensibly with a good understanding of the logical connection between the opinions, concepts, and ideas.

Multitasking Skills – Multitasking skill refers to the ability to manage multiple duties or responsibilities smoothly at the same time.
Technical Skills
Computer based data acquisition.
Familiar with GIS, Geoprobe, SeisEarth etc.
Good knowledge in Ultraviolet Fluorescence.
Laboratory equipment maintenance.
Skilled in Geology and Seismic Software.
Best Action Verbs for a Mud Logger Cover Letter
Analyzed
Calculated
Collected
Maintained
Monitored
Oversaw
Recorded
Reported
Tested
Utilized
Download Free Mud Logger Cover Letters
Find the available free templates and download Gdoc, Word (docx) or PDF files for free.
Template 1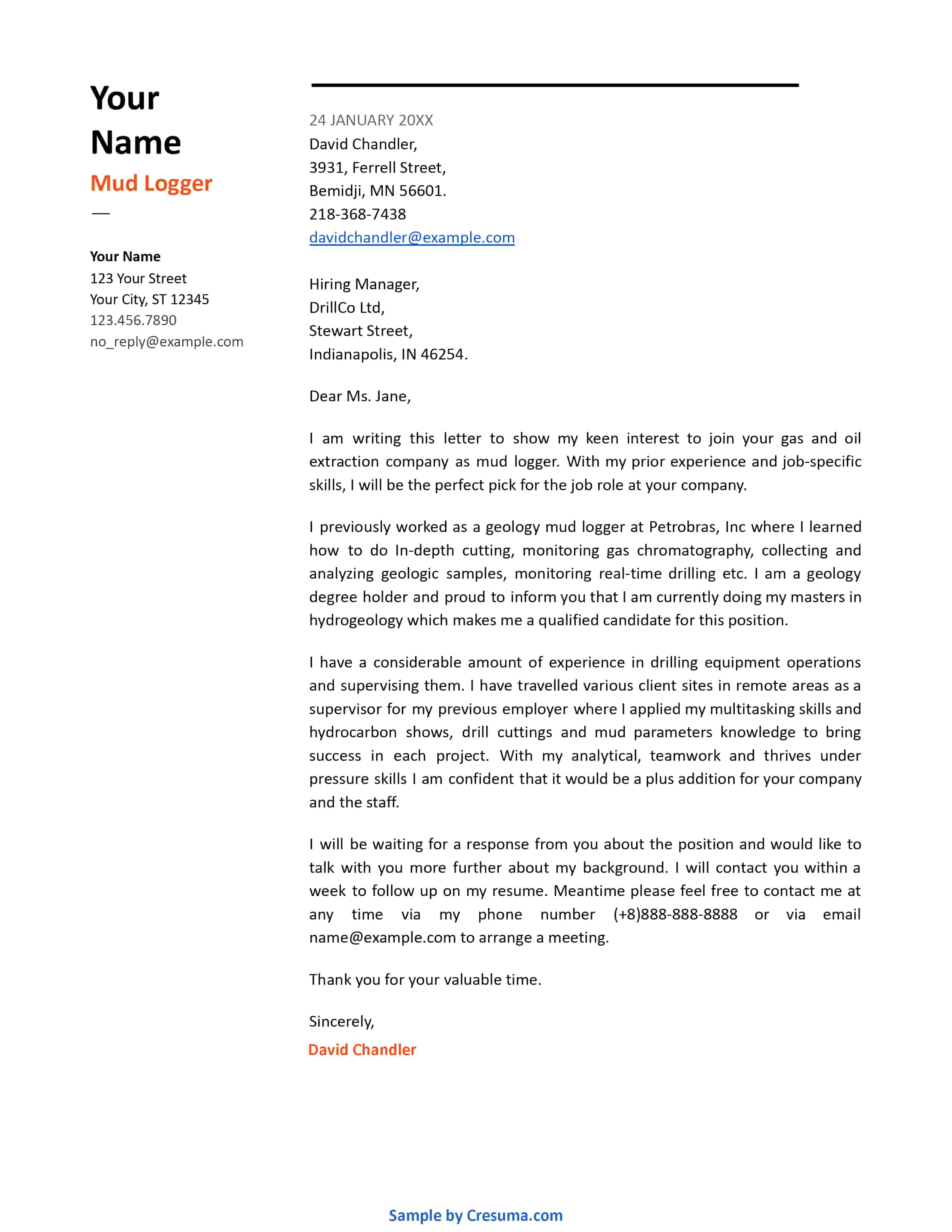 Template 2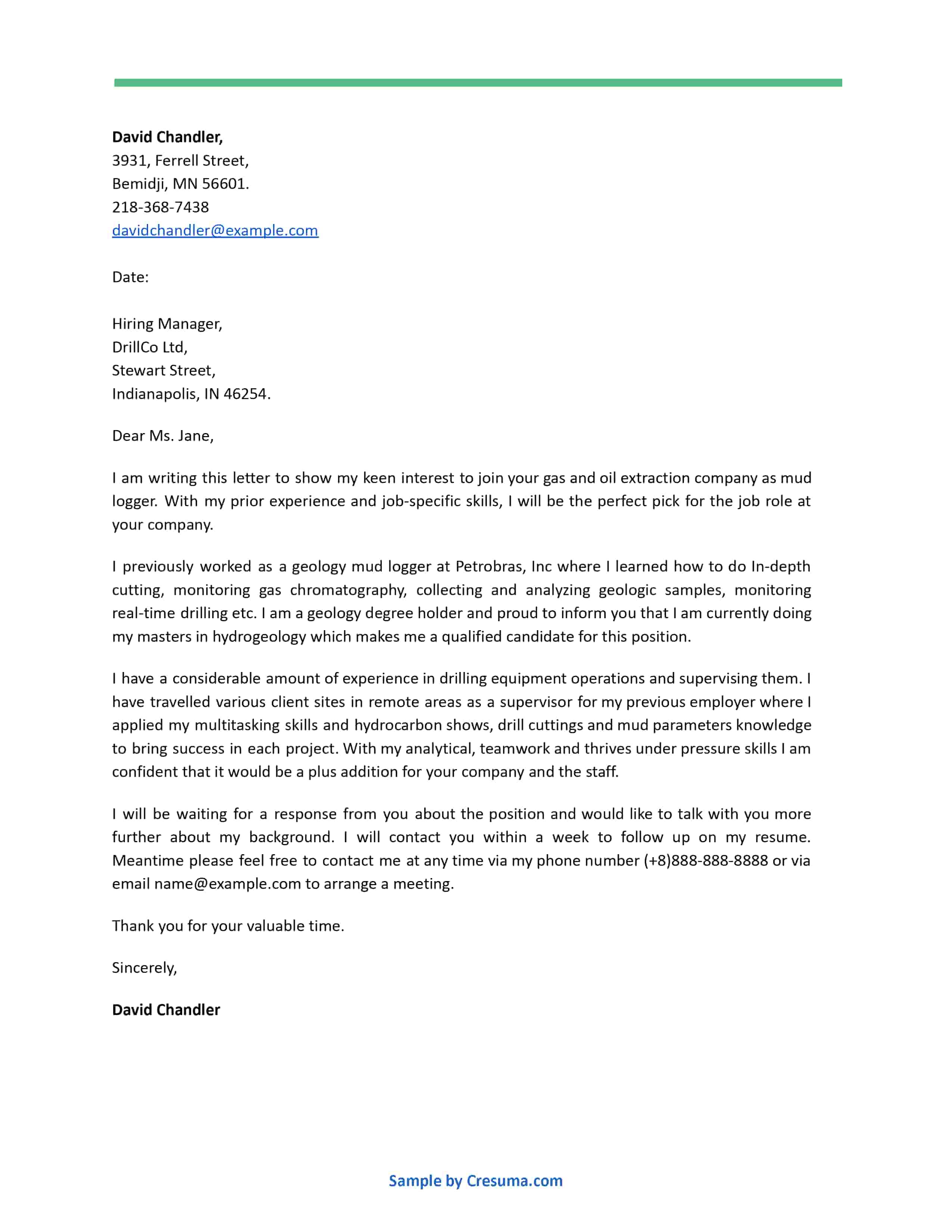 Template 3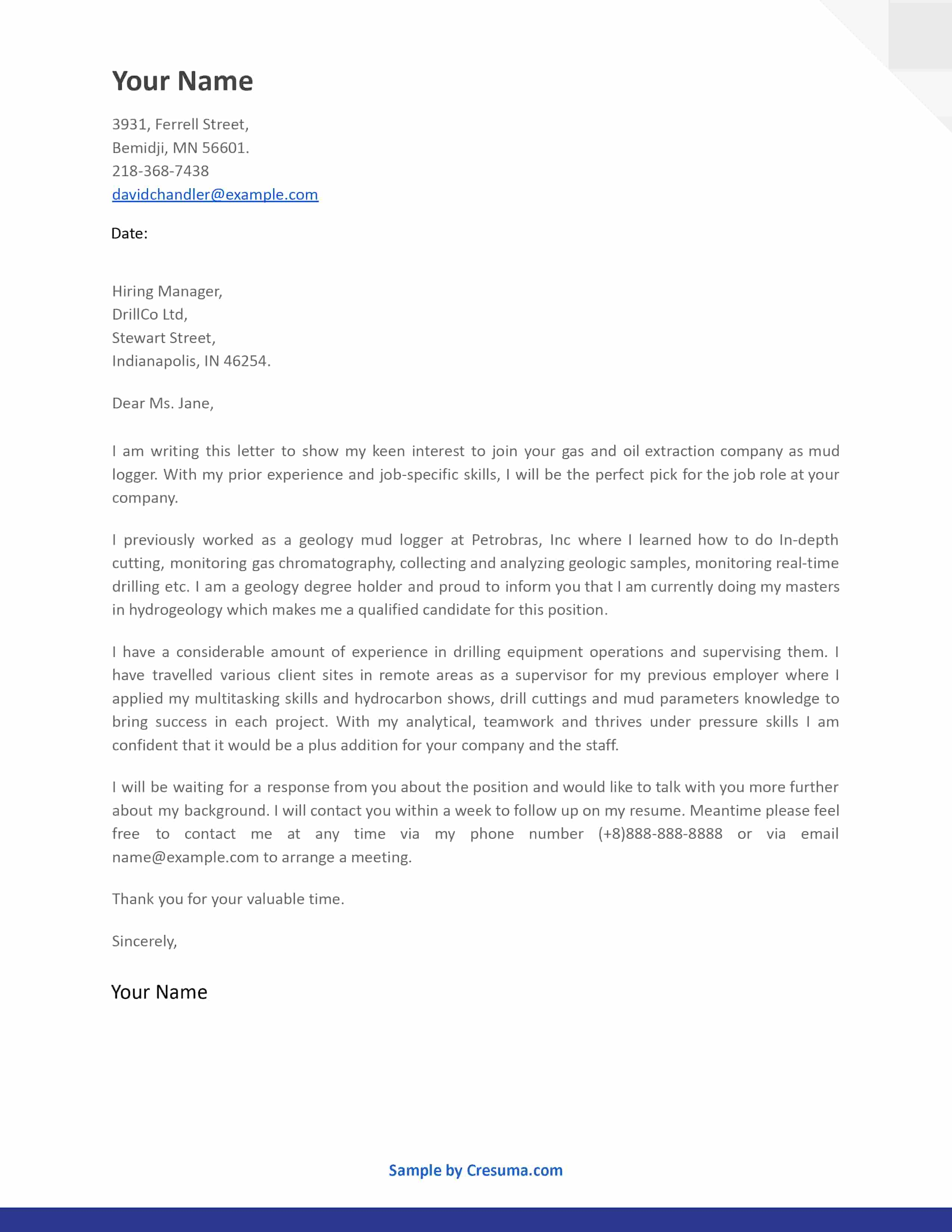 Template 4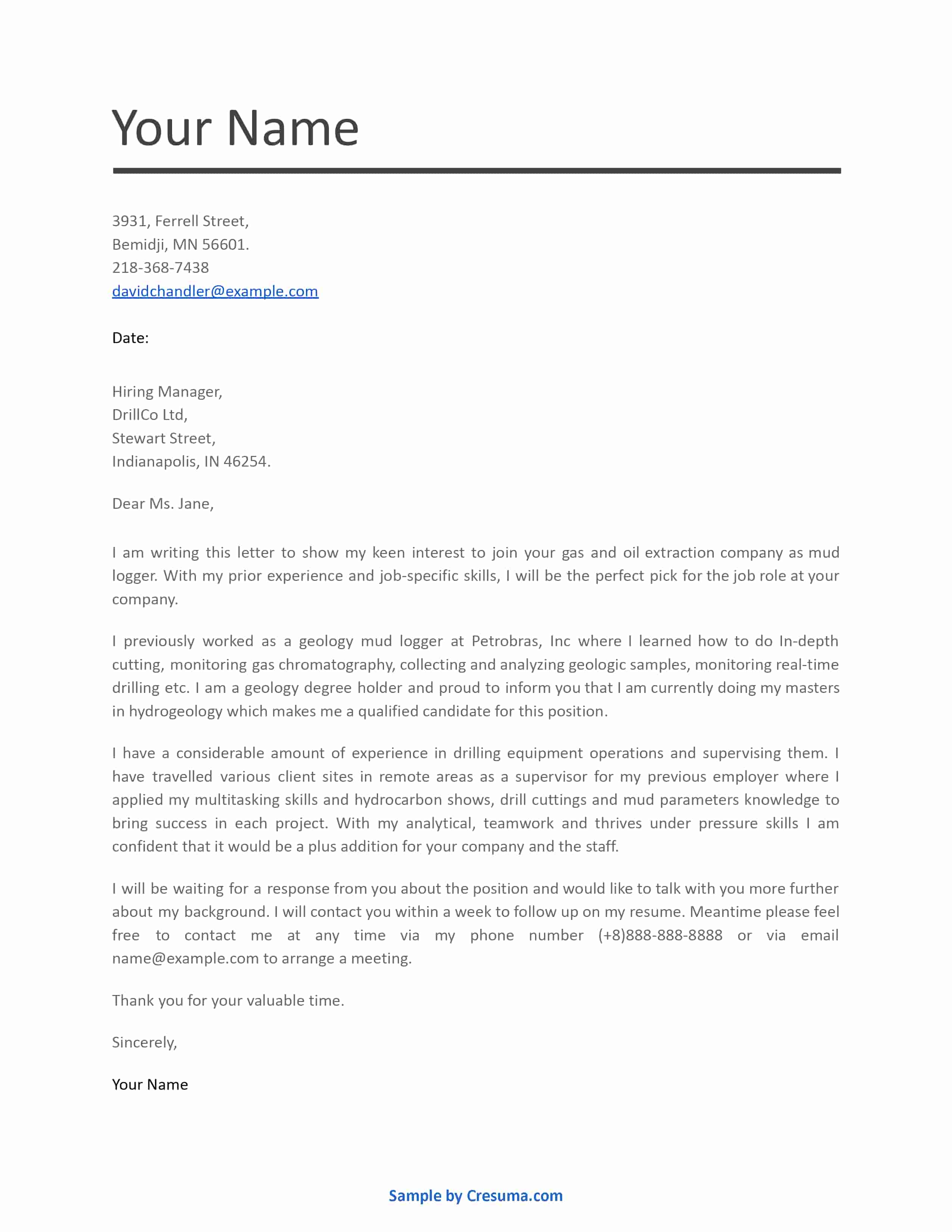 Template 5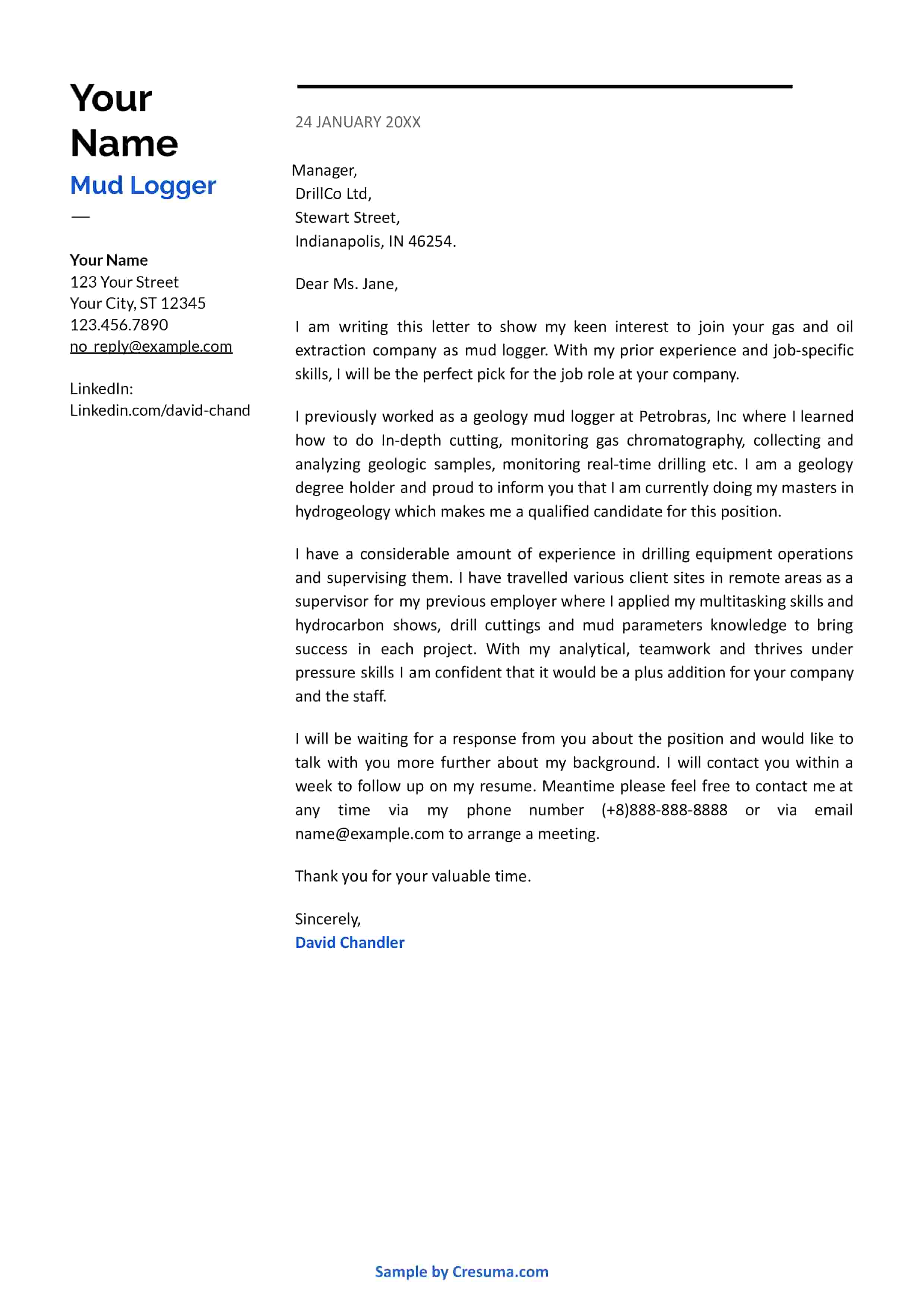 Now you know how to make a perfect cover letter for a Mud Logger job. Now it's your turn to learn the expert cover letter tips. and shorten your job search cycle.
Looking for a custom cover letter? Get unique one crafted specially for you from Cresuma experts
People who read this article also read: Mud Logger Resume Example
Want to see the cover letters for other job positions and industries? Head over to Cover Letter Examples 2023
Enjoyed Reading?
Help Cresuma cover the server and other costes to continue this 100% Free Service. Show your support below.