Certified Nursing Assistant Cover Letter Example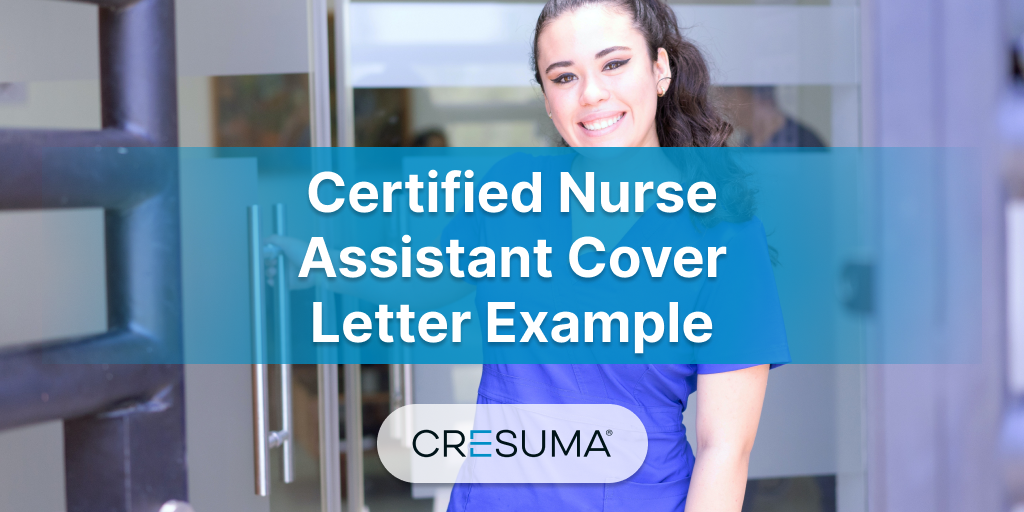 Did you know that a nursing assistant is a trending job in the current world? Even though the CNA demand is getting higher in the Healthcare Industry, you need to have an ideal cover letter to get your job done. So why don't you give it a try to improve your cover letter?
Sample Certified Nursing Assistant Cover Letter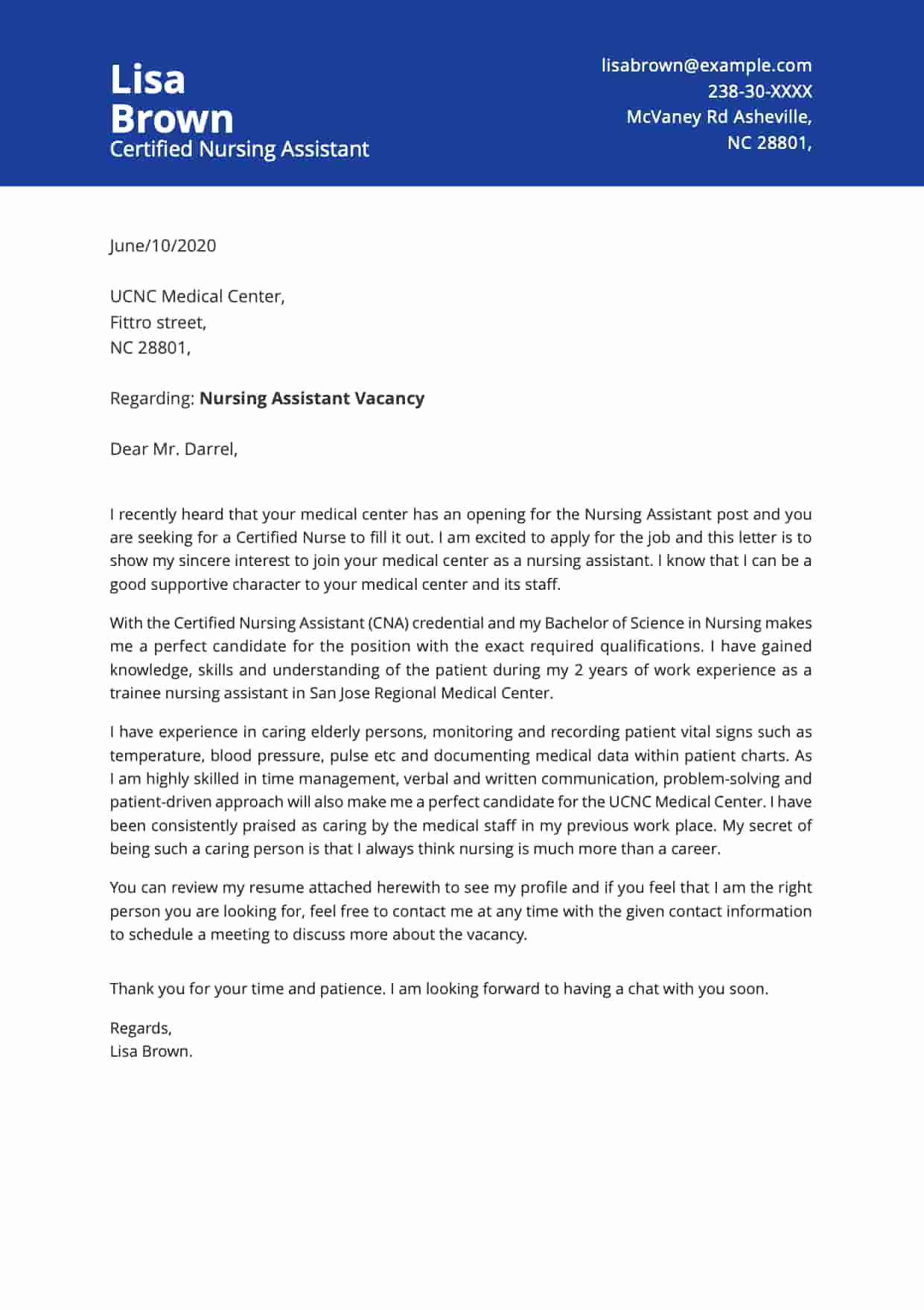 As a certified nursing assistant candidate, writing a good cover letter is an important matter. Therefore make sure the cover letter is original and specially tailored with the keywords from the job advertisement. But don't forget to customize the cover letter with the appropriate nursing skills, credentials, and certifications that will help to make your resume stand out from the rest.
By showcasing quantified results accompanied by strong resume action verbs. for all of your milestones and achievements, you can add additional value to your cover letter. A cover letter should not be a duplicate version of the resume. See the sample cover letter below for a CNA to learn how to compose a job-winning personalized cover letter
Lisa Brown,
McVaney Rd, Asheville
NC, 28801
238-30-XXXX
lisabrown@example.com
Darrel Lockhart,
HR Manager,
UCNC Medical Center,
Fittro street,
NC, 28801
Rg: Nursing Assistant Vacancy
Dear Mr. Darrel,
I recently heard that your medical center has an opening for the Nursing Assistant post and you are seeking for a Certified Nurse to fill it out. I am excited to apply for the job and this letter is to show my sincere interest to join your medical center as a nursing assistant. I know that I can be a good supportive character to your medical center and its staff.
With the Certified Nursing Assistant (CNA) credential and my Bachelor of Science in Nursing makes me a perfect candidate for the position with the exact required qualifications. I have gained knowledge, skills and understanding of the patient during my 2 years of work experience as a trainee nursing assistant in San Jose Regional Medical Center.
I have experience in caring elderly persons, monitoring and recording patient vital signs such as temperature, blood pressure, pulse etc and documenting medical data within patient charts. As I am highly skilled in time management, verbal and written communication, problem-solving and patient-driven approach will also make me a perfect candidate for the UCNC Medical Center. I have been consistently praised as caring by the medical staff in my previous work place. My secret of being such a caring person is that I always think nursing is much more than a career.
You can review my resume attached herewith to see my profile and if you feel that I am the right person you are looking for, feel free to contact me at any time with the given contact information to schedule a meeting to discuss more about the vacancy. via email name@example.com to arrange a meeting.
Thank you for your time and patience. I am looking forward to having a chat with you soon.
Regards,
Lisa Brown.
PS – I would love to tell you how I assisted 1000+ residents in toileting, bathing, dressing and grooming in our meeting.
Get Custom Certified Nursing Assistant Cover Letter
As stated, this article provides a unique cover letter sample and tips to write a cover letter for the Nursing Assistant field. However, you can also create your own cover letter by downloading cover letter samples here for free. And if you require a professional to write your cover letter, you can request a custom cover letter in multiple formats for $4.99
Please continue with Paypal / Credit card for our specialist Premium Cover Letter Builders to work on customized Certified Nursing Assistant Cover Letter exclusively for you.
Free Cover Letter
By choosing this, you will get a pack of free cover letter samples to download in different formats (eg.doc. pdf.txt) for FREE and create your own by editing.
Recommended Skills and Qualities of a Certified Nursing Assistant
Attention to detail
Basic Clinical Skills
Counselling Skills
Decision-making Skills
Empathy
Listening Skills
Patience
Self awareness
Best Action Verbs for a CNA Cover Letter
Assisted
Checked
Counseled
Documented
Ensured
Helped
Maintained
Monitored
Provided
Reminded
Represented
Served
Supported
Trained
Download Free Certified Nursing Assistant Cover Letters
Find the available free templates and download Gdoc, Word (docx) or PDF files for free.
Template 1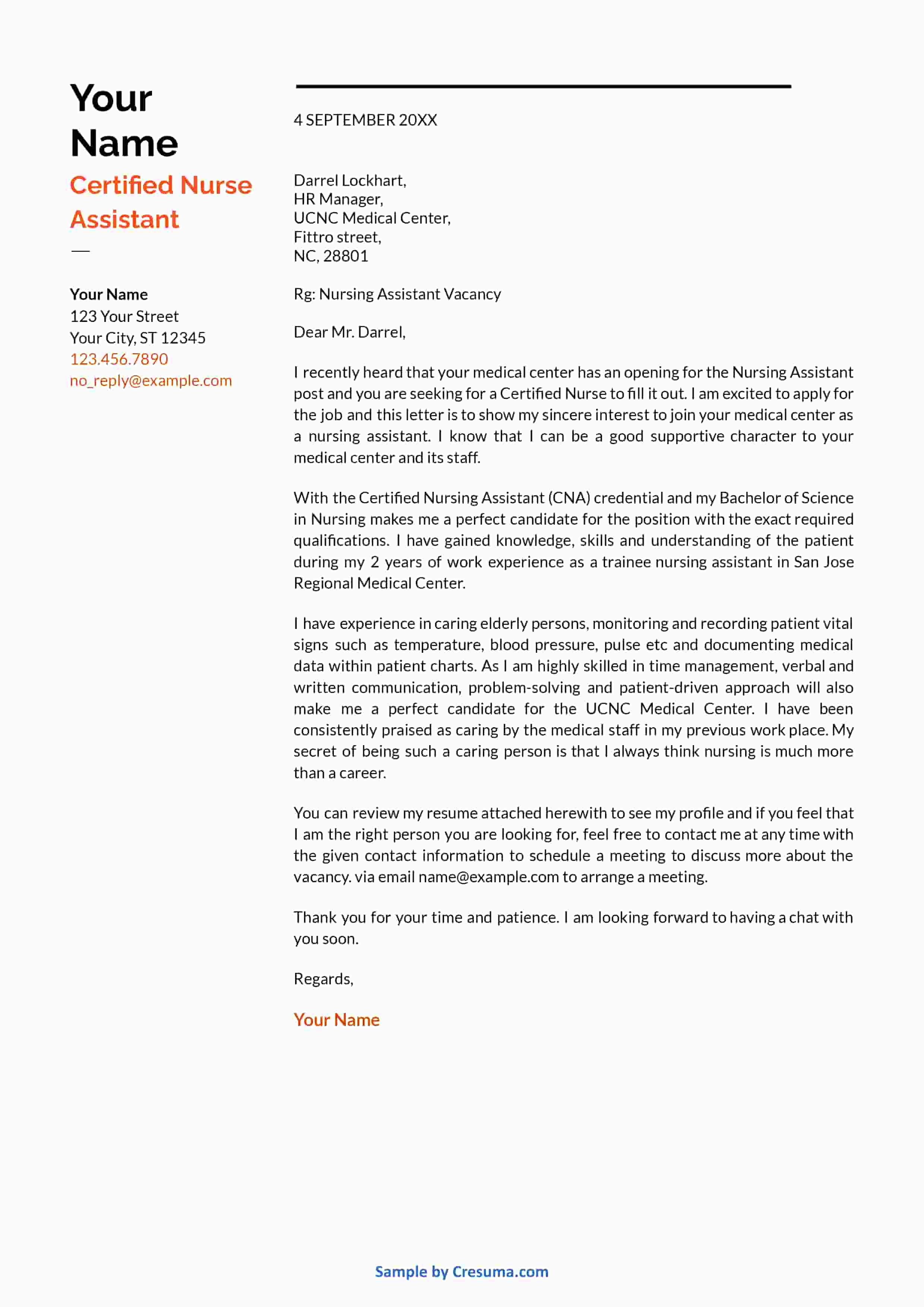 Template 2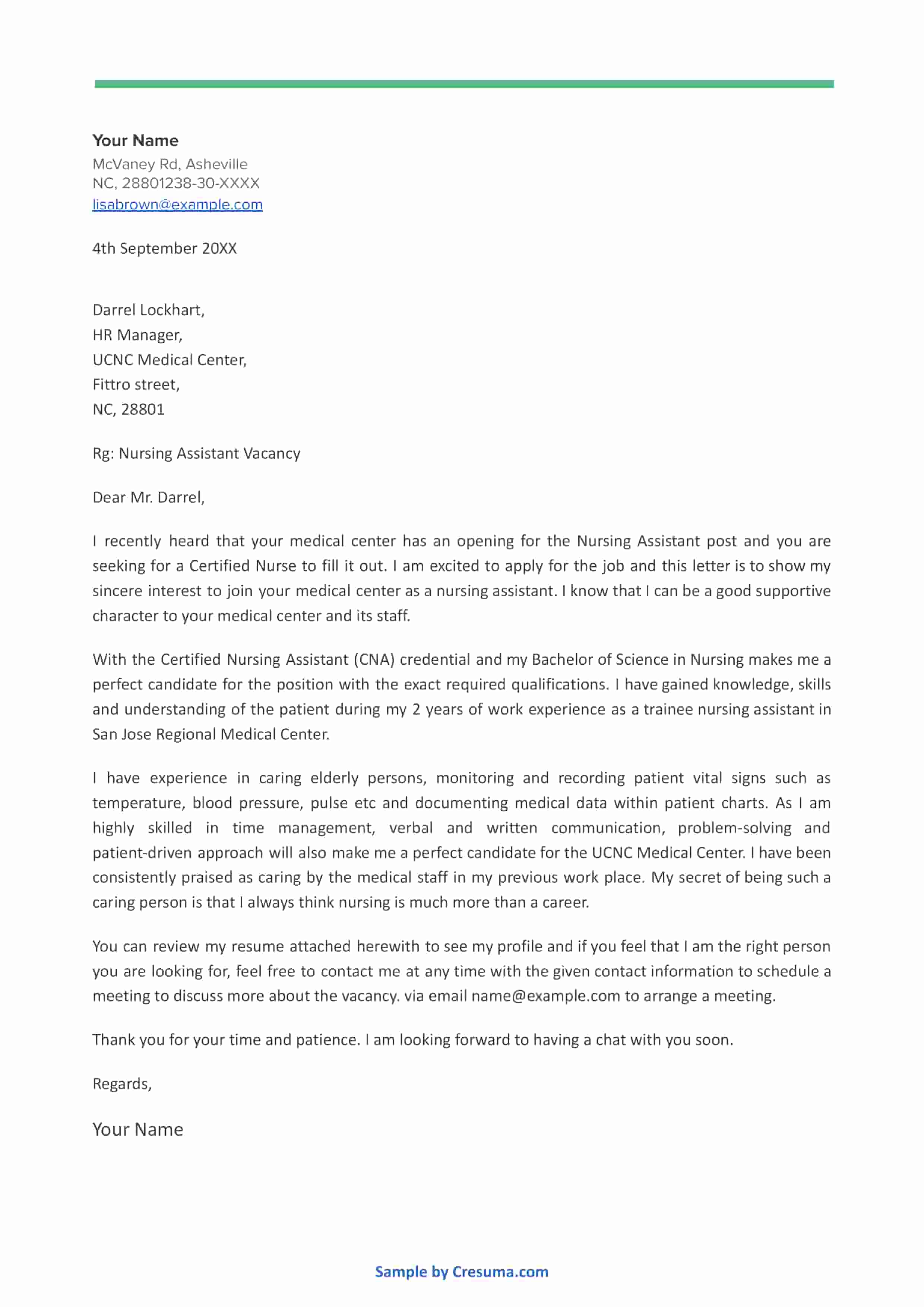 Template 3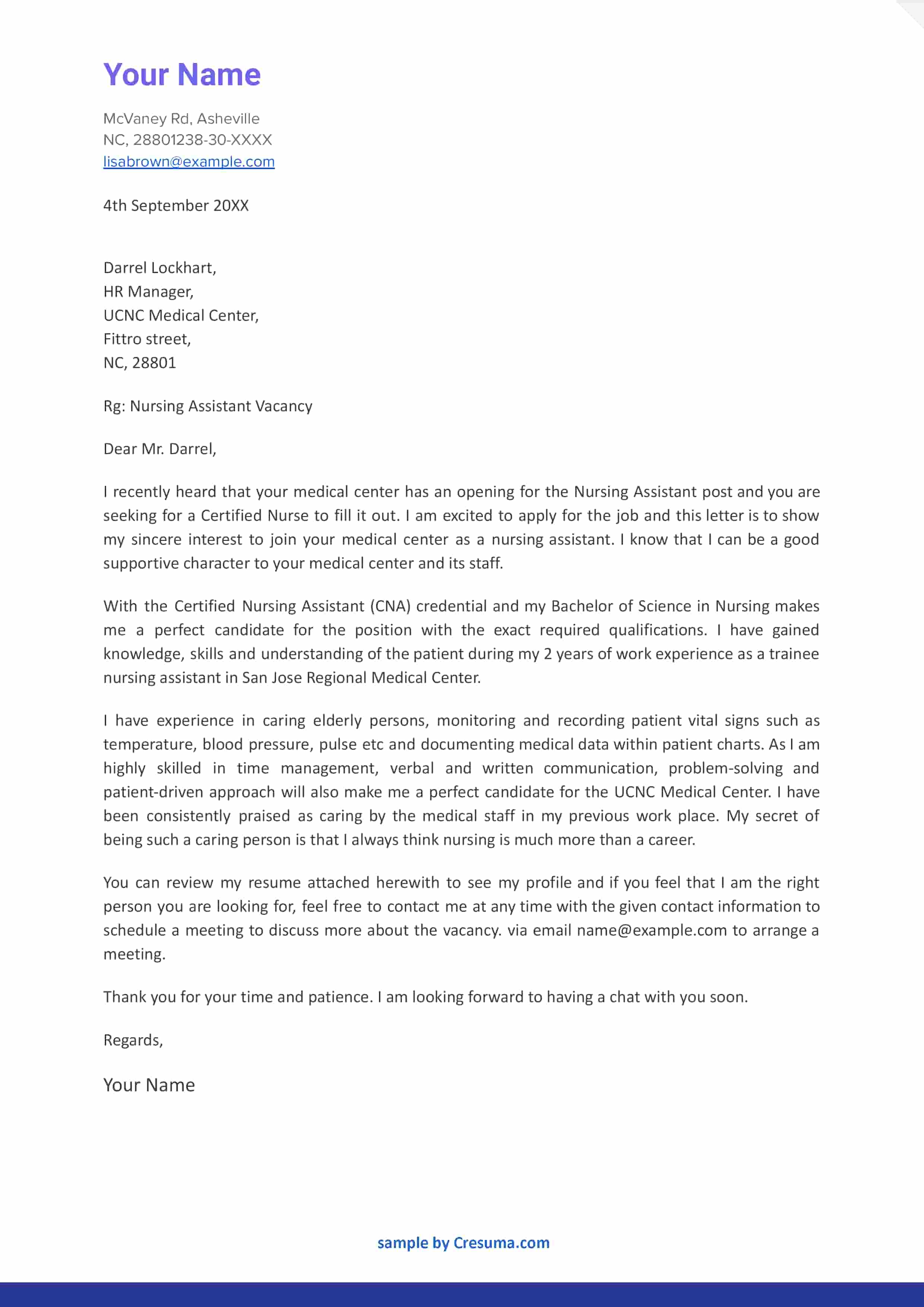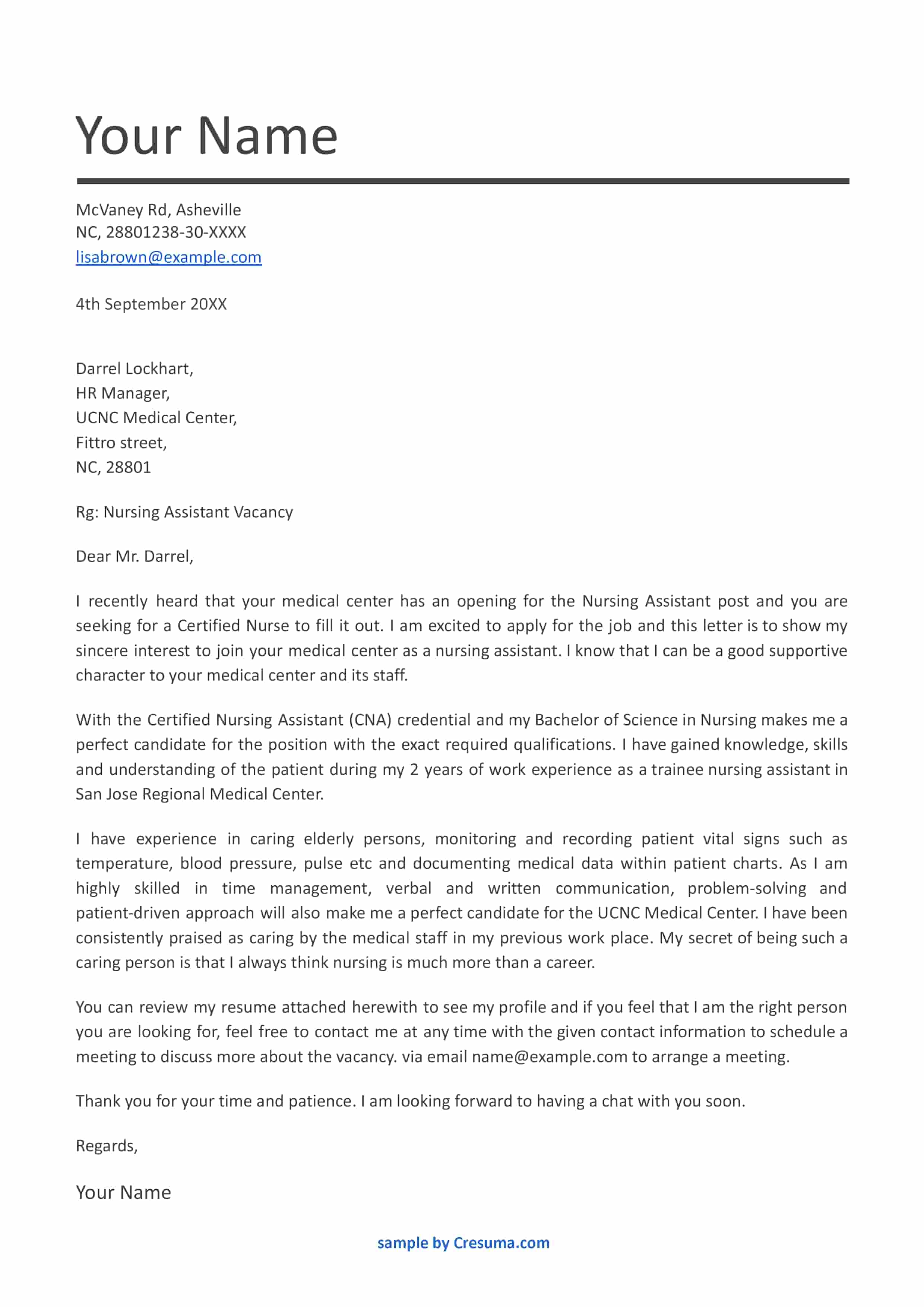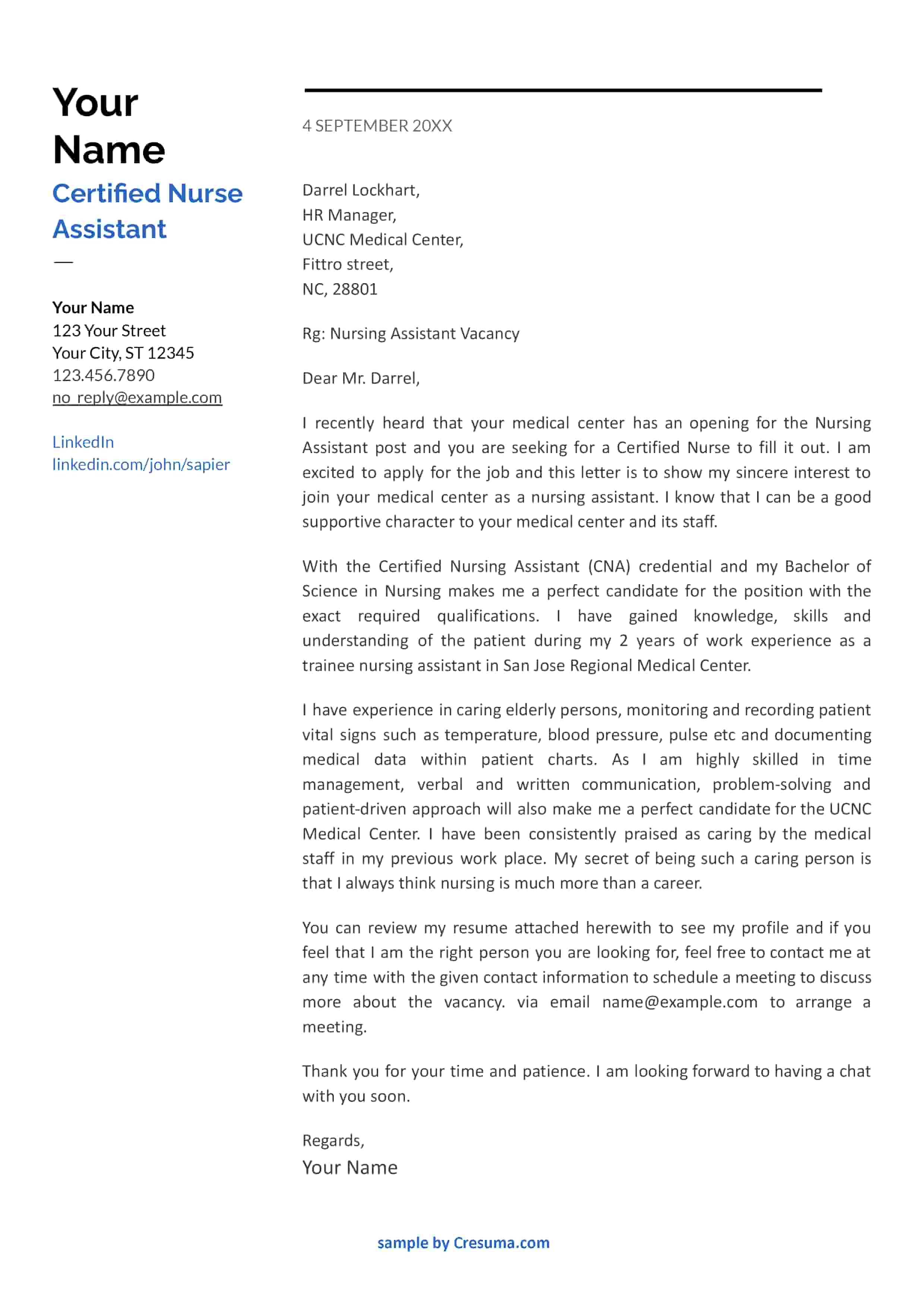 FAQ
How long should my CNA cover letter be?
There is no particular cover letter length because it depends on the level of expertise and qualifications. But the word count should be anywhere between 200-300. Then, present your career story concisely, and impressively, under this word count.
How can I tailor my cover letter for a CNA job?
Carefully read out the job description. Pick keywords and note them in a separate paper. These words or phrases may be the competencies or duties of a CNA. Use those words when you write your cover letter and when describing your accomplishments.
Now you know how to make a perfect cover letter for an Certified Nursing Assistant job. Now it's your turn to learn the expert cover letter tips. and shorten your job search cycle.
Looking for a custom cover letter? Get unique one crafted specially for you from Cresuma experts
People who read this article also read: Top 7 Hacks to Tweak your Resume Instantly