SEO Specialist Cover Letter Example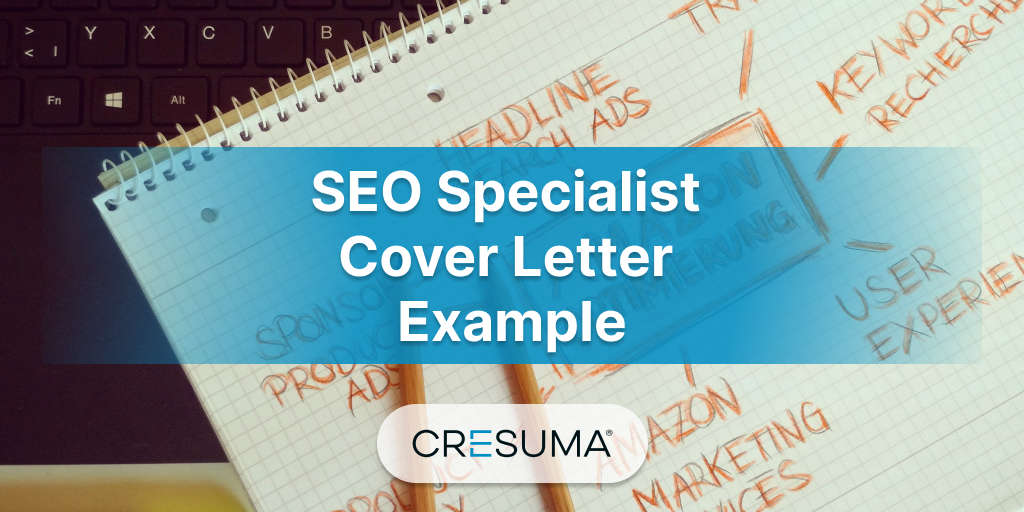 A good cover letter is not the only thing you need to have when you apply for an SEO role. Indeed you need to have a set of technical skills and certain experience to become an SEO specialist. If you avail with those requirements, see our sample cover letter and build your own letter to get noticed.
Sample SEO Specialist Cover Letter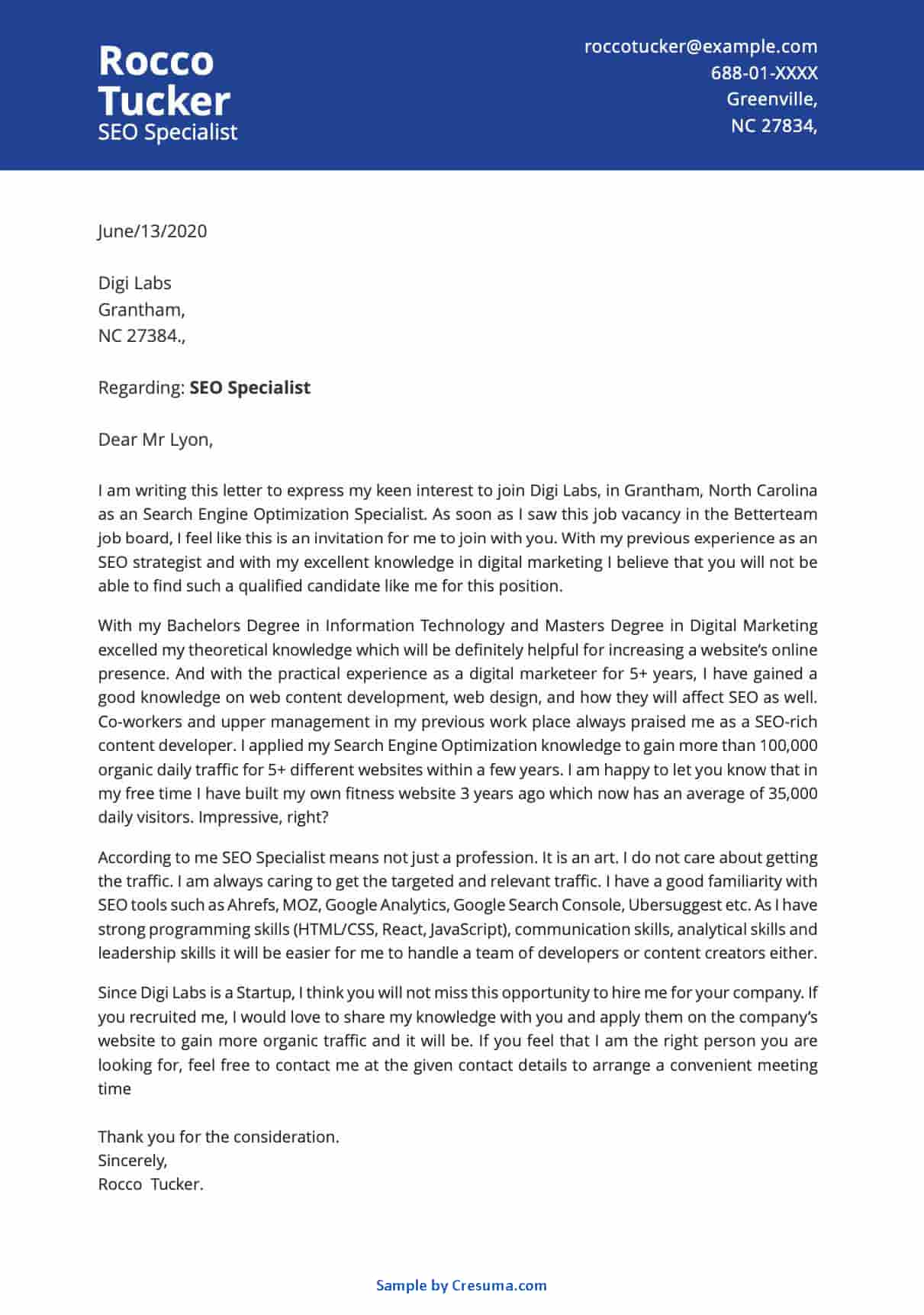 You should use an excellent cover letter when applying for a job in the technical field, such as IT. Since it is a highly competitive industry, you need to sell and demand yourself more than any other industry. SEO specialists need excellent writing skills to be effective in their place.
A recruiter can unquestionably test your writing skills by looking at your cover letter. It is, therefore, necessary to make a perfect cover letter to apply for an SEO position, and you do need to prove yourself to the recruiter as a wordsmith.
SEO Specialist Cover Letter Example (Text Version)
Rocco Tucker,
Greenville,
NC 27834.
688-01-XXXX
roccotucker@example.com

Lyon Martin,
Hiring Manager,
Digi Labs, Grantham,
NC 27384

Rg: Application for the post of SEO Specialist
Dear Mr. Lyon,
I am writing this letter to express my keen interest to join Digi Labs, in Grantham, North Carolina as a Search Engine Optimization Specialist. As soon as I saw this job vacancy in the Betterteam job board, I feel like this is an invitation for me to join with you. With my previous experience as an SEO strategist and with my excellent knowledge in digital marketing I believe that you will not be able to find such a qualified candidate like me for this position.
I have a Bachelor's Degree in Information Technology and a Masters Degree in Digital Marketing. They helped me to excel my theoretical knowledge which will be definitely helpful for increasing a website's online presence. And with the practical experience as a digital marketer for 5+ years, I have gained a good knowledge of web content development, web design, and how they will affect SEO as well. Co-workers and upper management in my previous workplace always praised me as an SEO-rich content developer because I applied my Search Engine Optimization knowledge to gain more than 100,000 organic daily traffic for 5+ different websites within a few years with unique content development. I am happy to let you know that in my free time I have built my own fitness website 3 years ago which now has an average of 35,000 daily visitors. Impressive, right?
According to me SEO Specialist means not just a profession. It is an art. I do not care about getting traffic. Yet I am always caring to get targeted and relevant traffic. I have a good familiarity with SEO tools such as Ahrefs, Moz, Google Analytics, Google Search Console, Ubersuggest etc. As I have strong programming skills (HTML/CSS, React, JavaScript), communication skills, analytical skills and leadership skills it will be easier for me to handle a team of developers or content creators either.
Since Digi Labs is a Startup, I think you will not miss this opportunity to hire me for your company. If you recruited me, I would love to share my knowledge with you and apply them on the company's website to gain more organic traffic and it will be. If you feel that I am the right person you are looking for, feel free to contact me at the given contact details to arrange a convenient meeting time.
Thank you for your consideration.
Sincerely,
Rocco Tucker.
Tips to improve your SEO Specialist Cover Letter
You need to describe how you are going to perform the backlink and link building strategy, how to gain organic search traffic to the company's website, and the marketing plan, etc.
If you are a beginner in cover letter writing, you can be educated from our complete cover letter guide. or recruiter's scan.

Try to list some of your digital marketing career achievements using relevant action verbs and quantified results

Let your recruiter know that you are well-versed in modern technology and the latest SEO tools when demonstrating your knowledge of SEO and digital marketing. Therefore, try to add some SEO tools such as Moz, Moz Pro, SEMrush, Ahrefs, Google Analytics, Google Search Console, Keyword Planner, Ubersuggest, Screaming Frog, Google Trends, etc.
Show that you are good at analytical skills. This skill is necessary for an SEO role when researching keywords and also will be helpful to identify the pages with the most traffic.
Time to time, the trends in digital media marketing and search engine algorithms are changing and improving. Recruiters, therefore, prefer a candidate with up-to-date knowledge for the SEO specialist job. Due to this, it is necessary to note in your cover letter the passion for learning new technologies and the motivation for career development and professional growth.

Get Custom SEO Specialist Cover Letter

Doing this may all perhaps wary you or will consume a lot of your personal time. Well, in that case, you can also create your own cover letter by downloading cover letter samples here for free. And if you require a professional to write your cover letter, you can request a custom cover letter in multiple formats for $4.99

Please continue with Paypal / Credit card for our specialist Premium Cover Letter Builders to work on customized SEO Specialist Cover Letter exclusively for you.

Free Cover Letter

By choosing this, you will get a pack of free cover letter samples to download in different formats (eg.doc. pdf.txt) for FREE and create your own by editing.

FAQs:

What should I include on my SEO Specialist cover letter?

A typical SEO specialists' cover letter will consist of a cover letter header, subject line, greeting, an impressive opening, a good cover letter body, Call to action (CTA), and a proper closing line. By adding a postscript at the bottom of your cover letter is a great trick to attract recruiters towards your cover letter. But this section is used by very few job seekers when writing their cover letters. The Cresuma cover letter writing guide. will teach you how to write all these sections properly.

What are the best skills to be on an SEO Specialist cover letter?

Analytical skills
Excellent writing skills
Multitasking skills
Problem-solving skills
Researching skills

What are the relevant knowledge that SEO Specialists should possess?

Basic knowledge of UI/UX
Keyword and content research
Organic and paid search
Page insights
Programming
SEO best practices
Social Media Marketing
Website analytics

What are the best action verbs that can use in a cover letter?

Analyzed
Attained
Developed
Evaluated
Improved
Increased
Performed
Researched
Structured
Troubleshot
Updated
Wrote

Download Free SEO Specialist Cover Letters

Find the available free templates and download Gdoc, Word, (docx), txt, or PDF files for free.

Template 1





Template 2





Template 3





Template 4





Template 5






Looking for a custom cover letter? Get unique one crafted specially for you from Cresuma experts

However, we can not guarantee that you'll get the role of SEO Specialist simply because you have a good cover letter. Both a perfect resume and a good cover letter are equally critical for having you the dream job, quickly. Therefore, it is very important to learn how to write a perfect resume for an SEO specialist position too.

People who read this also read; Cover Letter Examples 2023 to see how it works for other job positions and industries.
Enjoyed Reading?
Help Cresuma cover the server and other costes to continue this 100% Free Service. Show your support below.