Innovation Manager Cover Letter Example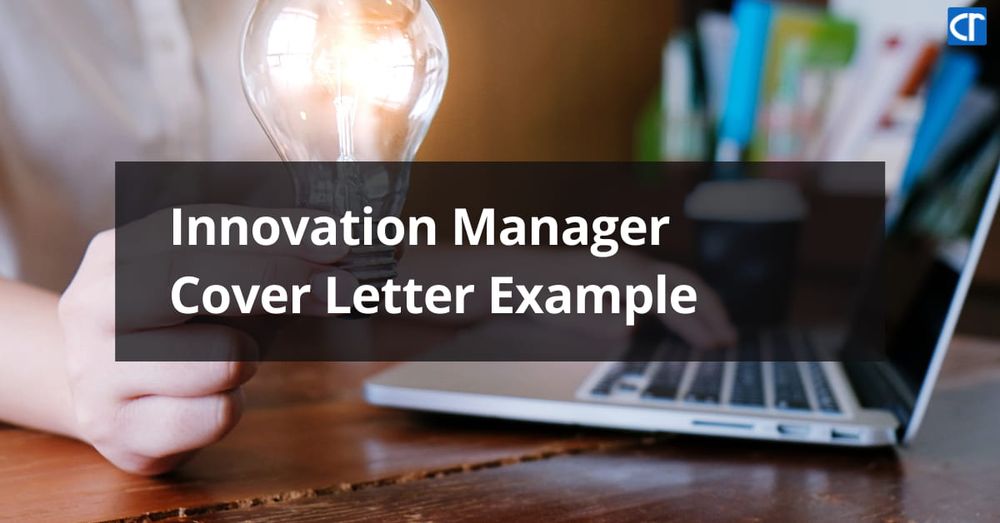 Can you make solutions? Do you have outstanding problem solving skills? Do you think that you have enough experience? Even the answer is "YES" for all of this, still you are not an Innovation Manager, right? The problem might be with your cover letter. See the sample cover letter and learn how to write it correctly to get your passionate job faster.
Sample Innovation Manager Cover Letter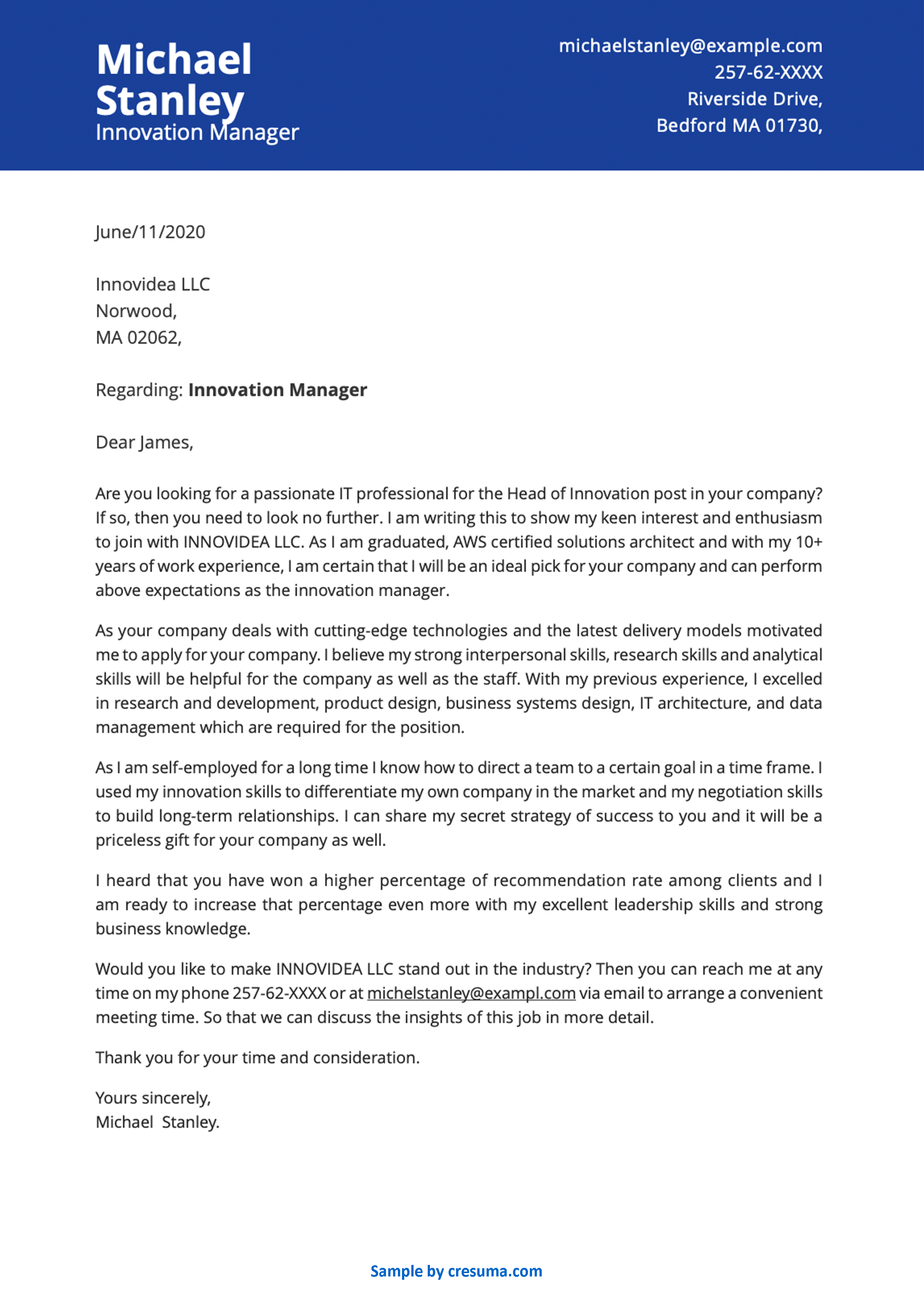 An innovation manager has a huge responsibility for drawing up ambitious strategies for a particular company or industry. Their role is to devise plans for sales and marketing, develop initiatives, advise the top management, lead the fellow team, track and monitor the industry, etc.
The position requires strong marketing skills and a variety of business practices. It is suggested you should have a good background in R&D and product design to be effective in this position. When all this information is included in your cover letter, the chances of winning the job of innovation manager will be higher.
Innovation Manager Cover Letter (Text Version)
Michael Stanley,
Riverside Drive,
Bedford, MA, 01730
257-62-1234
[email protected]

James Aikin,
Hiring Manager,
Innovidea LLC,
Norwood, MA 02062

Regarding : Innovation Manager Position
Dear James,
Are you looking for a passionate IT professional for the Head of Innovation post in your company? If so, then you need to look no further. I am writing this to show my keen interest and enthusiasm to join with INNOVIDEA LLC. As I am a graduated, AWS certified solutions architect and with my 10+ years of work experience, I am certain that I will be an ideal pick for your company and can perform above expectations as the innovation manager.
As your company deals with cutting-edge technologies and the latest delivery models motivated me to apply for your company. I believe my strong interpersonal skills, research skills and analytical skills will be helpful for the company as well as the staff. With my previous experience, I excelled in research and development, product design, business systems design, IT architecture, and data management which are required for the position.
As I am self-employed for a long time I know how to direct a team to a certain goal in a time frame. I used my innovation skills to differentiate my own company in the market and my negotiation skills to build long-term relationships. I can share my secret strategy of success to you and it will be a priceless gift for your company as well.
I heard that you have won a higher percentage of recommendation rate among clients and I am ready to increase that percentage even more with my excellent leadership skills and strong business knowledge.
Would you like to make INNOVIDEA LLC stand out in the industry? Then you can reach me at any time on my phone 257-62-1234 or at [email protected] via email to arrange a convenient meeting time. So that we can discuss the insights of this job in more detail.
Thank you for the time and consideration.
Your sincerely,
Michael Stanley.
Get Custom Innovation Manager Cover Letter
You can create your own cover letter by downloading cover letter samples at the bottom of the article for free. However, if you require a professional to write your cover letter, you can request a custom cover letter in multiple formats for $4.99
Please continue with Paypal / Credit card for our specialist Premium Cover Letter Builders to work on customized Networking Cover Letter exclusively for you.
Free Cover Letter
By choosing this, you will get a pack of free cover letter samples to download in different formats (eg.doc. pdf.txt) for FREE and create your own by editing.
Best skills to list on an Innovation Manager cover letter
Analytical skills
Communication skills
Design thinking skills
Leadership skills
Listening skills
Management skills
Problem-solving skills
Research skills
Teamwork
Top action verbs for an Innovation Manager
Consolidated
Crafted
Created
Delivered
Designed
Developed
Improved
Influenced
Integrated
Led
Managed
Orchestrated
Partnered
Planned
Produced
Spearheaded
Download Free Innovation Manager Cover Letters
Find the available free templates and download Gdoc, Word (docx), txt., or PDF files for free.
Template 1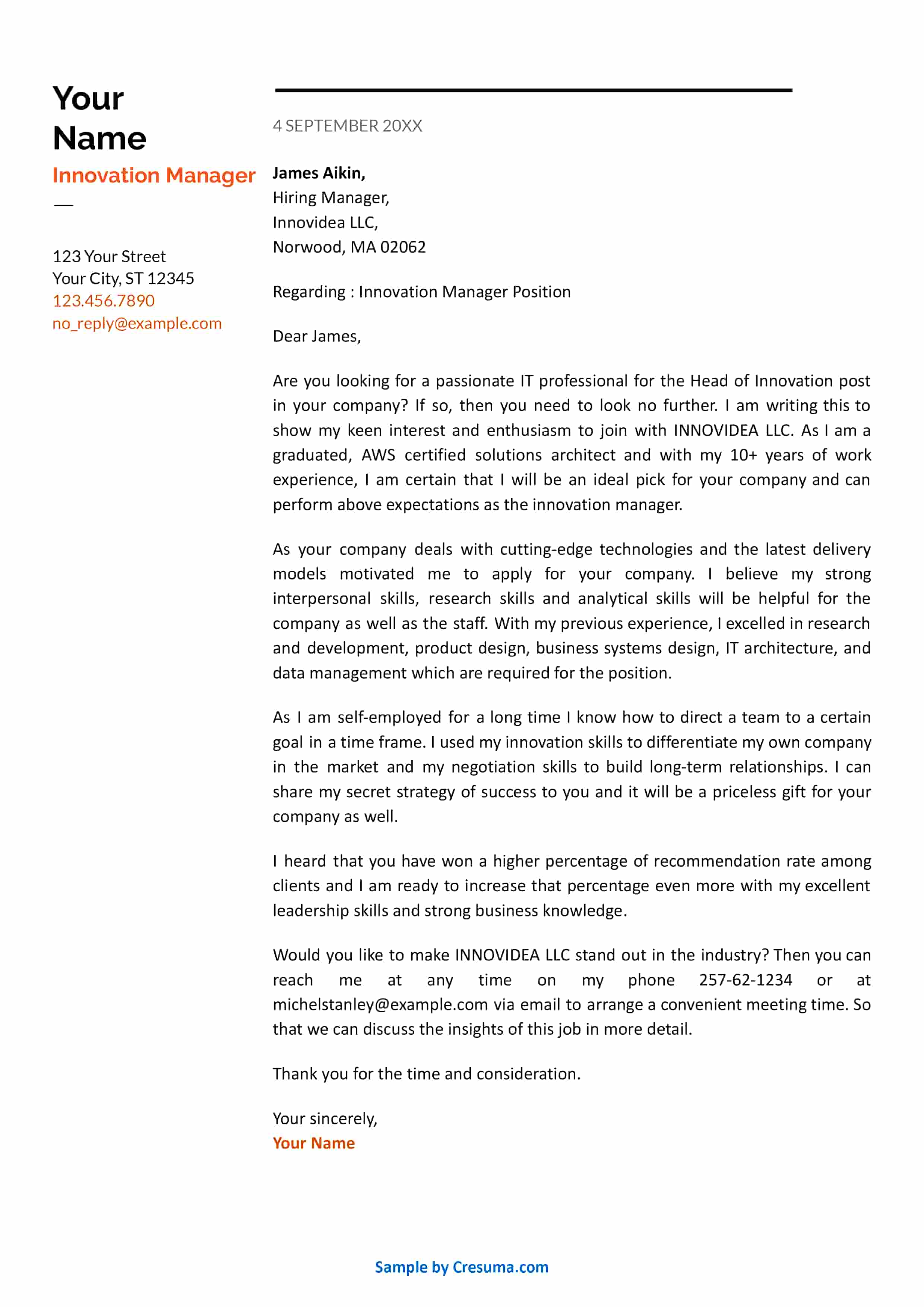 Template 2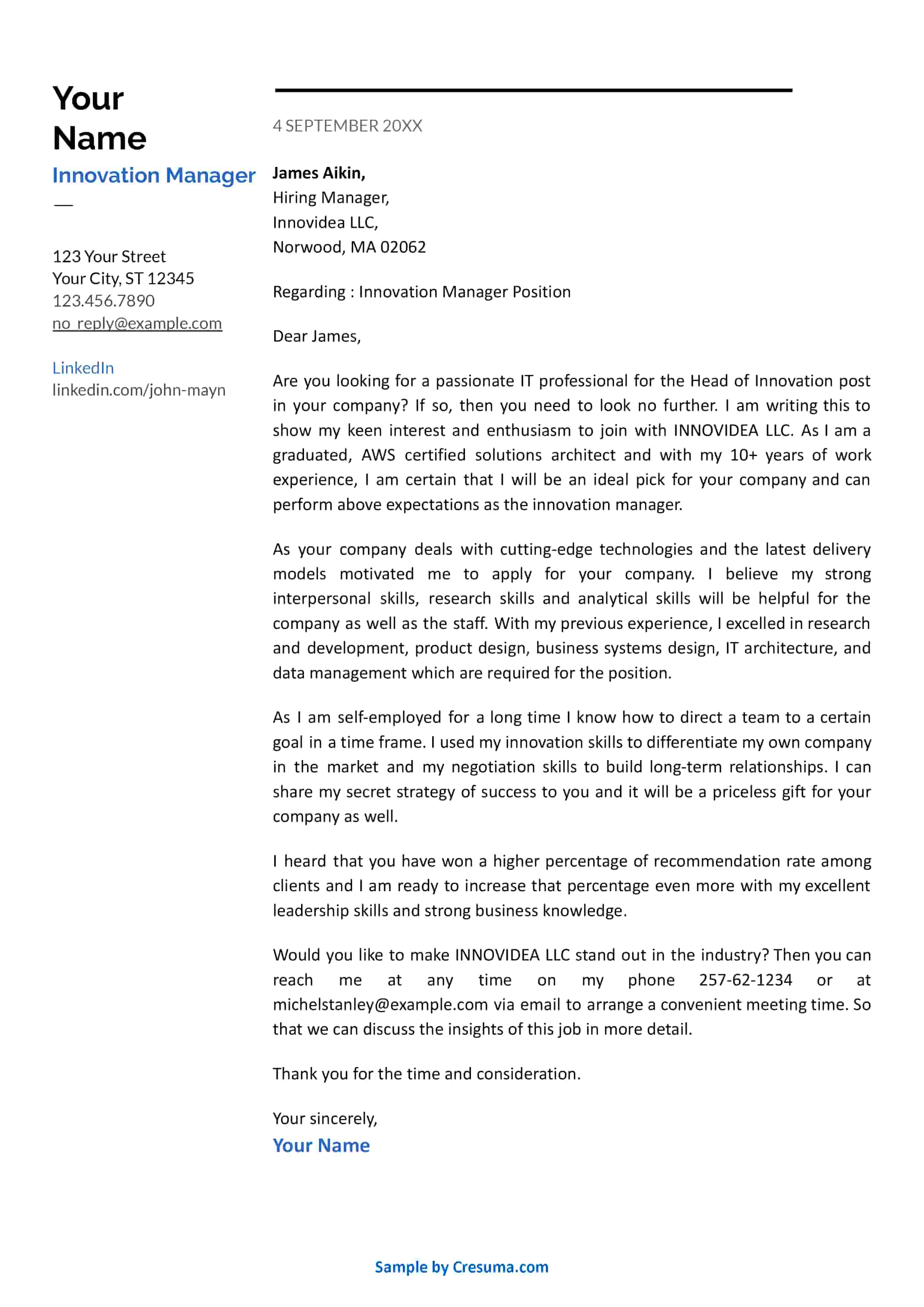 Template 3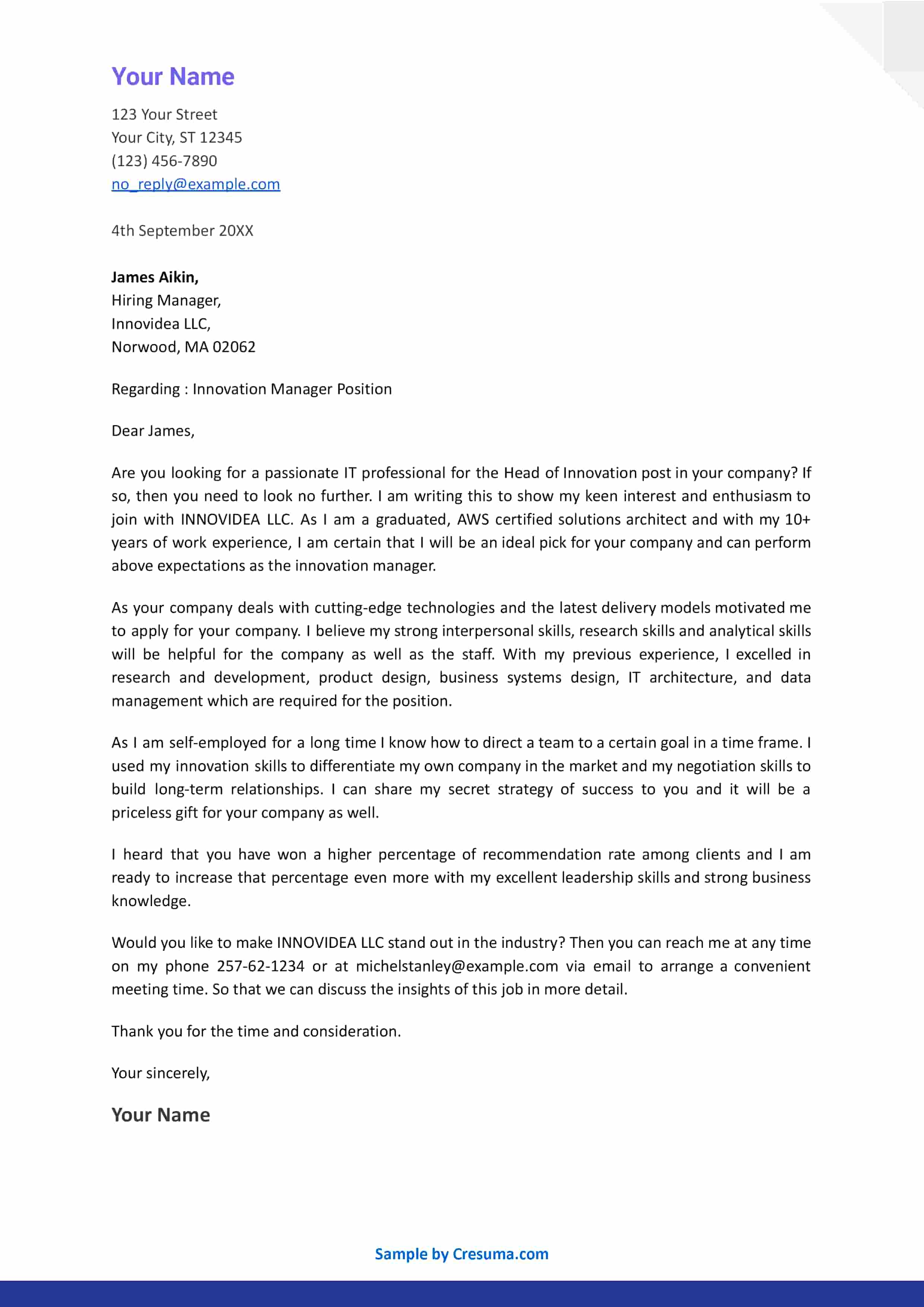 Template 4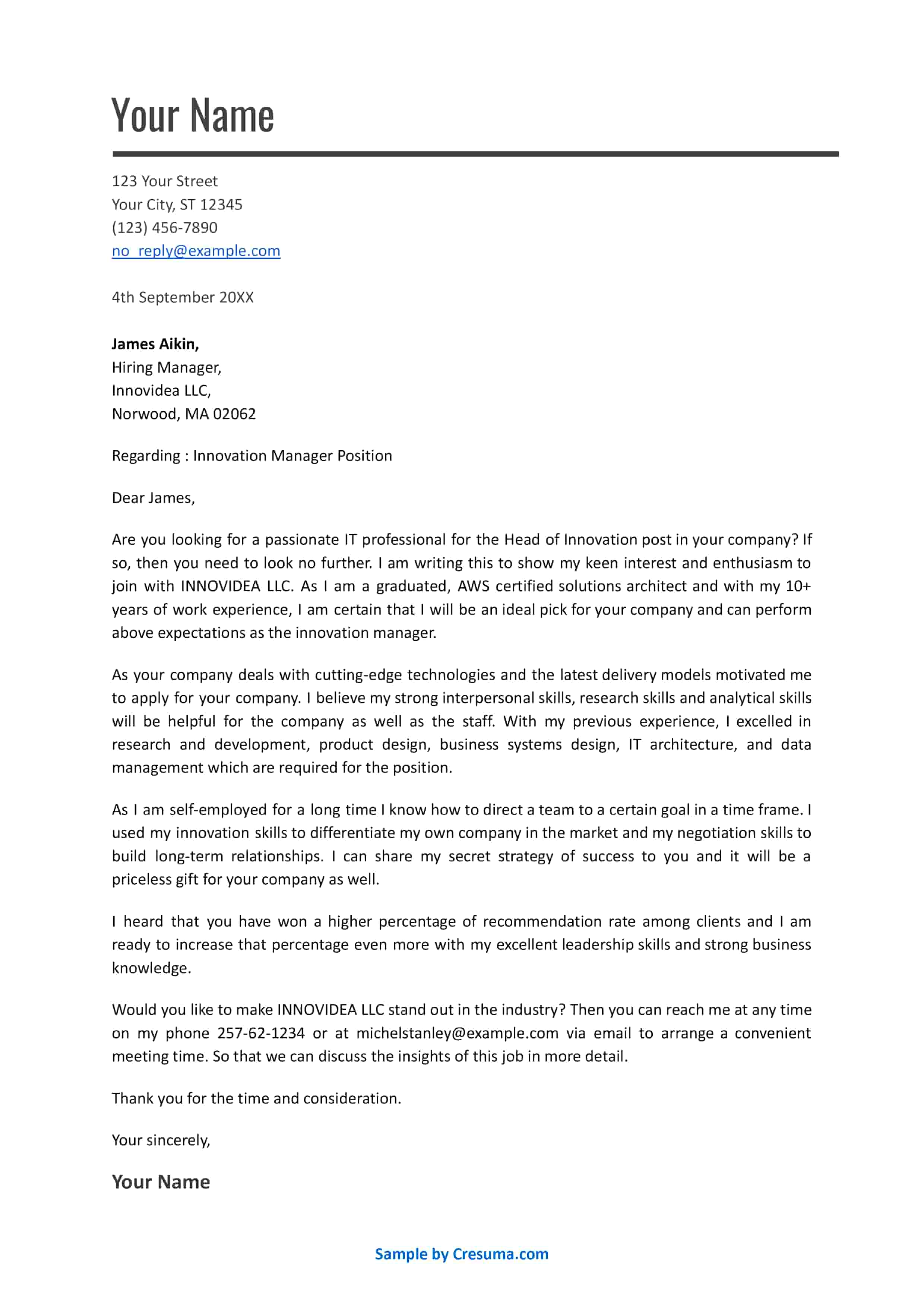 Template 5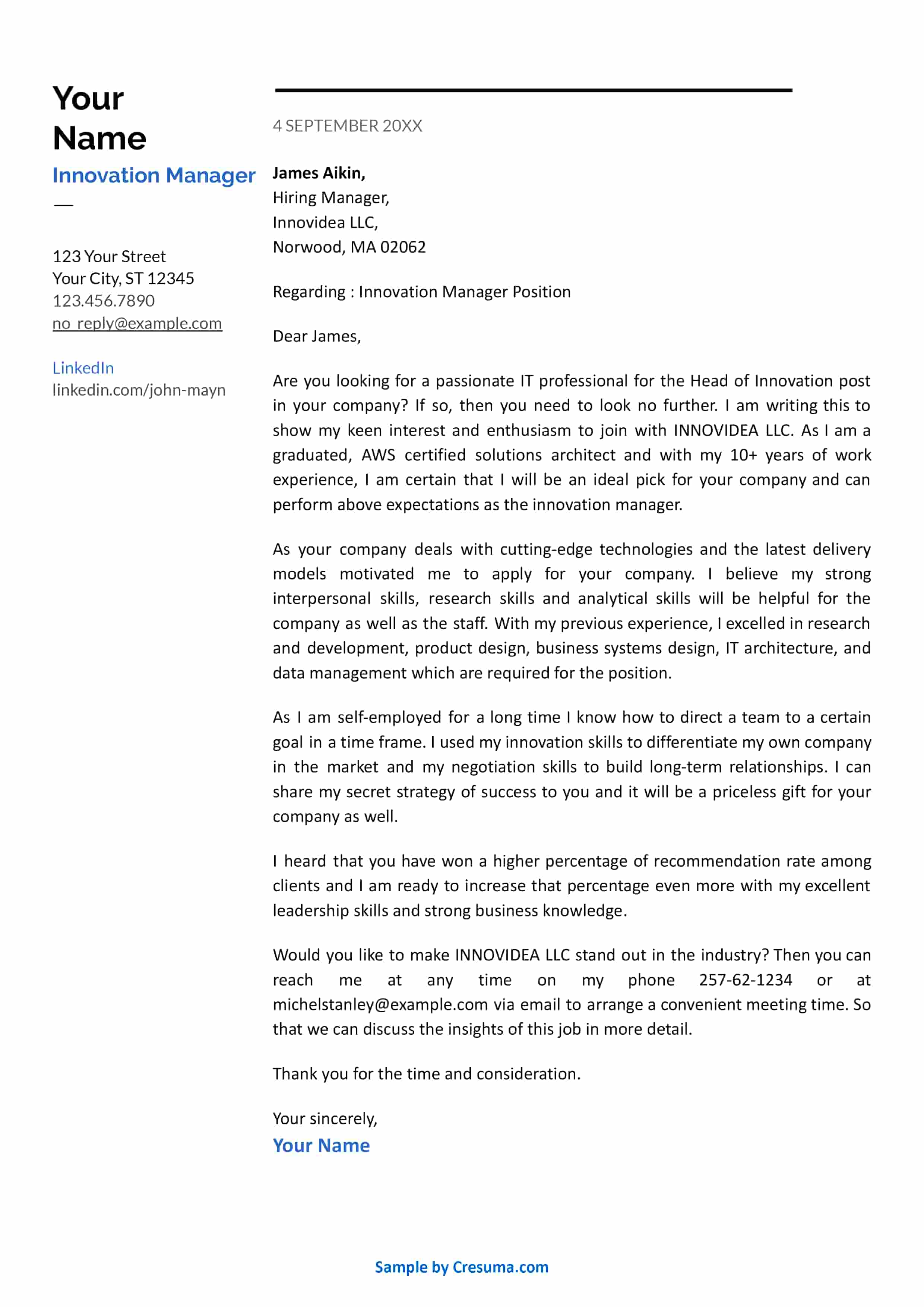 You should now have a total understanding of how to write a great cover letter. But just the cover letter alone is not enough to secure your dream job as an innovation manager by 2023. For that, you need an impressive resume. Our resume sample of the innovation manager will give you a better overview of how to precisely adapt your resume to the Innovation manager role. Get the motivation and make your dream job land your own-quick.
If you are looking for a custom cover letter? Get unique one crafted specially for you from Cresuma experts
People who read this article also read; Cover Letter Examples 2023 to see cover letter examples for other jobs and industries.