Networking Cover Letter Examples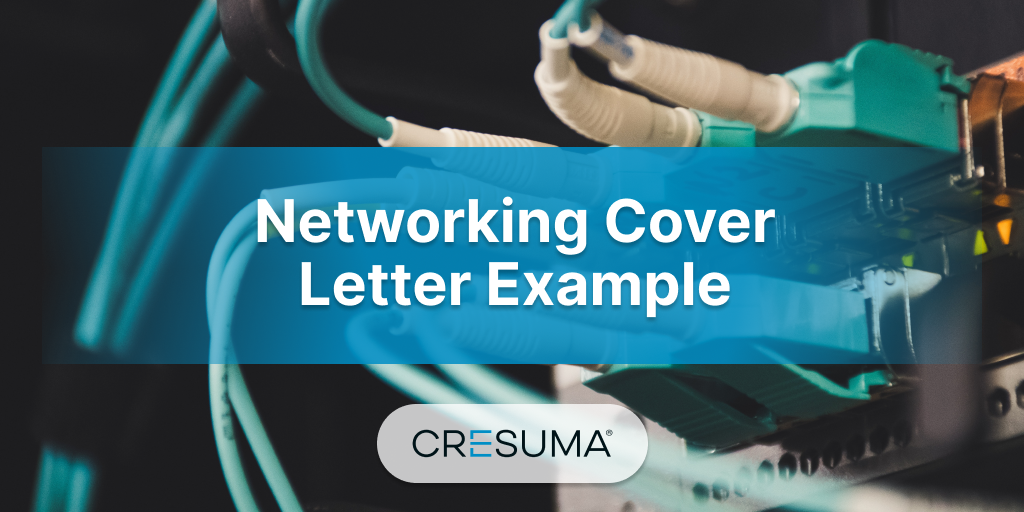 Do you know exactly how worthwhile a professional network is? Until you go looking for jobs, you do not value it. You will find that it is very important to have ties with professionals if you come to a job hunt.
You will certainly be able to ask for support in getting job opportunities if you have any such contacts.
How do you possibly ask?
Here, the networking cover letter gets to the point. This may also, indeed, be called a referral note or referral letter.
The ultimate purpose of sending these kinds of cover letters is not only to receive job invitations from established professionals but also to ask for some career advice or assistance.
Do you know how to make a strong networking cover letter? If not, here is the complete guide on how to write a networking letter from beginning to end. Display the cover letter preview below to get motivated.
Sample Networking Cover Letter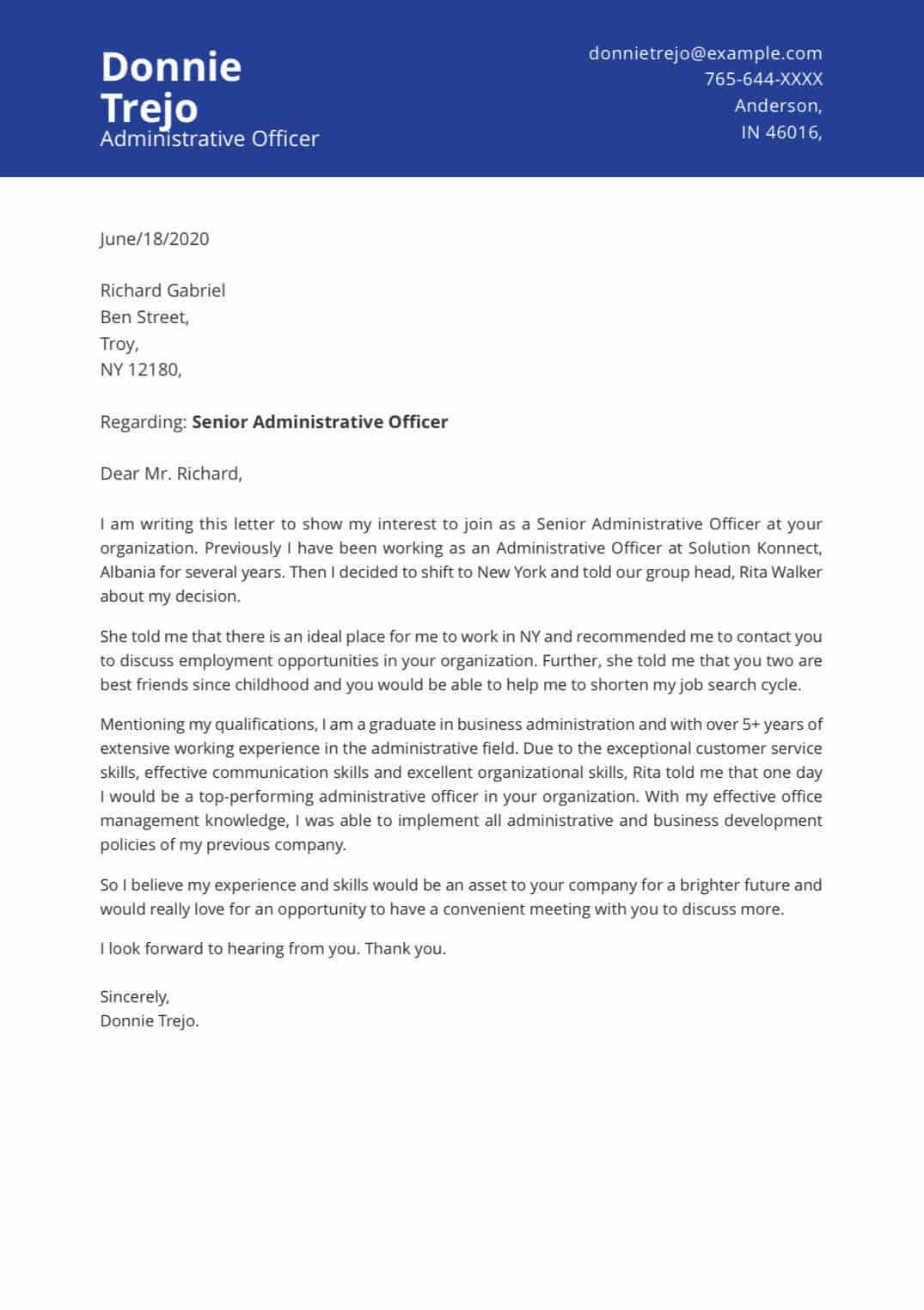 Networking Cover Letter Sample (Text Format)
Donnie Trejo,
Anderson,
IN 46016.
765-644-XXXX
donnietrejo@example.com
Richard Gabriel,
Hiring Manager,
Ben Street, Troy,
NY 12180
Dear Mr. Richard,
I am writing this letter to show my interest to join as a Senior Administrative Officer at your organization. Previously I have been working as an Administrative Officer at Solution Konnect, Albania for several years. Then I decided to shift to New York and told our group head, Rita Walker about my decision.
She told me that there is an ideal place for me to work in NY and recommended me to contact you to discuss employment opportunities in your organization. Further, she told me that you two are best friends since childhood and you would be able to help me to shorten my job search cycle.
Mentioning my qualifications, I am a graduate in business administration and with over 5+ years of extensive working experience in the administrative field. Due to the exceptional customer service skills, effective communication skills and excellent organizational skills, Rita told me that one day I would be a top-performing administrative officer in your organization. With my effective office management knowledge, I was able to implement all administrative and business development policies of my previous company.
So I believe my experience and skills would be an asset to your company for a brighter future and would really love for an opportunity to have a convenient meeting with you to discuss more.
I look forward to hearing from you. Thank you.
Regards,
Donnie Trejo.
Get Custom Networking Cover Letter
You can create your own cover letter by downloading cover letter samples at the bottom of the article for free. However, if you require a professional to write your cover letter, you can request a custom cover letter in multiple formats for $4.99
Please continue with Paypal / Credit card for our specialist Premium Cover Letter Builders to work on customized Networking Cover Letter exclusively for you.
Free Cover Letter
By choosing this, you will get a pack of free cover letter samples to download in different formats (eg.doc. pdf.txt) for FREE and create your own by editing.
Basics of Effective Networking Letter
Be original and friendly – Since you are writing this cover letter to someone you know already, it's okay to be less formal. Keep your professionalism but speak with a familiar tone.
Explain how you got the contact – As this is a networking letter you need to explain who directed you to the company. This will increase the reader's ability to support you with job opportunities.
Explain why you would be a perfect fit – Even if you think you can get the job without any problems, it is important to mention what qualifies you for the job by mentioning your relevant skills, experience and qualifications.
Don't forget to thank the reader – It is true that you are just seeking a job opportunity. But the readers who read your cover letters may be busy with their professional life. So at the end of your cover letter remember to thank the reader for the consideration and their time.
Follow-up on your email – After a reasonable period if you didn't get any response for your cover letter you may send a follow-up letter to know the current state of your job application. Also a follow-up letter will convey your high level of interest in the job.
To Whom You Should Target These Letters?
When you are searching for a contact keep in mind that you have to consider below resources. The major focus of these kinds of letters is to make links from your contacts and get assistance from them with job opportunities or career advice. You may consider sources such as your coworkers, colleagues, supervisors from the previous workplace, college alumni, professors, community professionals, associations, and even your friends, neighbors or relatives.
Even if the company or organization does not post advertisements, you can gain job opportunities and interview chances by sending cover letters to networking. But don't wait until you get the job coming for you. Send networking cover letters as much as possible.
Download Free Networking Cover Letters
Find the available free templates and download Gdoc, Word (docx), txt., or PDF files for free.
Template 1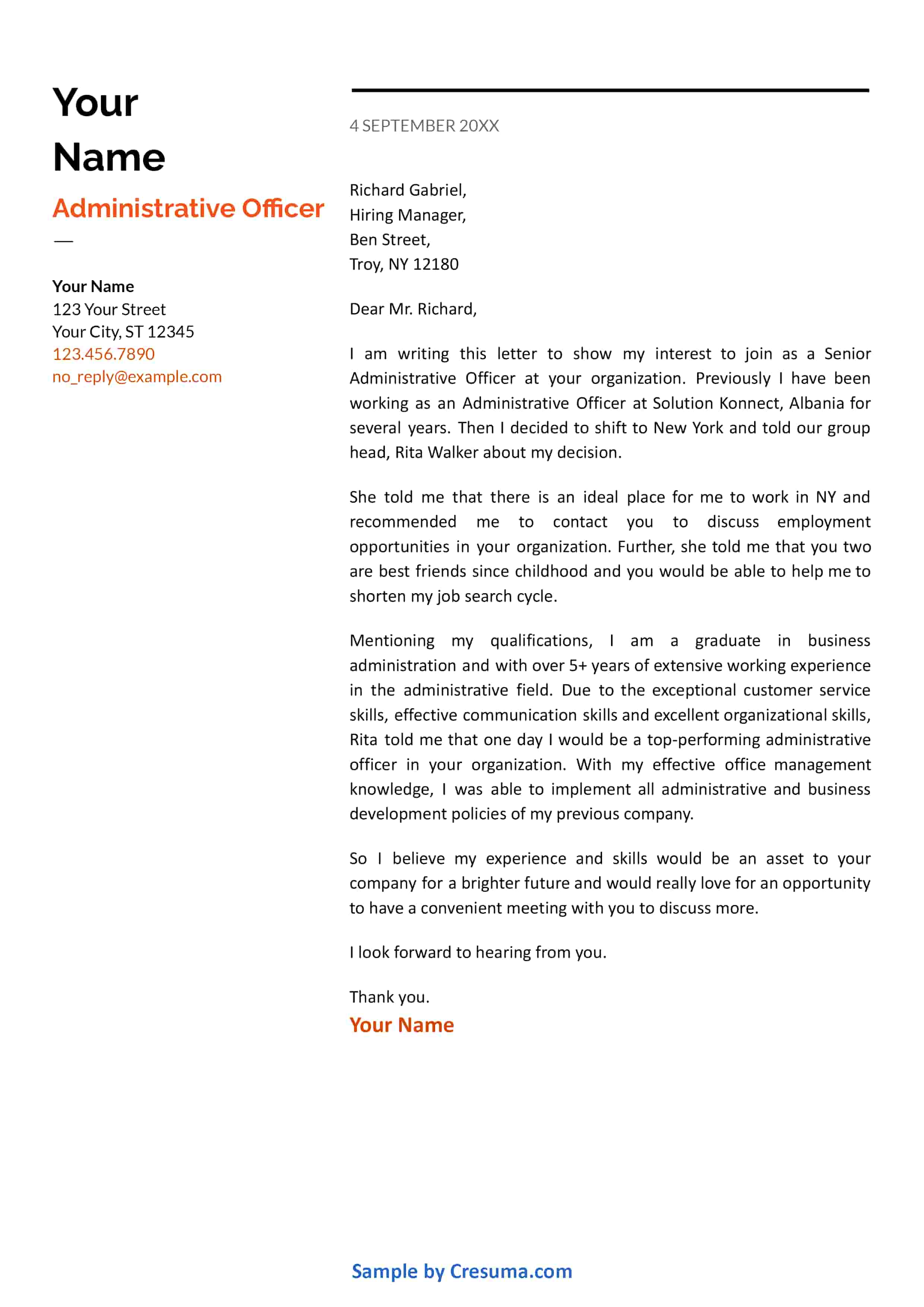 Template 2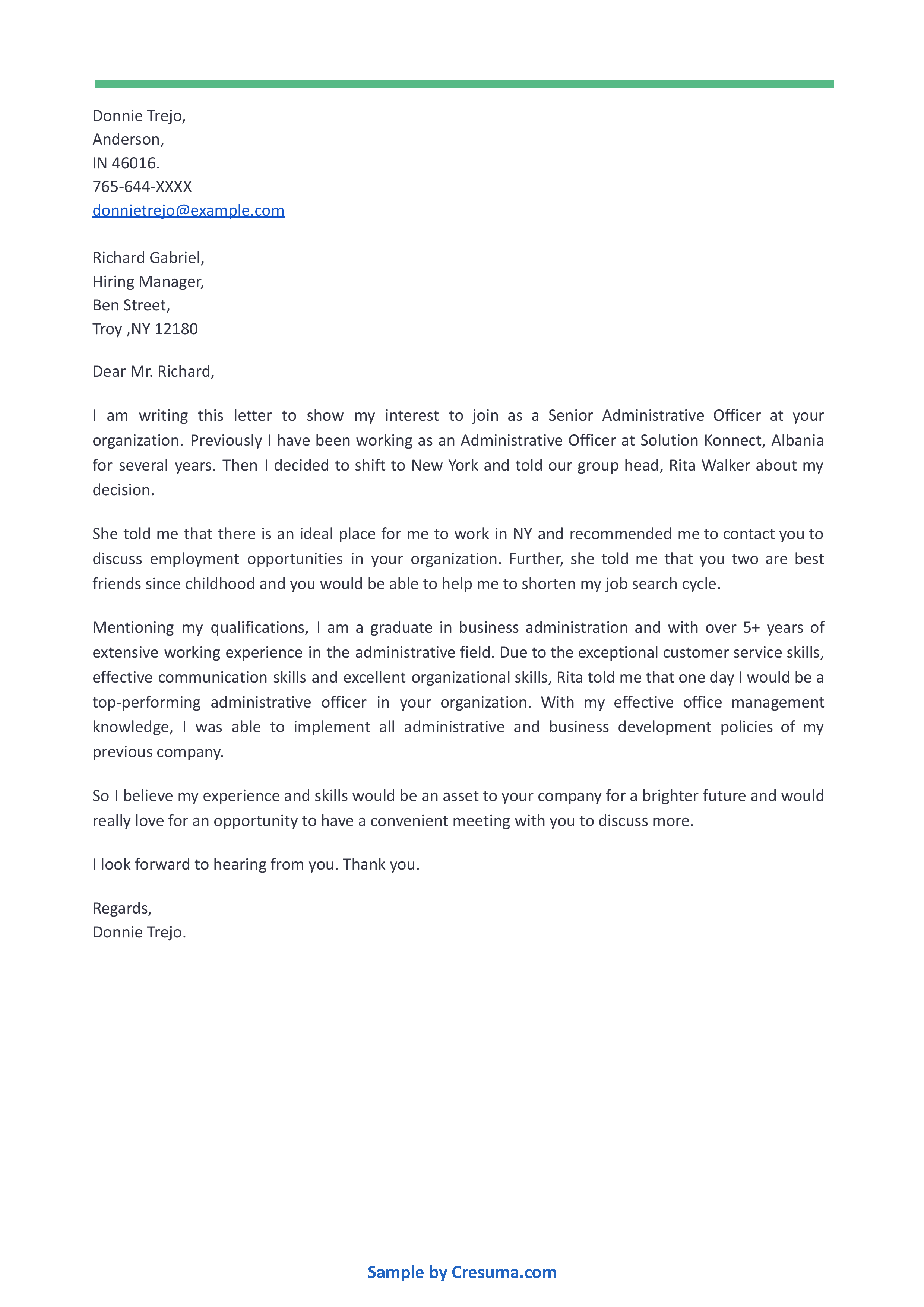 Template 3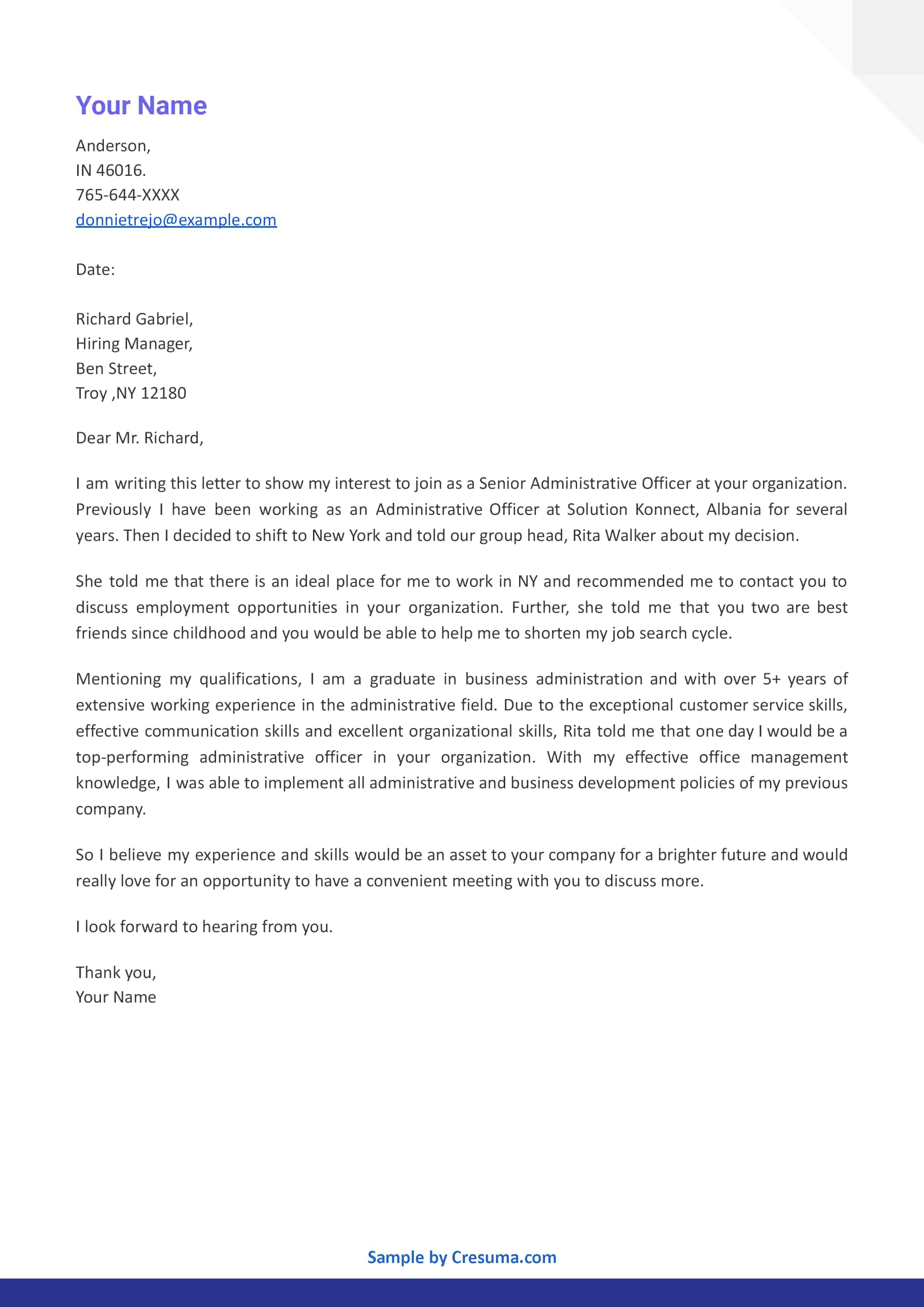 Template 4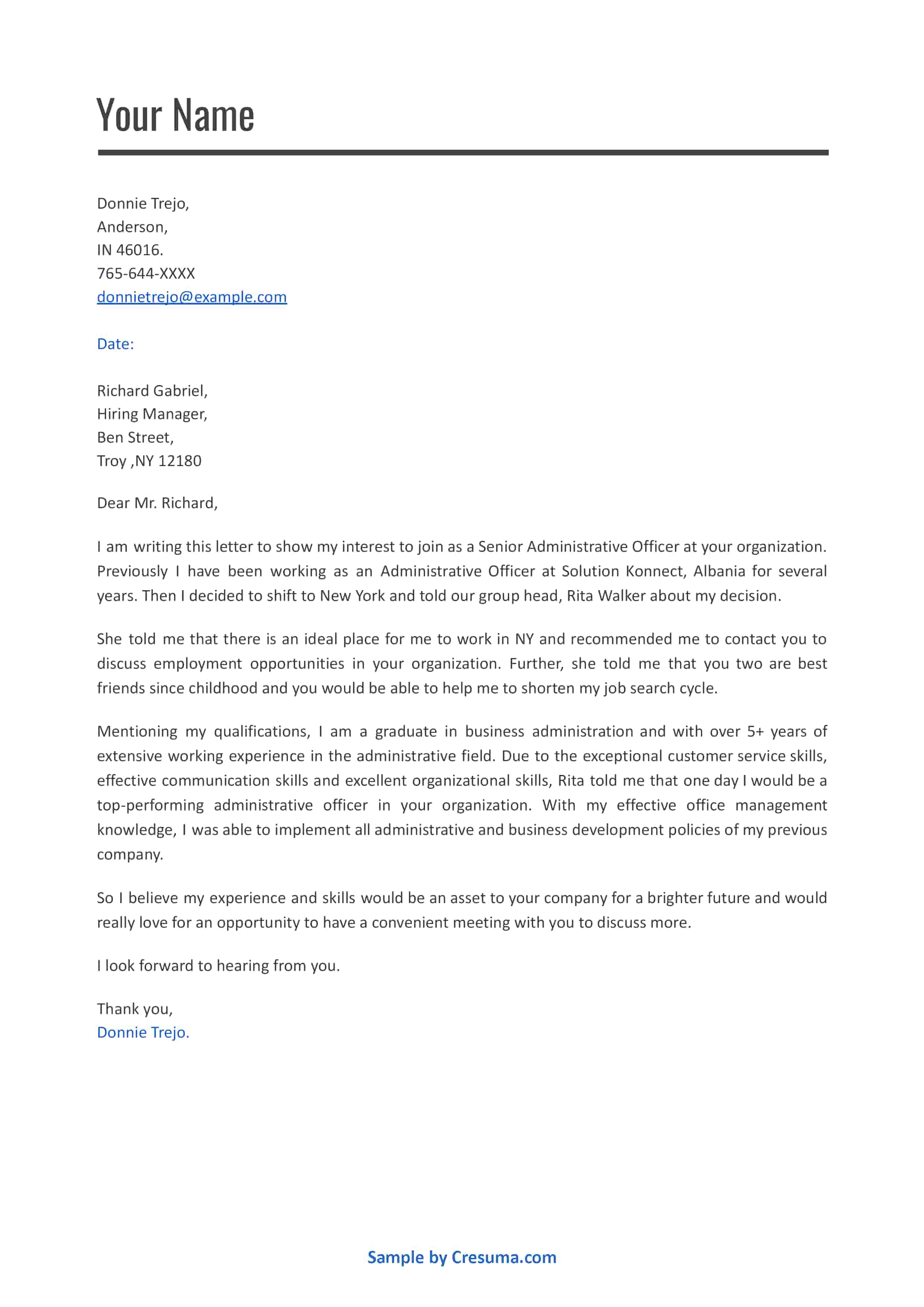 Template 5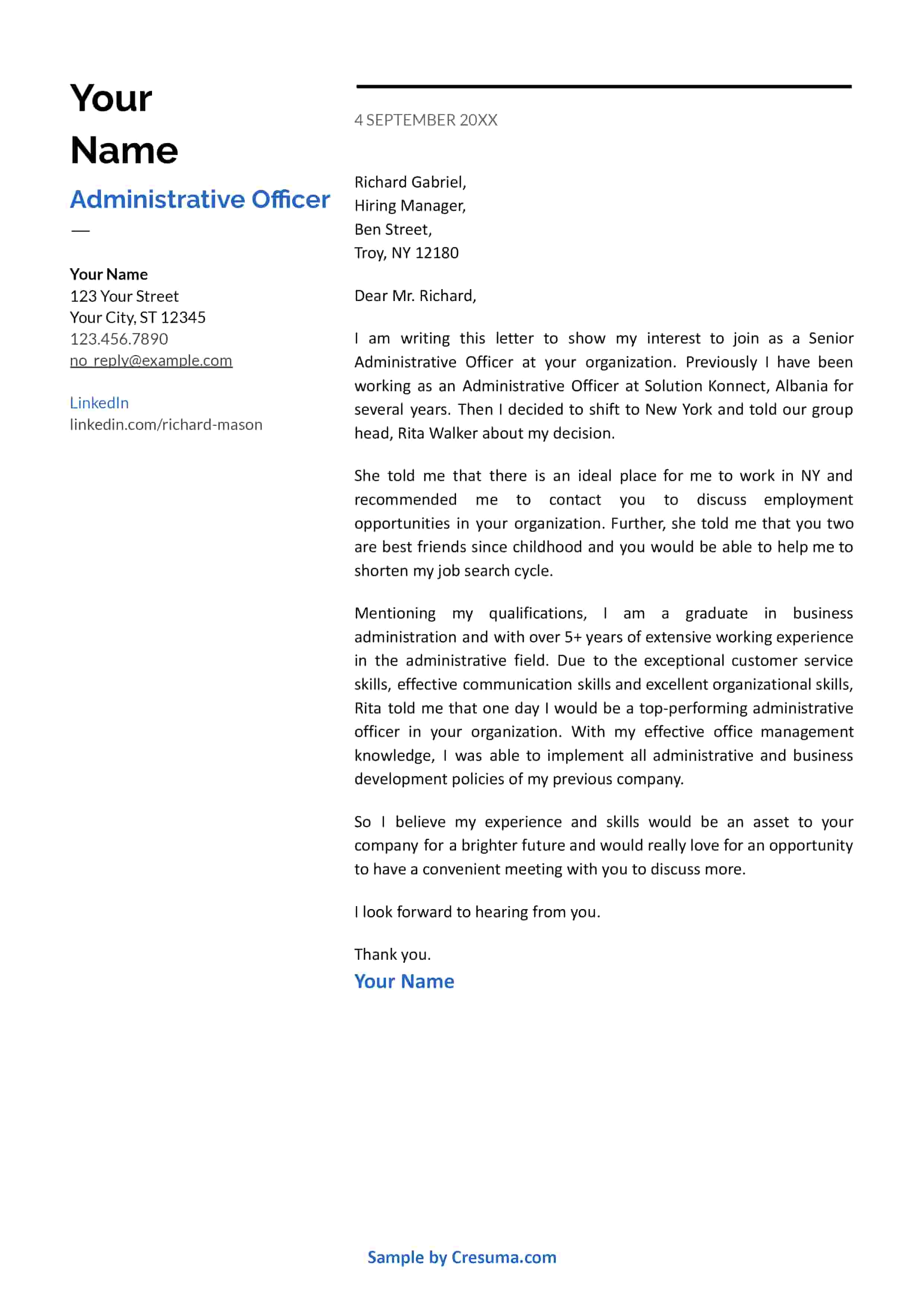 Do you know a big secret? Still without a single advertisement posted on the internet, job boards or newspapers there are thousands of jobs created. They can be filled with internal company contacts, or even networking cover letters. These are, in fact, hidden employment opportunities. So don't miss out on those opportunities.
Ok. Now you know everything about Networking Cover Letters. Congratulations!
Need to read other cover letter examples too? Head over to Cover Letter Examples 2023
Looking for a custom cover letter? Get unique one crafted specially for you from Cresuma experts
People who read this also read :How to write a perfect resume
Enjoyed Reading?
Help Cresuma cover the server and other costes to continue this 100% Free Service. Show your support below.