The best fonts for resumes 2022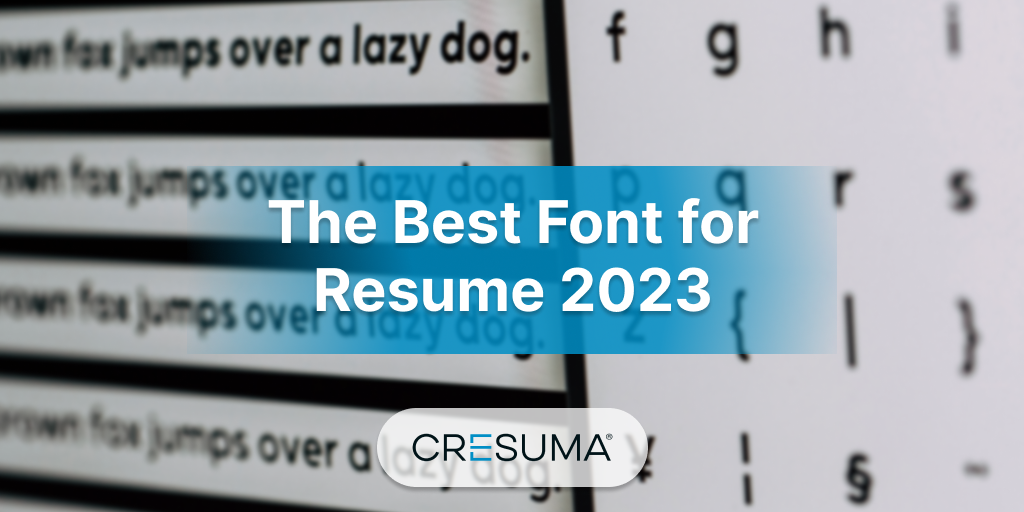 Searching for a good job involves a lot of decisions behind. Matching your stream or industry, potential and skills, salary and career development and so many. So you align all your skills and address on the resume to suit the desired job vacancy. But there's one major thing that most take lightly and ignore to focus on. The font. The font and its size you use on your resume is of great importance to landing jobs as it defines whether the head hunter or resume picker would get interested in your job application or not. Therefore, we decided to talk about the best fonts for resumes in 2023.
What are the best fonts for resumes?
1. Calibri

Calibri is a modern sans serif font family with subtle rounding on stems and corners. This is a font that has been placed by Microsoft in lieu of old Times New Roman (Originally designed by a Dutch Type Designer, Luas de Groot)
This is considered as one of the best fonts as far as its readability and professional look is concerned. Yet, there's a possibility that your resume might not stand out from the rest as the other job seekers may use the same font on their resumes.
2. Garamond

Garamond is a classy and elegant font that catches your eyes. They say this is a readable and a timeless font and favorite among most designers and managers. The history of this font roots back to the 15th and 16th-century designs. Later designed and bundled with Microsoft in the 20th century. The font has seen generations passing across and still remains to be in the most popular among the different font families.
3. Arial

Arial is a great choice among most of the San Serif users. Recruiting experts say that the "Arial" font provides a clear lining and appearance making it so easy to read. However, it's worth noting that "Arial" being a common font that most job seekers easily find to use, may make the reader or the resume picker boring a bit.
4. Verdana

Verdana is considered to be one of the most effective fonts to use especially when you are to take small print on computer screens. This is a humanist San Serif font that is professional and easy to read. This is one of the best fonts to use on CVs, Resumes, Cover letters and so on.
5. Cambria

Cambria is another San serif typeface that was created back in 2004. HR and recruitment experts say that this font is a great choice for resume writing and cover letters despite its being considered as one of the traditional fonts. This font has been created especially for on-screen reading and to look interesting to read when printed at small sizes.
6. Book Antiqua

Book Antiqua is distinctive and gentle in appearance. If you want to give the document a different feel with its appearance this is a good choice to go for. This Book Antiqua font is also one of the best fonts for a resume in 2020 as this brings you an easy to read on-screen experience for managers or headhunters.
7. Times New Roman

This is a commonly used font for resumes as it is very professional. And it is also considered as a font that suits any industry. However, if you want to get highlighted among others, this may not be the best choice for you
According to the recruitment experts, these are the best fonts to use on resumes in 2023. Having said that, they emphasize that there are some camouflaged fonts that make you have the hunch to use them too.  They further note, those fonts are actually not favorable. below are some of those worst fonts for resumes.
Worst Fonts to use for Resumes
Agency FB

This font looks like "ok" for most of us due its trendy and professional look it delivers. But actually, this brings eye strain for the readers as they go through the content even though a line or two in this font may look great at the first sight. A resume at least has one page with content. Therefore, we need to always make sure that we use a clean and a clear font that's effective enough to satisfy the recruiters.
Bodoni MT

This is another font that seems nice to write a resume with. Because, this is bit cluttered when it comes in several lines together. Experts say, "to be a good font, it should come nice and clear with no eye straining experience when it texts come in clusters".  Therefore, be careful.
Tw Cen MT Condensed Extra Bold

No words needed to say why this font has become one of the worst fonts to use on resumes 2023. It's simply not easy for the recruiters to read your resume/cv.
Cursive Letters (Any)
No need to say why cursive letters are in the worst resume font's list. Cursive letters on one hand are not professional. And on the other hand it's not preferred by many as it is not clear enough to satisfy the reading experience. Cursive may fit for casual situations but not strictly for resumes.
Best Font size for resumes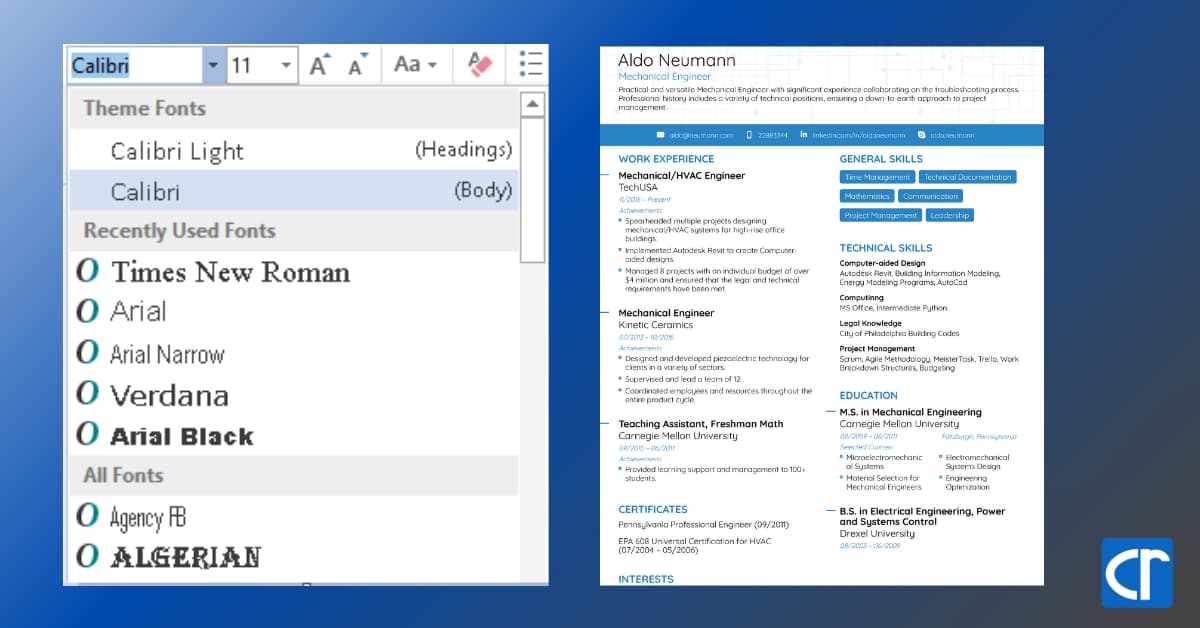 The best (standard) font size for a resume is 12 points in a readable font family. However, if you find space issues with the content in the same readable font, you may reduce the points up to 10.
To conclude, there are several when it comes to the best fonts for resumes in 2023. However, the font and the font size you are going to use on your resume, may perhaps demand you to consider on the industry you are going to apply for and the space you are going to utilize with your resume content as well. But having said that, knowing how to write a perfect resume and the best colors to use on resumes is of high importance too.

Enjoyed Reading?
Help Cresuma cover the server and other costes to continue this 100% Free Service. Show your support below.