Taxi Driver Cover Letter Example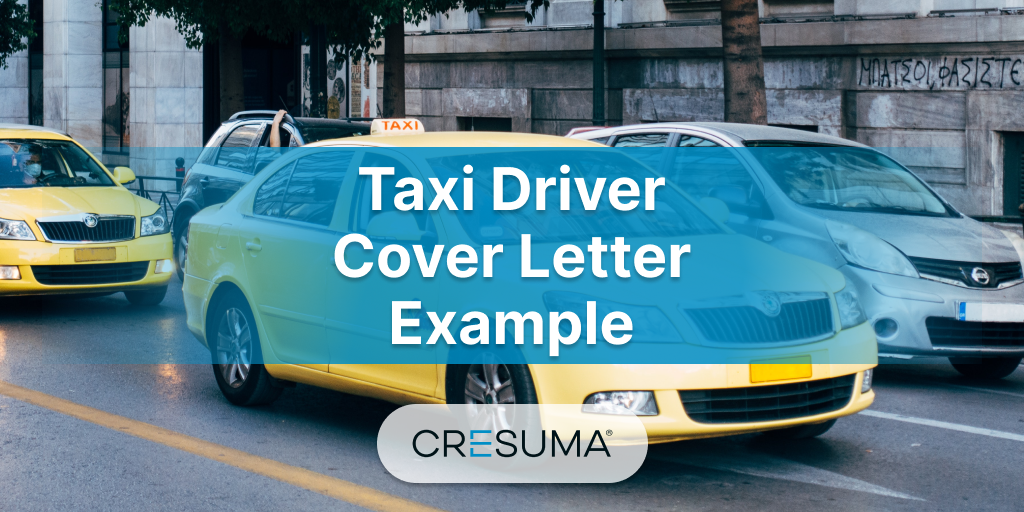 Do you want to be a taxi driver in a good cab service company? Are you aware that a well-written cover letter can get you the chance? If not, follow these guidelines to write a perfect cover letter for a taxi driver and get your most awaited job as soon as possible.
Sample Taxi Driver Cover Letter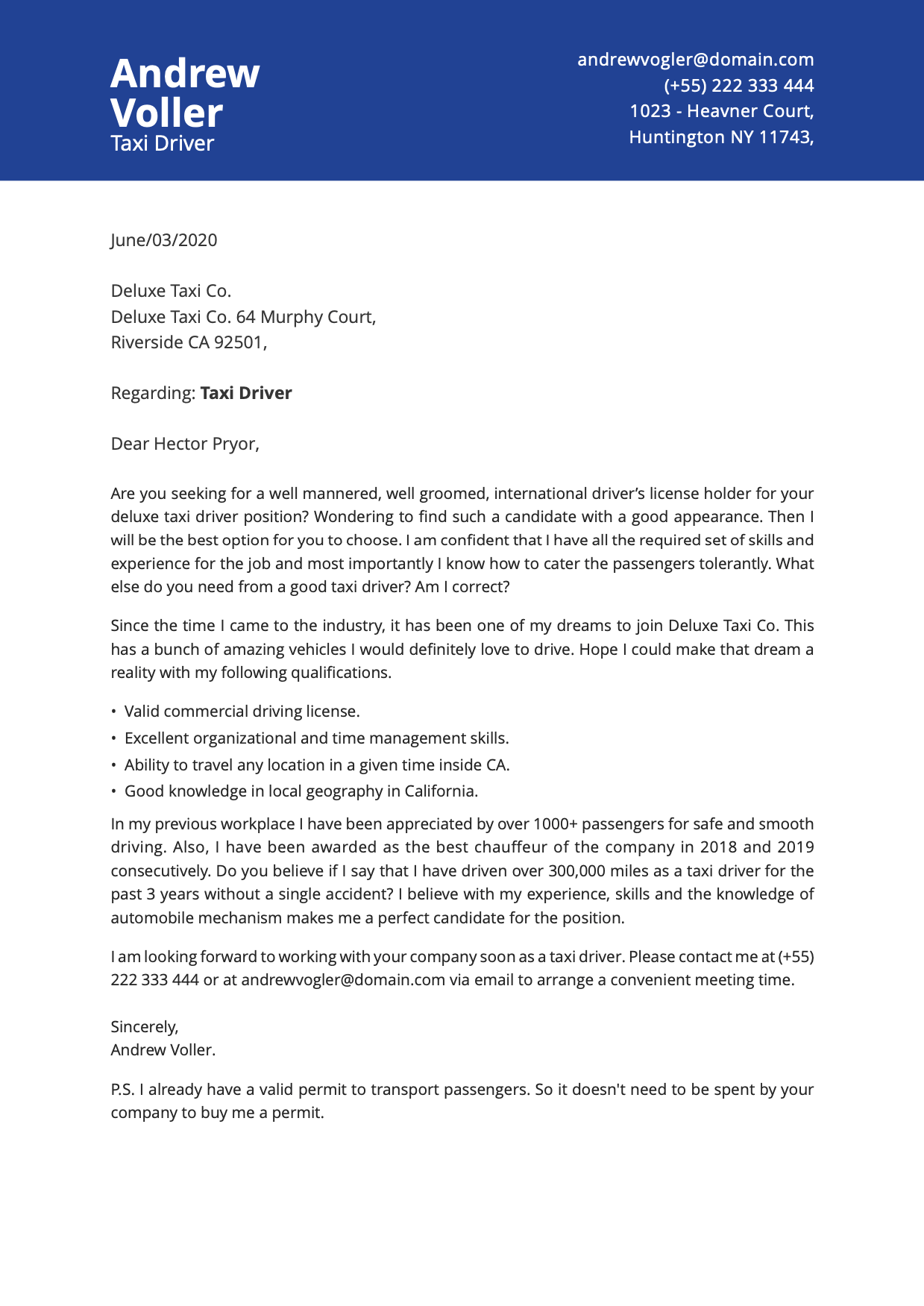 The taxi driver is responsible for moving passengers from one location to their destination. Do you think that only having driving abilities will be enough to be a taxi driver? No. Other than the driving skills, you also need to have a considerable skill level in time management, customer management, tolerance, etc. Not only that but also the taxi drivers have the responsibility to keep their car clean and well maintained. At the same time, they are responsible for providing a smooth and safe journey to the passengers. So that you will also get positive feedback and reviews from the customers which could be brilliant credentials for you to increase the job-winning chances. Also, you need to have a great taxi driver cover letter too.
So this article was written specifically for you, taxi driver candidates. We will guide you on how to write a perfect cover letter, and the below sample cover letter will teach you how to make a tailored document to land your dream job.
Taxi Driver Cover Letter Example (Text Version)
Andrew Vogler,
1023, Heavner Court,
Huntington, NY 11743.
(+55) 222 333 444
andrewvogler@domain.com
Hector Pryor,
Deluxe Taxi Co.64
Murphy Court,
Riverside, CA 92501.
Regarding: Taxi Driver Position
Dear Mr. Hector Pryor,
Are you seeking for a well mannered, well groomed, international driver's license holder for your deluxe taxi driver position? Wondering to find such a candidate with a good appearance. Then I will be the best option for you to choose. I am confident that I have all the required set of skills and experience for the job and most importantly I know how to cater the passengers tolerantly. What else do you need from a good taxi driver? Am I correct?
Since the time I came to the industry, it has been one of my dreams to join Deluxe Taxi Co. This has a bunch of amazing vehicles I would definitely love to drive. Hope I could make that dream a reality with my following qualifications.
Valid commercial driving license
Excellent organizational and time management skills.
Interpersonal Skills
Ability to travel any location in a given time inside CA.
Good knowledge in local geography in California.
Ability to work on a shift basis.
In my previous work place I have been appreciated by over 1000+ passengers for safe and smooth driving. Also I have been awarded as the best chauffeur of the company in 2018 and 2019 consecutively. Do you believe if I say that I have driven over 300,000 miles as a taxi driver for the past 3 years without a single accident? I believe with my experience, skills and the knowledge of automobile mechanism makes me a perfect candidate for the position.
I am looking forward to working with your company soon as a taxi driver. Please contact me at (+55) 222 333 444 or at andrewvogler@domain.com via email to arrange a convenient meeting time.
Sincerely,
Andrew Vogler
P.S. I already have a valid permit to transport passengers. So it doesn't need to be spent by your company to buy me a permit.
Get Custom Taxi Driver Cover Letter
You can create your own cover letter by downloading cover letter samples at the bottom of the article for free. However, if you require a professional to write your cover letter, you can request a custom cover letter in multiple formats for $4.99
Please continue with Paypal / Credit card for our specialist Premium Cover Letter Builders to work on customized Taxi Driver Cover Letter exclusively for you.
Free Cover Letter
By choosing this, you will get a pack of free cover letter samples to download in different formats (eg.doc. pdf.txt) for FREE and create your own by editing.
Thinking about how to write a cover letter for a Taxi Driver?
Create a great cover letter header
A cover letter header is an ideal place to include your contact information on the resume. When applying for a taxi driving job, a well-written cover letter header will make a positive impact on you. At the beginning of the cover letter, you will add your first name and last name. It is better to provide personal information such as location (city and state), telephone number, e-mail address, etc. Most cab service companies are looking for drivers near to the company location. Therefore the address takes an important place in your cover letter header.
As you write the cover letter for a taxi driver position, you need to include information about your driver's license, such as the category of license etc. Yet specifically stop writing the license number because it is a very personal bit of information. When the employer wants this information, they can contact you with the telephone number which you provided in the cover letter header. And make sure your phone number and email address are still correct and working.
Now you know how important a cover letter header is for an applicant for a taxi driver. Here's an example of a good cover letter header for a taxi driver.

Start the letter with Great Opening Paragraph
Addressing your cover letter to the relevant person is very important when you write your cover letter. You can research a particular company or organization to identify the person to whom it may concern. Or else you can even visit their company website, social media profiles, and LinkedIn profiles too. If you were able to find the exact person's name, open the cover letter with a formal greeting like "Dear Ms. Eliza Beth" or "Dear Hiring Manager." But keep in mind that not to use overly formal greetings such as "to whom it may concern."
In the opening paragraph of your cover letter, you need to show your enthusiasm and the passion to join the company. Then you have to show your value to the recruiters by presenting your key selling points. This kind of cover letter opening will make your cover letter an impressive one to read.
Hello Jennifer Susan,I saw the vacancy in the post of the taxi driver of your company in an advertisement in the newspaper. I feel that with my years of experience as a driver and tons of positive reviews, I am the best taxi driver you could find for this position.
Hey boss, Looking for a ride in a vehicle with jet speed? Then I am the taxi driver you are looking for. I don't care about road rules. My only goal is to transport the passengers to the destination on time.
Highlight your skills and experience in the cover letter body
When it comes to your cover letter body, that's the prime place to make your sales pitch. That means you have to prove yourself as a good taxi driver. Remember that recruiters are always looking for a hole in your resume and cover letter to eliminate you from the competition. So you should make your career materials without any mistakes.
You can tailor your cover letter body with the keywords from the advert to make your cover letter more relevant to a taxi driver position. Copy and paste the keywords as much as possible to your cover letter body, especially the skills which are required by the job advertisement. If you have any relevant qualifications and further requirements and the relevant experience, you can list them also inside your cover letter body.
By doing so, you can get the attention of the recruiter easily as most of the employers are seeking experienced and skillful taxi drivers for their vacancies. Therefore, don't underestimate the power of the cover letter body. A properly written cover letter body could be one of your job-winning factors.
End with a call to action
As a taxi driver candidate, you must also share your excitement and enthusiasm for joining with the company at the end of your cover letter. You also need to write a call to action. Here you can mention your email address and phone number for the one last time. So that the recruiter can call you instantly if you are the chosen one. Don't hesitate to thank the recruiting manager for dedicating his precious time to reading your cover letter at the end of the cover letter.
Why a postscript?
Since most of the applicants do not add a postscript on their cover letter, it will be a great advantage if you add a super postscript at the end of your cover letter. This will help you to land your dream job quickly. The reason for this is that most of the hiring managers used to read the postscript first before reading the cover letter from the beginning.  So if your postscript is impressive, you are halfway done in your job search.
The Most In-Demand Requirements for a Taxi Driver
Clear criminal record
Communication skills
Customer service skills
Excellent knowledge of local geography
Familiarity in GPS software
Interpersonal skills
Previous experience
Punctuality
Time management skills
Tolerance
Valid Driving License
Valid permit to transport passengers
Well groomed & professional appearance
Make your Cover Letter a Powerful one with these Action Verbs
Adhered
Appreciated by
Assisted
Carried
Checked
Collected
Drove
Ensured
Informed
Managed
Started
Transported
Download Free Taxi Driver Cover Letters
Template 1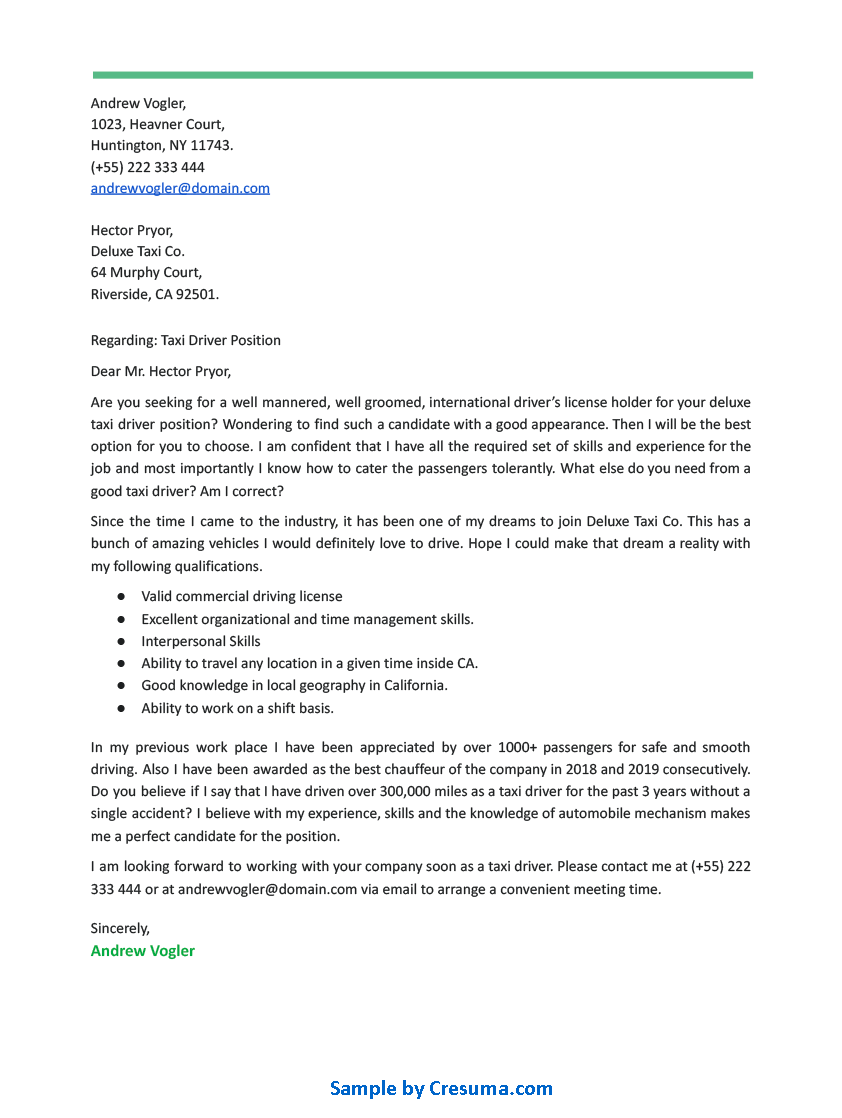 Template 2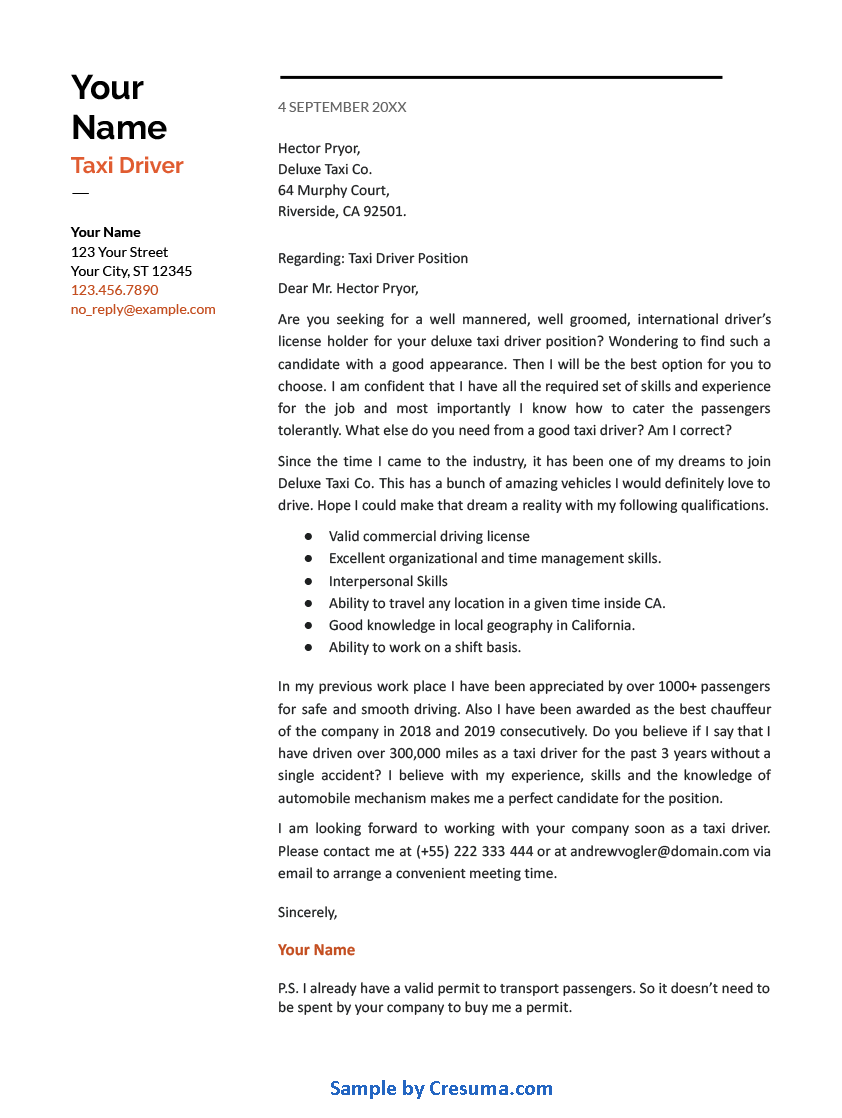 Template 3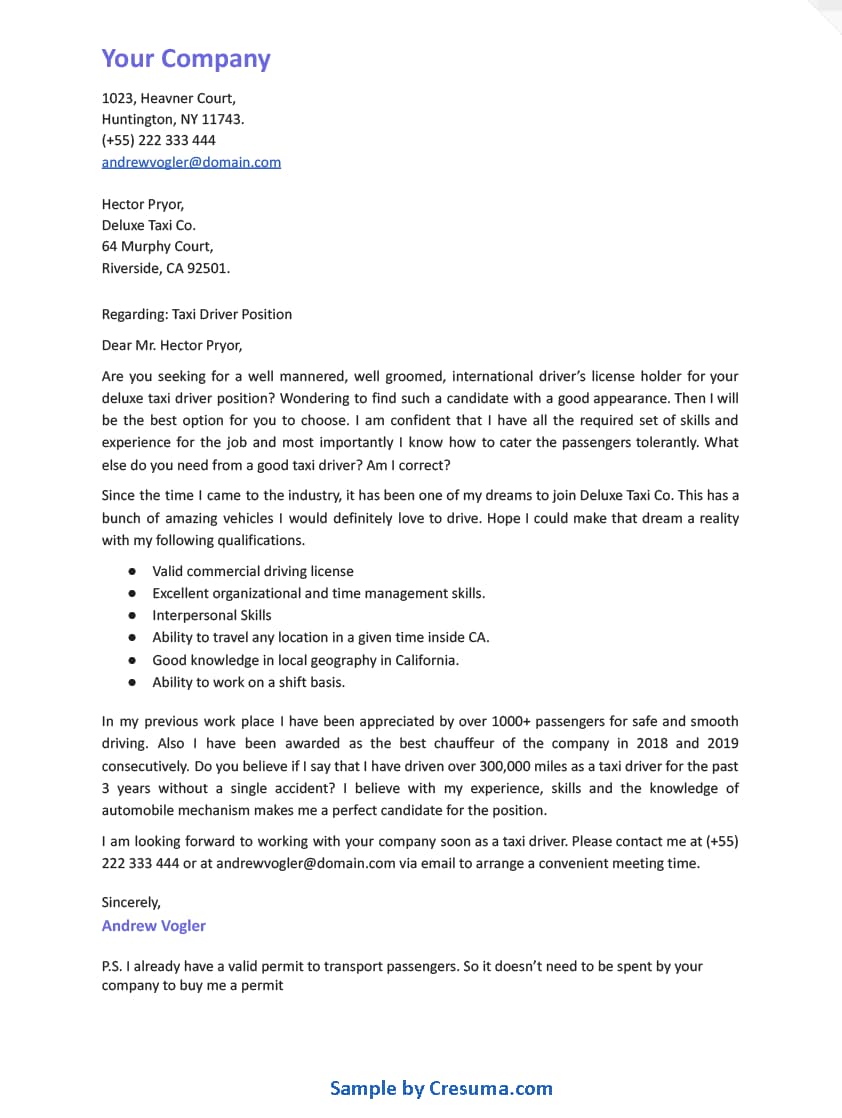 Template 4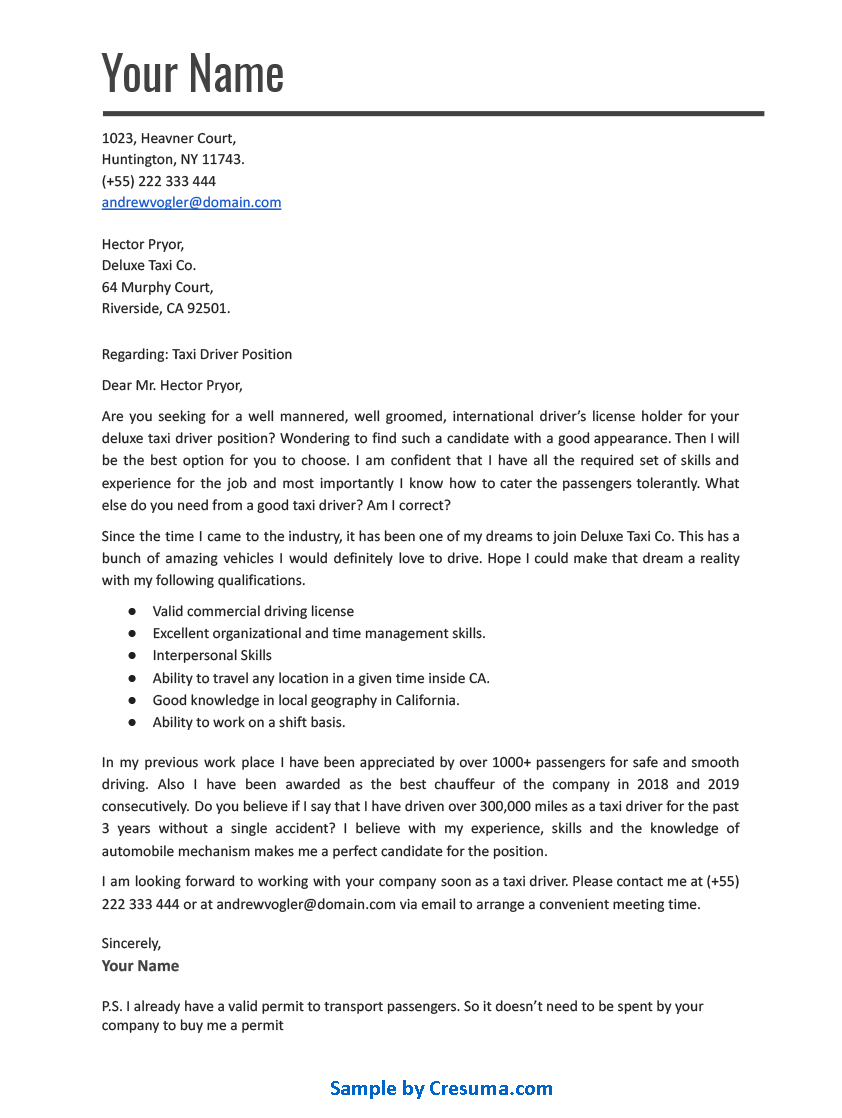 Template 4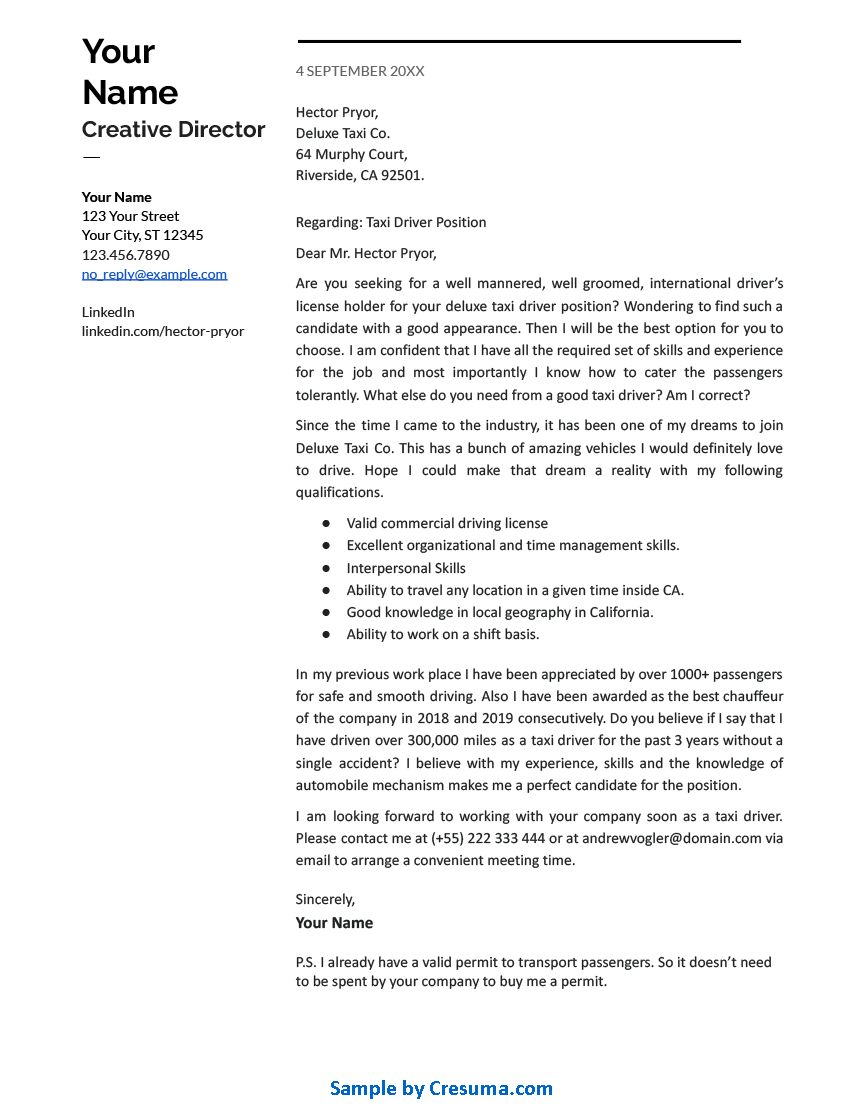 Looking for a custom cover letter? Get unique one crafted specially for you from Cresuma experts
As now you are fully aware of how to write a perfect cover letter , now it's the best time to learn how to write a perfect resume Note that, with just a good cover letter it's hard to be successful in your job search. At the same time you need to have a great resume to submit with your application.
Need to read other cover letter examples too? Head over to Cover Letter Examples 2023