Journalist Resume Example (+Writing Guide)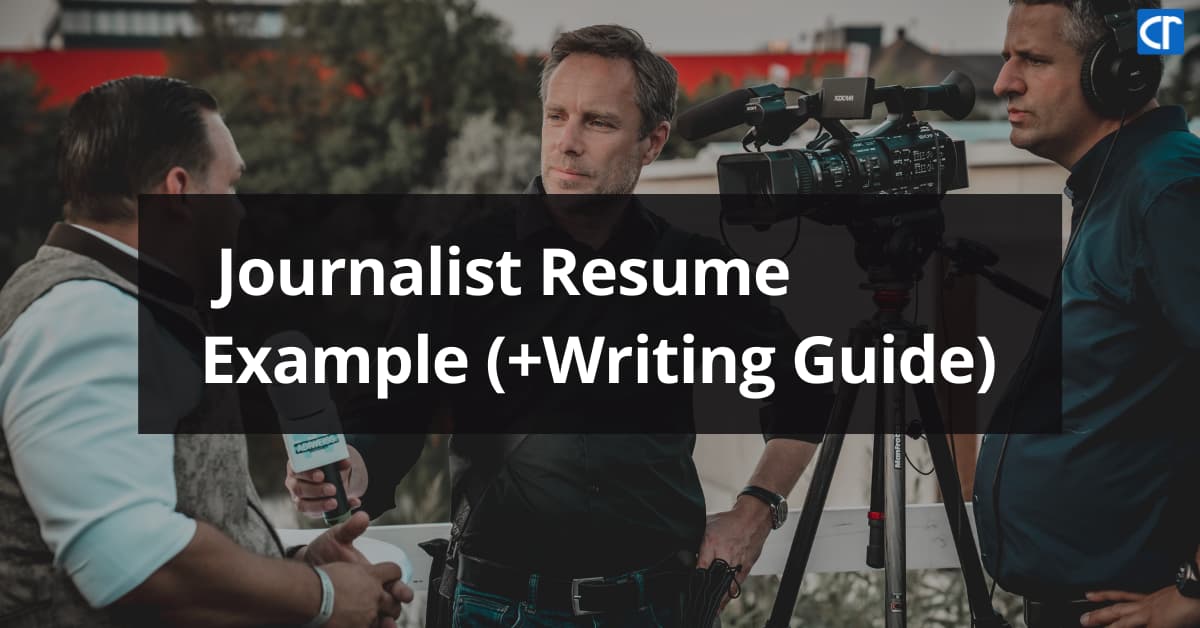 Complete Resume Guide for a Journalist
Best Tips and Secrets from a Professional Journalist
Media & News Industry vs Modern Recruitment Process
Journalist Resume Example (Text Version)
No hidden costs. Download your ATS-Friendly resume in PDF for absolutely FREE after creating.
Journalist Resume
No need to start from the beginning. Edit this resume sample with your information and keywords from the job posting.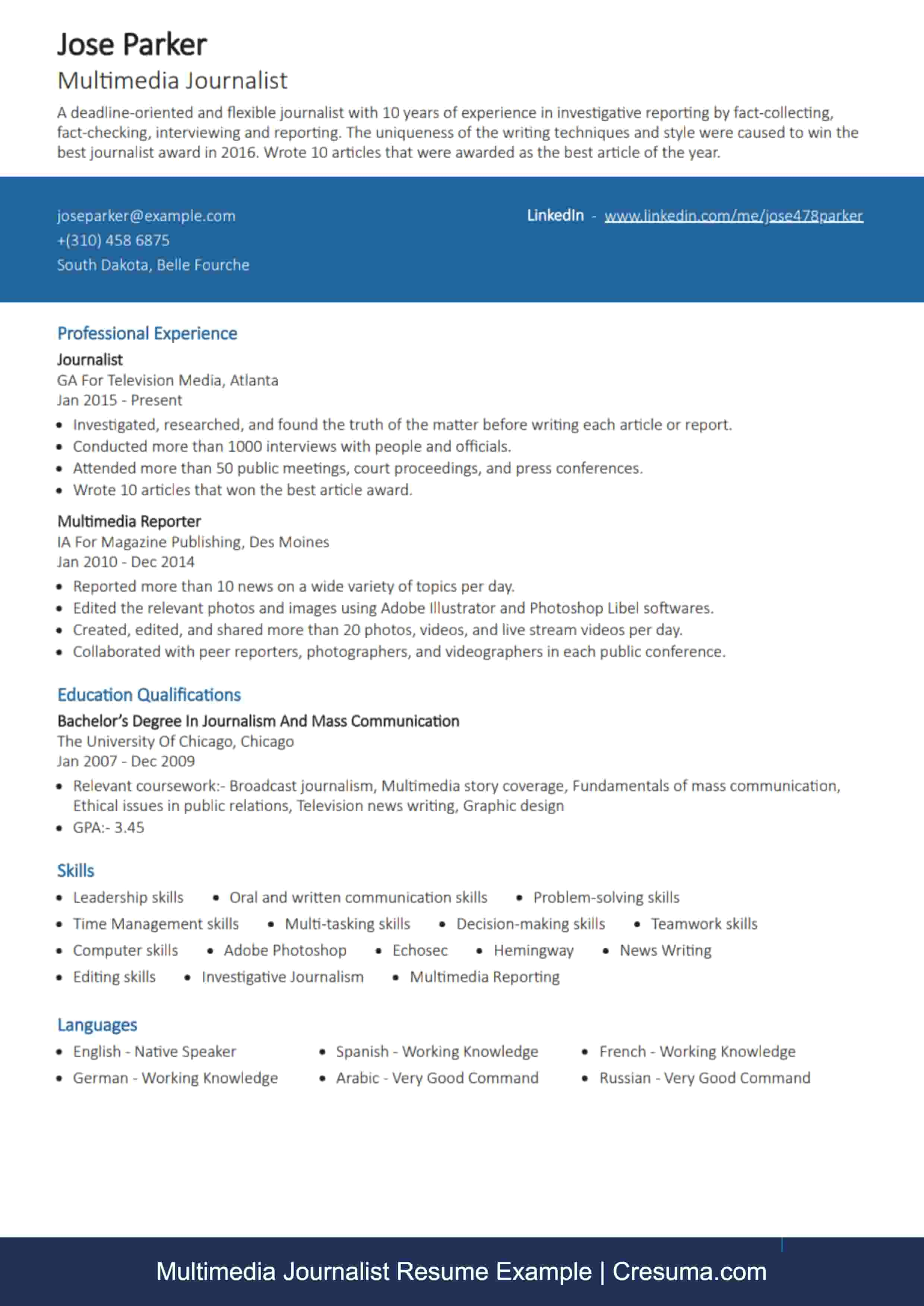 Complete Resume Guide for a Journalist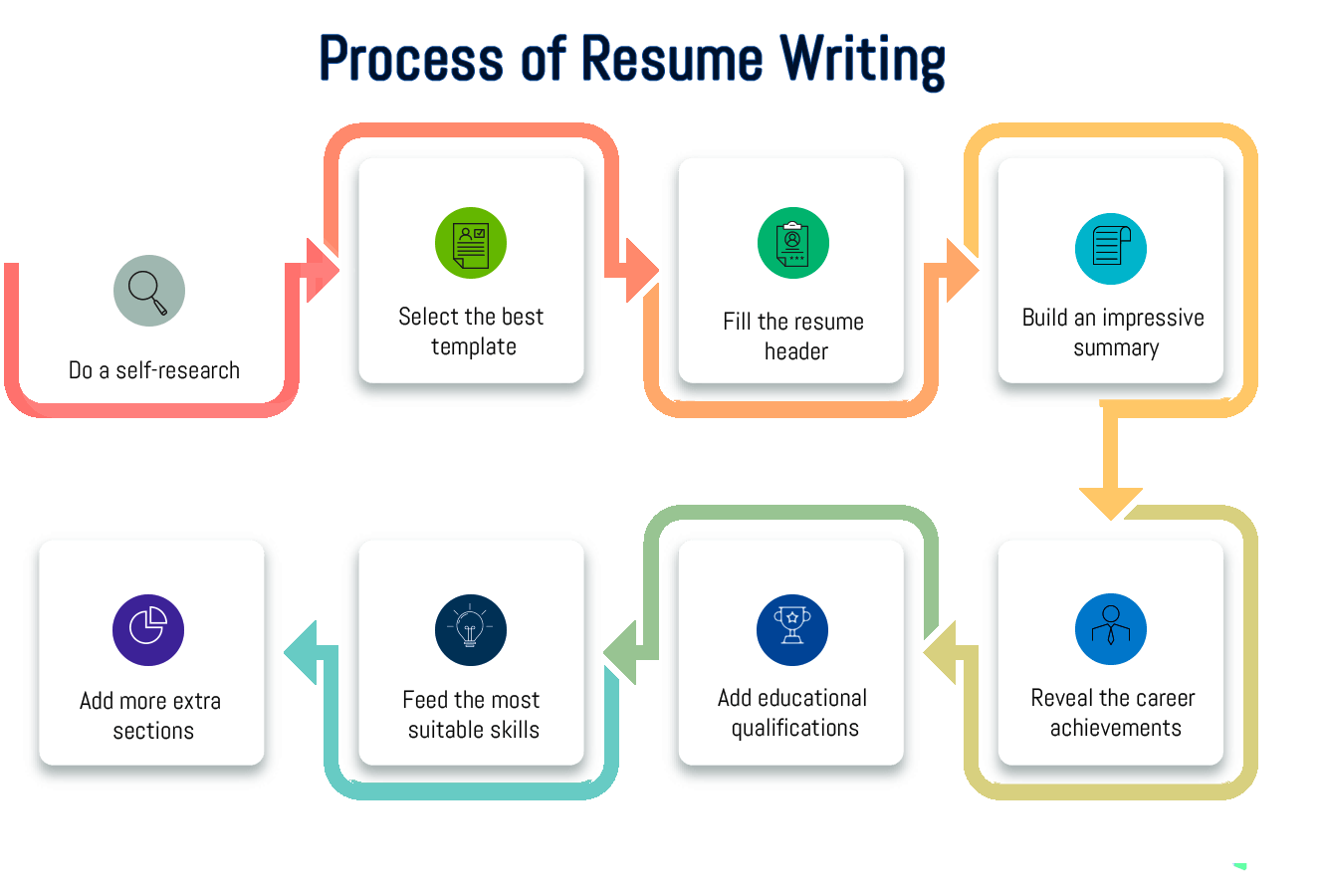 01
Should I research before creating my resume?
Yes. As you are an expert in researching this self-research may be a very easy task for you. You have to collect some information about the company and job vacancy thoroughly.
Should I visit the company and interview to collect information? Never. Do not go so far. There are so many resources to do simple research. The first and main source is your job advertisement. Then you can search the social media accounts of the company such as LinkedIn, Facebook, Twitter, or company web page.
If you have a personal connection with the employees of the company, you can ask about the company from them to collect some live information.
02
What can I realize from the self-researched data?
Understand your future workplace
There are 3 main types of journalism according to the medium. Also, different types of News Broadcasters and News Agencies specialize in those different media.

What is the importance of understanding the workplace? For example, if the job advertisement is published by a Newspaper company, you have to highlight your skills, competencies, and career achievements related to print journalism more than other categories. Then the recruiters will impress on your resume and tend to hire you.
Understand the required field of specialization
You may know there are many news specializations. If you are applying for a large-scale News agency your job vacancy may be specific for a certain category.
Why is the field of specialization important to a journalist? If you know the exact specialization of your target news agency you can highlight your talent, skills, competencies, social connections, and other extra qualifications related to that required specialization in the summary and work experience section of your resume.
Other than that you can add a descriptive job title to your resume according to the requirements of the company. For example, if the company is looking for a political journalist you can mention it in your job title. Then they will really impress and read your resume further.
The following table represents the types of the specializations of journalism and what you have to focus on in your resume, if you have to apply for a specialized job vacancy.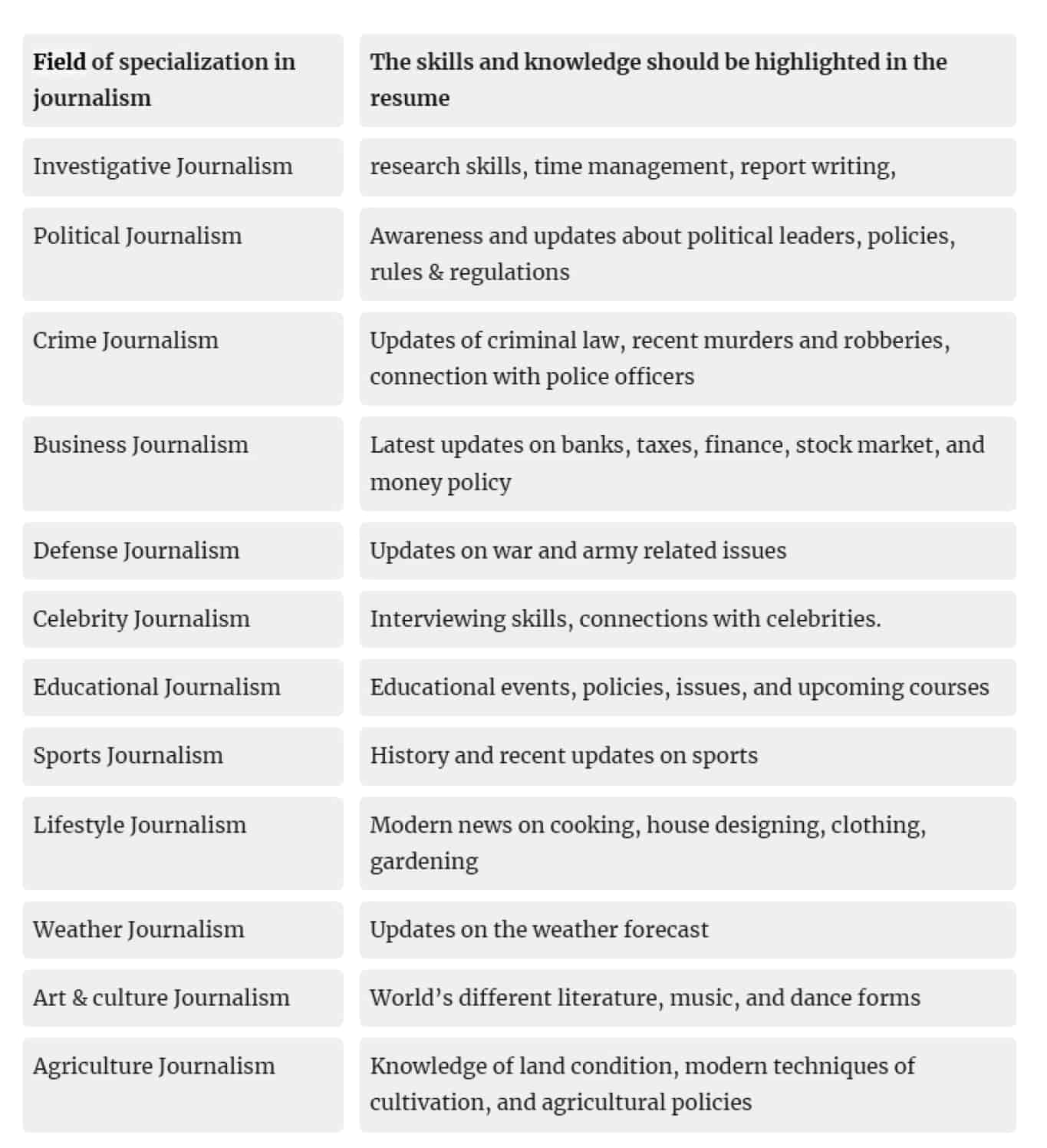 03
What can I do with the job advertisement?
When you read the job advertisement, you can understand which kind of a journalist that the target news agency is looking for. Then you can tailor your resume based on their requirement. It is the best way to get more interview chances.
Pick the relevant Keywords
What are the keywords? During the study time of your job advertisement, you will meet some key terms that represent the skills, qualifications, objects, people, or processes related to a journalist. Those words are keywords.
We have highlighted the keywords of the following sample job advertisement related to a journalist. But those keywords may differ from one advertisement to another.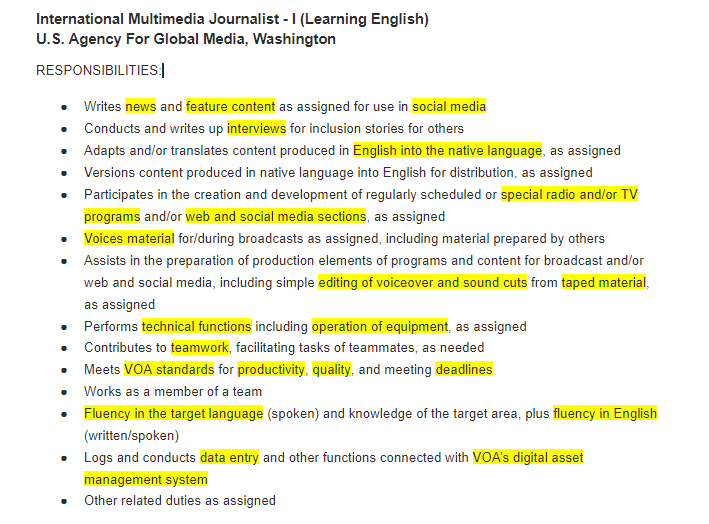 Detect the suitable Action verbs
What are the action verbs? The action verbs express the duties and actions done by the journalist from the information gathering task to the news production task.
Usually, the explanation of the job role in the job advertisement contains many action verbs. Though they are in different verb forms, you should use 'the past form' of the verbs in your resume to showcase you have already achieved the goals in your career life.
Refer to the following image to make your action verbs searching process easy.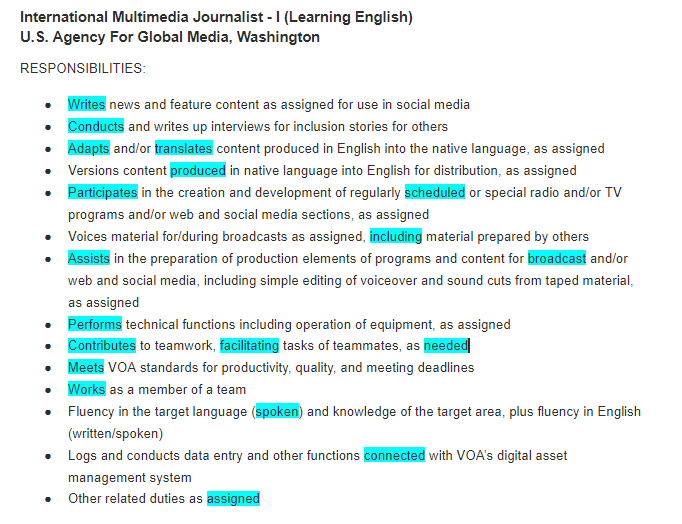 List of Action verbs related to a journalist
Wrote
Submitted
Reported
Reviewed
Prepared
Planned
Proofread
Questioned
Recognized
Met
Maintained
Interviewed
Investigated
Handled
Edited
Developed
Designed
Coordinated
Collected
Attended
When and where to use the action verbs and the keywords in the journalist resume?
Usually, you can use those words to explain the career achievements in your summary and work experience section. Those will really help you to pass the Applicant Tracking System test.
Also, you can use relevant keywords and action verbs when you write a cover letter for your resume. But make sure you have applied them meaningfully and purposefully.
04
What kind of resume template is suitable for a journalist?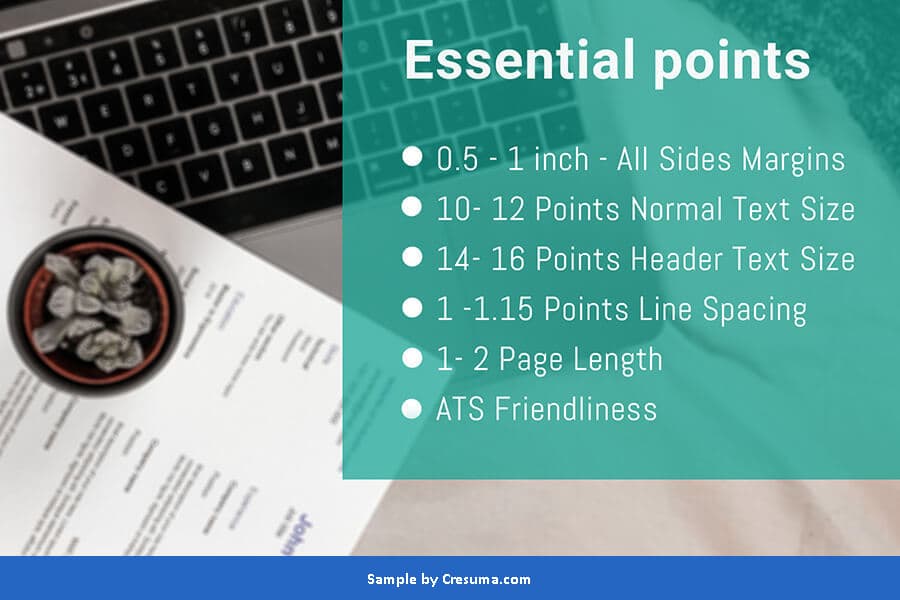 There is no specific color, layout, or a specific style of the template for a journalist. You need to display your information attractively and clearly to draw the attention of the recruiters. Therefore, choose any template according to your willingness.
Can I use many graphics with heavy colors? No. It is not a good idea because your resume passes the ATS test only if there is a good ATS readability in your resume. As the heavy graphics disturb the ATS readability, you should tend to use a simple graphic.
Can I get more attention from the recruiters if I submit a resume with many pages?
Never. Usually, hiring managers are fond of reading one-page resumes But if you have more than 5 years of experience in journalism you can create a two-page resume.
Will I use the Times New Roman font style?
No. You should reveal that your resume is unique. Therefore do not use such common font styles. The Open Sans font type is more clear, modern, and unique. So, it is better to use this kind of resume font style in your resume.
05
What is the most essential information in a journalist's resume header?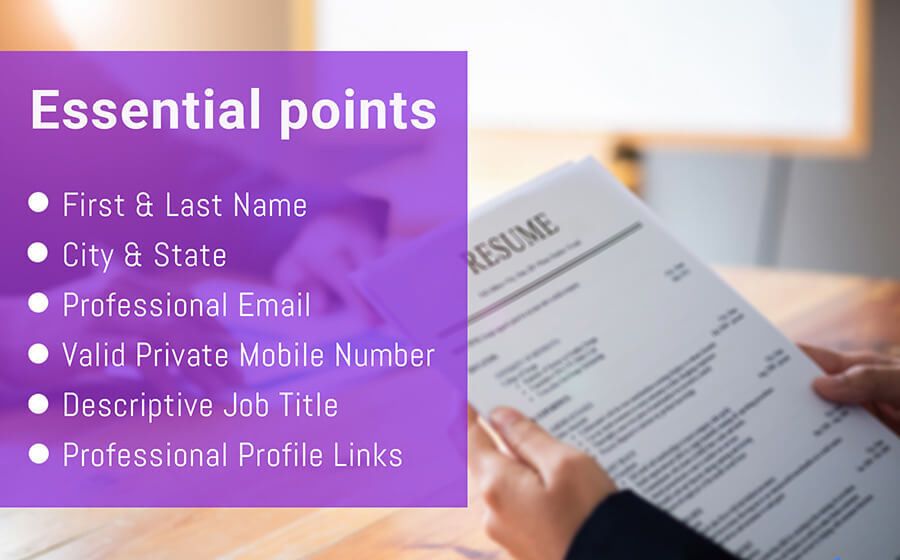 The above image has displayed the common and the most essential information of a resume header in short. We recommend adding only the first and last name because that saves space as well as directly shows your name.
Some applicants tend to mention only the contact number or the email address. But you have to mention both. However, the contact number should be personal and available. Do not mention your official numbers. At the same time, the email address also should be very personal to yourself. But it should never contain any fancy words.
Your location reveals how far you are from your future office. Therefore just mention the city and state. Otherwise, the recruiters will feel that you will be unable to come to the office on time.
06
What is the importance of social media for a journalist?
As we have mentioned at the beginning the online websites and YouTube channels are a significant news stream nowadays. Though you are specific in online journalism or not, the ability to control the modern news streams will be an extra value to your resume.
How to show the engagements of social media in your resume? There are two ways. First, if you have your own news website or a YouTube channel, mention the URLs in your resume header. As well as you can mention the user's statistics such as average views on your YouTube channel and average clicks on your website, in your summary, or work experience as the career achievements.

07
May I add a photograph with my camera to my resume?
It's up to you. First, check whether your job advertisement requests a photo of you. If yes, Add a professional photo to your resume. We recommend not to add a photo if the job advertisement does not request
A photo-free resume will facilitate adding extra qualifications by saving space.
Do you want to say that you are ready to provide the photos to the news, by adding a photo with a camera? Include the type of your photography under the 'hobbies and interests' section. Also, you can add a key achievement in your summary or work experience as 'provided more than 100 photos related to the recent news'.
08
How to impress the recruiters with my summary statement?
Your summary statement should not be messy and lengthy. Especially focus on your top achievements, unique skills, and the best educational qualifications as a journalist, when you create your summary statement.
Try to quantify the results of your achievements using years, percentages, and amounts. As mentioned in the beginning, the resume summary is the main section to place the keywords and action verbs meaningfully.
Example from an Expert
Summary
An immensely creative multimedia journalist with 10+ years of experience who won the best article award 10 times continuously. Expert in fact-collecting, interviewing, and reporting with the best and unique writing style and techniques. Has written more than 1500 articles by dedicating sound investigative research methods.
09
How to compress the prior career history of a journalist?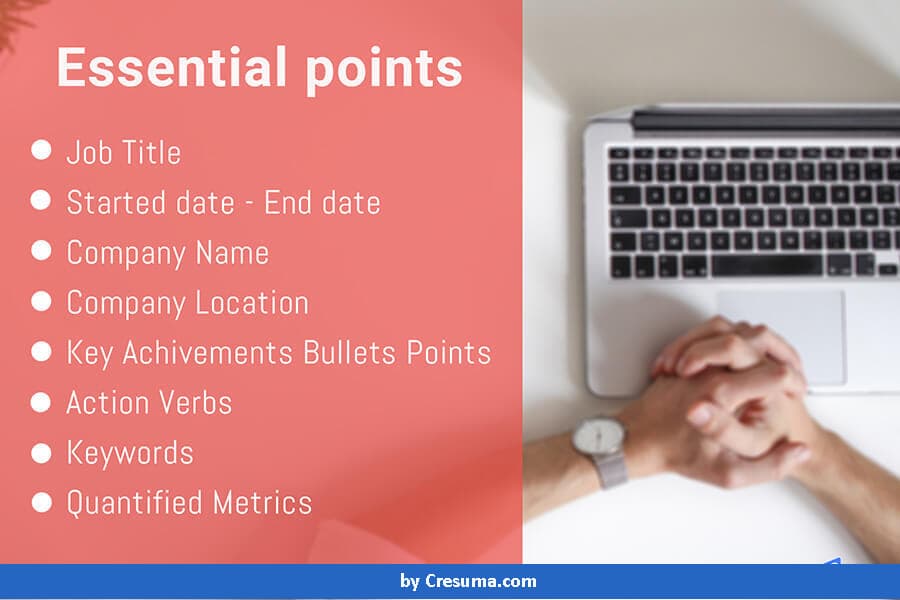 If you apply for an opening at an architectural firm and the recruiters are satisfied with you, they will definitely look at your resume's header to get the contact details of you.
As the image represents you have to mention the job title, employment period, name, and location of the news agency, as well as 3-5 bullet points of your career achievements in your work experience section.
Why can't I mention the duties and responsibilities of the journalists? The recruiters already know the duties and responsibilities of a journalist clearly. They want to know what you have done as a journalist and what you have gained from journalism. Therefore, never mention the duties instead of achievements.
May I explain my achievements in a paragraph? Never do that if you want to be a journalist soon. The recruiters scan your resume within just 6-7 seconds and they want to know your every value quickly. The paragraphs take time to read. So, the recruiters will reject the resume.
10
What do the recruiters seek from my career achievements?
You should reveal that you are a great journalist from your career achievements. So let me tell you a secret to enhance the value of your achievements. That means you can show that you obey the principles of journalism in your career achievements as possible.
Here are 5 principles of journalism. You do not need to say these qualities directly. But you can prove them by mentioning the relevant career achievements.
Accuracy:- To present you as an accurate journalist, say that you have never done the non-deceptive handling of the facts or you have shown away the deceptive facts handling of others.
Independence:- To reveal that you work independently, never mention that you have been a spokesman of the government or representative of a particular business or political group.
Impartiality:- Reveal that you have collected all opinions and considered all sides of the story as an investigator.
Humanity:- Never mention that you have provided news that harms the people. Always express that you have protected the people by presenting news.
Accountability:- Say that you have researched many times and ensured the correctness of the news before presenting it. But reveal that if you have published fake news you have corrected it as soon as possible.
Example from an Expert
Work Experience
Journalist – 2016/Jan to 2018/Dec
NY for Publishing Careers, New York
Collected the real facts by interviewing more than 20 people or officials in each incident.
Reported more than 50 occasions of court proceedings, press conferences, or public meetings.
Worked as a team with other reporters, photographers, and videographers in each investigation.
Awarded as the best reporter 3 times continuously.
11
Have you worked as a volunteer journalist?
If yes, that will be an extra chance to show your engagement with journalism. So, you can add a separate section after the work experience section as a volunteer experience and mention your achievements as a volunteer journalist.
As in the work experience, use keywords, action verbs, and quantified metrics such as years and percentages to enhance the value of your achievements.
12
What is the minimum educational qualification to be a professional journalist?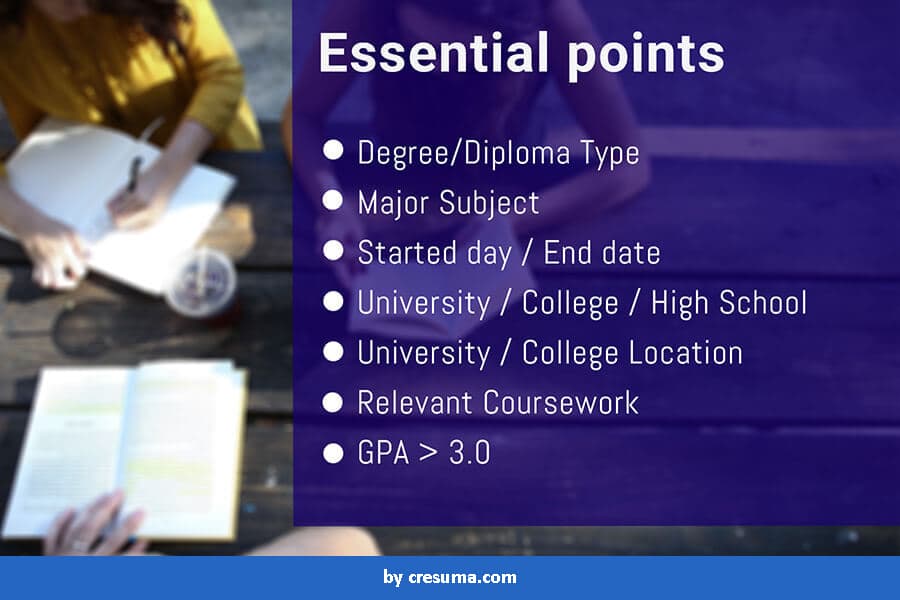 A bachelor's degree in Journalism, Communications, English, or relevant field is the minimum educational qualification for a journalist. But if you have covered many degrees such as Associate's Degree, Bachelors' Degree, Master's Degree, Doctorate Degree related to the journalism field you can mention them by prioritizing the higher-level degree first.
As the above image mentioned you have to share the degree type, major subject, course duration, university name, and location under each qualification.
How to make my education section stand out? You can compress some relevant coursework of the degree as the example displays below. Also, mention your GPA if it is higher than 3.0.
Example from an Expert
Education
Bachelor's degree in Journalism – 2007/Jan to 2009/Dec
Stanford University, Stanford
Relevant coursework:- History of media, Ethics and law, Web design, Broadcast news, Photojournalism, Editing
GPA:- 3.59
13
Why do I mention soft skills in my resume?
Teamwork skills:- A team of journalists in different companies usually gathered in press conferences or other public investigative sessions. Therefore cooperative skills and the ability to work as a team are very essential for a journalist.
Oral & Written communication skills:- A journalist has to cover a particular subject, matter, or issue and create a report or article on the researched facts. Therefore ability to handle oral communication well will help to do some interviews with the relevant people and the written communication will assist to do both note-taking and report writing tasks.
Analytical skills:- The journalists have to get a final decision in their investigation after analyzing all facts that he found. Therefore the ability to analyze the facts correctly is a must for a journalist.
Organizational skills:- Usually a journalist deals with reports, images, cameras, and computers. Therefore, a well-organized surrounding and organizational skills will help him to process the duties smoothly.
Time Management skills:- Going to the place where something happens quickly, note-taking, photo, and voice-cuts, or statements taking is an ongoing process of journalism. Therefore the journalist should manage the time to create a correct and better output.
14
What are the hard skills related to a journalist?
There are some abilities, competencies, and skills that are specific to the journalism industry. The journalists who have those resume skills are able to earn more marks from the resume. Here are some journalist related hard skills / technical skills.
Community Journal skills
Investigative Journal skills
Ethics & Integrity
Multimedia Reporting
Shorthand
Basic coding
Newsgathering
News Writing
Editing skills
Proofreading skills
Storytelling
APA Style
Columns & Op-Ed Pieces
Information Systems
News Wires
Social Media awareness
Research & Fact-Checking
Software:- Adobe Photoshop, TinEye, Echosec, Hemingway, and Slick write.
15
How does the entry-level journalist differ from the experienced journalist in resume writing?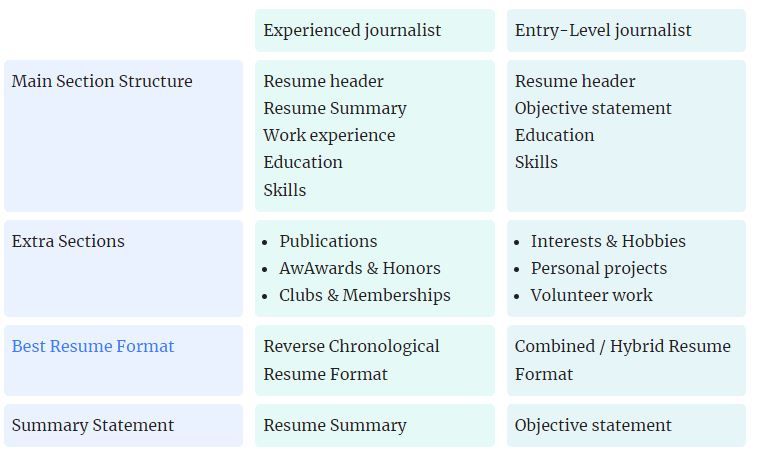 16
How to write a perfect objective summary for a beginner journalist?
The objective statement is the substitution of the summary statement. Therefore you have to show your best values in the objective statement. You may have no career experience to show. But do not worry!
Explain to the recruiters of your news agency how you can help them to achieve the company goals by using your skills and education.
I want to be the best journalist in the future, can I mention it in my
objective statement? Never explain your personal future goals in your objective statement. If they ask about your future goals in your interview, give a great answer. But always try to reveal that you are more special than other applicants in your resume.
17
Have you ever received any certification related to journalism and mass communication?
If yes, your resume will earn more marks. But you have to mention the certification name, the certified year, organization or institute that certified, and certification URL, if available.
Here are some famous certifications related to journalism and mass communication.
Social Media Academic Credit Certificate of Achievement – Brookdale Community College
Screenwriting Certificate – London Film Academy
Online Social Media Marketing Course – BrainStation
Certificate in Digital Content Management – Emerson College
Graduate Certificate in Communication and Leadership – Purdue University Online
18
What type of conferences have you covered before?
For example, If you are applying for a vacancy of an educational Journalist it is better to mention the educational conferences that you have participated in and reported as a journalist before. That information lets the recruiters understand your scope and talent in the field.
19
Have you ever received any journalism award?
That award may be an online award. That is not a problem. That will be a great opportunity to show your talent. Sometimes you can mention it under the work experience section or in your resume summary. But it is better to mention them in a separate section called ' Awards & Honors'.
***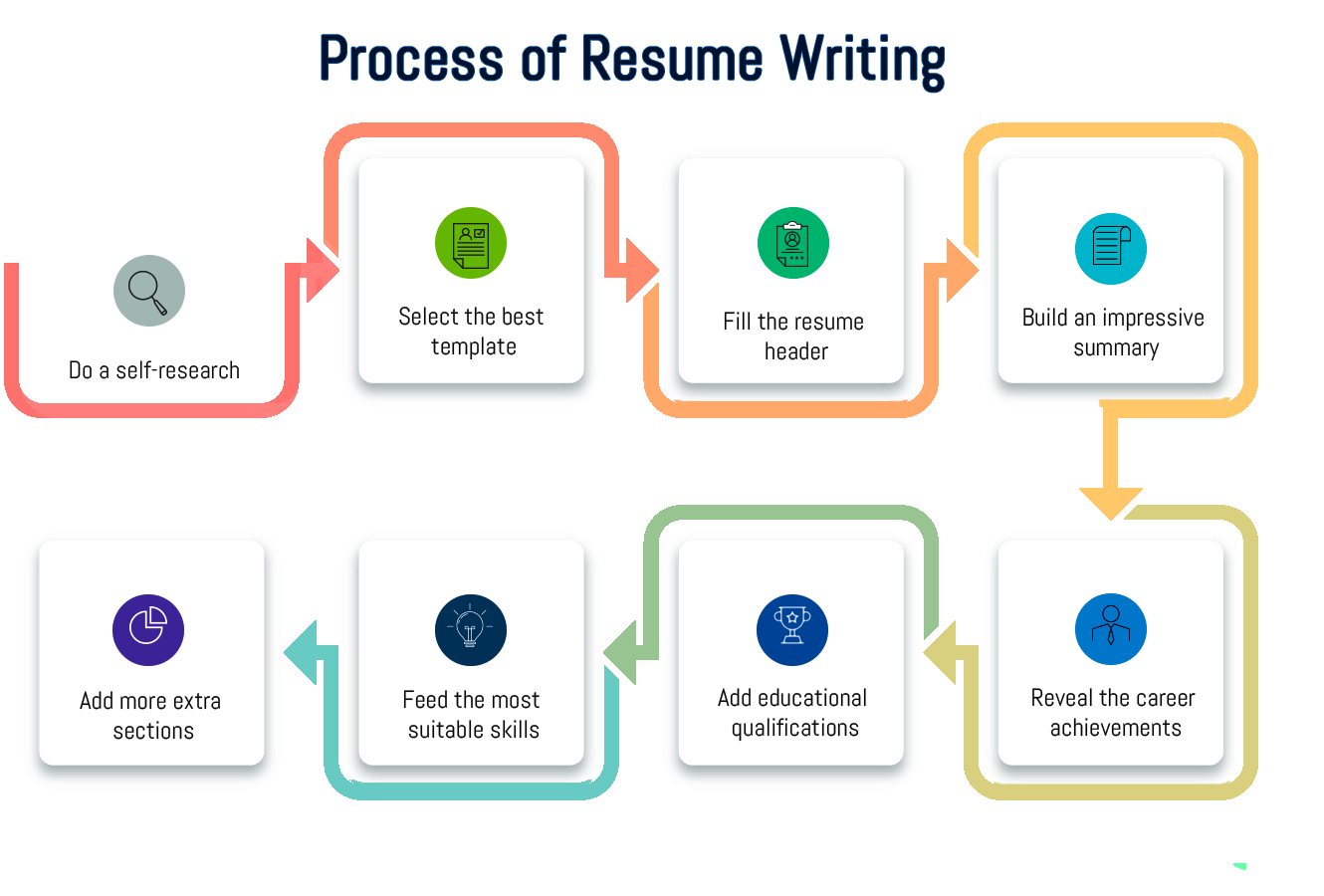 Best tips and secrets from a professional journalist
Tip #01:- Attaching a perfect cover letter
Usually, the journalist just sends the resume only. Only if the job advertisement requests a cover letter, they send a cover letter But attaching a cover letter to your resume is not a fault. That will be a great way to impress your recruiters.
You can professionally praise the news agency. Further, you can explain the extra qualities of the news agency by comparing others. Finally, you have to showcase your qualities, skills, and competencies that can be used to achieve and enhance the company goals in the future. Additionally, you can find the name of the hiring manager of the news agency and greet him directly. Then the recruiters feel like you have organized well for the job opening.
TIP #02:- Saving the resume in PDF format
The resume should have a high quality of ATS readability. Some journalists create their resumes as an image and export from Photoshop. But the ATS will never be able to read the content of the images.
PDF is the best ATS friendly file format than others. But doc. Docx. and plain text files are also considered as ATS friendly file formats. Therefore the professionals always suggest saving your resume in ATS friendly file format.
TIP #03:- Proofreading before send it
The professionals have observed that the majority of journalists have submitted their resumes with errors and mistakes. Finally, they have been rejected by the ATS or recruiters. Therefore they always inform you to proofread your resume by yourself. Otherwise, give some hard copies of your resume to the experts or your friends and let them proofread your document.
Pro tip: Show your knowledge in Digital Journalism
If you are aspiring to be a journalist, you must have a good understanding of digital journalism tools and in-demand skills for journalism in the digital age. Nowadays, due to the changes that have taken place with the advancement of technology, it is very difficult for you to get a job as a journalist with a traditional set of skills and knowledge.
So Maryville University has released the best resource guide about digital journalism Through this guide you can get a meaningful study on the evolution of modern journalism in America, how journalism has evolved in the digital age, tools for digital journalism, different types of journalism, journalism job resources, in-demand skills for journalism, future of journalism, etc.
Journalism vs Modern Recruitment Process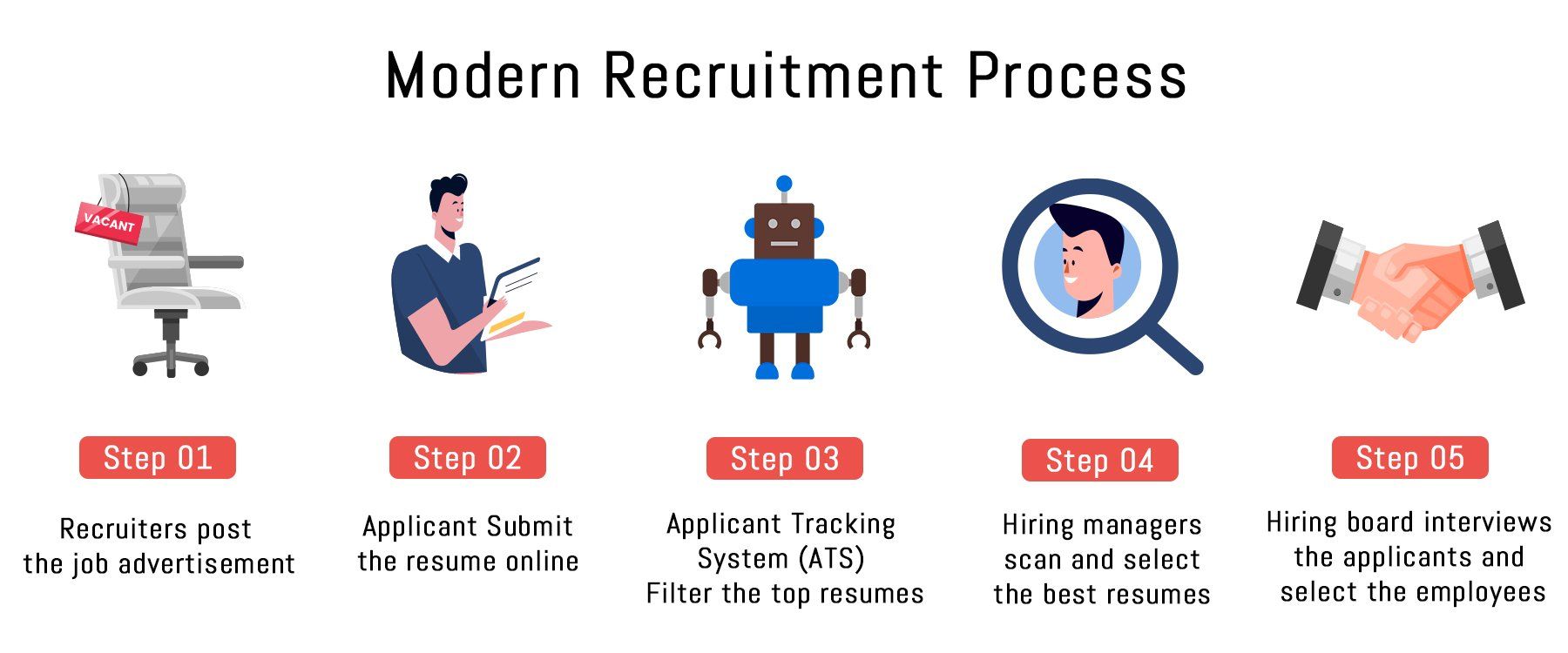 Overview of modern recruitment process
As the image shows, nowadays the news agencies post job advertisements online. Then the journalists should submit their resume through email.
Then the majority of news agencies use the Applicant Tracking System (ATS) to filter the thousands of resumes to find out the top resumes.
The recruiters scan only the top resumes and they select the best resumes to interview.
At the interview, the hiring board selects a suitable journalist for their news agency.
Therefore understand the competition in the journalism industry and tailor your resume to make the requirements of your target company fruitful.
Salary of a Journalist
The salary of a journalist rises up according to his experience. But mentioning the salary expectation in your resume is a bad idea that makes a bad image of you.
Years of experience
Average Salary (USD)
0-2 years
$29,831
2-4 years
$46,878
4-7 years
$56,181
7+ years
$68,860
Journalist Resume Sample (Text Version)
Jose Parker
Multimedia Journalist
+(310) 458 6875
South Dakota, Belle Fourche
LinkedIn – https://www.linkedin.com/me/joseparker454
Summary
A deadline-oriented and flexible journalist with 10 years of experience in investigative reporting by fact-collecting, fact-checking, interviewing and reporting. The uniqueness of the writing techniques and style were caused to win the best journalist award in 2016. Wrote 10 articles that were awarded as the best article of the year.
Work Experience
Journalist
GA for Television Media, Atlanta – (2015/Jan to Present)
Investigated, researched, and found the truth of the matter before writing each article or report.
Conducted more than 1000 interviews with people and officials.
Attended more than 50 public meetings, court proceedings, and press conferences.
Wrote 10 articles that won the best article award.
Multimedia Reporter
IA for Magazine Publishing, Des Moines – (2010/Jan to 2014/Dec)
Reported more than 10 news on a wide variety of topics per day.
Edited the relevant photos and images using Adobe Illustrator and Photoshop Libel softwares.
Created, edited, and shared more than 20 photos, videos, and live stream videos per day.
Collaborated with peer reporters, photographers, and videographers in each public conference.
Education
Bachelor's degree in Journalism and Mass Communication – (2007/Jan to 2009/Dec)
The University of Chicago, Chicago
Relevant coursework:- Broadcast journalism, Multimedia story coverage, Fundamentals of mass communication, Ethical issues in public relations, Television news writing, Graphic design
GPA:- 3.45
Skills
Leadership skills
Oral and written communication skills
Problem-solving skills
Time Management skills
Multi-tasking skills
Decision-making skills
Teamwork skills
Computer skills
Adobe Photoshop
Echosec
Hemingway
News Writing
Editing skills
Investigative Journalism
Multimedia Reporting
Languages
English – Native Speaker
Russian – Very Good Command
Arabic – Very Good Command
German – Working Knowledge
Spanish – Working Knowledge
French – Working Knowledge
More sample job descriptions for Journalist
Senior Journalist
Recruited and hired the pest junior journalists for the positions by considering their talents.
Monitored and oversaw a team of trainee journalists by providing relevant guidance.
Maintained a source of contacts and details of the circumstances for future needs.
Edited 50+ images according to the concept by using adobe illustrator and photoshop.
Managed the documents of both hard and soft copies.
Talked about the timely issues of religious, political, and economic sectors.
Traveled abroad for 3 months to collect the foreign news with clear photographs.
Participated in over 50 media conferences and report the situation live.
Proofread 50+ newspaper articles, 100+ multi-media news posts, and 20+ video content before publishing.
Ensured the completeness and quality of the news when delivering on-air coverage.
Junior Journalist
Completed the whole process of writing, proofreading, editing, photo selecting steps of an article one day before the deadline.
Selected the best and trustworthy sources of the internet to collect ideas.
Ensured the quality of the images and photos of each publication.
Traveled throughout the country and conducted 100+ interviews with clients.
Built a web of relationships with clients, politicians, and celebrities.
Covered both breaking and local news including various types of topics such as crime, health, entertainment, and court.
Conducted 500+ interviews over the phone,  face to face, and through emails.
Maintained and updated the contacts database regularly.
Worked under pressure and stress but provided the best news always.
Business Journalist
Maintained the records for the financial and other administrative activities.
Handled confidential information by ensuring the safety of the information and owners.
Managed multiple projects at the same time ensuring the accountability of each project.
Researched and updated the modern business trends using trustworthy resources.
Analyzed the annual reports, ledgers, and other business reports and collected the real images for the article.
Defense Journalist
Supervised four broadcasters managing the television station.
Wrote, shot, and edited the television news reports of the United States air force.
Monitored the operation of AFN radio station with 10 transmission towers of 2 million worth.
Produced 100+ radio and 200+ television news stories while shooting the scenes.
Interviewed 150+ Public Affairs Officers to inform the current situation in the force.
Want to build a perfect resume by yourself? Click on the below button.
Want to get a perfect Journalist cover letter created by an expert?
People who read this also read: