Photographer Resume Example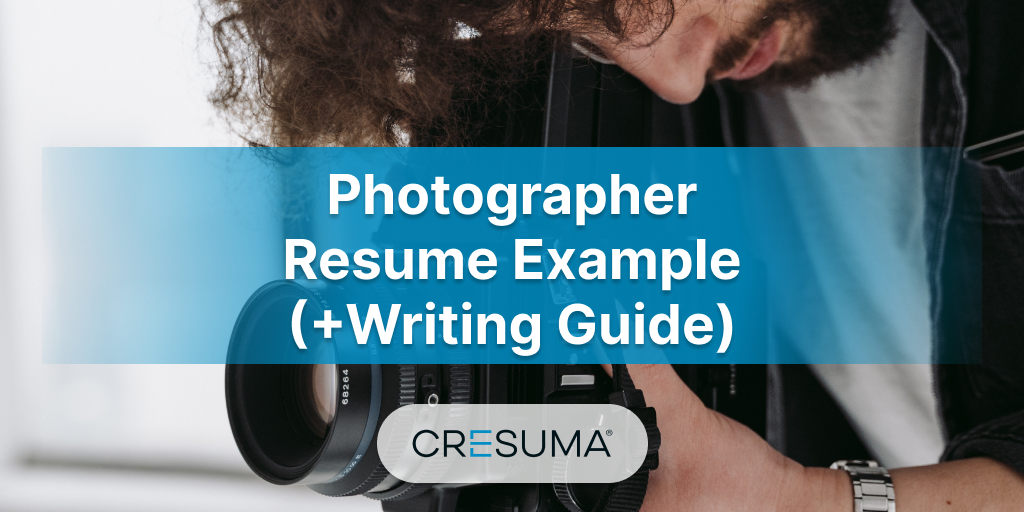 Are you a creative person? Then you might be available with excellent ideas for a creative resume, isn't it? However, if you use our free downloadable photographer resume sample and writing tips, you can land more freelance photography opportunities and interview opportunities from renowned studios for sure.
No hidden costs. Download your ATS-Friendly resume in PDF for absolutely after creating
Photographer Resume
No need to start from the beginning. Edit this resume sample with your information and keywords from the job posting.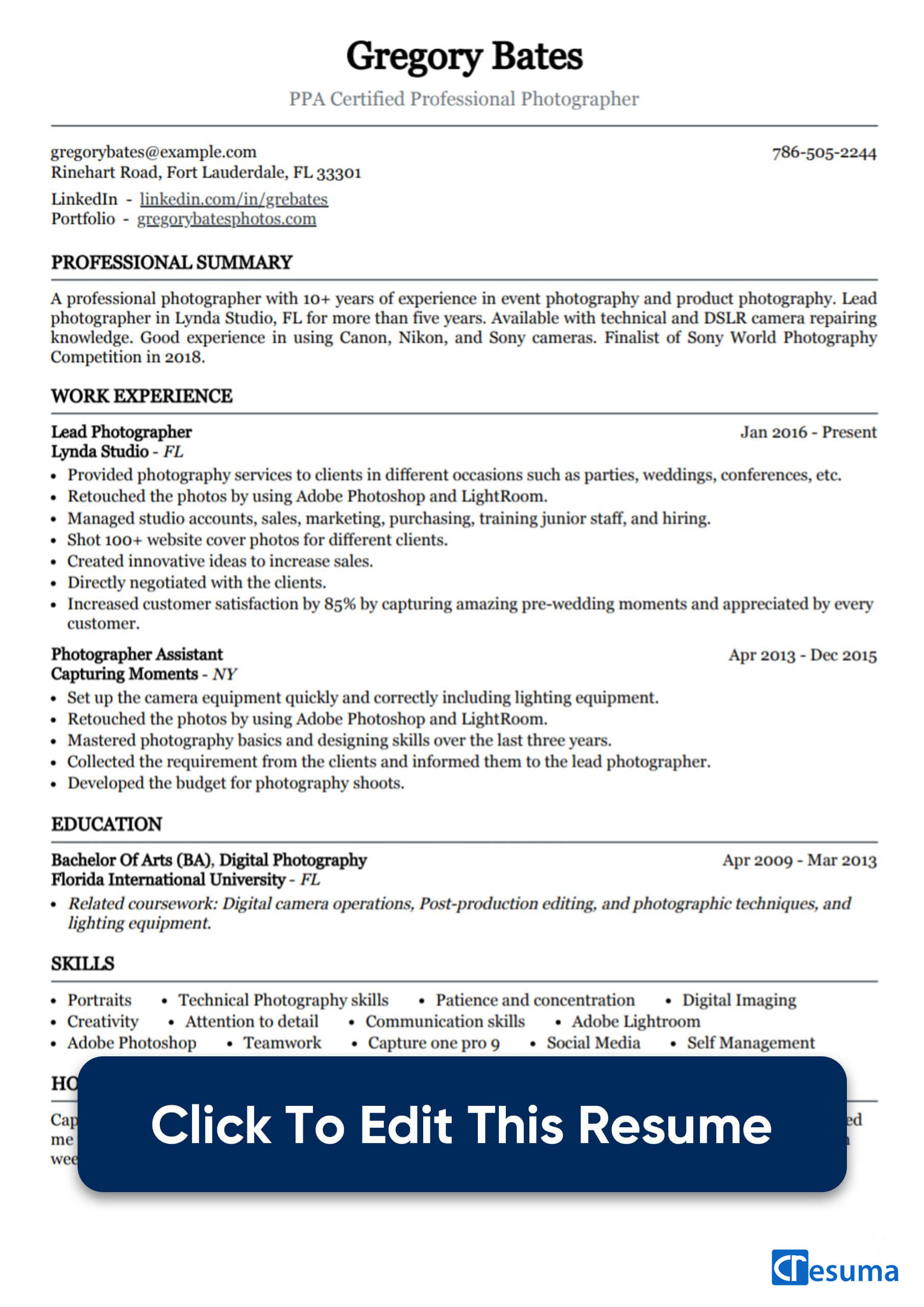 Importance of having a perfect photographer resume
Before applying for any job, you must know how to write a resume correctly. If you are applying for a job as a professional photographer, you can get positive results only with a unique resume. As we all know, being a photographer is a dream for many people. It is also a job that is in great demand and a job that maximizes freedom. That is why the competition for being professional photographers is huge.
However, if you can capture the world around you in the most creative way and are able to sell the creative skills you have through your resume, there are many job opportunities to make your career a success.
Today, many photographers are self-employed and some work in photography studios. But current researches have shown that employers will soon stop hiring permanent employees and instead seek the help of freelancer photographers.
This means that you need a better-tailored resume than ever before. So in this article, we hope to teach you exactly how to make a resume for a photographer position. Include the below resume writing tips we offer in your resume and become the owner of a winning resume.
How to properly start building your resume?
You need to be creative when building your resume. But you need to make it subject to a standard resume format. So the first thing you need to do is choose a good resume format that suits you. We always recommend that you build your resume using the reverse-chronological format. That way, you can highlight your related work experience as well as your skills.
As you are applying for a creative profession, you need to use a modern resume template when building your resume. However, your resume header should clearly state your name and other relevant contact information. Including information such as LinkedIn Profile, Portfolio Website, and Instagram in addition to general contact details will further increase the value of your photographer resume.
You may be wondering whether or not to put your picture on your resume. Often the employer will mention it in the job advertisement if they need such a photo of you. Only include a professional photo on your resume when it is mentioned to do so in the job advert. At other times you do not need to put your picture on resumes. Set aside that valuable space for any other important and relevant information.
Write a creative but convincing resume summary
The photographer resume summary is your elevator pitch. That is the first paragraph a typical hiring manager read in your resume. His first impression is very important. So you need to write it down exactly to the point so that it attracts the recruiter's attention

.

Some people misunderstand the resume summary with the objective statement. The resume objective is best suited for novice or inexperienced applicants. But if you are an experienced and skilled photographer, the resume Summary will be ideal.

So, how exactly do you make a resume summary?

We should simply present here a summary of the achievements you have made in your career history, the results you have achieved using your skills, etc in a concise manner. You need to write your resume summary so that the employer will impress. For that, you can include action verbs as well as quantified results to highlight your achievements. The following example will give you a good idea of the resume summary.

Good Example

PPA Certified Professional Photographer with 10+ years of experience in wedding photography, event photography, product photography, and architecture photography. Lead photographer of the Snapking Studio. Shot 1500+ cover photos for leading websites across the globe. Finalist of the Sony World Photography Competition 2019.
Capture a great photographer resume work experience section
This is one of the most important parts of your resume. This will provide a focused snapshot of your career achievements and accomplishments to the recruiters. This is a great place for recruiters to identify your potential too.
If you want to get a winning resume, show that you are a result-oriented person. The best place for that is the resume experience section It is not a difficult task to craft a perfect resume work experience section if you follow our tips properly.
There is no point in simply describing your job duties and responsibilities. All you have to do is explain the problem, the action you took, and the result you have achieved in a few bullet points. We called this process, the PAR method. It is always better to quantify your achievements with quantified metrics such as numbers, statistics, years, etc.
When you describe your job responsibilities, achievements, or accomplishments, you can start those bullet points with relevant action verbs to enhance your job descriptions. Starting your resume bullet points with resume action verbs will make the recruiter think that you have been successful as an active employee in your job history and that you have a good initiative.
Here are the most relevant action verbs that you can use in your resume. By using these action verbs, you can make your photographer resume more impactful.
Captured
Created
Photographed
Managed
Assisted
Monitored
Implemented
Cleaned
Shot
Trained
Produced
Retouched
Set up
Executed
Taped
Edited
Prepared
Attended
The following is an example of a well-written resume work experience section.
Good Example
Lead Photographer
Laura Merrill Images (Midtown East, New York)
Jan/2015 – Present
Shot 50+ family portraits and maternity photography sessions.
Coordinated with external brand managers to conducted 30+ product photography sessions on white background for 20 brands in 2019.
Edited more than 100 images & videos for company social media engagement.
Covered five fashion events monthly for priority clients leading to better customer satisfaction.
Led a team of five trainee and junior photographers to produce high-quality web and social media content.
Mention the relevant educational qualifications
Does a photographer resume necessarily require a separate section for educational qualifications? Yes, of course. Educational qualifications are a must-have section in a typical resume.
One cannot be a photographer just by having a DSLR camera. For that, there should be a proper education. An in-depth theoretical study of photography is very important for being a professional photographer. Employers also want to hire someone who knows the subject better than an experienced person.
Therefore, if you have any educational qualifications related to the job you are applying for, feel free to mention them in your resume. When listing those qualifications, please indicate your degree name or educational qualification, the period of study, the name of the college or institution where you studied, etc. The GPA should only be specified if it is greater than 3.0 and if you are a recent graduate.

The following is the correct way to list your resume educational qualifications Here are some action verbs that can be used to build up the career achievements of your constructor worker resume.
Good Example
Bachelor of Arts (BA) in Digital Photography
New Hampshire University
Feb/2010 – Dec/2014
Excelled in product photography and fashion photography.
Appreciated by peers and professors for the final year landscape photo project.
Related coursework: Composition of photographs, commercial-quality photographs, photo enhancing software, digital camera operations, post-production editing, and photographic techniques and lighting equipment.
Snap your photography skills into a separate section
The resume skills section is where you list the photographic skills you have in your resume. What should be included are the skills that you have mastered in your career as a photographer. To get the best results from your resume, all you need to do is not highlight all the skills you have, but the skills that are relevant to the job you are applying for, the skills that are constantly needed for photography, and especially the ones that are mentioned in the job advertisement.
By entering the relevant keywords in this section, you could show the recruiter that you have the right set of skills required for the position. That's why this section is special as it is one of the best parts to tailor your resume to a job advertisement.
But all the skills mentioned in the job advertisement should not be included in this. When you enter skills, you should be careful to present only the skills that actually have with you. Never include false information in a resume. It will never affect you positively.
However, there are separate skills that are relevant to this job. If you are in the photography industry, having these skills in your resume is almost a must.
Adobe Photoshop
Adobe Lightroom
Videography
Photography
Photo editing
Video editing
Product photography
Illustrator
InDesign
HTML / CSS
Microsoft Office
Google Suite
Dropbox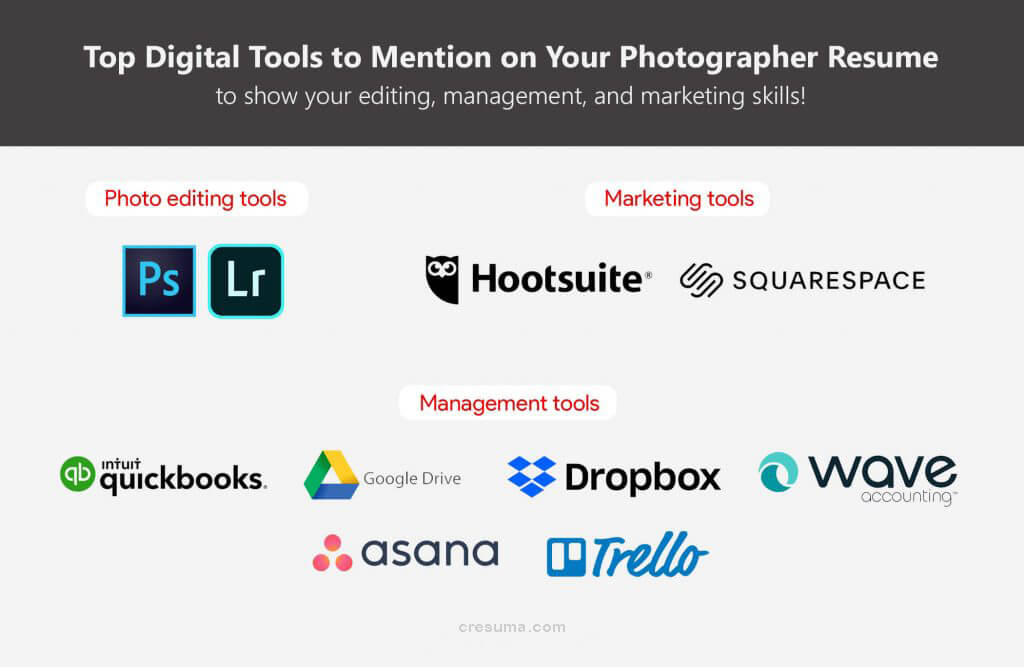 Other than these technical skills you should have a great set of soft skills to be a professional photographer in the industry.
Customer service skills
Creativity skills
Communication
Attention to detail
Interpersonal skills
Adaptability
Collaboration
Perceptiveness
Problem-solving skills
These are great pieces of keywords that can tailor your resume to the photographer profession. So use them effectively on your resume to get the best results.
Showcase your certifications
Do you get any benefit from adding relevant certificates? Definitely. It affects you in a very good way even if you don't think so.
To where exactly do you include certificates in your resume? Of course, you have two places for that. One is your resume header. The other is a separate section for certifications. Indicate if there is a certificate that is the most relevant for your photography career, in your resume header. So that you can grab the first impression of a typical recruiter. See the below image to get inspired.
In the certification section, you could mention all the certificates you have which are relevant to the job you are applying for.
Here are the most in-demanded certification programs that recruiters will love to see in your resumes. These certifications are offered bye Professional Photographers of America (PPA). Here are some action verbs that can be used to build up the career achievements of your constructor worker resume.
Certified Professional Photographer (CPP)
Certified Drone Photographer
What if you don't have any relevant certifications? Don't get confused. You might have a beautiful portfolio with top-notch shots. Let the recruiters see them. Add a link to your resume header. You will definitely get hired with just a great online portfolio.
Add these sections to bring your photographer resume to the top of the pile
As you already know there are five key sections in a resume. These sections are seen in every resume and therefore sometimes recruiters get bored. So make your resume stand out so that it can be separately identified from others. For that, what you can do is, include more relevant info by adding additional sections to a resume for photographers.
You can include below additional sections to your resume:
Clubs & Memberships
Publications
Awards and Recognitions
Volunteer Experiences
And anything else that you can add genuine value to your resume.
Double the job-winning chances with a photographer cover letter
Well, very few employers will ask you to send a cover letter along with your resume. But did you know that most recruiters would love to read at least short cover letters that are sent by the applicants?
The reason for this is via a cover letter an applicant can freely address a recruiter without any hesitation. It's like a casual chat. So some recruiters tend to get real insights about the candidates through cover letters.
As an applicant for a photographer position, you could mention your related experience, and you can describe your skills with the recruiter in this single-page document. Not only that, just assume that you have a career gap in your photographer resume. A cover letter is the best place to explain your work gaps eloquently to the recruiters.
Therefore, don't forget to send a cover letter along with your job application whenever possible. Avoid sending a cover letter only if the job advertisement tells you not to.
Visit our complete cover letter guide to get aware of how to write a perfect cover letter.
Photographer Resume Example (Text Version)
Gregory Bates
PPA Certified Professional Photographer
Rinehart Road, Fort Lauderdale
FL 33301
786-505-2244
gregorybates@example.com
LinkedIn – linkedin.com/in/grebates
Resume Summary
A professional photographer with 10+ years of experience in event photography and product photography. Lead photographer in Lynda Studio, FL for more than five years. Available with technical and DSLR camera repairing knowledge. Good experience in using Canon, Nikon, and Sony cameras. Finalist of Sony World Photography Competition in 2018.
Work Experience
Lead Photographer – Jan/2016 – Present
Lynda Studio, FL
Provided photography services to clients in different occasions such as parties, weddings, conferences, etc.
Retouched the photos by using Adobe Photoshop and LightRoom.
Managed studio accounts, sales, marketing, purchasing, training junior staff, and hiring.
Created innovative ideas to increase sales.
Directly negotiated with the clients.
Shot 100+ website cover photos for different clients.
Increased customer satisfaction by 85% by capturing amazing pre-wedding moments and appreciated by every customer.
Photographer Assistant – 2013/Apr – 2015/Dec
Capturing Moments, NY
Set up the camera equipment quickly and correctly including lighting equipment.
Retouched the photos by using Adobe Photoshop and LightRoom.
Mastered photography basics and designing skills over the last three years.
Collected the requirement from the clients and informed them to the lead photographer.
Developed the budget for photography shoots.
Education
Bachelor of Arts (BA) in Digital Photography – Apr/2009 – Mar/2013
Florida International University
Related coursework: Digital camera operations, Post-production editing, and photographic techniques and lighting equipment.
Skills
Creativity
Technical Photography skills
Patience and concentration
Attention to detail
Communication skills
Teamwork
Adobe Lightroom
Adobe Photoshop
Digital Imaging
Portraits
Capture one pro 9
Social Media
Self Management
Hobbies and Interests
Capturing nature photographs in my leisure time is one of my favorite hobbies since my childhood. That helped me to increase my creative thinking skills to a some extent. I volunteer at my Junior school of photography on weekends to teach photography to children.

Want to build a perfect resume by yourself? Click on the below button.

Want to get a perfect Photographer cover letter created by an expert?

People who read this also read:

How to write an impressive cover letter

.

Enjoyed Reading?
Help Cresuma cover the server and other costes to continue this 100% Free Service. Show your support below.