Cartoonist Resume Example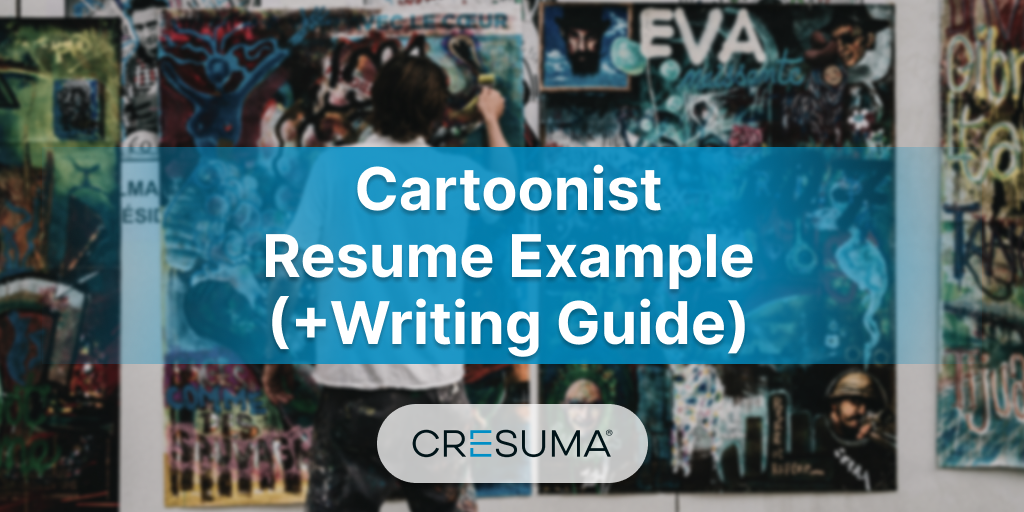 Even if you want to be a cartoonist, your resume doesn't have to look like a comic. This is the main reason why even the most qualified cartoonists don't get job opportunities. Continue reading this article to know more cartoonist resume tips like this.
No hidden costs. Download your ATS-Friendly resume in PDF for absolutely FREE after creating.
Cartoonist Resume
No need to start from the beginning. Edit this resume sample with your information and keywords from the job posting.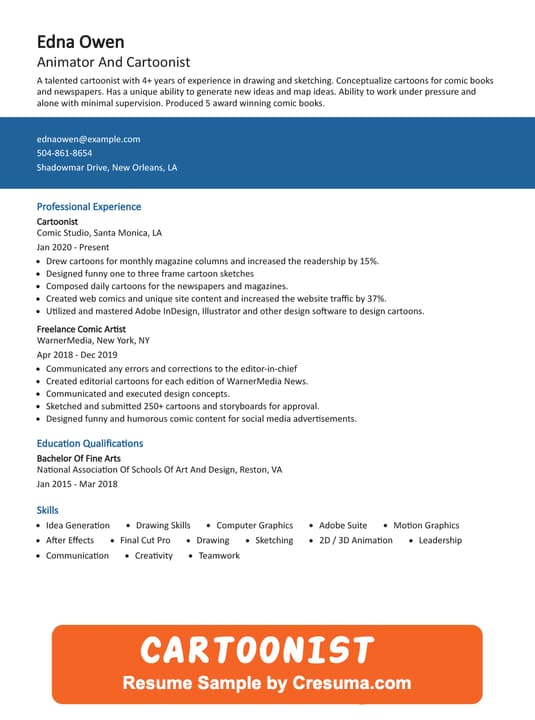 If you need to become a cartoonist in the future, you must have the highest level of creativity and it is essential to have a strong cartoonist resume tailored for your desired position as well.
But the problem that many people have is their ignorance of how to write a resume properly to win a job. You might have the same problem. That's why you have come to our website right now.
In this article we will teach you step by step how to write a resume correctly for a cartoonist position. Feel free to upgrade your resume using the cartoonist resume sample we have included in the below of this article.
Cartoonist resume writing: Cheatsheet
Choose the reverse-chronological resume format to create your resume.
Insert your contact information at the top of your resume.
Mention your job title below your name and mention any required certification or license.
Begin with a resume summary by describing how you could be the right person for the cartoonist position.
Mention your cartoonist work experience.
Insert your relevant education.
Add relevant skills to your resume.
Use keywords from the cartoonist job advertisement.
Add suitable action verbs in the right places.
No matter if you are a freelance cartoonist. Mention it on your resume.
Cartoonist resume sample (text version)
Edna Owen
Animator and Cartoonist
504-861-8654
ednaowen@example.com
Shadowmar Drive, New Orleans, LA
Professional Summary
A talented cartoonist with 4+ years of experience in drawing and sketching. Conceptualize cartoons for comic books and newspapers. Has a unique ability to generate new ideas and map ideas. Ability to work under pressure and alone with minimal supervision. Produced 5 award winning comic books.
Work Experience
Cartoonist
Comic Studio – Santa Monica, LA – 2020 Jan – Present
Drew cartoons for monthly magazine columns and increased the readership by 15%.
Designed funny one to three frame cartoon sketches
Composed daily cartoons for the newspapers and magazines.
Created webcomics and unique site content and increased the website traffic by 37%.
Utilized and mastered Adobe InDesign, Illustrator and other design software to design cartoons.
Freelance Comic Artist
WarnerMedia – New York, NY – 2018 Apr – 2019 Dec
Communicated any errors and corrections to the editor-in-chief
Created editorial cartoons for each edition of WarnerMedia News.
Communicated and executed design concepts.
Sketched and submitted 250+ cartoons and storyboards for approval.
Designed funny and humorous comic content for social media advertisements.
Education
Bachelor of Fine Arts – 2015 Jan – 2018 Mar
National Association of Schools of Art and Design, Reston, VA
Skills
Generation
Drawing Skills
Computer Graphics
Adobe Suite
Motion Graphics
After Effects
Final Cut Pro
Drawing
Sketching
2D / 3D Animation
Leadership
Communication
Creativity
Teamwork
How to write a resume for a cartoonist
Thinking about applying for a Cartoonist position? Then you'll need to have a good Cartoonist resume ready that can grab the attention of the recruiter.
Here are the tips to create a successful Cartoonist resume with all the important resume sections, such as Summary, Work Experience, Education, Skills etc.
Before making your resume, it's important to know the sections that should be included in it. Below are the mandatory sections and the optional sections that must be included in your resume.
| | |
| --- | --- |
| Mandatory resume sections | Optional sections |
| Resume headline | Certifications and Licenses |
| Summary / Profile | Awards and Affiliations |
| Work Experience | Hobbies and Interests |
| Education | Projects |
| Skills | Reference |
Cartoonist resume header
Resume header is the place where all your contact information goes into. It includes your name, address, phone number, email, Job title, link to your professional online profiles such as LinkedIn etc.
Here you have to be especially careful about your job title. Just as many people are unaware of their job title, they are tempted to mention a job title of an irrelevant job. We will give you a tip for this. Mentioning the job title of the job advert as the job title on your resume. It will maximize your probability of passing the ATS scan.
Just look at the resume header below for an example.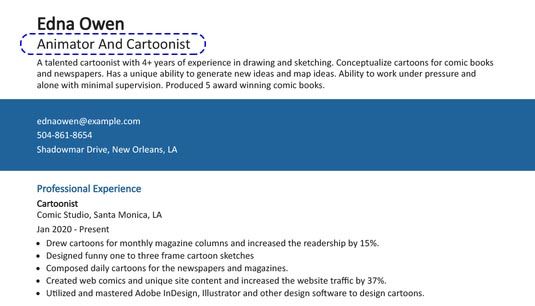 Related:
Resume summary for cartoonist
The resume summary is a great place to briefly highlight your accomplishments in the past workplaces. This is because every time recruiters inspect a resume, they tend to look at this section first. Accordingly, a well-written resume summary is a very easy way to win the first impression of the recruiter.
If you have a proper education in cartooning and have completed your bachelor's degree, be sure to include it in your summary. It will be a plus factor for your job search. Making your resume summary stronger will force the recruiting manager to take a deep look at all the details left on your resume.
See the complete resume summary guide
How to list cartoonist work experience
The Work Experience section is an important section of a cartoonist resume. The way you present the facts here will often determine whether you will win the job or not.
As a cartoonist, you need to list your past achievements and the duties you have done as a professional cartoonist in a few bullet points. You can also take advantage of the Applicant Tracking System by using industry related technical keywords and jargons.
Below are some tips to help you stand out your cartoonist resume work experience section.
Quantify your performance and achievements.
Tailor your resume work experience according to the job advertisement.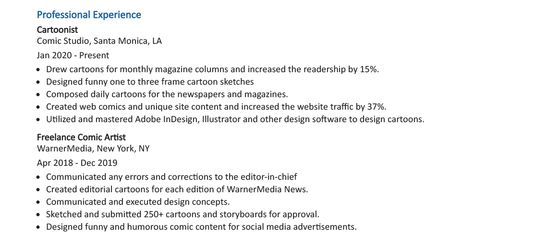 Related:
Complete resume work experience guide
List your most relevant educational qualifications
Most cartoon or studio art degree programs are university programs because of the nature of the field. Students participate in studios and university courses to improve their drawing skills. Accordingly, there are other related courses for them to learn such as coloring, design, drawing, portfolio development, writing, perspective etc.
If you have participated in such coursework, be sure to mention them in your resume education section.
Some cartoonists even take degree courses in English, journalism, or communication to gain a broader background in liberal art. It is important to study them to prepare cartoonists with the research, writing and communication skills needed to create smart cartoons.
It is also beneficial for students pursuing these types of degree courses to have formal training in the fine arts to develop their drawing skills. So if you have such skills, you can combine them into your resume to make it more competitive.
Skills that are good to have in cartoonist resumes
Knowledge of politics and economics
Creativity
Interpersonal skills
Time-management skills
Attention to detail
Writing skills
Dedication
Persuasive techniques
Want to build a perfect resume by yourself? Click on the below button.

Want to get a perfect Cartoonist cover letter created by an expert?

People who read this also read:

How to write an impressive cover letter

.

Enjoyed Reading?
Help Cresuma cover the server and other costes to continue this 100% Free Service. Show your support below.