Electrician Resume Example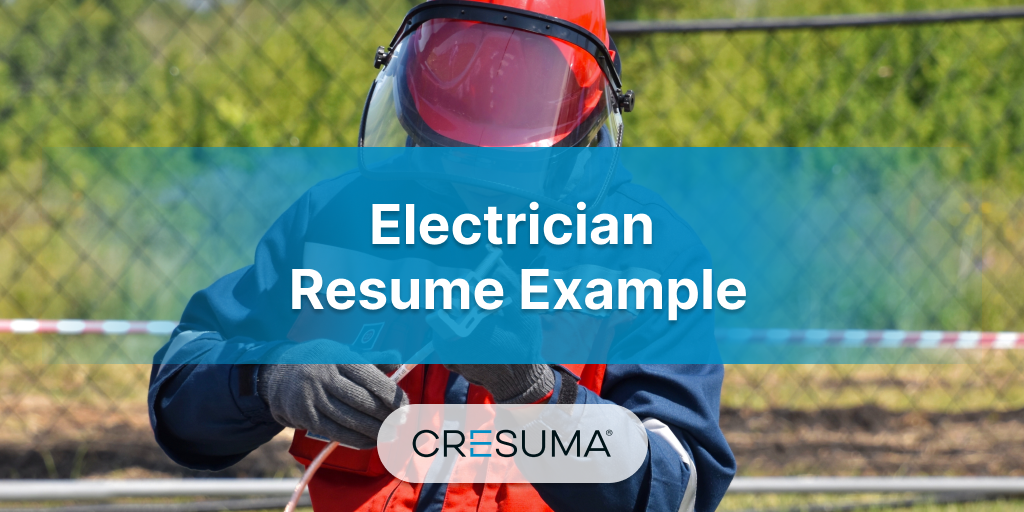 If you are wondering why you don't receive enough job opportunities, the reason is most probably your resume. You must submit a unique and impressive resume to make your dream job come true. Here are the best tips for that.
No hidden costs. Download your ATS-Friendly resume in PDF for absolutely FREE after creating.
Electrician Resume
No need to start from the beginning. Edit this resume sample with your information and keywords from the job posting.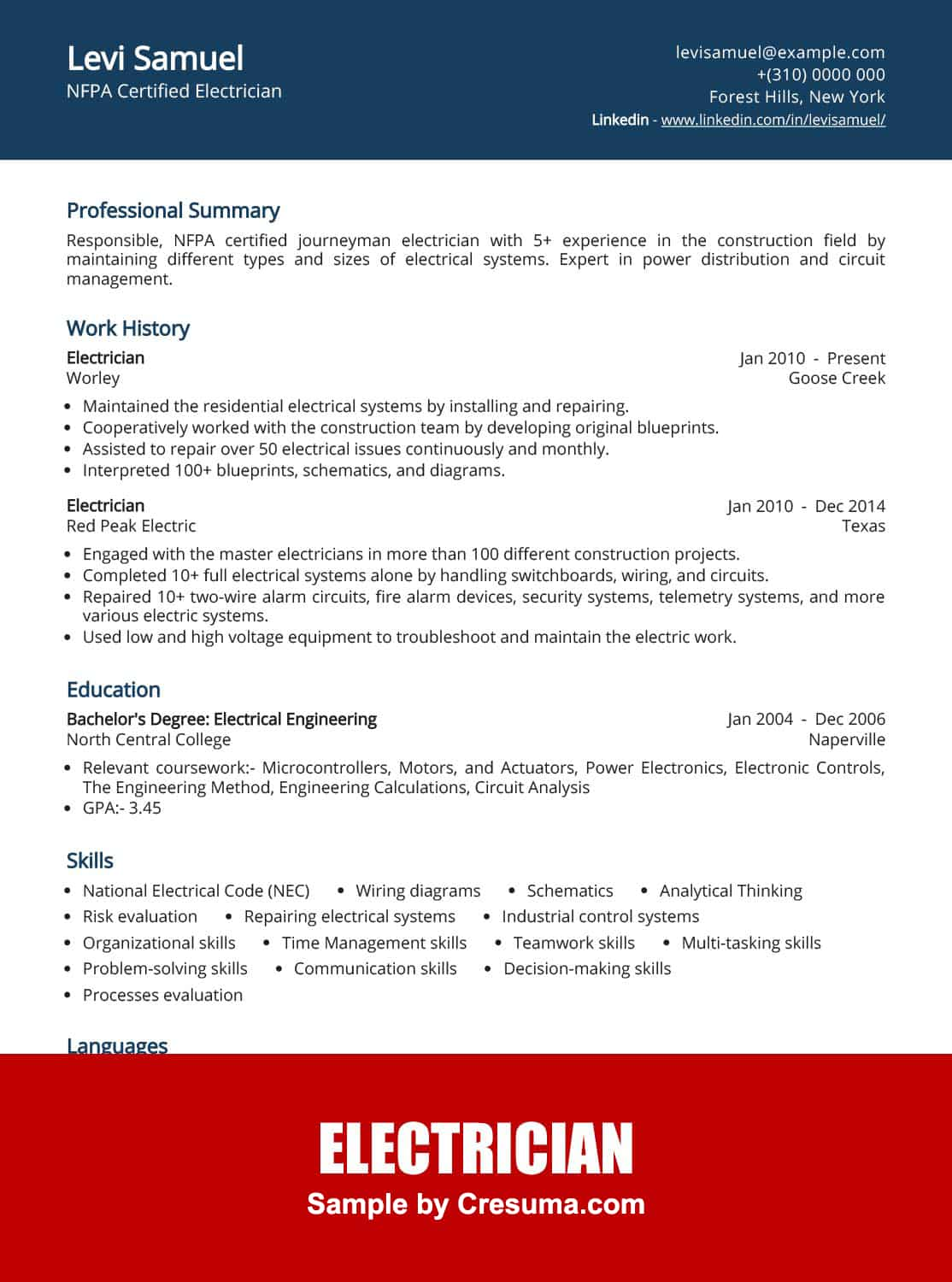 Best Tips to Make Your Electrician Resume Stand out
Make Your Job Title Impressive
That means do not just mention your job title as just an electrician. You need to make it more descriptive. Make an effort to add a certification or unique skill that you have.
For example 'Certified Electrician' or 'Residential Electrician' job titles are more attractive than stating just electrician. You can refer to the following image for further understanding.

Highlight the Top Achievements in Your Career History
As an electrician, you need to highlight the following facts in your career achievements. Especially the bullet points of your career accomplishments must express what you have achieved before. You can use the numeric values for further enhancement.
The prior practice of measuring, cutting, bending, threading, assembling, and installing electrical conduit using such tools as a hacksaw, pipe threader, rules, and conduit benders.
Previous experience in maintenance, repair, and installation of the electrical system.
Ability to test the continuity of circuit by using the testing instruments such as ohmmeter, battery, buzzer, and oscilloscope to ensure the safety of the public.
How did you overcome the dangers by observing, adjusting, relocating, or replacing the electrical system on time?
Not only the above facts, if you have experience in different electrician roles such as residential, commercial, journeymen, or master, highlight those achievements separately. That will be a great point to impress your recruiters.
Reveal that You are a Skillful Electrician
Soft Skills for an Electrician Resume
Problem-solving skill:- The electrician needs to have kind of advanced problem-solving skills. Because he is responsible for securing the users of the electrical system. So understanding the problem quickly and correcting them is essential to be an electrician.
Time Management skill:- Though the electrician works as a team or individually he needs to manage his time well. Also as engagement with electricity is a challenge and kind of a dangerous task, concentration and patience are also more important.
Communication skills:- Excellent communication ability is a fact that the majority of recruiters expect from the applicants. Therefore even the electrician must be able to understand the users' information, express his thoughts and message well.
Teamwork:- The majority of electricians work as a team. So the applicants must have good qualities in interpersonal relationships. Especially obey others' ideas and targeting to achieve the company goals by collaborating with each other.
Hard Skills for an Electrician Resume
When soft skills help you to work and engage with others in your professional life, hard skills are very important to conduct the daily duties of an electrician smoothly. Here are some hard skills. Do not forget to add them in your resume not only in the skills section but also to your career achievements for further enhancement.
Mechanical Aptitude
3-phase motor replacement
Customer Service
Safety regulations
National Electrical Code (NEC)
Industrial control systems
Wiring diagrams
Analytical Thinking
Schematics
Repairing electrical systems
Processes evaluation
Risk evaluation
Programmable Logic Controllers (PLC)
Business Skills
Mathematics and Algebra
Technology Skills
Construction experience
Prove Your Certifications and Licenses
There may be various certifications that prove your expertise in your field. Here are some of them. You must provide at least the certification name, certified year, and organization name under the 'Certifications & Licenses' section of your electrician resume.
The below certifications issued by the National Fire Protection Association are nice to have on your electrician resume.
Electrical Safety Compliance Professional Certification
Electrical Safety Technician Certification
Emergency Power Systems Specialist for Facility Managers Certification
Electrical Safety Worker Certification
Emergency Power Systems Specialist for Health Care Facility Managers Certification
Also, you may be a Certified Professional Electrician (CPE) who is validated by Independent Electrical Contractors. Whatever your certification is, ensure that it is relevant to your field. Further do not forget to mention it in your resume.
Add the Powerful Action Verbs in Your Resume Content
Action verbs can enhance the worth of your resume. But you need to mention the most suitable action verbs in your resume content. The job advertisement is the best place to find out the powerful action verbs that make your electrician resume stand out. Here are some of them.
Action Verbs List
Observed
Tested
Installed
Measured
Bent
Assembled
Distributed
Insured
Determined
Relocated
Adjusted
Replaced
Interpreted
Planned
Operated
Worked
Followed
Performed
Repaired
Wrote
Attach an Impressive Electrician Cover Letter
Do not worry about the recruiter's request on a cover letter. Though they have requested or not, try to attach a well-written cover letter to your electrician resume. If you have no idea about how to write a perfect cover letter however, you may request us to buld your cover letter
Electrician Resume Sample (Text Version)
Levi Samuel
NFPA Certified Electrician
+(310) 0000 000
levisamuel@example.com
Cooperstown, New York
Linkedin – linkedin.com/in/levisamuel/
Summary
Responsible, NFPA certified journeyman electrician with 5+ experience in the construction field by maintaining different types and sizes of electrical systems. Expert in power distribution and circuit management.
If you want to know more about resume summary, head over to the complete resume summary guide
Work Experience
Electrician
Worley, Goose Creek – 2015/Jan to Present
Maintained the residential electrical systems by installing and repairing.
Cooperatively worked with the construction team by developing original blueprints.
Assisted to repair over 50 electrical issues continuously and monthly.
Interpreted 100+ blueprints, schematics, and diagrams.
Electrician
Red Peak Electric, Texas – 2010/Jan to 2014/Dec
Engaged with the master electricians in more than 100 different construction projects.
Completed 10+ full electrical systems alone by handling switchboards, wiring, and circuits.
Repaired 10+ two-wire alarm circuits, fire alarm devices, security systems, telemetry systems, and more various electric systems.
Used low and high voltage equipment to troubleshoot and maintain the electric work.
Education
Bachelor's Degree in Electrical Engineering – 2004/Jan to 2006/Dec
North Central College, Naperville
Relevant coursework:- Microcontrollers, Motors, and Actuators, Power Electronics, Electronic Controls, The Engineering Method, Engineering Calculations, Circuit Analysis
GPA:- 3.45
Skills
National Electrical Code (NEC)
Wiring diagrams
Schematics
Analytical Thinking
Processes evaluation
Risk evaluation
Repairing electrical systems
Industrial control systems
Organizational skills
Time Management skills
Teamwork skills
Multi-tasking skills
Problem-solving skills
Communication skills
Decision-making skills
Languages
English – Native Speaker
French – Very Good Command
Spanish – Highly Proficient
German – Working Knowledge
Certifications
Electrical Safety Worker Certification – 2016/Feb
National Fire Protection Association
Want to build a perfect resume by yourself? Click on the below button.
Want to get a perfect Electrician cover letter created by an expert?
People who read this also read: