Video Game Designer Resume Example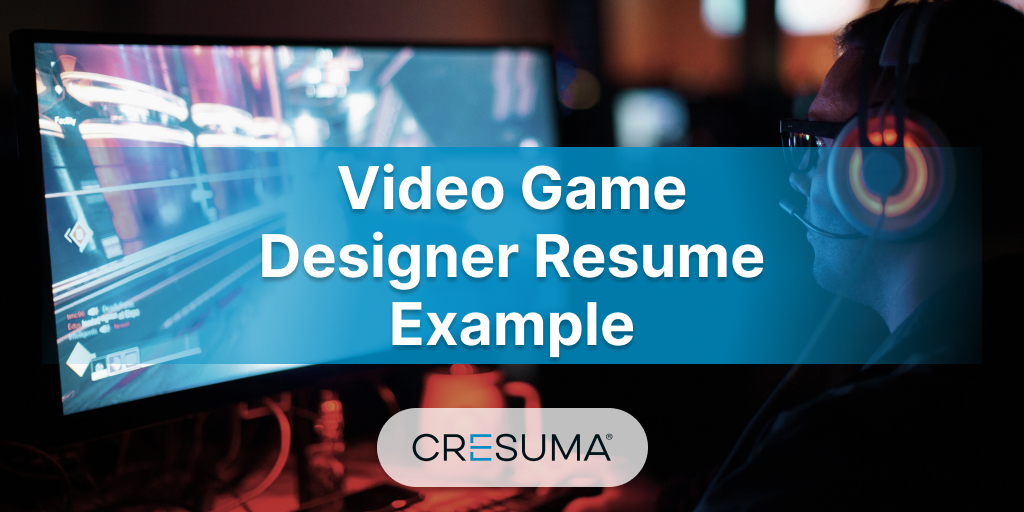 Want to grow your career as a video game designer? So, as a first step, let's create your video game designer resume in the right way.
No hidden costs. Download your ATS-Friendly resume in PDF for absolutely FREE after creating.
Video Game Designer Resume
No need to start from the beginning. Edit this resume sample with your information and keywords from the job posting.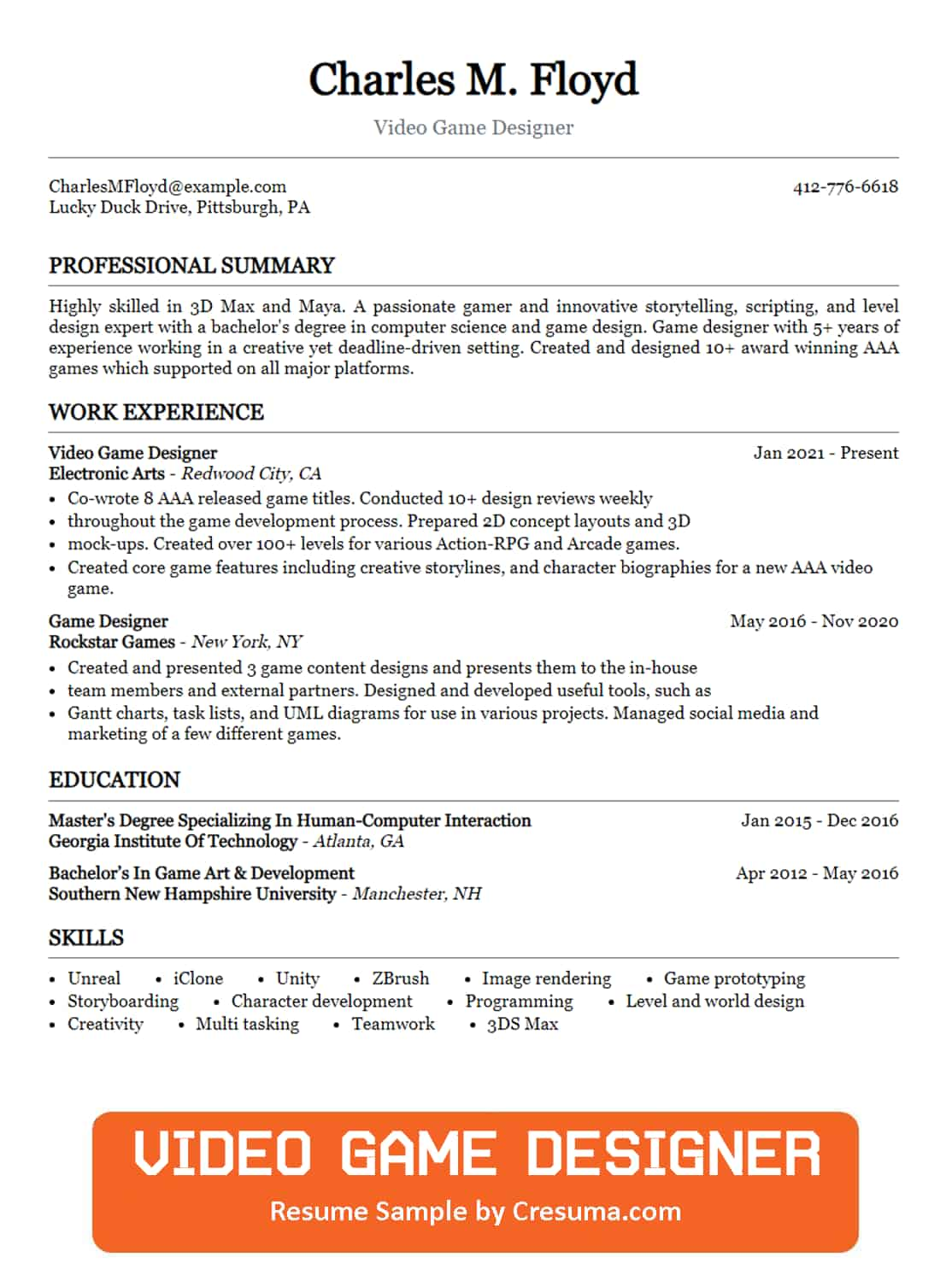 Have you ever wondered why there are no replies to the job applications you submit? There could be a number of reasons for this. If you don't have the necessary information with your video game designer resume, then getting past the ATS bot will be only a dream. So that you will never get interview invitations at all.
In this guide we will explain all that to you from the beginning and teach you how to better write a competitive, effective, and impactful game designer resume that turns heads instead of your current bored resume. Below we have provided you a great resume sample that you can be inspired with.
Video game design resume sample (text version)
Charles M. Floyd
Video Game Designer
412-776-6618
CharlesMFloyd@example.com
Lucky Duck Drive, Pittsburgh, PA
Professional Summary
Highly skilled in 3D Max and Maya. A passionate gamer and innovative storytelling, scripting, and level design expert with a bachelor's degree in computer science and game design. Game designer with 5+ years of experience working in a creative yet deadline-driven setting. Created and designed 10+ award winning AAA games which supported on all major platforms.
If you want to know more about resume summary, head over to the complete resume summary guide
Work Experience
Video Game Designer
Electronic Arts,Redwood City, CA – 2023/Jan to Present
Co-wrote 8 AAA released game titles.
Conducted 10+ design reviews weekly throughout the game development process.
Prepared 2D concept layouts and 3D mock-ups.
Created over 100+ levels for various Action-RPG and Arcade games.
Created core game features including creative storylines, and character biographies for a new AAA video game.
Game Designer
Rockstar Games, New York, NY – 2016 May – 2020 Nov
Created and presented 3 game content designs and presents them to the in-house team members and external partners.
Designed and developed useful tools, such as Gantt charts, task lists, and UML diagrams for use in various projects.
Managed social media and marketing of a few different games.
Education
Master's Degree Specializing in Human-Computer Interaction – 2015 Jan – 2016 Dec
Georgia Institute of Technology, Atlanta, GA
Bachelor's in Game Art & Development – 2012 April – 2016 May
Southern New Hampshire University, Manchester, NH
Skills
Unreal
iClone
Unity
ZBrush
3DS Max
Image rendering
Game prototyping
Storyboarding
Character development
Programming
Level and world design
Creativity
Multi tasking
Teamwork
How to write a video game designer resume
Here are all the things you need to know if you are making a video game design resume. By understanding these well and following them in your resume, you too can get a winning resume.
Let's first see what sections must be added to your resume.
Resume header
Professional summary
Work experience
Education
Skills
In addition to these you can spice up your video game designer resume with the below optional sections too.
Certificates
Projects
Honors and awards
Language fluency
Hobbies and interests
Start your resume with a great summary
Recruiters don't spend much time reading your resume in depth. But if you grab their attention within a few seconds they will be more likely to have a deeper look into your resume, undoubtedly.
A well written professional resume summary can do this job for you.
Add some key points in your career experience and accomplishments. If you have the skills that are essential to the job, you can get better results by mentioning them here as well.
This might include 3-4 sentences that describe your career highlights such as years of experience as a video game designer, main responsibilities or achievements, relevant skills, qualifications, and your educational background. Promoting yourself as a pro gamer shows your passion for gaming. It's definitely something that almost any recruiter expects from job applicants.
So it would be beneficial to include this information in your summary section as it will help to garner the reader's attention into your resume.
Describe your experience as a videogame designer
The work experience should be the most important part of your resume. But many are accustomed to outlining their previous job duties and responsibilities as a game designer. You shouldn't do that.
Employers are generally well aware of the job duties and responsibilities, so you should highlight something in the work experience section that could impress a recruiter than a just job duties list.
It is better to mention your achievements with quantified results in this section. Mentioning at least 3-4 achievement bullet points under each work experience could make a huge difference to your current resume.
As a videogame designer, you also can highlight your knowledge on AAA titles, number of user downloads for specific games, ratings in various game publications, game launch performance, etc. Don't forget to incorporate the skills you have used to those achievements. This way, you can make your resume more powerful and applicant tracking robots friendly.
Education related to game design is also important
Many recruiters like to hire job applicants with some study in this subject from a reputed game design school. So we suggest that if you have received such an education, be sure to mention it in your resume.
In addition, if you have a degree, you can describe the name of the degree, name of the university, the location, GPA, honors, relevant courses, etc. However, if you have a degree specialized in game design, keep in mind that you will get more attention and get ready for more interview calls.
Read our resume education guide section to learn more about how to list your education on a resume.
Add some game designing skills
If you choose the gaming industry as your career, you must definitely be skillful.
Therefore, the Skills section plays a major role in your video game designer resume. No matter how many different skills you have, you need to be smart here to list the skills that are relevant and highly recognized in the industry.
If you look at the job advertisement you can see what are the required skills for the particular job. If you can add them to the Skills section of your video game designer resume, your prospective employer will feel that you are the right person for the position.
It is always important to mention between 8-10 of your soft and hard skills. The following is a list of the top soft skills and hard skills that a game designer should possess.
Soft Skills
Multitasking skills
Creativity and an artistic vision
Communication skills
Teamwork and collaboration
Organizational skills
Critical thinking
Willingness to learn new concepts
Leadership skills
Conflict resolution
Language skills
Active listening
Project management
Hard Skills
Online play models
Maya
3DS Max
Documentation writing
Game engines (Unreal, Unity)
Game platforms
iClone
ZBrush
Gameplay, rules, and scoring system
Storyboarding
Image rendering
Programming (C, C++, Java, Python)
Character and motion design
Wireframe and mock-up design
Power-up your gaming resume with action verbs
The easiest way to strengthen your resume is to use resume action verbs. Below are some of the action verbs that a video game designer could use in their resume. You can create a robust video game designer resume by inserting them properly in the summary of your resume and in the work experience section.
Created
Designed
Wrote
Coded
Selected
Animated
Tested
Managed
Assigned
Administered
Budgeted
Envisioned
Led
Conducted
Researched
Determined
View 200+ professional resume action verbs
Attach a video game cover letter with your resume
Last but not least, it's a good idea to send a covering letter which shows your true enthusiasm to join the company.
Did you know that due to the ATS scan, only 2% of the resumes from the resume pile will be handed over to the recruiter's hand. However, if you send a cover letter, the hiring manager is more likely to read it. You can invite the prospective employer to read your resume through the cover letter.
Therefore don't forget to attach a cover letter with your resume every time you apply for a job.
Here's how to properly write a cover letter with a few steps.
Write a subject line explaining what your cover letter exactly is about.
Describe the purpose of writing the cover letter.
Describe your past relevant experience and achievements concisely.
If your resume shows a gap in your work experience, briefly describe the reason for the work gap.
Write a call to action and thank the hiring manager for reading your cover letter.
So this is how to make a winning resume for a video game designer position. Try making your resume this way. Surely you will get more job interview opportunities than ever before.
Want to build a perfect resume by yourself? Click on the below button.
Want to get a perfect Video Game Designer cover letter created by an expert?
People who read this also read: