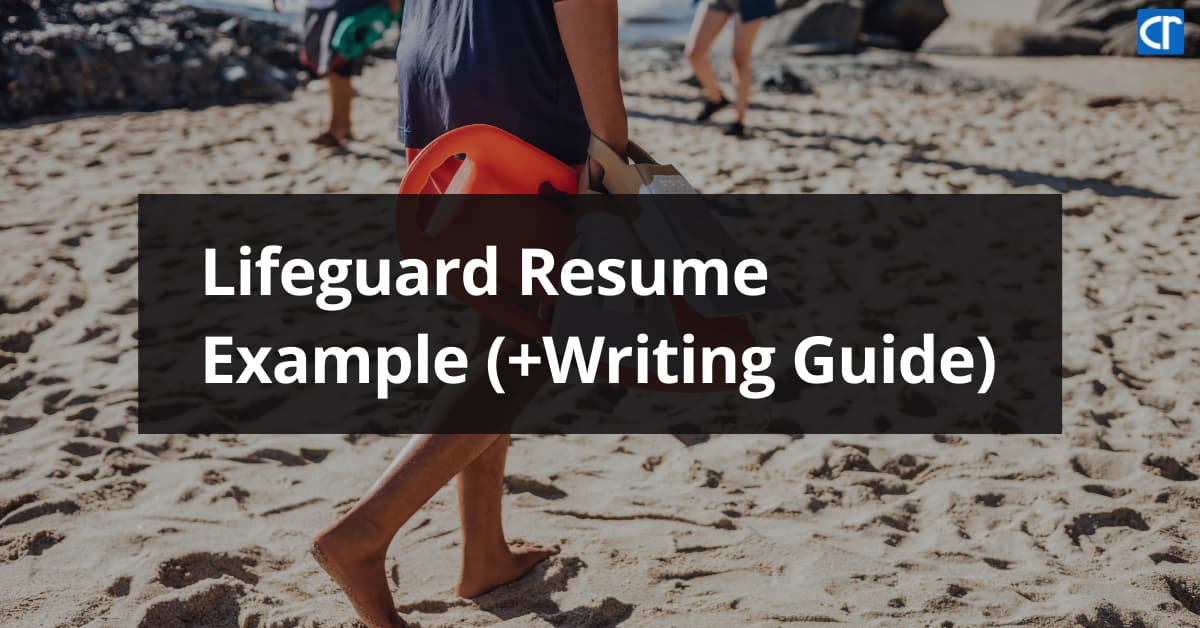 Do you know why you don't receive many interview opportunities? It is a weakness of your lifeguard resume. So you can use the following tips to convert your document into a job-winning resume.
No hidden costs. Download your ATS-Friendly resume in PDF for absolutely FREE after creating.
Lifeguard Resume
No need to start from the beginning. Edit this resume sample with your information and keywords from the job posting.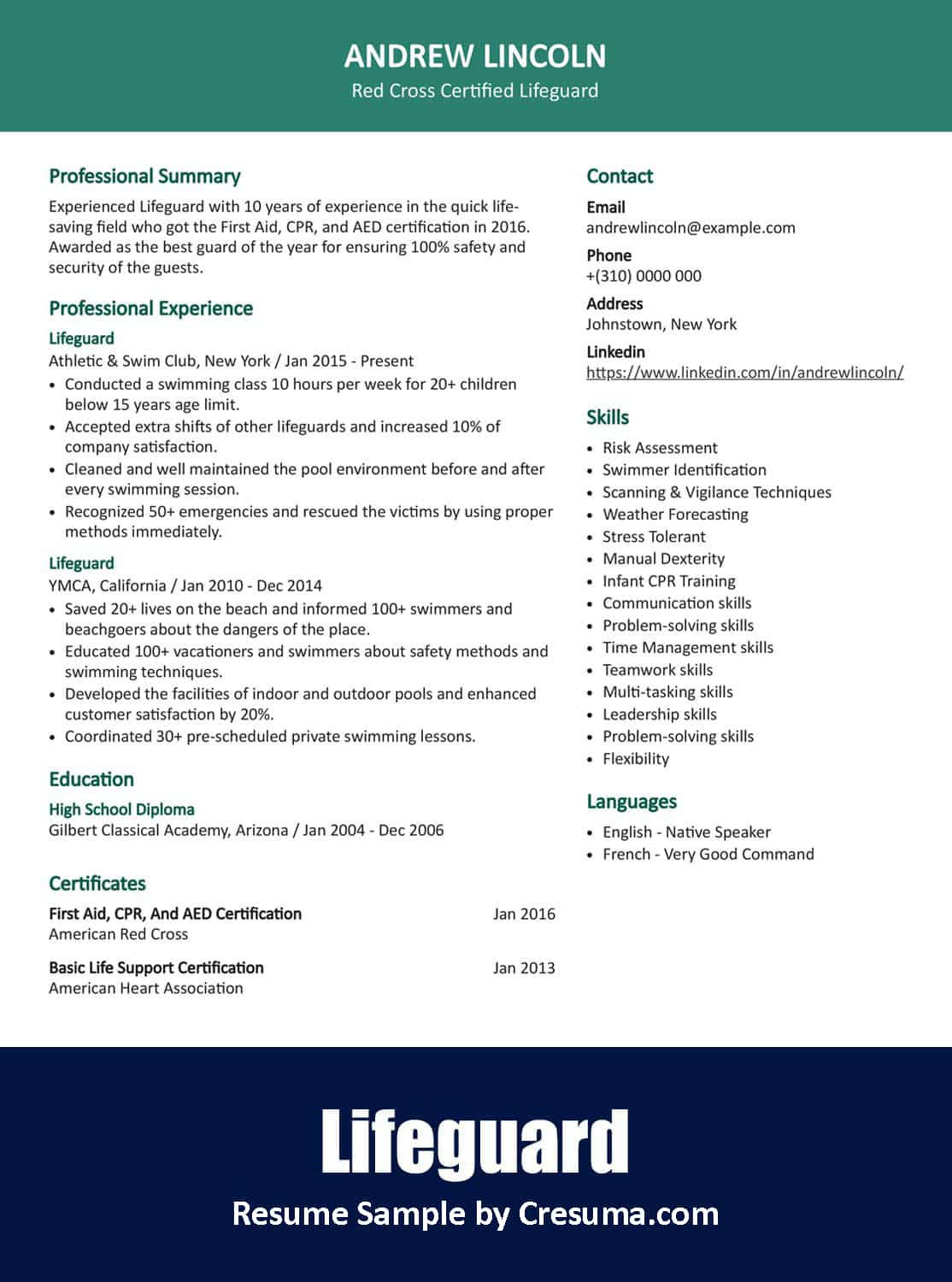 Best Tips to Build a Job-Winning Lifeguard Resume
Are you a beginner in resume writing? Do not worry! We have a perfect guide on 'How to write an impressive resume' You can read the full article and be educated. The following resume tips go beyond the common writing process and will teach you how to create an interview-increasable resume for you.
Advantage of Using a Descriptive Job Title
Can you understand the difference between "Lifeguard" and "CPR Certified Lifeguard" job titles? The second job title directly sends the idea that the applicant has an extra and required qualification to the recruiters. That is a descriptive job title and it can draw the recruiters' attention more than a common job title.
So try to mention a descriptive job title in your lifeguard resume. You can link a certification or unique skill into your job title and make it descriptive and impressive.

Build Powerful Achievements about Your Career History
A lifeguard starts his shifts at about 4.00 AM. Because there may be some members who practice swimming in the early morning. So the recruiters want to hire a guard who has flexible hours. So mention in your achievements that you have worked in different shifts and you have been appreciated by prior club authorities for your acceptance in given shifts.
Ensuring the safety of the members of the club is the main responsibility of the lifeguard. Therefore the recruiters want to hire a person who cares about safety first. So you can build achievements to reveal how you saved the lives of the previous club members.
The recruiters want a guard as well as an instructor about the procedure in the swimming area. Therefore they tend to hire an educated person about the pool area rules. So you must bring up the situation that you have educated the swimmers and save them from danger. Also, try to inform them that you were a positive role model in prior clubs.
The hiring managers want to know your knowledge about the common equipment used by a safeguard. Therefore make an effort to compress the situations you have used the machines and equipment successfully.
Usually, the safeguard uses physical restraint devices, sensing devices, and safety control devices such as two-hand controls and pressure-sensitive body bars.
The lifeguard should take the responsibility to rescue the victim in any condition. So there is a rescue process for the victim by ensuring also the safety of the guard. For example, understanding the condition, a safety entering the water, performing an appropriate rescue, moving the victim to safety, and removing the victim from the water. You can explain how you used this safety procedure in your accomplishments.
Highlight Relevant Soft Skills in Your Resume
Communicational Skills:- The lifeguard must express the ideas to the club members effectively. Also must understand the needs of the audience. Therefore highlight you are an expert in verbal communication.
Interpersonal Skills:- A lifeguard must contact all members and advise them to connect with other members on the club promotional occasions. Also, he is responsible to supervise a group and teach the swim lessons. Therefore the applicant must have good interpersonal skills to engage with others.
Responsibility:- The lifeguard is responsible for the lives of the swim participants. Therefore he should be a responsible person and the first responder in and around the pool. So do not forget to mention this skill in your resume.
Fitness:- The applicant must be a healthy and fit person. Because he should act swiftly in emergencies and save the aggrieved party.
Mention the Certifications Related to Your Lifesaving Training
A certification that includes both classroom hours and practical training in life training is the most required qualification to be a lifeguard. However, CPR, AED & First Aid Certifications are the best certifications for this field.
You need to mention the certification name, certified date, and organization under the 'Certifications & Licenses' section to prove your certification.
Have You Ever Been a Swimming Champion?
If yes that is an extra chance to showcase your talent in the swimming field. So you can mention the details about the awards you have under the optional section named 'Awards & Honors'. Do not forget to compress at least the award name, awarded date, and organization under this area.
Attach a Perfect Cover Letter
A Lifeguard cover letter can top up your resume. Also, it helps to draw the recruiters' attention to your lifeguard resume. Though the hiring managers do not request a cover letter from you, submit an impressive cover letter with your resume.
Lifeguard Resume (Text Version)
Andrew Lincoln
Red Cross Certified Lifeguard
Johnstown, New York
+(310) 0000 000
LinkedIn – Linkedin:- https://www.linkedin.com/in/andrewlincoln/example/
Professional Summary
Experienced Lifeguard with 10 years of experience in the quick life-saving field who got the First Aid, CPR, and AED certification in 2016. Awarded as the best guard of the year for ensuring 100% safety and security of the guests.
See the complete resume summary guide
Work Experience
Lifeguard – 2015/Jan to Present
Athletic & Swim Club, New York
Conducted a swimming class 10 hours per week for 20+ children below 15 years age limit.
Accepted extra shifts of other lifeguards and increased 10% of company satisfaction.
Cleaned and well maintained the pool environment before and after every swimming session.
Recognized 50+ emergencies and rescued the victims by using proper methods immediately.
Lifeguard – 2010/Jan to 2014/Dec
YMCA, California
Saved 20+ lives on the beach and informed 100+ swimmers and beachgoers about the dangers of the place.
Educated 100+ vacationers and swimmers about safety methods and swimming techniques.
Developed the facilities of indoor and outdoor pools and enhanced customer satisfaction by 20%.
Coordinated 30+ pre-scheduled private swimming lessons.
Education
High School Diploma – 2004/Jan to 2006/Dec
Gilbert Classical Academy, Arizona
High School Diploma – 2014 Jan – 2015 Dec
Oswego Junior Senior High School, KS
Certifications
First Aid, CPR, and AED Certification 2016/Feb
American Red Cross
Basic Life Support Certification 2013/Jan
American Heart Association
Skills
Risk Assessment
Swimmer Identification
Scanning & Vigilance Techniques
Weather Forecasting
Stress Tolerant
Manual Dexterity
Infant CPR Training
Communication skills
Problem-solving skills
Time Management skills
Teamwork skills
Multi-tasking skills
Leadership skills
Problem-solving skills
Flexibility
Languages
English – Native Speaker
French – Very Good Command
Quick Navigation
Want to build a perfect resume by yourself? Click on the below button.
Want to get a perfect Lifeguard cover letter created by an expert?
People who read this also read: