Bartender Resume Example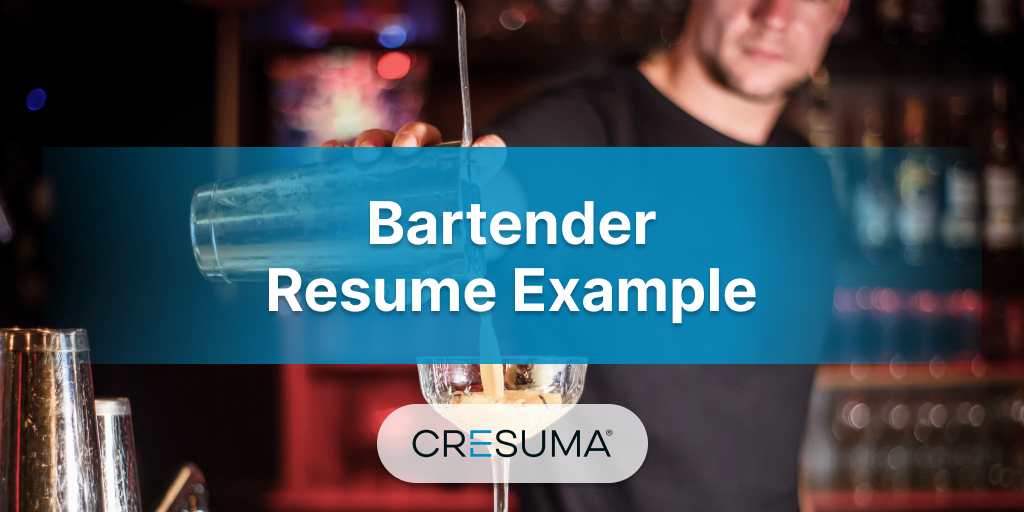 Are you looking for the best place to create your bartender resume? Hey! Here it is! We are ready to help you. The following resume tips will make your bartender resume standout.
No hidden costs. Download your ATS-Friendly resume in PDF for absolutely FREE after creating.
Bartender Resume
No need to start from the beginning. Edit this resume sample with your information and keywords from the job posting.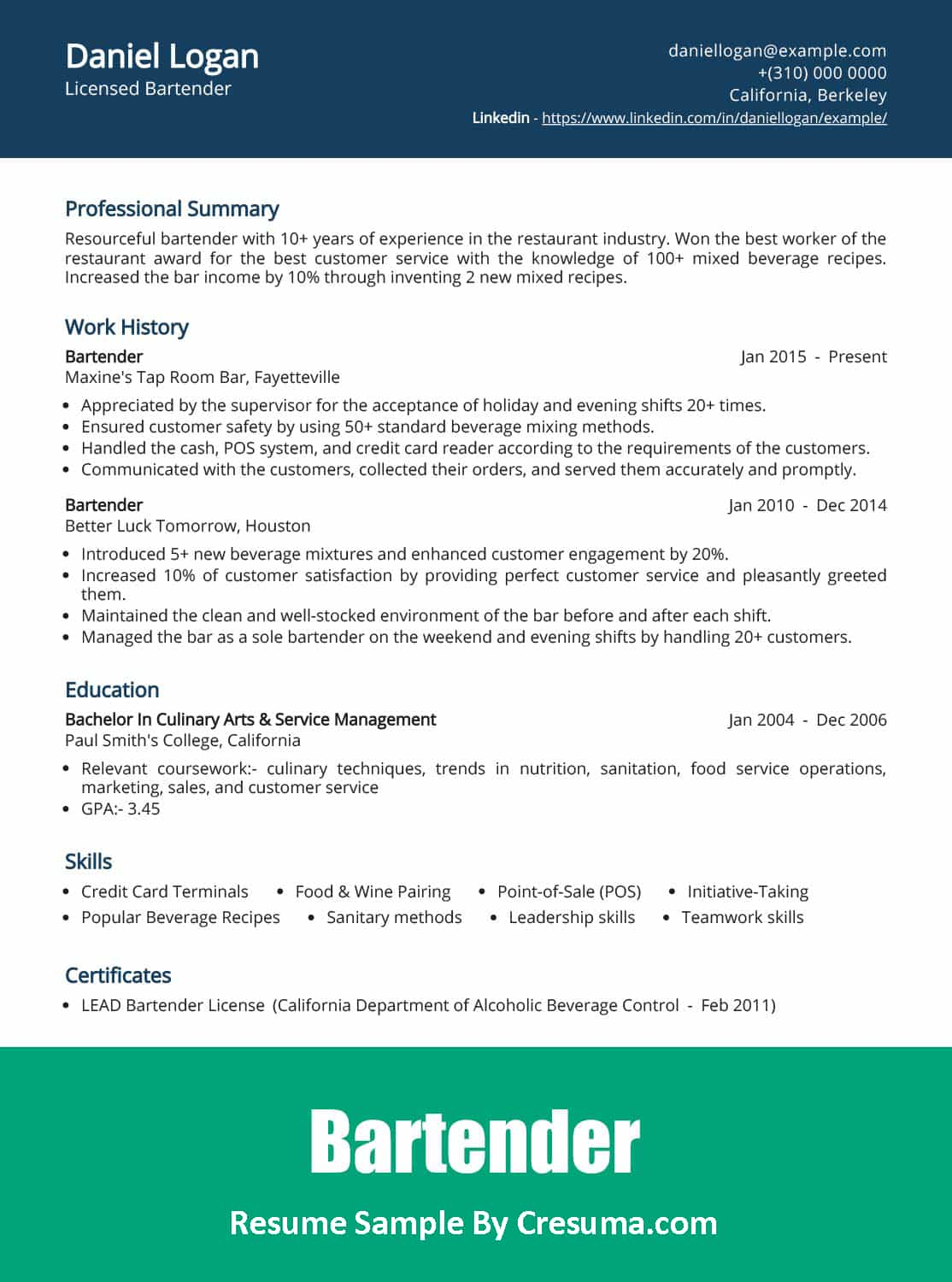 5+ Best Tips to Create a Job-Winning Bartender Resume
If you are a beginner in the resume writing process you can understand how to write a perfect resume by referring to our complete resume guide complete resume guide
Mentioning a Descriptive Job Title
Usually, the bartender job vacancies can be posted as Bartender, Busser, or Runner. However, the job title of your bartender resume must be similar to the job title given in your job advertisement.
If you want to make your resume stand out you can state a descriptive job title. That means you can make a job title descriptive by adding a unique skill, certification, or license that you have.

Build Excellent Career Achievements
The recruiters love to see the most recent and relevant experience history in your resume. Therefore you can gather the last 10 years of bartending or hospitality experience in a fast-paced bar or restaurant under your work experience section.
However, you can consider the following facts when you create your career achievements. Also, bring up some real experiences you have faced in the following situations and explain how did you overcome the problems using the knowledge, unique skills, and talent.
The majority of hiring personnel tend to select the applicants who can work in extra schedules. Especially in varied shifts, including evenings, weekends, and holidays.
Wide knowledge of various types of drinks is one of the major skills to be a professional bartender. Especially the difference between liquor and liqueurs. Also the awareness of types of different drinks. For example, Whiskey, Brandy, Vodka, Rum, Gin, and Tequila are some types of liquor and Triple sec, Sambuca, Crème de cacao, and Amaretto are some of the main types of liqueurs.
A better understanding of the safety methods in handling alcohol is a must to be a bartender. Because alcohol is a highly flammable liquid. An uncontrollable fire may occur in presence of heat, spark, or flame. So attempt to create achievements that reveal your knowledge of safety methods and the situations you have overcome the dangerous situations.
The usage of various drink mixing techniques is also very important in the bartending industry. There are many types of techniques such as shaking, stirring, straining, muddling, blending, building, layering, and flaming. Some wrong mixtures may be caused to even the death of the people. Therefore you must inform the hiring managers that you have a clear and proven track record as a perfect bartender.
Use Powerful Action Verbs
Your job advertisement is the best source to find out the most powerful action verbs for your resume. Especially the bartender duties and responsibilities area of your job post contain many action verbs. You need to use them when you create your achievements in the resume summary, work experience, or other sections. Also, it is better to start the bullet points of your resume from the past form of a powerful action verb.
Here are some powerful action verbs that can be used in a bartender resume.
Kept
Served
Cleaned
Maintained
Supplied
Delivered
Assisted
Used
Communicated
Managed
Organized
Lifted
Took
Ensured
Conducted
Worked
Participated
Provided
Greeted
Checked
Do not Forget to Add Soft Skills
Basic Mathematical skills:- The bartender is sometimes responsible to handle cash. Therefore mathematical skills are very important to conduct daily duties smoothly. So do not forget to mention that skill in your resume.
Communication skills:- A bartender has to communicate with the customers and understand what they want. Therefore the strong interpersonal skills with a customer-service oriented attitude are also very important as well as the communication skill.
Teamwork skills:- The bartender applicant must be a person who can enjoy interacting with others. Maybe customers, visitors, peer workers, managers, and other authorities. So try to reveal you can work anyplace cooperatively.
Time management:- The bartender has to serve the shots what the customers require. Therefore he has to handle multiple customers at the same time. So the ability to manage time is very important to get your dream job.
organization skills:- A bar in a restaurant is full of a different kind of liquor and drinks. The stores can be arranged in a specific way that is unique to the bar. However, the applicant must be able to manage that order and organized-manner of the bar.
List of Hard Skills for a Bartending Resume
Ability to Defuse Tense Situations
Barware, Glassware, Bar Utensils & Equipment
Credit Card Terminals
Food & Wine Pairing
Health & Hygiene Protocols
Initiative-Taking
Maintaining Tidy & Sanitary Bar Area
Physical Endurance
Point-of-Sale (POS)
Popular Beverage Recipes
Providing Beverage Suggestions
Responsible Service of Alcohol Standards
Stamina and Strength
Training for Intervention Procedures (TIPS)
Are you a Licensed Bartender?
If you have a bartender license that refers to the state licensure that qualifies you to serve alcoholic beverages, you are eligible to be a professional bartender. Because the majority of recruiters require a bartending license from the applicants. A license obtained online can be applicable.
Especially, mention at least the certification name, certified date, and the organization under the 'Certifications & Licenses' section in your bartender resume. It is better to mention the certification number and URL too.
What is the Importance of a Bartender Cover Letter?
A cover letter can impress your recruiters more than you think. But you should write an impressive cover letter. Through a cover letter, you can highlight your skills and qualifications, admire the service and goodwill of the bar or restaurant, and provide a positive reason to apply for the vacancy. If you are struggling to write a perfect cover letter, read our complete guide on "How to write an impressive cover letter."
Bartender Resume (Text Version)
Daniel Logan
Licensed Bartender
California, Berkeley
+(310) 000 0000
daniellogan@example.com
LinkedIn – https://www.linkedin.com/in/daniellogan/example/
Twitter – https://twitter.com/daniellogan/example/
Professional Summary
Resourceful bartender with 10+ years of experience in the restaurant industry. Won the best worker of the restaurant award for the best customer service with the knowledge of 100+ mixed beverage recipes. Increased the bar income by 10% through inventing 2 new mixed recipes.
See the complete resume summary guide
Work Experience
Bartender – 2015/Jan to Present
Maxine's Tap Room Bar, Fayetteville
Appreciated by the supervisor for the acceptance of holiday and evening shifts 20+ times.
Ensured customer safety by using 50+ standard beverage mixing methods.
Handled the cash, POS system, and credit card reader according to the requirements of the customers.
Communicated with the customers, collected their orders, and served them accurately and promptly.
Bartender – 2010/Jan to 2014/Dec
Better Luck Tomorrow, Houston
Introduced 5+ new beverage mixtures and enhanced customer engagement by 20%.
Increased 10% of customer satisfaction by providing perfect customer service and pleasantly greeted them.
Maintained the clean and well-stocked environment of the bar before and after each shift.
Managed the bar as a sole bartender on the weekend and evening shifts by handling 20+ customers.
Education
Bachelor in Culinary Arts & Service Management – 2004/Jan to 2006/Dec
Temple University, Philadelphia
Relevant coursework:- culinary techniques, trends in nutrition, sanitation, food service operations, marketing, sales, and customer service
GPA:- 3.45
Skills
Credit Card Terminals
Food & Wine Pairing
Point-of-Sale (POS)
Popular Beverage Recipes
Initiative-Taking
Sanitary methods
Leadership skills
Communication skills
Decision-making skills
Organizational skills
Multi-tasking skills
Problem-solving skills
Time Management skills
Teamwork skills
Computer skills
Languages
English – Native Speaker
Spanish – Highly Proficient
French – Very Good Command
Russian – Working Knowledge
Certification
LEAD Bartender license – 2016/Feb
California Department of Alcoholic Beverage Control
Want to build a perfect resume by yourself? Click on the below button.
Want to get a perfect Bartender cover letter created by an expert?
People who read this also read: