Radio Host Resume Example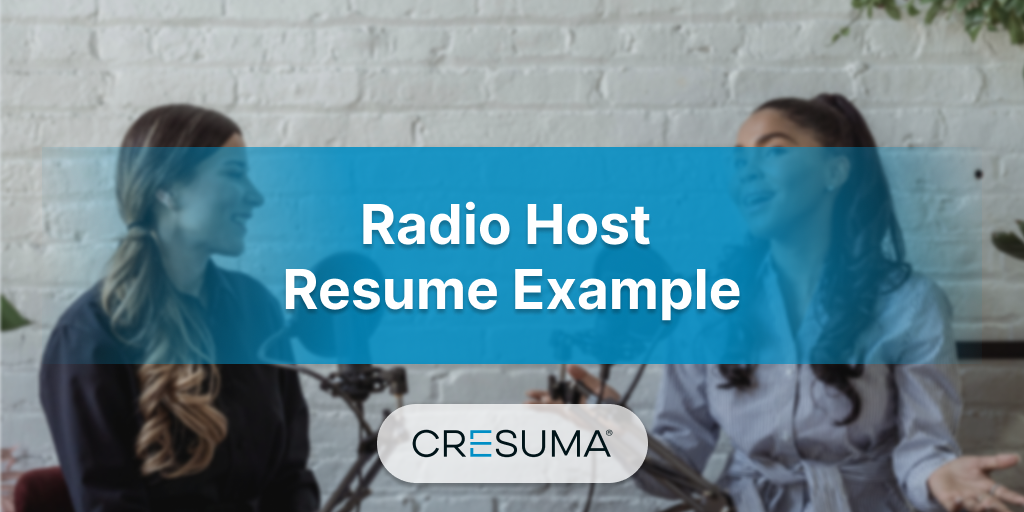 Updating your resume might be a daunting task for you. But this user friendly radio host resume guide will help you to create a strong resume which will bring you the most important interview opportunity. Whether you are an experienced radio host or an entry level radio host, our resume writing guide will definitely help you strengthen your current resume.
No hidden costs. Download your ATS-Friendly resume in PDF for absolutely FREE after creating.
Radio Host Resume
No need to start from the beginning. Edit this resume sample with your information and keywords from the job posting.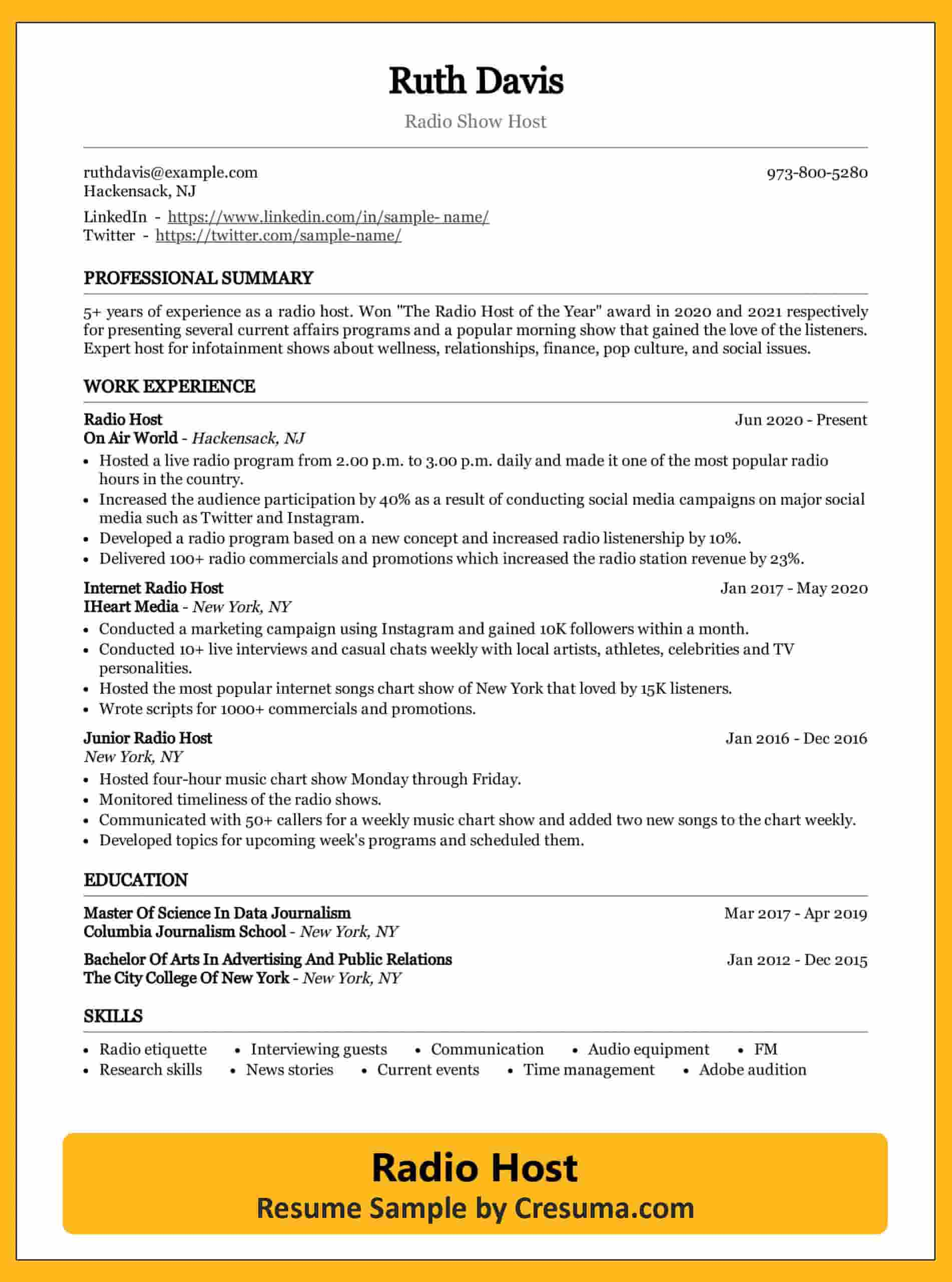 Why is this a great radio host resume?
As this resume example contains strong content with relevant experience, the right set of skills, quantifiable achievements, and unique qualities, we can identify this resume as a perfect inspiration for radio host job candidates.
Our radio host resume example clearly shows how to highlight your skills, qualifications and achievements in your resume to secure the job you want. This resume example was written by a certified resume writing professional so after studying this you can get an accurate understanding of how to write a winning resume to get your dream job.
Tips to write a professional resume for a radio host
The radio host presents news, music, sports or weather updates from a radio station. He also has the responsibility of acting as a moderator to conduct on-air interviews with guests. In addition to live air coverage, a radio host has a duty to explain podcasts too.
Radio hosts are in great demand in the United States. Also, the number of applicants is huge. Out of those applications, you need a superior radio host resume to be selected for an interview. Our complete resume guide will show you exactly how to write a resume from scratch. If you know the basics of resume writing then read this step by step radio host resume guide to further optimize your radio host resume.
01. Write a persuasive radio hosting resume summary
Resume summary is where a hiring manager pays the most attention in your resume. For the same reason, this is also the best place in your resume that you can use to sell yourself as a good radio host. Remember you only have a short time to impress a hiring manager. An employer is looking for answers for a few questions through your resume summary. They are:
Why should this employer hire you?
How does this position match your career goals?
What experience and skills do you have to be the best fit for this position?
So if you could answer the above questions in short and sweet, that means you have a great resume summary that could win an interview opportunity.
02. Include your accomplishments as a radio host
Do you spend time thinking about what to include in your resume work experience section? Many people are used to listing their duties and responsibilities during their time as a radio host. But this doesn't impress a recruiter at all. So the best thing you can do is to show the achievements you got from what you did as a radio host with a set of quantified results.
Also, when you write job description bullet points, you can increase the relevance of your resume to the radio host job by including the keywords you find in the job advertisement.
03. Insert 5-10 radio hosting resume skills
Remember, include only the skills you really have inside your resume skills section. But don't be afraid to use the job advertisement to your advantage. So that it will be easy to make an ATS friendly resume by incorporating the skills from the job description.
Working as a radio host requires a set of specialized skills relevant to the radio industry. Many radio hosts have a deep understanding of current events and it is worth knowing how to stay up to date on news developments. In addition, radio station owners are more inclined to hire candidates with the following skills. So if you have those skills, don't forget to highlight them in your radio host resume.
FM, AM and satellite
Written and verbal communication
Radio etiquette
Music genres
Research skills
Attention to detail
Organizational skills
Leadership abilities
Commercials and promotions
Problem solving skills
Research skills
Interviewing skills
Knowledge of audio equipment
04. Don't forget mention your relevant education
Employers appreciate a radio host having at least a high school diploma. Some employers are looking to hire candidates with a degree in journalism, mass communication or English language. Many universities offer training in radio broadcasting, and students also have the opportunity to practice at the college radio station. Internships at radio stations help to gain a better understanding of voice modulation, broadcast software and hardware, as well as listener participation. Therefore, it is very important to have such relevant education in your resume education section
If you have an education in the following subjects, mention it in your resume.
Communication
Journalism
Business
Digital Marketing
Audiovisual communication
Political science
Public relations
05. Enrich your resume with action verbs
You can use resume action verbs to make your resume more persuasive than it is now. Using radio host action verbs will benefit you to land interview opportunities faster. Below are some action verbs that are compatible with a radio host resume. Make your resume more powerful by using these effectively in the right place.
Directed
Managed
Hosted
Communicated
Wrote
Researched
Proofread
Trained
Introduced
Edited
Voiced
Composed
Performed
Screened
Recorded
Conducted
Interviewed
Answered
Radio host resume example (Text version)
Ruth Davis
Radio Show Host
973-800-5280
ruthdavis@example.com
Hackensack, NJ
Professional Summary
5+ years of experience as a radio host. Won "The Radio Host of the Year" award in 2020 and 2023 respectively for presenting several current affairs programs and a popular morning show that gained the love of the listeners. Expert host for infotainment shows about wellness, relationships, finance, pop culture, and social issues.
See the complete resume summary guide
Work Experience
Radio Host
On Air World – Hackensack, NJ – June 2020 – Present
Hosted a live radio program from 2.00 p.m. to 3.00 p.m. daily and made it one of the most popular radio hours in the country.
Increased the audience participation by 40% as a result of conducting social media campaigns on major social media such as Twitter and Instagram.
Developed a radio program based on a new concept and increased radio listenership by 10%.
Delivered 100+ radio commercials and promotions which increased the radio station revenue by 23%.
Internet Radio Host
iHeart Media – New York, NY – Jan 2017 – May 2020
Conducted a marketing campaign using Instagram and gained 10K followers within a month.
Conducted 10+ live interviews and casual chats weekly with local artists, athletes, celebrities and TV personalities.
Hosted the most popular internet songs chart show of New York that was loved by 15K listeners.
Wrote scripts for 1000+ commercials and promotions.
Junior Radio Host
New York, NY – Jan 2016 – Dec 2016
Hosted a four-hour music chart show Monday through Friday.
Monitored timeliness of the radio shows.
Communicated with 50+ callers for a weekly music chart show and added two new songs to the chart weekly.
Developed topics for upcoming week's programs and scheduled them.
Education
Master of Science in Data Journalism – Mar 2017 – Apr 2019
Columbia Journalism School, New York, NY
Bachelor of Arts in Advertising and Public Relations – Jan 2012 – Dec 2015
The City College of New York
Skills
Radio etiquette
Interviewing guests
Communication
Audio equipment
FM
Research skills
News stories
Current events
Time management
Adobe audition
Want to build a perfect resume by yourself? Click on the below button.

Want to get a perfect Radio Host cover letter created by an expert?

People who read this also read:

How to write an impressive cover letter

.

Enjoyed Reading?
Help Cresuma cover the server and other costes to continue this 100% Free Service. Show your support below.