IT Project Manager Resume Example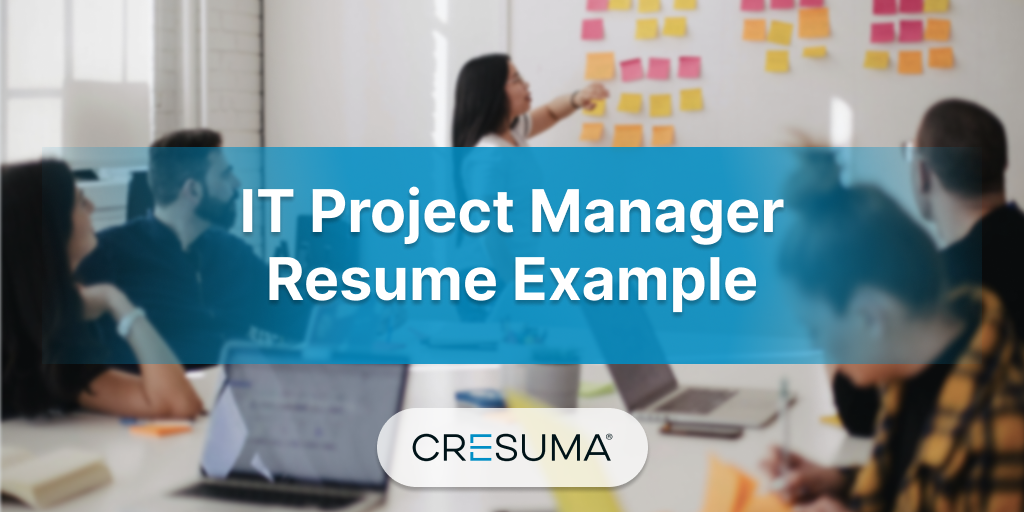 Complete Resume Guide for a Manager of IT Projects
Ask from a Senior IT Project Manager (Best Tips and Secrets)
Modern Recruitment Process of Information Technology PM
IT Project Manager Resume Example (Text Version)
No hidden costs. Download your ATS-Friendly resume in PDF for absolutely FREE!
IT Project Manager Resume
No need to start from the beginning. Edit this resume sample with your information and keywords from the job posting.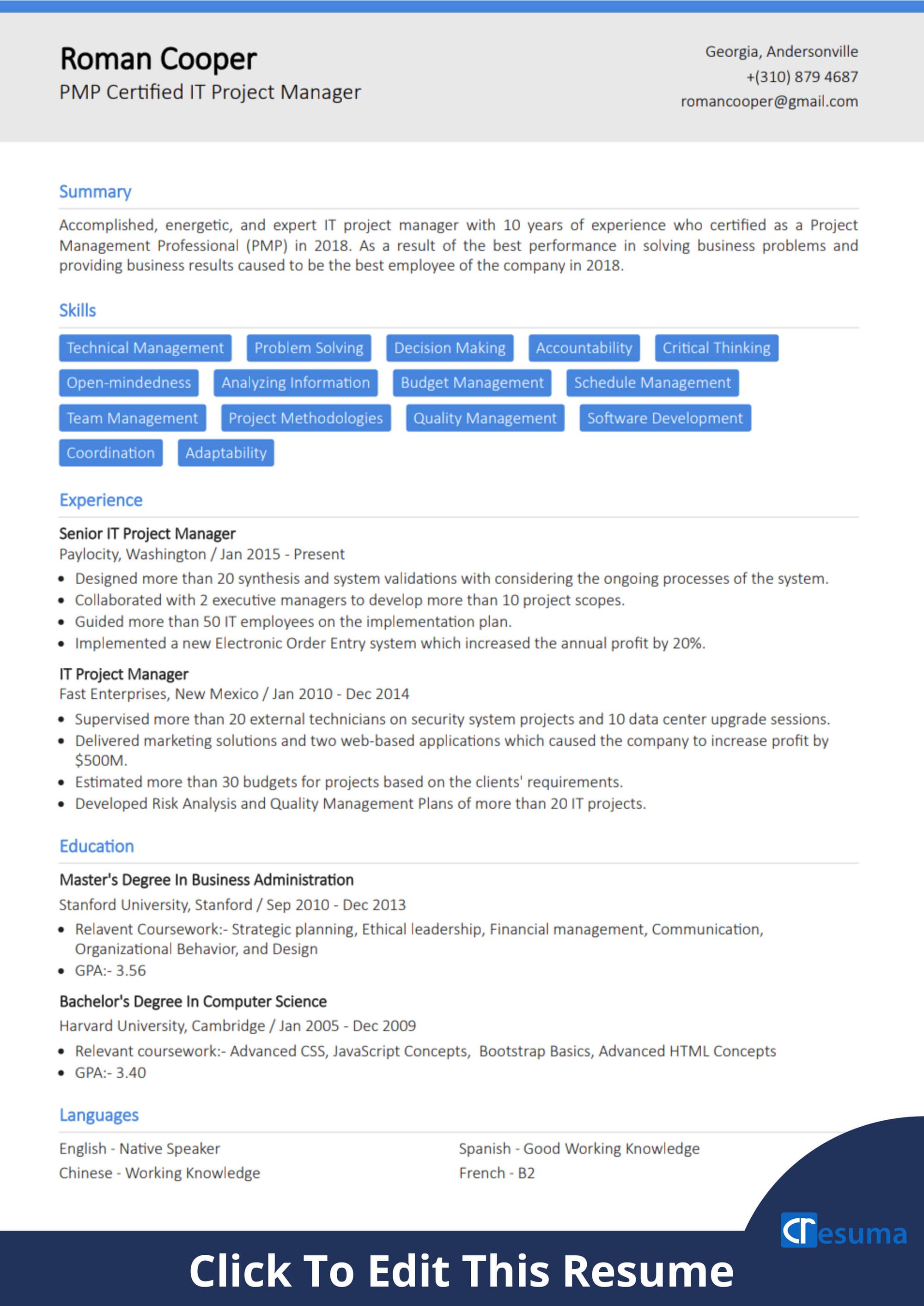 Complete Resume Guide for IT Project Manager
01
What is the best Template for a Project Manager in IT?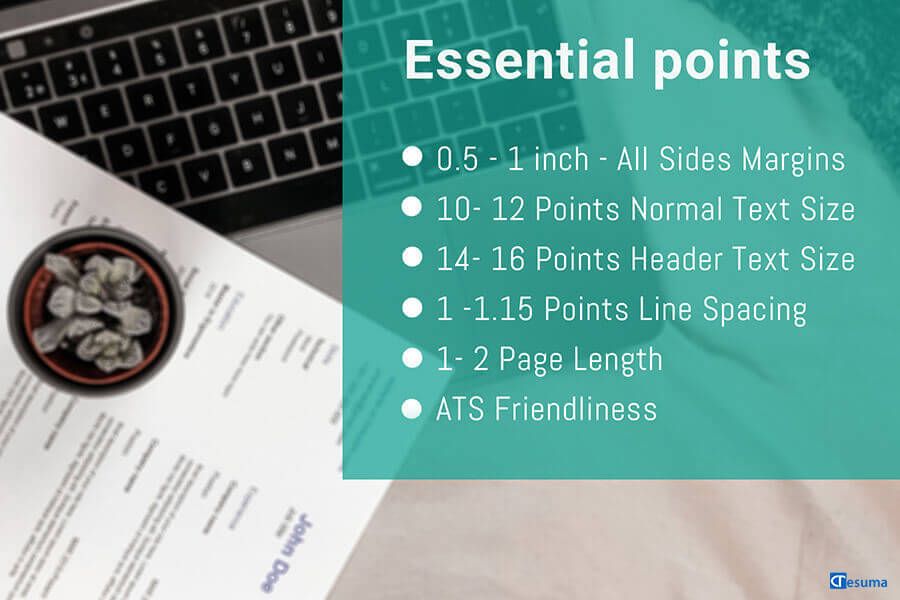 Check whether your template contains the following features. If yes, the recruiters will utter, "Wow, this is great, I appreciate this."
ATS friendliness:-
Check the text of your content can select and links can click. Ensure the graphics of the template are simple. If all attributes are available, your job application template is ATS friendly
Font:-
Helvetica or Calibri is the most suitable font style for a project manager in information technology. However, we would like you to check the font style of your resume template to get a better understanding of fonts and sizes.
Color:- Do not choose a luminous color collection, because they disturb the readability of the hiring managers. So it is better to choose a cool and calm color collection.
Enough Space:-
Have you achieved many goals in the project management field? Then you want enough space to arrange your victories. Limit your content to a one-page because it is the perfect resume length for anyone
Photo:-
Have you achieved many goals in the project management field? Then you want enough space to arrange your victories. Limit your content to a one-page because it is the perfect resume length for anyone
Does your job advert request a photo from you? or Are you willing to add a photo to your resume? Then enter a professional-looking photo into your application.
Otherwise, select a photo-free template because you can add more valuable content instead of promoting your appearance.
File format:-
PDF is the best file format for resumes because it is very ATS friendly and universally accepted. Anyone can't edit it after submitting. So, send the technical manager resume pdf document to your recruiters. Whereas the Word and plain text formats are also ATS friendly file formats.
Important to note that proofread your document before converting it to a project manager resume pdf file.
02
What should the ITPM Resume Header look like?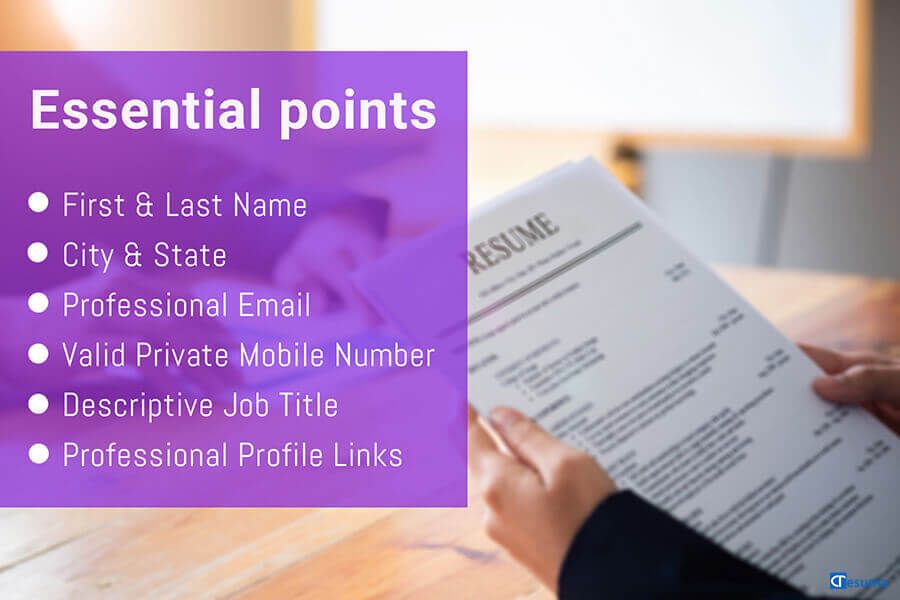 Exactly, it should be your business card. So, enter your name, job title, location, contact number, and email address on resume header your project manager resume header.
So arrange your contact information as follows. Then the hiring managers will say, "This is such a complete one."
Provide only the first and last name instead of your full name. The city and state are enough to get your location.
The recruiters want to contact you as soon as they select you. Why don't you state one available mobile number then?
Do you want to seem like a professional PM in IT? So – Let's provide a professional email address.
Social media links can involve the best project manager resume. But they should provide the extra value about the applicant. Refer to the following checklist.
A photo collection of the proposals you handled on Facebook or Instagram
A set of prior career information on LinkedIn or Twitter
A video list of the project maintenance process on YouTube.
Do you have any of these features? Mention the URL in your job application header as follows.

03
Is a Summary Statement necessary for a PM in Information Technology?
Definitely yes! The recruiters get the main idea about the applicant based on the project manager resume summary statement. So, never miss it!
So, you should include the top values to create a professional summary for project manager. Ensure the victories connected with the IT project management sector. They may be unique skills, best academic or career attainments.
The summary statement is very brief and small paragraph. Also, you can use an active voice to write it. The relevant keywords and action verbs will produce a professional summary for a project manager. Attempt to add some numeric measures like percentages and years.
Example from an Expert

Summary
Hardworking professional with 10 years of experience in the IT project management field and succeed in more than 20 technological proposals. Expert in budget planning according to the proposal scope, objectives, and requirements. Certified as a Project Maintenance Professional (PMP) in 2016.
See the complete resume summary guide
04
How far back an IT PM Resume Work Experience can go?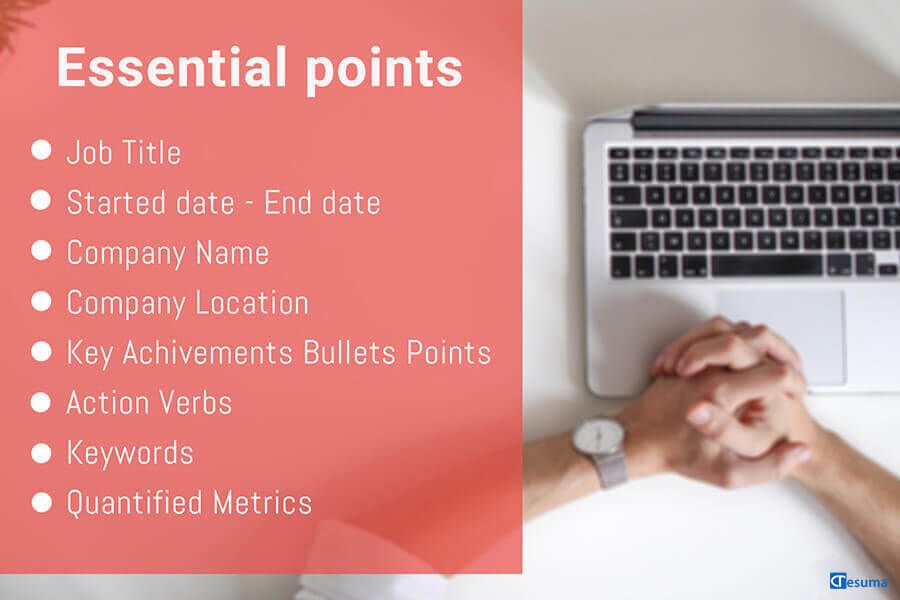 It depends on the number of years of your previous experience. Especially the recruiters want to know the most recent and relevant history of your career.
Do you have a best practice as a technical project director for more than 10 years? If yes, go back only to the recent 10 years. Mention them in your work experience section.
A complete employment record contains the job title, the company name, location, and vocational duration. Especially, mention at least 3-6 bullet points of your career accomplishments in technical project management.
The action verbs and key terms selected from the job advert will enhance the worth of your project manager's resume in IT. what's more, try to join the numeric values to your achievements meaningfully.
The following professional experience example is related to a senior IT project manager's resume. That will aid you to arrange your information in order.
Example from an Expert

Work Experience
Senior IT Project Manager – 2015/Jan to 2018/Dec
Fast Enterprises, New York
Directed, coordinated, and supervised a team of 15-20 technicians with strong managerial skills.
Implemented a new standard billing system that resulted in increasing the annual profit of the company by 40% with significant efficiency improvement.
Developed proposal scope, requirements, and planned the budget report with collaborating other 3 executive IT project managers.
05
How to describe the Top Career Achievements of an IT Project Manager?
Reveal you are a flexible and adaptive project director
Refer to the following leadership types. Choose the most suitable one for you. How did you lead the team to achieve the goals of the proposal? Explain and highlight that in your achievements.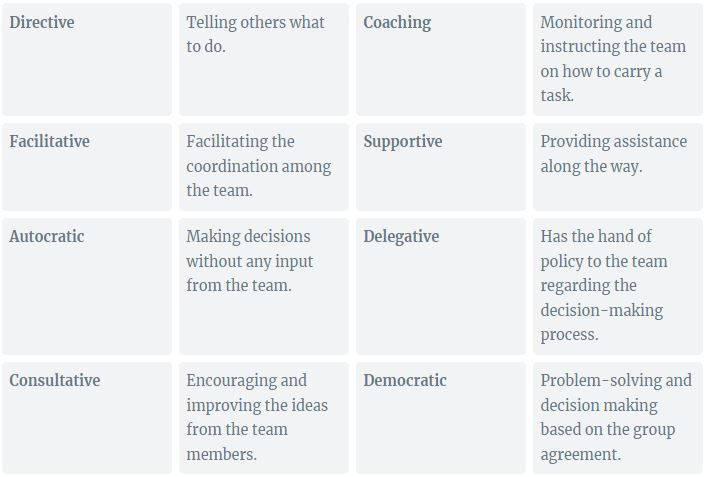 Share the projects you coded with proofs
Do you have an account on GitHub, Stack Overflow, Code Project, Code Ranch, Other Stack Exchanges, GitLab, or BitBucket? Do you frequently store your projects in that account? Wow! That's great!
You can share your account link in your IT project manager resume header. The recruiters will search your account and say, "Wow, this guy is great!" So do not forget to enhance your value all the way around.
Positive relation with the technical team
The recruiters want an excellent team worker. Thus, explain. How did your teamwork skills help to overcome the project problems? How did you cooperate with the members of the technical team?
The aim is to reveal that you are the most suitable applicant among others.
Usage of SDLC in the project process
Explain your prior experience of following facts in your career achievements.
What are the best methods you used to analyze the requirements?
How did you plan the project quickly and effectively?
How did you handle the architectural designers?
What are the effective ways you monitored software developers?
What are the testing methods you are familiar with?
How many developmental sessions do you usually conduct?
The best employee track record in the documentation
Explain the excellent process of documenting and completing the project estimates, statuses, and paperwork correctly. If you can positively talk about the feedback you got, state them in your achievements.
The ways of brainstorming for new technical projects
Have you frequently updated with the new technology? If yes, explain the resources you use to update both you and the team. You may engage with social media, clubs, organizations, expert personnel in IT, and top companies. However, the recruiters will say, "This guy is awesome!"
06
What to put in the Education Section of an IT Project Manager Resume?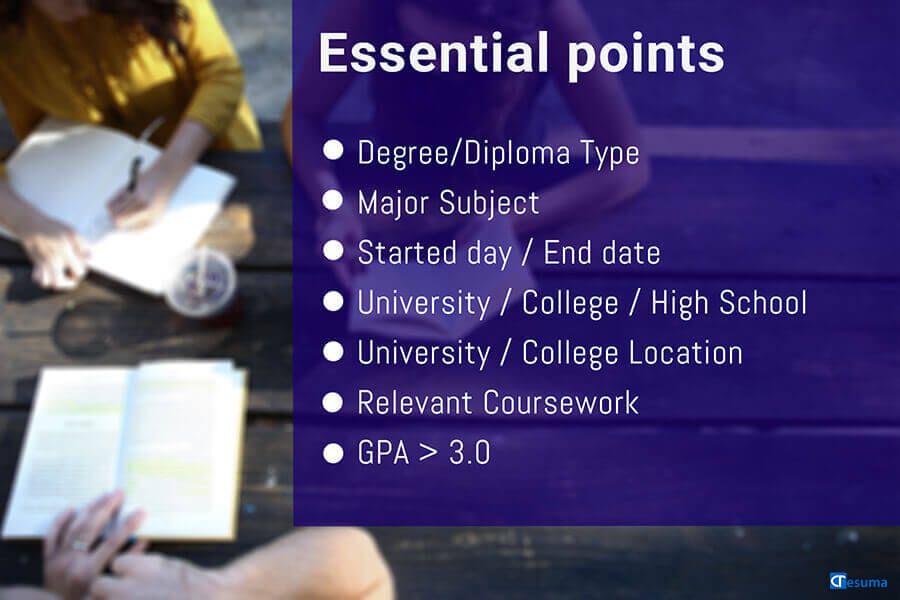 You should include the major information about your degree in the education section. In detail, they are the degree type, major subject or field, studied duration, graduated university name, and the location.
Check whether you have a bachelor's degree in one of the following fields.
Computer Science
Software engineering
Software development
Computer programming
Computing
Information Technology
Business Management
Engineering
If yes, you have fulfilled the minimum educational requirement to be a professional IT project manager.
How can I make my education section stand out? 3 extra facts help you to increase the value of your academic qualification. They are relevant coursework, GPA, and accomplishments.
You have to find out the coursework of your degree program related to the IT project managing sector. Arrange them under the education section by referring to the below example.
The GPA is eligible to mention in your resume, only if it is higher than 3.0.
Have you engaged with the projects, or IT programs during your academic period? If yes, add them as accomplishments you have achieved as a student.
Example from an Expert

Education
Bachelor's Degree in Business Management – 2005/Jan to 2006/Dec
Georgia Institute of Technology, Atlanta
Relevant coursework:- Project Planning, Budget Estimation, Change Control, Risk Management
GPA:- 3.40
07
What are the Soft skills related to the Project Management field?
Leadership Skills:- Managerial personnel should be good leaders because they handle a set of employees in the company. Hence, highlight the leadership skill in your technical manager resume sample.
Flexibility:- Adjusting and taking on a new direction quickly is essential to execute a project. So, the applicant should be a flexible one. Then he can adapt to any type of project.
Communication skills:- The project manager should convey ideas, goals, vision, and issues correctly. Then the project can be maintained healthily.
Organizational skills:- There should be an organized process of the proposal. For example, understand the objective, select a methodology, list the tasks, and assign the members. Therefore, organizational skills are a must for a technical project manager.
Time Management:- Submitting the proposal on time is an essential task. Thus, managing time is very essential in the project manager resume skills area.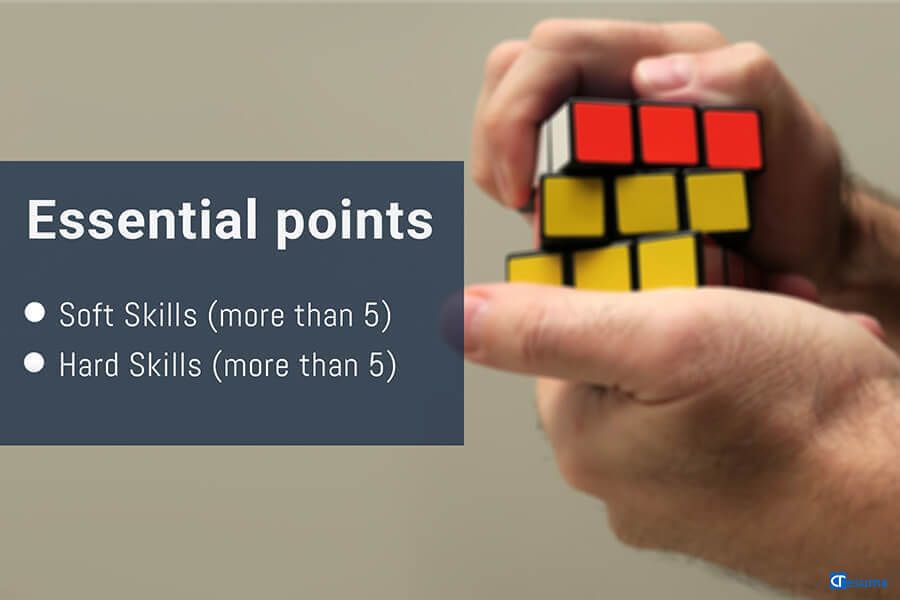 If you want to explore more resume skills which can be used on resumes, please head over to "resume skills article"
08
Does a Project director in information technology want Hard Skills?
When you create the sample resume for a project manager, try to add the following hard skills. Include at least 5 hard skills in your job application. Try to add more skills as possible.
Custom Software Development
Database Design (RDBMS)
Systems Engineering
System Migrations
System Integrations
Enterprise-Wide Implementations
CorelDRAW
Specialized software
Vendor Management
Project methodologies and frameworks
Reporting Maintenance
Stakeholder Maintenance
Team Maintenance and building
Resource planning and administration
Schedule Maintenance
Cost assessment
Budget Maintenance
Conflict resolution
Technical administration
Analyzing Information
Informing Others
Staffing
Data Center Management
Developing Budgets
Strategic Planning
Quality Maintenance
09
How to Create a Resume for a Fresher Project Manager?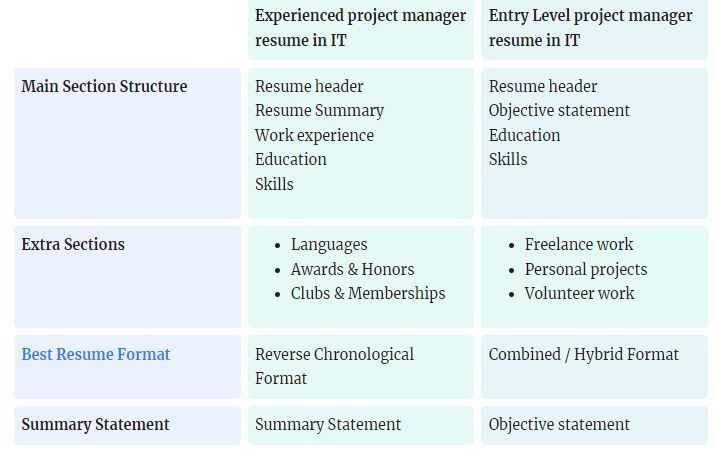 10
What to include in the Resume Objective of a Project Manager?
The Objective statement can add to the entry-level project manager resume. That means a fresher, student, intern, or entry-level project manager is eligible for that.
The unique skills and talents can be included briefly. Also, insert the best educational goals you achieved. Ensure all details are related to the project managing sector.
There are some components to enhance the value of your resume. They are keywords, action verbs, and quantified metrics such as years and percentages.
11
Are you a Certified Project Supervisor?
If you have certified as a project manager, the recruiters will surely say, "Wow! Here is a certified applicant. Let's select him."
The certification details can be included in the 'Certifications & licenses' section. Do not forget to mention at least the certification name, certified date, and organization name. The URL and the number of certifications are optional to mention.
Here are a few certifications to include in a technical project manager resume sample.
Certified Project Director
Master PM
Certified PM
BVOP Certified PM
Associate in PM
Project Management Professional (PMP)
PRINCE2 Foundation / PRINCE2 Practitioner
Certified Project Management Practitioner (CPMP)
Non-private mortgage insurance certifications
Lean
Agile
Scrum
Six Sigma
OSHA training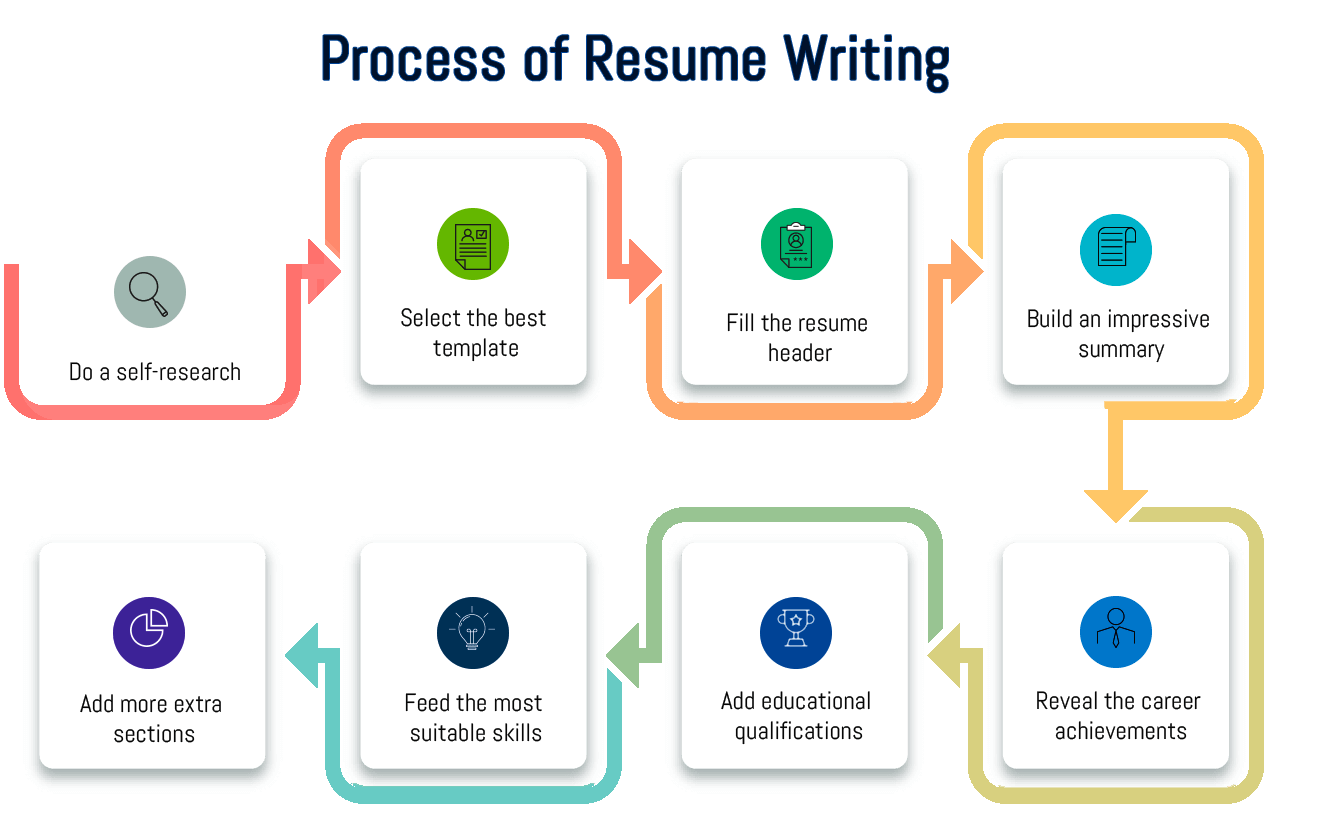 Ask from a Senior IT Project Manager (Best Tips and Secrets)
Quiz #01:- What are the effective keywords in the ITPM Resume?
Before you create the technical project manager resume doc, refer to the job advertisement thoroughly. That is an effective place to find the best keywords.
Some words represent objects, people, procedures, skills, talents, and other qualifications. They are related to the IT project manager position of the company.
Also, the recruiters enter those keywords into their ATS. So you have to use them meaningfully to pass the ATS test.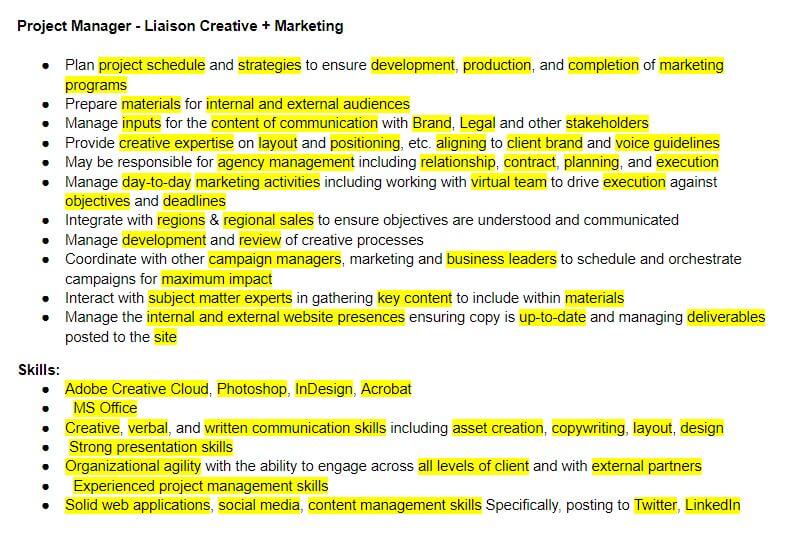 Quiz #02:- How to find out the powerful Action Verbs for an IT Project Supervisor?
The job advert is the best source to choose powerful action verbs. Read it well. Highlight the given action verbs. Apply the verbs when creating your career achievements.
Refer to the following sample job advert to understand the powerful action verbs well.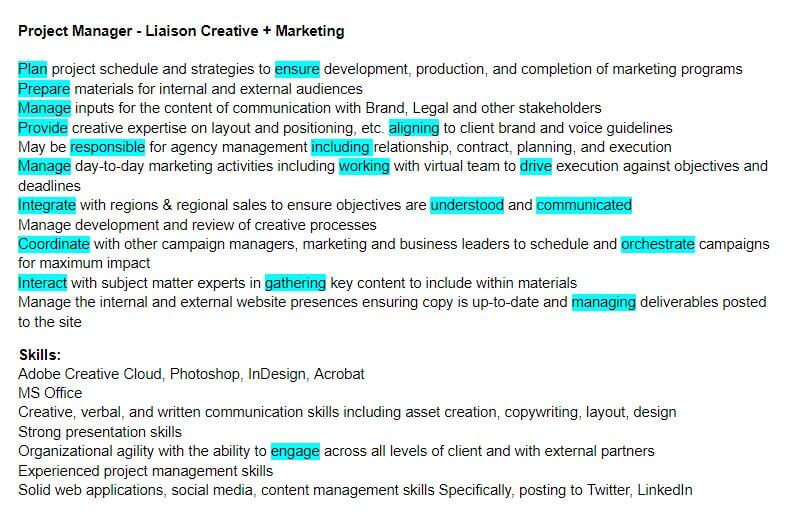 List of common Action Verbs for a Project Manager in IT
Coordinated
Communicated
Developed
Designed
Documented
Ensured
Identified
Integrated
Managed
Monitored
Met
Planned
Participated
Performed
Reported
Supervised
Tracked
Trained
Updated
Worked
Quiz #03:- How does a Cover Letter link with an IT Project Manager Resume?
A perfect cover letter can boost the project manager resume sample doc. It provides a chance to communicate with the hiring personnel friendly. So, find out the hiring manager's name in your target company. Then you can directly address him.
Especially, admire the sustainability, features, and goodwill of the company. Reveal that you have researched them. Also, mention the current employees and customers have positively talked about them.
Now can you understand what is the importance of a project manager cover letter? Therefore, create a perfect cover letter and attach it to your resume.
Modern Recruitment Process of Information Technology PM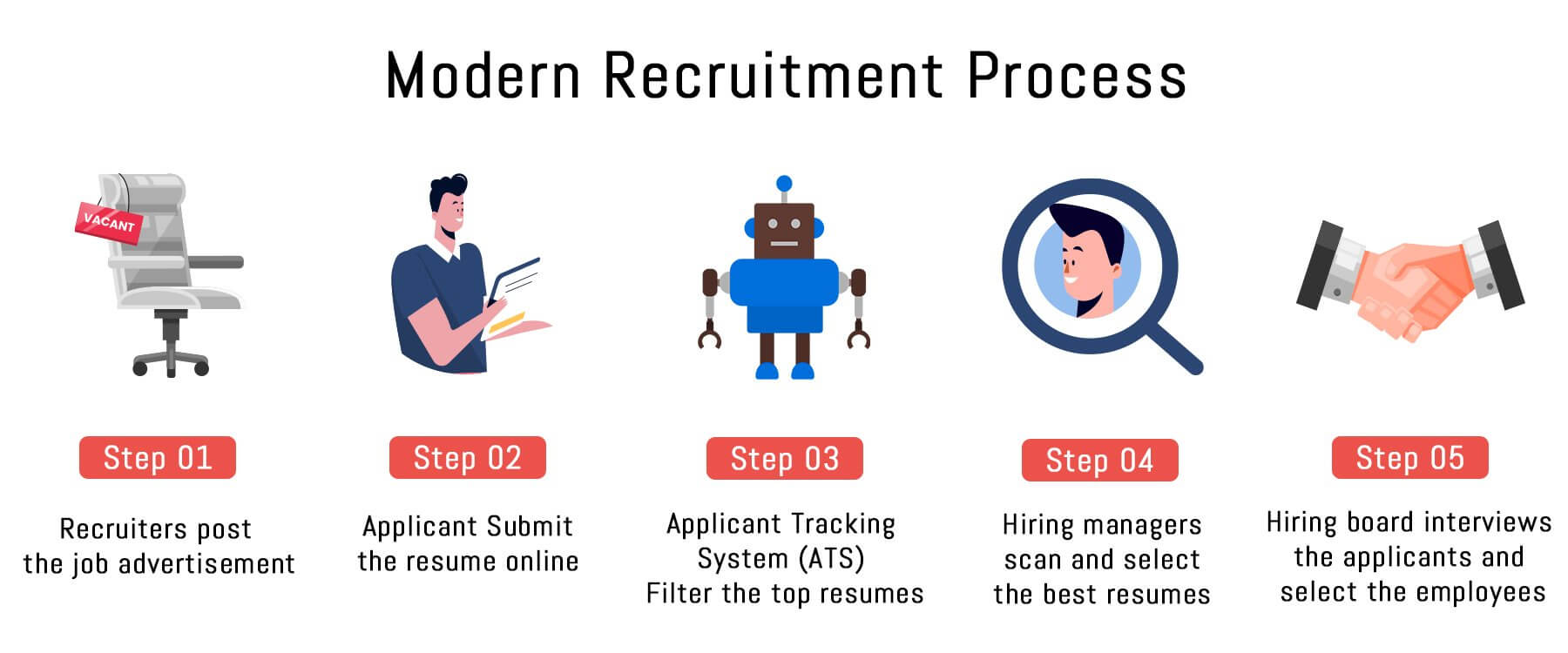 Overview
This managerial post is directly connected with the information technology field. So the job vacancies are posted on the company website or job posting websites.
Thousands of applicants send their resumes online. The recruiters use an Applicant Tracking System(ATS) to filter the top resumes because they want to save their time and labor.
After that, the hiring managers scan the top resumes. They are responsible to select the best resumes out of the top resumes.
Finally, the most suitable IT project manager is selected at the interview.
So you have to consider the content of your resume. It means adding the most recent and relevant information as a technical project manager. Use the Applicant Tracking System(ATS) to enhance the value of your document.
IT Project Manager Salary Range
A professional project manager can earn $88,834 per year. It is the average amount. The wage can be different based on the experience, certifications, and the workplace.
Especially, do not mention your salary expectation in your resume. If the job post requests to mention it, provide a fair salary for an IT project manager.
IT Project Manager Resume Sample (Text Version)
Roman Cooper
PMP Certified IT Project Manager
+(310) 879 4687
romancooper@gmail.com
Georgia, Andersonville
Summary
Accomplished, energetic, and expert IT project manager with 10 years of experience who certified as a Project Management Professional (PMP) in 2018. As a result of the best performance in solving business problems and providing business results caused to be the best employee of the company in 2018.
Work Experience
IT Project Manager
Paylocity, Washington – 2015/Jan to Present
Designed more than 20 synthesis and system validations with considering the ongoing processes of the system.
Collaborated with 2 executive managers to develop more than 10 project scopes.
Guided more than 50 IT employees on the implementation plan.
Implemented a new Electronic Order Entry system which increased the annual profit by 20%.
IT Project Manager
Fast Enterprises, New Mexico – 2010/Jan to 2014/Dec
Supervised more than 20 external technicians on security system projects and 10 data center upgrade sessions.
Delivered marketing solutions and two web-based applications which caused the company to increase profit by $500M.
Estimated more than 30 budgets for projects based on the clients' requirements.
Developed Risk Analysis and Quality Management Plans of more than 20 IT projects.
Education
Master's Degree in Business Administration – 2010/Sep to 2013/Dec
Stanford University, Stanford
Relevant Coursework:- Strategic planning, Ethical leadership, Financial management, Communication, Organizational Behavior, and Design
GPA:- 3.56
Bachelor's Degree in Computer Science – 2005/Jan to 2009/Dec
Harvard University, Cambridge
Relevant coursework:- Advanced CSS, JavaScript Concepts, Bootstrap Basics, Advanced HTML Concepts
GPA:- 3.40
Skills
Coordination
Problem Solving
Decision making
Accountability
Critical thinking
Open-mindedness
Adaptability
Analyzing Information
Budget Management
Schedule Management
Team Management
Technical Management
Quality Management
Software Development
Project Methodologies
Languages
English – Native Speaker
Chinese – B2
French – A2
Spanish – Working Knowledge
Want to build a perfect resume by yourself? Click on the below button.
Want to get a perfect IT Project Manager cover letter created by an expert?
People who read this also read: