Research Assistant Resume Example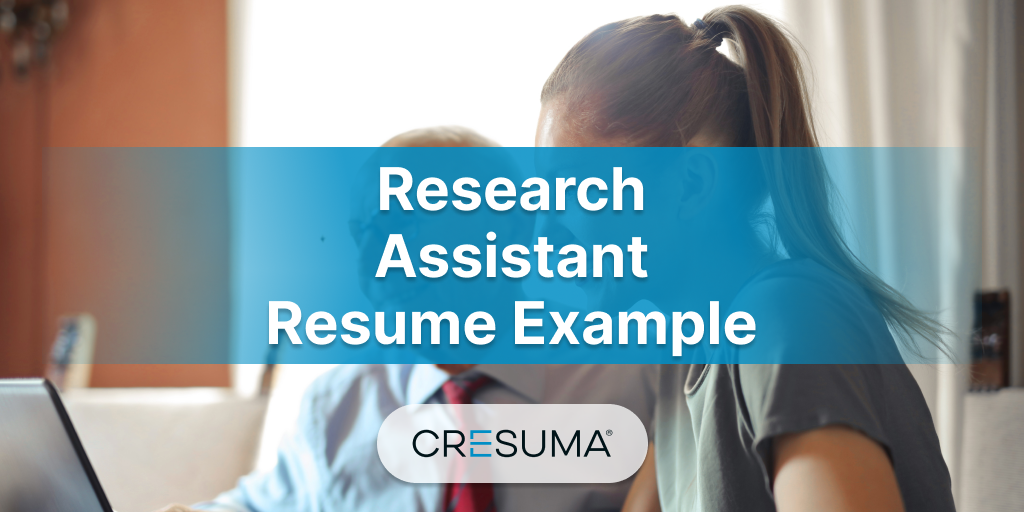 Looking for a guide to create your research assistant resume? Here's the best way to create your job winning resume for a research assistant position. Tips and a sample resume included.
No hidden costs. Download your ATS-Friendly resume in PDF for absolutely FREE after creating.
Research Assistant Resume
No need to start from the beginning. Edit this resume sample with your information and keywords from the job posting.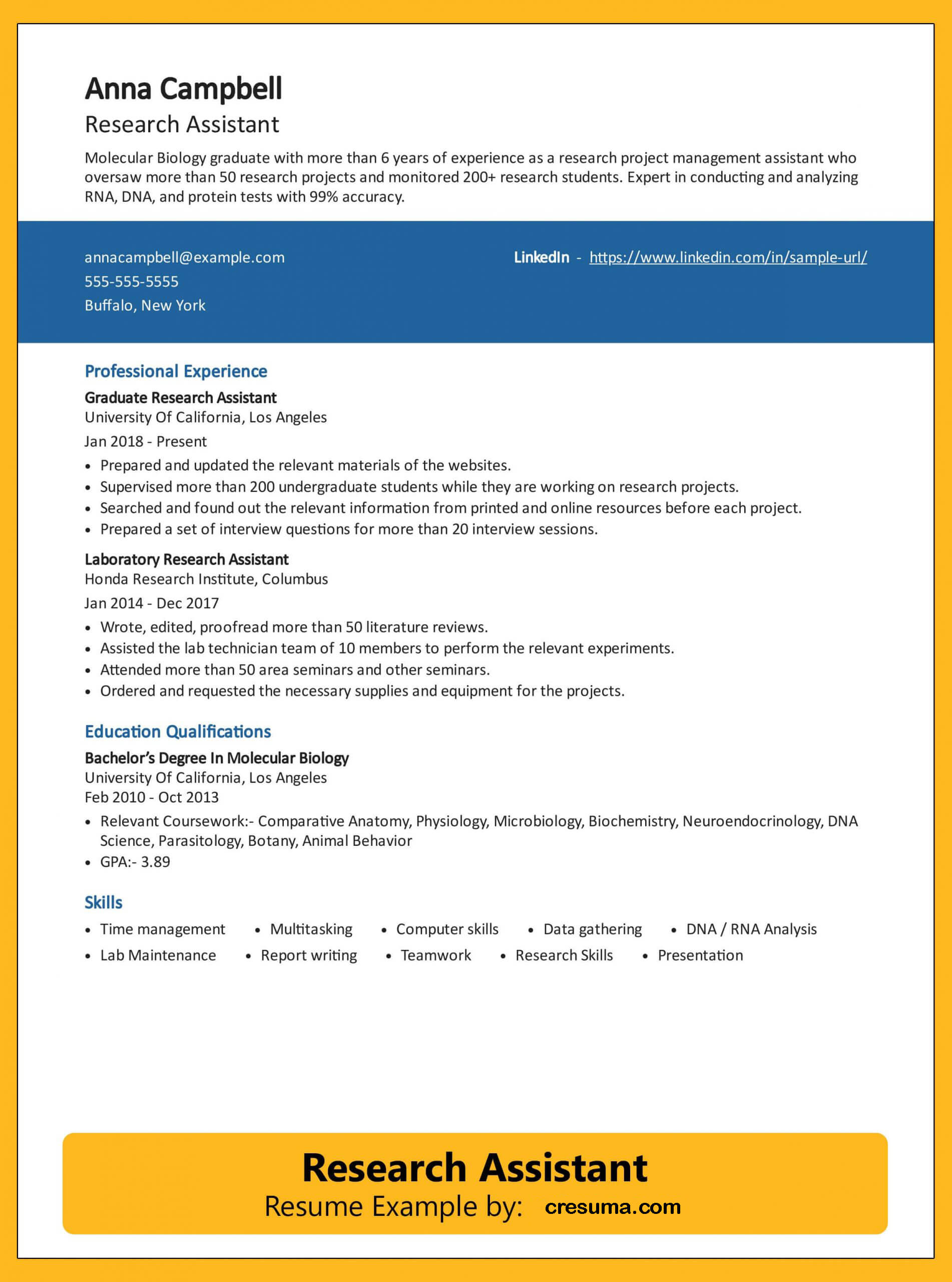 The job industry has come up with technology now and the traditional recruitment process has changed. What makes this so special? Definitely, the resume is the main driver of your job opportunities. Therefore you need to come up with a perfect resume if you are dreaming to be a future research assistant. In that case, this complete resume guide with resume tips, examples, and a resume sample will lead you to your professional goal.
How to format your research assistant resume properly
It is generally accepted that the resume is the most important tool of the job searching process for any applicant.  Preliminary studies of resume writing considered it to be more professional in the appearance as well as the content. A neglected area in resume writing is resume formatting. Therefore we express how to format your resume at first.

In resume writing, there seems to be a general acceptance of page setups by the recruiters. Moreover, it is better to set 1 inch for all margins (top, bottom, left, right). Though you are struggling to maintain your space, never decrease the line space by more than 0.5 inches. The perfect resume length for each applicant is one page. But if you have more experience you can go for a two-page resume

.

The font that you use directly affects the appearance and readability of your resume. Therefore use a clear and perfect resume font type such as Open Sans, Calibri, and Georgia. But you need to adjust the normal font size between 10– 12 points and header font size between 14-16 points. On the other hand, you can set up 1.0 – 1.15 of line spacing for a better look

.

To reduce the risk of decreasing interview opportunities you have to select the most suitable layout. Additionally, if you have collected more experience in the target field you can use a reverse chronological resume format. On the other hand, the hybrid or combined resume format is perfect resume font type the best resume format

.

If you are wondering whether I use a layout with a photograph or not. We recommend you using a photo-less layout will increase your job opportunities. But if your job advertisement requests a photograph, definitely add a photo to your resume.
Mention the most professional information in your resume header
The most surprising fact is that the resume header acts as the business card of the applicant. That means almost every detail of your resume header is a contact detail. But they should be relevant and professional.
As stated in the introduction you should mention your name. But you do not need to reveal your full name. It is better to mention the first and last names of you. As far as the recruiters can know your location, just share only your city and state.
We suggest you not to list down each contact number that you have. A valid, available, private mobile number is enough to mention in your resume. Other than that you should mention a professional email address. But it should not be an office email address and should not contain any fancy words. If you have no professional email address it is better to make a new one.
The most common question of any applicant is: Should we mention the social media URLs? and what are the suitable social media URLs? It depends on you. If you have any professionally maintained LinkedIn profile, Twitter account, personal website, or Facebook account, you can mention them as your wish. Other than that if there are any social media accounts that can prove the research projects that you have done, definitely mention them. Because it is a value-added step to your resume.
Why use keywords and relevant action verbs?
As the resume is increasingly becoming a vital factor of job opportunity the recruiters have found many new technologies to review the resumes. The major one is Applicant tracking Systems (ATS). After the innovation of ATS, the majority of applicants tend to find relevant keywords, key phrases, and action verbs according to their target job position. Because the ATS filters the resumes based on the keywords and action words

The keywords and key phrases are the specific terms that explain the things, people, and occasions that engage with the job position. The best resource is your job description to find out the relevant keywords and key phrases.

The fundamental of the resume action verbs according to resume writing is describing the main and unique actions of the position in a professional manner. Same as the keywords, you can find out some relevant action verbs from the job description. If not, here are some relevant action verbs for a research assistant job position

.
Conducted
Collected
Prepared
Maintained
Summarized
Provided
Requested
Managed
Responded
Updated
Supervised
Attended
Monitored
Recorded
Reviewed
Edited
Developed
Traveled
Scheduled
Designed
Entered
Assisted
Helped
Performed
Analyzed
Drafted
You can use these keywords and action verbs to describe your career achievements in the resume summary, work experience section, or any other extra section. Then your resume will pass from the ATS test as well as the six-second test of the recruiters. Eventually, your interview opportunities will be increased.
Write an impressive research assistant resume summary
A challenging step of the resume writing process is developing an impressive resume summary Because it is not a widely understood concept. Therefore some applicants write a story about themselves. But we will explain how to create your resume summary perfectly

.

This specific, tiny paragraph of your resume reveals your top career achievements, unique skills, best educational qualifications, and forces the recruiters to go through the whole resume. Although it seems very easy, the majority of applicants fail to build it perfectly.

However, you should collect your top professional qualities. Then compress them into a small paragraph of two or three sentences using active voice. As mentioned before, you can use relevant action verbs and keywords to stand out your resume further. The following example will assist you to understand the concept correctly.

Good Example

Experienced Laboratory Research Assistant with 10 years who is highly motivated to assist in research projects by collecting and analyzing data. Expert in supporting more than 10 lab technicians with different projects and documenting the research process.

It is not yet known whether the resume summary is better than an objective statement. Because it depends on whether you have any career experience or not. That means if you are an entry-level applicant you can create an objective summary. Additionally, you should explain how you can help the company to achieve its goals by using your skills, abilities, competencies, and education.
The best way to arrange your work experience section
This section has only been widely applied to arrange the career history of the applicant. Furthermore, this section lets the recruiters know what the applicant has done in the previous job positions. If you have more than 15 years of experience in different companies, try to share only the most recent 15 years of work experience. That will help you to limit the length of your resume as well as provide the most relevant information in your resume

.

A less lengthy approach to arrange a perfect work experience is mentioning the job title, work period, the company name, location, and 3-4 bullet points of your key achievements that stand out by using relevant keywords and action verbs. The following example will prove it.

Good Example

Laboratory Research Assistant – 2010/Jan to 2014/Dec

Aramco Research Center, Texas
Participated in more than 20 project meetings.
Analyzed and summarized the project results more than 50 times.
Calculated and monitored the project budget correctly.
Conducted the relevant statistical analyses of data sets.
Maintain well-arranged education section
A key problem with much of the resume's education section is how to arrange the educational qualifications and what they are. Because the educational requirements are the essential qualifications of any applicant. It is generally accepted that a Bachelor of Science degree in a related field is eligible to be a research assistant

.

There is a considerable agreement with regard to the reverse chronological resume format. That means mentioning the latest and top qualifications first. If you have earned more than one degree related to the field, you can arrange them from the latest to back.

One possible way to develop a detailed but compressed education section is by sharing your degree type, major subject, educated period, Educated institute name, and location as follows.

Good Example

Bachelor of Science in Biology – 2014/Feb to 2017/Dec

King's College, Pennsylvania

Relevant Coursework:- Evolution and Diversity with Lab, Cell and Molecular Biology with Lab, Organisms and Their Ecosystems with Lab, Sophomore Seminar, Introduction to Statistics and Data Analysis

GPA:- 3.47

The above example clearly shows that if you want to stand out your resume further you can mention the relevant coursework or subjects that you have followed for the degree. The majority of recruiters are fond of seeing a high GPA from the applicants. Therefore do not mention your GPA if it is less than 3.0.
Highlight your research skills
As you probably know, recruiters tend to hire the most skillful applicants for their companies. What does all this mean to you? That means you should include more specific, unique, and relevant skills that you have. Bear with me, because I'm going to show you how..
First, you can refer to the job advertisement and find out some given resume skills. Directly add them to your resume but ensure that actually you have that skill. Before I jump into the next section check whether you have mentioned at least 8-10 skills including soft and hard skills. If not, choose the most suitable skills from the following list and add them to the skills section.
Soft Skills
Oral and written communication skills
Decision-making skills
Organizational skills
Cooperative skills
Computer skills
Time Management skills
Multi-tasking skills
Critical Thinking
Research Skills (Hard Skills)
Interviewing skills
Data collecting skills
Data Entry
Report writing
Scientific analysis
DNA and RNA Analysis
Fact-finding
Lab Maintenance
Library Cataloging
ECL Staining
Autoradiography
Office assistant skills (Hard Skills)
Answer Phones
Forwarding Phone Calls
Client Relations
Routing Phone Calls
Message Taking
Planning and scheduling events
Let's make your resume stand out
Now I must let you in on the best secrets of resume writing. As you read each word of this page these are the most important resume tips that help you to stand out your resume

.

So you'll be glad to know that attaching a perfect cover letter to your resume when you send it, will dfinitely impress the recruiters and they will give more attention to your resume. That will make more interview opportunities for you. Therefore, within the next step, you can study how to write a perfect cover letter for a research assistant

.

If you seem like your resume is a less-informative resume after filling the main parts, How can you beat that? Definitely, you can add more extra sections that enhance the value of your resume. As you may have noticed, languages, certifications & licenses, clubs & memberships, freelance work, volunteer work, awards & honors, interests & hobbies, personal projects, and publications are some additional sections.

It is common for others in your position to forget proofreading of the resume before submitting it. Therefore thoroughly read your resume and cover letter. Edit the mistakes if it has before sending them to your recruiters.

As the final advice, I tell you to save your document in an ATS friendly file format Also, PDF, .doc, .docx, and plain text are the best file formats for resume and cover letters. Remember, among them, PDF file format is the best

.

Now you can create your own research assistant resume. That job-winning resume will make more and more interview opportunities. Can you imagine how fantastic that feels? Wish you all the best for your dream job.
Research assistant resume sample (Text version)
Anna Campbell
Research Assistant
555-555-5555
annacampbell@example.com
Buffalo, New York
Professional Summary
Molecular Biology graduate with more than 6 years of experience as a research project management assistant who oversaw more than 50 research projects and monitored 200+ research students. Expert in conducting and analyzing RNA, DNA, and protein tests with 99% accuracy.
Work Experience
Graduate Research Assistant
University of California, Los Angeles – 2018/Jan to Present
Prepared and updated the relevant materials of the websites.
Supervised more than 200 undergraduate students while they are working on research projects.
Searched and found out the relevant information from printed and online resources before each project.
Prepared a set of interview questions for more than 20 interview sessions.
Laboratory Research Assistant
Honda Research Institute USA, Columbus – 2014/Jan to 2017/Dec
Wrote, edited, proofread more than 50 literature reviews.
Assisted the lab technician team of 10 members to perform the relevant experiments.
Attended more than 50 area seminars and other seminars.
Ordered and requested the necessary supplies and equipment for the projects.
Education
Bachelor's Degree in Molecular Biology – 2010/Feb to 2013/Oct
University of California, Los Angeles
Relevant Coursework:- Comparative Anatomy, Physiology, Microbiology, Biochemistry, Neuroendocrinology, DNA Science, Parasitology, Botany, Animal Behavior
GPA:- 3.89
Skills
Oral and written communication skills
Time Management skills
Cooperative skills
Multi-tasking skills
Computer skills
Interviewing skills
Data collecting skills
Routing Phone Calls
DNA and RNA Analysis
Lab Maintenance
Report writing
Want to build a perfect resume by yourself? Click on the below button.

Want to get a Research Assistant cover letter created by an expert?

People who read this also read:

How to write an impressive cover letter

.

Enjoyed Reading?
Help Cresuma cover the server and other costes to continue this 100% Free Service. Show your support below.