Delivery Driver Resume Example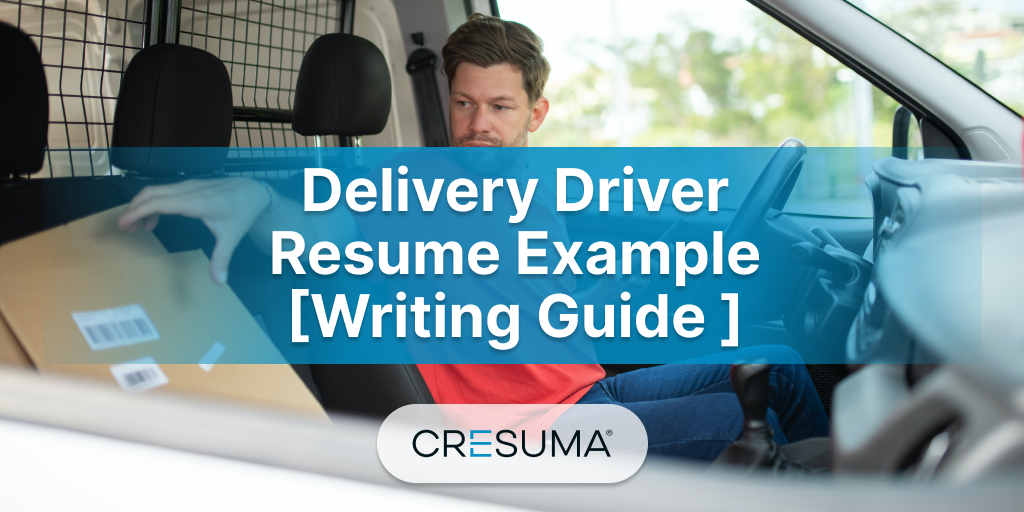 Are you a person looking for a position in a delivery company as a driver? If so you've to create a resume that can catch the employer's attention. So if you don't know how to do it, here's the complete delivery driver resume guide you have been looking for.
No hidden costs. Download your ATS-Friendly resume in PDF for absolutely FREE after creating!
Delivery Driver Resume
No need to start from the beginning. Edit this resume sample with your information and keywords from the job posting.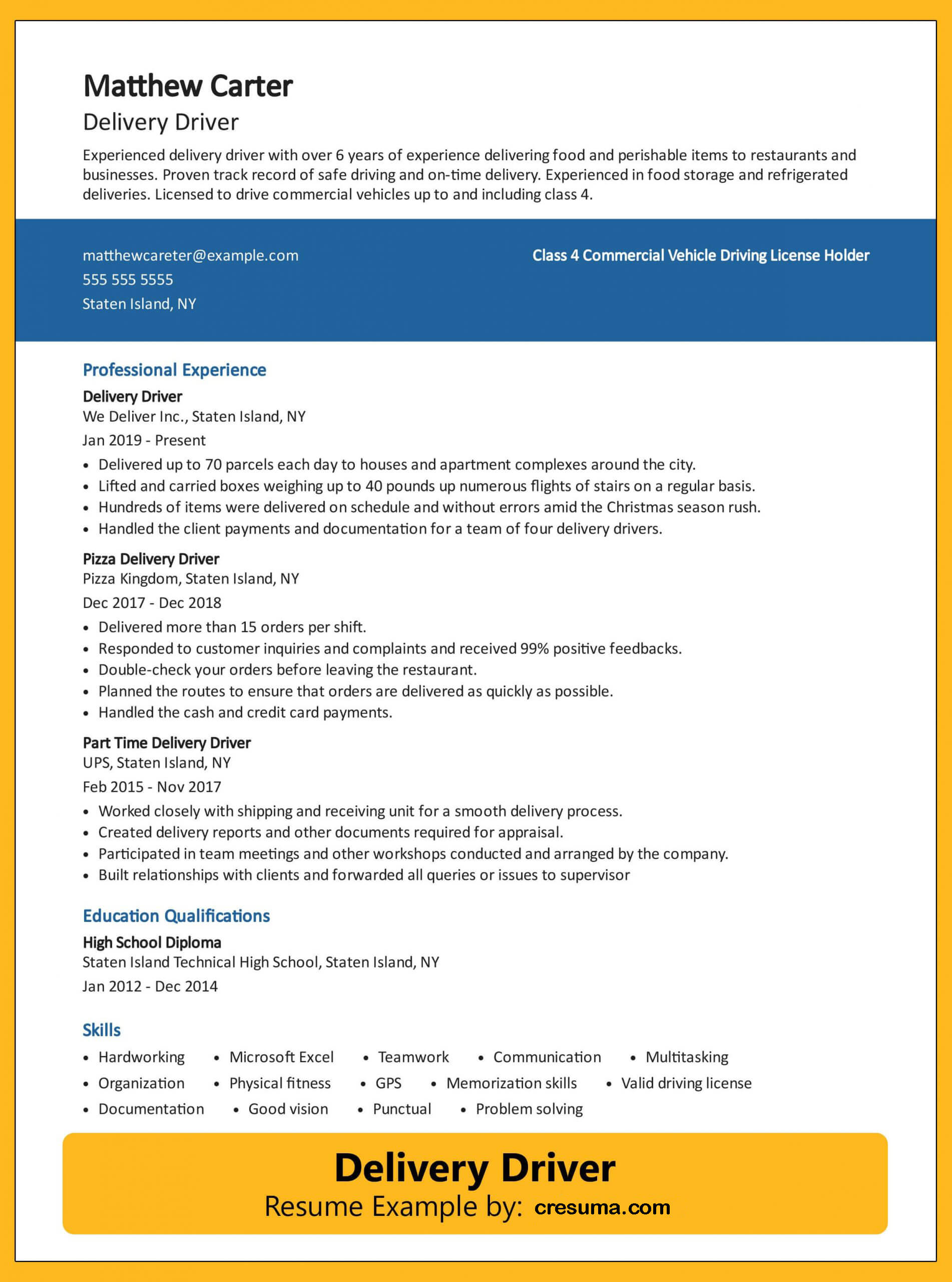 Why do you need a good resume to get a delivery driver job?
Even if you think a delivery driver job is an entry level job, there is a big competition to get a good job in a good company. Also, the number of applicants for those jobs is very high compared to the number of applicants for other jobs. Therefore, it is essential that you have a well-designed resume to get a job as a delivery driver.
What does a delivery driver do?
Before writing the resume you should have a good understanding of the nature of the delivery driver job. You can also find out about it by searching the internet and reading the job description as well.
The most important thing we need to know is that not every delivery driver job is the same. Different delivery driving positions may have different job responsibilities and duties. The best place to find out is the job description.
However, in general delivery drivers are required to perform the following duties:
A delivery driver picks up a variety of packages and handles dropping off and shipping them.
Carries goods from local distribution centers to other businesses or households.
Driving a delivery vehicle from one place to another in a specific area without damaging the packages.
Loading and unloading cargo.
Answering the customer queries and resolving complaints if there are any.
These are some of the common responsibilities of delivery drivers.
What recruiters expect from you as a delivery driver?
Usually when you apply for a delivery driver position there are a few things you must meet. Employers are often curious to see if those points are included in your resume. So be sure to mention the following in your resume. Doing so will make your resume stand out more than the other delivery driver applications.
Valid driving license
If you want to work as a delivery driver, you definitely need to have driving skills. And also you must have a license. So if you do not have a valid driver's license, obtain one first. If you already have a driving license, briefly indicate on your resume header whether you have a Commercial Driving License or an Industrial Driving License.
Administrative skills
If you have administrative skills, you are more likely to get the job. This is because in some companies you may be responsible for documents such as invoices, delivery receipts, inspection reports, and customer service complaints. They also focus on talented applicants who able to resolve complaints properly.
Punctuality

Employers also focus more on you if you work on time and are able to come to work every day without fail. If you have any previous achievements due to your punctuality and timeliness, show them briefly in your Work Experience Section Hiring managers consider this to be a must have for any individual who likes to become a delivery driver.
These are the most important information that you should consider adding into your delivery driver resume. Now let's see how to make a resume that will enable you to join a top delivery company.
Formatting of the delivery driver resume
When building your resume to a delivery driver position, we highly recommend using the reverse chronological resume format. When creating your resume, the sections should be arranged according to the below order.
Contact Information
Summary/Objective Statement
Work Experience
Education
Skills
Licenses
Any other related information
Let us now see how to make each of these resume sections correctly in an impressive way.
Contact information
This section is also known as the resume header Here you will need to enter your name, location, email address, phone number, and other relevant social media profiles. As you apply for a job as a driver, include information about your license inside this section. By doing so, employers will know right from the start of your resume that you are qualified for the job.
Summary / objective statement
If you have never worked before or are a recent school leaver, it may be best for you to write an objective statement. There you have to mention what is the advantage that the employer will get if you become a delivery driver at their company. Write that you can successfully complete any job related tasks beyond the expectations by using your existing skills and mention some of your key skills.
But if you have previous experience as a driver, write a resume summary including all your key achievements. Take advantage of your resume summary to show that you are the kind of driver and a qualified person they are looking for.
See the complete resume summary guide
Work experience
If you have years of experience, add only your latest 10-15 years of experience. Do not unnecessarily extend your resume with the experience over 15 years. Remember you should limit your resume to one page. This will allow you to show your most up-to-date skills and experiences to the employer. Also, do not forget to give more priority to related experiences.
Briefly describe your responsibilities and the achievements through a bulleted list. Don't forget to get help from the job description when presenting your achievements. You can get a better piece of resume work experience by writing your achievement bullet points by matching the requested experience and skills. When describing achievements, try to present them with quantified results as possible. It makes your resume look more competitive and compelling.
Another way to make your delivery driver resume stand out is to strengthen achievement bullet points using relevant action verbs at the beginning of each bullet point. Below you will find some action verbs related to a delivery driver resume. Use them effectively in the right places on your resume to have more job winning chances.
Resume action verbs for delivery driver resume
Delivered
Produced
Handled
Filed
Created
Participated
Operated
Picked up
Dropped off
Checked
Supervised
Inspected
Assisted
Conducted
Prepared
Ensured
Helped
Carried out
Confirmed
Drove
Answered
Solved
Education
Most delivery driver applicants may not have studied up to a degree on average. But don't make it a problem. If you have done advanced level or have completed a diploma at GED school, you can get job opportunities without any issue. Many employers do not consider getting a higher education from delivery driving applicants as a prerequisite. However, having some educational qualifications will definitely be an advantage.
Here's an example education section of a delivery driver resume.
High School Diploma
Staten Island Technical High School, Staten Island, NY
2019 Jan – 2023 Feb
Skills
One of the best ways to tailor your resume to your job is to highlight job-related skills in your resume. If you review the job description well, you can easily find the skills required for the delivery driver position. Although these skills can be displayed in different places on your resume, it is imperative to create a dedicated section for the skills Here you have to present a combination of hard skills and soft skills
Let's see some skills that are in most demand in delivery driver jobs.
Hardworking
Microsoft Excel / Word
Teamwork
Communication
Multitasking
Organization
Physical fitness
GPS
Memorization skills
Valid driving license
Documentation
Good vision
Punctual
Problem solving
Related:

Must Have Skills to put on your Resume 2023

Want to build a perfect resume by yourself? Click on the below button.

Want to get a perfect Delivery Driver cover letter created by an expert?

People who read this also read:

How to write an impressive cover letter

.

Enjoyed Reading?
Help Cresuma cover the server and other costes to continue this 100% Free Service. Show your support below.