College Student Resume Example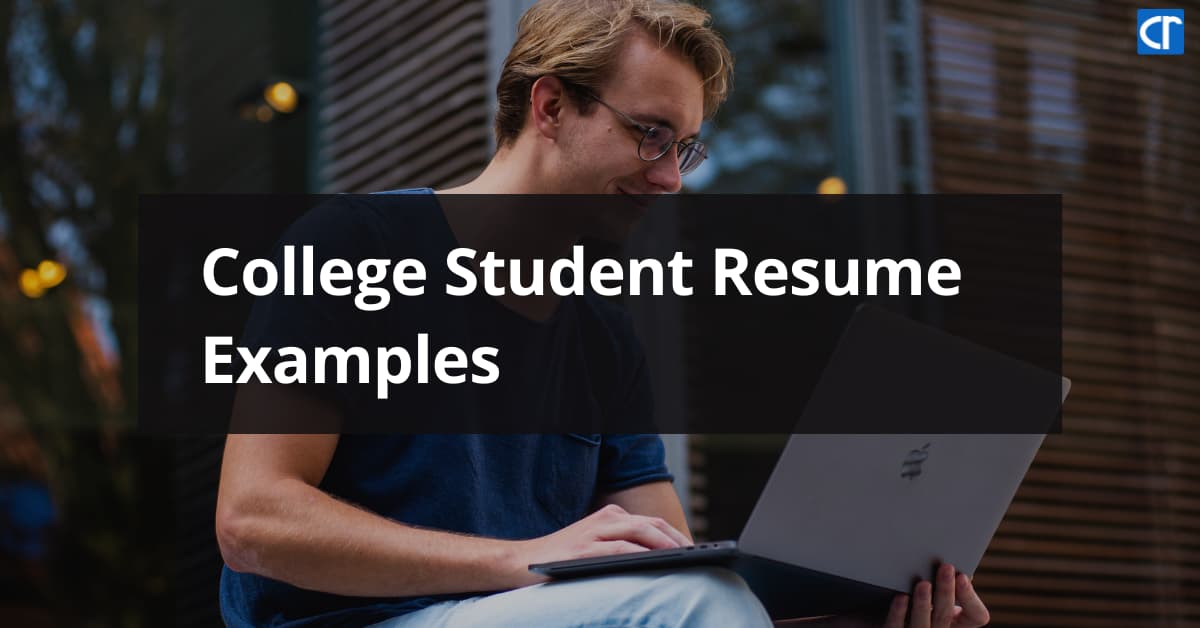 Hey! Are you a recent graduate from college or university? Then you may struggle to find your first job for sure. You can read our full guide on 'How to write a perfect resume'. The following tips will assist you to make your college student resume stand out.
No hidden costs. Download your ATS-Friendly resume in PDF for absolutely FREE after creating.
College Student Resume
No need to start from the beginning. Edit this resume sample with your information and keywords from the job posting.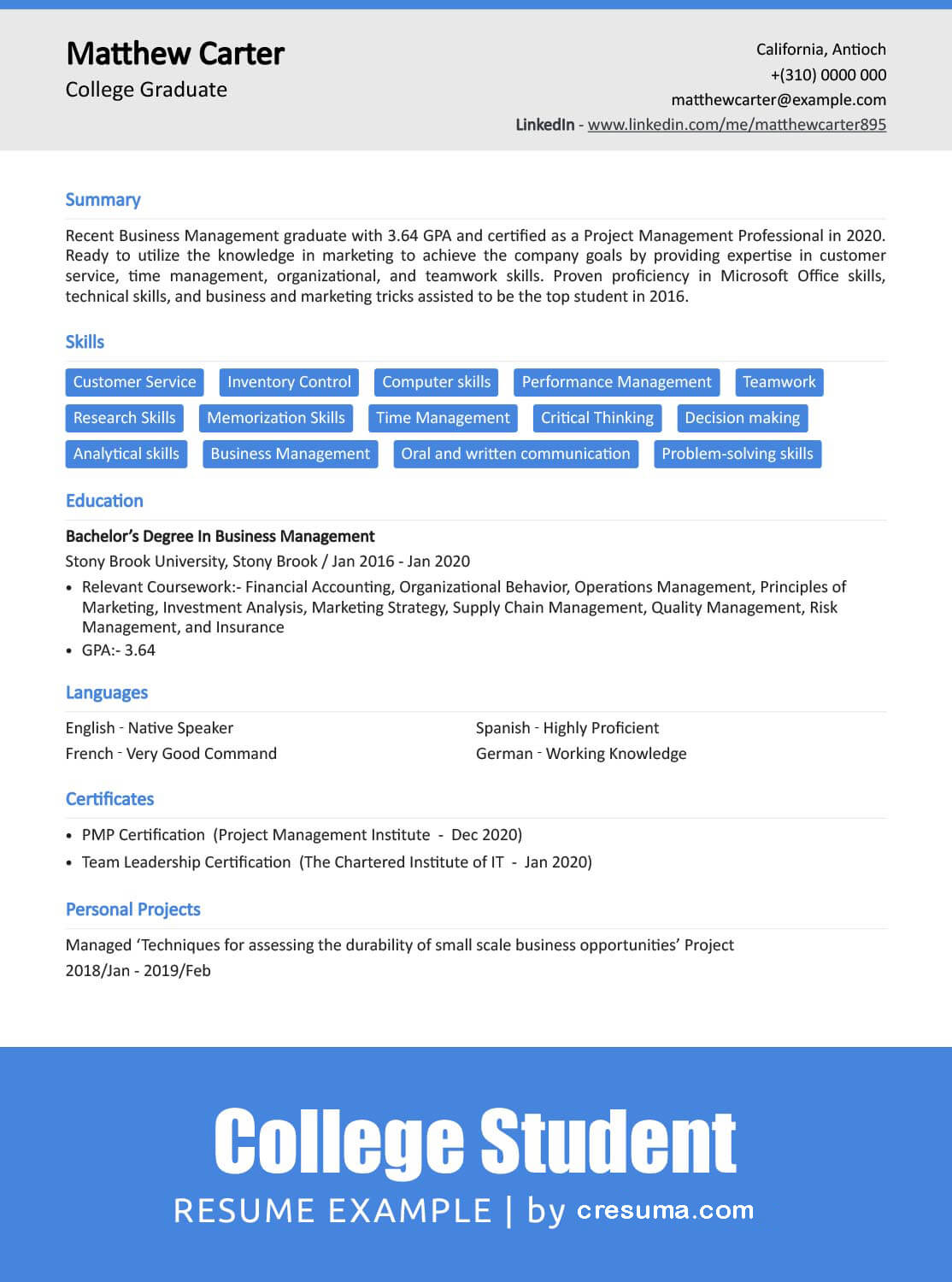 I am a college student. Do I need a resume right now?
It depends on your future plans. If you have planned to work part-time or full-time during your college period, the resume is a must. However, being updated about resumes and creating and updating your resume will positively impact your career search in the near future. We are ready to give you a full guide on creating a perfect resume for a college student like you.
Tips for a Perfect College Student Resume
Do not Worry About Less or Non – Experience
As you may find the first job you do not need to worry about career experience. But if you have earned any volunteer or freelance experience related to the job position you can mention them under separate sections called 'Freelance Experience' or 'Volunteer Experience'.
Especially when you try to bring up some achievements you have made as a volunteer or freelancer in bullet points. Provide the time duration to ensure the experiences are recent.
Focus on Your Education More
As you are recently graduated, you can highlight your educational background to the recruiters. Especially, mentioning the relevant coursework will enhance the worth of your resume. Also, state your GPA if it is higher than 3.0.
Other than that you can list some achievements that reveal your teamwork, cooperation, and organizational skills. That means presenting how did you behave like a college student, and what did you achieve. So you can use some bullet points for that.
Reveal You are a Skillful Applicant
The majority of recruiters love to hire the most skillful candidate as their employee. The skills can be soft and hard. However, you need to add both skills to your resume.
Soft skills reveal that you can complete a task by engaging others perfectly. They are common skills. But hard, technical, or industrial skills are specific and different based on the job position.
If you have no idea to find out the most suitable set of skills for your college student resume, just refer to the job advert. That contains the best skills for your resume.
If not here are common soft skills that any college student can include in his/her resume.
Microsoft Office (Word / PowerPoint)
Leadership skills
Communication skills
Time management
Decision-making skills
Organizational skills
Computer skills
Research skills
Teamwork
Work ethic
Flexibility
Bring up Relevant Project Details
As a college student, you may participate in or conduct some projects related to the industry. They may be educational projects, personal projects, or group projects. However, if you can reveal your engagement with the related area from them, do not forget to enter the details under the 'Personal Projects' section.
It is better to bring up the project name, duration in months, technologies used, and some bullet points of your achievements under the project details. That means a brief explanation about what you have gained or achieved as a member or leader of that project.
Do not Forget Action Verbs
You must try to pass the ATS test as possible. The given action verbs and keywords in your job post are the best words for your college student resume. So you can collect them and use them when you build your resume. Especially try to start the bullet points with a powerful action verb.
Write an Impressive Cover Letter
An impressive cover letter can draw the hiring managers' attention to your resume. But there are some techniques and tricks to create a job-winning cover letter. If you want to get complete knowledge on cover letter writing, read our full guide on How to write an impressive cover letter
College students frequently ask…
Do I need to mention all my certifications?
Before arranging all certifications under the 'Certifications & Licenses' section you must ensure that they are relevant. However, you may have common certifications that prove your language proficiency, computer literacy, and sports certifications. You can mention them without any hesitation.
Are hobbies and interests important in my resume?
Sometimes they might be important when your resume leaves more white space. If you submit the resume like that the recruiters will think you have fewer qualifications. Then you can mention what you do in your leisure time under the 'Interests & Hobbies' section.
College Student Resume (Text Version)
Matthew Carter
College Graduate
California, Antioch
+(310) 0000 000
LinkedIn – Linkedin:- www.linkedin.com/me/matthewcarter895
Objective Statement
Recent Business Management graduate with 3.64 GPA and certified as a Project Management Professional in 2020. Ready to utilize the knowledge in marketing to achieve the company goals by providing expertise in customer service, time management, organizational, and teamwork skills. Proven proficiency in Microsoft Office skills, technical skills, and business and marketing tricks assisted to be the top student in 2016.
Education
Bachelor's Degree in Business Management – 2016/Jan to 2020/Jan
Stony Brook University, Stony Brook
Relevant Coursework:- Financial Accounting, Organizational Behavior, Operations Management, Principles of Marketing, Investment Analysis, Marketing Strategy, Supply Chain Management, Quality Management, Risk Management, and Insurance
GPA:- 3.64
Skills
Customer Service
Inventory Control
Business Management
Performance Management
Research Skills
Teamwork
Memorization Skills
Time Management
Critical Thinking
Decision making
Analytical skills
Computer skills
Oral and written communication
Languages
English – Native Speaker
French – Very Good Command
Spanish – Highly Proficient
German – Working Knowledge
Certifications
PMP Certification 2020/Dec
Project Management Institute
Team Leadership Certification 2020/Jun
The Chartered Institute of IT
Personal Projects
Managed 'Techniques for assessing the durability of small scale business opportunities' Project – 2018/Jan – 2019/Feb
Want to build a perfect resume by yourself? Click on the below button.
Want to get a perfect College Student cover letter created by an expert?
People who read this also read: