Fitness Instructor Resume Example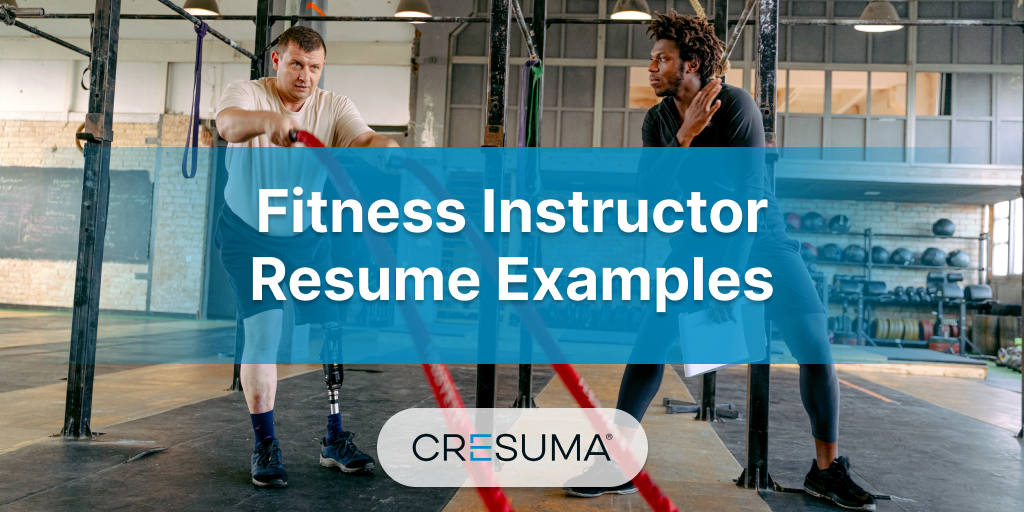 How do you make a resume to fit into the instructor position in your dream fitness center? Don't worry! Here are the best tips to create a job-winning resume for a fitness instructor.
No hidden costs. Download your ATS-Friendly resume in PDF for absolutely FREE after creating.
Fitness Instructor Resume
No need to start from the beginning. Edit this resume sample with your information and keywords from the job posting.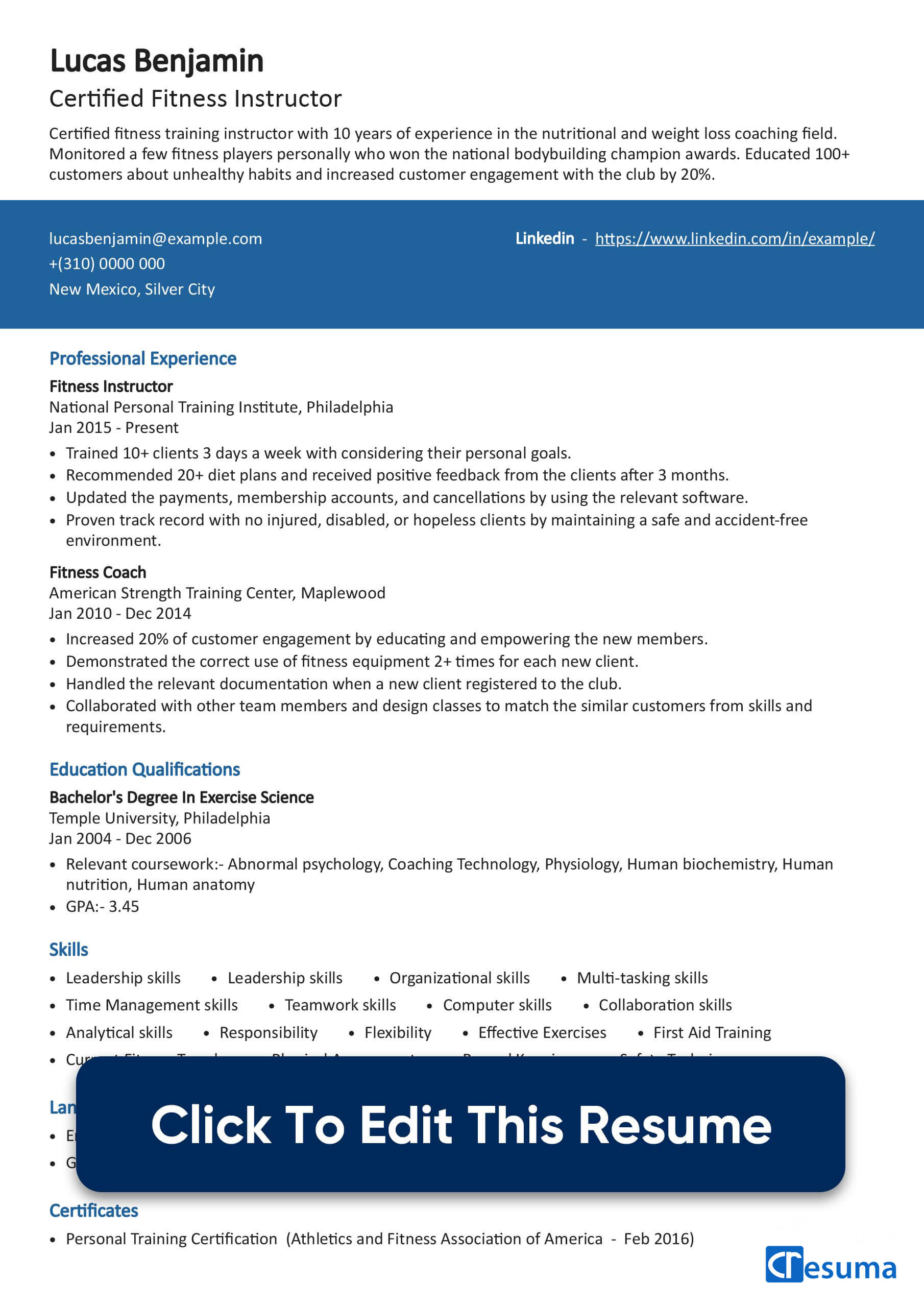 Click the below button to create the Fitness Instructor Resume Now.
Tips to Create an Impressive Fitness Instructor Resume
---
Mention a Descriptive Job Title
Usually, the fitness instructor job vacancies can be called as a personal trainer, fitness trainer, fitness coach, fitness instructor, group fitness instructor, or gym instructor. However, the job title of your resume depends on your job advert.
But you can make your resume stand out by providing a descriptive job title. Select a unique skill or relevant certification you have, then combine it with your job title. That will give an extra-professional look to your fitness instructor resume.
Enter the Top Career Achievements
The recruiters want to know the most recent and relevant career achievements. So, you must gather the recent 10 years of experience in the discipline of personal training you have gained from the prior jobs.
Way of using fitness machines correctly:- Major responsibility of a fitness instructor is educating the customers. In particular, the instructor should explain what are the perfect fitness equipment based on customer requirements, how to use them, when to use them, and what is the correct technique to use them.
Try to build up some achievements that reveal your knowledge of relevant equipment. Because the recruiters want to know your talent in your accomplishments. Here are some gym equipment that are commonly used by fitness instructors.
The ability to give the best recommendations:- As an instructor, you must have a genuine passion for helping others by recommending what they want. Especially, you must select the best nutritional supplements, foods, sports items, weight loss, or weight gain activities according to the requirements of the customer. Also, the recruiters want an instructor who can provide effective, safe, and efficient workouts for their clients. So, reveal the prior experience to prove that your recommendations have caused increasing customer satisfaction or company income.
Knowledge of different fitness methods:- The requirements and desires of each customer are different. So the relevant fitness methods are totally different based on their needs. For example, the fitness method of a customer who wants to gain weight varies from the method used by a customer who wants to lose weight.
Here are the different types of fitness methods. Try to build achievements that reveal you have recommended the best exercise methods for various customers based on their desires.

Expertise in diet planning:- The majority of customers request the relevant diet plans for their better fitness. So, as an instructor, you need to have a better understanding of the usage, benefits, and time frame of each diet plan.
Check the following diet plans. Build some achievements that reveal your awareness of recommending the correct diet plan to the relevant customers.
Intermittent fasting
Plant-based diets
Low-carb diets
Paleo diet
Keto diet
Low-fat diets
Mediterranean diet
Weight Watchers
Dietary Approaches to Stop Hypertension(DASH)
Ensure a safe environment:- The recruiters tend to hire instructors who can manage safety and a pleasant environment in the club. If you have a proven track record that ensures a safe and accident-free environment, the hiring managers never think twice to hire you as their prospective fitness instructor.
Provide a Complete Education Section
The minimum educational qualification to be a fitness instructor is a bachelor's degree in Exercise Science, Kinesiology, Physiology, Sports Science, or a related field. So the basic tip to enhance the value of your education section is to enter the relevant coursework under the degree details.
The following coursework is related to the fields of study in fitness instructing.
Coaching Technology
Physiology
Human anatomy
Human nutrition
Abnormal psychology
Human biochemistry
Gerontology
Pharmacology
Leadership
Insert the Most Relevant Resume Skills
Customer Service:- The main responsibility of the fitness instructor is maintaining a high client satisfaction score. So he/she must be able to build a strong connection with each client. Also, the instructor has to educate and empower the customers with a clear understanding of their unique needs and goals.
Communication skills:-  An instructor is responsible to explain the techniques and movements to the customers clearly. Also, the registration process is done by the club instructor. Therefore you must highlight that you have excellent written and verbal communication in your fitness instructor resume.
Leadership Skills:- Fitness instructor has to monitor a group of customers. Therefore having leadership skills in a resume is a must to be a fitness instructor.
Listening skills:- The instructor should be an active listener. Because before recommending a food, diet plan, exercise method the instructor should understand the customer's requirements. So the hiring managers will be happy to know that you have active listening skills.
Add Some Industrial Skills to Your Resume
There are some technical skills that a fitness instructor must-have. So you must put some of those skills in your skills section, and career achievements of resume summary and in your experience section.
Here are the technical skills you can insert in your fitness instructor resume.
AED/CPR
Affective Exercises
Blood pressure monitoring
Cardiac rehabilitation
Community building
Current Fitness Trends
Designing Exercise Programs
EKG monitoring
First Aid Training
Facility with Personal Training Software
Knowledge of Anatomy
Knowledge of Kinesiology and Biomechanics
Knowledge of Physiology and Exercise Physiology
NASM or Other National Certification
Operating and Maintaining Exercise Equipment
Physical Assessment
Personal Training Techniques
Risk factor analysis
Record Keeping
Safety Techniques
The Principles of Nutrition
Weight management
List Relevant Certifications If You Have Any
If you have any personal training certification, it is better to provide the details under the 'Certifications & Licenses' section. Because the majority of fitness instructor recruiters love to hire more qualified applicants.
Do not forget to mention at least the certification name, certified date, and organization of your certificate. If the certificate number and URL are available, you can mention them too. Here are some institutes that you can be certified as a fitness instructor.
Athletics and Fitness Association of America (AFAA)
American College of Sports Medicine (ACSM)
American Council on Exercise (ACE)
Fitness Mentors (FM)
International Sports Sciences Association (ISSA)
National Strength and Conditioning Association(NSCA)
National Exercise & Sports Trainers Association(NESTA)
National Council for Certified Personal Trainers(NCCPT)
National Academy of Sports Medicine(NASM)
National Council on Strength & Fitness(NCSF)
National Federation of Professional Trainers(NFPT)
How Do You Spend Your Leisure Time?
If you tend to do some exercise to maintain your endurance, strength,  balance, or flexibility when you have free time, that will add an extra mark to your fitness instructor resume. For example, those exercises can be doing a sport, yoga, hiking, swimming, climbing, dancing, or any other different kind of exercise.
You can arrange some bullet points of your leisure time activities under the 'Interests & Hobbies' section. Provide a brief explanation about when you start that hobby, and what did you gain from the activity.
Fitness Instructor Resume (Text Version)
Lucas Benjamin
Certified Fitness Instructor
New Mexico, Silver City
+(310) 0000 000
lucasbenjamin@example.com
LinkedIn – https://www.linkedin.com/in/lucasbenjamin/example/
Professional Summary
Certified fitness training instructor with 10 years of experience in the nutritional and weight loss coaching field. Monitored a few fitness players personally who won the national bodybuilding champion awards. Educated 100+ customers about unhealthy habits and increased customer engagement with the club by 20%.
See the complete resume summary guide
Work Experience
Fitness Instructor – 2015/Jan to Present
National Personal Training Institute, Philadelphia
Trained 10+ clients 3 days a week with considering their personal goals.
Recommended 20+ diet plans and received positive feedback from the clients after 3 months.
Updated the payments, membership accounts, and cancellations by using the relevant software.
Proven track record with no injured, disabled, or hopeless clients by maintaining a safe and accident-free environment.
Fitness Coach – 2010/Jan to 2014/Dec
American Strength Training Center, Maplewood
Increased 20% of customer engagement by educating and empowering the new members.
Demonstrated the correct use of fitness equipment 2+ times for each new client.
Handled the relevant documentation when a new client registered to the club.
Collaborated with other team members and design classes to match the similar customers from skills and requirements.
Education
Bachelor's Degree in Exercise Science – 2004/Jan to 2006/Dec
Temple University, Philadelphia
Relevant coursework:- Abnormal psychology, Coaching Technology, Physiology, Human biochemistry, Human nutrition, Human anatomy
GPA:- 3.45
Skills
Leadership skills
Leadership skills
Organizational skills
Multi-tasking skills
Time Management skills
Teamwork skills
Computer skills
Collaboration skills
Analytical skills
Responsibility
Flexibility
Effective Exercises
First Aid Training
Current Fitness Trends
Physical Assessment
Designing Exercise Programs
Personal Training Techniques
Safety Techniques
Record Keeping
Facility with Personal Training Software
Languages
English – Native Speaker
Spanish – Highly Proficient
French – Very Good Command
German -Working Knowledge
Certification
Personal Training Certification – 2016/Feb

Athletics and Fitness Association of America (AFAA)

Want to build a perfect resume by yourself? Click on the below button.

Want to get a perfect Fitness Instructor cover letter created by an expert?

People who read this also read:

How to write an impressive cover letter

.

Enjoyed Reading?
Help Cresuma cover the server and other costes to continue this 100% Free Service. Show your support below.