Archivist Resume Example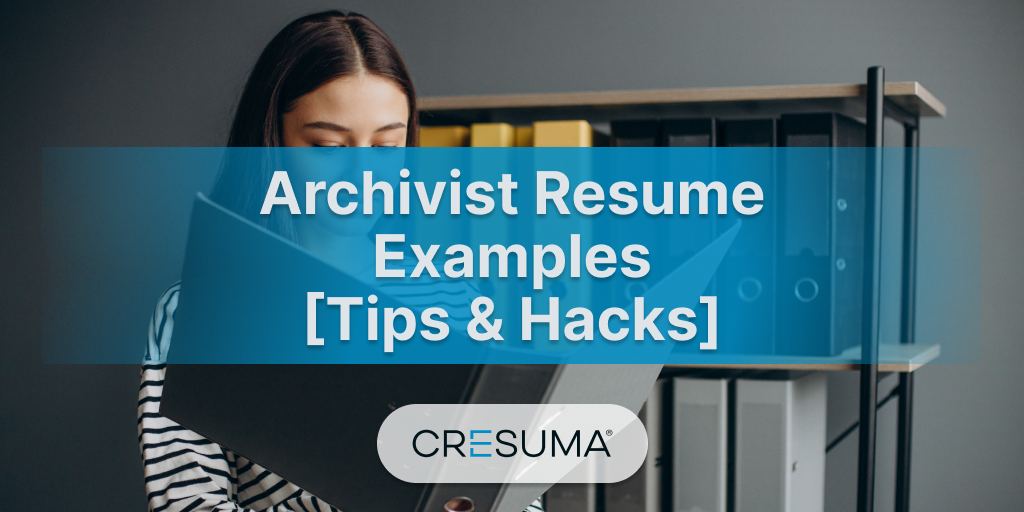 If you are an applicant who is expecting to be an archivist in the near future, being aware of the archivist resume mistakes is a must. Then you will never apply them to your archivist resume. We are ready to provide you the resume mistakes and the perfect solutions for them.
No hidden costs. Download your ATS-Friendly resume in PDF for absolutely FREE after creating!
Archivist Resume
No need to start from the beginning. Edit this resume sample with your information and keywords from the job posting.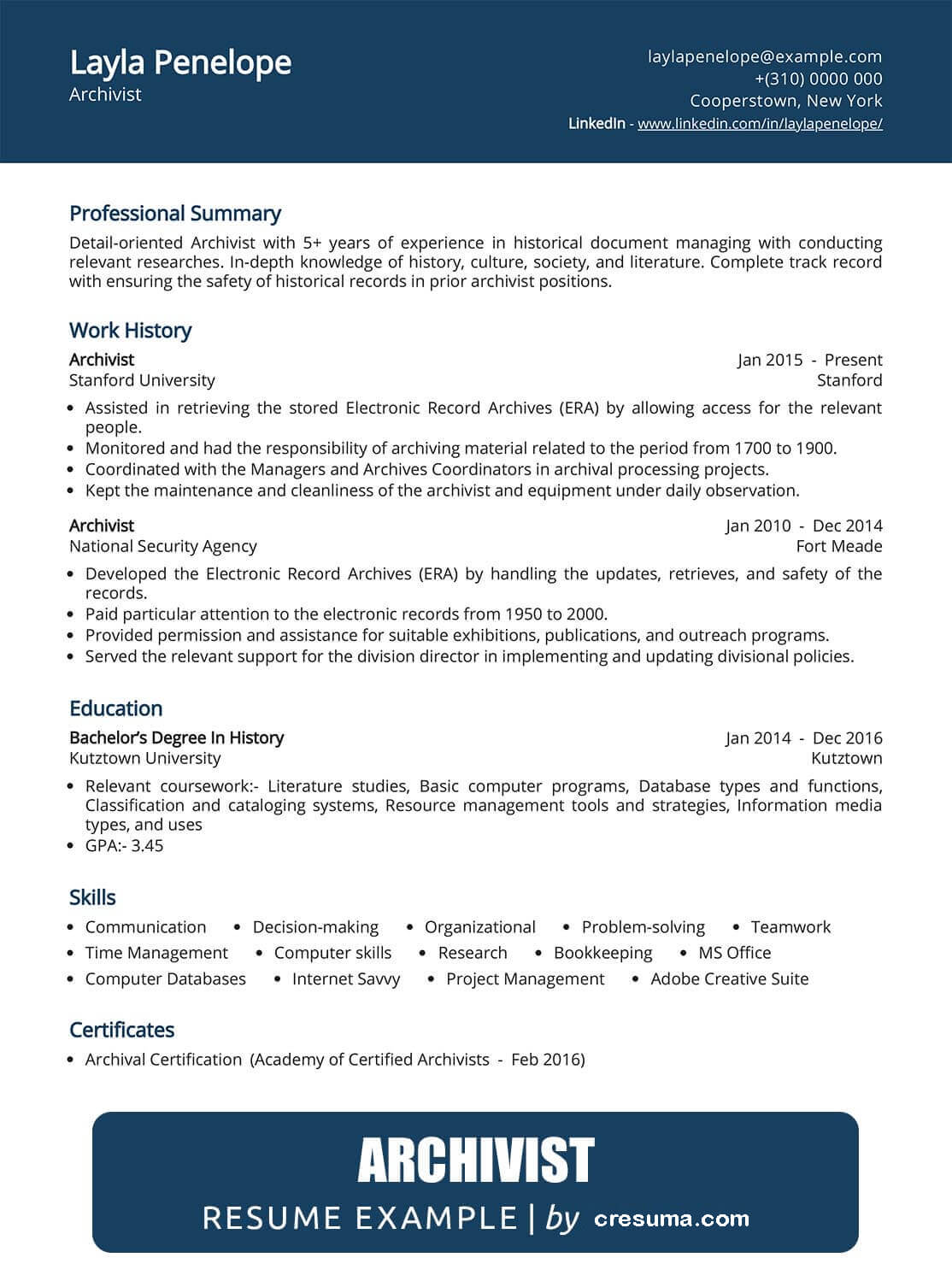 Daniel is a job seeker who is finding a job opportunity as an archivist. Though he has many qualifications as an archivist, he was unable to get a job with this modern recruitment process. Let's discuss why his resume was rejected. Check whether you are also doing these mistakes in your archivist resume.
Reasons for the Rejection of Daniel's Resume from Archivist Job Opening
---
He didn't refer the job advertisement well
If he reads the job advert carefully, then he will find out the most suitable and powerful resume action verbs and keywords from the content. He can apply those words in his resume. As he missed the job advertisement reading part, he failed to make his resume stand out. That's why he lost the archivist job opportunity

.
His resume had no eye-catching facts
The resume you submit must be an impressive one that can draw the attention of the recruiters. So the applicant must be careful when selecting the resume color, resume photo, resume font styles, resume formats, etc. according to the archivist position. They are very simple and just following those simple things will make your dream job come true.

.
He had described his prior duties and responsibilities as an archivist
The recruiters usually love to know the most recent career achievements from the applicants. Also, the duties and responsibilities of an archivist can be related to researching, using software, crediting, training, integrating, database managing, recruiting, printing, and security maintenance. They are very common and already the hiring managers know them. So you do not need to list them again. You must build great achievements that express what you have achieved in your prior jobs. Here are some aids to remind you of your top achievements.
Try to bring up the accomplishments that showcase your knowledge of history, audio recording equipment, and formats including magnetic tape, 78-rpm discs, and LPs.
You may have worked as an archivist in a variety of organizations such as museums,  local authorities, government agencies, businesses, charities, national parks, corporations, historical societies, hospitals, historic sites, colleges, and universities. Wherever, it is an institution whose records may be valuable to exhibitors, genealogists, researchers, or others. So you must focus on the target workplace and adjust your prior achievements according to the duties of your future workplace. Then the recruiters feel confident to assign the job position for you.
He just listed three skills in the skills section
The value of your resume increases with the number of skills you have mentioned in the resume. Because the recruiters always tend to select skillful applicants. Also, the majority of job positions required both soft and hard skills. The archivist is also one of them.
So the applicant must try to arrange at least 10 skills including both soft and hard skills under the skills section. But it is better to link the supportive skills when you build your achievements in the work experience section.
Soft Skills
Organizational Skills:-  The archivist has to handle a lot of electronic and printed records of archives, and different types of archived materials. So he must be a well-organized person who has detail-oriented and attention to detail skills.
Time management:- The majority of times the applicants must meet deadlines and do the duties on time. So time management skill is an essential skill that is required by the recruiters.
Communication Skills:- The applicant must be fluent in both written and spoken communication. Because he must understand the requirements of the visitor who comes to the archivist to fulfill his needs. Also completing the relevant documents is also a major duty of an archivist.
Interpersonal skill:- The archivist has to interact with the visitors, other workers, and authorities over time. So the applicant must have the ability to interact effectively with a diverse population to conduct his duties smoothly.
Hard Skills
Data Management
Research Skills
Data Entry
Computer Databases
MS Office Applications
Bookkeeping
Internet savvy
Project Management
Adobe Creative Suite
Social Media Management
Human Resources
Archival Preservation
Records Management
web-based collaborative platforms:- SharePoint
Content Management Systems:- CONTENTdm Archon, or Archivists' Toolkit
Photo Editing Software:- Adobe Photoshop, illustrator
Metadata Encoding Standards: DACS, Dublin Core, XML, EAD, MARC 21, MODS
He had mentioned the master's degree details at the bottom of education section
Arranging both the education and work experience section in chronological order is kind of help for the recruiters that makes it easy to grab the top and recent details first. Because the recruiters only spend 6-7 seconds to refer to a resume. So make sure to mention the education state(Degree or diploma), major subject, educated duration, institute name, and location under each qualification.
He forgot to mention the certifications he had
As the duties and responsibilities of archivists are spread in many areas, there are a variety of relevant certifications in many areas that can be included in the archivist's resume. In other words, any certification that proves your skill, proficiency, or talent in project management, language usage, or computer field. However, the Archival Certification is the most relevant and suitable proof for your career.
Also when you add the certification details to your resume, arrange them in a specific section called 'Certifications & Licenses'. Do not forget to mention at least the certification name, certified date, and organization name of each certificate.
He hadn't mention any relevant extra section
The resume is not only for the main section. You can add any extra section according to your job vacancy, resume length, and relevance. Because main sections are mandatory to add to the archivist resume.
The archivist applicants can include the 'Interests & Hobbies' section in their resume to show the passion for cinema history and ancient materials. Also, they can mention that they read, visit, research, and are interested during their leisure time in the stories, places, materials, information, and people in ancient times.
The recruiters want to hire healthy people as archivists because the ability to physically engage with lifting up to 40 pounds, bending, using ladders and step stools is a must in this job position. So you can prove that you are a healthy person who got membership in a health and body fitness center or sports clubs. You need to add a 'Clubs & Memberships' section in your resume and list down the details about the relevant memberships you got.
He forget to proofread his resume
Not only he forget to proofread his resume, but he also submitted the same resume for each job vacancy. Also, the hiring managers and ATS usually reject the mistaken resumes. Therefore you need to proofread the resume by yourself or with the help of your friend or relative before submitting it. Also, it is better to create a new resume according to the job advert for each job vacancy.
Archivist Resume Sample (Text Version)
---
Layla Penelope
Archivist
+(310) 0000 000
laylapenelope@example.com
Cooperstown, New York
Linkedin – www.linkedin.com/in/laylapenelope/
Summary
Detail-oriented Archivist with 5+ years of experience in historical document managing with conducting relevant researches. In-depth knowledge of history, culture, society, and literature. Complete track record with ensuring the safety of historical records in prior archivist positions.
See the complete resume summary guide
Work Experience
Archivist
Stanford University, Stanford – 2015/Jan to Present
Assisted in retrieving the stored Electronic Record Archives (ERA) by allowing access for the relevant people.
Monitored and had the responsibility of archiving material related to the period from 1700 to 1900.
Coordinated with the Managers and Archives Coordinators in archival processing projects.
Kept the maintenance and cleanliness of the archivist and equipment under daily observation.
Archivist
National Security Agency, Fort Meade – 2010/Jan to 2014/Dec
Developed the Electronic Record Archives (ERA) by handling the updates, retrieves, and safety of the records.
Paid particular attention to the electronic records from 1950 to 2000.
Provided permission and assistance for suitable exhibitions, publications, and outreach programs.
Served the relevant support for the division director in implementing and updating divisional policies.
Education
Bachelor's Degree in History – 2004/Jan to 2006/Dec
Kutztown University, Kutztown
Relevant coursework:- Literature studies, Basic computer programs, Database types and functions, Classification and cataloging systems, Resource management tools and strategies, Information media types, and uses
GPA:- 3.45
Skills
Communication
Decision-making
Organizational
Problem-solving
Time Management
Teamwork
Computer skills
Research Skills
Computer Databases
MS Office Applications
Bookkeeping
Internet savvy
Project Management
Adobe Creative Suite
Social Media Management
Languages
English – Native Speaker
French – Highly Proficient
Russian – Working Knowledge
German – Very Good Command
Certifications
Archival Certification – 2016/Feb
Academy of Certified Archivists (ACA)
Want to build a perfect resume by yourself? Click on the below button.
Want to get a perfect Archivist cover letter created by an expert?
People who read this also read: