Graphic Designer Resume Example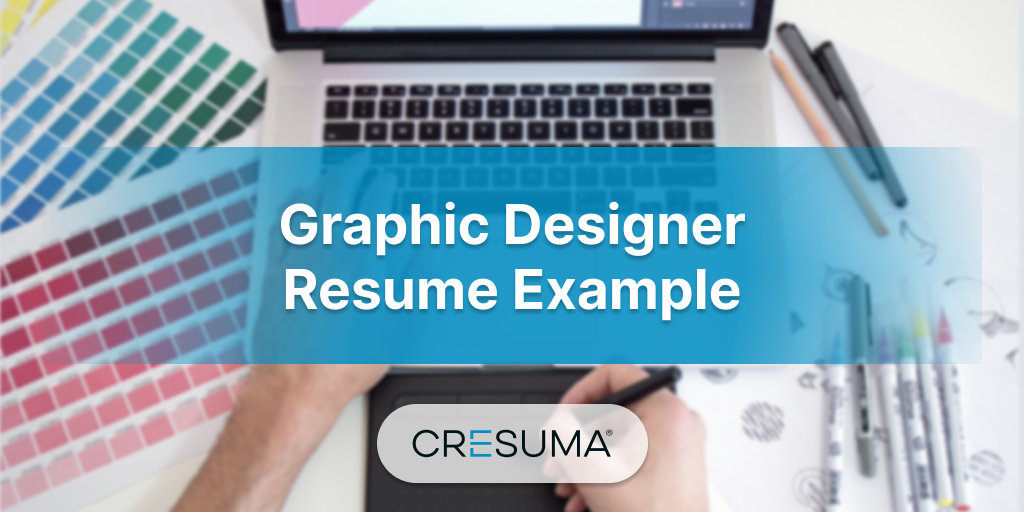 Complete Resume Guide for a Graphic Designer
Ask from a Professional Graphic Designer (Best Tips and Secrets)
Modern Recruitment Process of a Graphic Designer
Graphic Designer Resume Example (Text Version)
No hidden costs. Download your ATS-Friendly resume in PDF for absolutely FREE!
Graphic Designer Resume
No need to start from the beginning. Edit this resume sample with your information and keywords from the job posting.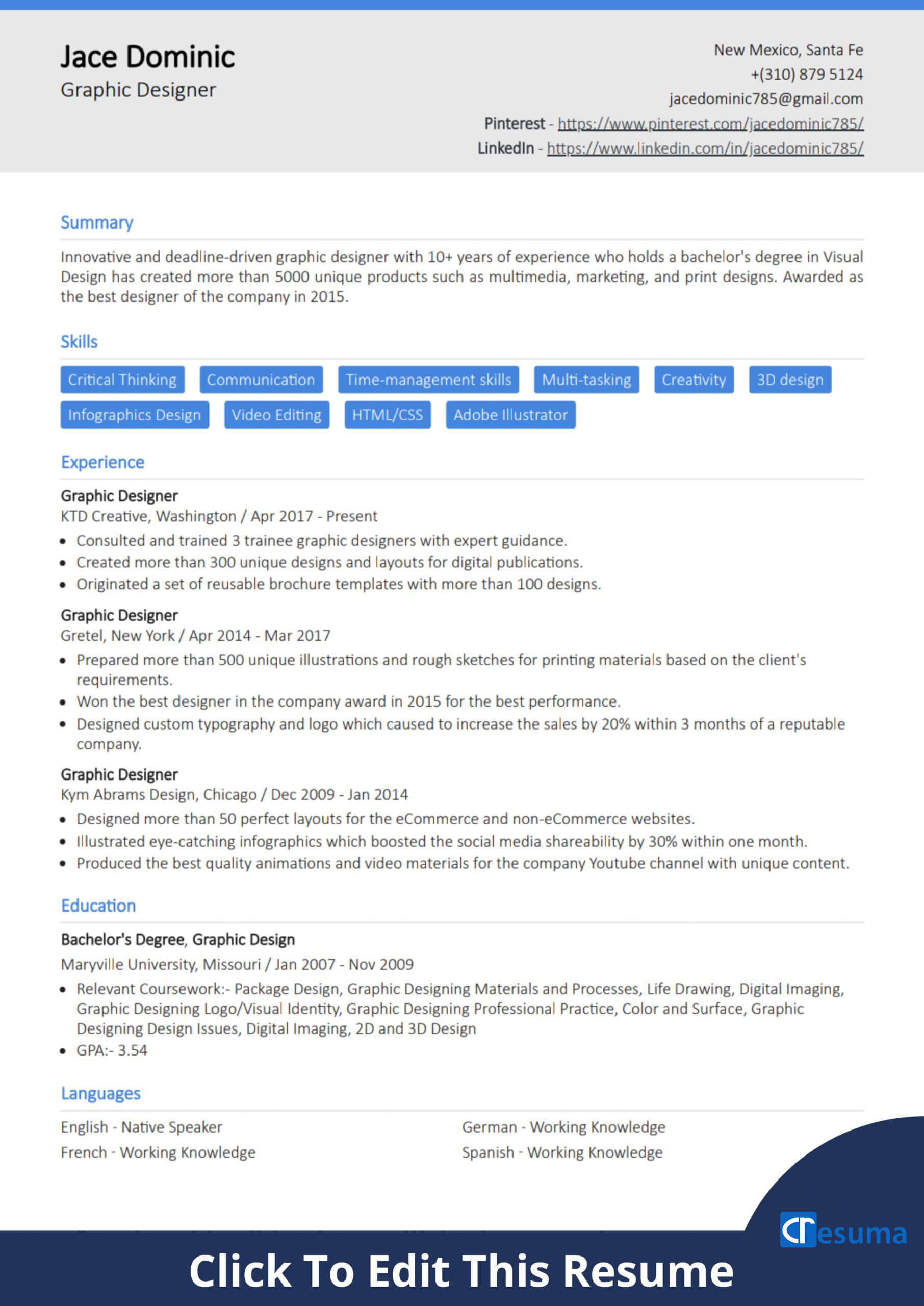 Click the below link to edit build this resume
Complete Resume Guide for a Graphic Designer
Do Visual Designer Employers like fancy Resume Templates?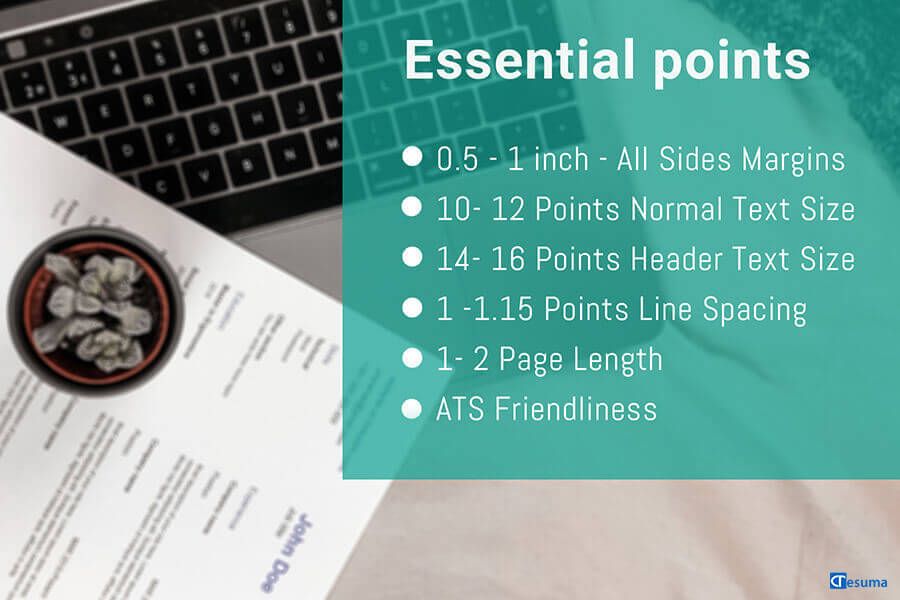 The resume is a professional document. So do not try to showcase your designing talent by including fancy and heavy visuals in your resume. It is better to add some simple graphics to ensure the ATS friendliness of the resume template. Because the heavy graphics bother to the readability of both the ATS and hiring managers.
The recruiters love to know your talent and competencies in detail. Choose a resume template based on your willingness. But ensure that it never disturbs the readability of the resume content.
However, we suggest using a free online resume builder to create your graphic designer resume. Because there are various types of unique resume templates and they have ensured the ATS friendliness, quality, and standard by 80%.
Beyond that, check whether the template has used a clear resume font style. It should be suitable for a visual designer like Georgia or Helvetica.
Especially, make sure your template provides enough space to arrange all major and sub partitions of your resume. Because some templates waste space for graphics. A one-page resume is the most perfect resume length.for any graphic inventor.
Have you experienced more than 5 years as a visual designer? Do you have a lot of career achievements that ought to mention? So then you can go to a two-page resume.
Do the recruiters want to see my photo in the resume?
If they want they will surely mention it in the employment advertisement. Then add a professional-looking photo to your document.
Otherwise, it is better to select a photo-free resume template. Then you can save the space to enter another professional detail of you.
What should the Graphic Designer Resume Header look like?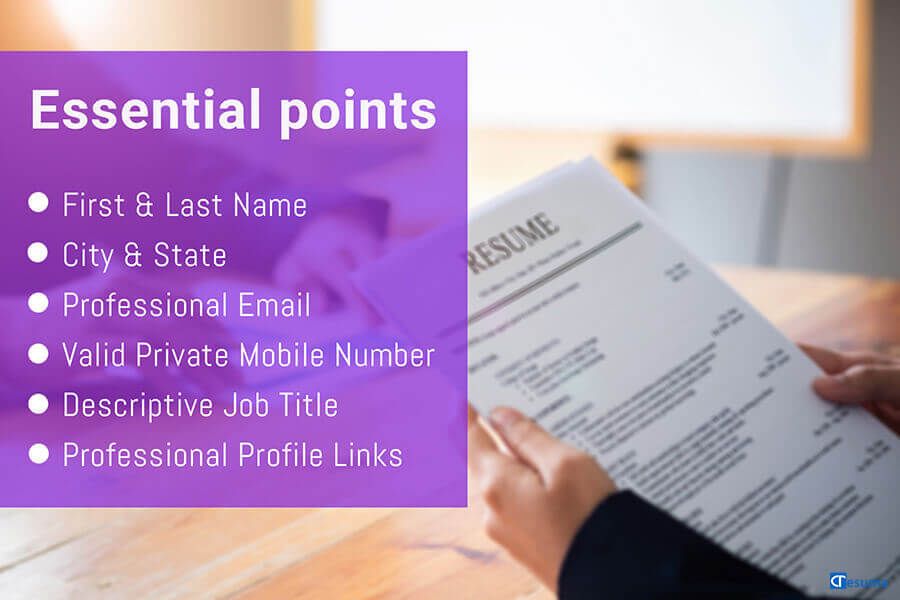 The resume header of a graphic designer looks like a business card. Because it is a collection of the major contact details such as name, location, job title, contact number, and email address.
The social media URLs are optional to mention in the resume header. But never mention any personal information such as height, weight, civil status, beliefs, and creeds in the graphic designer resume header.
Make your resume header professional by stating only first and last name except for the full name. Reveal only the city and state instead of the full address. Further, you ought to provide one personal mobile number and a professional email address.
Mention the same job title noted in the job advert as the job title of your resume header. So your graphic designer resume will draw the hiring person's attention fast.

Can a Visual Artist use social media in his resume effectively?
Why not! Nowadays social media provides a stage to show personal talent. Have you ever shared your competencies and abilities as follows? So be hurry to add your personal profile links in your resume header.
LinkedIn / Twitter:- Can you prove your prior career history from these accounts? Then it is better to provide the profile link.
Facebook / Instagram:- Do you upload the pieces of your work on Facebook or Instagram daily or periodically? So the managers who hire you will be impressed to see that link in your resume header.
Pinterest:- Do you have an active profile on Pinterest which has uploaded unique images that were designed by you? Better to cite the URL.
YouTube:- Do you have a YouTube channel on a beginner / advanced visual designing course, designing tips, or quick methods? Surely mention the URL in your resume header.
What must the Graphic Designer Resume Summary say?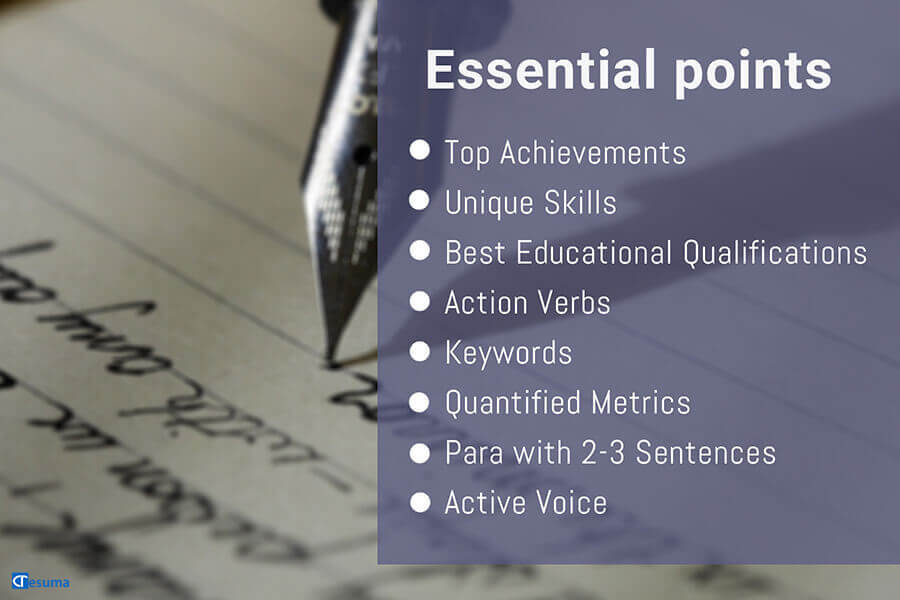 The top accomplishments, unique skills, competencies, talents, and the best academic qualification you have achieved are eligible to enter your resume summary.  But make sure that they are correlated to the graphic designing field.
But you have to link that powerful information together. Try to make a brief paragraph which says you are the most suitable applicant for the target graphic designer position.
The keywords and numeric values such as years, percentages, and amounts will enhance the worth of the graphic designer resume summary. Do not forget to write your resume summary statement in active voice using powerful action verbs.
Example from an Expert
Summary
Highly creative and multi-talented graphic designer with more than 10 years of experience has engaged with about 5000 projects by producing multimedia, marketing, and printing designs. Holds a bachelor's degree in Visual Design.
See the complete resume summary guide
Should a Graphic Designer include all Work Experience in the Resume?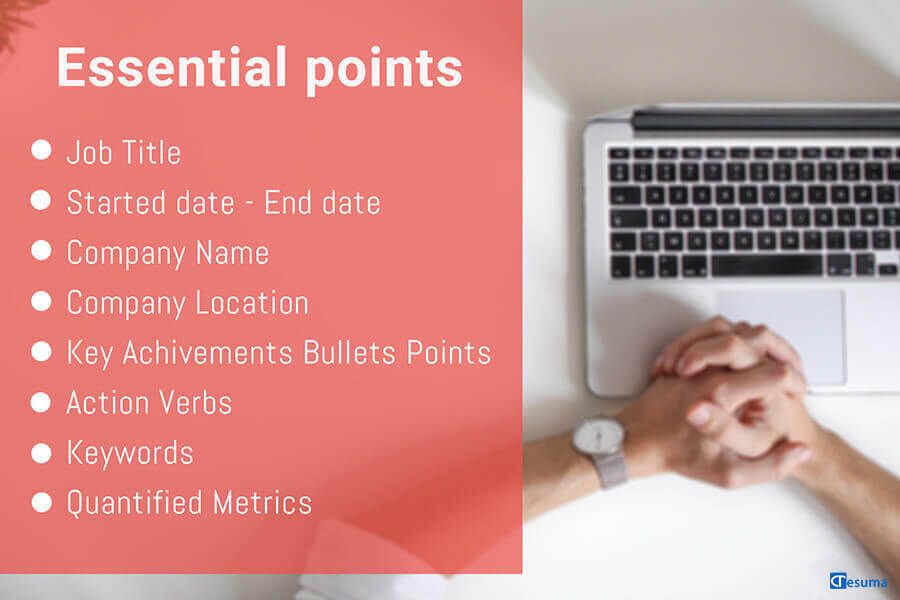 No! If you have experience for 10+ years, limit your resume experience section only to the most recent 10 years. Because the recruiters want to know the most recent and relevant experience.
Do you have the same job experience that they are expected? If yes, your graphic designer resume will earn extra points than others.
When you mention your work experiences. it is better to mention the job title, employment duration, company name, and location with at least 3-5 bullet points of competencies that you have gained.
Further, you can make your resume stand out by using the relevant key terms, action verbs, and the quantified metrics such as years, amounts, and percentages as possible.
Example from an Expert
Work Experience
Graphic Designer – 2016/Jan to Present
FINIEN, Downtown Core
Conceptualized more than 20 logo designs for unique brands.
RPerformed video and sound editing for 50+ ads with high-quality media.
Produced 60+ creative website layouts for both e-commerce and non-e-commerce platforms.
How to develop powerful Career Achievements for a Graphic Designer?
Highlight your graphic designing type based on their needs
The following table contains the types of visual artists. The different types of agencies request a specific designer according to their expectations.
So, you have to understand first what kind of designer your target workplace is searching for. Then you can adjust the skills, qualifications, career achievements, and talents to the correct pitch of your resume based on their desires.
Otherwise, include all your skills and abilities and let them know you are a full package designer.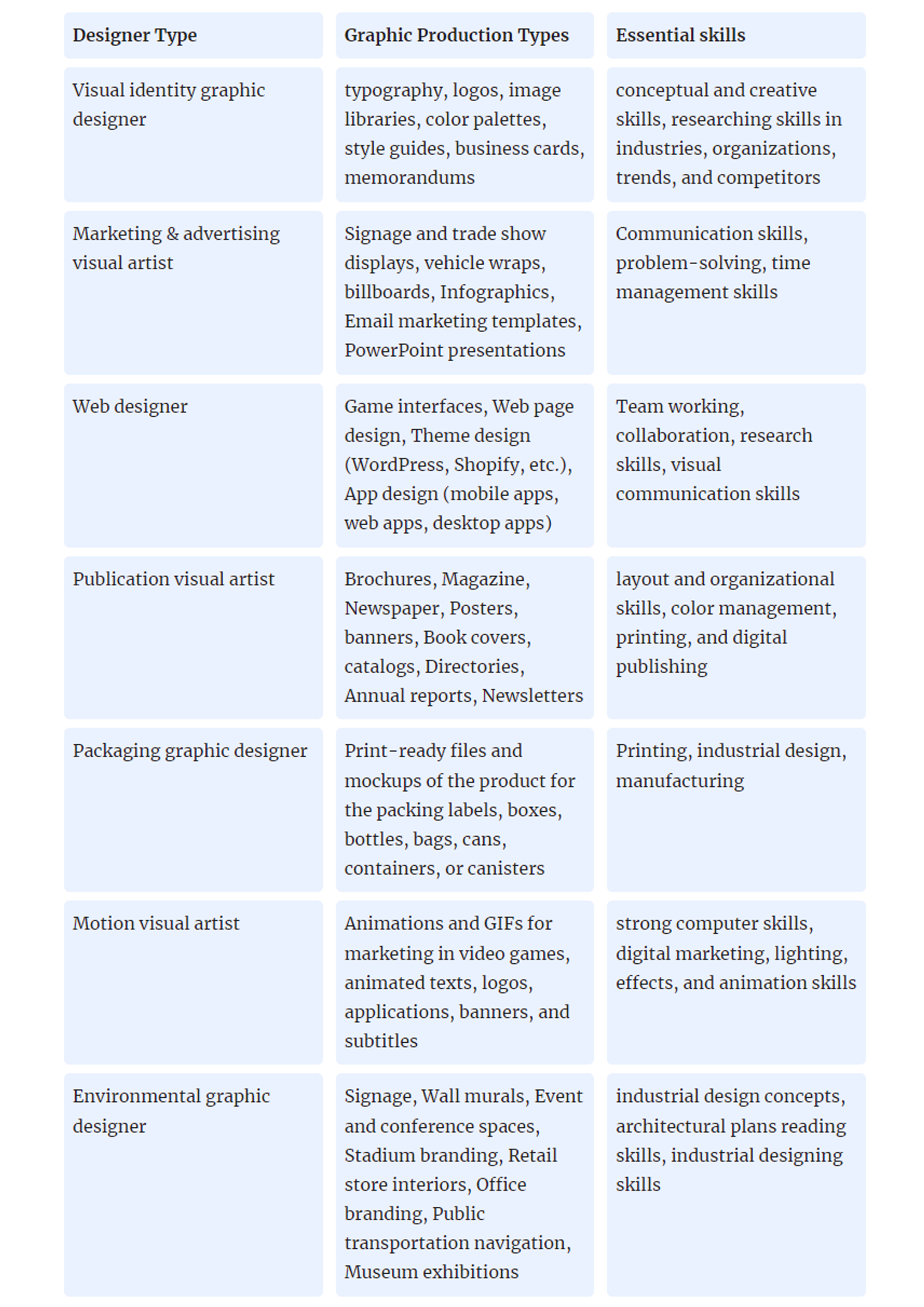 Showcase your scope of the designing industry
Thoroughly refer to the 'Graphic Production Types' column of the above table and list down the creations that you have engaged within our profession separately. Cross-check the terms with the requested production types of your job advert and highlight them. Then add the outlined items in your resume content as possible.
Reveal you are an expert in both printing and online sectors
Though the previous designers are limited to the printing materials nowadays graphic designing has broadened in the online sector than printing.
Focus on 'preferred' skills more
The majority of career advertisements pointed out a few specific skills such as 3D graphics, Unreal Engine, and Figma that are preferred to see in the applicants' resumes.
As they are value-added items in your graphic designer resume, state them in the resume summary and your achievements. But only if you have those competencies.
What to put in the Education Section of a Graphic Designer Resume?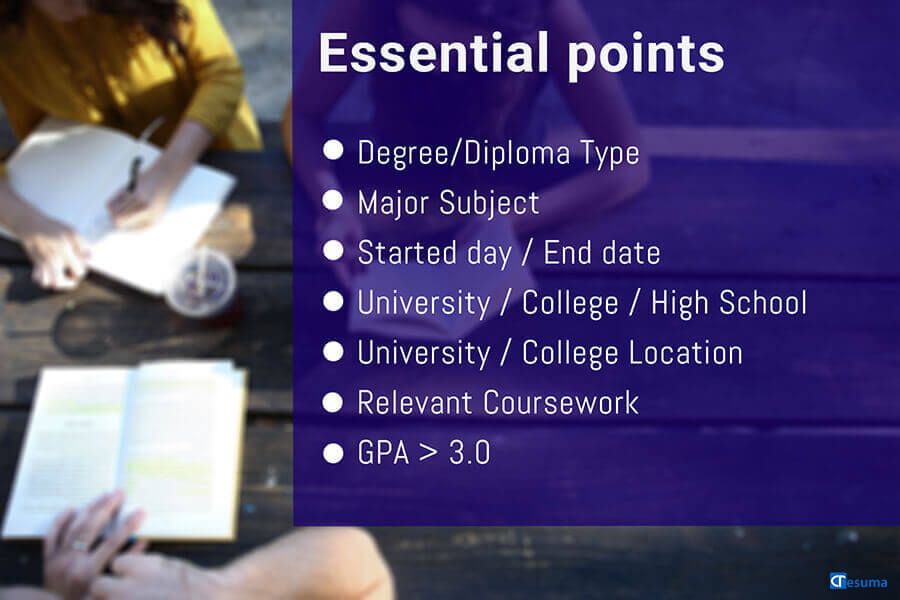 A bachelor's degree in Visual Design, Graphic Design, Commercial Art, or any other related area of assignment from an appropriately accredited institution is the basic educational qualification that is required from the visual designer applicants.
Do not forget to mention the degree type, major subject, graduated date, university name, and location under the degree information. Other than that you can include the relevant coursework based on the requirements of the job advert and GPA as your wish. But remember not to mention your GPA if it is less than 3.0.
Here are some coursework or subjects that are linked with the graphic designing field. Use them effectively.
Graphic Designing History/Theory/Criticism
Package Design
Graphic Designing Materials and Processes
Life Drawing
Graphics Designing Professional Practice
2D and 3D Design
Graphic Designing Collaborative Process
Color and Surface
Graphic Designing Design Issues
Digital Imaging
Graphic Designing Logo/Visual Identity
Digital Prepress
Graphic Designing Print Layouts and Publications
Spatial Dynamics
Typography
Example from an Expert
Education
A bachelor's degree in Graphic Design – 2016/Feb to 2018/Dec
Full Sail University, Florida
Relevant Coursework:- Package Design, Graphic Designing Materials, and Processes, Life Drawing, Digital Imaging, Graphic Designing Logo/Visual Identity
GPA:- 3.54
How many Soft Skills to include in the Graphic Designer Resume?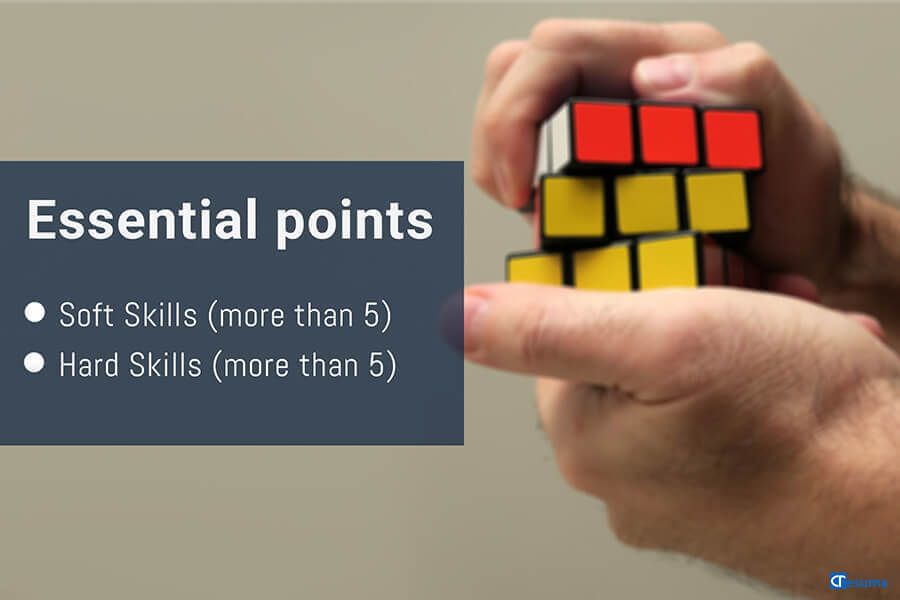 As the image represents, it is better to mention at least 8-10 skills including soft and hard skills in the skills section. Here are the applicable soft skills in a visual designer resume sample.
Time-management:-  The candidates must be ready to work on multiple projects at the same time in a fast-paced environment. Therefore the recruiters are seeking the time manageable applicants effectively. As a result, do not forget to note the time management skill in your resume sample.
Want to build a perfect resume by yourself? Click on the below button.
Want to get a perfect Graphic Designer cover letter created by an expert?
People who read this also read: