Hair Stylist Resume Example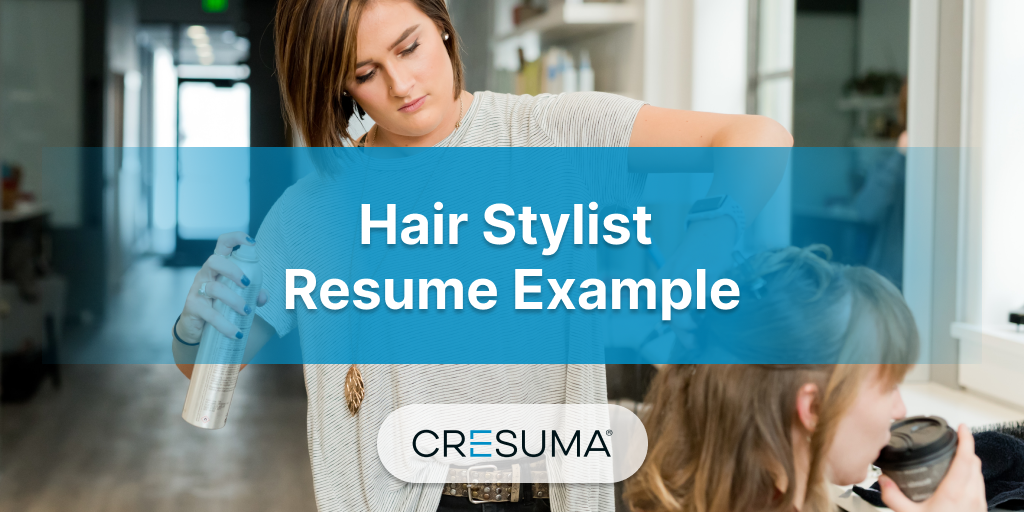 Complete Resume Guide for a Hair Stylist
Best Resume Tips and Secrets from a Professional Hair Stylist
Hairstyling Industry vs Modern Recruitment Process
Hair Stylist Resume Example (Text Version)
No hidden costs. Download your ATS-Friendly resume in PDF for absolutely FREE after creating.
Hair Stylist Resume
No need to start from the beginning. Edit this resume sample with your information and keywords from the job posting.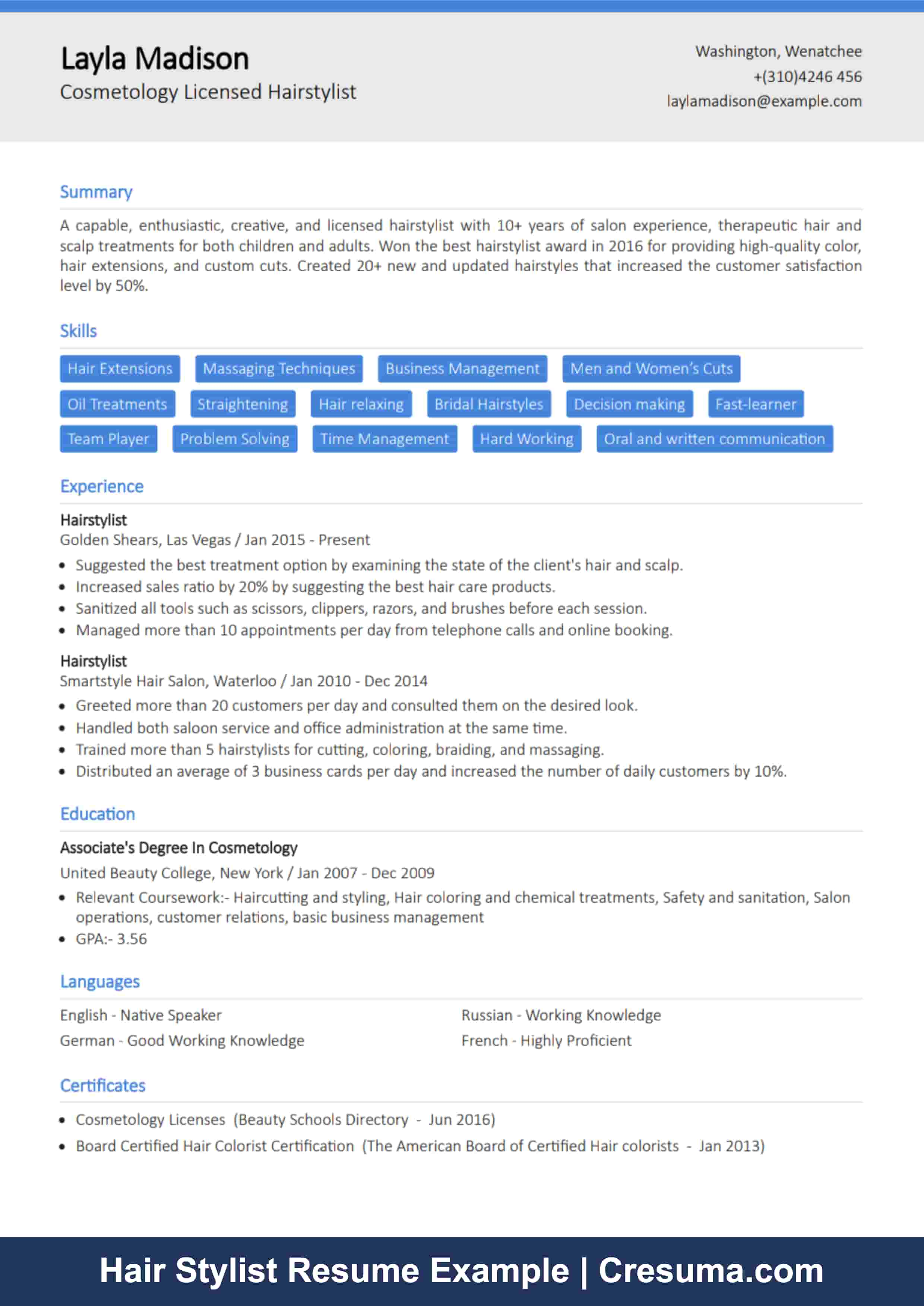 Complete Resume Guide for a Hair Stylist
01. Why should I conduct a self-research at the beginning?
Self-research is searching for information on the job position and the hiring company.
Usually, the job advertisement is the nearest way to understand the place and job position. Also, you can collect much information from social media profiles such as  LinkedIn, Twitter, Instagram, Facebook, or the official web page of your target company. On the other hand, if you can contact the current employees of the salon or the hiring place, you will receive some real information further.
If you analyze the information that you found from the self-research, you can get the following advantages.
To understand the place of working
The working place of a hairstylist is not limited to a salon. In other words, the hairstyling industry has spread in a huge range of various industries.
Therefore understanding the workplace of your future job will help you to tailor your resume by adding exact requirements.
Hair Stylists in salons such as Booth Rental Hair Salon, Scholar Hair Salon, Commission-Based Hair Salon, Specialty Salon, Boutique Salon, and Up-Scale Hair Salon.
Fashion Week Stylists are hired by the organizers of the product promotional events, beauty shows, and fashion parades to style the hair of presenters.
Hair Stylists in Hotels/Resorts are hired by the hotel authorities to help in the hairstyling of their clients who came for business or traveling purposes.
Hair Stylists in the TV/Theater/Film Industry agree with the film or drama producers to work on one's hair more than one time per day based on the requirements of the set.
Celebrity hairstylists are hired by the magazine or media producers to offer hairstyling and hairdressing services for the celebrity models in their various photo sessions.
Cosmetology School Instructors are hired for the educational purpose of the hairstyling students by the private or government cosmetology schools.

To find out required specialization
This will be another tip to impress your recruiters. If you know what kind of hairstylist that they are looking for, you can hit the point.
Check whether your job advertisement required any specialization that given below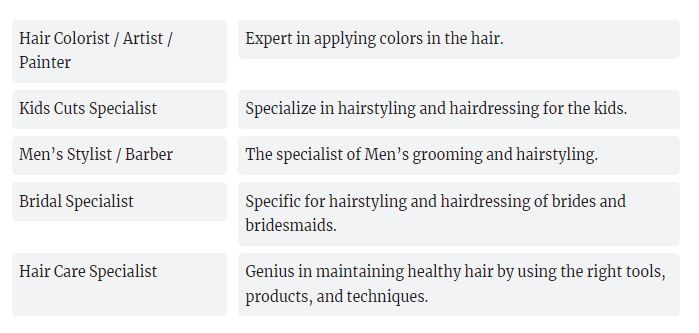 Genius in maintaining healthy hair by using the right tools, products, and techniques.
You may be an expert in each category. But in the resume, you should highlight your specialization that is similar to the required specialization of the job advertisement or hiring company.
To enhance the ATS friendliness
The modern recruitment process of hairstyling companies gets the help of the Applicant Tracking System (ATS) to filter the top resumes based on the availability of the given qualifications and keywords.
Therefore reading the job advertisement thoroughly and collecting the given keywords and action verbs will help to pass the ATS test easily.
Keywords
Keywords and key phrases are the unique terms that the hairstyling company used to explain the qualifications, skills, things, processes, or people related to the hairstylist.
How to use keywords correctly? Adding the keywords in your resume does not mean listing down these words. That means you should apply those keywords meaningfully, purposefully, and effectively when you explain your achievements.
For better identification, the keywords and key phrases of the following sample job advertisement are highlighted in yellow color.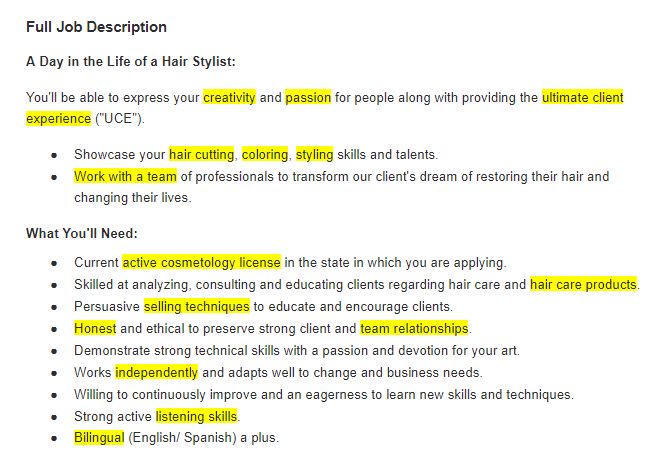 Action verbs
Usually, the main action verbs can be found in the duties and responsibilities section of your job advertisement.
Can I explain my achievements from present participle verbs? Never. You should let the recruiter know that you have already achieved the goals. Therefore you have to use past verbs in explaining your key accomplishments.
You can refer to the following sample job advertisement to understand how to identify the action verbs correctly.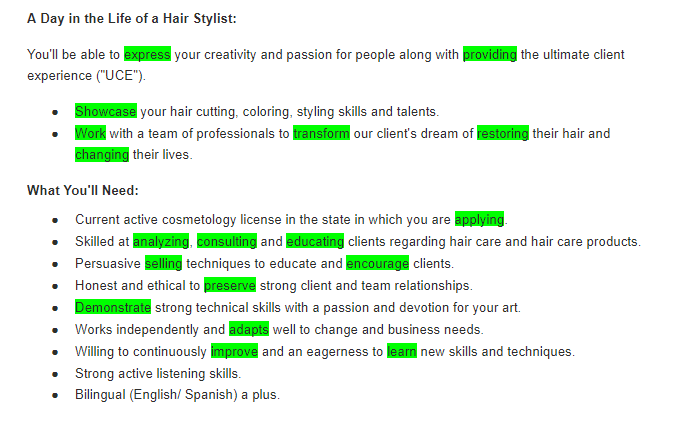 At the end of the self-research, you are ready to create an exact answer resume for the job advertisement of your target company.
02
Is there any unique resume template for a Hair Stylist?
No. Each applicant tries to impress the recruiters by using various types of templates. Therefore you can choose a creative template according to your willingness.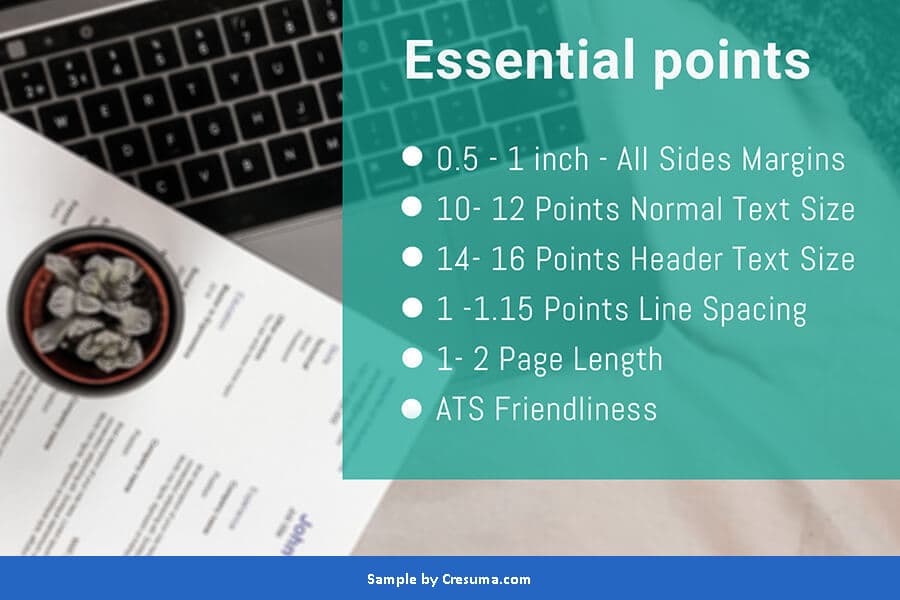 Can I draw the attention of recruiters by using hairstyling field related graphics? Maybe the recruiters will impress with the industry-matching illustration of your resume. But some graphics disturb the ATS readability of your resume. Therefore consider the ATS readability when you choose visual items for your resume.
How to select a suitable font style for a Hair Stylist? The resume of a hairstylist may contain many sections. So the font should be ready enough to display each section clearly. Therefore we recommend using the 'Helvetica' font type in your resume.
Why should I limit to a one-page resume?
Usually, the recruiters scan your resume within just 6-7 seconds. Therefore, they are fond of reading one-page resumes. If you have experienced in the hairstyling industry for more than 5 years, you can create a two-page resume by adding relevant content.
How to create an ATS friendly resume template quickly?
If you want to create your resume quickly, use a free resume builder that ensures the standard and the quality of the template.
03
Why does a photo in the resume impact Hair Stylist badly?
If you add a photo to your resume, you will be discriminated against due to various factors. We do not know how it impacts your job opportunity. It may have the worst impact.
Therefore we suggest not adding a photo to your resume. Add a professional photograph, only if the job advertisement requests a photo.
04
How to design the Hair Stylist's resume header?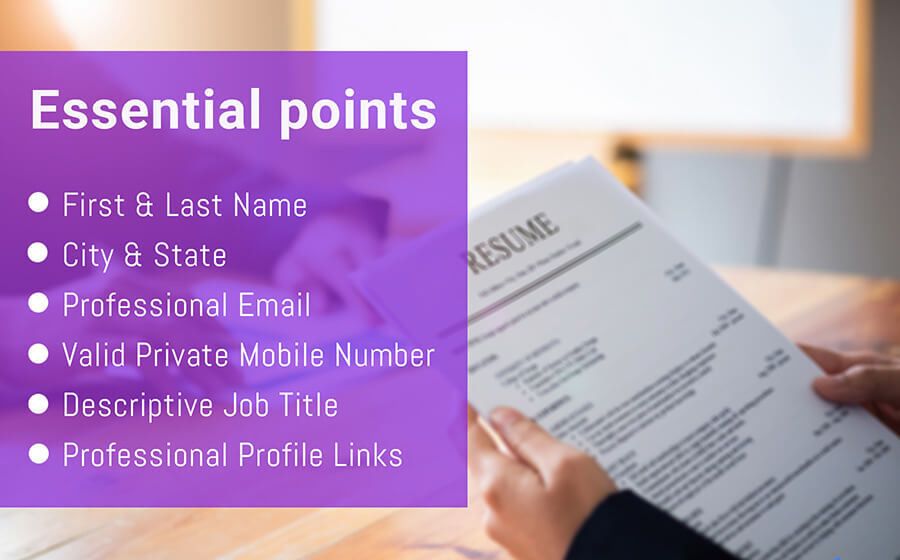 The image proves the resume header should contain your primary contact information.
It is better to mention your first and last name as the most highlighted text of the resume. Also, a professional email address and a personal mobile number are essential to share in the resume header.
Let the recruiters know where you are by mentioning only your city and state.
Then you have to check whether the job advertisement required a Fashion Week Stylist, Celebrity hairstylist, Bridal Specialist, Kids Cuts Specialist, or any other specific hairstylist. And use it as your job title.
05
Are you an active hairdressing influencer in social media?
If you are an active haircare influencer on Facebook, Instagram, Pinterest, and YouTube by sharing or posting unique and your own architectural drawings of hairstyles, blogs on hair care, image collections of daily hairstyles done by you, herbal product promotions, interactive video / audio / content tutorials on the hairstyling process or hair care process, and Interviews on hairstyling, it will be a great chance to show your scope and stability of the industry.
Therefore add the URLs of your professional profiles as the image shown below. Make sure the links are clickable.

What is the importance of good reviews and feedback for a hairstylist? Getting positive reviews and feedback from live customers or on social media is a challenging task for a hairstylist. Every hairstylist can not achieve this goal at the same level. Therefore you should be proud enough to add this rare achievement to the summary statement or experience section in your resume.
Then the recruiters tend to believe your talent and hire you as soon as possible
06
How to write an impressive summary statement?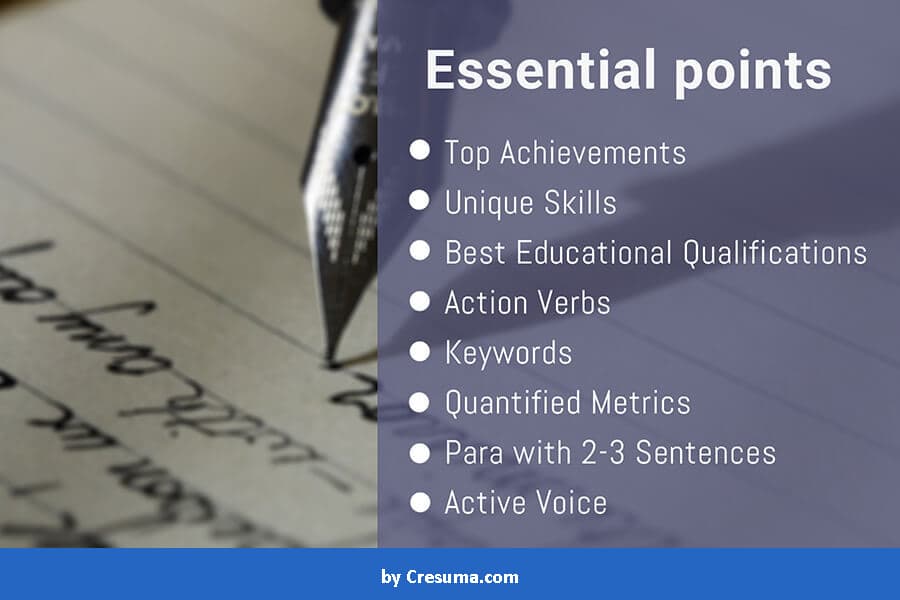 Collect the skills and educational qualifications mentioned in the job advertisement. Check whether you have those skills and qualifications. Remove the irrelevant items.
List your achievements as a hairstylist. Select 2-3 of your top career achievements separately.
Combine those skills, educational qualifications, and top achievements into a tiny paragraph with 2-3 sentences.
What makes my summary content professional? The following three facts enhance the value of your resume summary.
Adding keywords and action verbs meaningfully.
Quantifying the results of your achievements with years, percentages, and currency.
Not using 'I' or 'me' to explain the achievements or qualifications.
See the complete resume summary guide
Example from an Expert
Summary
An expert customer-oriented fashion designer with 10 years of experience. An expert hairstylist with 10+ years of experience who can provide the salon service including cutting, chemical treating, braiding, coloring, shampooing, conditioning, and massaging. Made-up 3 brand new hairstyles that won the best hairstyle award in three consecutive years.
07
What do the recruiters consider in the work experience section?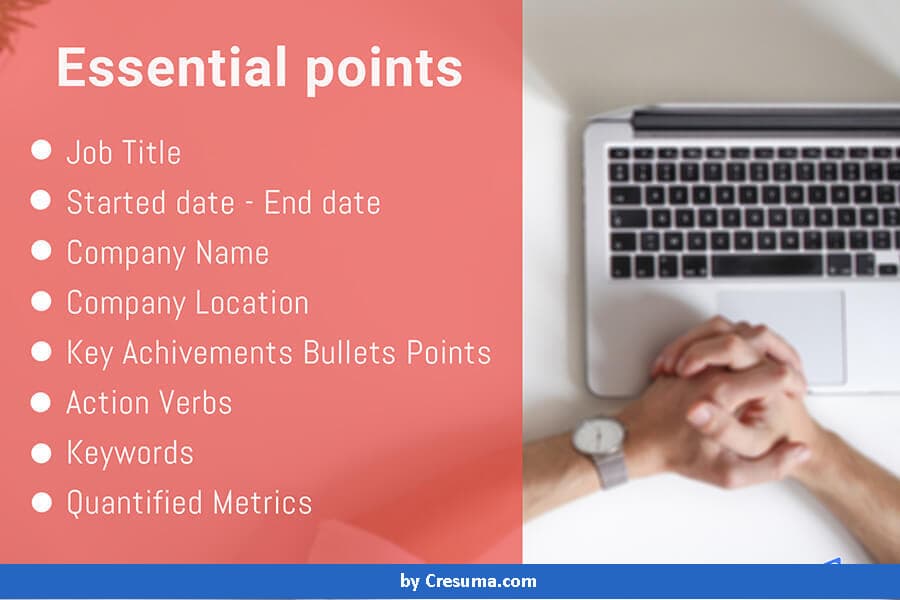 As the above image reveals the job title, started date, end date, salon, or worked place name, and the location are the main and essential information in the work experience section.
At the same time, you have to mention 3-6 career achievements that you have gained from those previous jobs. The recruiters are ready to estimate the talent of the applicants from those achievements.
08
What is the easiest way to write achievements as a hairstylist?
Though you can not mention the duties and responsibilities in the work experience section, you can use them to build your career achievements.
That means converting them into what you have done and what you have gained from your career life.
Enhance the value of your career achievements by starting from an action verb and adding the keywords as possible. Furthermore, you can quantify them using years, numbers, percentages, and amounts.
Example from an Expert
Work Experience
Hairstylist – 2013/Jan to 2016/Dec
Hair Cuttery, Naperville
Trained more than 10 hairstylist trainees for the hair care and styling process.
Styled more than 50 customers weekly by cutting, coloring, shampooing, and massaging.
Processed opening and closing cash amount daily with recording.
Increased 40% of customer satisfaction by providing the best cosmetics.
09
Have you provided your service as a volunteer hairstylist?
If yes, you have already earned somewhat higher marks than the other applicants because you can showcase your industry-specific achievements from the volunteer experiences as well as the work experience.
You may have provided the hairstyling and hairdressing service for free. But that makes you somewhat experienced as a hairstylist. Therefore you can mention your volunteer experience as a separate section with the achievements you have gained.
10
How important is the education section to a hairstylist?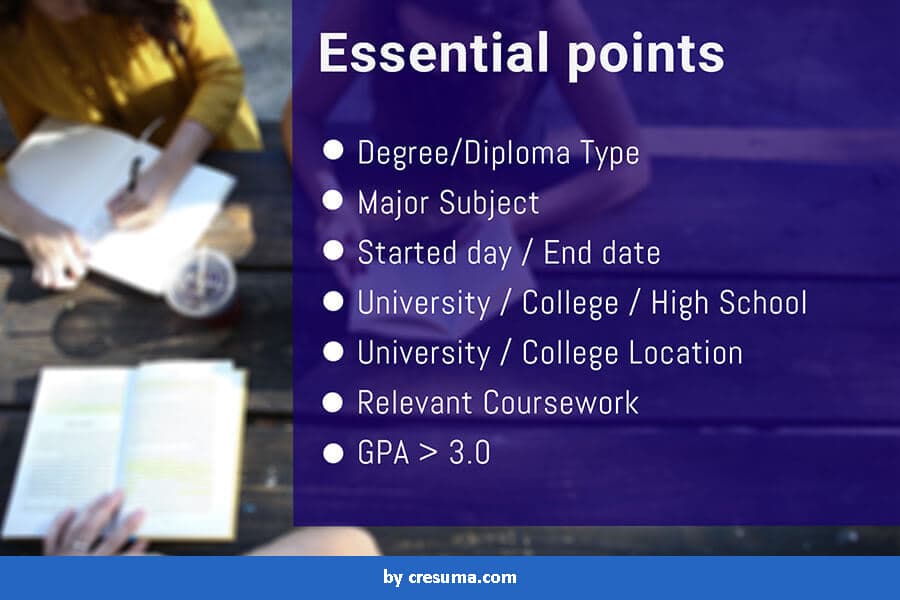 Though the high school diploma is the minimum educational qualification for a hairstylist, he/she should collect relevant knowledge and practice from a course or training in the cosmetology field to be a professional hairstylist.
Therefore mention cosmetology training or course first and then the high school diploma to let the recruiters scan your highest educational qualification first.
Do not forget to mention the educational type (diploma/course name), started date, end date, institute / high school name, and location.
11
Can I add more information to my education section?
Definitely yes! But do not destroy the professionalism of your resume by adding unnecessary information like the names of your cosmetology lecturers. Ensure the relevance of the content with your resume.
The relevant coursework is the acceptable and professional extra information that you can add to your education section.
Here are some relevant coursework or subjects to the cosmetology field.
Customer relations
Basic business management
Haircutting and styling
Hair coloring and chemical treatments
Safety and sanitation
Salon operations
Do the recruiters want to know my GPA? No. They do not care about your GPA. But if your GPA is more than 3.0, it's okay to mention it in your resume. This will further increase your value and recruiters will be impressed as well.
Example from an Expert
Education
Bachelor's Degree in Fashion Design – 2012/Jan to 2014/Dec
Liberty University, Lynchburg
Relevant Coursework:- Haircutting and styling, Hair coloring and chemical treatments, Safety and sanitation, Salon operations
GPA:- 3.56
12
Should every hair stylist have Cosmetology Licenses?
Yes! It is the main acceptance as a professional hairstylist. Also, some job advertisements thoroughly request Cosmetology Licensed hairstylists.
The below-mentioned relevant and available certifications enhance the value of the hair stylist.
Board Certified Hair Colorist – The American Board of Certified Hair colorists
NCLE National Laser Certification – National Council on Laser Certification
Certified Aesthetic Laser Operator – National Council on Laser Certification
Certified Laser Hair Removal Supervisor – National Council on Laser Certification
Certified SPA Supervisor – American Hotel and Lodging Association Educational Institute
Muscular Performance Self-Therapy Specialist – American Fitness Professionals and Associates
13
Why does a hairstylist want soft skills?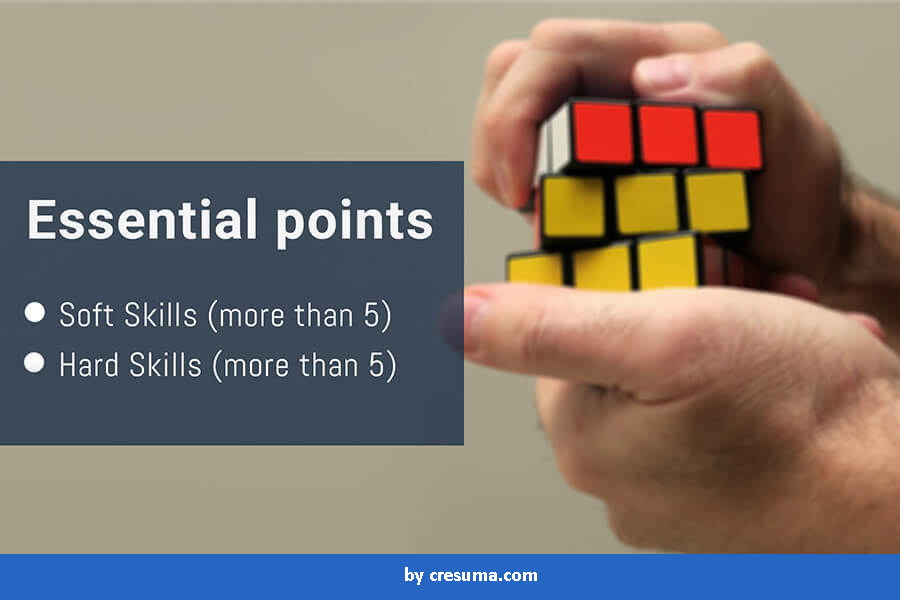 Oral and written communication:- The ability to handle the clients in a friendly manner is significant to build a strong and stable number of customers in the hairstyling field. On the other hand, a hairstylist should be able to accept the business through phone calls, messages, and emails. Therefore oral and written communication is beneficial to a hair stylist. The bilingual communication will enhance the value of your resume further.
Time management:- To reduce the crowd of the waiting area, the hairstylist should manage the time well. If he/she can control the duties such as hair cutting and coloring into a particular period of time that will be an excellent opportunity to enhance the revisits of the customers.
Organizational skills:-Hair stylist have to handle various types of accessories (like hairpins and hair bands), tool (like scissors and combs), chemicals (such as shampoo, conditioners, colors), machinery (like hair iron, hairdryer), and ornaments(such as Ribbons, flowers, bun & crowns) during the hairstyling process. Therefore the organizational skill is a must for a hair stylist.
Team working:- Usually, hairstylists have to engage with the other peer, trainee, or senior hairstylists and makeup artists of the salon. Also, if he/she provides the hairstyling service beyond the salon, usually he/she has to work as a team. Therefore the hairstylist should be a great team worker.
Creativity:- Customers do not always request to put a currently available hairstyle for them. That means some clients request new hairstyles. Therefore the hairstylist should be creative enough to create new styles on the spot.
14
Are there any technical skills related to a hair stylist?
Yes, obviously. The hard skills (technical skills) are the most welcomed skills by the recruiters from a hairstylist resume. The applicant can not be a perfect hair stylist without those industry-specific skills.
We suggest you to add more hard skills as possible. As a number, try to mention at least 8-10 skills in your skills section. And ensure you add both soft and hard skills.
Here we have listed down some major technical skills related to a hairstylist.
Hair Cutting / Hair Styling
Business Management
Assessing
Marketing & Up-Selling
Perming / Straightening
Men and women's cuts
Blowouts, steam and oil treatments
Bridal Hairstyles
Supply Management
First Aid/CPR
Updos and event hair styling
Hair Extensions
Color correction and care
Hair relaxing
Shampooing and restocking
Eyebrow and beard coloring and care
Trimming beards
Ombré, balayage, bleach, and color techniques
Thinning, volumizing and curly hair cutting techniques
Conditioning
Massaging techniques
Retail Industry Knowledge
Washing hair
15
Should I showcase my skills only in the skills section?
No. You do not need to limit your skills to the skills section only. Add at least 8-10 skills including both soft and hard skills to the skills section. Then find out some other unique skills from the job advertisement to highlight in your summary section as well as in the achievements of the work experience section.
16
How does an entry-level hairstylist's resume differ from an experienced hair stylist's resume?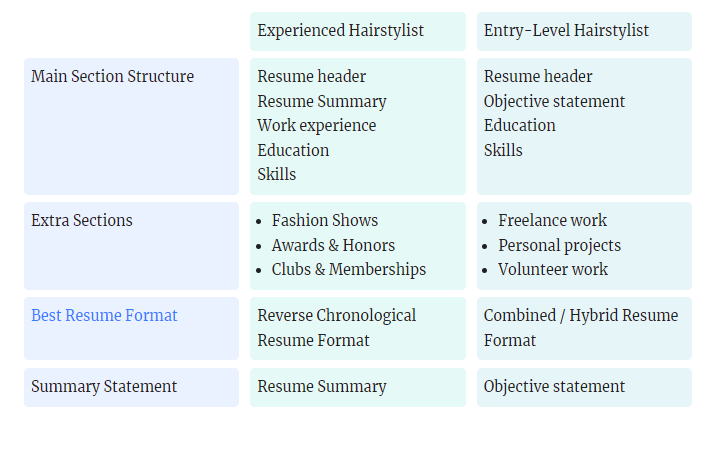 17
How to write a perfect objective statement for a hairstylist?
Though you are a fresher as a hair stylist you can show your value to the recruiters. The objective statement is the best section to showcase your qualification as a hairstylist. You can use the objective statement instead of a resume summary.
Therefore, collect the required skills and educational qualifications of the hairstylist job advertisement and separate what you have from them. You can add the top achievements of your freelance or volunteer experience if you have.
Compress those best values as a hairstylist into a small paragraph with 2-3 sentences by explaining how you can assist to achieve the company goals using your competencies and talents.
Can I mention my next plans in the objective statement? Never make that mistake. Recruiters do not want to know that you want to be the best hair stylist in the company or country. They want to know how you can help to achieve the company's future plans.
18
Are you a member of an association related to the hairstyling industry?
Great! You have ensured your victory in the job race by adding some plus points. So, you can add a new section to your resume as 'Clubs & Memberships'
It is better to mention at least the name of the club or association, the date of membership, and the post (if you have any specific post) under this section.
Do not lose your marks by mentioning a membership that is not related to the hairstyling field.
19
Have you ever contributed to a publication on hairstyling?
You may have written a newspaper article on hairstyling, provided the photos of your hair styling process to book illustrations, given a voice-cut or statements on hairstyling to a Journal article, or created a book or any other report on your own herbal or other hair care cosmetics experiments.
That will be a great chance to show your active engagement in the hairstyling industry. Therefore provide some reliable information about those publications in your resume.
20
Do you try to enhance your scope of the hairstyling field in your leisure time?
Some hair stylists spend their leisure time on creating hair ornaments, producing herbal hair care products, or manufacturing natural hair color products. That is another unique value of a hairstylist.
Why do the recruiters want to know my hobbies? Actually, they do not want to know about your hobbies. Only they want to know is your passion for the hairstyling field. Therefore 'Interests & Hobbies' section is the best place to show your passion.
***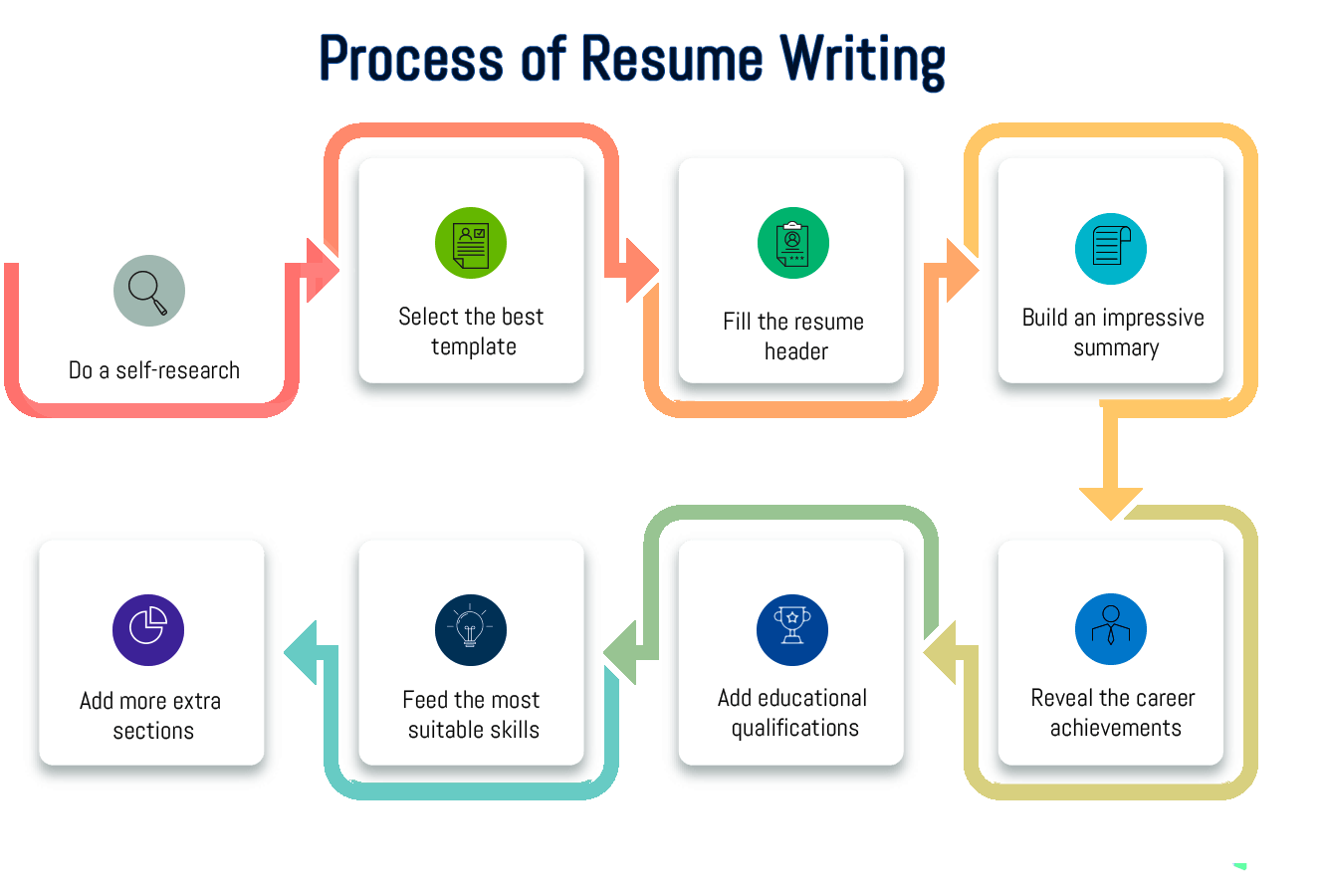 Best Tips and Secrets from a Professional Hair Stylist
TIP #1:- Not mentioning the duties and responsibilities of the hairstylist
A major mistake done by some hairstylists is adding the duties and responsibilities such as cutting, coloring, ironing, and dressing hair. But the recruiters always seek the achievements of the applicant as a hairstylist.
Therefore the professional hairstylists suggest adding 3-6 bullet points of your career achievements and not creating a paragraph of your accomplishments.
TIP #2:- Not sharing personal information
Some hairstylists tend to mention their hair color, hair volume, length of the hair, height, weight, skin color, eye color to highlight their appearance and try to impress the recruiters. But first, you should understand that you are applying for a hairstylist job vacancy and not for a vacancy of a model.
Therefore you should highlight your professional qualifications than your appearance to get more job opportunities because hiring managers are seeking applicants who have more capabilities.
TIP #3:- Attaching a cover letter with the resume
The majority of professionals believe that a cover letter provides an excellent chance for the applicants to communicate with the recruiters before an interview.
Therefore find out the name of the hiring manager of your target salon and directly greet him with his name in your cover letter. Then the recruiter will really be impressed by thinking you've researched them.
In the cover letter body, explain how you can provide your hairstyling and hairdressing service to achieve the future goals of the target salon. Again explain some facilities or any other specializations of the salon that lead you to apply for the job vacancy.
However, do not copy the same content of the resume in your cover letter.
TIP #4:- Sent a PDF formatted resume file
The majority of applicants submit an image file of their resumes and reject Because the ATS can never read the text on an image.
PDF format is the best ATS friendly format. Other than that doc. Docx. or plain text files also somewhat ATS friendly file formats. So the professionals always inform you to send PDF format files to increase your job interview opportunities.
Hairstyling Industry vs Modern Recruitment Process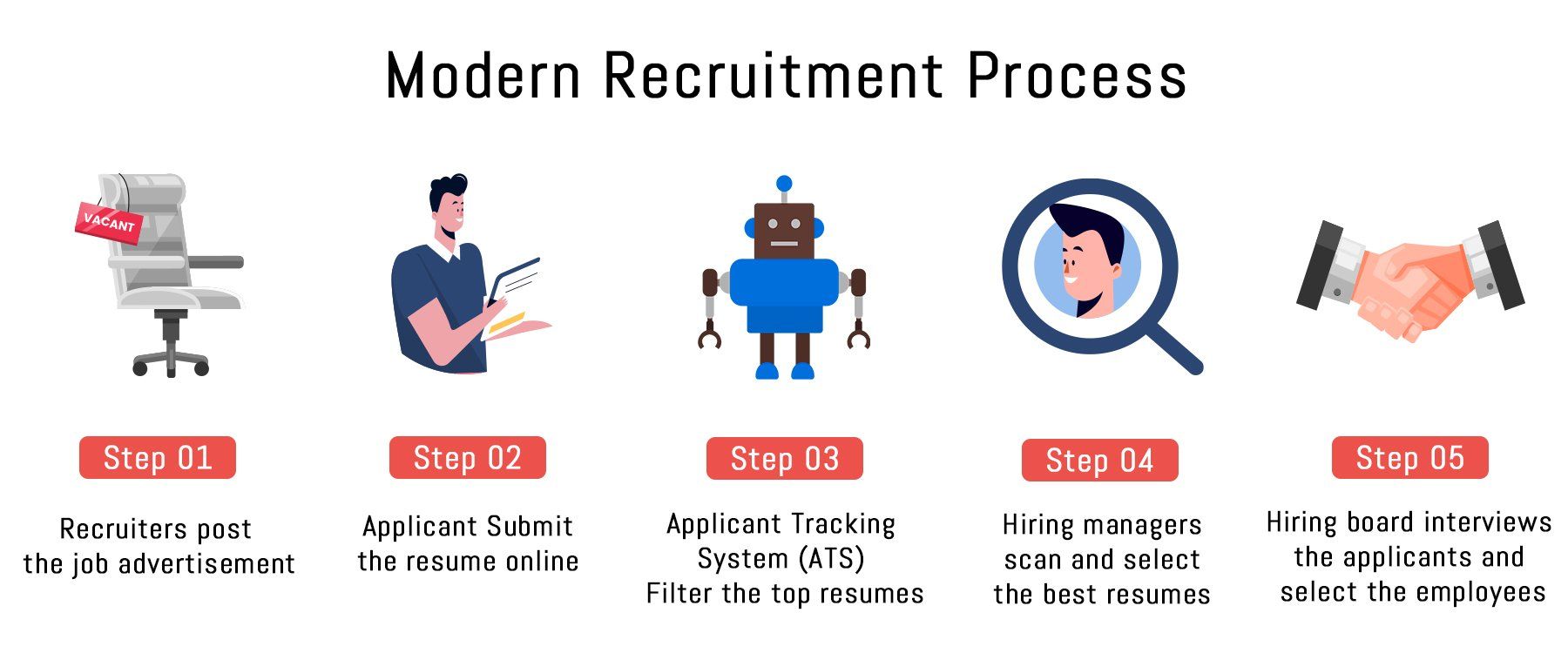 Modern Recruitment Process overview
Usually, the salon owners, film / drama producers, event producers, hotel owners, or media producers post the job advertisement on their website or other job facilitative websites to hire a hairstylist.
The applicants who want to be a hairstylist and who are eligible to be a hair stylist submit their resumes through email.
Then the Applicant Tracking System (ATS) stores all resumes and filters the top resumes by giving a score to the availability of qualifications, keywords, and action verbs.
Once the recruiters receive the top resumes, they scan them and select the best applicants for the interview.
Finally, the hiring board interviews the best applicants and selects the hairstylist for their salon.
Value of a hairstylist in the industry
The payment type of hair stylist depends on the hiring managers or the salon owners. Here are the main payment types of a hairstylist.
Hourly wedge
The average hourly wage of a hairstylist is $15.60 (USD). This payment type is most suitable for an assistant hairstylist or an entry-level hair stylist.
Annually wedge
If a hairstylist agrees to get an annual wage he/she will receive about $37746 (USD).
Commission employee
This payment type is the most available and a hair stylist able to have a 30%-50% commission from the salon owners.
Booth renting

Some booth owners seek and advertise for the hairstylist to rent their booths and the majority of independent hair stylists pay the booth rent and earn their own salaries.
Do not mention your salary expectation in your resume and be a hairstylist who has good practices as a professional.
Hair Stylist Resume Sample (Text Version)
Layla Madison
Cosmetology Licensed Hairstylist
+(310)4246 456
laylamadison@gmail.com
Washington, Wenatchee
Summary
A capable, enthusiastic, creative, and licensed hairstylist with 10+ years of salon experience, therapeutic hair and scalp treatments for both children and adults. Won the best hairstylist award in 2016 for providing high-quality color, hair extensions, and custom cuts. Created 20+ new and updated hairstyles that increased the customer satisfaction level by 50%.
Work Experience
Hairstylist
Golden Shears, Las Vegas – (2015/Jan to Present)
Suggested the best treatment option by examining the state of the client's hair and scalp.
Increased sales ratio by 20% by suggesting the best hair care products.
Sanitized all tools such as scissors, clippers, razors, and brushes before each session.
Managed more than 10 appointments per day from telephone calls and online booking.
Hairstylist
Smartstyle Hair Salon, Waterloo – (2010/Jan to 2014/Dec)
Greeted more than 20 customers per day and consulted them on the desired look.
Handled both saloon service and office administration at the same time.
Trained more than 5 hairstylists for cutting, coloring, braiding, and massaging.
Distributed an average of 3 business cards per day and increased the number of daily customers by 10%.
Education
Associate's Degree in Cosmetology – (2007/Jan to 2009/Dec)
United Beauty College, New York
Relevant Coursework:- Haircutting and styling, Hair coloring and chemical treatments, Safety and sanitation, Salon operations, customer relations, basic business management
GPA:- 3.56
Certifications
Cosmetology Licenses (2016/Feb)
Beauty Schools Directory
Board Certified Hair Colorist Certification (2013/Jan)
The American Board of Certified Hair colorists
Skills
Hair Extensions
Massaging Techniques
Business Management
Men and Women's Cuts
Oil Treatments
Straightening
Hair relaxing
Bridal Hairstyles
Oral and written communication
Decision making
Critical thinking
Team Player
Problem Solving
Time Management
Hard Working
Languages
English – Native Speaker

German – Good Working Knowledge

French – Highly Proficient

Russian – Working Knowledge

Want to build a perfect resume by yourself? Click on the below button.

Want to get a perfect Hair Stylist cover letter created by an expert?

People who read this also read:

How to write an impressive cover letter

.

Enjoyed Reading?
Help Cresuma cover the server and other costes to continue this 100% Free Service. Show your support below.