Architect Resume Example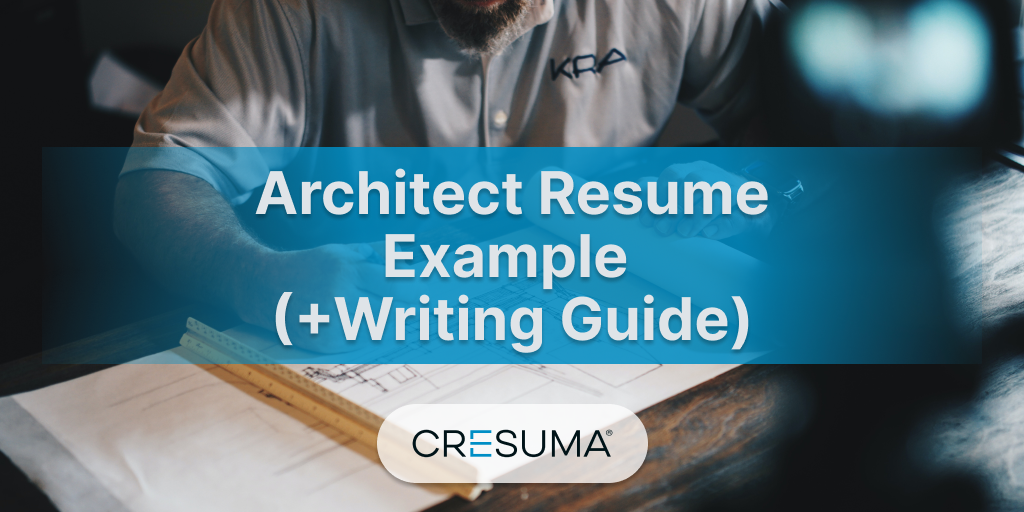 You're about to learn how to create a killer architecture resume. Read the entire resume writing guide and create a great resume with a great structure to land your next big job in the architecture field.
No hidden costs. Download your ATS-Friendly resume in PDF for absolutely FREE after creating.
Architect Resume
No need to start from the beginning. Edit this resume sample with your information and keywords from the job posting.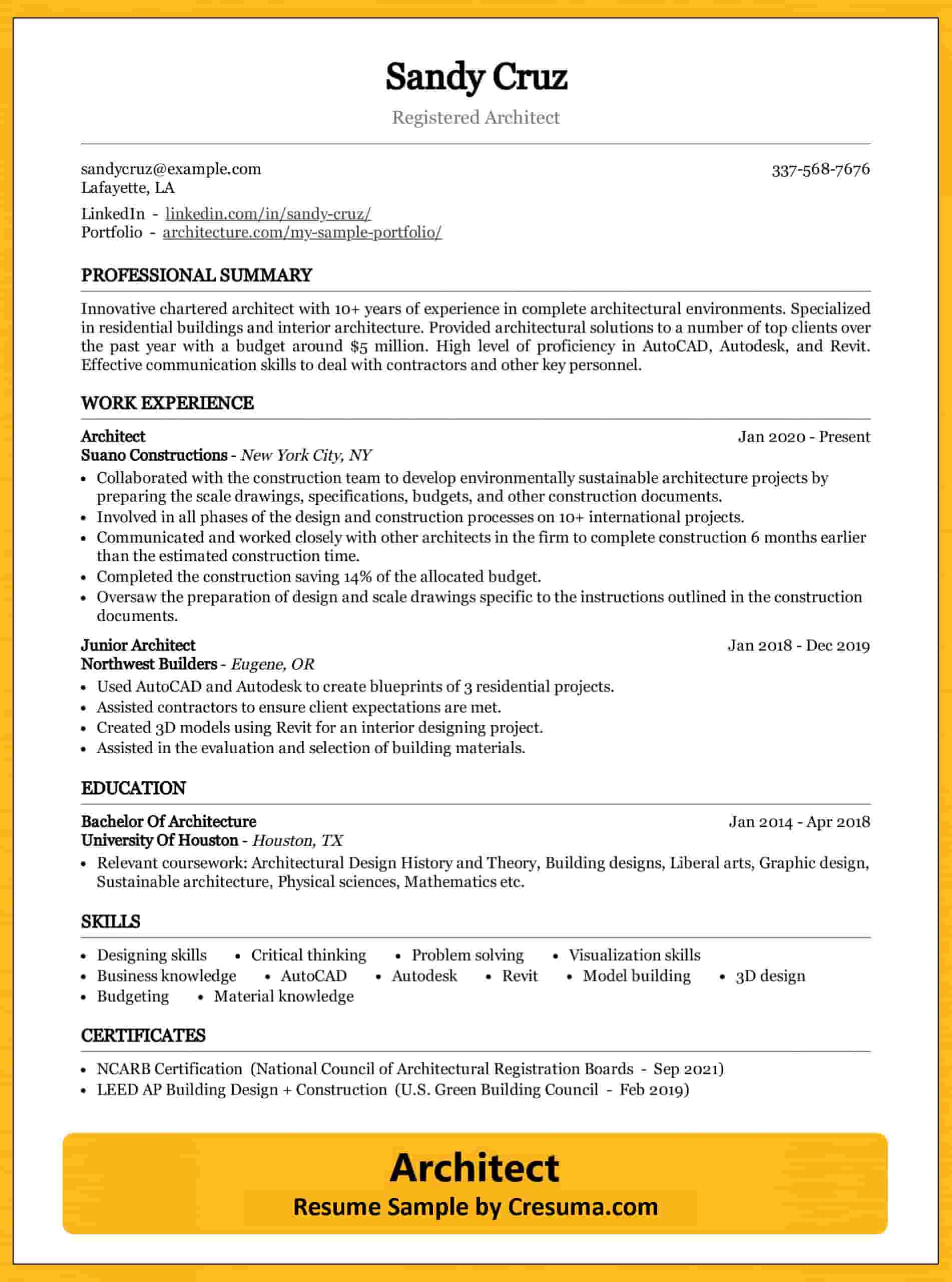 Architect resume writing guide [with Example and Tips]
An excellent architect resume is required to acquire a job in a good architecture firm. Job opportunities for architects are also limited, but there is a lot of competition. However, the majority of these candidates are usually qualified. As a result, it is critical that you have a competitive résumé in order to stand out from the crowd. Therefore, if you want to make your next job application a success, you'll need to read this post till the end.
Architects usually specialize in a variety of areas. That's why when organizations are recruiting architects, the applicable job position will be advertised along with the particular specialization. The following are the specializations and categories of Architects.
Chartered Architect
Registered Architect
Technology Architect
Interior Architect
Commercial Architect
Urban design Architect
Landscape Architect
Residential Architect
Navy Architect
Senior Architect
Junior Architect
No matter what position you apply for, you can increase your job opportunities by simply following our resume guide, sample, and tips when creating your resume.
In this article we hope to discuss the following topics.
What you need to highlight in your architect resume?
What to include in an Architect resume?
Example architect resume summaries and objectives
Work experience example for architect resume
Resume education section for architects
Best skills to highlight in your architect resume
Architect resume tips
Pro Tip: Architects design attractive buildings but their resume should not be overly creative. Always use a simple template to create your architecture resume.
What details should be highlighted in an Architect resume?
In addition to your experience, the hiring manager needs to know a few additional things to determine if you are a good fit for the vacant position.
As an architect you also need to be creative and must possess problem solving skills. They also want to know that you have innovation skills. So don't forget to highlight those details in your architect resume in any way.
Also, if you have previous experience, show what architectural areas you have experience with. If you feel like you have the complete architecture environment experience you can get more attention. But never lie in your resume. Only mention those experiences in your resume if you really have them with you.
Hiring managers are also keen to know how you, as an architect, have taken on responsibility for projects, how you have gathered requirements from clients, and how you have been successful in practical activities such as budget maintenance. So be sure to highlight them within your resume summary or job description bullet points resume work experience under to get the contact details of you.
   So that your Architect resume will be at the top of the big resume pile.
Things to include in architecture resume
Contact information
A summary of qualifications
Work experience including paid internships
Your experience with computer aided design and drafting (CADD) programs
Experience in handling projects, clients, and budgets
Whether you have passed the Architect Registration Exam or not
A degree related to architecture
University and your GPA (if it is only above 3.0.)
Related certificates and licenses
The best resume architecture
As a good building has a good structural model, a good resume too has a proper structure. So let's look at how to build your Architect resume in a proper way.
Architect resume summary or objectives
The first chance you get to impress a hiring manager is your resume summary. If you can give a good first impression through your resume summary you will be very close to your future architect position.
In your architect's resume, there is a reason to add a summary. Hiring managers are so busy with their work. At the same time, they need to check thousands of resumes. So they will not read the resumes entirely. They frequently skim-read a resume. They will appreciate it if you can show them all of your professional highlights in one place. That's why you should include your most important accomplishments and information about yourself in the resume summary section. This will entice the recruiting manager to read the entirety of your resume.
If you have key skills related to your desired position, you can also show them here. Also, if you are a registered or chartered architect, let the employer know about it in a word or two through your resume summary. Eventually your resume will be more valuable and competitive.
Resume summary example for a senior architect
Innovative chartered architect with 10+ years of experience in complete architectural environments. Specialized in residential buildings and interior architecture. Provided architectural solutions to a number of top clients over the past year with a budget around $5 million. High level of proficiency in AutoCAD, Autodesk, and Revit. Effective communication skills to deal with contractors and other key personnel.
Resume objective example for an entry-level architect
A recent college graduate with skills in commercial buildings and residential building design. Provided professional creative concept solutions to several clients as a freelance architect. Possessed a good experience in scale drawing through architecture design software. Currently looking for a Design Architect position in a modern architect firm.
Work experience section for Architect resume
Apart from the resume summary, another important section of your resume is the experience section. In this you have to present the experience you have gained in the past in Architect firms. This is a great place for a hiring manager to get a rough idea of ​​whether you have required experiences and whether you can perform well in the relevant position.
It is important to include the following information when writing this section.
Job title
Name of the architect firm / company
Location of the company
Employment dates
Key accomplishments
Always make sure to align your resume with the job description. That makes your architect resume tailored to the specific position.
A well-written Architecture resume work experience section demonstrates your environmental and sustainable design skills, client relationship building, project management skills, and your ability to develop budgets, specifications, and construction documents.
The below are a few handy work experience examples for architects.
Resume work experience section for senior architect
Architect
Suano Constructions, New York City, NY
(January 2020 – Present)
Collaborated with the construction team to develop environmentally sustainable architecture projects by preparing the scale drawings, specifications, budgets, and other construction documents.
Involved in all phases of the design and construction processes on 10+ international projects.
Oversaw the preparation of design and scale drawings specific to the instructions outlined in the construction documents.
Communicated and worked closely with other architects in the firm to complete construction 6 months earlier than the estimated construction time.
Completed the construction saving 14% of the allocated budget.
Work experience for an entry-level Junior Architect
Junior Architect
Northwest Builders, Eugene, OR
(May 2023 – Present)
Used AutoCAD and Autodesk to create blueprints of 3 residential projects.
Assisted contractors to ensure client expectations are met.
Created 3D models using Revit for an interior designing project.
Assisted in the evaluation and selection of building materials.
Don't have previous experience in the architecture field? Try adding the following to your resume.
Freelance Projects
Competitions
Consulting Work
Non-Architecture Jobs
Volunteer Work
Architect resume education section
Individuals who want to be architects usually must have a professional bachelor's degree in architecture. Especially if you're an entry level candidate. Typical in the USA having a related degree would be the first step towards your architecture career goal. Having a master's degree would be a definite added advantage. If the specific degree has been accredited by the National Architectural Accrediting Board (NAAB), that will be also an added advantage for you to succeed in the job competition.
Therefore the resume education section plays a major role in your resume too. When you mention your educational qualifications in resume, Try to highlight any projects, coursework, or extracurricular activities that are relevant to your prospective job.
Example of an Architect education section
Bachelor of Architecture
University of Houston, Houston, TX
(January 2014 – April 2018
Relevant coursework: Architectural Design History and Theory, Building designs, Liberal arts, Graphic design, Sustainable architecture, Physical sciences, Mathematics etc.
Skills section of Architect resume
Emphasizing relevant and required skills in your resume is critical to get noticed. It also helps the Applicant Tracking System to recognize you as a top architect applicant. If the skills requested in the job advertisement are included in your resume, your chances of getting an invite for an interview are very high.
To be successful in an architect role, you need to have soft skills as well as job related technical or hard skills. So don't forget to include a good mixture of both these skills in your resume.
The following are some of the skills that recruiters expect from architect applicants in the current job industry.
Architecture resume skills
Designing skills
Problem solving
Communication skills
Multitasking
Administration skills
Relationship building
Autodesk
Revit
Model Building
Architectural rendering
Presentation skills
Budgeting
Business knowledge
Finance
Estimating
Critical thinking
Attention to detail
Accuracy
Creativity
Visualization skills
Technical drawing
AutoCAD
ArgGIS
3D design
Building codes
Renovation
Material knowledge
Detail oriented
Specifications
Scheduling
Architect resume tips
Here are some tips for you to make your resume stand out from others.
1. Quantity your achievements
Statistically showcase your accomplishments rather than simply presenting them in your work experience. It reflects the impact you have made in your previous organization. So that the recruiter will be more satisfied about your previous achievements. Try to include numbers, percentages, dollar rates, to quantify your achievement bullet points.
2. Start with a strong action verb
Using Action verbs will always enhance your achievements. So try to use an action verb at the beginning of each sentence when writing your resume summary and when listing work experience. Below are some action verbs related to the architecture industry.
Negotiated
Delivered
Researched
Worked
Collaborated
Designed
Rendered
Audited
Assisted
Supervised
Budgeted
Drew
Managed
Organized
Visualized
Computed
Led
Solved
Completed
Built
Created
Conducted
3. Consider adding additional resume sections
We discussed the mandatory sections of an architect's resume earlier in this post. Optional parts such as Certifications, Awards, Languages, Professional Memberships, Architectural License, and so on can be added to your resume if you want to make your resume shine even more.
4. Use a legible font
Most of the time you may think that an architectural job is a creative job so it would be good if you used creative fonts in your resume. But never do that in any way. Because your resume will be undergoing an ATS scan before it goes to a hiring manager's hand. If the ATS doesn't recognize the fonts on your resume, no matter how talented architect candidate you are, you will be eliminated at the beginning of the job competition. Therefore always try to use an applicant tracking system friendly resume font And remember to use no more than two fonts.
05. Include the link to your online portfolio
An architect's portfolio is essentially a tool used to showcase your artwork and designing skills to a prospective employer. So if you also have one, do include the URL of your online portfolio in your resume header.
06. Use only two colors on your resume
Don't add too many colors because it will mess up your resume. You can even use just a single color which still looks better.
07. Use white space effectively
Hiring managers don't want to read resumes like old newspapers. So remember to use white space in your resume which could help the recruiter to pay much more attention to the important points.
Top Architect certifications for a resume
Certified Building Service Executive
Certified Construction Manager
IT Information Library Foundations Certification
LEED AP Building Design + Construction
Certified Green Professional
Certified Professional Autodesk Revit Architecture 2012
NCARB Certification
Certified Remodeler Specialist
Oracle IT Architecture Release 3 Certified Architecture Specialist
Project Management Professional
Project Management (2005)
The Open Group Architecture Framework
Are you a person moving into the architecture field?
Use an objective to present past design work experience in your previous career.
Highlight your passion for the architecture field and interior designing.
Highlight your technical knowledge and software skills as much as possible.
Use a hobbies & interest section to show your passion for design.
Prioritize your experience and achieve
Write an architect cover letter explaining why you are thinking of a career switch.
Still not sure how to write a resume? Then check out our complete resume writing guide to get the contact details of you.
Congratulations on your Architect Job Search!
Want to build a perfect resume by yourself? Click on the below button.
Want to get a perfect Architect cover letter created by an expert?
People who read this also read: