Construction Worker Resume Example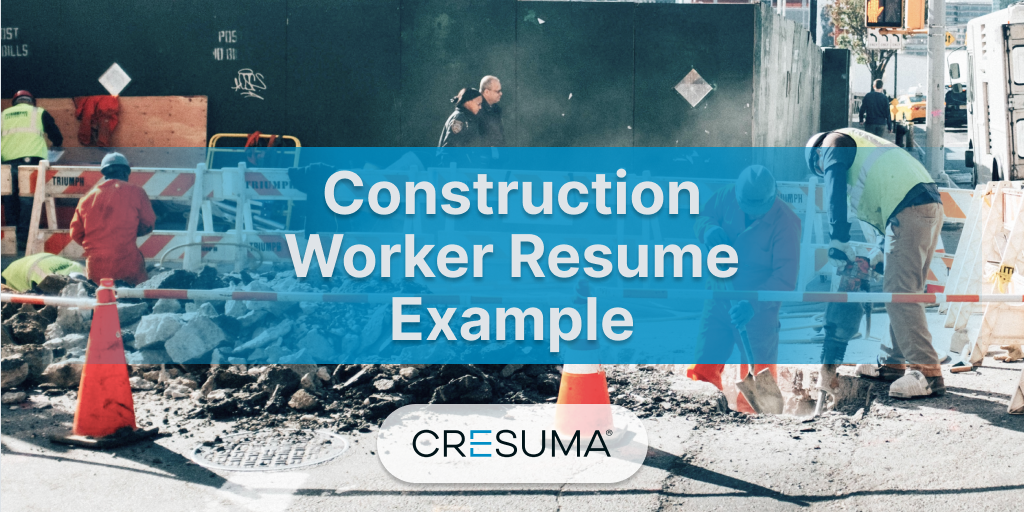 Do you know why your resume was rejected though you are a hard worker? If you want to be a professional in the construction industry, you need an impressive resume. Let's see how it is done!
No hidden costs. Download your ATS-Friendly resume in PDF for absolutely FREE after creating.
Construction Worker Resume
No need to start from the beginning. Edit this resume sample with your information and keywords from the job posting.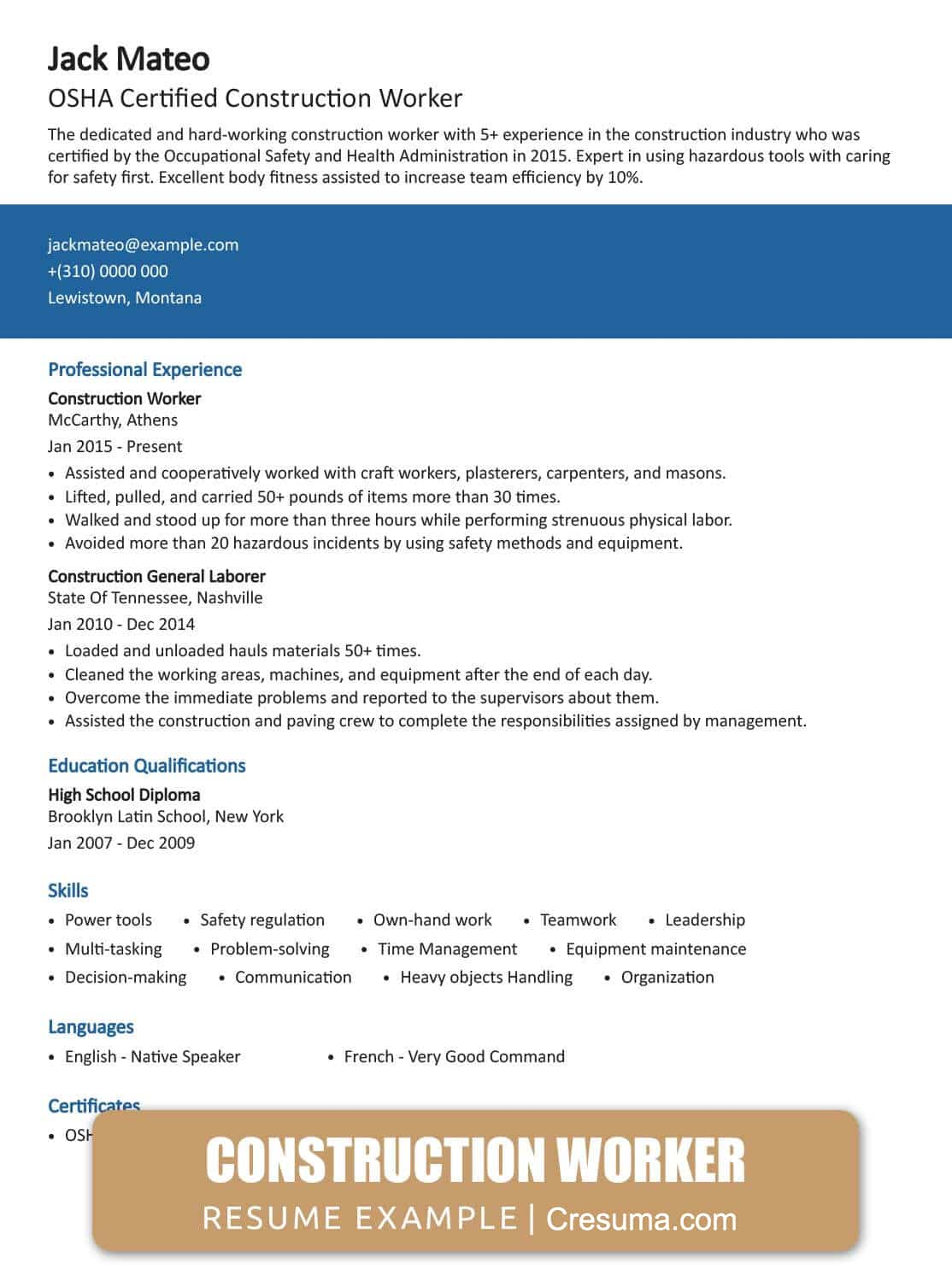 Make the Construction Worker Job Title Impressive
Construction worker job title is a vast differentiated post such as carpenter, laborer, electrician, ironworker, mason, plumber, roofer, welder, and many more. Also, these positions required slightly the same qualifications. However, you need to state your job title as what is mentioned in the job advert.
Other than that you can modify and make your job title more attractive by adding a certification or unique skills that you have. When the recruiters feel that your resume is more unique and different than others they will surely read it further.

Mention the Top Career Achievements As Much As Possible
The majority of hiring managers are looking for recent and relevant career history in your work experience section. Therefore you can mention your experience in building, electrical, plumbing, or mechanical in your resume. However, the top achievements make your resume more stand out and the following facts will help you to build your top career achievements according to the recruiters' taste.
The hiring personnel is preferred to see the proven knowledge of basic construction principles in your resume. In detail, environmental protection, aesthetics, safety, speed, and economy are the five principles that should be considered in each stage of the project such as planning, designing, and construction phases. You can build some achievements that reveal you have overcome the problems that you faced during the projects based on that knowledge.
The expertise of correct usage of hazardous tools such as mowers, chain saws, stone cutters, welders, augers, log splitters, floor scrubber, cement Mixer, sump pump, pressure washer, compactor, pipe cutters, and threaders is another requirement to be a professional construction worker. So do not forget to reveal that you are an expert in equipment using.
Construction workers usually work in a hazardous environment. Therefore the applicant must be a person who prioritizes safety first. In other words, knowledge about the correct use of safety equipment such as hard hats, steel toe shoes, respirators, gloves, and safety glasses is essential to be a professional in the construction field.
The recruiters love to hire applicants who have excellent physical fitness. They require the ability to lift, push, and pull heavy goods, squat, crawl, and work in awkward positions and confined spaces. Also, you have to use your hands, arms, shoulders, upper/lower back, visual acuity, depth, and color perception without restrictions.
Reveal You are a Skillful Construction Worker
Soft Skills for a Construction Worker Resume
Teamwork skill:- Usually the construction workers have to cooperatively work with the conservation workers, seasonal laborers, and peer workers. Therefore teamwork skill is more important for this position.
Active Listening:- Excellent listening ability is more important to work on dangerous tasks. Because the applicant must listen and understand the correct instructions though they are in a noisy environment.
Problem Solving:- Usually there are one or more supervisors who monitor the construction workers. But the applicants must be able to work independently and solve the immediate problems efficiently. Therefore do not forget to mention you are a great problem solver in your resume.
Organizational Skill:- Handling various types of equipment is a common task of a construction worker. Besides, they are responsible to use the equipment correctly and put them back according to the organized way of the construction company. So you need to inform your recruiters that you are a well-organized applicant in your resume.
Hard Skills for a Construction Worker Resume
The recruiters can understand your talent and abilities related to the construction industry when you insert the hard skills in your resume. Here are some hard skills that can be mentioned in a construction worker resume.
Public Safety and Security
Building and Construction
Equipment Maintenance
Operation Monitoring
Identifying the building process
Identifying material costs
Physical Strength
Technical Competencies
Understanding the design
Quality assurance
Hand-Eye Coordination
Customer and Personal Service
Equipment Selection
Construction reports
Knowledge of Building Codes
Functional Competencies
Interpreting blueprints
Engineering Knowledge
Heavy lifting
Mathematical Skills
Strong Reading
Experience with Technology
Mechanical Knowledge
Project Organization
Personal protective equipment (PPE)
Prove Your Certifications and Licenses
If you can prove that you have the certifications related to the construction industry, you can win your dream job as a construction worker as soon as possible. The recruiters love to see at least the certification name, certified date, and organization under the 'Certifications & Licenses' section of your construction worker resume.
Here are some top certifications that can be included in the construction worker resume.
OSHA certification – Occupational Safety and Health Administration
ACI certification – The American Concrete Institute
Crane Operation Certification – The National Commission for the Certification of Crane Operators (NCCCO)
The Green Business Certification – Leadership in Energy and Environmental Design (LEED)
However, the majority of recruiters request a valid driving license and commercial operator's license (CDL) from the applicants who apply for the construction worker post. So you can mention the details of your driving license under the certification section. You must mention the expiration date of your driving license to ensure it is a valid one.
Add the Powerful Action Verbs in Your Resume Content
Action verbs can make your construction worker's resume a rich content. On the other hand, the given action verbs given in your job post can indirectly help to pass the ATS (Application Tracking System) test Here are some action verbs that can be used to build up the career achievements of your constructor worker resume.
Action Verbs List
Constructed
Performed
Operated
Changed
Cleaned
Assisted
Handled
Removed
Interviewed
Recruited
Repaired
Installed
Replaced
Formulated
Planed
Instructed
Trained
Utilized
Vacuumed
Cut
Attach a Splendid Cover Letter as a Construction Worker
The cover letter is guidance that leads the recruiters to read your resume fully. So there is no matter whether the hiring personnel requests a cover letter from you or not. You can write a perfect cover letter that explains your expertise, your admiration for the construction company, and your uniqueness. Also, do not forget to attach it to your construction worker's resume.
Do you want a complete guide on cover letter writing? Here we have a complete cover letter guide.
Construction Worker Resume Sample (Text Version)
Jack Mateo
OSHA Certified Construction Worker
+(310) 0000 000
jackmateo@example.com
Lewistown, Montana
Linkedin – www.linkedin.com/in/jackmateo/
Professional Summary
The dedicated and hard-working construction worker with 5+ experience in the construction industry who was certified by the Occupational Safety and Health Administration in 2015. Expert in using hazardous tools with caring for safety first. Excellent body fitness assisted to increase team efficiency by 10%.
Work Experience
Construction Worker
McCarthy, Athens – 2015/Jan to Present
Assisted and cooperatively worked with craft workers, plasterers, carpenters, and masons.
Lifted, pulled, and carried 50+ pounds of items more than 30 times. Walked and stood up for more than three hours while performing strenuous physical labor.
Avoided more than 20 hazardous incidents by using safety methods and equipment.
Construction General Laborer
State of Tennessee, Nashville – 2010/Jan to 2014/Dec
Loaded and unloaded hauls materials 50+ times.
Cleaned the working areas, machines, and equipment after the end of each day.
Overcome the immediate problems and reported to the supervisors about them.
Assisted the construction and paving crew to complete the responsibilities assigned by management.
Education
High School Diploma – 2007/Jan to 2009/Dec
Brooklyn Latin School, New York
Skills
Valid driver's license
Power tools
Safety regulation
Own-hand work
Equipment maintenance
Heavy objects Handling
Communication skills
Decision-making skills
Organizational skills
Multi-tasking skills
Problem-solving skills
Time Management skills
Teamwork skills
Leadership skills
Languages
English – Native Speaker
French – Very Good Command
Certifications
OSHA certification – 2015/Jan

Occupational Safety and Health Administration

Want to build a perfect resume by yourself? Click on the below button.

Want to get a perfect Construction Worker cover letter created by an expert?

People who read this also read:

How to write an impressive cover letter

.

Enjoyed Reading?
Help Cresuma cover the server and other costes to continue this 100% Free Service. Show your support below.