Bank Teller Resume Example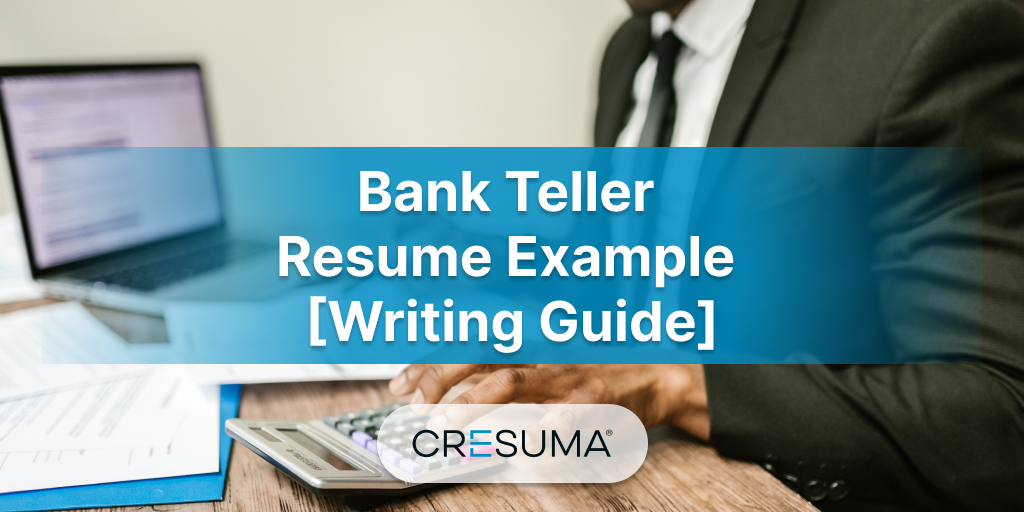 Complete Resume Guide for a Bank Teller
Ask from a Professional Financial Services Representative (Best Tips and Secrets)
Modern Recruitment Process of a Bank Sales, and Service Representative
Bank Teller Resume Example (Text Version)
No hidden costs. Download your ATS-Friendly resume in PDF for absolutely FREE!
Bank Teller Resume
No need to start from the beginning. Edit this resume sample with your information and keywords from the job posting.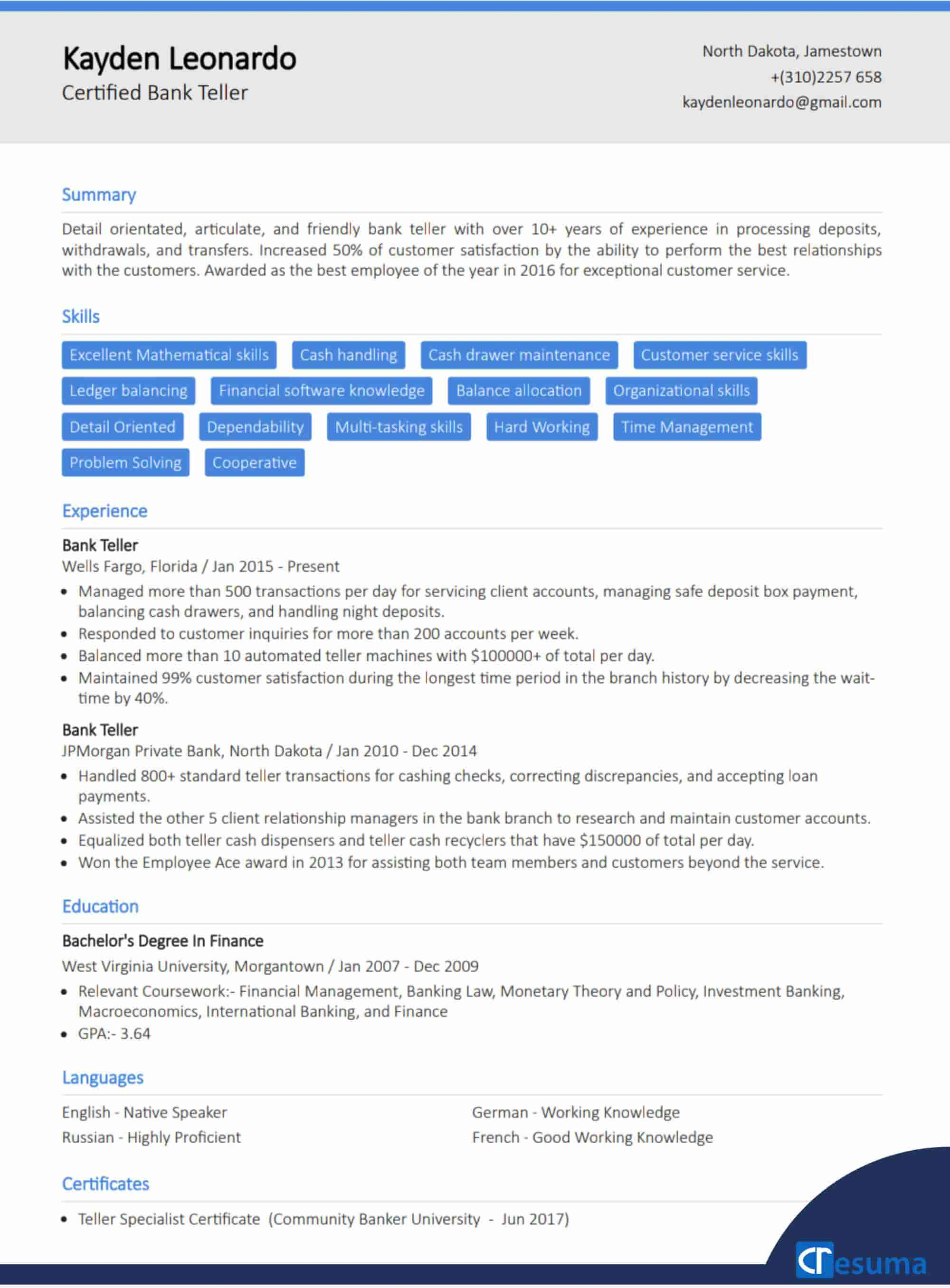 Complete Resume Guide for Bank Teller
Can a Bank Teller Use an Online Resume Template?
Yes, Sure! Any applicant can use an online banking job application template. But when you select an online resume template you have to consider the following factors.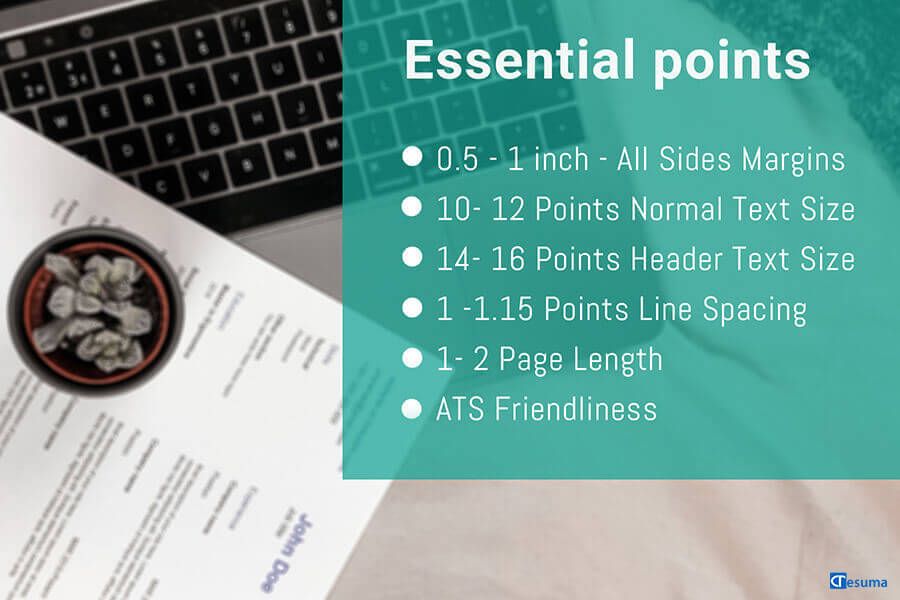 You can ensure the ATS friendliness of your bank teller resume template in three steps. The first step is checking the selectability of your content text. The second step is testing the clickability of the links you provided. The third step is using simple graphics in your template.
The resume font style the bank teller resume template in three steps. The first step is checshould be a clear one. We can recommend Calibri, Georgia, or Helvetica fonts for your bank teller resume.
Do not use shiny and luminous colors in your resume. Because it is a professional document. So apply some calm colors. That enhances the readability of your resume.
The one-page is the perfect resume length for any teller applicant. So, check whether your job application template provides enough space to arrange the main section and extra sections into one page.
Save your job application in a PDF file format. That is the best ATS friendly file format. Also, It is a universal file format.
Do you want to add a photo to your resume? But save your space by selecting a resume template without a photo. Then you can add more professional information to your teller resume.
Only if the recruiters ask you to send a photo, attach a professional-looking photo of you.
How to Create a Perfect Resume Header for a Bank Teller?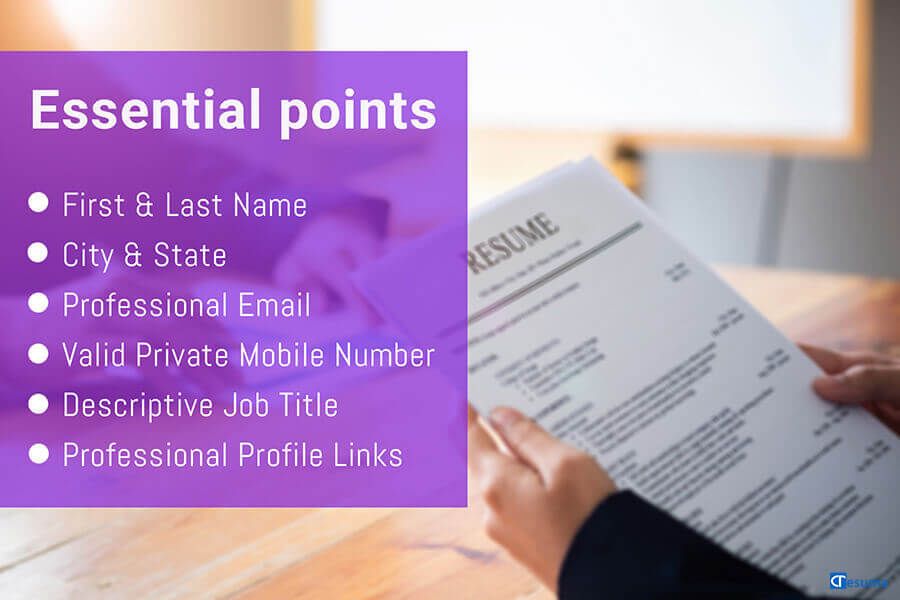 Usually, the resume header can be called the contact information section of the personal banker resume. But there are some rules and restrictions on header content. So, here are some guidelines to build up a perfect resume header. But save your space by selecting a resume template without a photo. Then you can add more professional information to your teller resume.
Full Name – Add only the first and last name and make it the biggest text of the resume.
Job Title – Should be similar to the job title stated in the job advert. That maybe Teller, Financial Services Representative, Cash Management Services Teller, Bank Sales, and Service Representative. Can join a certification or unique skill to enhance the value.
Phone Number – Valid and available phone number. Better to use a personal mobile number.
Email Address – Professional email address is required. If you have no professional email address make a new one right now with a valid email service provider.
Location – Only mention the City and the State. The full address is not needed.
Social media URLs – Optional to mention. Only mention if the accounts are maintained professionally.
Irrelevant information – Personal information, salary expectation, beliefs, and creed details are not necessary to include on your resume. Only mention if the job advertisement requires them.

What to Include in the Bank Teller Summary for Resume?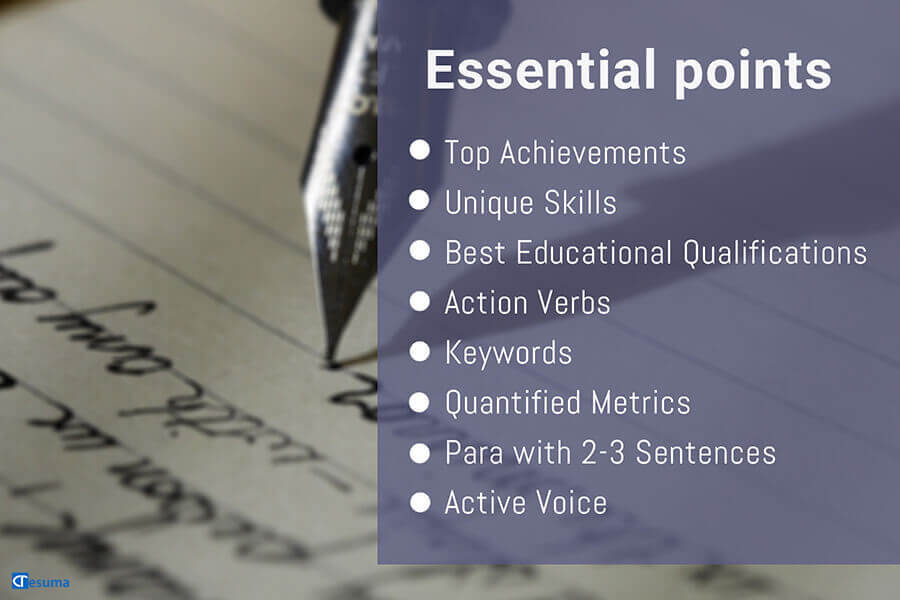 The summary statement provides an overview of the applicant. That shows top career achievements, unique skills, and the highest educational qualifications to the recruiters.
The purpose is drawing the attention of the hiring personnel to read your resume further.
You can write a perfect resume summary. by using keywords, quantified metrics, and action verbs. Quantified metrics are numeric values such as years, percentages, and amounts.
Example from an Expert

Summary
A bank teller with 10+ years of experience who can manage the process of depositing, withdrawing and transferring, and other banking duties in a detail-orientated, articulate, and friendly manner. Awarded as the best employee of the year in 2018 for increasing 50% of customer satisfaction by the best customer service.
Can Bank Teller Duties Include in the Work Experience Section
No, never! The recruiters always seek experienced applicants. Also, they are fond of knowing the career victories the applicants have achieved. So never list down the teller duties and responsibilities in your a perfect resume summary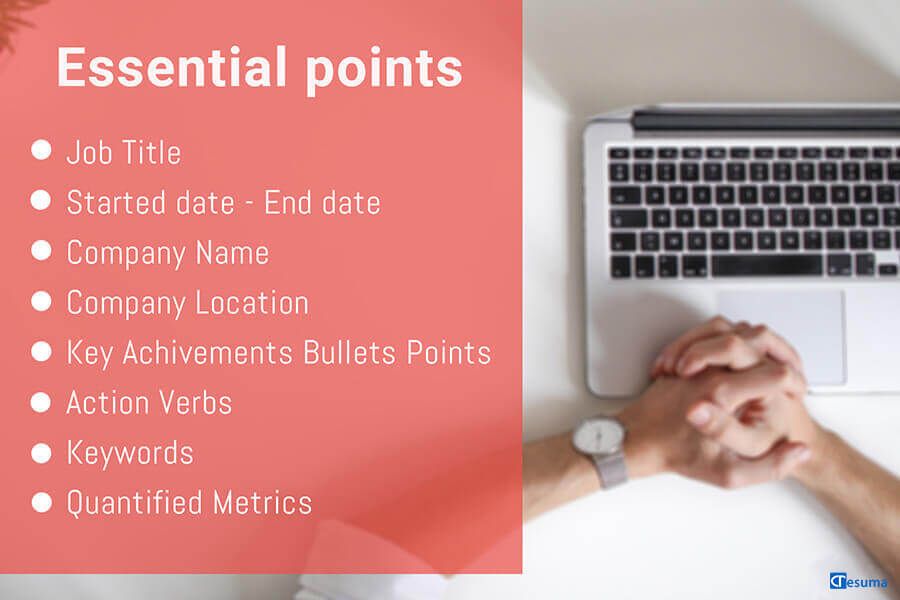 You can use the following guideline to arrange your work experience section well.
Select only the recent and relevant career history of the last 10 years.
Share the employment duration, company name, and location under each job title.
Share more than 3 but less than 6 bullet points of career achievement.
Do not repeat the same achievement again and again.
Apply the keywords and relevant action verbs to enhance the value of your banker resume.
Use the quantified metrics such as years and percentages as possible.
Example from an Expert

Work Experience
Bank Teller – 2016/Jan to 2018/Dec
Raymond James, New York
Handled more than 800 transactions for cashing checks, accepting loan payments, and balancing cash drawers per day.
Used more than 3 modern software and tracked bank information to generate reports.
Decreased the wait-time by 50% that caused the customer satisfaction level to increase by 40%.
Assisted both customers and teammates more than the service and it caused to win the best employee of the year award in 2016.
How to Build up the Greatest Career Achievements for a Teller?
Excellent practice in using office equipment
You can highlight your ability to use common office equipment and machines. They are typewriters, telephones, printers, photocopiers, and fax machines. Especially explain the situations of using unique machines for a teller. They are the currency counter, coin sorter/counter, and an encoder.
Prior experience in related jobs
Have you ever worked as a Customer Service Representative, Administrative Assistant, Sales Associate, Personal Banker, Cashier, Assistant Manager, Office Manager, Server, Internship, or Receptionist? If yes, that will be a great chance to show your experience. Because those jobs are much similar to the bank teller position.
Caring for the safety first
The financial services representative usually handles both local and foreign currency. So he is responsible to handle money safely. Have you ever caught or stopped a robbery or a misuse of money in your career life? Then you can explain that situation by mentioning the amount you have saved for the bank. Your safety methods will impress your recruiters.
What are the Bank Teller Job Requirements in the Academic Sector?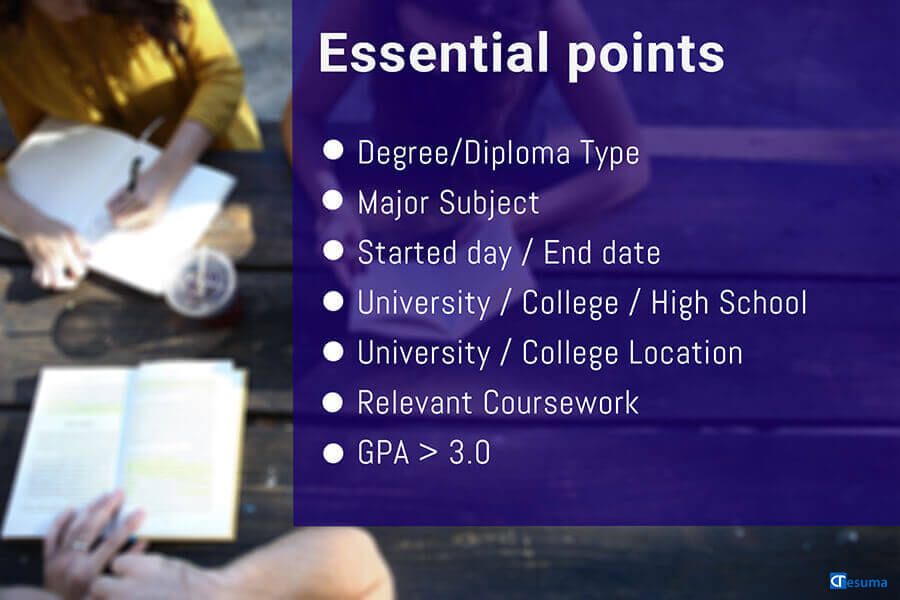 Usually, the recruiters required a High school diploma, general education degree (GED), or equivalent from a financial services representative. It is the minimum educational qualification.
Do you have a degree in finance or an equivalent area? So, Arrange your education details from the highest qualification to the lowest. But only mention recent and relevant academic qualifications.
A good educational section contains the type of degree or diploma, the majors, organization or university name, location, and the studied duration.
Other than that you can mention the relevant coursework and your GPA (only if it is higher than 3.0) as the extra details. Because they enhance the value of your resume.
Example from an Expert

Education
Bachelor's Degree in Finance – 2014/Jan to 2016/Dec
West Virginia University, Morgantown
Relevant Coursework:- Banking Law, Macroeconomics, Financial Management, International Banking and Finance, Investment Banking, Monetary Theory and Policy, Treasury Management
GPA:-3.56
What are the Key Soft Skills for Banking Operations?
Time Management:- The day of a financial services representative is divided into several duties. They are handling customers, foreign currency exchange, safe-deposit boxes, reconciling cash drawer, counting paper currency & coins, marketing new services, announcing product promotions, and making referrals to other branch members. Therefore the applicant needs to manage the time well.
Customer Service skills:- The financial services representative should have perfect customer service skills such as handling bank deposits, loan payments, withdrawals, cash checks, cashier's checks, and issues of individual accounts.
Communication skills:- The bank teller should be able to read, write, and comprehend simple instructions, memos, and short correspondence. Also, he is responsible to present information to clients, customers, and other employees of the organization. So, both written and verbal communication is a must for an applicant.

Basic computer skills:- The teller has to engage with the computer daily. Especially in job-related software, office package, database software, and internet software. When you mention your expertise in the Office package, try to reveal the competency level as follows.
MS Word – Advanced Level
MS Excel – Intermediate Level
MS PowerPoint – Basic Level
Basic Mathematical Skills:- The ability to add, subtract, multiply, and divide the units of American money, volume, distance, and weight is a must for a bank teller. So, reveal that you are good in basic mathematics.
It is important to note that more skills will give you more interview chances. So try to add at least 8-10 skills including both soft and hard skills.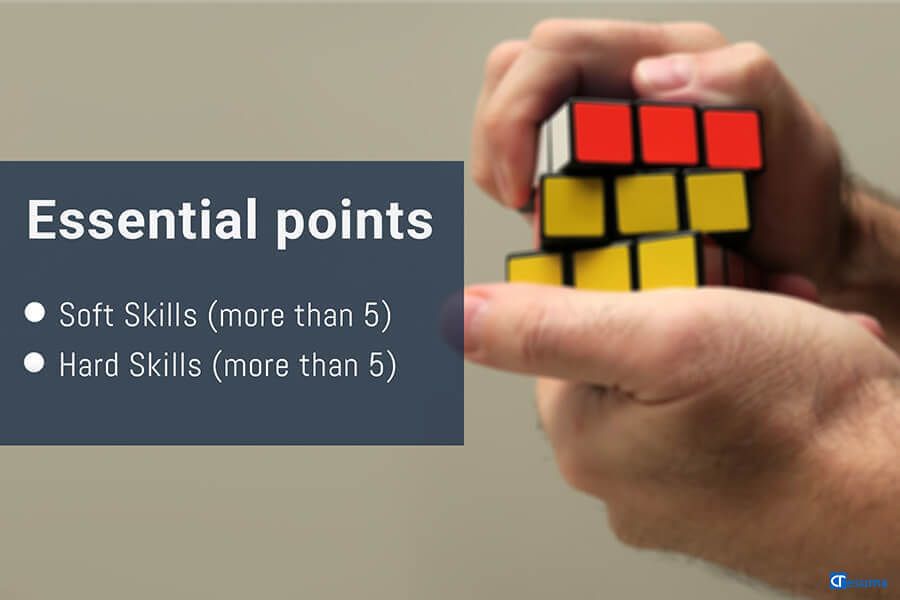 What are the Hard Skills of a Bank Teller?
There are many technical or hard skills connected with the banking and financial field. So the applicant who is dreaming to be a professional financial services representative should hold the following hard skills and software requirements.
Hard Skills
Cash handling
Excellent Mathematical skills
Ledger balancing
Financial software knowledge
Balance allocation
Cash drawer maintenance
Proficient in Data entry skills
Petty cash management
Fast typing (include words per minute)
Mortgages and Loans
Deposits and Withdrawals
Investments
Safety Deposit Boxes
Risk Assessment
Account Maintenance
Foreign Currency Exchange
Telephone systems
Software Requirements
Vertex Teller,
CRM
Outlook
Cisco Jabber
Bank software
Microsoft Office, specifically Excel
How to Create a Resume with no Experience for a Fresher Teller?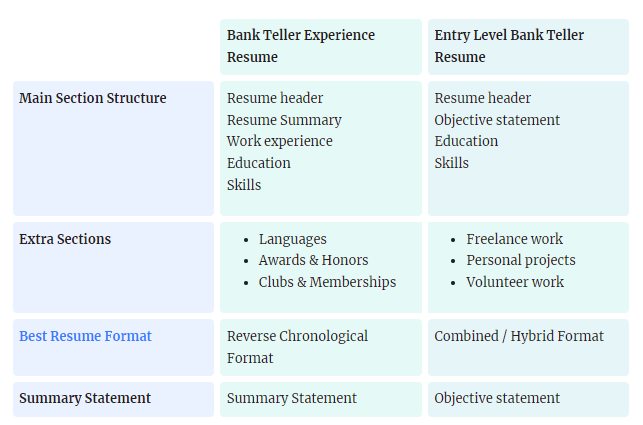 What to Include in the Resume Objective of a Bank Teller?
The career objective is suitable for an intern, junior, entry-level, college student, or fresher bank teller. So, they can include the skills, educational achievements, and other unique qualifications related to the banking and office administration field.
Also, use powerful action verbs, keywords, and numeric values to enhance the worth of your entry-level bank teller resume.
Are You a Certified Bank Teller?
You can mention any certification related to the banking field or the financial services representative position such as 'teller specialist certification'. Because certifications will increase the value of your job application more than you think.
Therefore, try to mention complete and reliable details of the certification in the 'Certifications & Licenses' part.
It is better to reveal at least the certification name, certified year, organization, and location. Furthermore, you can share the certification URL also as proof.
The default certification section has shown below.
(Certification Name) – (Certified Year)
(Certified Organization Name), (Location)
URL – (Certification URL)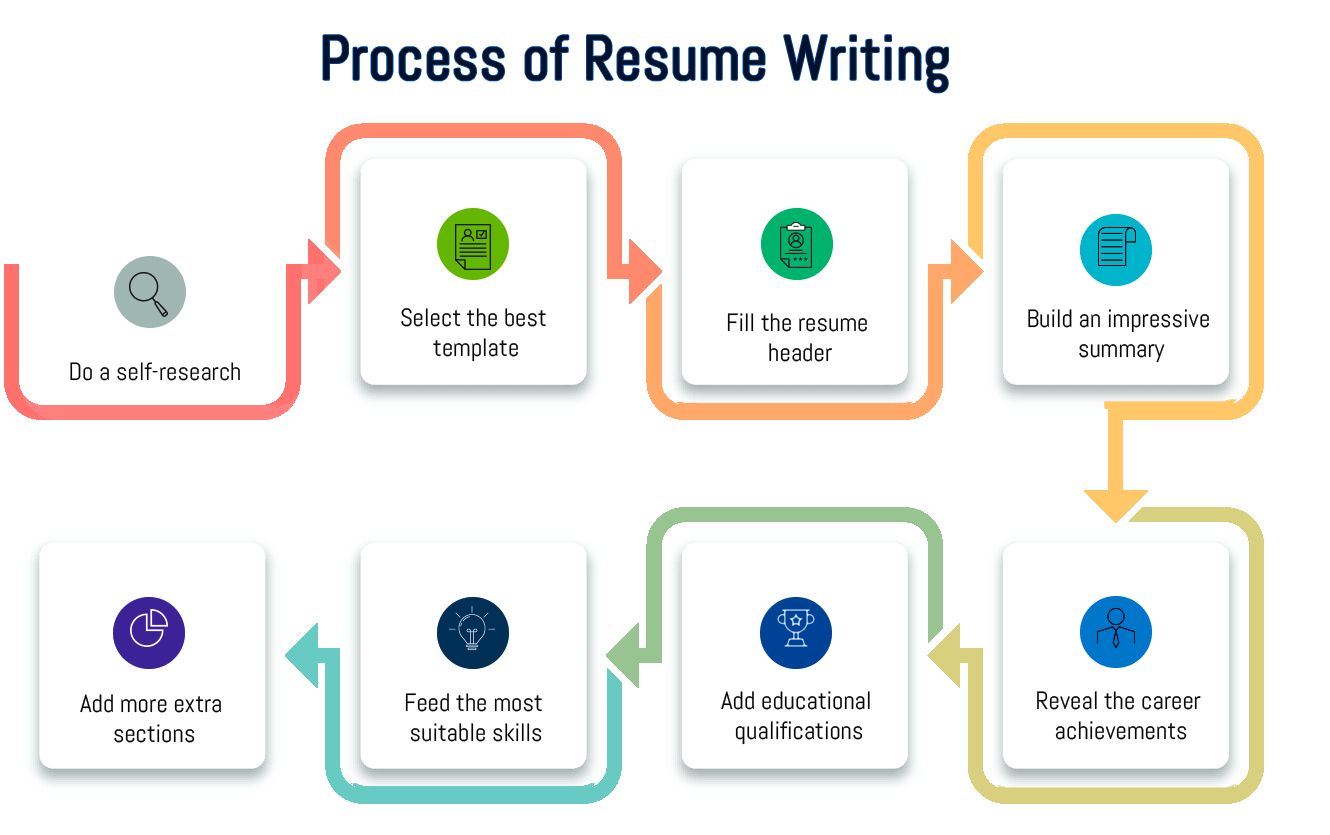 Resume Tips from a Professional Financial Services Representative
Tip #01:- Do a Self – Research about the position
The main purpose is to get more job opportunities. Both government and private banks hire bank tellers. But the requirements of the banks can be different.
Just submitting a common resume for a teller will never give you the interview chances. That means you should tailor your job application based on the recruiters' requirements.
First, you can use the job advert. Also, the official profiles of the bank such as LinkedIn, Twitter, Facebook, and the web page give you many details. The current employees and customers notice the real-time information about the bank.
For example, if you understand that the bank has a huge customer base, you should highlight your ability to handle several clients.
Tip #02:- Add keyword in your Teller Resume
First, collect the most suitable keyword for your teller position. The job post is the perfect source to collect the keywords.
The given keywords can be different from one job advert to another. So, read your job post well. You will meet some words that represent the objects, people, processes, skills, and qualifications linked with the bank teller position. Gather those words separately.
Then, connect them to your resume content. Especially, use them in your career achievements in summary statements, work experience, or other sections.
The following sample image will help you to understand the keywords.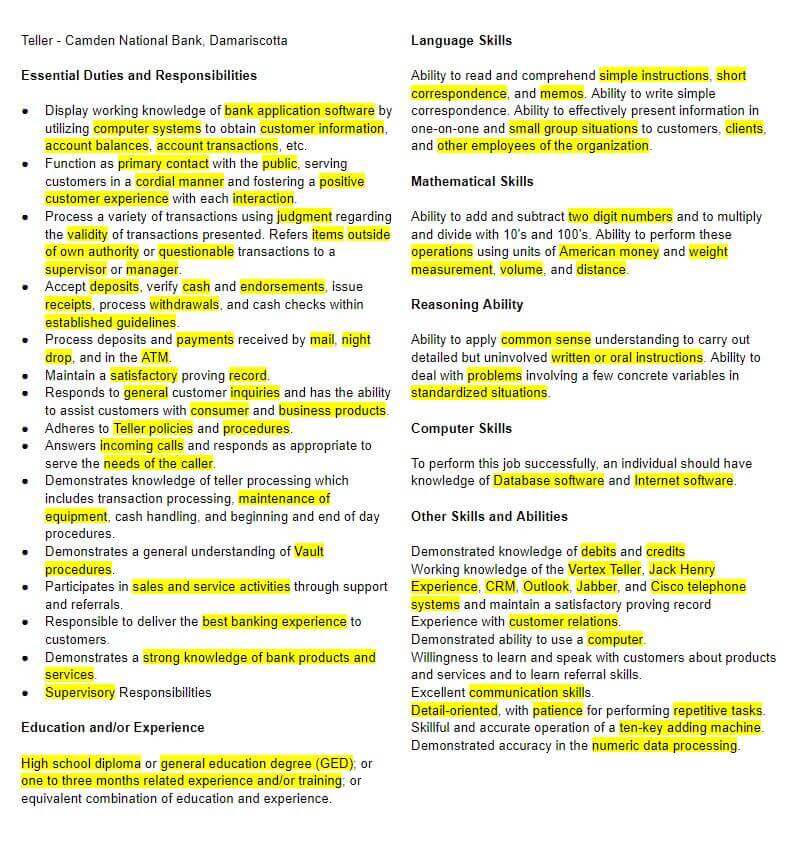 Tip #03:- Use Action Verbs
The job advert is the best way to find out the powerful action verbs for a teller. Especially, you can find out many action verbs in the teller duties and responsibilities section.
The action verbs provide a professional tone to your resume content. So, start the bullet points of your achievements from a powerful action verb.
You can refer to the following sample job advert for a better understanding.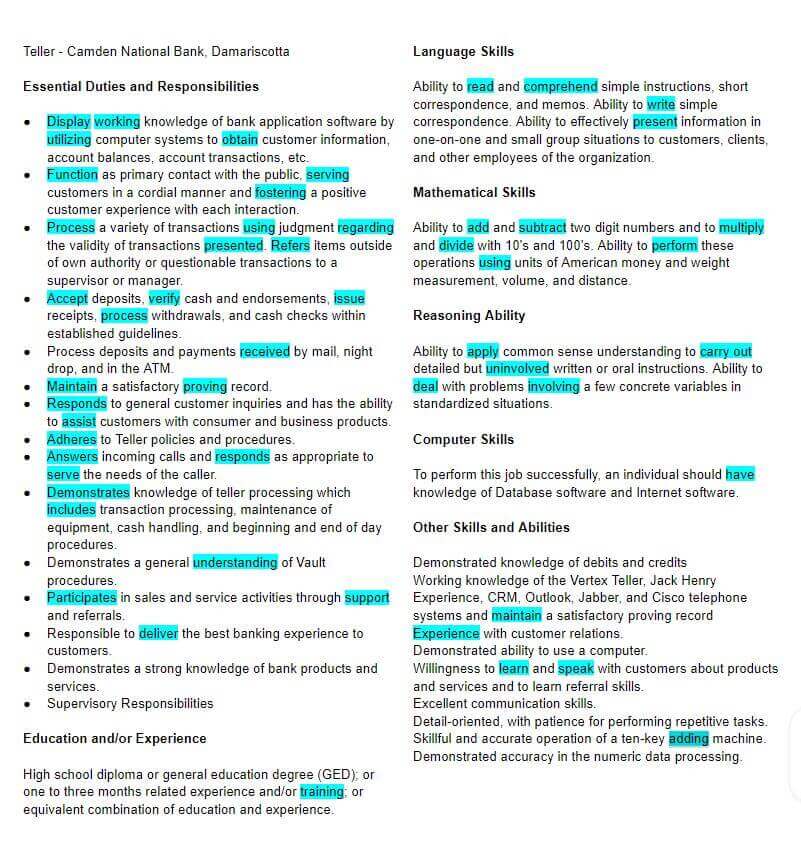 List of common Action Verbs
Answered
Assisted
Balanced
Collaborated
Calculated
Corrected
Counted
Communicated
Deposited
Documented
Ensured
Exchanged
Helped
Informed
Managed
Notified
Shifted
Tracked
Updated
Verified
Tip #04:- Send a Bank Teller Cover Letter with your Resume
The cover letter is an indirect way to impress your banking recruiters. It provides a chance to communicate with your hiring personnel in a friendly way. But just writing a letter is not enough.
Reveal that you researched on the bank and got much positive feedback from their employees and customers. Admire their goodwill and sustainability in the banking field.
If you can find out the name of the hiring manager of the bank, address him directly in your cover letter. Sure! That will impress him.
So, why don't you write a perfect cover letter for the bank teller position and attach it to your resume?
Modern Recruitment Process of a Bank Sales, and Service Representative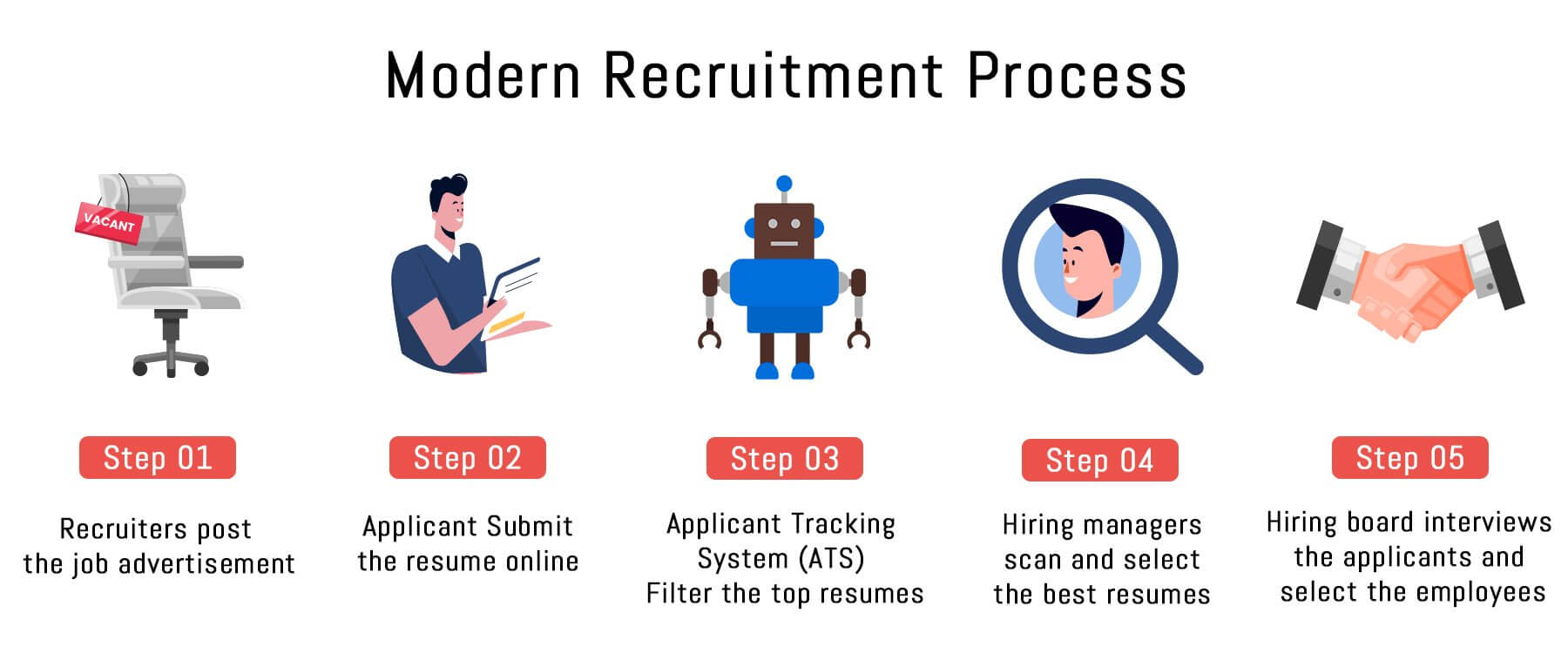 Overview
Nowadays, the majority of recruiters who are hiring bank tellers, use the online method. That means they send the job advert online. Also, they receive resumes online.
Especially, the bank managers use the Applicant Tracking System (ATS) to filter the thousands of resumes that they received. The ATS helps them to choose the top resumes from the bulk.
Therefore, you should consider the recruiters and ATS when you create your bank teller resume.
Salary of a Bank Teller
The average salary of a bank teller is $30,495 (USD) per year. But the entry-level bank teller salary can be different. Because you can earn more wages based on your experience. Also, different banks provide slightly different wages.
Do not mention your salary expectation in the bank teller resume. But if the banking recruiters request you to mention your salary expectation, mention a fair salary based on your experience and certifications.
Bank Teller Resume Sample (Text Version)
Kayden Leonardo
Certified Bank Teller
+(310)2257 658
kaydenleonardo@example.com
North Dakota, Jamestown
Summary
Detail orientated, articulate, and friendly bank teller with over 10+ years of experience in processing deposits, withdrawals, and transfers. Increased 50% of customer satisfaction by the ability to perform the best relationships with the customers. Awarded as the best employee of the year in 2016 for exceptional customer service.
Work Experience
Bank Teller
Wells Fargo, Florida – (2015/Jan to Present)
Managed more than 500 transactions per day for servicing client accounts, managing safe deposit box payment, balancing cash drawers, and handling night deposits.
Responded to customer inquiries for more than 200 accounts per week.
Balanced more than 10 automated teller machines with $100000+ of total per day.
Maintained 99% customer satisfaction during the longest time period in the branch history by decreasing the wait-time by 40%.
Bank Teller
JPMorgan Private Bank, North Dakota – (2010/Jan to 2014/Dec)
Handled 800+ standard teller transactions for cashing checks, correcting discrepancies, and accepting loan payments.
Assisted the other 5 client relationship managers in the bank branch to research and maintain customer accounts.
Equalized both teller cash dispensers and teller cash recyclers that have $150000 of total per day.
Won the Employee Ace award in 2013 for assisting both team members and customers beyond the service.
Education
Bachelor's Degree in Finance – (2007/Jan to 2009/Dec)
West Virginia University, Morgantown
Relevant Coursework:- Financial Management, Banking Law, Monetary Theory and Policy, Investment Banking, Macroeconomics, International Banking, and Finance
GPA:- 3.64
Certifications
Teller Specialist Certificate (2017/Feb)
Community Banker University
Skills
Excellent Mathematical skills
Cash handling
Cash drawer maintenance
Ledger balancing
Customer service skills
Financial software knowledge
Balance allocation
Computer Skills
Flexibility
Organizational skills
Teamwork skills
Oral and written communication
Problem Solving
Time Management
Analytical skills
Languages
English – Native Speaker
German – Working Knowledge
French – B2
Russian – Highly Proficient
People who read this also read: