Interior Designer Resume Example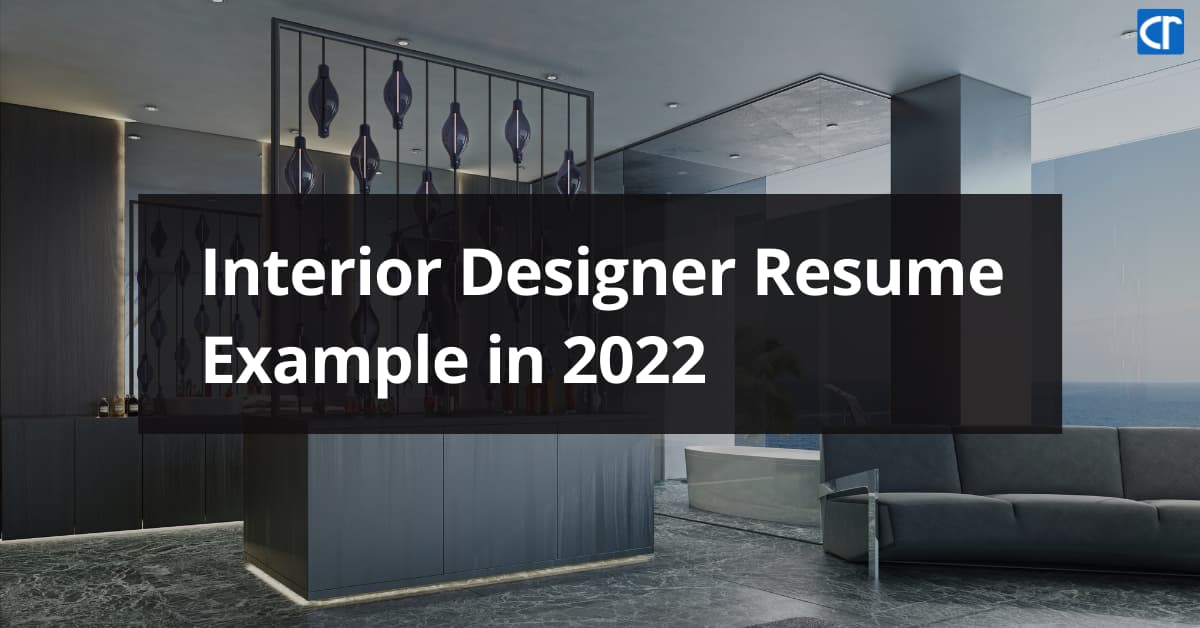 Creating well designed homes and offices is your expertise. But creating a well designed resume isn't probably. Therefore read this resume guide to learn how to sell yourself to land a top interior designer position.
Interior Designer Resume
No need to start from the beginning. Edit this resume sample with your information and keywords from the job posting.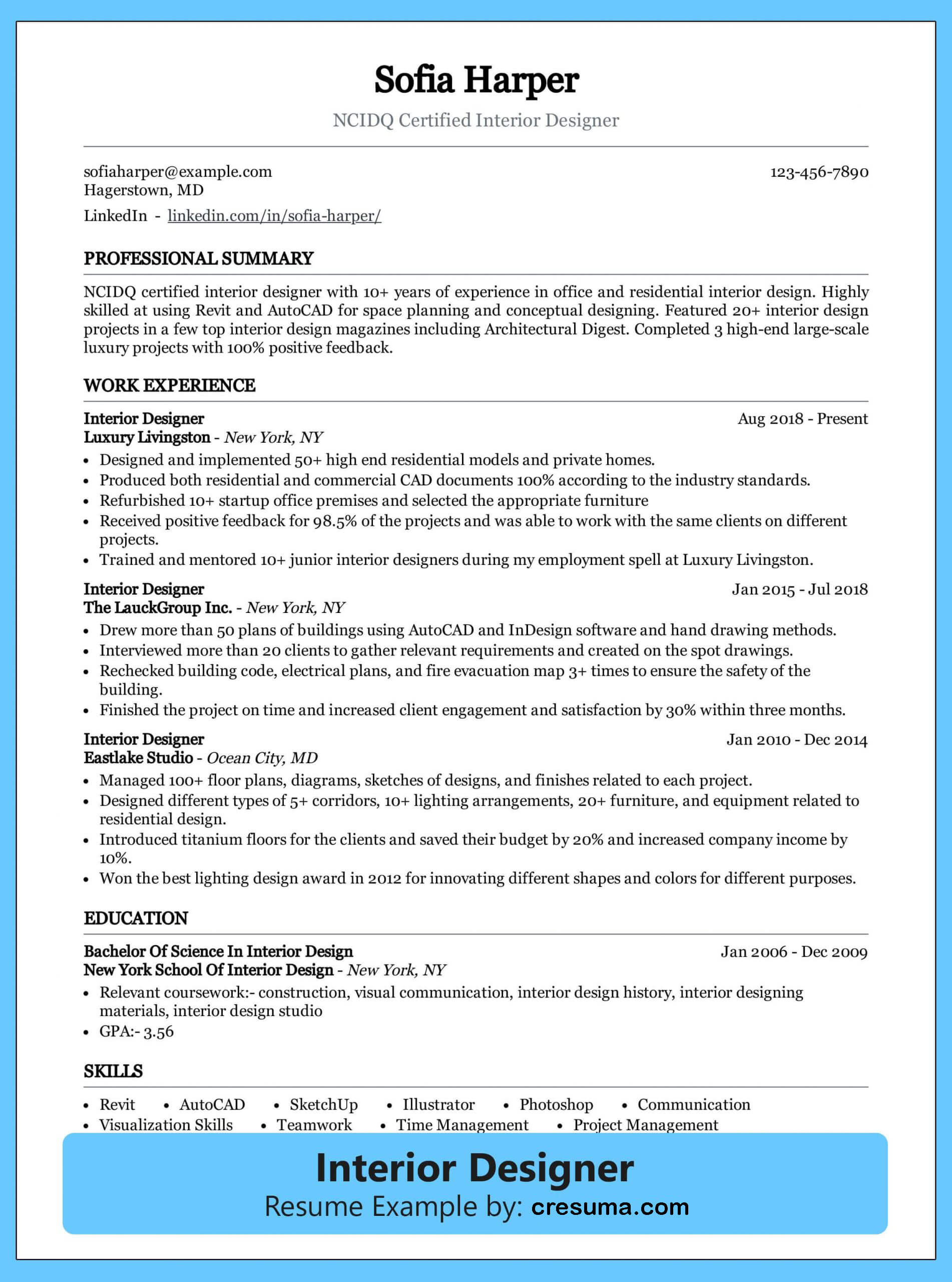 Who does not want to be an interior designer? It is a dream job for most people. But it is somewhat difficult to achieve even though many people are qualified. But after reading this interior design resume guide, you will understand that it is not that difficult to get an interior design job if you are really qualified.
How to write an interior designer resume
First let's see what are the resume sections that need to be included to make your resume an impactful one.
Resume header
Profile summary
Work experience
Education
Skills
Additionally, you can use optional sections dedicated for Certifications and Awards to make your resume further stand out. You just need one page to fit all this information in order to create an excellent resume at the end.
Now let's learn how to make a great interior design resume in a few simple steps.
Include your contact information on resume header
If you apply for an opening at an architectural firm and the recruiters are satisfied with you, they will definitely look at your resume's header to get the contact details of you.
What information should be on an interior design resume header?
Full name (first and last)
Job title
Phone
Email
Location
LinkedIn URL
Portfolio link
In some job advertisements, the same job can be also called Interior Decorator. When applying the job title to your resume, try to use the name mentioned in the job ad. That makes your resume more relevant to the job you are applying for.
The phone number and the email address are some very important details on your resume. These two should be very accurate because the recruiter uses these details to get in touch with you in the future.
It's not necessary to mention your full address with streets and other details. Just mention the city and state. The hiring managers just need to know whether you are close to the office or not.
LinkedIn is a great professional network that you should use. If you haven't a profile, sign up to LinkedIn right now. Adding your LinkedIn profile to your resume header will enable hiring managers to know more insights about you.
A superb interior design portfolio demonstrates to the hiring managers why the specific candidate should be hired by their company. An interior design portfolio exhibits the personality and planning abilities of an interior designer. A portfolio contains more images than words and focuses on demonstrating an individual's style and creativity.
Therefore adding a portfolio link in your interior designer resume is a great trick to grab the recruiter's attention.
Write a creative resume summary for interior designer job
In a resume summary, you should summarize and showcase some of the best career achievements you have made in your interior design career and you are most proud of.
In addition, you can add the following information to your profile:
Your passion towards interior designing and the area of focus.
Technologies and tools you are most skilled at.
Awards and recognitions for your design work.
Mention the years of experience you have to demonstrate your expertise.
The following interior designer resume summary sample has been created by adding the information above.
NCIDQ certified interior designer with 5+ years of experience in office and residential interior design. Highly skilled at using Revit and AutoCAD for space planning and conceptual designing. Featured 20+ interior design projects in a few top interior design magazines including Architectural Digest. Completed 3 high-end large-scale luxury projects with 100% positive feedback.
But what if you have little or no experience with interior design projects?
Then you should go with a resume objective.
Do you know how a resume objective differs from a resume summary? In a resume objective statement you should prioritize your skills and explain how you can become a top candidate for the relevant organization since you have not enough experience to show. You can describe your school design projects and publications for popular magazines.
Do you have any volunteering experience or freelancing interior designing experience? Feel free to specify them in a word or two.
Here's an example of an effective interior design resume objective statement:
Interior designer with 2 years of freelancing and volunteering experience and with an excellent eye for design. Completed interiors for 5 different tech startups with 95% positive feedback. Contributed to Architectural Digest a few times with 100K articles views.
Let's move on to the interior designer resume work experience section.
Showcase your valuable interior design experience
The resume work experience section is one of the most important sections in your interior designer resume. If you want to get a good job in the architecture industry, your previous experience will be a great help. So when describing your work experience, don't forget to highlight your project management and technical skills and turn it into an impressive resume.
If the details are properly entered, this section is sufficient for the recruiter to measure your skills and abilities.
Here you need to write the name of your previous company/organization, location, employment dates, the job title you held, and achievements you've made under that job title.
One of the mistakes that many interior designer applicants make when creating their resume work history section is to list the duties and responsibilities assigned to them in their previous positions. This is really something you should not do as a competitive interior designer candidate. Instead, all you have to do is list the achievements you have made in each position.
Here are some more tips to write your killer resume work experience section:
Don't mention your experience 15 years ago. Just mention the latest and the most relevant.
List your experience in a reverse-chronological order (most recent experience first)
Avoid inserting more than 5 achievement bullet points under one job.
Always start your achievements with strong resume action verbs.
Quantify your interior designing accomplishments whenever possible.
List of interior designer resume action verbs
Delivered
Trained
Managed
Oversaw
Ensured
Designed
Decorated
Created
Exceeded
Reviewed
Planned
Monitored
Organized
Coordinated
Mentored
Built
Rendered
Refurbished
Remodelled
Here's a great work experience example for an interior designer resume:
Interior Designer
Luxury Livingston, New York, NY
August 2018 – September 2023
Designed and implemented 50+ high end residential models and private homes.
Produced both residential and commercial CAD documents 100% according to the industry standards.
Refurbished 10+ startup office premises and selected the appropriate furniture
Received positive feedback for 98.5% of the projects and was able to work with the same clients on different projects.
Trained and mentored 10+ junior interior designers during my employment spell at Luxury Livingston.
For someone with tons of experience, it is not really a big deal to have a better work experience section than the sample given above. But what if you do not have much experience or you are a recent college graduate? The following tips are for you.
List volunteering and freelancing projects you did for free for nonprofit organizations, friends and family, or small businesses.
Describe what helped you design your portfolio.
If you have no relevant experience, describe your experience which can highlight your project management or administrative skills.
Briefly present your experience in handling interior designing software.
Mention your paid/unpaid internship experiences.
List your relevant education qualifications as an interior designer
If you have a lot of interior design related experience, the education section will not be a crucial job winning factor. But if you are an entry level applicant, the education section of your resume. will play a major role in your job hunt.
Usually to become an interior designer you are required to have a Bachelor of Arts (BA), Bachelor of Science (BS), or Bachelor of Fine Arts (BFA) in Interior Design or any other related degree.
When you list your education qualifications keep in mind to specify the following details.
Name of the degree program
Name and the location of the institute
GPA (Only if it is above 3.0)
Related coursework
Extra curricular activities and achievements at the college
See the below sample resume education section and get inspired to write yours:
Bachelor of Fine Arts (BFA) in Interior Design
New York School of Interior Design, New York, NY
January 2011 – December 2014
Related coursework: History of interior design, Environmental controls, Contract documents, History of furniture, Color theory
If you have a masters qualification or a special qualification in design, be sure to mention them too. They will be boosters to make your resume a winning one.
Showcase your interior designing hard and soft skills
Every architect firms and interior designing companies try to recruit skilled people when hiring employees to their organizations. So it's very important to convince the hiring manager that you are a candidate with the specific skills requirement.
The most important thing is whether you are armed with relevant skills. Therefore, no matter which position you are applying for, such as a commercial or residential interior architect, check the skills required by the applicants in the job advertisement. If you really have those skills, give them more space in your interior designer resume skills section.
Most in-demand interior design resume skills
Soft Skills
Communication
Interpersonal skills
Attention to detail
Teamwork / collaboration
Time management
Creativity
Organization
Negotiation
Problem solving
Artistic eye
Hard Skills
Autodesk Revit
AutoCAD
Photoshop
InDesign
2D / 3D drawings
Sketching
Vendor management
Project management
Design drafting
Sketchup
ADA standards
Technical drawing
Space planning
Live Home 3D
Real estate
Property safety codes
Structural design
Do not include all these skills in your resume Read the job ad carefully and include only the skills required and a few other related skills to give a shine to your resume.
Consider inserting a few certifications
As a designer, you have to differentiate yourself from the other job seekers in the job competition. What is your uniqueness or the competitive edge?
This is why you need to be certified in your job field. Having an industry recognized certification for your name is undoubtedly an added advantage for you to get hired as an interior designer of a top architect firm.
Most in-demand certifications for an interior designer resume:
Certified Interior Designer (CIDQ)
National Council Certified Interior Designer (NCIDQ)
Certified Interior Decorator (CID)
Certified Kitchen and Bath Designer (NKBA)
Residential Interior Design Qualification Certification (DSA)
Certified Real Estate Inspector (ASHI)
Certified Planning Engineer (AAPM)
LEED AP Building Design + Construction (GBCI)
Few last tips for a winning interior designer resume
01. Use keywords!
Before getting started to write your resume, you should carefully read the job advertisement and highlight the important keywords if there are any.
They could be qualifications or required skills. Just highlight them! They are very important to be in your interior design resume. That will undoubtedly help you to get past the ATS scan. Applicant tracking systems are basically looking for keywords in resumes.
And remember that you should tailor your resume with keywords for each and every job you are applying for. A single resume will not fit all jobs even with the same job title.
02. Don't make your interior design resume super fancy.
Maintain a minimal and easy-to-read resume design. If the recruiter feels your resume is too much, they will most likely go on to the next resume on the big resume pile.
However, that doesn't mean you can't be creative. You can do the following to make your resume look more modern and clean.
Finally our advice for all the interior designer job seekers is that your resume should be simple as well as professional. Your resume design should not outshine your qualifications, skills, and experiences.
That's the end of our interior designer resume guide.
We hope you now have the ability and knowledge to write a great resume. If you still have problems with resume writing, we invite you to read our complete resume guide.
Or are you ready to create your interior designer resume right now? Build Your Interior Designer Resume Now
Interior Designer Resume Sample (Text Version)
Sofia Harper
NCIDQ Certified Interior Designer
Maryland, Cambridge
Maryland, Cambridge
Linkedin:- https://www.linkedin.com/in/sofiaharper/example/
Professional Summary
A creative interior designer with 5+ years of experience in residential, hospitality, and environmental design. An active member of the 'Tino Zervudachi' interior project in 2018 and received the NCIDQ Certification in 2016. Expert in AutoCAD, Adobe Suite, and InDesign. Awarded as the best lighting designer in 2012.
Work Experience
Interior Designer
The LauckGroup, Inc., New York – 2015/Jan to Present
Drew more than 50 plans of buildings using AutoCAD and InDesign software and hand drawing methods.
Interviewed more than 20 clients to gather relevant requirements and created on the spot drawings.
Rechecked building code, electrical plans, and fire evacuation map 3+ times to ensure the safety of the building.
Finished the project on time and increased client engagement and satisfaction by 30% within three months.
Interior Designer
Eastlake Studio, Chicago – 2010/Jan to 2014/Dec
Managed 100+ floor plans, diagrams, sketches of designs, and finishes related to each project.
Designed different types of 5+ corridors, 10+ lighting arrangements, 20+ furniture, and equipment related to residential design.
Introduced titanium floors for the clients and saved their budget by 20% and increased company income by 10%.
Won the best lighting design award in 2012 for innovating different shapes and colors for different purposes.
Education
Bachelor's Degree in Interior Design – 2006/Jan to 2009/Dec
New York School of Interior Design, New York
Relevant coursework:- construction, visual communication, interior design history, interior designing materials, interior design studio
GPA:- 3.56
Skills
Revit
AutoCAD
SketchUp
Illustrator
Photoshop
Communicational Skills
Designing Skill
Visualization Skill
Teamwork Skills
Time management skill
Project Management
Budget Management
Languages
English – Native Speaker
Spanish – Highly Proficient
Chinese – Very Good Command
Russian – Working Knowledge
Certificates
The Council for Interior Design Qualification (CIDQ) Certification – 2016 Feb
Council of Interior Design Qualification
People who read this also read: