Customer Service Representative Resume Example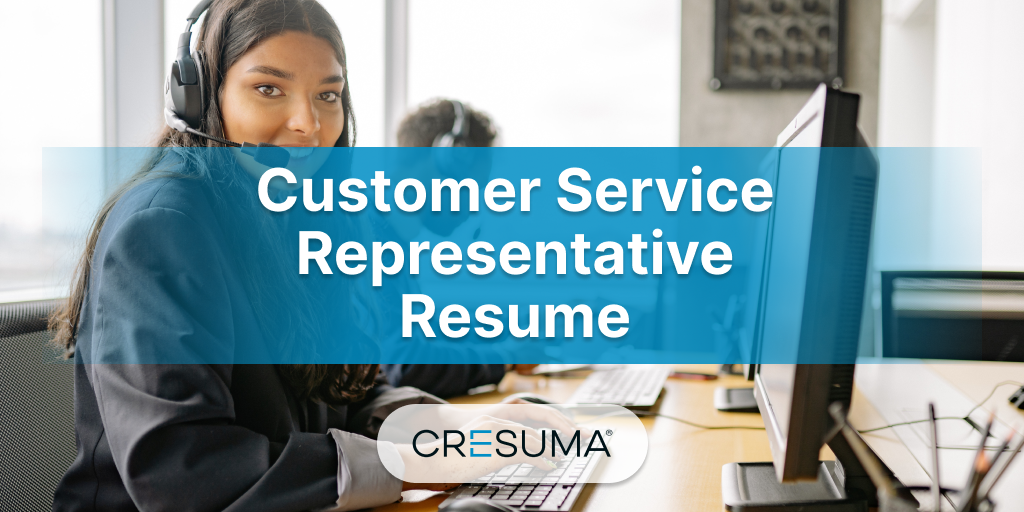 Are you a tolerant person with problem-solving and communication skills? If so, the best job field for you is the customer service field. This guide will be very important for you to know how to write your customer service representative resume accurately and competitively to get noticed.
Customer Service Representative Resume
No need to start from the beginning. Edit this resume sample with your information and keywords from the job posting.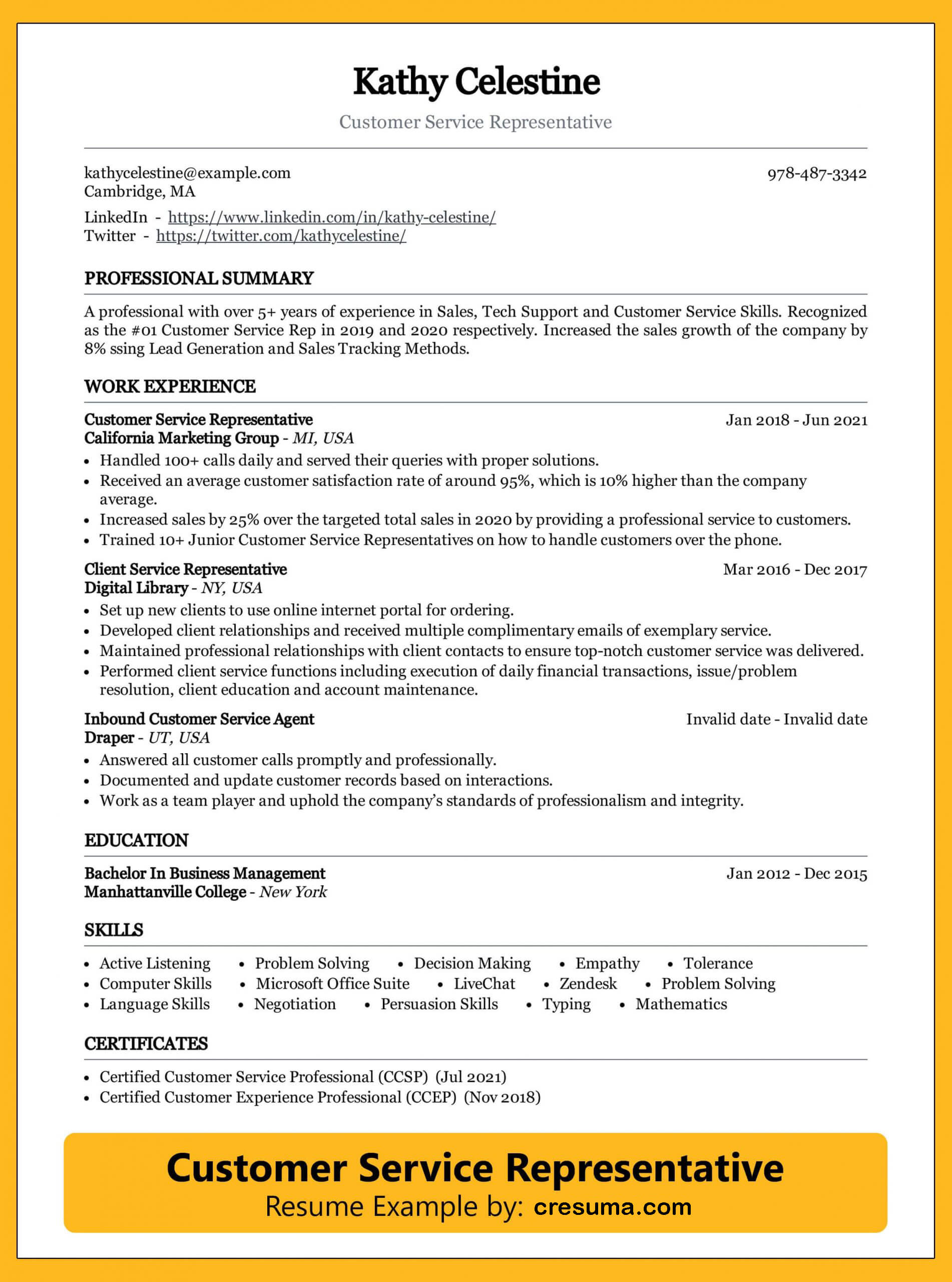 Winning customer service representative resume in 5 short steps
It is important to know the basics of resume writing before making your customer service application. Then you can read this resume guide and have a lot of positive results for your job search

.

You usually write a resume with the intention of getting a job quickly, applying for a higher position in another company, or incurring your salary. Through this guide, we try to give you the ability and knowledge to design a resume that will fulfill your goals mentioned above. We hope you use that knowledge to create a winning resume nurtured by Customer Service resume keywords.
01. Target your future job and write the resume summary accordingly
The primary purpose of writing a resume is to notify employers of you as a good investment. So the best way to let your prospective employers know is to write a good resume summary. It makes it easier for you to get their attention.
A successful customer service representative's resume usually includes 3-4 sentences. There you should describe how much experience you have in the relevant field, the job duties you have successfully completed and the results you have obtained through it, whether you are a qualified person for that job and what skills you have related to it, etc. If you do this right, you will be able to stand out from the crowd.
See the below resume summary as an example.
Customer Service Resume Summary
A professional with over 5+ years of experience in Sales, Tech Support and Customer Service Skills. Recognized as the #01 Customer Service Rep in 2019 and 2020 respectively. Increased the sales growth of the company by 8% using Lead Generation and Sales Tracking Methods.
See the complete resume summary guide
02. Write your career achievements in work experience section
One of the mistakes that most people make when making their customer service rep resume is to present the duties and responsibilities assigned to them in the work experience section. It really shouldn't be. Because recruiters are specialists in jobs. They know what the duties of jobs are.

.

Instead, if you can describe the achievements you have made as a customer service rep at the companies you have worked for before, it will be very easy to get their attention through it. You can make your work experience section stand out further by presenting those achievements using quantified results.

If you have any results from any of the actions you have taken in your previous employment, show it with a few bullet points. Do you still have a problem with what to present in bullet points? Look at these points then.
Have you increased sales in your company?
How many customers do you handle and help each day?
Have you received good feedback and customer care ratings from customers as a good customer care service representative?
Have you trained Junior Customer Care Reps?
You can create a great work experience section by including things like this. Below is a sample of resume work experience made accordingly. Carefully read it and get inspired.

Work Experience
Customer Service Representative – January/2018 – June/2021
California Marketing Group, MI
Handled 100+ calls daily and served their queries with proper solutions.
Received an average customer satisfaction rate of around 95%, which is 10% higher than the company average.
Increased sales by 25% over the targeted total sales in 2020 by providing a professional service to customers.
Trained 10+ Junior Customer Service Representatives on how to handle customers over the phone.
03. Increase the relevance of the resume using the relevant skills
When hiring a customer service rep, recruiters are very concerned about whether the applicants have high customer service resume skills and abilities. Although we may not be able to prove our skills to them until we have the opportunity for an interview, we can let them know that we are equipped with Customer Service Skills through the of our resume

.

By having a strong resume skills section it's not that much difficult to impress a recruiter. So if you too want to be a professional in the customer service field and you have the following skills, don't forget to include them in your resume skills package.
Top Customer Service Representative Resume Skills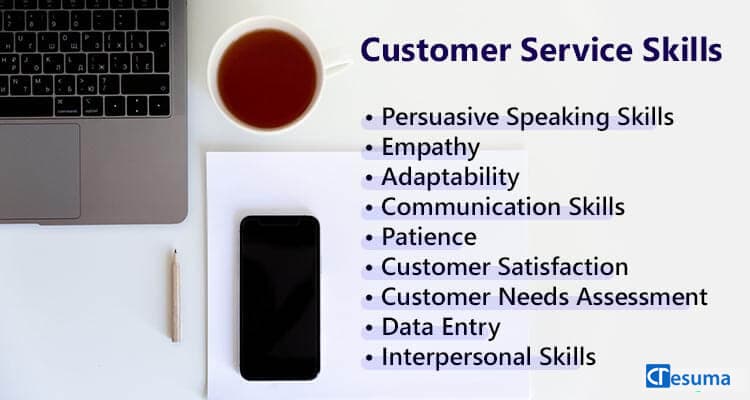 | | |
| --- | --- |
| Soft Skills | Hard Skills |
| Active Listening | Computer Skills |
| Problem Solving | Email |
| Decision Making | Excel |
| Empathy | Microsoft Office Suite |
| Focus | LiveChat |
| Tolerance | Zendesk/Talkdesk |
| Leadership | Basic Mathematic |
| Negotiation | Language Skills |
| Persuasion Skills | Knowledge of Product or Service |
| Time Management | Speed Typing |
| Organizational Skills | Troubleshoot |
Mixing hard skills and soft skills in your resume will definitely make your customer service resume stronger and more competitive.
04. Use action verbs to enhance your customer service abilities
Most bullet points in the resume work experience start with the buzzwords. Did you know that it often makes hiring managers tired? So you can use resume action words to give some energy to your resume while being a little creative.

.

Here are some common resume action verbs associated with the customer care field:
Answered
Communicated
Conducted
Consulted
Greeted
Handled
Helped
Listened
Maintained
Managed
Posted
Prepared
Provided
Received
Resolved
Responded
Supplied
Trained
05. Make your resume stand out with certifications
Relevant certifications can always improve the quality of your resume. If you have any, try to include them in a separate section. Here are some most in-demand certifications that would be worth having in customer service representative resumes

.
Certified Customer Service Professional (CCSP)
Certified Customer Experience Professional (CCEP)
NLP Practitioner Certification
Customer Service Certification
Help Desk Certification
Call Center Certification
Client Services Certification
Client Services Manager Certification
Customer Service Leadership Certification
Now you know the proper way to make your customer service representative resume. But if you read our resume tips article before submitting your job application, you will be able to increase the winning percentage of your resume even more

.

People who read this also read:

How to write an Impressive Cover Letter 2023

.

Enjoyed Reading?
Help Cresuma cover the server and other costes to continue this 100% Free Service. Show your support below.